No winners but fewer losers in global economy from COVID than expected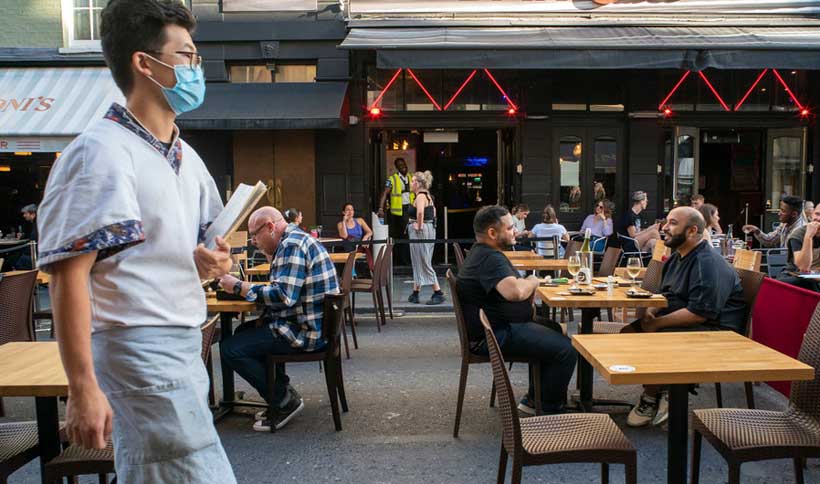 The COVID-19 pandemic seriously impacted all economies around the world last year, with trillions of dollars of lost earnings, UN trade and development experts UNCTAD said on Thursday, before highlighting how several countries also showed unexpected resilience, too.
According to trade and development body UNCTAD, the global economy posted its sharpest annual drop in output since records began to be aggregated in the 1940s, "with no region spared".
"Multilateralism has essentially lost its mojo", said Richard Kozul-Wright, head of the Division on Globalization and Development Strategies at UNCTAD, in a year that saw an estimated 3.9 per cent drop in global output – 0.4 per cent better than the forecast in mid-2020 – that was largely owing to stronger performances in China and the United States.
'Weak' support for the poorest
Speaking to journalists in Geneva, the UN economist maintained that debt-relief initiatives for poorer countries expected by the G20 group of advanced economies had been "extremely weak", at a time when developing countries feared losing much-needed foreign direct investment.
Efforts to organise a fair and equitable COVID-19 vaccine rollout had also showed "serious weaknesses in the global health architecture", Mr. Kozul-Wright maintained, while the first year of the coronavirus crisis saw "destruction of income on an unprecedented scale, an estimated $5.8 trillion, and with already vulnerable parts of the population bearing the brunt", according to UNCTAD's Trade and Development report.
In concrete terms, the coronavirus crisis triggered an effective loss of 255 million full-time jobs worldwide, according to the International Labour Organization (ILO), cited by UNCTAD.
Second wave dashes revival
Although the global economic recovery began in the third quarter as countries started to lift restrictions, UNCTAD noted that a second wave of virus hit earlier than expected in the final quarter of 2020 which dampened the recovery, most notably in Western Europe.
Countering this downward pressure on growth were vaccine breakthroughs and improved management of lockdown measures, both of which offset COVID-19's overall economic impact, the UN report said.
Latin American resilience
Regionally, UNCTAD data indicates that East Asia and Latin America fared "a little better than expected" – likely shored up by Brazilian growth – but Europe, India and South Africa did worse.
"Positive surprises" were Brazil, Turkey and the United States, thanks to large relief measures that acted as a shock-absorber for recession, while rising commodity and asset prices spurred growth.
The rebound in raw materials prices also benefited "several" developing African economies, UNCTAD continued, while the region as a whole saw lower-than-expected pressure on public health systems from COVID-19, UNCTAD said.
Food insecurity concerns
The UN body cited concerns nonetheless that more volatility may be emerging, particularly in markets of some agricultural commodities, with a threat to food security in several countries
It also noted that losses in global growth 'will persist as even the most optimistic projections for the bounce back of growth will not cover the shortfall of income for several years".
For 2021, UNCTAD announced global growth of 4.7 per cent – 0.6 per cent better than its previous mid-2020 forecast.
But this "more optimistic scenario" depends on international support for three things, UNCTAD insisted: "improved vaccination and disease containment in advanced and middle-income countries, a speedy transition from economic relief policies to recovery-policies in the largest economies of the world; and no financial crash of global significance".
26 million jobs lost in Latin America and the Caribbean during a year of the pandemic
The Latin American and Caribbean region lost 26 million jobs as a result of the pandemic, and started 2021 with a complex employment landscape aggravated by new waves of contagion and slow vaccination processes that make the prospects for recovery in labour markets more uncertain, says a new technical note from the International Labour Organization (ILO).

"The quest for better normality will require ambitious action to recover from setbacks in the world of work", warned Vinícius Pinheiro, ILO Director for Latin America and the Caribbean, when commenting on the note, which presents the latest data on the impact of COVID-19 over the past year.

"It is now time to rebuild the jobs lost by the pandemic and create new decent work opportunities," Pinheiro said, noting that despite adversity, action must be taken and consensus reached so that "2021 is the year of vaccination and economic recovery with more and better jobs".

However, the ILO Regional Director highlighted that "in the pursuit of recovery, addressing pre-existing conditions in the region will be unavoidable and those conditions are key to understanding why the impact of the pandemic on employment was so strong. Many of the challenges we had before the pandemic remain in place, although they are now more urgent".

"High informality, small fiscal spaces, persistent inequality, low productivity and poor coverage of social protection, coupled with problems that still persist such as child labour and forced labour, are part of the ongoing challenges in the region", he added.

The ILO regional technical note, "The employment crisis in the pandemic: Towards a human-centred job recovery", emphasizes that the labour impacts were devastating in the second quarter of 2020 when the employment and participation indicators plummeted, and then partially recovered.

However, by the end of 2020 the region's average employment rate had fallen from 57.4 per cent to 51.7 per cent, a sharp drop equated to the loss of around 26 million jobs, of which 80 per cent, or more than 20 million people, left the workforce.

This significant exit from the workforce was unprecedented and has been characteristic of 2020. By comparison, the unemployment rate has only partially reflected the magnitude of the difficulties faced by labour markets in the region, increasing by just over 2 percentage points between 2019 and 2020, from 8.3 per cent to 10.6 per cent.

This situation would have begun to change, explained Roxana Maurizio, ILO Regional Labour Economics Specialist and author of the technical note, who commented that in 2021 there could be "a significant increase in the employment rate when millions of people who had ceased to participate in the labour force return to the workforce".

In addition to lost jobs, the region experienced a sharp contraction in working hours, as well as a reduction in labour incomes, which account for 80 per cent of what people in Latin America and the Caribbean earn. The region has recorded the largest losses in hours worked worldwide.

The ILO's technical note indicates that during the crisis both formal and informal employment experienced very pronounced contractions, but with greater intensity for the latter and for this reason the informality rate was reduced (temporarily), in the context of the widespread collapse in employment demand, especially in the early months of the pandemic.

But that situation has already started to change.

"There is a high risk of informalization that adds to the already high levels of labour informality that countries had before the pandemic", said Maurizio.

According to available data from seven countries, employment recovery in the second half of 2020 has been almost entirely contracted by informal employment growth. These occupations account for more than 60 per cent of the total increase in employment.

"The formal work deficit, in turn, is likely to become more apparent to certain types of workers such as young people, women and adults with lower qualifications – groups that traditionally experience greater difficulties in accessing formal employment", she added.

"The macroeconomic collapse has disproportionately impacted some segments of the population, amplifying labour and social gaps – especially gender gaps – that characterize the region", she continued.

"The outlook for economic recovery by 2021 is modest and still very uncertain, so expectations about a possible reversal of the critical labour market situation should be very cautious".

The ILO has proposed developing recovery strategies based on a Policy Framework with four main pillars: stimulating the economy and employment; support businesses, jobs and incomes; protect workers in the workplace; and resort to social dialogue to find solutions.

The technical note highlights that in a scenario as complex as the current one "social dialogue and the building of new consensuses, pacts or agreements are more relevant than ever" to advance the recovery of employment.
How to Start a Profitable Clothing Business
You may think that it's too late for this, but why not? Think of the possibilities – you could make a much-needed change in the world of fashion without breaking your bank. Let's not beat around the bush; starting an online clothing business is no rocket science. It can be done within a few hours. With a positive mindset and a bit of creativity, you are bound to enjoy immense success with your online clothing business. In this tutorial, we are going to help you learn how to start an online clothing business and how to scale it
Determine your niche
You've probably heard the term "niche marketing" and wondered how it could help you as an online clothing retailer. Some people believe that niche marketing is only for business-to-business or service businesses, but it applies to any business. In this article, we'll show you why it's important to have a niche and how it can help you build an online clothing business profitable. The best way to pick out a niche is to understand what motivates people to shop for certain products. One easy way to look at a niche is by a keyword, but you have to make sure that the niche has enough search volume. For example, if you have a ski clothing store, then you may want to rank for the term "ski clothes for sale" or "ski clothes cheap".
Key Takeaways
• Picking a niche determines the type of audience you reach.
• Picking a niche will affect your business model and operations
• Picking a niche can determine your success
Determine the business market level to suit your brand
For anyone wanting to start an online clothing business, the early research and planning stages can seem daunting. How do you even decide what market level you will operate in? The answer is, like everything in business, no set rule fits all scenarios. The choice you make about which market level to choose for your brand will be influenced by your goals, target market, and product range. Here are a few things you need to consider when making this decision;
Who is your target audience?
Your target audience will help you build up your strategies and determine which marketing methods will be more successful for your brand. If we take the example of Zalando, they have three online clothing business marketing strategies available for their consumers: home delivery, shop now, and mobile shopping.
What do you want to achieve?
What is your budget?
Create a Business Plan
The startup world, and the business-planning process, can seem daunting to experts and amateurs alike, but it doesn't have to be. If you have a basic understanding of your business's needs and a clear idea of your goals and mission, writing a business plan is just like making a shopping list. Just like shopping, there are countless articles and resources out there for you to help you create a plan that works for your business.
The first step in creating your business plan is to start with a strong foundation: what do you want to spend, why, how much, etc. From there, you can move into determining what your startup costs will be to get things up and running.
Designing your shopping list of startup costs is almost exactly the same as designing your business or project's marketing plan.
Now that you have your idea start creating something!
Pick Your Materials. Pick fabrics you'd like to use, whether it's cotton or polyester, and a color. If it's based on the color of your logo, make sure the fabric can be seen in the correct shade.
Design
Product development is one of the most exciting stages in starting an online clothing business. Even if you only have a design concept for one product in these early days, start getting it on paper or screen as a sketch. Once you're ready, turn rough ideas into nailed-down digital sketches. Programs like Adobe Illustrator can do a lot of the hard work for you.
However, if you're a skilled sketcher, feel free to continue this old-school technique. Sketches add personality and give ideas a human touch that computer drawings sometimes lack. At this point in your business, you will need to make decisions about your product's overall look. This involves choosing colors, logo design, materials, sizing, and more. Your competitors might be making similar choices at this point, so try to avoid jumping ahead of them, as it will grant you more time to sell.
Create Product samples
The next step in the process is to get a good sample of the product and photographs. Creating a good product sample is very important as it is the first thing your potential customer will see. You can do that with companies like GearBubble or Thrive Screen Printing. You can produce a prototype on your own, but this can be costly. You have two other options;
You can use a professional sample maker. You can have a design company make the sample for you.
The decision between these two options depends on your budget and the quality of the product. Either way, you should still look to market test your product before committing to mass production. This will help you refine your idea and increase sales once you do launch your item.
Market your product and sell online
Taking them to market can be a great way to test your product without committing to the full product run. Market trading spaces, school fairs, and online platforms like Facebook Marketplace, Instagram, can be great places to start, take notes, ask your customers all the time for their feedback on the product and anything else they're looking for. Posting your products on a well-known e-commerce platform, like eBay, Etsy, or Amazon, will allow you to reach a broader audience and take your business to the next level. Some of these platforms are more hands-on, with you having to take care of the selling, while others are more hands-off, leaving most of the work on the platform itself.
Scale Up
If you're planning on scaling up your business, maybe you should look at improving your business. so here are my 3 tips for scaling up:
Before you do anything, ask yourself, what do I want? Is it to make money, or do you want to see your clothing company as a fully fledged brand eventually? This comes back down back to knowing who your customer is. If you've already done that, then you know exactly how much to charge for your clothing and thus will be able to know roughly how much money to make every month at minimum.
Collaboration with other brands
Have other companies approached you to create a product for them? Working with other brands can be of great benefit to you both. Always be on the lookout for brands that compliment your product so that the collaboration can appeal to a wider audience. Let's say, for instance, you sell women's accessories. You may want to work with another women's clothing brand on a line of bags or scarves.
When working in collaboration with another brand, there is always an opportunity to work towards an image in which both brands are familiar. This could consist of branded merchandise sold separately from the main product line and is good for overall brand awareness.
The thing is, plotting the next steps for your company is less about indulging in dreams of grandeur and more about carefully crafted plans to ensure business sustainability. With the right growth in place, expanding a physical or online clothing business can be a good long-term strategy.
Polish Economy Returns to Growth Amidst Pandemic-Related Setbacks
The Polish economy is expected to grow by 3.3 percent in 2021, as a recovery in trade in the euro area, combined with improved confidence and a rebound in private consumption and investment partly offset the negative impacts of the resurgence of the pandemic late in 2020 and a recent flareup in new cases, says the latest edition of the World Bank's Economic Update for Europe and Central Asia, released today.
The projected rebound in 2021 is weaker than previously anticipated (3.5 percent), reflecting uncertainty surrounding the emergence of new strains of COVID-19 and the uneven pace of vaccination in Europe.
The World Bank expects that following the moderate recovery this year, growth will accelerate to 4.2 percent in 2022. The 2022 projection is faster than previously envisioned (3.4 percent), owing in part to a robust rebound in domestic demand, particularly in investment.
"Although Poland's GDP declined in 2020 for the first time in 30 years, the well-diversified Polish economy is one of Europe's least affected amid the COVID-19 pandemic," said Marcus Heinz, World Bank Resident Representative for Poland and the Baltic States. "A key challenge over the short term is to continue supporting the sectors most affected by the pandemic, while ensuring public debt sustainability and transparency. Poland also needs to continue strengthening its institutions to prepare for a new wave of absorption of EU funds, a big part of which will go into low-carbon and greener projects".
The emerging and developing economies in Europe and Central Asia are projected to grow by 3.6 percent this year and by 3.8 percent in 2022, as the effects of the pandemic gradually wane and trade and investment gather momentum.
The pandemic is expected to erase at least five years of per capita income gains in several of the region's economies and raise the poverty headcount, largely due to job losses. Overall, despite the rebound in growth, the recovery in per capita gross domestic product (GDP) of the region is subdued and below pre-pandemic trends.
Fundamental to achieving long-term inclusive and sustainable growth is good governance. The pandemic has underscored the need for good governance given the important role governments around the world have played in mitigating the health, economic and social impacts of the virus. The range of measures has included restrictions on movement to control the spread of the infection, vaccination programs, relief packages to protect individuals and businesses from the economic fallout of the pandemic, and devising ways for virtual learning for millions of school children.
In Europe and Central Asia, good governance is all the more important given the large role governments have played historically in shaping the economy. Government expenditures in the region represent nearly 40 percent of the economy and governments employ more than a quarter of the region's most educated and productive workers, with women constituting 57 percent of public sector employees. And the role of government in the region's countries is likely to further increase in the coming years, driven largely by the need for expansion of health and long-term care for aging populations and public support for government interventions to tackle inequality and, in the face of COVID, improve health and education systems.
In a special analysis on 'Data, Digitalization, and Governance in Europe and Central Asia', the report examines the potential role of data and digitalization in improving governance in the region.
"To effectively address the challenges brought on by COVID-19, improving governance has assumed an even greater importance in the region," said Asli Demirgüç-Kunt, World Bank Chief Economist for Europe and Central Asia. "Digital technology and the data revolution offer the potential to increase efficiency, transparency, responsiveness, and citizen trust, all of which directly improve the quality of government."
Data lay the ground for improved decision making, optimized government functioning, and more effective resource allocation, while digitalization strengthens these processes and enables greater efficiency and transparency.