There is something decidedly unsettling about the Xi Jinping regime in China. First, the Uighur problem: the central government has trampled on the rights of Uighurs to maintain their culture and practise their religion. Any resistance leads to re-education camps, and we all know what that means.
Next, the muscle flexing: The Indians complained about an incursion into Indian territory in Ladakh adjoining Tibet, while the Taiwanese resent the overflights by fighter jets. And as the U.S. distances itself from Iran, the Chinese are walking in with aid and presumably securing direct access to the oil fields in the Gulf.
They already have a naval base at Gwadar in adjoining Pakistan. Developing a string of them would bring de facto control of Gulf oil traffic supplying important U.S. allies like Japan not to mention friends like Malaysia in the ASEAN compact.
Further west on the westward tip of the Arabian peninsula, the Chinese have an important relationship going back over a half century with Yemen. During this period they have provided considerable humanitarian and economic aid.
Across to Africa, where China's involvement is viewed positively by most Africans, who cite the help received in infrastructure development and job creation. The two decades old Forum on China-Africa Cooperation is scheduled to meet again this coming September in Dakar, Senegal, when Chinese and African officials will reflect on the relationship — China's dealings with African countries are on a government to government basis. Despite a late start compared to European countries with their long colonial ties, China has become Africa's largest trading partner while US trade with Africa has dipped.
China is also moving into America's backyard. It has already become the largest Latin American country's prime export market. Brazil now exports three times as much to China ($67.7 billion in 2020) as it does to the U.S. ($21.6 billion) which comes in second, and its exports to China total $35.5 billion.
China is also Chile's largest market constituting 24.3 percent ($22.57 billion) of exports, and is at the same time increasing investment there. Not surprising in the least given that the country has vast stores of copper. And right next door to the U.S. is Mexico, to which China was able to export $45.4 billion worth of goods in 2019 while importing about $7 billion.
At a time when economies are hurting due to Covid-19, China's continuing purchase of products from South America have helped mitigate the hardships. In the process, China has become South America's leading trade partner.
China's ambitions are clear. It wants to be the world's leading power: economically, militarily and technologically. That the U.S. has been complicit (through a lackadaisical attitude to technology transfer or to China's thrust into markets worldwide) without substantive preparedness or a countervailing response to its global challenges only helps China achieve its aims.
Is the US then destined to lose this contest with China? It is what often happens between a rising power and a complacent leading one.
Xinjiang: The New Ideological Battleground between the US and China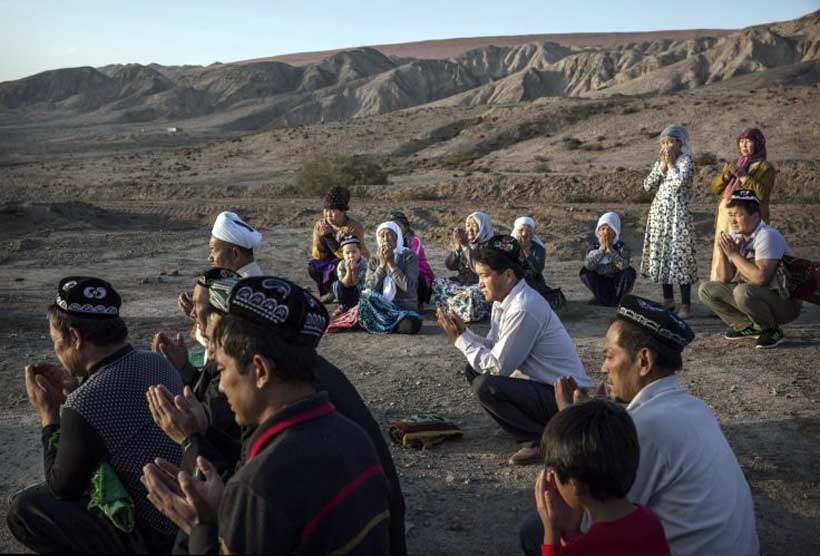 Months before the Beijing Olympics in 2008, the Uighur separatists allegedly attempted to blow up a Chinese passenger airplane unleashing a decade-long orgy of violence which lasted until 2017.  Chen Quanguo, the CPC's new party tsar in Xinjiang even proudly boasted of "zero terrorist violence" within one year after he arrived in Urumqi in 2016. This coincided with the release of President Trump's National Security Strategy in December. Some US commentators see a close link between the NSS 2017 and the sudden shifting of the US focus on the oppression of Uighurs in Xinjiang. Is this why the genocide controversy or new "great game" in Xinjiang was born? 
***
Following the passage of a bill in the US Congress in September last year that would ban imports produced by Uighur forced laborers in Xinjiang, John Pomfret, the former Washington Post bureau chief in Beijing and author of The Beautiful Country and the Middle Kingdom: America and China, 1776 to the Present, told the New Yorker in an interview: "I think that, fundamentally, we're at a point where we have an ideological problem with China. The ideological competition has many parts, and one of the parts has to do with American revulsion at Chinese human-rights abuses, not only in Xinjiang and Hong Kong but in Han dominated China as well." (Emphasis added)
Xinjiang – China: Twentieth Century and at present
The present day political strife in Xīnjiāng – the Chinese term meaning "new frontier" – is the manifestation of the People's Republic of China founded in 1949. Like Tibet, Mao's People's Liberation Army incorporated Xinjiang into the New China by force and through political maneuvers. It is the largest province in size – containing more than 18% of China's land area – and largest administrative unit within PRC. It is approximately three times the size of France and is centrally located on the Eurasian continent. Xinjiang shares international border with seven countries in South Asia and Central Asia. Yet, and ironically, the Xinjiang Uighur Autonomous Region (XUAR) became the "backyard" of New China – ideally suited site for nuclear tests and nuclear weapon facilities.
Historians of the PRC formative years have argued, the CPC inadvertently took advantage of the exceptionally favorable international environment created by the Cold War in unifying China in the 1950s. "Mao's turn to the US in 1971 and China's support for US operations inside Soviet-occupied Afghanistan, created a basis for Islamism in Xinjiang itself and unleashed powerful forces that now threaten to once again break up China," observed an international affairs commentator recently. Following the collapse of the Soviet Union and the birth of the Commonwealth of Independent States (CIS) further turned Xinjiang into a training as well as recruitment safe haven for Mujahidin militants from among the Uighur separatists. More often than not, besides being aided and funded by the Turkish government, the CIA too proactively carried out its penetration in the region.
Apparently, alarmed by the "anti-China" foreign forces' penetration into the region, the CPC began adapting countermeasures and decided to implement its policy of large-scale Han migration into the region in the 1990s. Probing the massive riots in July 2009 in the Xinjiang Uighur Autonomous Region (XUAR) capital city Urumqi, a recent research paper by Amy H. Liu and Kevin Peters claims the ethnic violence was the result of Beijing's ambitious Great Leap West plan launched in 1999. According to the two authors, while available data does show the economic benefits have been enjoyed by all people in Xinjiang, regardless of ethnicity, relations between the Han dominated Beijing and the Uyghurs in Xinjiang have remained unchanged, if not worsened.
Unity among China's ethnicities: Like "seeds of a pomegranate"
Undeterred by unprecedented violence erupting during the visit to the region by the top CPC leader, President Xi Jinping appeared more determined to crush Uighur separatist violence after his maiden "inspection tour" in 2014. It is pertinent to recall, a bomb tore through Urumqi railway station, killing three and injuring several on the day Xi arrived in the province's capital. In the preceding weeks, "dozens of civilians were hacked to death at a busy train station in China's south. A Uighur drove a car into crowds at Beijing's Tiananmen Square. Forty-three died when men threw bombs from two sports utility vehicles plowing through a busy market street in Urumqi," as reported by the Associated Press on the tenth anniversary of the July 2009 violence. But apparently, Xi had visited Xinjiang to ensure smooth implementation of what subsequently became known to the world as China's, or rather Xi's, most ambitious national strategy, i.e. One Belt, One Road (OBOR) or BRI – the Belt and Road Initiative.
In fact, a few months after the tenth anniversary of July 2009 Urumqi violence, an exclusive NYT report claimed newly appointed Chinese president Xi, also the party chief, had laid the groundwork for the crackdown in Xinjiang in a series of speeches delivered in private to officials in April 2014, just after Uighur militants stabbed more than 150 people at a train station, killing 31. "Mr. Xi called for an all-out struggle against terrorism, infiltration and separatism, using the organs of dictatorship and showing absolutely no mercy," (emphasis added) the NYT reported. "Shortly after arriving in Urumqi, at a Xinjiang Work Conference, Xi ordered the local authorities to remold the region to ward off ethnic extremism. China's ethnicities could and should be united like "the seeds of a pomegranate," the AP news, cited above, quoted state media as saying.
Interestingly, to both left and right cynics who critique China for having abandoned communism and for the party-states' woke policies towards ethnic minorities respectively, it is crystal clear that to dismiss or deny existence of re-education or internment camps, sterilization of women, mass surveillance reliant on big tech, forced labor, market expansion and police brutality etc – in China and elsewhere – is tantamount to "embracing simplistic prescriptions." Not surprisingly, even Noam Chomsky, among others, signed a statement released recently stating: "China's present signature foreign policy initiative is the "Belt and Road Initiative" (BRI) that seeks to connect the PRC economically to the rest of the Eurasian continent through large infrastructure projects that will stimulate international trade. As a result, the XUAR has become a very important strategic region for China, and the state views its indigenous populations as an obstacle to developing its vision for this future critical center of international commercial networks."
Genocide controversy in Xinjiang: What will China do?
However, without going into the merits of who is indulging in "false propaganda" and who is stating the truth with regards to the so-called "genocide" inside Xinjiang, the questions for us all to ponder are: when did we first hear about the million Uighurs being tortured in internment camps and of the genocide in Xinjiang; now that the United Nations has directly engaged with authorities in Beijing to send a UN delegation on an "unrestricted visit" to Xinjiang, what will Beijing do; if at all the UN demand is acceded to by the PRC, will the UN fact finding team's report stand the test of scrutiny by the international community or by the Chinese government; and last but not the least, will Beijing dictate the composition of the UN delegation or not?
Finally, in the face of Beijing's rigid refusal first to the European Union and most recently to the United Nations Human Rights Council (UNHRC) to conduct "unrestricted visit" to Xinjiang, it is increasingly becoming apparent China's diplomacy is facing "crisis of confidence." Besides, a recent article in ftchinese.com claims, China's initiative to conduct a visit to the troubled region by "friendly" Islamic nations has run into trouble too. With more and more developed countries, including most recently Japan, either threatening or resorting to sanctions over accusations of genocide in Xinjiang, indicates China's failure to convince the outside world of Beijing's narrative on Uighur terrorism. Sadly, however, it is quite clear Chen Quanguo, who took the helm of Xinjiang by replacing Zhang Chunxian in 2016, and who is among the top party officials sanctioned by the Biden administration recently, is not amenable to any such visits by a foreign delegation. For, it is precisely the tough measures being carried out by Chen which are being condemned by the Western governments as genocide. Chen even proudly reported recently of "zero terrorist attacks since 2017." Consider this, even the party's fourth senior most official in charge of the violence stricken region, Yu Zhengsheng, had said in 2014 after the knife stabbing at the train station in Urumqi: "It was necessary to tell the Chinese public not to apply any label – such as terrorism – to Xinjiang." (Emphasis added)
To conclude, the authorities in Beijing it seems had been preparing for long for the ideological battle moment with the US to arrive, as John Pomfret, cited above, observed. But at the same time, as in the words of globally respected veteran Chinese-American affairs scholar at Beijing's prestigious Tsinghua University, professor Yan Xuetong, leadership in Beijing has been for decades extremely cautious to prevent such ideological rivalry from intensifying. "Engaging in ideological rivalry will have negative impact on China's rejuvenation. Therefore, avoiding ideological rivalry has become a strategic principle of the Chinese government since the early 1980s when reform and opening up were gaining momentum," professor Xuetong pointed out in an exclusive opinion piece on the day of the US presidential election last November. Perhaps, Beijing would be wise to listen to the advice offered by the ftchinese.com columnist – a mainland Chinese scholar – that Chinese foreign ministry "must display more prudence and diplomacy" in fielding critical and even embarrassing questions, including ideology!
The Xinjiang-Uyghur issue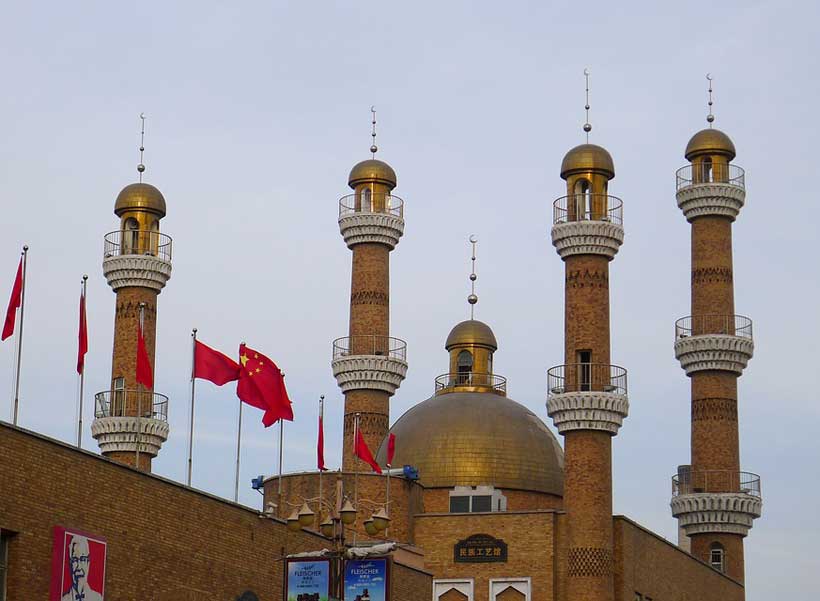 In late March the United States, Canada, the UK and the EU took a concerted action to announce sanctions over human rights violations against the Uyghurs and other ethnic minorities in Xinjiang-Uyghur by the Chinese government.
This is the first time since the Tiananmen Square incident in 1989 that the EU and the UK have imposed sanctions on China over human rights issues.
Furthermore, Australia and New Zealand also issued statements expressing support for joint U.S. and EU sanctions against China. U.S. Secretary of State Tony Blinken stated: "The joint transatlantic operation sends a strong signal to those who violate or trample on international human rights".
This joint operation is clearly part of a concerted U.S. effort to work with its Western allies against China through diplomatic actions.
After gruelling wars in Korea and Vietnam and later in the Balkans, Afghanistan, Iraq, Libya and Syria,we wonder:
1) why do we want to open another front to export democracy with bombs?
2) Why has the Xinjiang-Uyghur issue become a deadly matter that brings the United States and its allies together to impose sanctions on China, while ignoring the barbaric behaviours codified by the backward-looking, but allied Gulf monarchies?
3) Why is the Xinjiang-Uyghur issue attracting increasing attention from the international community?
4) Why does the United States use the Xinjiang-Uyghur human rights issues to shape a diplomatic action with Western allies against China and forget about the black people being murdered on the streets at home?
Let us try to better understand the situation.
The strategic importance of Xinjiang-Uyhgur for China is similar to Tibet's (Xizang). The Xinjiang-Uyghur Autonomous Region is the largest provincial unit in China. It covers one-sixth of China's territory and borders on Mongolia, Russia, Kazakhstan, Kyrgyzstan, Tajikistan, Afghanistan, Pakistan and India. It can be used as a base by China to influence its neighbours. However, Xinjiang-Uygur can be used as a bridgehead by external powers to threaten China's territorial integrity.
Like Tibet (Xizang), Xinjiang-Uyghur also has immense economic value in terms of oil and gas resources, and it can also be used as a channel to import energy from Kazakhstan. It is also a site for Chinese nuclear weapons and missile tests.
This area has traditionally been under the influence of various forces that have been claiming these territories. For thousands of years, the deserts and mountains of Xinjiang-Uygur were crossed by merchants. Peoples and armies passed through it continuously, sometimes forming alliances with the Middle Empire, sometimes to free themselves from the Emperor's influence, only to fall into worse hands.
The Chinese who started to travel there before the 19th century met Persians and Muslims, most of whom were Turkish-speaking. It is not for nothing that the other name of the territory is East Turkestan.
The region was not fully incorporated into the Chinese administrative system until 1884, when it was divided into province and called Xinjiang, meaning "new frontier". China's control, however, was fragile and, when China's presence was still at a minimum in 1944, the local population announced the establishment of a short-lived republic called East Turkestan, backed by the Soviet Union led by Stalin, who – like the United States today – wanted it to fall within his sphere of influence.
However, as Stalin was a great statesman and not just a parvenu, with the birth of the People's Republic of China, the Georgian leader agreed that the territory be reintegrated into the Middle Empire as the Xinjiang-Uyghur Autonomous Region.
With a view to strengthening administrative and political control in the autonomous region, the People's Republic of China used the same methods in other surrounding areas: immigration development, trade, cultural assimilation, administrative integration and international isolation.
As early as the mid-18th century, the Qing government had created a national industry near the capital Ürümqi. In the 19th century, Chinese merchants arrived in large numbers. After 1949, the People's Republic of China placed the autonomous region under a national plan designed to orient and direct local trade towards China's internal economy, banning border trade and people movements that were widespread in the past between borders that at the time were undefined and misgoverned.
In 1954 China established the Xinjiang-Uyghur Semi-Military Production and Construction Corps to transfer demobilised officers and soldiers, as well as other Chinese immigrants, to industries, mines and enterprises. During the Cultural Revolution in the 1960s, thousands of middle school graduates were delegated to perform tasks in Xinjiang-Uyghur from various cities in China, especially Shanghai, and most of them lived in farms. I remember the great enthusiasm of some major European parties at this news: the same parties that, having changed their names, are today shedding "the bitter tears of Petra von Kant" along with Biden.
In the 2010 census – according to official statistics – out of 21,815,815 inhabitants, 45.4% were Uyghurs and 40.48% Chinese, although the real number could be even higher. The many officially recognised ethnic minorities included Kazakhs and Muslims of Chinese ethnicity.
In the decades prior to 1980, Xinjiang-Uygur developed slowly because of its bordering on the then hostile post-1960 Soviet Union, and because of its rugged and considerable distance from other parts of China. However, when Deng Xiaoping implemented reforms in the 1980s, China's development policy created demand for Xinjiang-Uyghur's coal, oil and gas resources, thus making the local area one of China's largest producers of fossil fuels.
In the 1990s, China began building oil pipelines to transport oil from the far West to the mainland market. In 2001, China announced a "Western development" policy to fully exploit Xinjiang-Uyghur's resources. The central government invested billions of dollars to build infrastructure and create political incentives to attract national and foreign companies.
This has meant that the country has increased its per capita GDP, as well as raised the education level. China has also modernised its society and this has made it unpopular with those fundamentalist Muslims who, boiling with terrorist rage, are now calling for help from those who initially funded ISIS to bring the secular Syrian government down, under the slogan "the enemy of my enemy is my friend".
For most of the Maoist era, the Uyghurs, as well as the less numerous Kazakhs, Kyrgyz and other ethnic minorities, were forced to give up Islam, learn Chinese and relinquish their traditional customs and habits. All this much to the delight of the then epicurean and atheist West, which has always despised faith: a further element of contrast that later materialized on the part of fundamentalists.
As in Tibet (Xizang), the most traditionalist Uyghurs believe that their land has been invaded by Chinese immigrants and their lives are overwhelmed by a "Western" style imposed authoritatively from outside: a pretext that President Erdoğan has been the first to exploit, not failing to include it in his Panturanist conception.
In fact, after the implosion of the Soviet Union in 1991, the Turkic and immigrant Uyghur communities in the three new neighbouring States of Central Asia, namely Kazakhstan, Kyrgyzstan and Uzbekistan, experienced a cultural and religious revival, thus creating a new sense of hope and power among the Uyghurs in Xinjiang-Uyghur.
From the 1980s to 2001, demonstrations, riots, occasional murders and terrorist attacks occurred with increasing frequency. The Chinese government claims that the criminals' goal is 1) to separate Xinjiang-Uyghur from China, and 2) that the Uyghur separatists are terrorists connected to al-Qaeda.
All these accusations are controversial, because most Uyghurs – either secular or moderate Sunni Muslims – have not created a resistance movement at all, as the Uyghur society is not integrated around specific Islamist parameters.
Many incidents seem to have various and sometimes personal causes, and often result in casualties. But, in any case, the authorities have launched a series of strict public order campaigns, fearing that even the slightest sign of dissent, such as a demonstration, a parade, a march, a gunfight with the police, will be amplified by the usual media to pave the way for a bloody local civil conflict, which – unlike the Syrian one – could turn into the Third and Last World War.
All this would certainly not be triggered to protect some fundamentalist Muslims in defence of human rights. The causes are always the same.
Chinese Foreign Policy in a Global Perspective
Foreign policy plays a fundamental role in state security and government's decision-making. It is the pivotal factor for political stability of a nation, its economic affairs as well as the relations with other states. It is necessary for the development of a nation or a region to resolve the disputes with their neighbors. International disputes have frequently been given a fair chance with dialogue between the warring parties. Different states can coexist with friendly neighbor resulting in greater benefit for the people of the country. It brings peace and stability in the region as a byproduct. For the progress of humanity, peace is an essential element. To avoid war and hostility, an element of understanding and mutual survival should be established among the states. Hence, the concerned states will learn to co-exist peacefully.
Since its independence, China has pursued a focused approach towards attaining financial progress. Diplomatic policy of China has been directed towards its economic prosperity and political independence of the Chinese nation. Initially it was an isolated nation with introspective policies. Its national policy characteristics included peaceful co-existence between nations, mutual interdependence, regional supremacy, autonomy, national safety and avoidance of conflicts with other states and nations. Hence China developed regional influence and stability and developed good relations internationally and globally. China wanted to protect its territorial autonomy and sovereignty of other regional nations as well. Hence it soon emerged as a powerful nation both militarily and economically.
China continued working on a deliberate path of stable and good relations with other countries globally. The role of leaders and government in the foreign affairs under Xi-Jinping's leadership catapulted the Chinese national and foreign policy to new heights. This charismatic leadership brought constructive changes in the internal governance and matters of foreign involvement with other nations. He emphasized the importance of military and during his governance astounding improvement in foreign and regional stability was observed. The internal stability of Chinese national policy was soon reflected on the international podium. Its economic prosperity increased astronomically under the vigilant governance of the leader of China's political party. China rose peacefully and gained regional, economic, and political stability. China is today considered as a world-wide power because of its stable national policy. It has observed a radical development in geo-politics. Why has the significance of Chinese nation increased in the international community?
China and Pakistan have enjoyed friendly relations with each other for decades. Gwadar port will become a doorway for business, commerce, collaboration, coordination and development between these two neighbours. It does not only affect China and Pakistan's economic prosperity but the prosperity of South Asia and beyond. China has achieved worldwide recognition as an economic might with powerful impact on economy, geography and strategy of the region. The port has worldwide implications, whether related to economy, trade or commercial activities.
The dimension of foreign policy has evolved with the pace of time. The relations between China and United States of America are complicated. Both nations have difference of opinion regarding vital concerns of the state, political practices, administration, diplomatic policies and commercial productivity. Both nations consider different notions regarding the concept of civil rights. President Donald Trump has recognized China as an adversary for the United States of America. According to his beliefs, China abhors the ethics and principles of America causing a destabilizing effect in South-China Sea region.
China has undertaken military action in the South China Sea and has carried naval exercises in the area. However, United States the opponent of China says that economic prosperity could be affected because of the Chinese presence in the region. Under international regulations, overseas armed forces are not able to control surveillance activities including inspection and scrutiny of the vessels, in its industrial zone. However, China remains unsuccessful to resolve this clash by diplomatic ways. This would result in de-stabilizing the South-China Sea region. Conflict between Philippines and China may rise as a consequence of American backing. To further its economical and safety concerns, United States has laid down bold claims regarding China's occupation of territory and land in the South China Sea. On the other hand, Japan has sold naval ships to Philippines and Vietnam to enhance their naval protection and discourage Chinese hostility.The relationship between India and China is of worldwide significance. India is a prospering nation in the South Asian region. India perceives China as a militant anathema. China can hamper India's progress in economical prosperity and can shackle India's image internationally. Another challenge for India is the Pakistan-China relations. China's influence can be spread globally which could be inimical to India's scrutiny. China's dominance, geographical vicinity and strategies depict an image of instability to India's national and international interests. India cannot protect its interests and has to make crucial strategic decisions. However if India makes United States it will be able to protect its national interests. India has to overcome many challenges and hurdles as China has dominant influence over the South-Asian region and beyond. Asia's old opponents China and India are now engaging in a race to initiate maritime assets and to gain influence over each other. India's wants China to behave according to international regulations. To respect territorial righteousness, and thoughtfulness for all nations irrespective of their magnitude. Both China and India will continue to hustle over the South Asian region, its territory and resources.