Innovative finance mechanism to support Uruguay's energy transition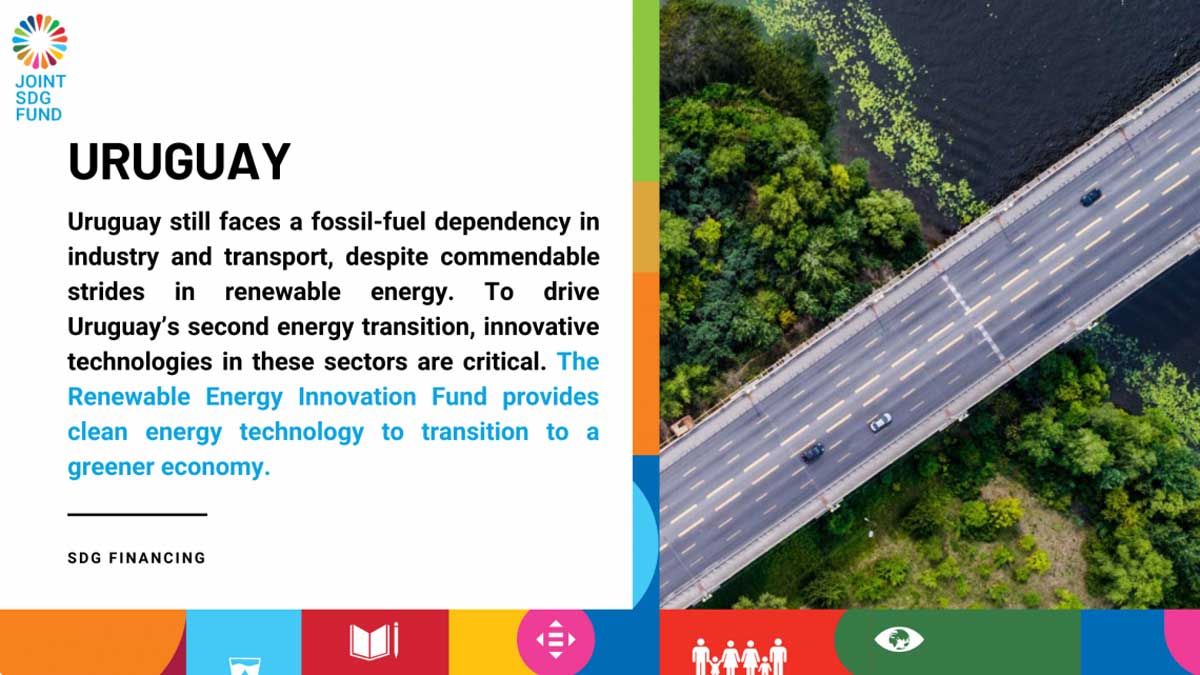 A joint UN proposal in Uruguay, with the United Nations Industrial Development Organization (UNIDO) acting as lead agency, seconded by UNDP and UN Women, has been approved by the United Nations Joint Sustainable Development Goal (SDG) Fund. This was announced today as part of a Joint SDG Fund US$41m portfolio to catalyze strategic financing to accelerate the Sustainable Development Goals.
Uruguay is one of four countries, and the only one in Latin America, to be selected for funding. The UNIDO-led proposal for Uruguay, along with ones from Fiji, Indonesia and Malawi, was selected from 155 proposals from over 100 country applicants across the globe.
The programme will establish a Renewable Energy Innovation Fund (REIF) to support Uruguay´s second energy transition, with the objectives of decarbonizing the economy and boosting competitiveness. The REIF will combat climate change by helping transition Uruguay's transportation and industry sectors to green energy and by providing affordable access to innovative clean technologies.
The Joint SDG Fund will provide a grant of US$10m, leveraging around US$70m of co-financing from regional development banks and private commercial banks. The REIF will support cleantech financing in energy storage, smart grid, green hydrogen, electro-mobility and waste management/treatment technologies.
Manuel Albaladejo, UNIDO Representative and the UN team leader designing the Uruguay proposal, stated, "This programme sets a precedent on how UNIDO should approach development cooperation in middle-income countries. Besides UNIDO´s well-known technical expertise, understanding and deploying innovative financing mechanisms to leverage co-funding from development finance institutions and even commercial banks will be key to UNIDO´s work. Indeed, the UN reform and the multilateral funds such as GEF and GCF emphasize the need to shift to impact investments that tap into private sector financing."
Mireia Villar Forner, United Nations Resident Coordinator in Uruguay, said, "Thanks to the support of the Joint SDG Fund, the UN team is better equipped to support the alignment of private investments to the SDGs through the establishment of a national ecosystem for impact investment. Without a doubt, it changes the way we work."
Omar Paganini, Uruguay's Minister of Industry, Energy and Mining, said, "On behalf of the Ministry, we are very enthusiastic about the support received from the SDG Fund, which will be a great contribution to promote Uruguay´s second energy transition. The REIF is an innovative instrument that powers and deepens the impact of our public policies. We believe it will boost Uruguay´s efforts to achieve the SDGs."
The Joint Sustainable Development Goals (SDG) Fund is an innovative instrument to incentivize transformative policy shifts and stimulate the strategic investments required to get the world back on track to meet the SDGs. The UN Secretary-General sees the Joint SDG Fund as a key part of the reform of the UN's development work by providing the "muscle" for a new generation of Resident Coordinators (RCs) and UN Country Teams (UNCTs) to really accelerate SDG implementation.
US Anti-Inflation Law threatens Europe
Europe and the US are heading towards a serious trade and economic conflict, writes "Berliner Morgenpost".
In the European Union hopes are fading that the US government will significantly amend the controversial subsidies law by providing billions in bailouts to US manufacturers. This forces the EU to protect domestic companies from threatening competitive advantages over US competition and to prevent investment from moving to America.
Fear of the "de-industrialization" of Europe is spreading. For example, buyers of a "Made in USA" electric vehicle with a battery also made in the USA receive a $7,500 subsidy. Subsidies also go to companies that make wind turbines or solar panels from American steel. Europeans are worried that not only will they have to contend with heavily subsidized US competition in future strategic sectors, but industrial cooperation with US companies could also be threatened.
The head of the trade committee in the European Parliament, Bernd Lange, told: "I assume that a few small changes to implement the IRA can still be agreed upon in the negotiations. But I do not think that anything will change significantly, because the Law has already been passed."
The US IRA law goes into effect on January 1. By that time, the EU countries should have found a common line. France is already openly threatening a trade war and agitating for a tough counterattack: the EU should take a protectionist course and respond with the Buy European initiative. But there are also concerns in Berlin.
An EU trade expert argues that lower energy prices for industry should be considered, as they are currently ten times higher than in the US. European Commission economic policy spokesman Markus Ferber is also calling for a hard line: If the US side doesn't give in now, the EU commission should "put all instruments of torture on the table" and consider boosting trade. Disappointment with the protectionist course of US President Joe Biden is great, Ferber says: "The American anti-inflationary law threatens Europe, and can make its economic situation much worse."
International Affairs
Macron vs U.S. Inflation Reduction Act
Emmanuel Macron warned that the U.S. risked "fragmenting the West" with a flagship climate law that the French president said would distort competition by massively subsidizing American companies to the detriment of European industries, informs "The Financial Times". The harsh words, which came on the first day of his state visit to Washington hosted by president Joe Biden.
In a speech at the French embassy in Washington, Macron said while he agreed with the objectives of Biden's Inflation Reduction Act, it would have negative repercussions for Europe by making it less attractive for companies to invest there. "We need to co-ordinate and re-synchronize our policy agendas."
Macron called the new U.S. Inflation Reduction Act (IRA) "super aggressive for our companies," according to comments reported by Agence France-Presse and confirmed by a person present. "Perhaps this law will solve your problems but it will make mine worse," he said, adding that many jobs would be destroyed.
Macron has also called on the EU to pass a so-called "Buy European Act" that would offer similar subsidies to local industries. Other countries such as Germany are less supportive of the idea.
U.S. President Joe Biden was forced to retract. He said that new laws that give incentives for domestic production of computer chips and renewable energy parts were never intended to exclude European allies and could be tweaked.
Speaking with French President Emmanuel Macron at a joint press conference at the White House, Biden said "There are tweaks that we can make that can fundamentally make it easier for European countries to participate and/or be on their own."
The United States and France also announced the formation of 'Joint task force' between the Unites States and the European Union to deal with trade disputes around clean energy issues emerging from the IRA.
Europe's industry fears that the bill, which gives tax credit for each eligible renewable energy component produced in a U.S. factory, would take away potential investment from the continent.
Biden said he makes no apologies for promoting American manufacturing of essential goods, but said large legislation often requires tweaks to deal with unintended consequences.
"We're going to continue to create manufacturing jobs in America but not at the expense of Europe," Biden said.
Macron told reporters that he was encouraged by his talks with Biden and is hopeful of a fair resolution.
…We'll see whether Biden keeps his word or not.
International Affairs
FOCUS: The German economy is in a dangerous pliers
The politicization of trade relations is proceeding rapidly. German Economics Minister Robert Habeck said: "The phase where many thought markets should rule and politicians should stay out is definitely over. Previously, this idea was wrong," – quotes FOCUS.
The German economy is in a dangerous pliers. The craziness is that it is not the Russians or the Chinese who move with both hands in the tongs, but the Americans, who are clearly determined to organize their future prosperity at the expense of the Chinese and Europeans.
Pliers consist of two very different legs:
– On the one hand, the US Inflation Reduction Act (IRA) is primarily aimed at reducing US inflation. In fact, this is a gigantic program to subsidize new technologies. The legislative package plans to spend $369 billion over the next decade on energy security and climate change programs, putting pressure on European industry. The US wants to reinforce its industrial base again.
In some cases, subsidies offered by the US government are four to ten times the maximum government support allowed by the European Commission, French Finance Minister Bruno Le Mer said.
– On the other hand, US government sanctions against China's semiconductor industry are putting pressure on China, and German industry is also suffering from restrictions. Chinese manufacturers make up one-fifth of the global semiconductor industry, and their European customers and suppliers are required to follow US policy.
Dutch company ASML was under pressure from US officials to stop selling individual chip-making machines to China, Bloomberg reported.
International Affairs