China's vaccine diplomacy in Africa
China appears moving steadily to deliver on its pledge by offering manufactured vaccines aim at eradicating the coronavirus in Africa. Simultaneously, China is strengthening its health diplomacy with Africa, and experts describe it as an additional step to reassert further its geopolitical influence in the continent.
Undoubtedly, the Chinese Sinopharm vaccines are increasingly becoming popular among African countries. Deliveries have already been made in Egypt, Equatorial Guinea, Namibia, Senegal, Sierra Leone, Mozambique and Zimbabwe.
Chinese Foreign Ministry has indicated that China would help 19 African countries as part of its commitment to making vaccines global public goods. Foreign Ministry spokesperson, Wang Wenbin, said on February 22 that China would also support enterprises to export Covid-19 vaccines to African nations that urgently need, recognize, and have authorized the emergency use of Chinese vaccines.
The aid is a clear manifestation of the China-Africa traditional friendship, Wang Wenbin said, adding assertively "China will continue to provide support and assistance within its capacity and in accordance with the needs of Africa." Further to that, China welcomes and supports France and other European and American nations in providing vaccines to help Africa fight the pandemic.
In West African region, Sierra Leone became the latest African country to receive 200,000 coronavirus vaccine donation, and 201,600 pieces of disposable needles and syringes from the Chinese government. According to reports, the consignment arrived at the Lungi Airport on February 25, and was received by a high-powered government delegation.
Down in Southern Africa, Zimbabwe will buy an additional 1.2 million vaccine doses from China at a preferential price, President Emmerson Mnangagwa's spokesman said, after Beijing agreed to give more free doses to the southern African country. Zimbabwe has already begun vaccinations after receiving a donation of 200,000 doses from the China National Pharmaceutical Group (Sinopharm).
Chinese Ambassador Guo Shaochun said in a statement that his country had decided to double its donation of vaccines to 400,000 as part of its "solidarity and action" with Zimbabwe.

Mnangagwa's spokesman George Charamba said the government, which had already bought 600,000 doses from Sinopharm and would increase its purchases from China. "Zimbabwe is also procuring more vaccines from China at a preferential price. Zimbabwe is set to purchase another 1.2 million doses from China," Charamba wrote on Twitter.
It targets 10 million vaccinations as the country has been hit with increasing infections. More than two thirds of Zimbabwe's 35,910 coronavirus infections and 1,448 deaths have been recorded this year, according to a Reuters tally.

Separately, on February 24, neighboring Mozambique also received 200,000 doses of Sinopharm vaccine donated by China. The delivery of the first consignment, ferried to Mozambique by an aircraft of the Chinese People's Liberation Army, was witnessed by Prime Minister, Carlos Agostinho do Rosário, Minister of Health, Armindo Tiago, Chinese Ambassador Wang Hejun and other senior government officials.
Speaking at the delivery ceremony, held at the Maputo Air Base, Agostinho do Rosario thanked the government and the people of China for the donation of the first batch consists of 200,000 doses and the same number of syringes. "The swift delivery of the vaccine mirrors the determination and commitment of the leaders of both countries to ensure the well-being of the Mozambican people," the Prime Minister said, stressing that the government has adopted a vaccination strategy that attaches priority to high risk groups particularly health professionals on the front-line of the fight against Covid-19.
Chinese Ambassador Wang Hejun, however pledged to strengthen the cooperation between the two countries in the health field and reaffirmed his country's openness to assist Mozambique in acquiring more vaccines.
He said the Mozambican health system is currently under increasing pressure, but believed the first batch of the vaccine will certainly make an enormous difference. Mozambique is among the first African countries to receive the Chinese vaccines. Vaccines are currently available from two Chinese companies, Sinopharm and Sinovac Biotech.
The vaccine that arrived in Maputo was from Sinopharm. A major advantage of the Sinopharm vaccine is that it does not need to be stored at ultra-low temperatures. It can be kept at normal refrigeration temperatures of two to eight degrees Celsius.
Indeed, Indians are also speeding with donations to the African continent. The Indian government has promised to send Mozambique 100,000 doses of the vaccine developed by the Indian pharmaceutical industry. Still in the southern Africa, Namibian officials said Beijing would donate 100,000 doses vaccine while India promised a donation of 30,000 shots to Windhoek.
In order to sustain relations and as part of a "bilateral cooperation" efforts, Portugal plans to donate 5% its excess to a group of Portuguese-speaking African countries. With a population of just over 10 million people, Portugal is entitled to 35 million vaccine doses this year under an EU-coordinated purchasing scheme, mostly for double-dose inoculation, leaving it with millions of extra shots.
The 5% share would make up 1.75 million doses. The group of countries is comprised of Portugal's former African colonies of Angola, Mozambique, Cape Verde, Guinea Bissau, Equatorial Guinea, and Sao Tome and Principe.
Besides getting vaccines through the African Union, a number of African countries by bilateral agreements will purchase vaccines directly from China, Russia and India. For example, five (5) African countries (Algeria, Gabon, Ghana, Guinea and Tunisia) have registered the Sputnik V, which was developed by Russia's Gamaleya National Research Center for Epidemiology and Microbiology.
The African Union and Africa CDC for its ongoing vaccine readiness work through the African Vaccine Acquisition Task Team. The AU has secured vaccines through the COVAX facility for Africa. WHO has listed three (3) vaccines for emergency use, giving the green light for these vaccines to be rolled out through COVAX. The Group of Seven (7) leaders have committed US$4.3 billion to fund the equitable distribution of vaccines, diagnostics and treatments. European Union has also contributed an additional 500 million euros to COVAX.
The COVAX vaccine facility – which pools financial resources and spreads its bets across vaccine candidates – has handed over the first of 337 million doses it has allocated to around 130 countries for the first half of the year. COVAX receives around 90 percent of its funds from G-7 countries and the EU, but none from China, India or Russia.
By March 2, as reported by the GhanaWeb, the number of African countries to have received vaccine doses are the following:
South Africa – Johnson and Johnson (J&J)
Rwanda – Pfizer and Moderna (reportedly)
Egypt – Sinopharm
Morocco – AstraZeneca/Sinopharm
Seychelles – AstraZeneca/Sinopharm
Mauritius – AstraZeneca
Algeria – Sputnik V
Zimbabwe – Sinopharm
Sierra Leone – Sinopharm
Equatorial Guinea – Sinopharm
Senegal – Sinopharm
Ghana – AstraZeneca/Serum Institute of India (COVAX)
Ivory Coast – AstraZeneca (COVAX)
Guinea – Sputnik V (Experimental basis)
Mozambique – Sinopharm.
Dr. Tedros Adhanom Ghebreyesus, Director-General of the World Health Organization has acknowledged that the pandemic has struck at a time of rapid transformation for Africa. "We cannot and must not see health as a cost to be contained. Quite the opposite: health is an investment to be nurtured – an investment in productive population, and in sustainable and inclusive development," he explained.
According to Adhanom Ghebreyesus, it takes a whole-of-government, whole-of-society approach, and added that "many African countries have low levels of coverage of health services, and when health is at risk, everything is at risk."
Since April last year, World Health Organization and its partners have been working through the Access to COVID-19 Tools Accelerator for the equitable distribution of vaccines as global public goods. As already known, so far around 200 million doses of vaccine have been administered, but unfortunately most of them in the world's richest countries.
WHO declared the coronavirus outbreak a pandemic in March 2020. Since then, more than 110 million cases have now been reported to this organization, and almost 2.5 million people have lost their lives. The overall number of Covid-19 cases in Africa currently stands more than 3.8 million late February, according to the World Health Organization's (WHO) Regional Office for Africa.
Xi Jinping's Global Development Initiative and the Sustainable Development Agenda of China-Africa in 2030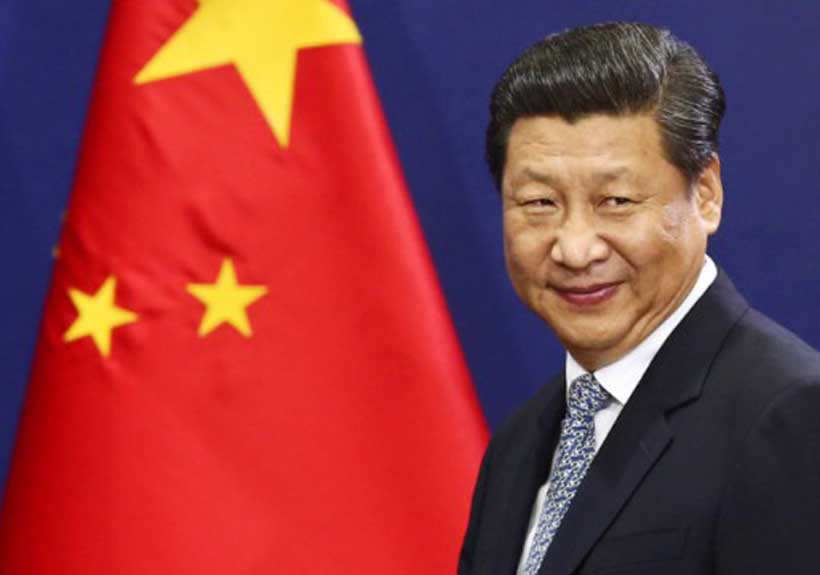 Chinese President "Xi Jinping" proposed during his speech before the virtual session of the (general debate of the 76th session of the United Nations General Assembly), on Tuesday, September 21, 2021, to launch the "Global Development Initiative" to guide global development towards a new stage of balanced and coordinated the comprehensive growth response to the severe shocks of the pandemic of the (Covid-19). The Chinese "Global Development Initiative" came in support of economic and social development around the world. Comrade Chinese President"Xi Jinping"relied on a number of stimuli supporting it, as follows:
1) The Global Development Initiative launched by Comrade "Xi Jinping" is based on revitalizing the economy and striving to (achieve stronger, greener and balanced global development).
2) President Xi's call for (commitment to achieving development as a priority in order to promote global development).
3) Chinese President "Xi Jinping" proposed that (place development at the top of the global macro-policy agenda, strengthen policy coordination among major economies, and ensure policy continuity, consistency and sustainability).
4) President "Xi" sought to call on the countries of the world with our need to (promote more equitable and balanced global development partnerships, to achieve more synergy between multilateral development cooperation processes, and to accelerate the implementation of the United Nations 2030 Agenda for Sustainable Development).
5) That is why the Chinese President, Comrade "Xi Jinping", stressed the necessity of (committing to a people-centred approach, while protecting and improving the livelihoods of peoples and nations, and protecting and promoting human rights through development).
6) President "Xi" linked his global development initiative with the "Belt and Road" initiative, with finding common ground between them and (continuing commitment to achieving benefits for all, and paying attention to the special needs of developing countries).
7) What was new in the international and international initiative of President "Xi Jinping" was his highlighting (the importance of development driven by innovation and harmony between man and nature).
8) And in the belief of the Chinese government and President "Xi", in the importance of China globally to support the efforts of the international community in (the issue of global climate change), so came the call of Comrade "Xi Jinping" to develop a plan aimed at (China's endeavor to reach the peak of carbon dioxide emissions before 2030 and achieving carbon neutrality before 2060), by emphasizing China's support and leadership for all global efforts to achieve these goals of preserving the global environment from the threat of climate change and toxic emissions.
9) In the interest of China to lead all global development initiatives, President "Xi" affirmed (China's support for other developing countries in developing green and low-carbon energy, pledging that China will not build any new coal-fired energy projects abroad).
10) President "Xi" called for the international community, led by China, to "continue to adhere to results-oriented measures and build a community with a shared future for global development"
11) In practice, the Chinese government has set some indicators, foundations and guiding standards to lead global development efforts, at the invitation of Presidential "Xi Jinping" to achieve and accomplish the following:
"The world's need to increase inputs to development, and to strengthen cooperation on the basis of giving priority to the areas of poverty alleviation, food security, response to the (Covid-19) pandemic, the provision of vaccines, development financing, climate change, green development, industrialization, digital economy and connectivity are among the other areas, in addition to accelerating the implementation of the United Nations 2030 Agenda for Sustainable Development"
Hence, we understand that (the global development initiative launched by Chinese President Comrade "Xi Jinping" is consistent with the Chinese development initiative, the Belt and Road, and contributes to building a better future for mankind), which was confirmed by United Nations Secretary-General "Antonio Guterres" stressing that:
The "Global Development Initiative" proposed by Chinese President "Xi Jinping" is of great importance in promoting global equality and a balanced sustainable development, stressing the United Nations' full support for the Chinese initiative for President "Xi", with the United Nations' desire to strengthen cooperation with China in achieving and leading this global development initiative.
As a practical proof of the success of the Chinese global initiative for development, the Chinese Foreign Ministry Spokesman, "Wang Wenbin", affirmed at a press conference that:
"Dozens of countries and many international organizations have clearly expressed their support for the China Global Development Initiative or taken a positive turn on it"
In my personal belief, that in itself (is a real success for China's efforts to lead the future of global development, formulate the future of humanity and support all development strategies of African and developing countries, through work and coordination with the United Nations development efforts and all relevant international organizations, as well as sponsoring China's support for the efforts of African and global civil society to implement the United Nations Development Agenda 2030, to keep pace with all global developments, in implementation of the Chinese call for President "Xi Jinping", with all of us participating in the future), and to support of this Chinese international initiative, so the focus of all Chinese speeches to President "Xi Jinping" affirmed the China's support for the UN's development efforts, in a manner that serves (promoting global equality and the balance of sustainable development in Chinese cooperation with the United Nations and all international organizations and civil society around the world), in a way that finally supports (the Chinese initiative for the Belt and Road and work for the benefit of all poor and developing peoples, primarily African countries, leading China to promote joint construction, openness, inclusiveness and a common future for mankind), according to the call by the Chinese leadership of "Xi Jinping" and leaders of the Communist Party of China.
Presidents Chakwera and Nyusi toast for laudable Malawi-Mozambican relations
Mozambique and Malawi, largely sharing borders, have agreed to forge cooperation in diverse economic sectors and take advantages offered by the single continental market. A number of African leaders have started looking at the African Continental Free Trade Area (AfCFTA), as it aspires to connect all regions of Africa, to deepen economic integration and to boost intra-African trade and investment. It aspires to create a single market for goods and services across 55 countries and our continent, creating a market of as much as 1.3 billion people with a combined GDP of $3.4 trillion.
On November 22 to 24, President Filipe Jacinto Nyusi of Mozambique went on an official working visit to Blantyre, Malawi. It was to participate in the 5th SADC Industrialization Week in Lilongwe, according a statement from the Malawi's Ministry or Foreign Affairs.
The first strategy for regional industrialization, he noted at the conference of the Industrialization Week, includes developing synergies linked to value chains, transport corridors, energy, and human potential. It will also involve bringing down barriers at the border to strengthen the economic identity of SADC. According to Nyusi, the impact of this strategy will be amplified through changes to the trade balance as exports are increased and imports substituted.
The second strategy is based on developing technology, employing thousands of people, creating a market to absorb agricultural surpluses from the rural population with a particular focus on women, agro-processing and associated logistics, which, he said, ends up becoming a "powerful weapon" for the well-being of the population and combating poverty.
While still in Malawi during the visit, Malawi President Lazarus Chakwera took his guest counterpart Filipe Nyusi to launch the construction works for Mozambique-Malawi power transmission interconnection project at Phombeya in Balaka District. The power generation project planned to translate into improved access to electricity supply and ultimately strengthen the industrialization programmes in both countries. Construction of the interconnection project, includes laying transmission lines about 142km from Matambo substation and 76km into Malawi to Phombeya passing through Mwanza and Neno Districts – expected to be completed in 2023.
According to the Integrated Resource Plan of 2017, peak electricity demand will be 1,860MW by 2030 yet currently Malawi's installed electricity generation capacity is hovering at 50MW. The objectives of the interconnection project include to support economic growth of the region through sustainable power access by integrating Malawi electricity market to the Southern African Power Pool (SAPP) in order to balance power deficit through regional power trading.
Phase 1 of the project included technical and economic feasibility study that was completed in 2017, project definition and scope and environmental and social impact assessment that was completed in 2019.
In his remarks, President Chakwera said like the railway rehabilitation project that the two countries have embarked on to connect Malawi to the Sena Line across the border from Vila Nova de Fronteira to Marka, "this interconnection project is yet another milestone in the linkages between our two nations." He reminded Nyusi, that during his visit to Songo Province in Mozambique last year, Chakwera was privileged to tour the Cabora Bassa Dam which is the hub of the Southern African Power Pool (SAPP).
"It was at that time that we agreed to hold this joint ceremony launching the construction of the electricity transmission line for Malawi-Mozambique Interconnection. I am, therefore, glad to see this coming to pass as a step in the direction of integrating infrastructure across SADC for sustainable economic development. The project aims at at creating avenues for trade in the SAPP, with the prospect of more exchanges of trade and power in the future," he asserted in remarks.
President Chakwera says Malawi and Mozambique are strategic development partners and there is a need for the two nations to continue exploring possible areas of cooperation in the areas of trade, transport and mining for the mutual benefit of their people. Both president also identified areas of rail transport, energy and mining for developing bilateral partnership.
With the construction of The Malawi-Mozambique Interconnector, it marchs towards the goal of adding 1,000 megawatts to the national grid over the next four years is making steady progress. The project is co-funded by the World Bank- IDA Credit at US$15 million; European Union through KFW Grant at US$20 million and the Malawi Government at US$3.5 million.
European Council offers €40 million assistance under the EPF in support of Mozambique
With about 3,100 African, European and US soldiers already been deployed to Cabo Delgado province, the security situation has begun stabilizing in Mozambique. Southern African Development Community (SADC) has a Standby Force effectively working, besides the Special Force from Rwanda.
Rwanda was the first foreign army to send troops to Mozambique, deploying 1,000 in July. South Africa has the largest contingent of around 1,500 troops. External countries are enormously helping to stabilize the situation in Mozambique. Mozambique's former colonizer Portugal and the United States both sent special forces to train local troops.
According reports, the European Union (EU) concretely sent 1,100 soldiers to the country in September and the troops will be in Mozambique for two years to train rapid intervention units. It is supplying the Mozambican army with non-lethal weapons.
"This mission will contribute to operations to defend Mozambique. After finishing the training, we will prepare an operational training plan for the future. The soldiers trained here will be able to go on missions," Head of Mozambique's Armed Forces, Joaquim Mangrasse, said in Maputo.
On November 19, the European Council adopted a decision establishing a €40 million assistance measure under the European Peace Facility (EPF) in support of Mozambique. This assistance measure complements an urgent measure amounting to €4 million approved by the Council under the EPF on 30 July 2021 for the most urgently required equipment.
With the measure decided on, the EU will support the Mozambican military units trained by the EU military training mission in Mozambique (EUTM Mozambique), and enable them to conduct security operations in the northern province of Cabo Delgado.
The assistance measure will, in particular provide adequate, non-lethal equipment to strengthen the capacities of the first Mozambican army companies scheduled to be the first to benefit from the EUTM Mozambique's training. This includes individual and collective equipment, ground mobility assets, technical tools and a field hospital.
The provision of the assistance will be subject to the compliance of the EUTM-trained units of the Mozambican armed forces with relevant international law, in particular international human rights and international humanitarian law, as well as with relevant legal instruments and best practices based on international and EU rules, standards and policies in the area of the supply of military equipment.
The assistance measure will cover part of the EUTM's mandate duration. In 2021, partial support packages will be provided to the two companies currently undergoing training by Portugal while, as from 2022, three additional companies will receive support. In total, 11 companies of the Mozambican army and navy will undergo training by the EUTM in several batches and subsequently form a Quick Reaction Force.
The November 19 decision follows the request by the Minister of Foreign Affairs of the Republic of Mozambique in her letter of 27 August 2021 to the High Representative for Foreign Affairs and Security Policy.
Reports said that Islamic-State linked militants have been wreaking havoc in the area since 2017, raiding villages and towns in violence that has claimed at least 3,340 lives and displaced more than 800,000 people. The grave situation attracted international concern when they attacked the key port town of Palma in March, killing dozens as thousands fled into surrounding forest.
The violence forced France's Total Energies to declare force majeure and evacuate staff from a nearby multi-billion-dollar natural gas project.
Mozambique is a member of the Southern Africa Development Community (SADC). Mozambique is a country located in Southeast Africa bordered by the Indian Ocean to the east, Tanzania to the north, Malawi and Zambia to the northwest, Zimbabwe to the west, and Eswatini (Swaziland) and South Africa to the southwest.