China's vaccine diplomacy in Africa
China appears moving steadily to deliver on its pledge by offering manufactured vaccines aim at eradicating the coronavirus in Africa. Simultaneously, China is strengthening its health diplomacy with Africa, and experts describe it as an additional step to reassert further its geopolitical influence in the continent.
Undoubtedly, the Chinese Sinopharm vaccines are increasingly becoming popular among African countries. Deliveries have already been made in Egypt, Equatorial Guinea, Namibia, Senegal, Sierra Leone, Mozambique and Zimbabwe.
Chinese Foreign Ministry has indicated that China would help 19 African countries as part of its commitment to making vaccines global public goods. Foreign Ministry spokesperson, Wang Wenbin, said on February 22 that China would also support enterprises to export Covid-19 vaccines to African nations that urgently need, recognize, and have authorized the emergency use of Chinese vaccines.
The aid is a clear manifestation of the China-Africa traditional friendship, Wang Wenbin said, adding assertively "China will continue to provide support and assistance within its capacity and in accordance with the needs of Africa." Further to that, China welcomes and supports France and other European and American nations in providing vaccines to help Africa fight the pandemic.
In West African region, Sierra Leone became the latest African country to receive 200,000 coronavirus vaccine donation, and 201,600 pieces of disposable needles and syringes from the Chinese government. According to reports, the consignment arrived at the Lungi Airport on February 25, and was received by a high-powered government delegation.
Down in Southern Africa, Zimbabwe will buy an additional 1.2 million vaccine doses from China at a preferential price, President Emmerson Mnangagwa's spokesman said, after Beijing agreed to give more free doses to the southern African country. Zimbabwe has already begun vaccinations after receiving a donation of 200,000 doses from the China National Pharmaceutical Group (Sinopharm).
Chinese Ambassador Guo Shaochun said in a statement that his country had decided to double its donation of vaccines to 400,000 as part of its "solidarity and action" with Zimbabwe.

Mnangagwa's spokesman George Charamba said the government, which had already bought 600,000 doses from Sinopharm and would increase its purchases from China. "Zimbabwe is also procuring more vaccines from China at a preferential price. Zimbabwe is set to purchase another 1.2 million doses from China," Charamba wrote on Twitter.
It targets 10 million vaccinations as the country has been hit with increasing infections. More than two thirds of Zimbabwe's 35,910 coronavirus infections and 1,448 deaths have been recorded this year, according to a Reuters tally.

Separately, on February 24, neighboring Mozambique also received 200,000 doses of Sinopharm vaccine donated by China. The delivery of the first consignment, ferried to Mozambique by an aircraft of the Chinese People's Liberation Army, was witnessed by Prime Minister, Carlos Agostinho do Rosário, Minister of Health, Armindo Tiago, Chinese Ambassador Wang Hejun and other senior government officials.
Speaking at the delivery ceremony, held at the Maputo Air Base, Agostinho do Rosario thanked the government and the people of China for the donation of the first batch consists of 200,000 doses and the same number of syringes. "The swift delivery of the vaccine mirrors the determination and commitment of the leaders of both countries to ensure the well-being of the Mozambican people," the Prime Minister said, stressing that the government has adopted a vaccination strategy that attaches priority to high risk groups particularly health professionals on the front-line of the fight against Covid-19.
Chinese Ambassador Wang Hejun, however pledged to strengthen the cooperation between the two countries in the health field and reaffirmed his country's openness to assist Mozambique in acquiring more vaccines.
He said the Mozambican health system is currently under increasing pressure, but believed the first batch of the vaccine will certainly make an enormous difference. Mozambique is among the first African countries to receive the Chinese vaccines. Vaccines are currently available from two Chinese companies, Sinopharm and Sinovac Biotech.
The vaccine that arrived in Maputo was from Sinopharm. A major advantage of the Sinopharm vaccine is that it does not need to be stored at ultra-low temperatures. It can be kept at normal refrigeration temperatures of two to eight degrees Celsius.
Indeed, Indians are also speeding with donations to the African continent. The Indian government has promised to send Mozambique 100,000 doses of the vaccine developed by the Indian pharmaceutical industry. Still in the southern Africa, Namibian officials said Beijing would donate 100,000 doses vaccine while India promised a donation of 30,000 shots to Windhoek.
In order to sustain relations and as part of a "bilateral cooperation" efforts, Portugal plans to donate 5% its excess to a group of Portuguese-speaking African countries. With a population of just over 10 million people, Portugal is entitled to 35 million vaccine doses this year under an EU-coordinated purchasing scheme, mostly for double-dose inoculation, leaving it with millions of extra shots.
The 5% share would make up 1.75 million doses. The group of countries is comprised of Portugal's former African colonies of Angola, Mozambique, Cape Verde, Guinea Bissau, Equatorial Guinea, and Sao Tome and Principe.
Besides getting vaccines through the African Union, a number of African countries by bilateral agreements will purchase vaccines directly from China, Russia and India. For example, five (5) African countries (Algeria, Gabon, Ghana, Guinea and Tunisia) have registered the Sputnik V, which was developed by Russia's Gamaleya National Research Center for Epidemiology and Microbiology.
The African Union and Africa CDC for its ongoing vaccine readiness work through the African Vaccine Acquisition Task Team. The AU has secured vaccines through the COVAX facility for Africa. WHO has listed three (3) vaccines for emergency use, giving the green light for these vaccines to be rolled out through COVAX. The Group of Seven (7) leaders have committed US$4.3 billion to fund the equitable distribution of vaccines, diagnostics and treatments. European Union has also contributed an additional 500 million euros to COVAX.
The COVAX vaccine facility – which pools financial resources and spreads its bets across vaccine candidates – has handed over the first of 337 million doses it has allocated to around 130 countries for the first half of the year. COVAX receives around 90 percent of its funds from G-7 countries and the EU, but none from China, India or Russia.
By March 2, as reported by the GhanaWeb, the number of African countries to have received vaccine doses are the following:
South Africa – Johnson and Johnson (J&J)
Rwanda – Pfizer and Moderna (reportedly)
Egypt – Sinopharm
Morocco – AstraZeneca/Sinopharm
Seychelles – AstraZeneca/Sinopharm
Mauritius – AstraZeneca
Algeria – Sputnik V
Zimbabwe – Sinopharm
Sierra Leone – Sinopharm
Equatorial Guinea – Sinopharm
Senegal – Sinopharm
Ghana – AstraZeneca/Serum Institute of India (COVAX)
Ivory Coast – AstraZeneca (COVAX)
Guinea – Sputnik V (Experimental basis)
Mozambique – Sinopharm.
Dr. Tedros Adhanom Ghebreyesus, Director-General of the World Health Organization has acknowledged that the pandemic has struck at a time of rapid transformation for Africa. "We cannot and must not see health as a cost to be contained. Quite the opposite: health is an investment to be nurtured – an investment in productive population, and in sustainable and inclusive development," he explained.
According to Adhanom Ghebreyesus, it takes a whole-of-government, whole-of-society approach, and added that "many African countries have low levels of coverage of health services, and when health is at risk, everything is at risk."
Since April last year, World Health Organization and its partners have been working through the Access to COVID-19 Tools Accelerator for the equitable distribution of vaccines as global public goods. As already known, so far around 200 million doses of vaccine have been administered, but unfortunately most of them in the world's richest countries.
WHO declared the coronavirus outbreak a pandemic in March 2020. Since then, more than 110 million cases have now been reported to this organization, and almost 2.5 million people have lost their lives. The overall number of Covid-19 cases in Africa currently stands more than 3.8 million late February, according to the World Health Organization's (WHO) Regional Office for Africa.
NAM has a critical role to play: Interview with one of the most influential women in Africa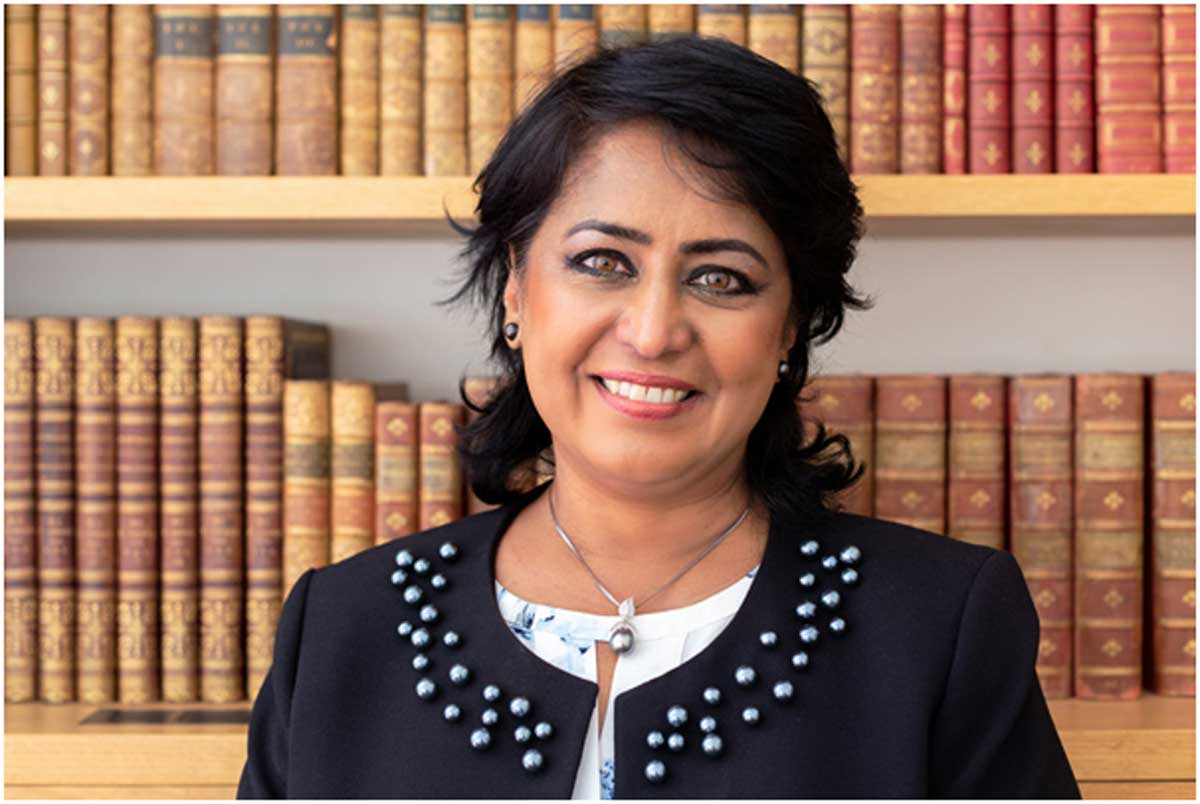 Ameenah Gurib-Fakim, chair at the University of Mauritius, sworn in as the 6th President and the First Female President of the Republic of Mauritius (in 2015).
Forbes List noted her for the 100 'Most Powerful women in the world' and 1st among the Top 100 Women in Africa (Forbes List 2017, 2019). The Foreign Policy' Magazine listed her as one of the leading Global Thinkers.
What went through your mind when Mauritius majority political party asked you to run as President of the country? Especially given the fact that you had no prior political experience.
In the Republic of Mauritius, the post of Presidency is not a political post per se as the President has replaced the 'Queen of England' when the country adopted the status of Republic and thus becomes the Head of State. Executive power rests with the Prime Minister. When I was approached, I said to myself why not – if I can serve my country at the highest level. I am not the first scientist to serve in this position. Other commonwealth countries have done the same.
Gender equality is one of the principal Sustainable Development Goals. It is being debated globally at all levels. In Many African countries there is known to be gender inequality, is that an issue in Mauritius?
Gender equality or inequality is a global issue and that is why we name it on 8th March every year. Does the African continent have more gender inequality ? Good question !.. If we look at the political arena, Africa has some countries who are ahead in gender balancing in Parliament – South Africa, Rwanda etc.. 5 Ladies Presidents on the continent already.. In Mauritius since education became free in 1976, there has been an increase in the feminization of several key sectors including the judiciary, education, medical profession etc.. So I will say that work is still in progress in Mauritius and on the African continent.
What has been your experience regarding this issue during your career and your presidency?
Gender inequality has been pervasive throughout my career. The pecking order is in place and all the way up to the position of Head of State. Patriarchy is omnipresent but I was lucky when I was growing up and I had a cheerleader like my father who taught me that I was capable of doing anything. This boosted my self confidence and from then on, I could take many calculated risks in my life and my career. Risk taking is not taught in any business school, it is an innate feeling that must be inculcated in any young girl. Stereotyping destroys the self confidence in many girls and many are lost as they climb the professional ladder. Societal pressure does not help either. It is time to dao away with these prejudices if economies are to thrive. It has been said ad nauseum that educating a girl is not the right thing to do but the smart thing to do !..
In precolonial Africa there was mostly no (or very little) gender inequality which we may see today. Is it so with Mauritius?
A: I think in pre-colonial days, there were so many other challenges that women rights issues may have not been at the top of the agenda. Nonetheless, in Mauritius the right to vote for women came during the colonial days.
Studies show that women do not take opportunities as much as men do, how do you think nations should encourage young women to take a seat at the table?
It is cliche to say that women do not seize opportunities. Women are denied opportunities at all levels and so much so that words like 'quotas' keep coming up in conversations. Since the CEDAW meeting in Beijing in 1995, many of the gains for women have been reversed only during the Covid era. We have seen so many women losing their jobs; those operating in the informal sector could not access the stimulus package that the government was offering because of the legal status of their business and also one cannot turn a blind eye to domestic violence !
Your Excellency, you are a very fascinating woman, being both religious and a scientist, Is there ever a contradiction in being a woman of god and a woman of science?
A: There is no incongruity in being a woman in science and one who believes in the Majesty of the Creator. Science is a tool that helps us understand the wonders of the living world and its perfection. We are just cobblers when we say that we are protecting the planet. We are not protecting the planet. We are protecting our survival on this planet. In fact Nature does not need us. Again Covid has amply highlighted this when wild animals took over our cities when we were indoors.
Not only women in politics but also women in science are probably not prominent in Mauritius and perhaps in the sub-Saharan region. Are there any projects you are involved in or keen on?
There are still very few women in science and women in politics for our own good. This applies to Africa and to the whole world. We must empower our girls and our women in all walks of life if our economies are to thrive. An educated woman is one who will take the right decisions for her family, society, country and eventually the world. I am keen on sustainable development goals. They are all 'systems' and if we get them right, we will definitely '… leave no one behind'..
In a few nations in Europe we have seen it become a law that a certain number of women have to be in positions of power in corporations, in Africa, specifically the sub-Saharan region is that something that could happen in the foreseeable near future?
Weneedlaws to be able to ensure more female representation as otherwise it will not happen.
Mauritius is a multicultural nation, with nationals from different ethnic and religious backgrounds. What has been key in preventing cultural fragmentation within the country?
In Mauritius, we are a population of immigrants and we all hailed from elsewhere. This has been a powerful reckoning. We are perhaps one of the few countries in the world where you can find a church, a mosque and a temple within one square kilometer. Over the years, we have developed a way of living together which remains unique in the world. There is a tendency for cultural fragmentation especially at election time but fortunately the social fabric is strong enough to weather this down. At the level of the Presidency, I have always encouraged interfaith and intercultural dialogue. This helped whenever there was any sporadic intercommunal tension.
Transforming and improving the Tech and scientific field in Mauritius (and greater Africa) has been one of your priorities. But big parts of Africa are still dealing with instability in many areas. How would you see the realization of these innovative goals in the current unstable environment in which many African countries fall within?
Mauritius and the African continent are already straddling the 4th Industrial Revolution. Our region is going to have to run before crawling in the light of the potential and challenges that the sector will bring. There are huge potentials if we invest in the right ecosystems that will empower the youth. 4IR will transform how we do business and Africa is blessed with all the necessary material resources. We have to make sure that it works for its people.
How do you think Mauritius and many other African countries should strengthen the integrity of public institutions and government officials?
There is no doubt that institutions matter. The legacy of all leaders must be strengthened when they leave office. It's a culture that must be inculcated in our youngsters. Having said this, one must not forget that for every corruptor there is a corruptee !..
As a former president, academic, entrepreneur, and scientist, what is your priority now, and did the political experiences hape your new inhibitions?
The political world provided me with a pedestal of substance to get my words out. My message will remain the same. We need 100% of our human capital, we need quality education, we need the best institutions, an ecosystem that will empower young people so that a better tomorrow is within reach.
What advice would you give young women today in the workforce?
Dream big but set yourself goals and know that there is nothing in this world that you cannot do.. Take risks and deliver on your promises to yourself…
What are your thoughts on the current discussions of the Vienna Process?
Past Brexit, the EU Europe is perceived to becoming smaller and more fragile, while the non-EU Europe is growing more detached and disenfranchised. At this moment in time while the world is still in the grips of the unfolding crisis, there is a rallying call for more integration. On the medium to longer term, an integrated and united Europe will be necessary. The world will emerge as a multipolar world and a united Europe will help ensure peace, security and also the much needed multilateral system to tackle global issues. The Vienna Process seems indispensable for the future of Europe, and we in Africa will observe it as an interesting model to learn from.
Lastly, do we need an reinvigorated Non aligned movement today or it is movement of the past?
Some of the members of the NAM are presently among the G20 countries which produce over 80% of the Global GDP. I think that with two thirds of UN Member States, the Non-Aligned Movement has a critical role to play in forging global solidarity and help address global challenges. The NaM marked important past, but has certainly its bright future, too.
***
Ameenah Gurib-Fakim (GCSK, CSK, PhD, Dsc) has been the Managing Director of the Centre International de Développement Pharmaceutique (CIDP) Research and Innovation as well as Professor of Organic Chemistry with an endowed chair at the University of Mauritius. Since 2001, she has served successively as Dean of the Faculty of Science and Pro Vice Chancellor (2004- 2010). She has also worked at the Mauritius Research Council as Manager for Research (1995-1997).
Ms Gurib-Fakim earned a BSc in Chemistry from the University of Surrey (1983) and a PhD from the University of Exeter, UK (1987). During her academic journey, she has participated in several consultation meetings on environmental issues organized by international organizations. Between 2011-2013, she was elected and served as Chairperson of the International Council for Scientific Union – Regional Office for Africa, and served as an Independent Director on the Board of Barclays Bank of Mauritius Ltd between (2012-2015).
As a Founding Member of the Pan African Association of African Medicinal Plants, she co-authored the first ever African Herbal Pharmacopoeia. She has authored and co-edited 30 books, several book chapters and scientific articles in the field of biodiversity conservation and sustainable development. She has lectured extensively across the world; is a Member of the Editorial Boards of major journals, has served on Technical and national committees in various capacities. Elevated to the Order of the Commander of the Star and Key by the Government of Mauritius in 2008, she has been admitted to the Order of the Chevalier dans L'Ordre des Palmes Academiques by the Government of France in 2010 and is the recipient of 5 DSc (s).
Elected Fellow of several academies and societies, Ms Gurib-Fakim received several international prizes including the 2007 l'Oreal-UNESCO Prize for Women in Science, the African Union Commission Award for Women in Science, 2009.
On 05 June 2015, she was sworn in as the 6th President and the First Female President of the Republic of Mauritius and served in that capacity until March 2018.
She was elevated to the Order of GCSK by the Government of Mauritius, and received the Legion d'Honneur from the Government of France in 2016. In 2017, she received both the lifelong achievement award of the United States Pharmacopoeia-CePat Award and the American Botanical Council Norman Farnsworth Excellence in Botanical Research Award. In 2018, she received the Order of St George at the Semperopernball, Dresden, Germany. In 2019, she received the 'Trailblazing award for political leadership' by the World Women Leaders Council in Iceland. In 2020, she was elected Honorary President of the International and Engineering Institute and received their 2020 5th IETI Annual Scientific Award. She also received the IAS-COMSTECH Ibrahim Memorial Award from the WIAS in Jordan. In 2021, she received the Benazir Bhutto Lifetime Achievement Award.
In June 2016, she was in the Forbes List for the 100 'Most Powerful women in the world' and 1st among the Top 100 Women in Africa Forbes List 2017, 2019. She is honoured as one of Foreign Policy's 2015 Global Thinkers.
Moroccan-African Diplomacy in King's Mohamed VI Era
Incredibly, every move and shift in Moroccan politics has been attached by the irresistible projection of foreign policy in terms of principled constancy and shifts that followed. Nowadays, it is commonplace to argue how many fundamental changes have occurred in post-King Hassan II Morocco since 1999.
For instance, has Moroccan foreign policy experienced a great shift in its approach, norms, security priorities, and key interest over the past two decades? Due to this, international broadcasting has once again centralized on Kings' diplomacy speech held on November 7th, in which King Mohamed 6, the head of the ruling constitutional party of Morocco, delivered the work report defining the demarche of its foreign policy for the next 3 decades. The questions hereby involve Moroccan leader's perception of our "African community", their development objectives and means, and new principles of foreign policy for the upcoming decades.
As the Kingdom of Morocco is motivated by the royal glory and the centenary success from the beginning of the 20th century, its people have struggled continuously and diligently for realizing the rejuvenation of the Moroccan nation. Given this, King Mohamed 6 acknowledged that now the Kingdom of Morocco has entered the critical stage of its rise to a regional power since his Majesty initiated the remodel and openness-up in the late 1990s. He undertakes to maintain upholding the key goal of preserving regional and African peace and promoting common development with all countries. Simultaneously, King Mohamed 6 underlined that it is the Moroccan political ruling party's abiding mission to make greater contributions for building a community with a shared future for humans in the globalized era.
To the people who believe in realism thinking and power politics, it is demanding for them to abandon the notion of "the Thucydides trap" simply because Morocco, like any other rising regional power historically, would surely challenge the ruling power's interest, value, and prestige. Hence, His Majesty called upon in his address at the Green March to recreating a new form of regional relations featuring mutual respect, shared benefits, justice, and win-win cooperation. This article seeks to elucidate the approach of King Mohamed's foreign policy from the concept, objective, and prospect which were illustrated at the Moroccan speech.
Theoretically, the Moroccan people, both Political parties and the King, have preached that regional multi-polarity, economic globalization, and cultural diversity are the moving global trend forward. Considering this, diplomatic changes in the international governance system and global order are inevitable. In doing so, our " Regional Community " is bounded by uncertainties and destabilizing aspects covering from the growing lack of energy, broadening gap between rich and poor countries, and hotspot issues in many areas; not to mention alarming unconventional security cases like terrorism, cyber-security, climate changes, and major contagious diseases. As we are living in a society with a shared future, it is feasible for all states to cooperate, as one united, we never fail, while keeping each own identity. No state alone can face so many challenges and issues, and no state can afford to retreat into self-isolation as well.
As the largest developing country in the Northern Africa, The Kingdom of Morocco will sustain to endorse commerce and investment liberalization and facilitation, and seek to ease economic regionalization more open, inclusive, and fairer so that it would benefit all African countries concerned. This takes that Morocco actively develops African and international partnerships and enlarges the proximity of interests with other countries. Simultaneously, as the most dynamic growing power along with other African states like Rwanda and Kenya, The Kingdom of Morocco has continually acknowledged that will never quest development at the expense of others' interests, nor will Morocco ever quit its legitimate rights and core interests. Due to this, it seeks a national security approach that is in nature defensive, and in the future, Rabat will never pursue supremacy or rivalry to jeopardize the regional order.
Thus, what does Morocco want in its long-term approach?
As one of the preys of the colonialist powers in modern history, Morocco had endured too much more and too much longer than any other North African country. Because of this, the Moroccans have never paused to pursue their national ambition to be a strong regional power and, with such a dream, they naturally look to develop mutual and friendly ties with states around the African continent and eventually to be involved in the continental governance. Rather than acting as a hegemonic power against the status quo, the Kingdom of Morocco has at once proven its respect for the global order, responsibilities for continental issues, and promotion of reciprocal benefits and comprehensiveness in global affairs. Currently, Moroccan decision-makers have illustrated their refusal of the colonist power politics mindset but underlined a new approach to upgrade state-to-state relations through negotiations and dialogues, in particular the new practice of regional power diplomacy Initiated by His Majesty. Despite some still trying to blame Morocco for causing tensions in the region, indicating its strained ties with neighbors Mauritania and Tunisia, the Kingdom of Morocco keeps devoted to regional stability and peace as playing a more proactive role in averting disputes and chaos in the North African region including on Libya's crisis.
Strategically speaking, how does The Kingdom of Morocco reach its African diplomacy mission by 2030?
Unquestionably, the Kingdom is not "Idealistic" considering the intricated world and their still limited leverage in foreign affairs. Meanwhile, they have gradually run after the national dream for a century, the leading Moroccan elite in Kingdom has been aware of the "global changes" that are full of challenges and Espoir. Then, King Mohamed IV explicitly acknowledged that Morocco will attempt to found a pragmatic framework for regional-power connection featuring global stability and shared respects for each core interest and key advantages. Morocco will strengthen relations with its many neighbor states following the norm of honesty, shared understanding, and mutual benefits. Morocco will regularly exercise its extreme efforts to widen and enhance cohesion and cooperation with other African states, which sustain the foundation of King foreign diplomacy in the 21st century.
Foreign Affairs is always impacted by the changes in foreign policy, several priorities in internal politics, and the ruling elite's view of world reality. In a view of this, it is undeniable that Morocco's foreign policy will be changed or even amended accordingly. Nonetheless, cautiously that the revival of the Moroccan realm is a century dream which not only demands combined efforts but also closely related to the authority of the ruling royal Kingdom; thus, no leading elite of Morocco challenge to change this historical task uttered by the mandate destiny. This is one of the main motives why King Mohamed VI guarantees to work together persistently and uphold the essential strategy of opening up diplomacy and seek balanced development with its doors open broadly.
To the end, since King Mohamed VI launched the outline of the King's African Diplomacy in 2016, the Moroccan government has spent vast energy, resources, and perception on building up a sound platform for African cooperation to establish new mechanisms of shared development, and broad are multiple-fields like public policy, communication services, trading, industrial productivity, and social-cultural creativity. All highlight that Morocco is keen to act as a true actor of the future African affairs, a liable power involving the rules-making, and one of the key players to maintain the regional and African order by both peace and diplomacy. Regardless of what is a need in the future, there is no hesitation for this emerging giant rising regional power.
Africa – A Continent with No Desire to Develop Economic Independence
After the Soviet collapse, Russia has maintained strong and time-tested relations with African countries, and of course, the Soviet Union had played an important role during the decolonization of Africa. The African continent comprises a diverse collection of countries, each with its own set of development setbacks and challenges. The political culture and investment climate are, in fact, diverse but are also important forces in the economy.
According to several development reports, Africa is one of the fastest growing regions in the world: the average annual GDP growth rate estimated at 3.5% to 5% on the continent. The reports have strongly encouraged African leaders to initiate development-oriented policies, prioritize sustainable development as a practical step towards raising the living standards of millions of impoverished population and further guide against the revival of neo-colonialism, the destructive attitude towards the resources in Africa.
In this interview, Associate Professor Ksenia Tabarintseva-Romanova, Ural Federal University, Department of International Relations and Assistant Professor Alexei Antoshin share their views and opinions about Africa today, the current economic cooperation between Africa and Russia. As widely known, Russia plans to hold theSecond Russia-Africa summit in 2022.
Here are the interview excerpts:
How do researchers (during academic discussions) of the Department of International Relations at Urals State University generally look at Africa today? What are the popular perceptions and so forth about Africa?
KseniaTabarintseva-Romanova: Unfortunately, this region is not actively studied directly by teachers and students of the Department of International Relations at the Urals State University. It is most often explored when examining issues such as human rights and the Sustainable Development Goals (SDGs).
Alexei Antoshin: For many years, I have been a member of the RAS Scientific Council on African problems, interacting with the RAS Institute for African Studies and the Center for African Studies of the RAS Institute of General History, publishing in scientific journals and collective monographs on this topic. For 20 years now, at the Faculty (Department) of International Relations, I have been teaching the course "Russia and Africa", dedicated to various spheres of interaction between our country and African states. In addition, for the last five years I have been teaching the course "Culture of Modern Africa" which is also of great interest to the students of the Department of Oriental Studies.
The problem of the influence of African culture on contemporary global art (music, street art, etc.) is of particular interest to students. In addition, annually under my leadership, term papers and graduate qualifications are written on various aspects of China's policy in Africa, the expansion of Chinese capital, and the activities of Confucius Institutes on the Black Continent.
What comes to mind when we talk about sustainable development, and its interpretation, in Africa?
KseniaTabarintseva-Romanova: When writing an article on the Red Cross and the SDGs, I came to the conclusion that the main problems are related to the environment (lack of drinking water), the complexity of health care, the problems of realizing the rights of vulnerable groups of the population.
Alexei Antoshin: Unfortunately, Africa firmly holds the first place among continents in terms of poverty, the number of hungry and refugees, and the spread of AIDS. A colossal problem is the conflict potential of the region, political instability, and the failure of democratic transition. True, in comparison with the 1990s, which were extremely unfortunate for the continent, the situation has improved somehow, but many experts attribute this to fluctuations in world oil prices.
What, in your opinion, are the main challenges hindering the realization of expected development there?
Ksenia Tabarintseva-Romanova: In my opinion, this is due to historical and geographical factors: the colonial past – there was no desire to develop "economic independence" of the region; consumer attitude to territories and resources; isolation of the region from world production chains. During the Cold War, the USSR and the USA, competing for influence on the continent, were forced to develop industry and infrastructure. After the end of the Cold War, this was no longer necessary. Many states have lost their statehood, centralized power and territorial integrity (Somalia, Libya).
Alexei Antoshin: Yes, unfortunately, paradoxically, Africa is "lost" from the end of the Cold War. Now both the United States and Russia are losing the "battle for Africa" ​​to China: its investments in Africa are several times greater than those of Russia and the United States. The problem is that the Chinese expansion is already causing an ambiguous reaction from the local population: the PRC's consumer attitude towards the richest resources of the region, underestimation of environmental problems lead to public discontent. An additional factor is activation.
Islamist extremist groups in many countries of the region. The fall of apartheid in South Africa also led to a surge in extremism, the problem of "black racism", a drop in the level of education in South African universities, which traditionally occupy high places in world rankings.
Do you think much depends on African leaders and its people (African solutions to African problems) to work toward long-term sustainable development?
Alexei Antoshin: Most experts were skeptical and still refer to the economic programs developed by African leaders and Africans themselves. This applies to integration within the framework of the African Union (copying the European Union is unproductive), and to its economic program NEPAD – New Partnership for Africa's Development. In the world rankings of bureaucratic corruption, African countries are in the first place.
How do you interpret current engagement of foreign players (countries) in Africa? Do you also think there is geopolitical competition and rivalry among them there?
Alexei Antoshin: As I have already noted, this competition is underway, since Africa's resources are colossal. The potential winner is likely to be China.
Is it appropriate when we use the term "neo-colonialism" referring to activities of foreign players in Africa? What countries are the neo-colonizers in your view?
Alexei Antoshin: Difficult question. Colonialism was a controversial phenomenon: it was the colonialists who created the infrastructure that modern Africa uses. A number of experts call the current policy of the PRC "neo-colonial", but it is also ambiguous.
Do you think, with the adoption of African Continental Free Trade (AfCFTA), it offers a window of hope for attaining economic independence for Africa? What role Russia can play in this or of what significance is it for potential Russian investors?
KseniaTabarintseva-Romanova: The free trade zone is the most important modern tool for the economic development of regions, but it is not a panacea. Successful implementation requires a sufficiently high level of economic development of the participating countries, logistical accessibility, developed industry with the prospect of introducing new technologies. This means that in order for AfCFTA to effectively fulfill its tasks, it is necessary to enlist the provision of sustainable investment flows from outside. These investments should be directed towards the construction of industrial plants and transport corridors.
President of the Russian Federation, Vladimir Putin, has stated for several years that Africa is a strategic region for Russia, which has a large number of long-standing economic partners. For example, the construction of a new naval base in Sudan (the creation of service industries, the supply of new equipment, the renewal of the army is envisaged); cancellation of debts to Angola, preparation for the Russia-Africa summit 2022. Russia already has vast experience with the African continent, which now makes it possible to make investments as efficiently as possible, both for the Russian Federation and for African countries.
If we talk about the interaction of the Sverdlovsk Region and Africa, then according to the Ministry of International and Foreign Economic Relations, at the end of 2018, among the trading partner countries of the Sverdlovsk Region, Algeria ranked 22nd among the 159 trading partners of the region. The trade turnover amounted to almost US$ 138 million.
On February 6, 2020, during the visit of the delegation of the Sverdlovsk region to the province of Mpumalanga of South Africa, an Action Plan was signed to implement the Agreement between the Government of the Sverdlovsk Region and the Government of the Mpumalanga Province on the implementation of international and foreign economic relations in trade, economic, scientific, technical, cultural and humanitarian spheres for 2020 – 2022. The following enterprises of the Sverdlovsk Region cooperate with South Africa – OJSC Uralasbest, LLC Viz Steel, PJSCU ralmashzavod.
Alexei Antoshin: Russian state corporations are participating in the "Battle for Africa" and the main significant problem is the high risks associated with investing in Africa. In addition, unfortunately, in Russia there is a shortage of qualified personnel who know African markets, the specifics of the business culture of Africans and so forth. Although there is also an underestimation of the continent's potential associated with the image of Africa as a "black hole" which is also due to the fact that the bulk of the Soviet debts of African countries had to be written off. These are the realities of the situation with Africa.