Palestinian elections raise hopes for two-State solution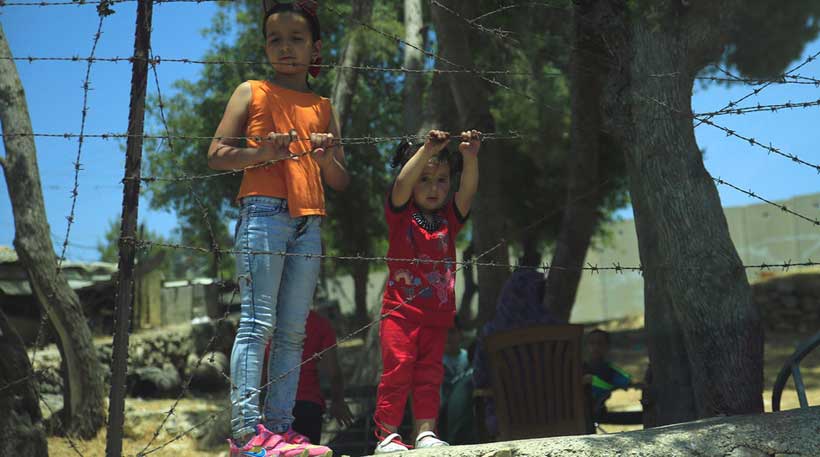 The holding of free and fair elections in the Occupied Palestinian Territory will help "clear the path" for restoring a legitimate political horizon to realize a long sought two-State solution, the leading UN diplomat for the region told the Security Council on Friday.
"The depth of the task is daunting, but not insurmountable", said Tor Wennesland, Special Coordinator for the Middle East Peace Process and Personal Representative of the Secretary-General. "We must seize emerging opportunities."
With the upcoming elections offering just such an occasion, he pointed to the "extraordinarily high" registration rate among Palestinians as a "resoundingly positive" response.
The elections will provide a crucial step towards re-establishing Palestinian national unity – and renewing the legitimacy of national institutions, including a democratically elected Legislative Council and Government in Palestine, he assured.
Palestinian Progress
He said Palestinian factions are making progress towards holding legislative, presidential and Palestinian National Council elections. Earlier this month, they met in Cairo, reaching agreement on several outstanding issues and emphasizing that elections must be held throughout the occupied West Bank, including East Jerusalem, and the Gaza Strip, without exception.
Meanwhile, on 17 February, the Central Elections Commission announced 421,000 new registrants during the period, he said, raising the total registered voters to over 2.6 million – 93 per cent of all eligible voters, according to estimates from the Palestinian Central Bureau of Statistics. "It is encouraging to see such strong public participation in the democratic process", he said.
International support
For its part, the international community is focused on helping the parties return to the negotiating table, he said. On 8 February the League of Arab States reiterated its support for the establishment of an independent and sovereign Palestinian State based on the 1967 lines, with East Jerusalem as its capital.
The Envoys of the Middle East Quartet – the Russian Federation, United States, European Union and United Nations – met virtually on 15 February to discuss the political developments, with all agreeing to meet on a regular basis. And a Chair's summary of a 23 February virtual meeting of the Ad Hoc Liaison Committee highlighted that the parties expressed renewed commitment to enhance cooperation.
For its part, the UN is working with the parties and international partners to address the pressing socioeconomic needs of Palestinians, including in the context of the pandemic. It is also advancing the goal of ending the occupation and realizing a negotiated two-State solution based on UN resolutions, international law and prior agreements.
Vaccine Roll-out
On COVID vaccination prospects, he welcomed the announcement of the Palestinian vaccination strategy and the initial allocation to the Palestinian Ministry of Health of 37,440 doses of vaccines by the COVAX-AMC facility. In February, 30,000 doses of vaccines were delivered to Palestinians, including in Gaza, by the Russian Federation and the United Arab Emirates.
He said this is in addition to Israel's earlier transfer of 5,200 vaccines to the Palestinian Authority, vaccination of 5,000 Palestinian educational and health workers working in Israel, and efforts to vaccinate the population in East Jerusalem, which is 50 per cent complete.
Home demolitions
He went on to describe developments on the ground, expressing concern over Israel's demolition or seizure of 170 Palestinian structures in Area C and 10 in East Jerusalem. The demolitions were carried out due to the lack of Israeli-issued building permits, which are nearly impossible for Palestinians to obtain.
Regional tensions simmer
Turning to the region as a whole, on the Golan, he said the ceasefire between Israel and Syria has been generally maintained. However, the security situation continues to be volatile, with continued violations of the 1974 Disengagement of Forces Agreement by the parties.
In Lebanon, the population faces increasing hardship, due to deteriorating economic conditions and impact of COVID-19. In the United Nations Interim Force in Lebanon (UNIFIL) area of operations, incidents of weapons pointing between the Israel Defense Forces and the Lebanese Armed Forces across the Blue Line contributed to heightened tensions.
Excess salt in soils puts food security at risk
Improper water management, including insufficient supply and poor quality drainage systems, are contributing to excessive soil salinization – a problem that threatens global food security, according to the UN's Food and Agriculture Organization (FAO).
Soil salinization refers to excessive levels of salt in the soil, which can inhibit plant growth and even be toxic to life. It can occur naturally, for example in deserts due to lack of water and intense evaporation, or as a consequence of human activity.
FAO is highlighting the issue in marking World Soil Day on Friday, ahead of the official commemoration on Sunday.
Soils at risk
"Soil is the foundation of agriculture and the world's farmers depend on soil to produce about 95 per cent of the food we eat. Yet, our soils are at risk," said Qu Dongyu, the agency's Director-General, in advance of the Day, which is organized around the theme of Halt soil salinization, boost soil productivity.
FAO said unsustainable agricultural practices and the overexploitation of natural resources, as well as a growing global population, are putting increased pressure on soils and causing alarming rates of soil degradation worldwide.
More than 833 million hectares of soils are already salt-affected, representing around nine per cent of the world's land surface, or roughly four times the size of India.
Salt-affected soils occur in all continents, and under almost all climatic conditions, but more than two-thirds are in arid and semi-arid zones.
Some of the regions most affected are in Central Asia, the Middle East, South America, North Africa and the Pacific.
Challenges in Uzbekistan
Uzbekistan, located in Central Asia, is the world's largest landlocked country, and is in turn surrounded by other landlocked nations. More than half the soils there are salt-affected, making it extremely difficult to farm productively.
Adyl Khujanov runs a farm in the village of Kyzylkesek, situated in the Karakalpakstan region in western Uzbekistan, which is considered the hottest and driest place in the country.
"I've been farming this land all of my life and seen so many people from this area leave over the years because of the heat, dry weather and water shortages," he told FAO recently.
However, in other regions of the world, soil salination is attributed to unsustainable human activities. These include over use of fertilizers, inappropriate irrigation methods, poor quality water, and deforestation.
Learning new methods
FAO works with countries to support them in managing soil resources.
In Uzbekistan, FAO's Global Soil Partnership (GSP) collaborates with scientists to develop climate-smart soil management practices so that crops in salt-affected areas can thrive.
"Thanks to new methods which we have learnt and adopted here to cope with climate change and severe water shortages, I can grow tomatoes, melons, pulses and forage crops to feed animals," said Mr. Khujanov.
Reliable data critical
FAO has also stressed the importance of generating reliable soil data, though it warns that many countries face challenges in this area.
The agency has published the Global Soil Laboratory Assessment Report, which reveals that out of 142 countries surveyed, 55 per cent lack adequate capability for soil analysis. Most are in Africa and Asia.
At the report's launch, Mr. Qu underlined the need for investment in soil laboratories to provide reliable data that will inform sound decisions for ensuring sustainable soil management and preventing degradation.
He said the recent adoption of a new Soil Strategy by the European Union (EU) is a positive example, setting concrete and ambitious targets to improve soil health within and outside the bloc.
FAO recalled that the vital role of healthy soils in climate change mitigation and adaptation and in building resilience figured prominently at the COP26 conference last month.
The agency has called on all countries to urgently improve their soil information and capacities by making stronger commitments towards sustainable soil management.
With 1.3 million annual road deaths, UN wants to halve number by 2030
Road accidents are still responsible for 1.3 million annual deaths and 50 million injuries all over the world, but the United Nations has a Global Plan to halve road deaths and injuries by 2030.
The plan is a key part of the Decade of Action for Road Safety 2021-2030 and was discussed, on Friday, at an event supporting the High-Level Meeting on Global Road Safety at the General Assembly in New York.
Opening the discussion, the President of General Assembly, Abdulla Shahid, said that the world needs to address this "unnecessary and tragic burden on families, communities and economies."
"Road accidents are entirely preventable, and our priority must be exactly that, to implement preventive measures", he continued.
Necessary action
Mr. Shahid highlighted the importance of the Global Plan, but warned that "unless it is implemented, it is nothing more than a plan of action."
Looking ahead, he said implementation by national and local governments will require two main elements: financing and the engagement of relevant actors.
With a notable funding gap in most countries, 90% of road deaths happen in low and middle-income countries.
For Mr. Shahid, this means that achieving the targets will require increased support to these countries.
Road traffic crashes are also the leading killer of children and young people worldwide, aged five to 29.
As things stand, they are set to cause a further estimated 13 million deaths and 500 million injuries during the next decade.
Personal stories
During Friday's event, Member States heard from families who lost loved ones, politicians that led the way, grassroot youth working on advocacy programs, and both government and non-governmental organizations.
For the President of the General Assembly, "each is a story that will foster greater understanding and knowledge on how we can better engage on global road safety."
Mr. Shahid invited Member States, civil societies, and the international community to use these exchanges "as an opportunity to build collective commitments and strengthened partnerships".
"Global road safety is a shared responsibility that must be prioritized and integrated", he argued.
For him, achieving safety would contribute to the achievement of Sustainable Development Goals under education, health, and the environment, among others.
The High‑Level Meeting on the topic will be held in July next year, under the theme "The 2030 horizon for road safety: securing a decade of action and delivery".
Strong Producer Organizations Key to a Vibrant Farming Sector
Scaling up agricultural production among small farmers through clustering and organizing them into cooperatives and various types of producers' organizations, and forging partnerships with agribusiness firms can help raise their incomes and subsequently spur the socio-economic transformation of the Philippine countryside.
A report titled "Realizing Scale in Smallholder-Based Agriculture: Policy Options for the Philippines" – launched jointly by the World Bank and the Department of Agriculture (DA) – said that there are rich lessons in the country and abroad for these clustering and consolidation of activities on-farm and along the value chain to succeed and transform the agricultural sector.
One notable example of this approach, the report said, is the Philippine Rural Development Project (PRDP), which is currently implemented by the DA. The PRDP clusters or organizes producers into enterprises that take a business-oriented approach to farming and fishing, supported through complementary investments in infrastructure such as farm-to-market roads, irrigation, post-harvest facilities, and cold storage.
"To succeed, efforts at clustering and consolidation needs to be voluntary, built on trust and confidence, and collaborative relationships among stakeholders—whether they are farmers, communities, municipalities, other local government units, or small and larger agribusiness enterprises," said Ndiame Diop, World Bank Country Director Brunei, Malaysia, Thailand, and the Philippines.
"Where different approaches to clustering land management are not feasible, support for the mechanization of farming and post-harvest operations may be an alternative or complementary strategy for smallholder-based systems to increase farmer productivity and incomes, both on and off the farm," Diop said.
Philippine agriculture is dominated by small farmers and fishers who operate independently, mostly using traditional production practices and earning low incomes. A typical farmer earns an average of P100,000 pesos each year, well below the poverty line (based on 2015 PSA figures).
Average farm size declined from three hectares (ha) per family per holding in the 1980s to only 0.9 ha per family per holding in 2012. These increasingly smaller farms are often split into more fragmented blocks. The country has some 5.56 million farms, totaling 7.2 million hectares, of which more than half (57 percent) are one ha or less, 32 percent are one to three ha, 9 percent are three to seven ha, and only two percent are seven ha or larger.
Agriculture Secretary William Dar has highlighted that using modern technology, schemes like block farming, trust farming, and contract farming can make farming more efficient and profitable for farmers and their partners in agribusiness ventures. With higher and better-quality production, linking agriculture to the domestic and global manufacturing sectors and accessing markets become easier, he said.
"Finding opportunities for clustering and consolidation of small and medium-sized farms as well as partnerships with agribusiness enterprises – to bring about economies of scale (and lower per-unit cost of production), particularly for crops that require mechanization and extensive use of technology – is part of the 'new thinking' of the Department of Agriculture," said Secretary Dar.
"We want to collectively empower farmers, fisherfolk, and the private sector to increase agricultural productivity and profitability, taking into account sustainability and resilience," the DA chief added.
Global experience shows that forcing collaboration among farmers and agribusiness enterprises through decree or subsidies (top-down approach) usually does not work but those that emerge from farmers' bottoms up collective initiatives yield good results.
The report says that the country can explore various arrangements based on global experiences, including:
Realizing scale in primary production. In the Philippines, perhaps the most promising areas to pursue clustering can be among selected irrigation schemes where water user associations are already well established; and within Agrarian Reform Communities supported by the Department of Agrarian Reform.
Supporting market-oriented producer organizations. Encouraging the growth of cooperatives and producer organizations. In the East Asia region, Japan, South Korea, and Taiwan have had especially rich experiences promoting farmer groups or cooperatives.
Fostering contract farming, productive alliances, or other linkages between farmers groups and agricultural enterprises. These are well understood in the Philippines and can be scaled up.
Elsewhere in the region, contract farming has become increasingly common in some value chains, including value chains for specialized rice varieties or rice production systems.