Palestinian elections raise hopes for two-State solution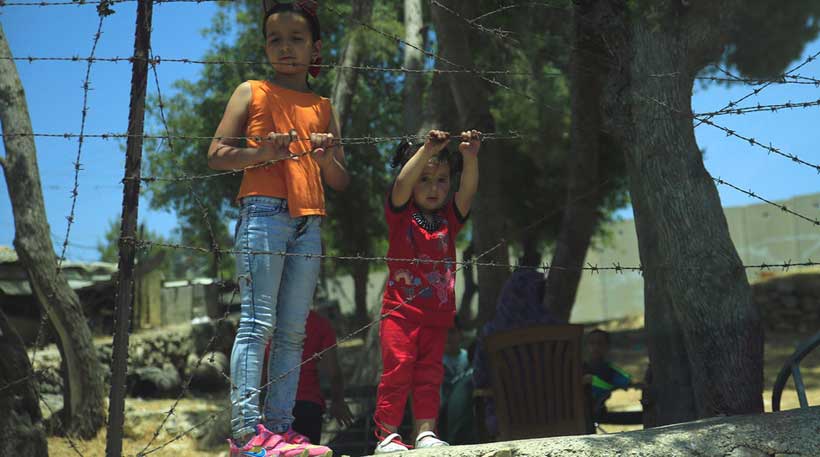 The holding of free and fair elections in the Occupied Palestinian Territory will help "clear the path" for restoring a legitimate political horizon to realize a long sought two-State solution, the leading UN diplomat for the region told the Security Council on Friday.
"The depth of the task is daunting, but not insurmountable", said Tor Wennesland, Special Coordinator for the Middle East Peace Process and Personal Representative of the Secretary-General. "We must seize emerging opportunities."
With the upcoming elections offering just such an occasion, he pointed to the "extraordinarily high" registration rate among Palestinians as a "resoundingly positive" response.
The elections will provide a crucial step towards re-establishing Palestinian national unity – and renewing the legitimacy of national institutions, including a democratically elected Legislative Council and Government in Palestine, he assured.
Palestinian Progress
He said Palestinian factions are making progress towards holding legislative, presidential and Palestinian National Council elections. Earlier this month, they met in Cairo, reaching agreement on several outstanding issues and emphasizing that elections must be held throughout the occupied West Bank, including East Jerusalem, and the Gaza Strip, without exception.
Meanwhile, on 17 February, the Central Elections Commission announced 421,000 new registrants during the period, he said, raising the total registered voters to over 2.6 million – 93 per cent of all eligible voters, according to estimates from the Palestinian Central Bureau of Statistics. "It is encouraging to see such strong public participation in the democratic process", he said.
International support
For its part, the international community is focused on helping the parties return to the negotiating table, he said. On 8 February the League of Arab States reiterated its support for the establishment of an independent and sovereign Palestinian State based on the 1967 lines, with East Jerusalem as its capital.
The Envoys of the Middle East Quartet – the Russian Federation, United States, European Union and United Nations – met virtually on 15 February to discuss the political developments, with all agreeing to meet on a regular basis. And a Chair's summary of a 23 February virtual meeting of the Ad Hoc Liaison Committee highlighted that the parties expressed renewed commitment to enhance cooperation.
For its part, the UN is working with the parties and international partners to address the pressing socioeconomic needs of Palestinians, including in the context of the pandemic. It is also advancing the goal of ending the occupation and realizing a negotiated two-State solution based on UN resolutions, international law and prior agreements.
Vaccine Roll-out
On COVID vaccination prospects, he welcomed the announcement of the Palestinian vaccination strategy and the initial allocation to the Palestinian Ministry of Health of 37,440 doses of vaccines by the COVAX-AMC facility. In February, 30,000 doses of vaccines were delivered to Palestinians, including in Gaza, by the Russian Federation and the United Arab Emirates.
He said this is in addition to Israel's earlier transfer of 5,200 vaccines to the Palestinian Authority, vaccination of 5,000 Palestinian educational and health workers working in Israel, and efforts to vaccinate the population in East Jerusalem, which is 50 per cent complete.
Home demolitions
He went on to describe developments on the ground, expressing concern over Israel's demolition or seizure of 170 Palestinian structures in Area C and 10 in East Jerusalem. The demolitions were carried out due to the lack of Israeli-issued building permits, which are nearly impossible for Palestinians to obtain.
Regional tensions simmer
Turning to the region as a whole, on the Golan, he said the ceasefire between Israel and Syria has been generally maintained. However, the security situation continues to be volatile, with continued violations of the 1974 Disengagement of Forces Agreement by the parties.
In Lebanon, the population faces increasing hardship, due to deteriorating economic conditions and impact of COVID-19. In the United Nations Interim Force in Lebanon (UNIFIL) area of operations, incidents of weapons pointing between the Israel Defense Forces and the Lebanese Armed Forces across the Blue Line contributed to heightened tensions.
ADB, AFD Reaffirm Strong Cooperation in Key Sectors, Including Climate Action
Asian Development Bank (ADB) President Masatsugu Asakawa in a call today with Agence Française de Développement Group (AFD) Chief Executive Officer Rémy Rioux reaffirmed the importance of collaboration between the two institutions, particularly on key issues such as climate change and aspirations for COP26.
"ADB's partnership with France, through AFD, is strong and continues to build on our long history of collaboration on important development issues and projects across many countries and sectors in Asia," Mr. Asakawa said. "This solid foundation and our dynamic collaboration allows us to support an inclusive and resilient green recovery across the region as it emerges from the COVID-19 pandemic."
The two leaders met ahead of the agencies' annual high-level consultation on 14 and 15 April.
ADB and AFD signed their first partnership framework agreement in October 2016. They have since jointly funded 22 projects in 10 countries, in sectors such as energy, transport, public sector management, finance, agriculture, water, urban infrastructure, and health. AFD has provided $1.9 billion in cofinancing alongside $4.7 billion from ADB to fund these development programs across the region.
Mr. Asakawa updated Mr. Rioux on ADB's response to the coronavirus disease (COVID-19) pandemic, which includes a $20 billion support package for Asia and the Pacific announced in April last year. ADB has committed $17.1 billion through grants, technical assistance, and loans to governments and the private sector and has mobilized an additional $12.2 billion in cofinancing. Mr. Asakawa acknowledged with appreciation AFD cofinancing for ADB's $500 million COVID-19 response program in Pakistan. Mr. Asakawa stressed the importance of vaccine access to enable the post-COVID-19 recovery, and updated Mr. Rioux on the roll-out of ADB's $9 billion Asia Pacific Vaccine Access Facility (APVAX).
The two leaders discussed cooperation on mitigating the severe impact of climate change in Asia and the Pacific which threatens to further undermine development gains over the last several decades. As part of that endeavor, ADB and ADF have a shared objective to contribute to the success of the COP26 summit to be hosted by the UK government later in the year. In 2020, while responding to the COVID-19 pandemic, ADB committed $4.3 billion in climate finance and mobilized $729 million from external resources.
Environmental rights, here and now: working for change in 2021
COVID-19 hasn't only raised concern for health. It has also stimulated thought and debate around issues of human rights – including those related to the environment. After all, the emergence of the zoonotic disease has demonstrated that the health of people and planet are one and the same.
All people have the right to a safe, clean, healthy and sustainable environment – pollution-free air and water, land and soil, seas and oceans – and a life free from chemicals.
Pollution claims millions of lives every year. But unlike COVID-19, which has drawn rapid and dramatic attention, pollution is widely dismissed as unavoidable; as a consequence of development and daily life, beyond anyone's control.
"Environmental rights empower individuals, people, and peoples, and help humanity in addressing the triple planetary crises of climate change, biodiversity loss, and pollution," said Arnold Kreilhuber, Acting Director of the United Nations Environment Programme's (UNEP's) Law Division. "Global recognition of the right to a healthy environment is a unique opportunity to address these pertinent environmental challenges, and to elevate the position of rights-holders in order to ensure that the exercise of these vital rights is available to all."
This could mean using the law to hold governments and decision-makers to account, or using our purchasing power to influence production trends and business owners. The air we breathe, the water we drink and the world in which we live can mean the difference between life and death. Now is the time to claim the human right to a safe, clean, healthy and sustainable environment.
Says Ben Schachter, Environment and Climate Change Focal Point at the UN Human Rights Office, "States have an obligation to respect, protect and fulfill human rights for all including the rights to participation, access to information and access to justice in environmental matters. These and other human rights empower all people to play an active role in efforts to preserve the environment for present and future generations. We can change the world by exercising our rights and working together to promote informed decision-making about the environment."
It has become clear in this time of global pandemic that quality information matters and can inform decisions with the power to change the world swiftly and dramatically. And on the other hand, misinformation can do great harm.
Transformational change begins with education – building a knowledge base and sharing accurate, science-based information. On 15 April (3pmUTC/4pmCEST), the UNEP Law Division, the Office of the UN High Commissioner for Human Rights (OHCHR) and the Wikimedia Foundation will host an online event, exploring the human right to a healthy environment.
The event will launch the 2021 #WikiForHumanRights campaign – a call for volunteers to improve the content on Wikipedia, relating to human rights, environmental health, and the range of communities impacted by the convergent environmental crises of climate change, pollution, and biodiversity loss. The campaign will see communities all over the world populate, strengthen, and translate articles on Wikipedia relating to the right to a healthy environment.
The 90-minute launch event will consider the connection between environmental issues and human rights, how communities are affected by environmental harm and ways for individual and collaborative efforts to create positive change, with live translation available in English, French, Arabic, Spanish and Chinese.
Bangladesh Solar Home Systems Provide Clean Energy for 20 million People
Bangladesh has the largest off-grid solar power program in the world, which offers experiences and lessons for other countries to expand access to clean and affordable electricity. By harnessing solar power, the program enabled 20 million Bangladeshis to access electricity.
The book, "Living in the Light- The Bangladesh Solar Home System Story", launched today, documents how off-grid solar electrification was mainstreamed to a large segment of the population living in rural areas. Starting in 2003 as a 50,000 household pilot, the program at its peak, provided electricity to approximately 16 percent of the rural population.
"Bangladesh is known for its innovative development approaches. In remote and hard to reach areas, the government successfully introduced affordable off-grid renewable energy solutions through a public-private partnership. Clean electricity meant better health and living conditions for families and more study time for children," said Mercy Tembon, World Bank Country Director for Bangladesh and Bhutan. "Our partnership with the government for this program spans nearly two decades, and now our support has expanded to include other renewable energy options."
Successive financing through the Rural Electrification and Renewable Energy Development (RERED) Project, the World Bank supported the Infrastructure Development Company Ltd (IDCOL) to implement the program. IDCOL combined its expertise in infrastructure financing with Bangladesh's pioneering work in micro-financing and private sector solar electrification initiatives to build a scalable off-grid electrification business model.
"Our government is committed to driving up renewable energy and has a host of incentives such as tax breaks on offer to drive net-metered solar rooftop installation. As a business model Net Metering System is going to be popular day by day," said Nasrul Hamid, Honorable State Minister, Ministry of Power, Energy and Mineral Resources, who attended the launching ceremony as the chief guest. He added, "Solar home systems (SHS) program has been critically important in achieving the 'electricity for all' vision. Under the leadership of Hon'ble Prime Minister Sheikh Hasina, electrification of Grid area has already been completed and the whole country will be electrified within the 'Mujib-year'."
Between 2003 to 2018, the project reduced greenhouse gas (GHG) emissions by approximately 9.6 million tonnes of CO2 equivalent. The program helped reduce indoor air pollution by avoiding the consumption of 4.4 billion liters of kerosene.
"The RERED I and II projects promoted a sustainable market-driven approach where clean energy solutions were provided by local entrepreneurs with financing from IDCOL. 58 non-government organizations supplied and installed the solar home systems made affordable with micro-loans," said Amit Jain, Senior Energy Specialist, World Bank and a co-author of the report. "The SHS Program demonstrated that millions of dollars mobilized at the international level can flow efficiently to the remotest corners of the country to offer loans in amounts as low as one hundred dollars, which enables a rural household to purchase a solar home system."
Building on the success of the program, the World Bank extended support to scale up other clean renewable energy options including solar irrigation, solar mini-grids, roof-top solar, and solar farms. The World Bank financing in two consecutive RERED projects stands at $726 million.
The book analyzes the SHS Program's organizational effectiveness, how partners were mobilized, how quality was enforced, how risks were mitigated, and how financial resources were raised and deployed as Bangladesh scaled up renewable energy use. It shares experiences and lessons that would be useful for other countries as they scale up solar off-grid electrification programs.