UNIDO works to scale up the ICT start-up ecosystem in Iran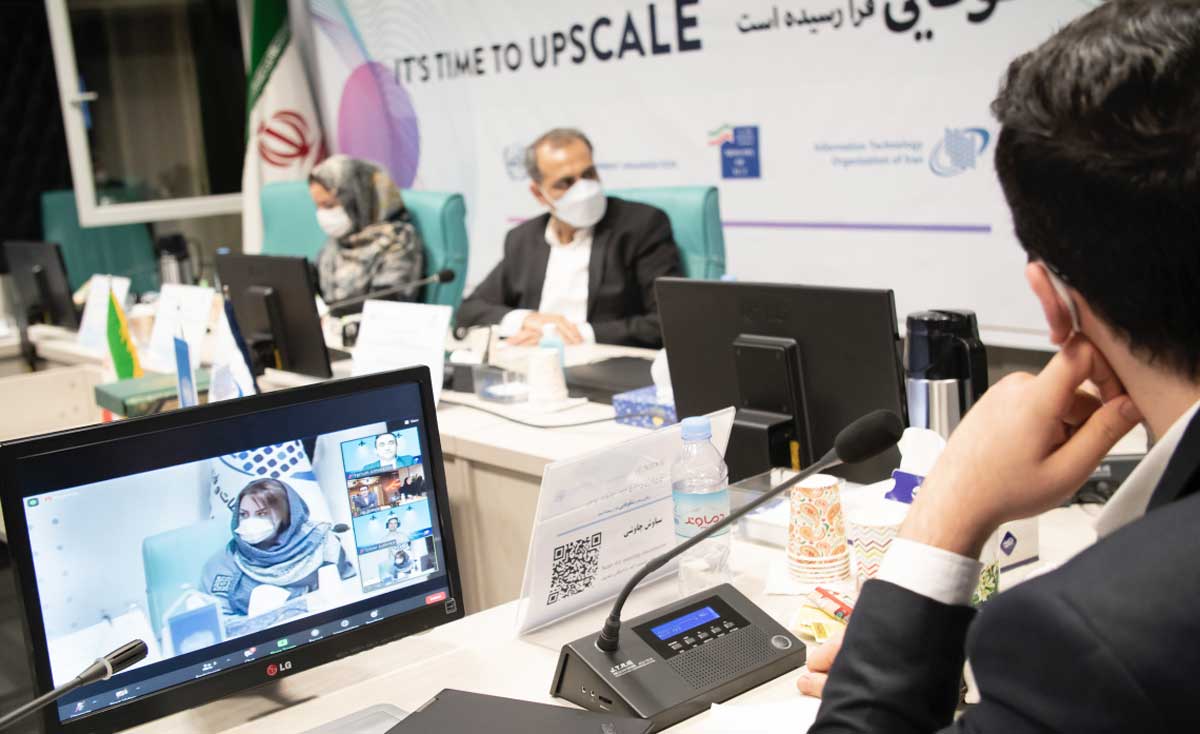 Together with its national counterparts from the Information Technology Organization of Iran's Ministry of Information and Communication Technologies and in partnership with the Erasmus Centre for Entrepreneurship, the United Nations Industrial Development Organization (UNIDO) is taking the next step to implement the project, "Promoting and upscaling innovative SMEs in the Islamic Republic of Iran".
The project aims to nurture the entrepreneurial ecosystem for ICT start-ups and scale-ups through international exposure and fostering technology and know-how exchange. In this context, a comprehensive dialogue between governmental institutions and leaders in the private sector has been launched, thereby providing a mechanism for Iranian startups to connect with institutional actors and successfully start scaling up.
An ICT ecosystem mapping exercise has revealed that Iran already possesses extensive scientific, technological, financial and highly qualified human capital to boost its SME sector. However, it is currently not living up to its potential and there is a need to provide a mechanism for establishing linkages with key stakeholders, including access to finance and relevant advisory support. This way the project builds competitiveness and supports the development of innovative enterprises.
Amir Nazemi, Deputy Minister at Iran's Ministry of Communication and Information Technology, said, "Aiming to diversify its economy and attract foreign investment, Iran has made a considerable effort to develop a dynamic national innovation system and is moving steadily towards a knowledge- and innovation-based economy. As a result, our human capital is now comprises highly educated and motivated workforce, including scientists, entrepreneurs and business people. Knowledge-based entrepreneurship is a key tool in Iran for employment generation, providing new opportunities for labour market integration of young professionals and serving as a powerful impetus for knowledge-based development of the country's economy as a whole."
Based on the findings regarding the existing constraints and opportunities of the ICT sector, the UNIDO project team has proposed a roadmap that envisages short-, medium- and long-term interventions in both public and private sectors, addressing several problem areas, such as knowledge generation and transfer; access to finance; nurturing of entrepreneurial talent and skills, as well as stimulating interaction and collaboration within the ICT ecosystem.
"The level of engagement from prominent public and private sector representatives related to the ICT sector has demonstrated the importance such initiatives have in making the ecosystem for ICT startups more vibrant and sustainable," said Maryam Javan Shahraki, UNIDO representative in Iran.
She added, "UNIDO looks forward to further extending our support to the government of Iran in its efforts to promote internationalization of ICT-related entrepreneurs through the virtual entrepreneurship hub that will become a major platform for knowledge exchange and support services for ICT startups, as well as facilitating partnerships with domestic and foreign partners and inter-institutional networking."
As part of the public-private initiative, in cooperation with its national and international partners, UNIDO conducted a two-day workshop for major ICT sector stakeholders, including government entities, entrepreneurs and other key players, to present key findings of the initial phase of the project and the forthcoming action plan, while also providing an opportunity for a thorough exchange on how to reduce the existing development gaps between science and industry thereby raising Iran's profile as a knowledge-driven economy.
Russian Nornickel signed a deal with UK chemicals giant Johnson Matthey
Russian Nornickel, the world's largest metal producer has signed a deal with Johnson Matthey (JM) on long-term supply of critical metals for their battery materials production in Finland.
The Finnish government is actively developing production sites for battery components. Finnish budget for 2021 includes additional funding of EUR 300 million for Finnish Minerals Group to promote investments for the production of precursor and cathode active materials used in lithium-ion batteries in Finland.
Earlier in April Nornickel announced plans to ramp up sustainable nickel and cobalt production at its refinery in Finland — NN Harjavalta — in response to the growing European demand for high quality and responsibly sourced metals for the EV industry. NN Harjavalta's product range will be playing an important role in satisfying Johnson Matthey's requirements for its precursor and cathode active materials production in Finland as well as for its existing factory in Poland.
Johnson Matthey announced the development in Finland of its second commercial plant with a nameplate capacity of 30 kt of ultra-high energy density cathode materials required by EV producers. The factory will be powered solely by renewable energy and incorporate an innovative effluent treatment solution.
Nornickel and Johnson Matthey have also signed a memorandum of understanding to explore options to further extend metal supply in the future. The parties also intend to collaborate in other important parts of the battery materials value chain, including new metal dissolution technology, circular economy opportunities, and tokenization of the supply chain using blockchain technology. Implementation of token-based smart contracts allows combining metal deliveries with complete provenance as well as ESG credentials including carbon footprint to ensure the unprecedented level of responsible sourcing.
The deal will allow the Russian and British company to define joint sustainable development initiatives.
"We are delighted for this opportunity to develop our business together with Johnson Matthey — a new important player in the Finnish battery materials ecosystem — and help the company expand on the European EV market. Our memorandum should enable us to identify mutually beneficial sustainability initiatives that support the ambition of achieving the most sustainable battery materials value chain in Europe," commented Vladimir Potanin, President of Norilsk Nickel.
Earlier, Norilsk Nickel signed a letter of intent to establish a battery recycling cluster in Harjavalta, Finland, to serve the electric vehicle market in partnership with Finnish energy company Fortum and German world's leading chemical company BASF. This will successfully complete the "closed loop" recycling cycle for critical metals present in used batteries.
Bangladesh Economy Shows Early Signs of Recovery Amid Uncertainties
Bangladesh's economy is showing nascent signs of recovery backed by a rebound in exports, strong remittance inflows, and the ongoing vaccination program, says a new World Bank report, "Bangladesh Development Update- Moving Forward: Connectivity and Logistics to strengthen Competitiveness," launched today.
After being severely affected by the COVID 19 pandemic—which slowed growth and for the first time in two decades reversed the poverty reduction trend—the economy is recovering gradually.
Over the first half of FY21, factories reopened and exports rebounded. However, the economy faces elevated risks in the context of the ongoing COVID-19 pandemic.
In Dhaka and Chittagong, the country's two largest cities, recent surveys pointed to a recovery in the labor market in the first half of FY21. With gradual restoration of livelihoods, food security in poor and slum areas improved. In Chittagong, the percentage of adults working had returned to pre-COVID levels by February 2021.
"Despite the uncertainty created by COVID-19, the outlook for Bangladesh's economy is positive. Much of the pace of recovery will depend on how fast mass vaccination can be achieved," said Mercy Miyang Tembon, World Bank Country Director for Bangladesh and Bhutan. "The World Bank will support a resilient recovery, helping Bangladesh achieve green, smart, and inclusive growth."
In FY21, growth will be supported by a recovery in manufacturing as export demand strengthens, a rebound in construction supported by accelerating public investment, and robust service sector growth as the vaccination campaign progress. inflation is projected to remain close to Bangladesh Bank's 5.5 percent target, and the fiscal deficit is projected to remain at 6 percent of GDP.
Risks to the outlook remain elevated. A fragile global economic recovery could dampen demand for RMG products and limit job opportunities for migrant workers. The COVID-19 pandemic has exacerbated financial sector risks stemming from nonperforming loans and weaknesses in bank governance and risk management.
Improving logistics performance could help accelerate the recovery and improve competitiveness. The report outlines opportunities to modernize the logistics system to ensure business continuity and build resilience. This can be achieved through a system-wide strategy to increase logistics efficiency; improve the quality, capacity, and management of infrastructure; improve the quality and integration of logistics services; and, achieve a seamless integration of regional logistics services.
"The COVID-19 pandemic has led to an unpreceded global recession," said Bernard Haven, World Bank Senior Economist, and co-author of the report. "Protecting households affected by the pandemic remains an urgent priority, while structural reforms can help accelerate the recovery."
The Bangladesh Development Update is a companion piece to the South Asia Economic Focus, a twice-a-year World Bank report that examines economic developments and prospects in the South Asia Region, and analyzes policy challenges faced by countries. The Spring 2021 edition titled South Asia Vaccinates, launched on March 31, 2021, shows that economic activity in South Asia is bouncing back, but growth is uneven, recovery remains fragile, and the economic outlook is precarious. The report also focuses on the different dimensions of vaccine deployment and provides a cost-benefit analysis of vaccination in the region.
26 million jobs lost in Latin America and the Caribbean during a year of the pandemic
The Latin American and Caribbean region lost 26 million jobs as a result of the pandemic, and started 2021 with a complex employment landscape aggravated by new waves of contagion and slow vaccination processes that make the prospects for recovery in labour markets more uncertain, says a new technical note from the International Labour Organization (ILO).

"The quest for better normality will require ambitious action to recover from setbacks in the world of work", warned Vinícius Pinheiro, ILO Director for Latin America and the Caribbean, when commenting on the note, which presents the latest data on the impact of COVID-19 over the past year.

"It is now time to rebuild the jobs lost by the pandemic and create new decent work opportunities," Pinheiro said, noting that despite adversity, action must be taken and consensus reached so that "2021 is the year of vaccination and economic recovery with more and better jobs".

However, the ILO Regional Director highlighted that "in the pursuit of recovery, addressing pre-existing conditions in the region will be unavoidable and those conditions are key to understanding why the impact of the pandemic on employment was so strong. Many of the challenges we had before the pandemic remain in place, although they are now more urgent".

"High informality, small fiscal spaces, persistent inequality, low productivity and poor coverage of social protection, coupled with problems that still persist such as child labour and forced labour, are part of the ongoing challenges in the region", he added.

The ILO regional technical note, "The employment crisis in the pandemic: Towards a human-centred job recovery", emphasizes that the labour impacts were devastating in the second quarter of 2020 when the employment and participation indicators plummeted, and then partially recovered.

However, by the end of 2020 the region's average employment rate had fallen from 57.4 per cent to 51.7 per cent, a sharp drop equated to the loss of around 26 million jobs, of which 80 per cent, or more than 20 million people, left the workforce.

This significant exit from the workforce was unprecedented and has been characteristic of 2020. By comparison, the unemployment rate has only partially reflected the magnitude of the difficulties faced by labour markets in the region, increasing by just over 2 percentage points between 2019 and 2020, from 8.3 per cent to 10.6 per cent.

This situation would have begun to change, explained Roxana Maurizio, ILO Regional Labour Economics Specialist and author of the technical note, who commented that in 2021 there could be "a significant increase in the employment rate when millions of people who had ceased to participate in the labour force return to the workforce".

In addition to lost jobs, the region experienced a sharp contraction in working hours, as well as a reduction in labour incomes, which account for 80 per cent of what people in Latin America and the Caribbean earn. The region has recorded the largest losses in hours worked worldwide.

The ILO's technical note indicates that during the crisis both formal and informal employment experienced very pronounced contractions, but with greater intensity for the latter and for this reason the informality rate was reduced (temporarily), in the context of the widespread collapse in employment demand, especially in the early months of the pandemic.

But that situation has already started to change.

"There is a high risk of informalization that adds to the already high levels of labour informality that countries had before the pandemic", said Maurizio.

According to available data from seven countries, employment recovery in the second half of 2020 has been almost entirely contracted by informal employment growth. These occupations account for more than 60 per cent of the total increase in employment.

"The formal work deficit, in turn, is likely to become more apparent to certain types of workers such as young people, women and adults with lower qualifications – groups that traditionally experience greater difficulties in accessing formal employment", she added.

"The macroeconomic collapse has disproportionately impacted some segments of the population, amplifying labour and social gaps – especially gender gaps – that characterize the region", she continued.

"The outlook for economic recovery by 2021 is modest and still very uncertain, so expectations about a possible reversal of the critical labour market situation should be very cautious".

The ILO has proposed developing recovery strategies based on a Policy Framework with four main pillars: stimulating the economy and employment; support businesses, jobs and incomes; protect workers in the workplace; and resort to social dialogue to find solutions.

The technical note highlights that in a scenario as complex as the current one "social dialogue and the building of new consensuses, pacts or agreements are more relevant than ever" to advance the recovery of employment.