Russia offers 300 million doses of Sputnik V vaccine to Africa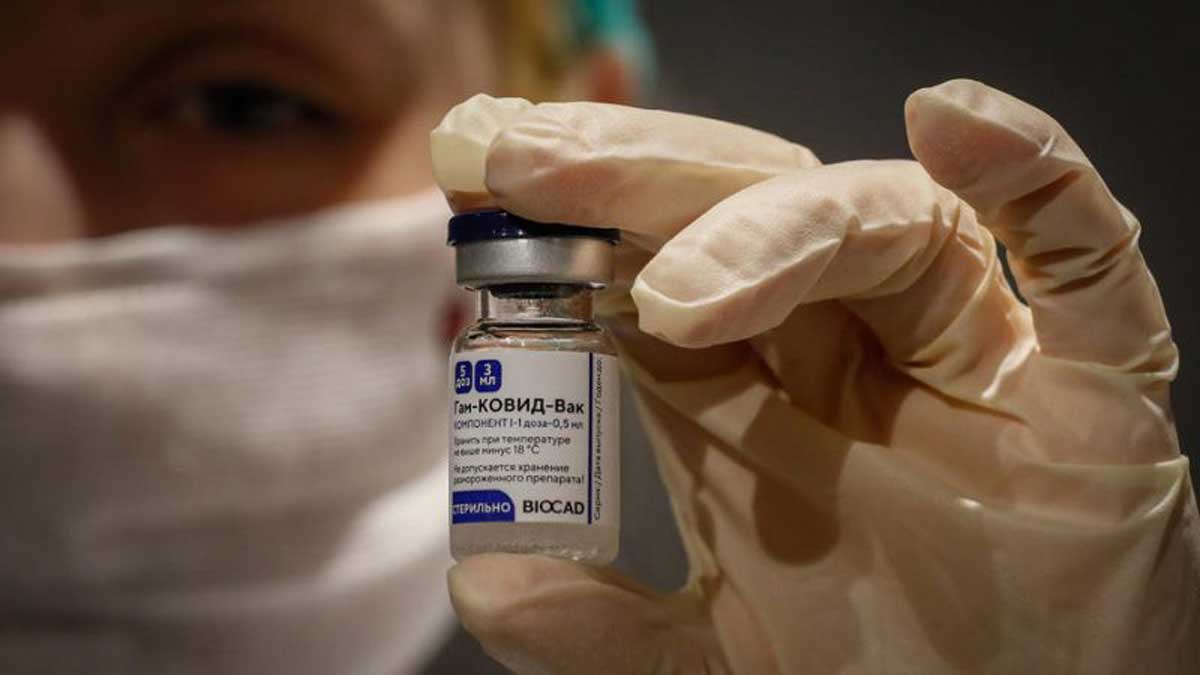 As African countries continue to experience increasing coronavirus infections, with the overall number of cases exceeding 3.79 million mid-February, Russia is stepping in to supply 300 million doses of Sputnik V vaccine through the African Union (AU). It an effort to assist to stop further spread of the pandemic on the continent.
An official release said that the Africa Vaccine Acquisition Task Team, set up by the African Union to acquire additional vaccine doses so that Africa can attain a target immunization of 60%, has received an offer of 300 million Sputnik V vaccines from the Russian Federation. This includes a financing package for any member states wishing to secure this vaccine.
Meanwhile, the Task Team advises that the 270 million doses previously secured from AstraZeneca, Pfizer and Johnson & Johnsons were all taken up by the first allocation phase deadline through the African Medical Supplies Platform (AMSP). With these additional 300 million Sputnik V vaccines, AMSP accelerates online COVID-19 vaccines pre-orders for the 55 African Union member states.
"The Sputnik V vaccine from the Russian Federation is now available on the AMSP for the consideration of our AU Member States," says Dr John Nkengasong, Director of the Africa Centers for Disease Control and Prevention (Africa CDC). "Bilateral and private sector partnerships such as these aid our efforts to bringing the COVID-19 pandemic to an end."
Nkengasong is worried that vaccine apartheid will have dire consequences for Africans in the near future. According to him, the continent needed to be taken along by the developed world as they vigorously roll out inoculation efforts. Africa's rollout has been relatively slower with over a third of African countries yet to receive doses.

About Africa's lack of vaccines, he said:"That is absolutely one of our greatest concerns, that the vaccine situation will continue to exacerbate the inequality gap that exists in the world especially the north – south divide. My greatest fear is that once the United States and Europe get the vaccine, they begin to impose the need to have vaccine certificate to travel and that is extremely complicated for Africans to travel across the world."
Nkengasongadded:"Africa has to team up with development partners to achieve its 60% continent-wide vaccination in the next two years. I think that is why we should as a collective of the continent, and of course, in partnership with the developed world make sure that Africa has a timely access to vaccines to meet our vaccination targets."
While details, including clinical and technical information, are now accessible on the Africa Medical Supplies Platform (AMSP), Sputnik V vaccines will be available for a period of 12 months commencing by May 2021.
The African Union member states that wish to secure funding should approach the African Export-Import Bank through their Central Banks, as has been the case with the other vaccines that have been on offer. The lender approved US$2 billion for participating suppliers, allowing the finalization of supply contracts.
According to the Russian Direct Investment Fund (RDIF), Sputnik V is one of the world's top three coronavirus vaccines in terms of the number of approvals issued by government regulators.
Sputnik V had been approved in Russia, Belarus, Argentina, Bolivia, Serbia, Algeria, Palestine, Venezuela, Paraguay, Turkmenistan, Hungary, UAE, Iran, Republic of Guinea, Tunisia, Armenia, Mexico, Nicaragua, Republika Srpska (entity of Bosnia and Herzegovina), Lebanon, Myanmar, Pakistan, Mongolia, Bahrain, Montenegro, Saint Vincent and the Grenadines, Kazakhstan, Uzbekistan, Gabon and San Marino.
Kirill Dmitriev, CEO of the Russian Direct Investment Fund, has said that Sputnik V has a number of key advantages:
• Efficacy of Sputnik V is 91.6% as confirmed by the data published in the Lancet, one of the world's oldest and most respected medical journals; It is one of only three vaccines in the world with efficacy of over 90%; Sputnik V provides full protection against severe cases of COVID-19.
• The Sputnik V vaccine is based on a proven and well-studied platform of human adenoviral vectors, which cause the common cold and have been around for thousands of years.
• Sputnik V uses two different vectors for the two shots in a course of vaccination, providing immunity with a longer duration than vaccines using the same delivery mechanism for both shots.
• The safety, efficacy and lack of negative long-term effects of adenoviral vaccines have been proven by more than 250 clinical studies over two decades.
• The developers of the Sputnik V vaccine are working collaboratively with AstraZeneca on a joint clinical trial to improve the efficacy of AstraZeneca vaccine.
• There are no strong allergies caused by Sputnik V.
• The price of Sputnik V is less than $10 per shot, making it affordable around the world.
Russian Direct Investment Fund (RDIF) is Russia's sovereign wealth fund established in 2011 to make equity co-investments, primarily in Russia, alongside reputable international financial and strategic investors. RDIF acts as a catalyst for direct investment in the Russian economy. RDIF's management company is based in Moscow.
About the Afreximbank: The African Export-Import Bank (Afreximbank) is a Pan-African multilateral financial institution with the mandate of financing and promoting intra-and extra-African trade. Afreximbank was established in October 1993 and owned by African governments, the African Development Bank and other African multilateral financial institutions as well as African and non-African public and private investors. The Bank was established under two constitutive documents, an Agreement signed by member states, which confers on the Bank the status of an international organization, and a Charter signed by all Shareholders, which governs its corporate structure and operations.
About the Africa CDC: Africa Centres for Disease Control and Prevention (Africa CDC), is a specialized technical institution of the African Union that strengthens the capacity and capability of Africa's public health institutions as well as partnerships to detect and respond quickly and effectively to disease threats and outbreaks, based on data-driven interventions and programmes.
About the AVATT: The African Vaccine Acquisition Task Team (AVATT), was established by African Union Chair, President Cyril Ramaphosa, as a component in support of the Africa Vaccine Strategy that was endorsed by the AU Bureau of Heads of State and Government on 20th of August 2020. The AVATT is chaired by President Ramaphosa and includes African Union Commission Chairperson Moussa FakiMahamat, Dr. Zweli Lawrence Mkhize, Mr. Strive Masiyiwa, Dr. Donald Kaberuka, Professor Benedict Oramah, H.E. Amira Elfadil, Dr. John Nkengasong and others, as to be nominated by the Chair of the African Union and the Chairperson of the Commission.
About the AMSP: The Africa Medical Supplies Platform (AMSP) is a non-profit initiative launched by the African Union as an immediate, integrated and practical response to the Covid-19 pandemic. The online platform was developed under the leadership of the African Union Special Envoy, Strive Masiyiwa and powered by Janngo on behalf of the African Union's Africa Centers for Disease Control and Prevention (Africa CDC) and in partnership with African Export-Import Bank (Afreximbank) and United Nations Economic Commission for Africa (ECA) with the support of leading African and international Institutions, Foundations and Corporations as well as Governments of China, Canada and France.
Moroccan-African Diplomacy in King's Mohamed VI Era
Incredibly, every move and shift in Moroccan politics has been attached by the irresistible projection of foreign policy in terms of principled constancy and shifts that followed. Nowadays, it is commonplace to argue how many fundamental changes have occurred in post-King Hassan II Morocco since 1999.
For instance, has Moroccan foreign policy experienced a great shift in its approach, norms, security priorities, and key interest over the past two decades? Due to this, international broadcasting has once again centralized on Kings' diplomacy speech held on November 7th, in which King Mohamed 6, the head of the ruling constitutional party of Morocco, delivered the work report defining the demarche of its foreign policy for the next 3 decades. The questions hereby involve Moroccan leader's perception of our "African community", their development objectives and means, and new principles of foreign policy for the upcoming decades.
As the Kingdom of Morocco is motivated by the royal glory and the centenary success from the beginning of the 20th century, its people have struggled continuously and diligently for realizing the rejuvenation of the Moroccan nation. Given this, King Mohamed 6 acknowledged that now the Kingdom of Morocco has entered the critical stage of its rise to a regional power since his Majesty initiated the remodel and openness-up in the late 1990s. He undertakes to maintain upholding the key goal of preserving regional and African peace and promoting common development with all countries. Simultaneously, King Mohamed 6 underlined that it is the Moroccan political ruling party's abiding mission to make greater contributions for building a community with a shared future for humans in the globalized era.
To the people who believe in realism thinking and power politics, it is demanding for them to abandon the notion of "the Thucydides trap" simply because Morocco, like any other rising regional power historically, would surely challenge the ruling power's interest, value, and prestige. Hence, His Majesty called upon in his address at the Green March to recreating a new form of regional relations featuring mutual respect, shared benefits, justice, and win-win cooperation. This article seeks to elucidate the approach of King Mohamed's foreign policy from the concept, objective, and prospect which were illustrated at the Moroccan speech.
Theoretically, the Moroccan people, both Political parties and the King, have preached that regional multi-polarity, economic globalization, and cultural diversity are the moving global trend forward. Considering this, diplomatic changes in the international governance system and global order are inevitable. In doing so, our " Regional Community " is bounded by uncertainties and destabilizing aspects covering from the growing lack of energy, broadening gap between rich and poor countries, and hotspot issues in many areas; not to mention alarming unconventional security cases like terrorism, cyber-security, climate changes, and major contagious diseases. As we are living in a society with a shared future, it is feasible for all states to cooperate, as one united, we never fail, while keeping each own identity. No state alone can face so many challenges and issues, and no state can afford to retreat into self-isolation as well.
As the largest developing country in the Northern Africa, The Kingdom of Morocco will sustain to endorse commerce and investment liberalization and facilitation, and seek to ease economic regionalization more open, inclusive, and fairer so that it would benefit all African countries concerned. This takes that Morocco actively develops African and international partnerships and enlarges the proximity of interests with other countries. Simultaneously, as the most dynamic growing power along with other African states like Rwanda and Kenya, The Kingdom of Morocco has continually acknowledged that will never quest development at the expense of others' interests, nor will Morocco ever quit its legitimate rights and core interests. Due to this, it seeks a national security approach that is in nature defensive, and in the future, Rabat will never pursue supremacy or rivalry to jeopardize the regional order.
Thus, what does Morocco want in its long-term approach?
As one of the preys of the colonialist powers in modern history, Morocco had endured too much more and too much longer than any other North African country. Because of this, the Moroccans have never paused to pursue their national ambition to be a strong regional power and, with such a dream, they naturally look to develop mutual and friendly ties with states around the African continent and eventually to be involved in the continental governance. Rather than acting as a hegemonic power against the status quo, the Kingdom of Morocco has at once proven its respect for the global order, responsibilities for continental issues, and promotion of reciprocal benefits and comprehensiveness in global affairs. Currently, Moroccan decision-makers have illustrated their refusal of the colonist power politics mindset but underlined a new approach to upgrade state-to-state relations through negotiations and dialogues, in particular the new practice of regional power diplomacy Initiated by His Majesty. Despite some still trying to blame Morocco for causing tensions in the region, indicating its strained ties with neighbors Mauritania and Tunisia, the Kingdom of Morocco keeps devoted to regional stability and peace as playing a more proactive role in averting disputes and chaos in the North African region including on Libya's crisis.
Strategically speaking, how does The Kingdom of Morocco reach its African diplomacy mission by 2030?
Unquestionably, the Kingdom is not "Idealistic" considering the intricated world and their still limited leverage in foreign affairs. Meanwhile, they have gradually run after the national dream for a century, the leading Moroccan elite in Kingdom has been aware of the "global changes" that are full of challenges and Espoir. Then, King Mohamed IV explicitly acknowledged that Morocco will attempt to found a pragmatic framework for regional-power connection featuring global stability and shared respects for each core interest and key advantages. Morocco will strengthen relations with its many neighbor states following the norm of honesty, shared understanding, and mutual benefits. Morocco will regularly exercise its extreme efforts to widen and enhance cohesion and cooperation with other African states, which sustain the foundation of King foreign diplomacy in the 21st century.
Foreign Affairs is always impacted by the changes in foreign policy, several priorities in internal politics, and the ruling elite's view of world reality. In a view of this, it is undeniable that Morocco's foreign policy will be changed or even amended accordingly. Nonetheless, cautiously that the revival of the Moroccan realm is a century dream which not only demands combined efforts but also closely related to the authority of the ruling royal Kingdom; thus, no leading elite of Morocco challenge to change this historical task uttered by the mandate destiny. This is one of the main motives why King Mohamed VI guarantees to work together persistently and uphold the essential strategy of opening up diplomacy and seek balanced development with its doors open broadly.
To the end, since King Mohamed VI launched the outline of the King's African Diplomacy in 2016, the Moroccan government has spent vast energy, resources, and perception on building up a sound platform for African cooperation to establish new mechanisms of shared development, and broad are multiple-fields like public policy, communication services, trading, industrial productivity, and social-cultural creativity. All highlight that Morocco is keen to act as a true actor of the future African affairs, a liable power involving the rules-making, and one of the key players to maintain the regional and African order by both peace and diplomacy. Regardless of what is a need in the future, there is no hesitation for this emerging giant rising regional power.
Africa – A Continent with No Desire to Develop Economic Independence
After the Soviet collapse, Russia has maintained strong and time-tested relations with African countries, and of course, the Soviet Union had played an important role during the decolonization of Africa. The African continent comprises a diverse collection of countries, each with its own set of development setbacks and challenges. The political culture and investment climate are, in fact, diverse but are also important forces in the economy.
According to several development reports, Africa is one of the fastest growing regions in the world: the average annual GDP growth rate estimated at 3.5% to 5% on the continent. The reports have strongly encouraged African leaders to initiate development-oriented policies, prioritize sustainable development as a practical step towards raising the living standards of millions of impoverished population and further guide against the revival of neo-colonialism, the destructive attitude towards the resources in Africa.
In this interview, Associate Professor Ksenia Tabarintseva-Romanova, Ural Federal University, Department of International Relations and Assistant Professor Alexei Antoshin share their views and opinions about Africa today, the current economic cooperation between Africa and Russia. As widely known, Russia plans to hold theSecond Russia-Africa summit in 2022.
Here are the interview excerpts:
How do researchers (during academic discussions) of the Department of International Relations at Urals State University generally look at Africa today? What are the popular perceptions and so forth about Africa?
KseniaTabarintseva-Romanova: Unfortunately, this region is not actively studied directly by teachers and students of the Department of International Relations at the Urals State University. It is most often explored when examining issues such as human rights and the Sustainable Development Goals (SDGs).
Alexei Antoshin: For many years, I have been a member of the RAS Scientific Council on African problems, interacting with the RAS Institute for African Studies and the Center for African Studies of the RAS Institute of General History, publishing in scientific journals and collective monographs on this topic. For 20 years now, at the Faculty (Department) of International Relations, I have been teaching the course "Russia and Africa", dedicated to various spheres of interaction between our country and African states. In addition, for the last five years I have been teaching the course "Culture of Modern Africa" which is also of great interest to the students of the Department of Oriental Studies.
The problem of the influence of African culture on contemporary global art (music, street art, etc.) is of particular interest to students. In addition, annually under my leadership, term papers and graduate qualifications are written on various aspects of China's policy in Africa, the expansion of Chinese capital, and the activities of Confucius Institutes on the Black Continent.
What comes to mind when we talk about sustainable development, and its interpretation, in Africa?
KseniaTabarintseva-Romanova: When writing an article on the Red Cross and the SDGs, I came to the conclusion that the main problems are related to the environment (lack of drinking water), the complexity of health care, the problems of realizing the rights of vulnerable groups of the population.
Alexei Antoshin: Unfortunately, Africa firmly holds the first place among continents in terms of poverty, the number of hungry and refugees, and the spread of AIDS. A colossal problem is the conflict potential of the region, political instability, and the failure of democratic transition. True, in comparison with the 1990s, which were extremely unfortunate for the continent, the situation has improved somehow, but many experts attribute this to fluctuations in world oil prices.
What, in your opinion, are the main challenges hindering the realization of expected development there?
Ksenia Tabarintseva-Romanova: In my opinion, this is due to historical and geographical factors: the colonial past – there was no desire to develop "economic independence" of the region; consumer attitude to territories and resources; isolation of the region from world production chains. During the Cold War, the USSR and the USA, competing for influence on the continent, were forced to develop industry and infrastructure. After the end of the Cold War, this was no longer necessary. Many states have lost their statehood, centralized power and territorial integrity (Somalia, Libya).
Alexei Antoshin: Yes, unfortunately, paradoxically, Africa is "lost" from the end of the Cold War. Now both the United States and Russia are losing the "battle for Africa" ​​to China: its investments in Africa are several times greater than those of Russia and the United States. The problem is that the Chinese expansion is already causing an ambiguous reaction from the local population: the PRC's consumer attitude towards the richest resources of the region, underestimation of environmental problems lead to public discontent. An additional factor is activation.
Islamist extremist groups in many countries of the region. The fall of apartheid in South Africa also led to a surge in extremism, the problem of "black racism", a drop in the level of education in South African universities, which traditionally occupy high places in world rankings.
Do you think much depends on African leaders and its people (African solutions to African problems) to work toward long-term sustainable development?
Alexei Antoshin: Most experts were skeptical and still refer to the economic programs developed by African leaders and Africans themselves. This applies to integration within the framework of the African Union (copying the European Union is unproductive), and to its economic program NEPAD – New Partnership for Africa's Development. In the world rankings of bureaucratic corruption, African countries are in the first place.
How do you interpret current engagement of foreign players (countries) in Africa? Do you also think there is geopolitical competition and rivalry among them there?
Alexei Antoshin: As I have already noted, this competition is underway, since Africa's resources are colossal. The potential winner is likely to be China.
Is it appropriate when we use the term "neo-colonialism" referring to activities of foreign players in Africa? What countries are the neo-colonizers in your view?
Alexei Antoshin: Difficult question. Colonialism was a controversial phenomenon: it was the colonialists who created the infrastructure that modern Africa uses. A number of experts call the current policy of the PRC "neo-colonial", but it is also ambiguous.
Do you think, with the adoption of African Continental Free Trade (AfCFTA), it offers a window of hope for attaining economic independence for Africa? What role Russia can play in this or of what significance is it for potential Russian investors?
KseniaTabarintseva-Romanova: The free trade zone is the most important modern tool for the economic development of regions, but it is not a panacea. Successful implementation requires a sufficiently high level of economic development of the participating countries, logistical accessibility, developed industry with the prospect of introducing new technologies. This means that in order for AfCFTA to effectively fulfill its tasks, it is necessary to enlist the provision of sustainable investment flows from outside. These investments should be directed towards the construction of industrial plants and transport corridors.
President of the Russian Federation, Vladimir Putin, has stated for several years that Africa is a strategic region for Russia, which has a large number of long-standing economic partners. For example, the construction of a new naval base in Sudan (the creation of service industries, the supply of new equipment, the renewal of the army is envisaged); cancellation of debts to Angola, preparation for the Russia-Africa summit 2022. Russia already has vast experience with the African continent, which now makes it possible to make investments as efficiently as possible, both for the Russian Federation and for African countries.
If we talk about the interaction of the Sverdlovsk Region and Africa, then according to the Ministry of International and Foreign Economic Relations, at the end of 2018, among the trading partner countries of the Sverdlovsk Region, Algeria ranked 22nd among the 159 trading partners of the region. The trade turnover amounted to almost US$ 138 million.
On February 6, 2020, during the visit of the delegation of the Sverdlovsk region to the province of Mpumalanga of South Africa, an Action Plan was signed to implement the Agreement between the Government of the Sverdlovsk Region and the Government of the Mpumalanga Province on the implementation of international and foreign economic relations in trade, economic, scientific, technical, cultural and humanitarian spheres for 2020 – 2022. The following enterprises of the Sverdlovsk Region cooperate with South Africa – OJSC Uralasbest, LLC Viz Steel, PJSCU ralmashzavod.
Alexei Antoshin: Russian state corporations are participating in the "Battle for Africa" and the main significant problem is the high risks associated with investing in Africa. In addition, unfortunately, in Russia there is a shortage of qualified personnel who know African markets, the specifics of the business culture of Africans and so forth. Although there is also an underestimation of the continent's potential associated with the image of Africa as a "black hole" which is also due to the fact that the bulk of the Soviet debts of African countries had to be written off. These are the realities of the situation with Africa.
Russia reappears in Africa
Relations between Russia and Africa are long-standing and have always been characterised by their versatility. They ranged from the humanitarian aid of Tsar Nicholas II to the Ethiopian Empire in its struggle against Italy (late 19th century) to support for the liberation of Angola, Mozambique, Guinea-Bissau, Cape Verde and São Tomé and Príncipe from Portugal (late 1960s-1970s).
In the second half of the 20th century, Soviet engineers and specialists took an active part in the implementation of a number of large industrial projects in many African countries. Power plants (Aswan Dam), metallurgical, mining plants and processing plants, oil refineries, companies manufacturing machinery and other important items of the national economy were built.
How does Russia intend to develop economic cooperation with African countries and what course can this partnership follow in the near future?
Today, Africa is the world leader in terms of consumption growth. Agriculture, the chemical industry and agro-technologies, oil refining and extractive industries, energy and nuclear technologies for peaceful purposes are developing rapidly in Africa. Most countries are interested in infrastructure development, and the demand for cars and special equipment is growing. Russian business has something to offer in each of these sectors.
A continent with a population of 1.4 billion people is comparable to China. In 15-20 years' time, Africa will determine the world's demographic framework and influence the scale of global consumer demand significantly.
Russia, which is significantly limited and constrained in the Western direction of foreign economic activity as a result of sanctions, is looking for new markets for its products, mainly for exports. It is obvious that it will be practically impossible for Russia to solve these problems without Africa.
The Russian Foreign Ministry has noted that Africa remains one of the priorities of Russian foreign policy. In the near future, it is certainly possible to ensure the gradual growth of trade and economic ties between Russia and the African countries. This means increasing the number of mutually beneficial joint projects in the fields of energy, agriculture, subsoil use, infrastructure development, high technology and staff training.
At the same time, it should be recalled that the 54 African countries account for 27.98% of the seats in the United Nations, and the political support of such a large number of countries is also extremely important for Russia.
Russia has traditionally developed and continues to develop relations with the Maghreb and Southern African countries. Four North African countries, namely Egypt, Algeria, Morocco and Tunisia, as well as the Republic of South Africa account for over 70% of all trade with Africa. If we add Sudan and Nigeria, Russian trade with Africa reaches 85%.
Moreover, many countries in the sub-Saharan region are developing rapidly and record very high economic growth rates. They also have natural and economic resources that could be of interest to Russia.
One of the main tasks of Russian institutions in this regard is to catalyse trade with black African countries: there are plans to open agencies or representative offices there, to which local entrepreneurs and citizens can turn if they are interested in economic contacts or dialogue with their Russian counterparts.
In 2019, Russia's foreign trade turnover with African countries amounted to 16.8 billion U.S. dollars, and exports to African countries regarded machinery, equipment and vehicles, foodstuffs, agricultural commodities, and mineral products. The rest of trade consisted of metals, chemicals, rubber, timber, paper products and precious minerals.
Africa is still characterised by an extensive diamond resource base and prospects for new discoveries of rare metals, which explains Russia's interest in potential development in this region.
Conversely, in 2019 food and agricultural commodities accounted for the majority of Russian imports (56.8%). At the same time, the majority of Russia's trade with African countries in 2019 materialized due to mutual trade transactions with Egypt (37.2%), Algeria (20.2%), Morocco (7.6%), the Republic of South Africa (6.6%), Senegal (4.3%), Tunisia (3.9%), Nigeria (2.5%), Togo (2.4%), Sudan (1.6%) and the Ivory Coast (1.6%).
In January-September 2020, due to the spread of the coronavirus infection, Russian-African trade turnover decreased by 20.5% compared to the same period in 2019 and amounted to 8.9 billion dollars.
Today, Russia is ready to act as a partner for all African countries in a number of sectors. These include projects to supply the latest Russian equipment for metallurgical and mining companies, as well as the development of a transport and logistics system – including not only the supply of rolling stock for railways, aircraft and helicopters of various classes and purposes, but also control and safety systems for the respective transport lines. Russia is also interested in participating in the creation of energy infrastructure in African countries – oil, gas and generation capacities, including hydroelectric and nuclear power – as well as in ensuring food security, developing a healthcare system and supplying medicines.
Russia does not offer individual export contracts, but projects that include both the supply of products and their maintenance, as well as training for specialists, and possible technology transfer and partial localisation. This enables African countries to develop their expertise in a variety of industries.
Africa is currently one of the sales markets that attracts long-term investment for national companies. In recent years, African countries have made a huge leap forward in creating the conditions for developing trade and a favourable investment climate.
Promising areas and niches for Russian exporters to Africa are the supply of finished automotive equipment, as well as accessories and spare parts for machinery; the construction and modernisation of railway infrastructure, and the supply of oil refining equipment. At the same time, Russian agricultural machinery suppliers and major car manufacturers are already working in African markets.
Projects for the maintenance and modernisation of power plants, for oil production and transport, as well as for the arrangement of facilities for the chemical and mining industries in Africa have been developed successfully. An important role in exports is played by the supply of agricultural and food products. Projects in new directions, such as modern technology, 'smart' cities, education and health, are beginning to be proactively developed.
At present, key countries in the promotion of non-resource exports are Egypt, which accounts for over one third of Russian-African trade turnover, the Republic of South Africa, Zambia, Angola, Algeria, Nigeria and Kenya.
From a strategic perspective, African countries' sustainable development will be associated, inter alia, with the full use of investment potential, attracting companies interested in implementing projects on their territory.
The quality of Russian companies' products meets international standards. Therefore, many African leaders are interested in projects involving the construction of airports, hydroelectric power stations, schools and universities, as well as in the cultural field.
At the same time, not only Western European countries, the United States and China, but also India, Turkey, as well as the Persian Gulf States, Japan, the Republic of Korea, Israel and Brazil are showing increasing interest in developing relations with African countries. Hence these activities of the world's major powers inevitably lead to a significant increase in competition in virtually each of these areas.
One of the biggest projects of the Russian State company Rosatom in Africa is the construction of the al-Dabaa nuclear power plant in Egypt. Rosatom State Atomiс Energy Corporation is a Russian state-owned nuclear energy company with over 360 firms.
Nevertheless, this is not the only area of interest for the company in the region. Rosatom, in particular, develops non-energy cooperation not only in the nuclear sector, but also offers various options for turnkey basic research, medical and radiological facilities.
One of these facilities is the Centre for Nuclear Science and Technology (CNST). Rosatom is already proactively involved in the project to build the CNST in Zambia. The Centre includes a research reactor, a multipurpose irradiation centre, a nuclear medicine centre and several laboratories – a modern platform for a wide range of scientific research and practical applications of nuclear technologies.
The company also sees potential in staff training and provides a number of scholarships and educational programmes. For the past five years there has been a State scholarship programme for students wishing to master nuclear and engineering specializations at Russia's leading universities. Each year, at Rosatom's request, quotas are allocated to representatives from African countries.
Moreover, digital technologies, artificial intelligence and cyber security – of which the Russians are masters – are rapidly developing in Africa. Africans are interested in Russian information technologies – first and foremost in the Russian government services, such as tax collection programmes, cloud technologies, and everything related to online payment systems.
Africa is showing particular interest in agricultural projects. In particular, African countries are increasing their cereal production and the demand for fertilisers is growing. Therefore, over the last five years the volume of fertiliser consumption in African countries has grown by 4-5% per year, while the world average is 1.5-2%. There are huge prospects for the African market – consumption of nitrogen and phosphorous fertilisers in the region is currently five to seven times lower than the world average, while potash consumption is nine to eleven times lower than the world average.
In the first nine months of 2020, despite the pandemic, the company's fertiliser supplies exceeded last year's indicators and reached 445,000 tonnes. Over the next five years, the possibility of increasing the supply of ecologically standard products to Africa is being considered – an important contribution to ensuring food security in Africa, which the continent had until the 1960s and then lost due to neo-colonialism,
With a gradual and systematic development of market potential, it is entirely possible for Russian companies to take leadership positions, redirecting volumes and priorities from more distant markets and also from other ones.
The first Russia-Africa Conference was held in Soči on October 23-24, 2019 and saw the participation of 54 African representatives with 43 Heads of State. At the Summit Putin emphasised that cooperation between the parties waslong standing and long-term -and military, we would add. The new support point for the Russian Navy is in Sudan – the Treaty of December 8, 2020, and the docking of the frigate Admiral Grigorovic on February 28, 2021 in Port Sudan.
Russia's reappearance in Africa is taking place in full swing.