EU to support COVID-19 vaccination strategies and capacity in Africa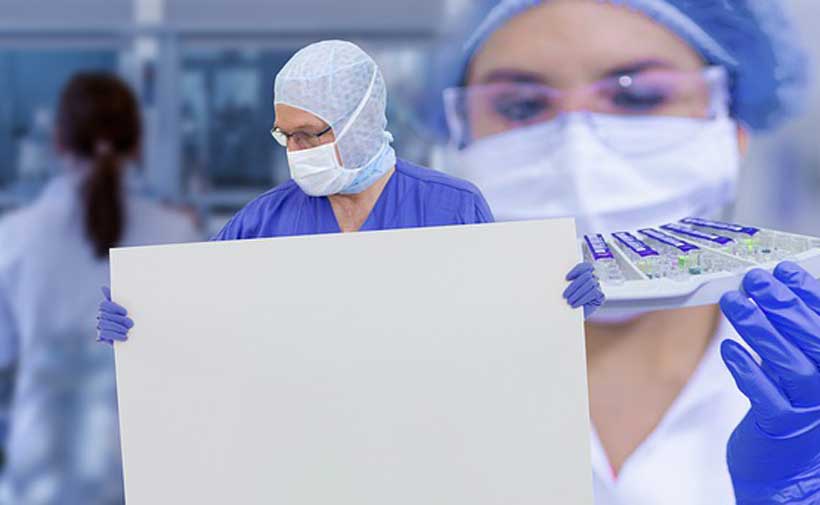 The President of the European Commission, Ursula von der Leyen, has announced today €100 million in humanitarian assistance to support the rollout of vaccination campaigns in Africa, which are spearheaded by the Africa Centres for Disease Control and Prevention (Africa CDC). Subject to the agreement of the budgetary authority, this funding will support the vaccination campaigns in countries with critical humanitarian needs and fragile health systems. The funding will, among others, contribute to ensuring the cold chains, roll-out registration programmes, training of medical and support staff as well as logistics. This sum comes on top of €2.2 billion provided by Team Europe to COVAX.
President of the European Commission, Ursula von der Leyen said: "We've always been clear that the pandemic won't end until everyone is protected globally. The EU stands ready to support the vaccination strategies in our African partners with experts and deliveries of medical supplies at the request of the African Union. We are also exploring potential support to boost local production capacities of vaccines under licensing arrangements in Africa. This would be the fastest way to ramp up production everywhere to the benefit of those that most need it."
Janez Lenarčič, Commissioner for Crisis Management, said: "International vaccine solidarity is a must if we are to effectively address the COVID-19 pandemic. We are looking at ways to use our humanitarian aid and civil protection tools to help in the rollout of vaccination campaigns in Africa. Ensuring equitable access to vaccines for vulnerable people, including in hard-to-access areas, is a moral duty. We will build on our valuable experience in delivering humanitarian aid in a challenging environment, for example via the Humanitarian Air Bridge flights."
Commissioner for International Partnerships, Jutta Urpilainen, added: "Team Europe has stood by the side of our African partners from the onset of the pandemic and will continue to do so. We have already mobilised more than €8 billion to tackle the COVID-19 pandemic in Africa. We are strengthening health systems and preparedness capacities, which is absolutely key to ensure effective vaccination campaigns. And we are now exploring support through the new NDICI and how to leverage investments in the local production capacities through the External Action Guarantee."
The EU also has a range of instruments at its disposal, such as the EU Humanitarian Air bridge, the EU Civil Protection Mechanism, and the EU's humanitarian budget. These tools have been used extensively in the context of COVID-19 to deliver crucial material and logistical assistance to partners in Africa.
The Commission is also currently exploring opportunities to support African countries in the medium term to establish local or regional production capacity of health products, in particular vaccines and protective equipment. This support will come under the new Neighbourhood, Development and International Cooperation Instrument (NDICI) and the European Fund for Sustainable Development plus (EFSD+).
Background
The EU has been scaling up its humanitarian engagement in Africa since the onset COVID-19 crisis. A key of part of these efforts is the EU Humanitarian Air Bridge, which is an integrated set of services enabling the delivery of humanitarian assistance to countries affected by the coronavirus pandemic. The air bridge carries medical equipment, and humanitarian cargo and staff, providing humanitarian assistance for the most vulnerable populations where the pandemic imposes constraints on transport and logistics. The air bridge flights are fully funded by the EU. So far, almost 70 flights have delivered over 1,150 tons of medical equipment as well as nearly 1,700 medical and humanitarian staff and other passengers. Flights to Africa have aided the African Union, Burkina Faso, Central African Republic, Chad, Côte d'Ivoire, Democratic Republic of Congo, Guinea Bissau, Nigeria, São Tomé and Príncipe, Somalia, South Sudan, Sudan.
World Bank Supports MSMEs to Foster Inclusive Growth in Mozambique
The World Bank approved today a $100 million grant from the International Development Association (IDA) in support of the Government of Mozambique's Economic Linkages for Diversification Project, which supports Micro, Small, and Medium Enterprises (MSMEs) develop their capacitities to provide goods and services to larger businesses, as well as serve the growing cities in the center and north of Mozambique, thus fostering linkages and economic diversification.
"Mozambique's growth has been driven by Foreign Direct Investments (FDI) into capital-intensive industries, which has not translated into adequate levels of job creation," noted Idah Z. Pswarayi-Riddihough, World Bank Country Director for Mozambique, Madagascar, Comoros, Mauritius, and Seychelles. "Supporting MSMEs is a key factor of economic diversification, job creation, inclusive growth, and fragility mitigation, and this is exactly what this project is all about."
"The project will help develop MSMEs' abilities to provide goods and services to large investments along their value chains, through skills development, expanding access to finance and markets, and quality upgrading of their processes and products," noted Francisco Campos, Senior Economist, and the project's co-team leader. "This effort, combined with developing consumption linkages through skills and finance for microenterprises in major cities, especially women-led enterprises, can generate more and better jobs."
The project will also support enabling conditions for economic linkages. "This project focuses on the development of digital solutions that will increase firms' access to markets and financial services and on promoting last-mile infrastructure," added Eva Clemente Miranda, Private Sector Specialist, and the project's co-team leader."
Michelle Gomes Souto, Operations Officer, and the project's co-team leader noted: "Other interventions will include support to institutional development and regulatory reforms that can drive further sustainable private investments and institutional coordination."
While the project will impact the wider economy, its priority geographic areas include the provinces of Cabo Delgado, impacted by the conflict, as well as Nampula and Tete, where poverty rates are high and opportunities for economic linkages are significant. The project will also support green industry firms in their capacity to offer climate friendly solutions, as well as support engagement between state agencies and the citzens.
This operation is in line with the country's priorities outlined in its five-year plan, the Bank's partnership framework with Mozambique for FY 2017-21, as well as the new conflict-prevention and resilience-building focus of the World Bank activites in Mozambique.
* The World Bank's International Development Association (IDA), established in 1960, helps the world's poorest countries by providing grants and low to zero-interest loans for projects and programs that boost economic growth, reduce poverty, and improve poor people's lives. IDA is one of the largest sources of assistance for the world's 75 poorest countries, 39 of which are in Africa. Resources from IDA bring positive change to the 1.5 billion people who live in IDA countries. Since 1960, IDA has supported development work in 113 countries. Annual commitments have averaged about $18 billion over the last three years, with about 54 percent going to Africa.
Tanzania helpline calls time on child marriage and abuse
Child marriage continues to affect many young girls across Tanzania, in East Africa, but now a series of interventions supported by the UN Population Fund (UNFPA) are allowing children to get the support they need to avoid unwanted and potentially damaging relationships.
It was 3 o'clock on a Friday afternoon when Grace*, a counsellor at the National Child Helpline in Tanzania, received a call from a concerned teacher in Msalala, a small town in the remote Shinyanga region in the north-west of the East African country.
One of her brightest students Eliza*, aged 13, had not gone to school that day following worrying rumours that her parents intended to marry her off. She learned that they had accepted a payment in the form of a bride dowry from the family of the intended groom. The man chosen for Eliza was at 35-years-old, more than 22 years her senior.
On a recent two-day visit to Tanzania, UNFPA's Executive Director, Dr. Natalia Kanem, met with counsellors at the National Child Helpline, in the commercial capital, Dar es Salaam. The helpline is run by C-Sema, a national NGO, in collaboration with the Government.
The #116 toll-free service, available across all mobile networks in Tanzania mainland and Zanzibar, responds to around 3,500 calls a day from women and children who are at risk of violence, and from family and community members who report abuses.
The helpline has reported an increase in calls during the COVID pandemic as school closures made children more vulnerable to abuse and exploitation.
Trained volunteer counsellors like Grace give women and young people support, 24 hours a day, seven days a week. The counsellors also liaise with support networks and protection systems in the callers' locality to provide further assistance.
Eliza's story has a happy ending. As a result of Grace's coordination with local government authorities and district social welfare officers in Msalala, officers from the Police Gender and Children's Desk visited Eliza's parents and the marriage did not take place.
A whole-of-community effort
Dr. Kanem expressed gratitude to C-Sema and counsellors for their dedication to advancing gender equality and the health, rights and well-being of women and young people, including through the use of digital platforms and new technologies.
Despite progress and the commitment by the Government to tackle gender inequalities and discrimination, as articulated in the Five-year National Plans of Action to End Violence Against Women and Children, violence remains a daily reality for many women and adolescent girls.
UNFPA Tanzania is supporting efforts to eradicate gender-based violence and to strengthen protection systems across the country In addition to supporting the National Child Helpline, it is also working with police officers who staff specialized gender and children's investigation units which meet the needs of women and girls, and other one-stop support services that provide holistic care all in one place to ensure that victims of abuse do not have to go from one place to another to get medical care, psychosocial support or legal assistance.
Community centres, where women support each other and take the lead in ending violence in their communities, have also been set up.
Empowering men and boys as agents of change
Efforts to end violence are not only focused on empowering women and girls. Men and boys, and traditional and community leaders, are also included in conversations in recognition of their role and contribution to gender equality. Through extensive community outreach, UNFPA's partners are encouraging discussions around harmful stereotypes of masculinity and positive ways to support the rights of women and girls.
Engaging men in holding other men accountable is critical to creating the basis for greater equality and they must not be left out or left behind, stressed Dr Kanem. "Every girl and boy should be valued and should be taught that the expression of their right and empowerment should not be centred on overpowering others."
Supporting government-led efforts
During her visit to Tanzania, Dr. Kanem met with the country's first female President, Samia Suluhu Hassan, who expressed Tanzania's commitment to eliminate preventable maternal and child deaths, gender-based violence and harmful practices, including female genital mutilation.
Dr. Kanem commended the government's leadership and reaffirmed UNFPA's support to Tanzania to realize development targets and stronger, more inclusive socioeconomic growth with the goal of leaving no one behind.
*name changed to protect identity.
Joining hands to strengthen food safety knowledge in West Africa
In the context of the Guinea-Bissau component of the European Union-funded West Africa Competitiveness Programme (WACOMP), implemented by the United Nations Industrial Development Organization (UNIDO), 30 Bissau-Guineans received training on the Hazard Analysis and Critical Control Point System, HACCP, and on the ISO standard for Food Safety Management System, ISO 22000.
This virtual training was made available to all those participating in the WACOMP, which allowed additional 30 people to benefit from the training. The 60 participants who attended the training came from nine countries in the region: Benin, Burkina Faso, Côte d'Ivoire, The Gambia, Ghana, Guinea-Bissau, Guinea, Liberia and Togo.
In his opening remarks, Christophe Yvetot, UNIDO's representative to Senegal, Guinea-Bissau, The Gambia, Cabo Verde and Mauritania, emphasized that the "training sessions on HACCP and ISO 22000 are crucial to provide capacity-building in the fields of food safety assurance and management for people responsible for performing conformity assessment activities, and technicians involved in food safety and quality."
The WACOMP Programme is funded through a €116m contribution under the 11th European Development Fund and includes one regional and 16 country components. The objective of the programme is to strengthen the competitiveness of West African countries and enhance their integration into the regional and international trading system. UNIDO has been entrusted with the implementation of the WACOMP regional component, as well as six country components, namely The Gambia, Ghana, Guinea, Guinea-Bissau and Sierra Leone, and a component of the one for Cabo Verde. With a portfolio of €29m, UNIDO is the main implementing agency of the WACOMP.