21 New Hilton Hotels in Asia to Create Travel Memories in 2021
Over the past year, consummate jet setters have had to adapt to a new way of travel, deviating from packed aircrafts and far-flung destinations and looking instead at exploring their own native land. Holidays in their own backyard have given them the opportunity to reconnect with their history, culture and nature.
The dream of traveling again one day, however, remains firmly in the minds and hearts of many.
Today, Hilton presents a collection of 21 new hotels and resorts in Asia that would inspire travelers to keep dreaming of making new memories in journeys to come when it is safe to do so again.
From off-city locations where the magnificent outdoors await, to unique leisure experiences with delightful cuisines, retail therapy and wellness treatments in city getaways and any desire fulfilled on the largest private island on the Maldives, avid travelers would be spoilt for choice with the latest, most spectacular additions to the Hilton family of hotels to add to their travel wish-list.
1. Hilton Melbourne Little Queen St (Australia)
Explore cosmopolitan Melbourne at Hilton Melbourne Little Queen Street and relish in the city's fantastic combination of fine dining, art galleries, cafes, fashion and packed sports calendar. Near Melbourne's key business districts and vibrant art, theatre and dining precincts, the astounding hotel takes up residency in the historically significant Equity Chambers building, which was originally built in 1931. The property will feature 244 stylish guest rooms, a restaurant and bar, a fully equipped gym, an executive lounge and five meeting and event spaces.
Hilton Melbourne Little Queen St is expected to open in Q1 2021.
2. Hilton Garden Inn Albany (Australia)
For travellers whose perfect holiday consists of daily outdoor explorations, Albany's plethora of idyllic national parks, beaches and nature reserves are worthy of a visit. The breathtaking beauty of Albany's rugged coastline is best viewed at from the 108-room Hilton Garden Inn Albany, conveniently located on the waterfront next to the new Albany Entertainment centre. The only hotel in the city to offer absolutely stunning waterfront views over the harbour and ocean, Hilton Garden Inn Albany is perfect for those looking to spend a week whale spotting, hiking, fishing, sailing and diving.
Hilton Garden Inn Albany is expected to open in Q2 2021.
3. DoubleTree by Hilton Perth Waterfront (Australia)
Set on the Swan River waterfront, DoubleTree by Hilton Perth Waterfront sits next to Elizabeth Quay entertainment and the iconic Bell Tower while offering spectacular 360-degree views of Swan River and the city. The hotel enjoys many unique design features, notably the building's extension out over the Swan River. The artwork by local artist Tom Muller spans across the entire perimeter of the building and was designed to emulate the many facets and moods of the Swan River. With exceptional dining and thoughtful amenities, the 18-storey, 229-room hotel is also an ideal venue for weddings, business meetings and special events.
DoubleTree by Hilton Perth Waterfront opened in 2020.
4. Conrad Urumqi (China)
An iconic destination, Urumqi is a city not to be missed for those visiting the Xinjiang region. Known to be a distant and mysterious place, the city's bold ethnic style is its outstanding feature. Located within the city center's bustling commercial area, the remarkable Conrad Urumqi sits adjacent to the most luxurious shopping mall in the city, perfect for urban travelers seeking a dose of retail therapy. Guests can also explore the markets and restaurants of Urumqi or travel further out to the many beautiful scenic parks on the outskirts of town.
Conrad Urumqi is expected to open in Q2 2021
5. Conrad Jiuzhaigou (China)
A must-visit destination for nature lovers, Jiuzhaigou is a culturally rich heritage county located in the mountainous region of Southwest China and is home to the Jiuzhai Valley National Park, an extravaganza of natural wonders. From multilevel waterfalls to colorful lakes and snow-capped peaks, travelers can expect dreamlike scenery and beautiful cultural sites. A stay at the exceptional 161-room Conrad Jiuzhaigou will elevate the holiday to new heights with its stunning suites, unparalleled service and close proximity to natural attractions.
Conrad Jiuzhaigou is expected to open in Q2 2021.
6. Hollick Hotel Wen'an, Tapestry Collection by Hilton (China)
A treasure trove of natural wonders and beauty, Wen'an sits within the Beijing-Tianjin Luneng Ecological Zone and boasts a long history and gorgeous interlaced rivers. A car ride away from Baiyangdian, a famous scenic spot in the province, the 270-room Hollick Hotel Wen'an is a member of Tapestry Collection by Hilton and part of the prestigious Hollick Australian winery. Travellers can look forward to immersing themselves in the unique wine culture of the hotel while enjoying the hospitable Wen'an local culture after a busy sightseeing day.
Hollick Hotel Wen'an, Tapestry Collection by Hilton is expected to open in Q3 2021.
7. Canopy by Hilton Xi'an Qujiang (China)
Explore the historical city of Xi'an, brimming with ancient culture and art, with Canopy by Hilton Xi'an Qujiang. Located in the hottest area of the city, the spacious, well-appointed 125-room hotel sits right in the middle of historical sites, galleries, museums, theatres and entertainment. For expert advice on where and how to truly experience the Xi'an local lifestyle, Canopy enthusiasts are also on hand to help guests create memorable experiences during their stay.
Canopy by Hilton Xi'an Qujiang is expected to open in Q3 2021.
8. Waldorf Astoria Xiamen (China)
Bringing unforgettable experiences to the Chinese coast, Waldorf Astoria Xiamen is positioned in the heart of the city and evokes a modern and refined reimagination of the city's unique cultural traditions as a seaside port at the intersection of global culture in Asia. The latest addition to Waldorf Astoria's growing portfolio of hotels in Asia-Pacific, Waldorf Astoria Xiamen features rooms and suites with floor-to-ceiling windows, offering abundant sunlight and breathtaking views. Travelers can also look forward to exquisite food and drink offerings, and a nature-inspired spa, bringing urban and chic revitalization to guests' unforgettable stay.
Waldorf Astoria Xiamen opened in 2020.
9. Canopy by Hilton Hangzhou West Lake (China)
Considered one of the most beautiful sights in Hangzhou, the scenic West Lake has always been praised by numerous Chinese poets and artists since ancient times for the perfect combination of stunning natural scenery and human culture. Sheltered on three sides by hills, with open flat land to the northeast where Canopy by Hilton Hangzhou Westlake is located, guests can explore the West Lake Music Fountain, Orioles Singing in the Willows, and Hefang Street shopping on complimentary Canopy Bikes. The memorable 160-key property offers beautifully designed rooms and suites along with all-day dining at the Nettare Restaurant and Bar, a 24-hour fitness center and a boardroom for small meetings.
Canopy by Hilton Hangzhou Westlake opened in 2020.
10. Hilton Goa (India)
A beautiful blend of sun, sea, sand and spirituality, Goa is India's pocket-sized paradise, and a visit deserves a spot on everyone's bucket list. Perfect for those seeking a tranquil retreat away from the hustle and bustle of the city, Hilton Goa sits atop the scenic, terraced slopes of Saipem Hills, overlooking the serene Nerul River. With three unique dining establishments, four outdoor pools, a kid's club and signature round-the-clock concierge experiences, guests can leave their worries behind and completely immerse in a stress-free holiday at Hilton Goa. If you are looking for adventure, the resort also offers bicycle trails, underwater escapades and luxury cruises along the backwaters of Goa.
Hilton Goa opened in 2020.
11. DoubleTree by Hilton, Jaipur (India)
For those wanting to tick the golden triangle of India off their bucket list in 2021, Jaipur is one of the three cities renowned worldwide for its colored gems. Combining the allure of ancient history with its metropolitan lifestyle, travelers can look forward to one-of-a-kind architecture such as the Hawa Mahal and also spend time in the local markets sifting through dazzling antiques, jewelries and handicrafts. Take in the beauty of the city while staying at the Doubletree by Hilton, Jaipur, which offers 151 rooms and unique on-property experiences such as culinary masterclasses or mocktail-making workshops.
DoubleTree by Hilton, Jaipur opened in 2020.
12. Hilton Garden Inn Jakarta Taman Palem (Indonesia)
For a warm and comfortable stay amidst the dynamic and vibrant capital city of Indonesia, Hilton Garden Inn Jakarta Taman Palem offers a quiet city respite. Ideal for families in search of a quick getaway, the hotel is connected to the Green Sedayu Mall and is a short drive away from the National Museum of Indonesia and family-friendly attractions such as the Waterbom Jakarta and Damai Indah Golf and Country Club. The 168-room property features an onsite restaurant, The Garden Grille & Bar, an outdoor pool, a well-equipped fitness center and meeting and events spaces.
Hilton Garden Inn Jakarta Taman Palem is expected to open in Q3 2021.
13. DoubleTree by Hilton Surabaya (Indonesia)
A vibrant, sprawling metropolis, Surabaya is renowned for its unique culinary delights, historical culture and captivating attractions. Situated amidst the hustle and bustle of the city, Doubletree by Hilton Surabaya is surrounded by restaurants, shops and street food. Offering panoramic views from 310 guest rooms and suites, the hotel is an ideal place to rest after a day out to nearby attractions such as Tunjungan Plaza, Heroes Monument and Siola Surabaya Museum. Relax while watching the beautiful sunset at Cloud 22, the open-air rooftop bar, soak in the outdoor pool or work out in the modern fitness center.
DoubleTree by Hilton Surabaya opened in 2021.
14. ROKU KYOTO, LXR Hotels & Resorts (Japan)
This hotel is planned to mark the debut of LXR Hotels & Resorts in Asia Pacific. Situated in a tranquil area along the foothills of the Takagamine mountains in northern Kyoto and within walking distance of the iconic Kinkaku-ji "Golden Pavilion" and other historic temples, ROKU KYOTO, LXR Hotels & Resorts is a peaceful retreat offering guests a bespoke Kyoto experience. With fine dining, various on-site and nearby nature experiences and activities and luxurious spa treatments complete with natural hot springs, the hotel has everything needed for a refreshing stay.
ROKU KYOTO, LXR Hotels & Resorts is expected to open in Q3 2021.
15. Hilton Nagasaki (Japan)
If visits to beautiful offshore islands, historic buildings and hot-spring spas sound like the ideal vacation for you, look no further than Nagasaki. Located on the west coast of Japan's Kyushu Island, the beautiful city has plenty to offer for travellers searching for a short getaway. With easy access to various well-known spots in Nagasaki, such as Glover Garden, Mount Inasa and the newly christened UNESCO World Heritage site, Oura Cathedral, Hilton Nagasaki is the perfect resting point to discover the historical port city. Situated next to the MICE facility of Nagasaki City, the 200-room new hotel will offer guest facilities including restaurants, banquet rooms, chapel and a fitness center.
Hilton Nagasaki is expected to open in Q4 2021.
16. Ithaafushi – The Private Island (Maldives)
Nestled in unique atolls surrounded by azure blue waters, powdery white sand and an incredible diversity of marine life, Ithaafushi – The Private Island, is the ultimate escape for the most discerning travelers, offering unparalleled levels of privacy and personalized service. The largest Maldivian private island spanning 32,000 square meters in the heart of the Indian Ocean features two elegantly designed villas, a sweeping four-bedroom residence, five swimming pools and a private entertainment clubhouse along with a dedicated chef offering bespoke menus and a personal concierge to attend to all needs. Holding no boundaries for adventure, guests can explore the sparkling depths of the underwater world through watersports, diving activities and yacht excursions, or head off-island to a private sandbank where they can indulge in a sunset dinner or personal yoga session.
Ithaafushi – The Private Island opened in 2021.
17. DoubleTree by Hilton Karaka (New Zealand)
The first and only hotel in the Papakura-Franklin area, DoubleTree by Hilton Karaka is set to change the landscape of the rural town known for its horse studs and sheep farming. The property will offer 120 guest rooms, a restaurant and bar, along with conference facilities set in the picturesque Sales Centre at Karaka. Just a 25-minute drive from downtown Auckland, the DoubleTree by Hilton Karaka is a hidden gem for those looking for a quick getaway from the large metropolitan city.
DoubleTree by Hilton Karaka is expected to open in Q3 2021.
18. Hilton Clark Sun Valley Resort (Philippines)
Surrounded by greenery and golf courses and a few minutes away from Clark's main business hubs and entertainment attractions such as Clark Museum, Aqua Planet and Nayong Pilipino, Hilton Clark Sun Valley Resort is a great destination for those looking to take a city break away from the bustling Manila. Drawing inspiration from Pampanga's rich culinary history, the resort offers exceptional dining experiences and an abundance of meeting spaces. It also features an outdoor pool and playground, a fitness center and kid's club.
Hilton Clark Sun Valley Resort opened in 2020.
19. DoubleTree by Hilton Weerawila Rajawarna Resort (Sri Lanka)
Uniquely situated within the Weerawila Bird Sanctuary, which is home to over 400 species of birds, and just minutes away from popular tourist attractions such as Kataragama Sacred City, Bundala and Yala National Parks, DoubleTree by Hilton Weerawila Rajawarna Resort is a haven for all. The resort is set apart by an exquisite ballroom, nature-inspired meeting spaces and stunning restaurants and bars that offer panoramic views of the tranquil Lake Weerawila. Guests seeking to refresh their minds and soul can also spend their days relaxing in the resort, enjoying its spectacular 75-meter-long outdoor swimming pool, yoga terrace and rooftop wellness spa.
DoubleTree by Hilton Weerawila Rajawarna Resort opened in 2020.
20. Hilton Garden Inn Phuket Bang Tao (Thailand)
Sitting in the Thalang District, mere minutes away from one of the most family-friendly beaches in Phuket, the 177-room Hilton Garden Inn Phuket Bang Tao offers a sophisticated stay and tropical beach bliss. With Patong a short drive away, guests can look forward to sunny days relaxing in local restaurants, bars and beach clubs. Alternatively, they could simply spend the day enjoying Hilton Garden Inn Phuket Bang Tao's spacious rooms, with views overlooking the scenic Laguna Phuket or lush mountain views, or relax in the hotel's two outdoor pools.
Hilton Garden Inn Phuket Bang Tao is expected to open in Q3 2021.
21. Hilton Saigon (Vietnam)
A beautiful addition to the city skyline, Hilton Saigon enjoys a premium location in the heart of the Central Business District and within walking distance to the Saigon Port, Thu Thiem New Urban Area, Ben Thanh Market and Nguyen Hue Walking Street. Perfect for both leisure and business travellers, Hilton Saigon will feature 236 splendid rooms, a spa, swimming pool and meeting spaces with a capacity of up to 1,200 people. Guests can enjoy the hotel's rooftop destination bar during their downtime, while culinary aficionados will enjoy a delightful experience at the modern Chinese restaurant with stunning views over the river and city.
Hilton Saigon is expected to open in 2021.
Hilton Signs Six New Luxury Hotels in Asia Pacific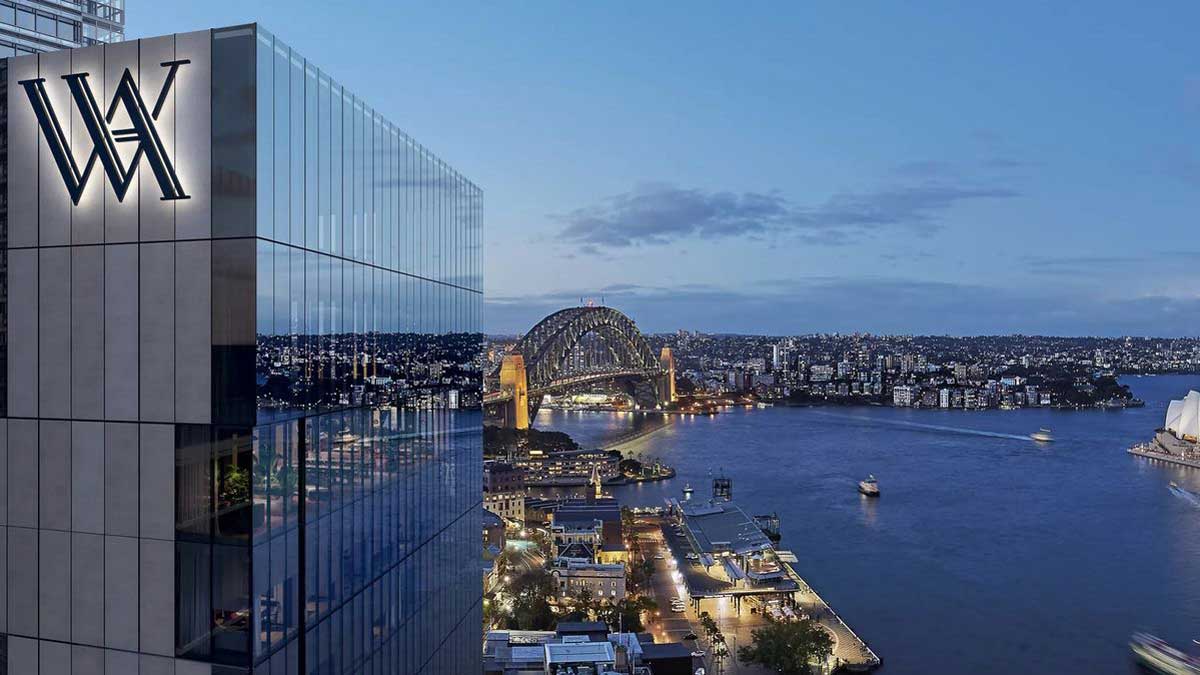 Leading global hospitality company Hilton (NYSE: HLT) has announced six landmark signings in Asia Pacific (APAC) across its portfolio of luxury brands – Waldorf Astoria Hotels & Resorts, Conrad Hotels & Resorts and LXR Hotels & Resorts – in the year to date, a mark of growing optimism in luxury travel across the region.
With the signing of Waldorf Astoria Xi'an, Waldorf Astoria Shanghai Qiantan, Waldorf Astoria Kuala Lumpur, Waldorf Astoria Sydney, Conrad Nagoya and an LXR Hotels & Resorts property in Bali, Hilton's pipeline of luxury hotels in the region increases to 20. When these hotels open in the coming years, travellers will enjoy an exquisite portfolio of more than 50 luxury hotels across Asia Pacific.
With a growing middle class, increased consumer spending and an underserved lodging market, Asia Pacific presents a US$10 trillion consumption growth opportunity over the next decade.
Alan Watts, president, Asia Pacific, Hilton said, "Hilton is Asia Pacific's fastest growing hospitality company, and that signals the confidence that owners and developers have in our ability to capture growing demand and deliver strong returns in APAC's most sought-after destinations. We share the optimism that owners and developers have about the future of luxury travel and appreciate the importance they place on partners and brands that will optimize their yield. As we continue to pursue quality organic growth and enhance our network effect, we too stay focused on prioritizing the right partnerships to deploy the right brands in the right locations."
Post-pandemic recovery has prompted increasing owner and developer interest in hospitality real estate, as the APAC hotel investment volume in 2021 grew 46% year-on-year to exceed US$12 billion, and investors focused on acquiring luxury or resort assets. The luxury travel segment is also expected to burgeon as 42% of APAC consumers who intend to take an international trip seek out luxury experiences.
"These signings mark an incredible moment for our luxury brand portfolio as we expand Waldorf Astoria, Conrad, and LXR throughout five countries in the region, offering even more opportunities for travelers to immerse in our authentic approach," said Dino Michael, senior vice president & global category head, Luxury Brands, Hilton. "From Waldorf Astoria's intuitive service, to Conrad's bold design and LXR's culturally immersive experiences, the hotels continue to showcase innovation and deliver on what guests are looking for in their stay. This expansion reinforces the appeal of the brands globally, and is a true testament to the team members who bring luxury to life."
Hilton's latest signings mark a further closing of key city gaps as its award-winning luxury brands debut or expand in key travel destinations such as Japan, Australia, Malaysia, Indonesia and China.
China in particular holds great potential in shaping the future of luxury travel as it is home to the world's largest consumer economy and is set to become the largest luxury goods market by 2025. Travel demand is also shifting as the country's new generation of young and discerning travelers seeks higher levels of personalization, wellbeing, sustainability and quality in their luxury travel experience.
The signings of Waldorf Astoria in Xi'an and Shanghai Qiantan put the brand on track to double its portfolio in China and offer its unrivalled luxury in eight world-class hotels. When open, Waldorf Astoria Xi'an will be one of the tallest buildings in this ancient capital of the 13 Dynasties. Designed by the famed design firm, Yabu Pushelberg, the hotel will draw inspiration from the city's rich millennia-old culture and integrate oriental elegance into modern design. Waldorf Astoria Shanghai Qiantan will mark the city's second Waldorf Astoria hotel. Located in Shanghai's brand-new CBD – the New Bund area – the hotel will boast panoramic views of the Huangpu River and immerse guests in the tranquility and glamour of China's commercial capital.
Today, there are more than a dozen Conrad hotels operating in China. When the other nine hotels in the country's pipeline open – including Conrad Shenzhen and Conrad Chongqing next year – guests will be able to enjoy the discreet yet sophisticated luxury that the brand is known for in more than 20 destinations.
Four Seasons Hotel New York Downtown Celebrates New York Fashion Week with Acts of Love
Four Seasons Hotel New York Downtown, the award-winning luxury lifestyle hotel located in the heart of TriBeCA, is launching Acts of Love – three dedicated moments for guests and locals to engage during Fashion Week. From Friday, September 9 through Thursday, September 14, 2022, the Hotel lobby will be transformed into a vibrant and whimsical escape.

Three Acts of Love will take over the lobby of Four Seasons Hotel New York Downtown:
Love is the Scent of Fresh Blooms: Famed artistic director and celebrity floral designer Jeff Leathamwill curate five dazzling floral arrangements that will flow throughout the lobby. Leatham's bold and colourful vision will unfold through cascading designs that will transform the lobby into THE Instagram spot to visit during Fashion Week. Guests can also pick the perfect flower to take home from the Four Seasons flower cart.
Love is a Letter from the Heart: Guests can immerse themselves in the lost art of letter writing at the bespoke Letters of Love postcard experience in collaboration with fashion designer Christian Siriano, who created custom-designed postcards exclusively for Four Seasons.
Love is Sweet: After dropping the postcard in the heritage mailbox, guests can enjoy a sweet treat from the specialty gelato cart.
The Spa at Four Seasons Hotel New York Downtown is ready to pamper and treat Fashion Week guests who need a respite from the busy week with Acts of Love that focus on self-care and wellness.
Guests can book an appointment to experience NextHealth's IV Therapy during a special pop up at The Spa. Four IV treatments will be available including:
Glamour IV to enhance the skin's overall glow from the inside out with revitalizing and collagen-boosting ingredients such as vitamin C, L-Lysine, and biotin that will leave skin looking supple and hair feeling hydrated.
Super Immune IV to supercharge the immune system with a potent combination of vitamin C, magnesium, vitamin B5, antivirals, and other essential vitamins and minerals for boosted bodily defences.
Energy Plus to fuel and enhance mental and physical vitality with energy-boosting ingredients such as L-Carnitine, vitamin B12, and potent amino acids.
Detox to encourage the elimination of toxins and harmful substances with powerful ingredients such as lysine, taurine, and antioxidants for a fully refreshed feeling.
The Spa is launching new skincare products and services with Augustinus Bader, the science-backed and award-winning luxury skincare brand best known for The Method Facial. The Method uses Augustinus Bader's groundbreaking technology to create a one-of-a-kind, highly sophisticated facial experience. The facial promotes a sequence of personalized regenerative processes for skin hydration, firmness, evenness, and protection against environmental aggressors.
Four Seasons Hotel New York Downtown is the official hotel partner for Vogue's inaugural Vogue World Fashion Experience. Fashion Week guests will receive a special welcome amenity created by Executive Chef Maria Tampakis and three expert Four Seasons executive pastry chefs including: Rhonda Ashton, Four Seasons Jackson Hole; Eddy Dhenin, Four Seasons Minneapolis; and Rob Differ, Four Seasons One Dalton Street, Boston.
The Acts of Love experience will be open to guests and locals during the following times:
Friday, September 9: 4:00– 8:00 pm
Saturday, September 10: 1:00– 4:00 pm
Sunday, September 11: 4:00– 8:00 pm
Monday, September 12: 8:30 am – 12:30 pm
Tuesday, September 13: 4:00– 8:00 pm
Wednesday, September 14: 4:00– 8:00 pm
Hilton Dubai Palm Jumeirah Opens on Palm West Beach
Hilton celebrates the opening of Hilton Dubai Palm Jumeirah. Located on the popular Palm West Beach, the hotel is the perfect escape for couples, families, friends and solo travelers looking to enjoy sunset views, a temperature-controlled pool, event spaces, a tranquil spa and more. Featuring 608 guest rooms and suites along with ten enticing culinary concepts, it is poised to become one of the top leisure and events destinations in Dubai. 
"Hilton Dubai Palm Jumeirah opens as an iconic addition to the world-famous palm shaped island and promises guests an exceptional beachfront resort experience as well as outstanding dining options," said Jochem-Jan Sleiffer, president, Middle East, Africa and Türkiye, Hilton. "We are delighted to bring our flagship Hilton Hotels & Resorts brand to this prominent location on the Palm Jumeirah, adding to the choices Hilton offers for an incredible stay in Dubai, the world's leading visitor destination."
The hotel is home to several new dining concepts unique to the property including Zing Beach Bar which offers refreshing craft drinks and a wide selection of light bites at the water's edge, and the cool, calm and connected SocialBee which features a delightful menu designed around locally-sourced honey. Mowsem, the hotel's all-day dining destination, serves an exciting array of global cuisine, whilst Australian Jones the Grocer, located on the beach and already a favourite among residents, is the perfect breakfast spot for fresh and delicious artisan food.
Launching later this year, Factory by McGettigan's will become the ultimate neighbourhood hangout with its Irish charm, delicious artful drinks, sharing plates, and an ever-changing line up of live entertainment.
CLAW BBQ will dial up the Southern hospitality with mouthwatering must-have grills, seafood, shakes and retro arcade games in a fun and vibrant setting.
Also opening later this year, Barfly by Buddha Bar will be located on the 13th floor of the property, offering sunset views of the sea, Bluewaters Island, the glittering Dubai Marina skyline and the Palm Jumeirah. This restaurant, bar and lounge will boast an exquisite dining and drinking experience, set to a soundtrack of uplifting music mixed by talented DJs.
The renowned Trader Vic's and Tahitian Village will launch just as the good weather returns and will serve up simmering plates of island-style cuisine alongside delicious and popular Mai Tais.
Aside from the culinary experiences, the property offers one of the longest pools in Dubai, a state-of-the-art fitness centre and the award-winning eforea Spa that provides comprehensive relaxation experiences, eight well-appointed treatment rooms, a dedicated spa suite and a Moroccan Hammam for individuals and groups. For young guests, the Pirates Kids Club has an indoor and outdoor area, and a dedicated kid's pool. The hotel will also feature a pristine private beach with breathtaking city views, daybeds and a range of watersports activities.
Additionally, the property has several meeting and event spaces designed for all occasions, including the outdoor Ocean Terrace that can cater for up to 800 people – perfect for weddings and large events.
Leonard Gooz, global brand head, Hilton Hotels & Resorts said, "Across the world, Hilton Hotels & Resorts properties are located in sought-after destinations for guests who know that where they stay matters – and Hilton Dubai Palm Jumeirah is no exception. With its prime location on the spectacular Palm Jumeirah, the hotel provides guests with the ultimate vacation where they can enjoy beachside living, Hilton's world-renowned hospitality and a memorable stay."
Hilton Hotels & Resorts marks its continued global growth by reaching its 600th property with the recent openings of Hilton Dubai Palm Jumeirah and Hilton Hiroshima. As Hilton's flagship brand, Hilton Hotels & Resorts continue to offer exceptional stay experiences to guests for over a century at hotels located in the most sought-after destinations around the world. In addition to the latest milestone openings, the brand recently grew its all-inclusive footprint with the opening of Hilton Tulum Riviera Maya All-Inclusive Resort and Hilton Cancun, an All-Inclusive Resort. Hilton Hotels & Resorts also debuted the largest hotel in Asia Pacific with the opening of Hilton Singapore Orchard and made its highly anticipated entry in the Maldives with Hilton Maldives Amingiri Resort & Spa
Hilton Dubai Palm Jumeirah joins 33 other Hilton properties operating in the UAE. The hotel is part of Hilton Honors, the award-winning guest-loyalty program for Hilton's 18 distinct hotel brands. Members who book directly have access to instant benefits, including a flexible payment slider that allows members to choose nearly any combination of Points and money to book a stay, an exclusive member discount, free standard Wi-Fi and the Hilton Honors mobile app. Book direct at Hilton.com, through the Hilton Honors app or through other official Hilton channels for more perks and a price match guarantee. Hilton Honors members can redeem Points using the Points Explorer tool.