East Africa: The status of women remains unequal at all levels of society
For over two decades, the Centre for Rights Education and Awareness (CREAW) has been fighting for gender equality, empowerment of women and improvement of women's rights in Kenya and broadly in East Africa. Established in 1999, CREAW has used bold, innovative and holistic interventions for the realization of women's rights. Most of its programs have focused on challenging practices that undermine equity, equality and constitutionalism, promoting women's participation in decision making and deepening the ideology and philosophy of women's empowerment.
In this interview, Mercy Jelimo, an Executive Program Officer at the Nairobi-based Center for Rights, Education and Awareness (CREAW) discusses the current situation about gender issues, landmarked achievements, existing challenges and the way forward. Here are the interview excerpts:
In your estimation and from your research, how is the situation with gender inequality, specifically in Kenya, and generally in East Africa?
MJ: This survey was commissioned by our partners Women Deliver and Focus 2030 with over 17,000 respondents covering 17 countries on six continents. The survey findings indicated that over 60% of respondents believed that Gender Equality had progressed. However, on average 57% of respondents also felt that the fight for gender equality is not over particularly because we see key aspects of gender inequality persist including: unequal distribution of unpaid care, domestic work and parental responsibilities between men and women (the COVID-19 pandemic has spotlighted the burden women bear as caregivers) different employment opportunities with religion and culture continuing to entrench discrimination against women.
Whereas in East Africa, the survey only covered Kenya, the results are shared across. In particular, the Kenyan respondents indicated that there has been notable progress in regards to Gender equality particularly when it comes to the legal and policy frameworks to guard against discrimination on whichever basis be it sex, religion, class or race.
Over the last quarter century, the country has promulgated a new Constitution and a raft of subsidiary legislations and policies that are critical to Gender equality. Some of these laws include but not limited to: the Sexual Offences Act 2006, the Children's Act 2001, the Prohibition of Female Genital Mutilation Act 2011, the Marriage Act 2014, the Protection Against Domestic Violence Act 2015, the Victim Protection Act 2014, the Witness Protection Act 2008, the National Policy for Prevention and Response to Gender-Based Violence 2014, the National Guidelines on the Management of Sexual Violence 2015, the Multi-sector Standard Operating Procedures for Prevention and Response to Gender Based Violence, and the National Policy on the Eradication of Female Genital Mutilation (FGM) 2019.
Kenya has also ratified the Convention on the Elimination of All Forms of Discrimination against Women (CEDAW), the Convention on the Rights of the Child (CRC), the Protocol to the African Charter on Human and Peoples' Rights on the Rights of Women in Africa (the Maputo Protocol), the African Charter on the Rights and Welfare of the Child, among other instruments. However, even with this robust legal framework, accountability and the implementation of these laws have lagged behind.
The status of women and girls as compared to men and boys still remains unequal at all levels of society both public and private. This imbalance manifests itself as normalized negative social norms and 'cultural' practices with brutal violations against women and girls continuing to be perpetrated, women being excluded from leadership and decision making positions, limited in their political participation and women and girls being denied access to economic opportunities.
Undeniably, women and girls continue to be victims of sexual and gender-based violence (SGBV) including rape, domestic violence, Female Genital Mutilation (FGM) and child marriage. In fact, as of March 2020, according to statistics from Kenya's Gender Violence Recovery Centre (GVRC), 45% of women and girls between the ages of 15 and 49 have experienced either physical or sexual violence with women with girls accounting for 90% of gender-based violence (SGBV) cases reported. Harmful practices such as FGM and child marriage are still prevalent, with the Kenya Demographic Health Survey (2014) reporting a national FGM prevalence rate of 21% for women and girls aged 15-49 years of age. The prevalence rate differs from one practicing community to the other, with communities such Somali (96%) Samburu (86%) and The Maasai (78%) having significantly higher prevalence.
Sadly, this is the story across all the other countries in East Africa where we have progressive legal and Policy framework but with zero accountability mechanisms. It is worth noting that in 2018, the East Africa Community Council of Ministers approved the EAC Gender policy which is key to ensuring that gender equality and empowerment of women are not only integrated into every aspect of its work but provides an outline of key priority areas for partner states. The EAC has also instituted other gender mainstreaming efforts including the EAC Social Development framework (2013), the EAC child policy (2016) the EAC Youth policy (2013), a Gender Mainstreaming Strategy for EAC Organs and Institutions, (2013) amongst others.
By the way, what are your research findings that you presented in report on Jan 28? Are there any similarities and differences about gender studies in other East Africa countries?
MJ: The key findings from Kenya can generally be used to paint a picture of the situation in the EAC region. Apparent Gender disparities in the region remain in a number of areas such as in political representation, access to education and training, access to quality and affordable healthcare, high unemployment rates of women, rampant sexual and gender-based violence, harmful cultural practices, inadequate financing for gender needs and programs.
Firstly, when asked about the status of Gender Equality, the majority of respondents identified Gender Equality as an important issue (96%) and that government should do more (invest) to promote gender equality.
Secondly, the role of religion and culture; how boys and girls are socialized and unequal representation were identified as obstacles to gender equality. This finding indicates the work that still remains to be done for Gender equality actors in Kenya and other partner states in the EAC. The most important step to achieving gender equality is dismantling systems and structures that promote and protect inequalities. whereas the country has made tremendous progress in having relevant legal and policy frameworks, there is still lack of implementation of these laws – this finding answers the why question– because institutions, people and structures are still very patriarchal. Furthermore, the lack of representation of women (also cited by Kenyan respondents as an obstacle) might explain the failures in implementation of the laws and policies.
Thirdly, the respondents identified corruption as the most important issue facing the country. This finding is also supported by the 2019 Global Corruption Barometer – Africa survey that showed that more than half of citizens in the continent think graft is getting worse and that governments were doing very little to curb the vice. The impact that corruption has on service delivery cannot be overemphasized especially on public goods such as healthcare, education, water and sanitation. More specifically, is the resulting lack of public financing to programs and interventions that address gender needs & promote gender equality.
A recent Corruption Perception Index (CPI) Report by Transparency International indicated that all the countries in East Africa with the exception of Rwanda scored below the global average rate of 43 out of 100. More importantly is that the report noted that countries that perform well on the CPI have strong enforcement of campaign finance regulations as this correlates with the dismal performance of women in politics who often than not do not have the requisite political funding to mount effective political campaigns and outcompete their male counterparts.
What would you say about discrimination or representation of women in politics in the region? Do you feel that women are not strongly encouraged in this political sphere?
MJ: There has been significant progress when it comes to women's political representation and participation with a majority of the countries in the EAC region adopting constitutional quotas and other remedies to promote representation. All the countries in the East Africa Community have achieved the 30% critical mass with the exception of Kenya (21%) and South Sudan (28%). More women occupy ministerial portfolios that were perceived to be the preserve of men such as defense, foreign affairs, manufacturing, trade, public service and so forth. Not to miss that the leading country globally – Rwanda is from the region (63%).
However, most institutions including parliaments are still male dominated and women in the region still face a number of challenges including violence against women in politics, religious and cultural beliefs and norms that limit women role, lack of support from political parties, lack of campaign financing and unregulated campaign financing environment with the progressive legal and policy frameworks yet to be fully implemented. These challenges continue to limit the representation and participation of women in public and political sphere. The region is yet to have a woman as a president just to illustrate the glass ceilings that remain.
Tell us about how women are perceived (public opinion) in the society there? How is the state or government committed to change this situation, most probably by enacting policies?
MJ: "Don't tell me what you value. Show me your budget and I 'll tell you what you value" This quote by President Joe Biden aptly captures the state of affairs in the region in relation to gender equality. The countries in the region have continued to enact and reform legal and policy frameworks but have largely remain unimplemented. The primary reasons being lack of financial and accountability mechanisms to ensure that these programs and policies are actualized. For us to reach to the conclusion that governments are committed to promoting gender equality and women empowerment, we need to see a shift from lip service to prioritization and adequate resourcing of programs that advance gender equality.
What platforms are there for improving gender equality, for ending gender-based violence and for discussing forms of discrimination there? Do you suggest governments have to act now to accelerate issues and progress on gender equality in East Africa?
MJ: As Deliver for Good Campaign partners in Kenya together with other gender equality advocates, the Sustainable Development Goals and Africa Agenda 2063 provide important blueprints to developing our society economically, socially and politically. The Deliver for Good campaign is an evidence-based advocacy campaigns that call for better policies, programming and financial investments in girls and women. Most importantly, the Generation Equality Forum (GEF) is an important mobilization moment to ask governments and private sector to accelerate progress not just in East Africa but globally. Specifically, we will be using this moment to call on governments, not only make bigger and bolder commitments but also, to ensure that they match these commitments with financing and accountability mechanisms.
As the Deliver for Good campaign partners in Kenya, we have a particular interest on one of the GEF Action Coalitions – Gender Based Violence – to leverage on the Kenyan government leadership and the political will to end traditional practices that are harmful to women and girls such as Female Genital Mutilation and Child Marriage. Particularly and in line with the survey findings, we will be calling for: increased accountability for physical and sexual crimes against women; increased investment on prevention and protection programs while calling for inclusive efforts and programs that leave no woman behind in Kenya and East Africa.
Discerning the Human Element Amid the Pandemic
"We are not human beings having a spiritual experience. We are spiritual beings having a human experience." – Pierre Teilhard de Chardin
There is something about the Covid pandemic that will be remembered for decades and centuries to come. It is not even so much the economic costs or travel restrictions per se, but first and foremost the human element that came from many people across the planet in expressing support and solidarity as well as in making their contribution to fighting the crisis. The future will harshly judge the current nationalistic/individualistic excesses that persist despite the raging pandemic. It is at times like these that the global community needs to rediscover the values of the humanist legacy and humanitarian diplomacy.
A lasting sour impression from the Covid crisis is that countries most economically advanced lacked leadership and vision in the midst of the pandemic. There could have been greater cooperation between the world's largest economies and a more emphatic reaction from global institutions/organizations as well as regional arrangements. The degree of bickering and conflict observed throughout the pandemic period suggests that the lessons of the past and the legacy of the humanist thinkers have yet to be internalized into the global community's way of thinking.
At the same time, the world is set to change as a result of the Covid experience – a longer-term perspective on economic development, the importance of social bonds and support lines, the very existence of something that lies beyond the proverbial "old normal". The rise of ESG (environment, social, governance) is one of the new trends taking hold on the back of the pandemic shock. Other themes include debt relief to least developed economies as well as provision of medical equipment and vaccines for the disadvantaged groups of countries.
Indeed, what will be remembered is the human element in international diplomacy – the sending of medical equipment, vaccines, doctors and specialists. At times, such feats were performed not by the purported leaders of the world, but by small economies with scant resources of their own. The Cuban experience in this respect is particularly telling amid the Covid pandemic – not only did Cuba provide doctors and equipment to developing countries, it also created a vaccine of its own that it furnished to its regional neighbors. It is not only the strength and the advances of the national health care system but even more importantly the ability to share these advancements with the global community that counts the most during such fateful times.
And then there is also the humanitarian diplomacy and the legacy of humanism accumulated by humanity in facing dire adversities in the past. The legacy of the humanists of the past centuries such as Pierre Teilhard de Chardin, Erasmus, Thomas More, Antoine de Saint-Exupery, Vladimir Vernadskiy. Perhaps one of the best ways to summarize this legacy from the vantage point of today's crisis is to refer to Vernadskiy's words: "Humanity has a bright future ahead if it comes to realize this and does not employ its mind and efforts to destroy itself".
What does the world community need to undertake to address the weak response to the pandemic? Nearly every major crisis faced by the world in the past was followed by a reconfiguration of global architecture, with new coordination mechanisms and new international organizations being created. Perhaps this time it is not so much about the creation of new organizations, but rather the greater responsibility that is to be taken by the major powers represented in the UN Security Council.
In particular, there may be a case for a code of conduct during global pandemics and crises to be adopted by the countries endowed with a permanent UN Security Council status. Such a code of conduct may include commitment not to resort to trade and other restrictions pertaining to humanitarian assistance or trade in medical equipment, not to resort to sanctions, as well as not to engage in military conflicts. The list of such commitments may be refined of course on the basis of the experience of the world community during the current pandemic and previous episodes of global economic crises.
In terms of academic experiences during the pandemic one of the most gratifying was the T20 meetings and discussions about how to design anti-crisis measures and support the world economy. In the context of one of the working groups Valdai partnered with the King Fahd University of Petroleum and Minerals (KFUPM) from Saudi Arabia to come up with the proposal for the G20 (that was included into the T20 communique) to create a platform for the sovereign wealth funds of the G20 nations to coordinate among other measures anti-crisis stimuli for the benefit of the global economic recovery.
In the course of the pandemic I received multiple letters of support and solidarity from friends and colleagues from various think-tanks across the globe – from Italy, from China, Argentina, US, UK, and many other countries. Often these were expressions of solidarity not only with my colleagues from Valdai, but more broadly with Russia and its people.
Whatever the grand ideas and writings coming from the many think tanks around the world, it is the simple words of support and solidarity that rang most deeply in the many exchanges throughout the past year.
I have also come to know volunteers working nightshifts in Moscow city hospitals to fight the Covid pandemic during whatever time they have left from their main (and rather intensive) work. Not surprisingly, these people exhibiting self-sacrifice during the height of the pandemic also express the longing for an inter-connected world, with greater solidarity and people-to-people contacts across the globe.
It is that kind of human solidarity that generates the energy to make further strides ahead whether as an individual or as a country or a global community. The energy and the will to persevere amid adversity, to stand above the "vaccine nationalisms", protectionism, sanctions and war-mongering, to look into what is ahead and discern a better world for future generations. As Pierre Teilhard de Chardin wrote, "the future is more beautiful than all the pasts".
From our partner RIAC
Feminist perspective of the War,Peace and Politics in International Relations
India is a land where Mahatma Gandhi and his ideas of non-violence were born, but it is also the land where Mahatma Gandhi was assassin by Godse for preaching 'Feminine' 'non-violent' politics and for making Indian men less 'manly' by promoting peace. Masculinity is a social definition given to men and boys in society, it is associated with strong, powerful, brave, and macho characteristics. The understanding of security is limited for many years in International relations(IR) and hence the understanding of a secured state is associated with a leader who has masculine characteristics capable of handling security.
Politics across the world is understood in the terms of power and strength of the leader and other masculine characteristics associated with being 'manly' enough to control a state. While feminine characteristics are associated with weak, soft, and gentle behavior, even when women are elected as leaders, they are expected to hold strong manly characters to stay in politics. Indira Gandhi, the first female prime minister of India, prefer being addressed herself as 'sir' and her policies did not include a gender perspective.
In Gender, Justice and the Wars in Iraq (2006), Laura Sjoberg demonstrates that women's presumed status as innocent civilians make wars harder, not easier, for them, by defining them as protected without regard for their actual safety . On Iraq's economic sanctions, feminist insights from the study of economic sanctions as the war in international relations are not only valuable for their contribution to IR's theories of sanctions, but also for their generalizability to IR's crucial questions, such as what constitutes foreign policy, what counts as war, and how war affects people
Feminists see that war and military are often threats to women's and other vulnerable groups' security as they are competitors for scarce resources during and after a war on which women may depend more than men, instead of seeing military power as part of a state's defense against security threats from other states, it should be seen as a product of patriarchy. The large defense spending on soldiers and military weapons rather than creating a safe society for women at home or spending on climate action that could create safer lives for women is an example of a masculine approach to war.
The feminist approach in IR demonstrates how the security of individuals is related to national and international politics and how international politics impacts the security of individuals even at the local level. IR feminist theories focus on social relations through gendered lens,rather than power relations or anarchy, they see an international system constituted by socially constructed and gender hierarchies that contribute to gender subordination rather than traditional understanding of security.
In 2019 In the Lok Sabha elections of India, Narendra Modi, and his party used his 56-inch chest in the election campaign to associate his capability of handling the security of India with 'manly' characteristics. While more than 3 lakhs of children die due to starvation in India every year, the Indian prime minister wins elections by boasting about his 56-inch chest capable of defeating terrorists. Feminists believe that the social construction of masculine characteristics is reflected in politics especially in IR because political theory and practice are both dominated by men. The understanding of war and violence is also associated with men, it praises soldiers, diplomats, and leaders that promote protection from war.
Modern Enlightenment science has incorporated a belief system that equates objectivity with masculinity and a set of cultural values that simultaneously elevates what is defined as scientific and what is defined as masculine. The western liberal and realist understanding of masculinity and politics are limited and discriminatory towards women. While the world is facing nationalism wave in politics, leaders like Narendra Modi, Donald Trump and Putin promote a masculine idea of Security in the world to protect their national interest and secure nation through military expansion.
The understanding of security, war, and politics are interlinked in creating the foreign policy of a country. In a country like India, the United States, or Russia where leaders promote masculine characters through their election campaigns, where the state controls the reproductive decisions of women, or in a country like India where weapons are worshiped, the foreign policy and politics of the state are influenced by masculine characters and are valued for national security.
Rape, domestic violence, harassment against women in their own country is not subjected to war but a traditional understanding of the war in IR as feminists have pointed out is as if women require protection during war and soldiers are fighting to protect the honor of women, in reality, it is often women's protectors (men) who provide the greatest threat in everyday life. Rape, domestic violence, harassment against women in their own country is not subjected to war but a traditional understanding of the war in IR as feminists have pointed out is as if women require protection during war and soldiers are fighting to protect the honor of women, in reality, it is often women's protectors (men) who provide the greatest threat in everyday life.
For feminist scholars, a security that is global and multidimensional with political, economic, and ecological facets that are as important as its military dimensions. The security of individuals and their natural environment is considered as much as the security of the state. National security needs to be inclusive of security of all from security threats such as domestic violence, rape, poverty, gender subordination, and ecological destruction as well as war. For example, Sweden has a feminist foreign policy, which means the understanding of security is through a gendered lens, feminist foreign policy not only broadens what security means but also who is guaranteed security in the world.
While feminism is a new approach of though in IR, the case study of Sweden explains the importance of feminist foreign policy that believes in gender equality in decision making, promoting peace and does not promote masculine characteristics associated with war and use of force in foreign policy and makes secure, happier nations. While the discourse of security is dominated by masculine characteristics in IR, states can be secured with wider perspective of human security associated with gendered lens.
Debunking Magical realism through Marquez's "A Very Old Man with Enormous Wings"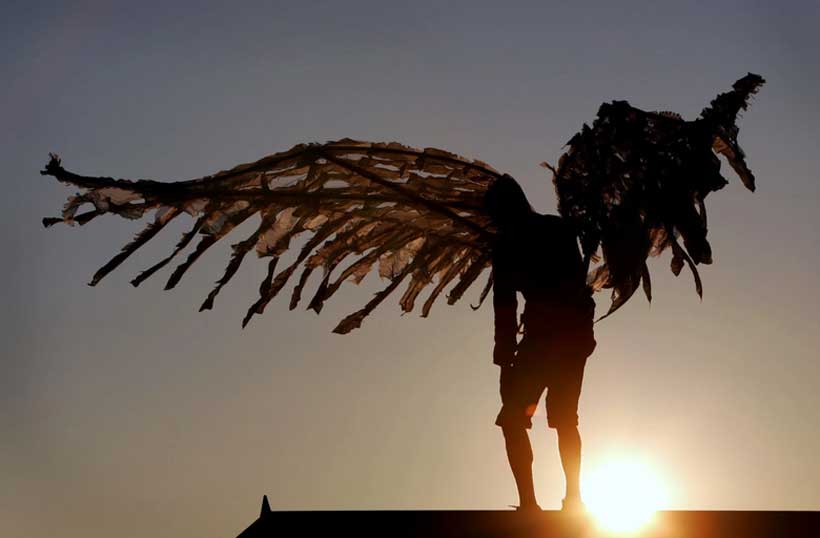 There are few names in the Latin American literature, which it comes to famous novels and short stories, Columbian writer Gabriel Gracia Marquez is one of them. Throughout Latin America, he is popular with the name Gabo and was one of the intellectual literary writers of the 20th century. For his tremendous work, he received the Neustadt International Prize for Literature in 1972 and Nobel Peace Prize for literature in 1982. During his literary journey, he has written numerous acclaimed novels such as One Hundred years of Solitude published in 1962 and Love in the Time of Cholera, which was published in 1985. His popular writing style is often known as magical realism, which later emerged as a major literary movement in Latin American literature. He has also written numerous famous short stories, and among them "A Very Old Man with Enormous Wings" is very popular in Latin American. The American Review published it in 1995 in the Spanish language. The title of the story "A Very Old Man with Enormous Wings" tells the story of a shadowy old man, who one day appears in the family courtyard. The old man was not an ordinary person, because he was having some strange characteristics such as an enormous pair of wings, which was a new thing for the people, who were living in town. Hence, with the magical depiction of old man character, the author explains the conflict the ordinary people encounters concerning their cultural belief. Moreover, the whole story is written from the context of third-person narrator.
On the other hand, the presence of an old man character with huge wings represents the Magical realism of the author. Throughout the story one of the most interesting thing about the old man character is that after his appearance in the family court people began viewing him as a normal human being. But for some, he was different from the normal man because he got the huge wings that make him look like an angel, who is dressed like a rag-picker. The major character in the story is Pelayo and Elisenda in whose yard, the mysterious old man first appears. In the story, the author describes the strangeness of this old man in these words "His huge buzzard wings, dirty and half-plucked, were forever entangled in the mud. They looked at him so long and so closely that Pelayo and Elisenda very soon overcame their surprise and in the end found him familiar". This clearly shows, though initially Pelayo and Elisenda found him a strange creature but, after the closer contact, they began viewing as a normal human being just like them. Nonetheless, the old man with mysterious wings was still a strange creature for the other people in town.
When Pelayo and Elisenda brought the old man to the physician in the town, the physician took the advantage to examine the physical uniqueness of this old man. For the physician, the old man was a new thing for him, because throughout, his carrier, the doctor has encountered something like him. As the author writes about the physician; "What surprised him most, however, was the logic of his wings. They seemed so natural on that completely human organism that he couldn't understand why other men didn't have them too". Similarly, when Pelayo and Elisenda informed their neighbor about the mysterious old man, the neighbor tells them that he is an angel. This scene in the story explains how an individual thinks and feels when he/she encounters something different, mysterious, and strange. Moreover, this also explains the limitation of the human mind and the lack of knowledge about different things. This happens, at one moment the couple decides to get rid of the old man and even planned to kill him because they thought he might be a curse. Later, they change their plan and decides to imprison him and in prison, the mysterious old man suffers severe abuse and mistreatment.
Soon after the imprisonment of the old man, the people began whispering stories about the old man. Some villagers began perceiving him as an angel, while the other considered him as evil, who is God's curse on the village. In this respect, the story The very old man with enormous wings Marquez is a mixture of compassion and sadness. Because the couple Pelayo and Elisenda wanted to get rid of him but the old man refuses to leave them until their life is transformed. As it is written in the bible "Do not be forgetful to entertain a stranger, you could be entertaining an angel". The real reason, why the old man was a stranger to the couple and villagers because he was unattractive and he was having huge wings that embarrassed them. Throughout the story, the people in the town curse him and makes fun of him, but the old man never fights back because he is compassionate and he understands the fact that he cannot speak their language. Overall the whole story demonstrates the context of bad and good human nature because seeing the beauty is one thing while ignoring a person based on the fact that he is ugly is weary.
In contrast, the central theme of Gracia Marquez's "The very old man with enormous wings Marquez" is the Coexistence of compassion and cruelty, which explains the feeble response of selfish and greedy humans towards those, who are different, strange, ugly, and weak. For instance, the major characters in the novel the couple Pelayo and Elisenda imprison the old man and abuse him, and even they planned to kill him because he was ugly and weak. But once they thought, they could benefit from the old man by showcasing him in the village, they decide to keep him to accomplish their appetite for money. In a nutshell, the moral of the story was religious has always been a shallow set of beliefs, which ignore the principles of morality. Hence, the treatment of the old man in the town after his appearance in the family yard clearly shows that people in the story are faithless having inconsistent faith.