DR Congo: Lives and futures of three million children at risk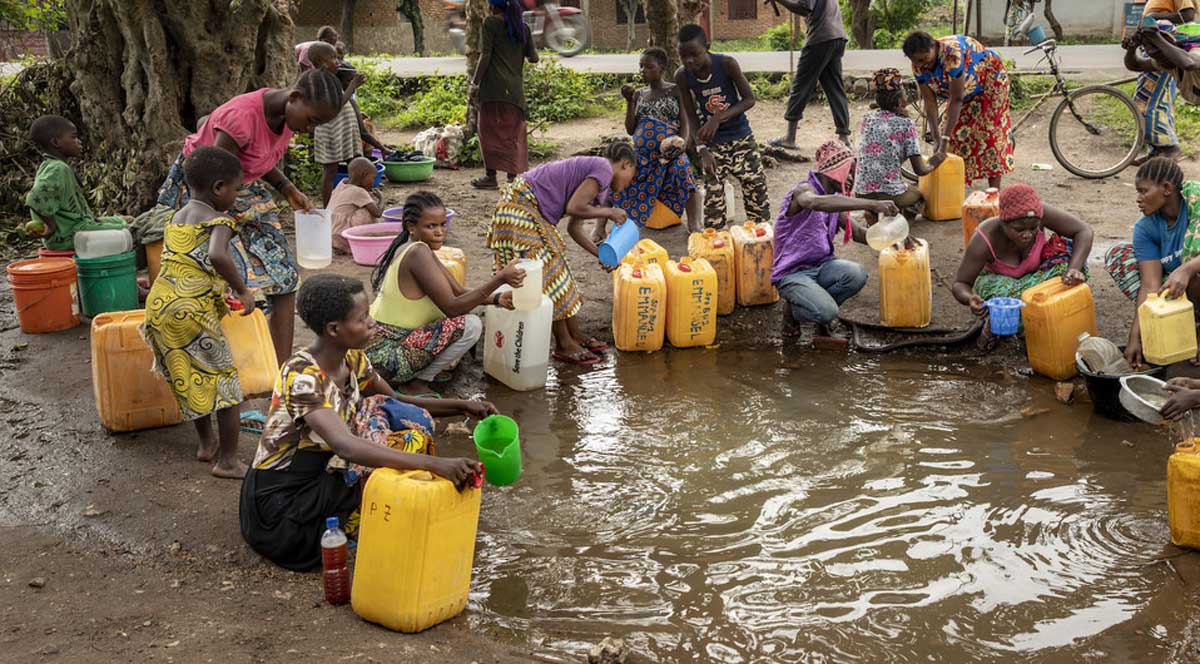 The United Nations Children's Fund (UNICEF), on Friday, highlighted the dire situation of some three million displaced children in the Democratic Republic of the Congo (DRC) who face brutal militia violence and extreme hunger.
Whole villages have been set ablaze, health centres and schools ransacked, and entire families – including children – hacked to death, in a series of merciless attacks in eastern DRC by fighters using machetes and heavy weapons, UNICEF said in a news release. Communities have been forced to flee with only the barest of possessions.
"Displaced children know nothing but fear, poverty, and violence. Generation after generation can think only of survival", Edouard Beigbeder, UNICEF Representative for the DRC, said.
"Yet the world seems increasingly indifferent to their fate. We need the resources to continue helping these children have a better future."
There are some 5.2 million displaced people in the DRC, about half of whom were displaced in the last twelve months, according to UN data. The overall figure includes about three million children.
Families forced from their homes and villages are compelled to live in crowded settlements lacking safe water, health care and other basic services. Others are taken in by impoverished local communities. In the most violence-afflicted provinces of Ituri, North Kivu, South Kivu and Tanganyika, more than 8 million people are acutely food insecure.
Sharp rise in violations against children
UNICEF's report Fear and Flight: An uprooted generation of children at risk in the DRC, released on Friday, underscores the gravity of the crisis.
The report recounted testimony of children who have been recruited as militia fighters, subjected to sexual assault, and suffered other grave violations of their rights – abuses that registered a 16 per cent increase in the first six months of 2020 compared to the previous year.
However, delivering relief assistance to populations who have been displaced is complex, and often hampered by insecurity and a weak transport infrastructure.
A rapid response programme directed by UNICEF with partner NGOs offers a temporary solution, providing tarpaulins, cooking utensils, jerrycans and other essentials to nearly 500,000 people in 2020, said the UN agency.
According to Typhaine Gendron, the Chief of Emergency for UNICEF in DRC, such emergency distributions help deal with the "immediate shock" of being displaced. They are also part of an integrated response that looks to address a family's broader needs in health, nutrition, protection, water and sanitation (WASH), or education, she added.
Additional funds desperately needed
While the volatile security situation is a major concern for aid workers and UNICEF personnel engaged in the humanitarian response, additional funds are also desperately needed. UNICEF's 2021 humanitarian appeal for the country, amounting to about $384.4 million is only 11 per cent funded.
Without timely and adequate funding, UNICEF and its partners will not be able to provide critical services addressing the acute humanitarian needs of almost three million Congolese children and their families and protect and promote their rights, the agency warned.
UNICEF Representative Beigbeder stressed the urgency, "without sustained humanitarian intervention, thousands of children will die from malnutrition or disease, and displaced populations will not receive the basic lifesaving services they depend on."
World Bank Supports Recovery and Resilience of Rwanda's COVID-19-Affected Businesses
The World Bank Group today approved $150 million from the International Development Association (IDA)* to help the Government of Rwanda increase access to finance and to support recovery and resilience of businesses affected by the COVID-19 pandemic.
The Access to Finance for Recovery and Resilience (AFIRR) Project also benefits from $25 million in IDA grants, as well as an additional $7.5 million grant from the Global Risk Financing Facility (GRiF), to help enhance business' access to finance.
"This project is an important contribution to the government's post-COVID Economic Recovery Plan, promoting investment in priority growth sectors, supporting jobs and reinforcing Rwanda's financial system's crisis preparedness." said Rolande Pryce, World Bank Country M anager. "The AFIRR project provides significant resources to help further capitalize the Economic Recovery Fund coupled with enhanced support programs to improve firms' capacity and remove barriers to access to finance. It provides a suite of instruments that strengthen the existing recovery ecosystem ranging from financial instruments to adjustment mechanisms that include innovative risk mitigation solutions."
The project will provide financing targeting affected businesses to facilitate refinancing of existing debt obligations, provide working capital, and support investments for business adaptation and growth through the provision of longer-term sources of finance. This will be complemented by risk sharing instruments, including a partial credit guarantee scheme and a bridge loan and insurance facility, to increase access to finance for underserved segments, such as micro, small and medium sized enterprises (MSMEs). In addition, the project will provide targeted technical assistance to firms, participating financial institutions, and government implementing agencies, to address existing constraints for increasing uptake of the Economic Recovery Fund.
"Interventions under the project will help businesses to continue to operate and adapt to the post-COVID-19 environment. They will also provide a lifeline to firms in growth-potential sectors that find it difficult to access financing from financial institutions; this will contribute to preserving jobs and mitigating loss of otherwise productive firms that can help drive economic recovery" said Brice Gakombe, World Bank Financial Sector Specialist, and Task Team Leader of the project.
In addition to providing financing, the AFIRR project will bolster the capacity of key government and private sector stakeholders on the technical aspects of the financing and risk-sharing instruments, as well as disaster risk financing principles. As women were hardest hit by the COVID-19 (coronavirus) pandemic, the project focuses on increasing the share of women-inclusive enterprises able to access financing under the liquidity and financing facility and through targeted training to address gender specific constraints for MSMEs as well as improve outreach in underserved segments.
The AFIRR project will be co-financed in the amount of $100 million by the Asian Infrastructure Investment Bank (AIIB), of which Rwanda is a non-regional member. It is AIIB's first investment in Rwanda.
Sierra Leone Receives World Bank Support to Strengthen Education Service Delivery
Sierra Leone will receive $6.85 million in additional financing to support the COVID-19 education response in the country. Funded by the Global Partnership for Education (GPE) under the Free Education Project, the financing will support activities to ensure school safety and strengthen education service delivery including continuous distance education and accelerated learning. It will also support sustaining effective Government operations, planning, and policies during and after the COVID-19 crisis.
"As an alternate board member of the GPE Board, Sierra Leone continues to play a leading role in the Partnership to implement programs that promote accessible quality education for all," said Hon. David Sengeh, Minister of Basic and Senior Secondary Education for Sierra Leone. "In the COVID-19 era, we need to think outside the box to ensure that widening inequities do not further push our most vulnerable populations backward. That is the focus of this additional financing. Even as the Ebola Viral Disease has been recently recorded in the sub-region, we will be able to use the same interventions for continuous learning should the disease ever return to Sierra Leone."
The financing, which was approved by the World Bank Board of Executive Director on February 5 and became effective on May 26, 2021, is aligned with the Government's education priorities and strategies, including those outlined in the COVID-19 Education Emergency Response Plan and the World Bank's Country Partnership Framework for Sierra Leone, specifically with its emphasis on the importance of investing in human development.
There is an implementation partnership arrangement with an NGO Consortium led by Save the Children, partnering with Handicap International (operating under the name Humanity and Inclusion), Plan International Sierra Leone, Concern Worldwide, Foundation for Rural and Urban Transformation, Focus 1000, and Street Child of Sierra Leone. This partnership will help the Government deliver activities rapidly, focusing more on community engagement, and reaching the most marginalized and deprived groups.
"This additional financing will help the Government to cover the costs associated with expanded activities relating to the COVID-19 response as well as enhancing the impact of the Free Education Project in responding to the challenges in the education sector," said Gayle Martin, World Bank Country Manager for Sierra Leone. "The funding will also help address commitment toward achieving a more inclusive approach to education, increasing the retention of girls and improving the learning environment for children with disabilities."
The Free Education Project is financed by a $66 million grant, with $50 million from the World Bank and $16 million from development partners. It will help to address key challenges in the education sector. It will contribute to achieving the Government's larger strategic objectives in the sector while supporting analytical and advisory services associated with monitoring and evaluation, technical assistance, and research and studies.
Mozambique: Violence continues in Cabo Delgado, as agencies respond to growing needs
Civilians continue to flee armed conflict and insecurity in northern Mozambique, more than two months after militants attacked the coastal city of Palma, located in Cabo Delgado province, UN agencies reported on Friday.
The UN refugee agency, UNHCR, reports that some 70,000 people have fled the city since 24 March, bringing overall displacement to nearly 800,000.
People have been escaping daily for districts further south, or to neighbouring Tanzania. Thousands more are reported to be stranded in areas around Palma, with restricted humanitarian access.
Shots fired, houses burned
"Those fleeing have told UNHCR staff that the situation in Palma remains very unstable, with regular gunfire at night and torching of houses", Spokesperson Babar Baloch said during a briefing in Geneva.
UNHCR and partners recently assisted people living in dire conditions in remote areas around Palma, distributing relief items to some 10,000 who have been displaced.
The agency continues to advocate for internally displaced people to receive protection and assistance, and for those seeking safety in Tanzania, to access asylum.
Forced back into danger
Mozambican authorities report that many people attempting to cross the river, which marks the border between the two countries, have been forcibly returned. More than 9,600 have been pushed back since January, with 900 removals occurring over a two-day period this week.
"UNHCR reiterates its call for those fleeing the conflict to have access to territory and asylum, and, in particular, for the principle of non-refoulement (no forced return) to be respected", said Mr. Baloch. "Refugees must not be forced back into danger."
'A children's crisis'
The UN Children's Fund, UNICEF, said needs are enormous in Cabo Delgado, located in a region that has barely recovered from a deadly cyclone in 2019.
In the wake of the attack in Palma, some 2,000 children have no idea of the whereabouts of their parents, or even if they are alive, agency Spokesperson James Elder told journalists.
"What is happening in Cabo Delgado is a children's crisis – an emergency on top of an emergency – a deadly cocktail from the impacts of climate change, conflict and COVID-19", he said.