'Triple threat' adds to long-standing crises menacing food security in Somalia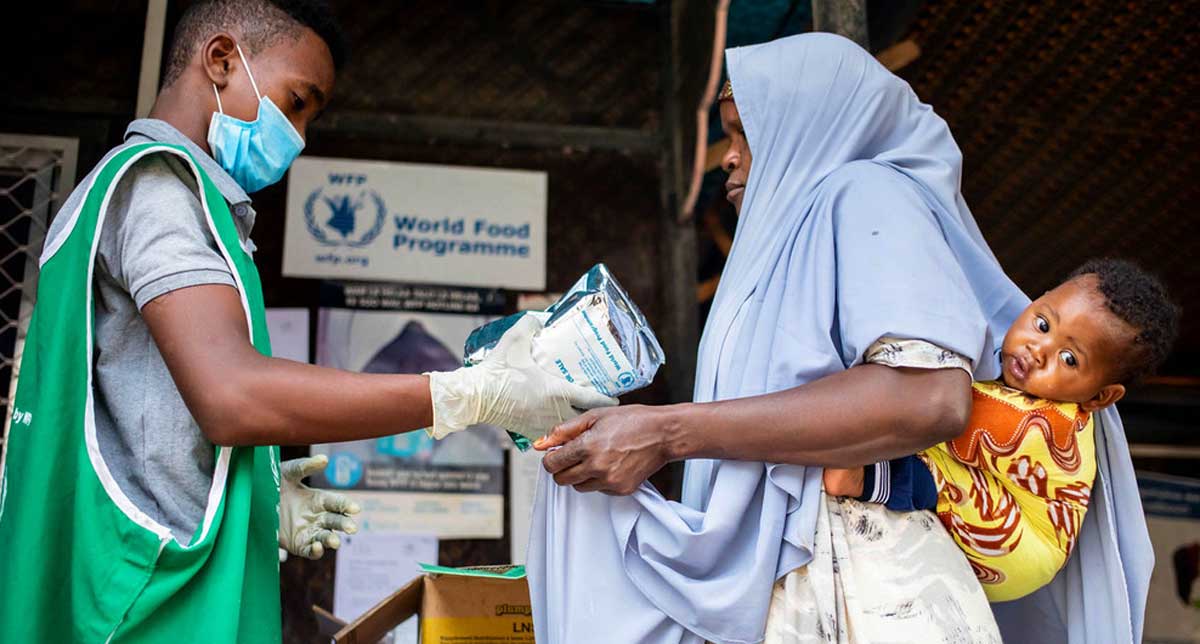 Poor rainfall, flooding and desert locusts are contributing to extreme food insecurity in Somalia, threating 2.6 million people, the UN agriculture agency said in a new analysis released on Wednesday.

In a joint report, the UN The Food and Agriculture Organization (FAO) warns that in the absence of large-scale and sustained humanitarian assistance "the situation could worsen through mid-2021".
"Somalia's long-standing crises are compounded now by the 'triple threat' of the COVID-19 pandemic, desert locust infestations and climatic shocks", said UN Deputy Special Representative Adam Abdelmoula, who also serves as the Resident and Humanitarian Coordinator for the country.
A cry for help
The report, compiled by FAO's Food Security and Nutrition Analysis Unit, and the Famine Early Warning Systems Network (FEWS NET), highlights that desert locusts will continue to pose a serious risk of damage to both pasture and crops countrywide.
It also and cites forecasts that indicate an increased likelihood of below-average rainfall during the April-June season across most of the country that will further exacerbate food and nutrition insecurity for millions.
FAO and the Somali Government emphasized the urgency to increase support for ongoing desert locust control and surveillance efforts, and to provide rapid emergency assistance over the coming months.
"With the Government's support, our teams and partners have maintained operations in control and surveillance, while delivering crucial humanitarian assistance and livelihood support during extremely challenging circumstances," said Etienne Peterschmitt, FAO Representative in Somalia.
From July to December, an average of 1.8 million people per month received assistance in parts of Somalia.
While the large-scale humanitarian and Government support helped to minimize the magnitude of the crisis last year, funding is needed urgently to boost efforts to reduce new food insecurity currently threatening the country.
"Expanding the emergency response is crucial and underway, with a focus on interventions aimed at reducing food consumption gaps, saving lives, and protecting and preserving livelihoods," said Mr. Peterschmitt.
Grim numbers
According to the humanitarian assistance plan for the first quarter of 2021, some 1.6 million people are facing Crisis (IPC Phase 3) – or worse.
Moreover, an additional 2.5 million people are Stressed (IPC Phase 2), bringing the total number of acute food insecure to 4.1 million, which includes approximately 840,000 under-age-five children who are likely to be acutely malnourished, nearly 143,000 of them severely so.
Pointing to a multitude of threats and crises in poor rural, urban and displaced populations, the joint assessment said that food insecurity is expected to deteriorate from April to June.
And FAO underscored that humanitarian assistance must be sustained through mid-2021 to prevent Crisis (IPC Phase 3) or Emergency (IPC Phase 4) outcomes for nearly 2.7 million people.
"We must continue to work with all humanitarian partners to ensure the most vulnerable Somalis are able to withstand the challenges and build resilience against future shocks," said Mr. Abdelmoula, urging all partners to "work together across the humanitarian, development and peacebuilding paths" to address root causes and build lasting solutions that leave no one behind. 
FAO launches $138 million plan to avert hunger crisis in Horn of Africa
More than $138 million is needed to assist rural communities affected by extended drought in the Horn of Africa, the UN Food and Agriculture Organization (FAO) said on Monday, launching a comprehensive response plan for the region.
A third consecutive year of poor rains is posing a major threat to food security in countries already facing natural resource limitations and conflict, the COVID-19 pandemic, and locust invasions during 2020-21.
FAO fears that a large-scale hunger crisis could break out if food-producing rural communities do not receive adequate assistance timed to the needs of the upcoming agricultural seasons. 
Millions at risk
The bulk of the funding under the FAO Horn of Africa Drought Response Plan, $130 million, is urgently needed by the end of February, to provide critical assistance to highly-vulnerable communities in the three most impacted countries: Ethiopia, Kenya and Somalia
Projections indicate that some 25.3 million people will face "high acute food insecurity" by the middle of the year.
Should the scenario materialize, FAO said it would place the Horn of Africa among the world's largest-scale food crises.
Now is the time
"We know from experience that supporting agriculture at moments like this is hugely impactful – that when we act fast and at the right moment to get water, seeds, animal feed, veterinary care, and much needed cash to at-risk rural families, then hunger catastrophes can be averted," said Rein Paulsen, the agency's Director of Emergencies and Resilience. 
"Well, the right moment is now. We urgently need to support pastoralists and farms in the Horn, immediately, because the cycle of the seasons waits for no one."  
Mr. Paulsen warned that the clock is already ticking as the lean season, which just started, has been marked by limited grazing opportunities for pastoralist families whose livestock will need nutritional and veterinary support.
Meanwhile, families who rely on producing crops will need seeds and other supplies in time for the Gu planting season that begins in March.
Water and seeds
The FAO plan targets 1.5 million of the most at-risk rural populations in Ethiopia, Kenya and Somalia.
For pastoralist families, support will include providing animal feed and nutritional supplements, as well as mobile veterinary health clinics, to keep their livestock healthy and producing milk; transporting water to 10,000 litre collapsible water reservoirs set up in remote areas, and upgrading existing wells to run on solar power.
Crop-reliant families will receive seeds of drought-tolerant early-maturing varieties of sorghum, maize, cowpea and mung bean, and nutrient-dense vegetables. The UN agency also aims to arrange for pre-planting land-ploughing services and access to irrigation, as well as training on good agricultural practices.
Extra income
Cash for work programmes would allow able-bodied households to earn extra income by helping to rehabilitate irrigation canals, boreholes or other agricultural infrastructure.
Those not able to work due to health or other reasons will receive "unconditional infusions of cash". FAO said that providing rural families with extra disposable income gives them the means to buy food at market while they wait for their harvests to come in.
In Somalia, the FAO plan calls for the provision of boats, equipment and training to help coastal communities who do not typically fish, to secure a new and much-needed source of nutrition, building on existing programmes to promote the diversification of livelihoods in the country. 
FAO said if fully funded, the plan would allow for the production of up to 90 million litres of milk and up to 40,000 tonnes of staple food crops in the first part of 2022, putting over one million highly food insecure people on a safe footing, for at least six months.
Lithuanians Pave Way for EU's Legal Migration Initiatives with Sub-Saharan Africa
The European Union is facing a shortage of specialists. The reality of demographic characteristics and the labour market dictate that legal migration of talents to the EU is an inevitable need. Still, current pathways of specialist migration are not up to par. Thus, the EU is seeking new ways to connect European companies with foreign labour markets, brimming with young, talented job-seekers, and launched a slew of pilot projects to test the waters. Quite unexpectedly for many, Lithuania was the first to join the initiative and its Digital Explorers became one of the most successful in delivering tangible results.
The main goal of the Digital Explorers—contracted by ICMPD on behalf of the European Commission—was filling vacancies in Lithuanian technology companies with Nigerian ICT talent; consequently, it explored models of international collaboration between business and governments, with a non-governmental organisation as an intermediary. In the light of limited previous engagement between Lithuania and African countries, it has truly been a ground-breaking experience, both participants and partners agree.
While the current European mobility tool for professionals, the Blue Card Initiative, provides a simplified set of legal migration requirements for highly skilled workers from non-EU countries, the numbers of attracted talents are low. A recent revision of the Initiative aims to address this by expanding access to the framework for more qualified young specialists, yet amending the regulation might not be enough. A significant bottleneck is real and perceived risks for the private sector related to hiring talent from outside the EU.
"Pathways of legal migration for young specialists into the Union can solve multiple problems, including the shortage of talents in the EU, the lack of opportunities for young specialists in non-EU countries, and address the unknowns faced by the private sector. They could also help building mutually beneficial partnerships with third countries on overall migration management. We are looking for ways to facilitate the process together with EU member states, in line with the New Pact on Migration and Asylum" says Magdalena Jagiello, Deputy Head, of the Legal Pathways and Integration Unit, Directorate-General for Migration and Home Affairs (DG HOME).
A success story to build upon
Even though EU-based companies willing to hire abroad are inevitable initiators of personnel migration, mobility projects act as catalyzers by providing a missing link between participating countries as well as between business and the public sector.
"While private companies at first were sceptical that this unexpected connection can work, we spoke their language—one that is close to the heart of ICT companies. People in our team had diverse ICT and law backgrounds and firsthand knowledge of the African tech market. Therefore, we managed to address concerns of hiring companies and had answers to key questions, including recruitment and matching strategies, and potential skill level," says Mantė Makauskaitė, project lead of Digital Explorers.
"We also had a long-term vision that the project will give us the means to build further mutually beneficial connections between Baltic and African ICT markets, and stakeholders were excited about that path forward," she continues.
Thanks to the Digital Explorers pathway, 26 young men and women have relocated from Nigeria to Lithuania through two mobility models: 1-year employment and 6-months paid traineeship. They joined 13 companies working in ICT, engineering, fintech, and data science markets. Both sides were supported throughout the program—Nigerians went through technical and soft skills training to further enhance their career prospects, while companies were consulted on integrating internationals and diversity management practices. After the program, 18 participants were retained by Lithuanian ICT companies, while others continue their careers in Nigeria, making it a win-win initiative.
"Lithuanian ICT sector is rapidly growing and the shortage of specialists is difficult to address by depending on local talent only. We were willing to hire talents outside of the EU, but needed help at establishing contacts, aligning with prospective employees from third countries, and facilitating the paperwork," says Vaidas Laužeckas, CEO of Metasite Data Insights.
With help from Digital Explorers, Metasite Data Insights initially welcomed one junior data scientist; after the programme, the company has hired another one. Both of the Explorers started as junior specialists in internship positions and ended up as mid-level specialists in the span of 6 months.
Another Lithuanian company that benefited from a connection to Nigeria, Telesoftas, was deeply impressed by new possibilities offered by the African IT talent market and has made a strategic decision to create a Nigerian branch and opened an office in Abuja with the aims to hire at least 30 engineers by the end of 2022 and up to 100 in 2023. "The potential offered by Nigeria is just too big to ignore. A subsidiary on the spot might act not only as our key delivery center but also as a connection, allowing Lithuanian teams to search for talents to fill their ranks and create new business opportunities" says Algirdas Stonys, CEO of Telesoftas.
Way forward
A collaboration between Lithuania and Nigeria has established itself as an excellent example demonstrating the importance and mutual benefits stemming from legal migration. Drawing on lessons learned from the Digital Explorers and other projects, the EU is working towards establishing Talent Partnerships. "The Digital Explorers have demonstrated a successful way of internationally connecting business, employees, and governments, and may become an example for future cooperation. Better matching of skills from outside of the EU with labour market needs within the EU is direly needed and benefits every stakeholder in multiple ways. It would be the key aspect of Talent Partnerships that would enhance legal pathways to the EU, while engaging partner countries strategically on migration management," Jagiello says.
A collaboration between Lithuania and Nigeria has established itself as a go-to example for larger scale projects in Talent Partnerships. "The Digital Explorers have demonstrated a successful way of internationally connecting business, employees, and governments, and may become an example for future projects. Better matching of skills from outside of the EU with labour market needs within the EU is direly needed and benefits every stakeholder in multiple ways," Jagiello says.
According to Makauskaitė who is already exploring ways to expand Digital Explorers from Lithuanian to Baltic scale, including other African countries, such partnerships could create even more European value-added if our legal systems were more harmonized and scaling across borders would not require understanding a completely different regulation. However, for now, at least in-depth knowledge of matching the existing talent pool with business needs can be used by other European countries.
"The match might not be perfect straight away, but it's important to know ways for perfecting it," the leader of Digital Explorers concludes.
Ethiopia's Ministry of Industry, UNIDO sign €2m agreement
Ethiopia's Ministry of Industry and the United Nations Industrial Development Organization (UNIDO) have signed a €2m agreement to support Integrated Agro-Industrial Parks (IAIPs), funded by the Italian Agency for Development and Cooperation. Thes agreement will contribute to the development of the agro-industrial sector and the creation of decent jobs and economic opportunities in the rural areas of Ethiopia. The objective of the new project is to support the inclusive and sustainable development of four pilot IAIPs. Project activities will concentrate on increasing private sector involvement in agro-industry, improving food quality, safety and traceability, and promoting social inclusion and environmental sustainability.
With the support of UNIDO, the Government of Ethiopia has prioritized the establishment of the IAIPs as a primary tool to achieve agricultural modernization and rural industrialization in the country. To this end, the Government of Ethiopia has mobilized various funding sources and development partners for the implementation of IAIPs. The current project is for the development of the four pilot IAIPs, located in Oromia (Bulbula), Sidama (Yirgalem), Amhara (Bure) and Tigray (Beaker). The project is funded by the Italian Agency for Development and Cooperation, in alignment with the Italian strategy outlined in the Ethio-Italian country framework 2017 – 2019 which encourages sustainable and inclusive economic growth to ensure full employment and decent work for all, especially in rural areas, as well as promoting partnerships between Italian and Ethiopian institutions to ensure continuity of investment and transfer of technologies.
The signature ceremony was attended by Shisema Gebreselassie, State Minister of the Ministry of Industry, Aurelia Patrizia Calabrò, UNIDO Representative and Director of the Regional Office Hub, and Isabella Lucaferri, Head of the AICS Addis Ababa Office.