Loss of autonomy in Indian-administered Jammu and Kashmir threatens minorities' rights
India's decision to end autonomy in Jammu and Kashmir and restrict the participation of minorities in political and other activities sparked the concern of two UN-appointed independent human rights experts, on Thursday.
"The loss of autonomy and the imposition of direct rule by the Government in New Delhi suggests the people of Jammu and Kashmir no longer have their own government and have lost power to legislate or amend laws in the region to ensure the protection of their rights as minorities", Fernand de Varennes, Special Rapporteur on minority issues, and Ahmed Shaheed, Special Rapporteur on freedom of religion or belief, said in a statement.
Autonomy imperiled
As Jammu and Kashmir were India's only Muslim-majority state, India granted them partial autonomy out of respect for the ethnic, linguistic and religious identities of its people.
On 5 August 2019, the Government unilaterally revoked its special status and in May 2020, passed the so-called Domicile Rules, which removes protections for those in the territory.
The new laws override previous ones that had granted the Kashmiri Muslim, Dogri, Gojri, Pahari, Sikh, Ladhaki and other established minorities the right to buy property, own land and access certain state jobs.
 "These legislative changes may have the potential to pave the way for people from outside the former state of Jammu and Kashmir to settle in the region, alter the demographics of the region and undermine the minorities' ability to exercise effectively their human rights", the experts said. 
Moreover, the number of successful applicants for domicile certificates that appear to be from outside Jammu and Kashmir raised their concern that demographic changes on a linguistic, religious and ethnic basis have already begun. 
Undermining minority rights
The UN experts urged India to ensure the economic, social and cultural rights of the people in Jammu and Kashmir along with their rights to freedom of expression and participation in matters affecting them.
Independent UN Special Rapporteurs are appointed by the Human Rights Council. They are not UN staff and do not receive a salary for their work. They are independent from any government or organization and serve in their individual capacity.
Famine risk spikes amid conflict, COVID-19 and funding gaps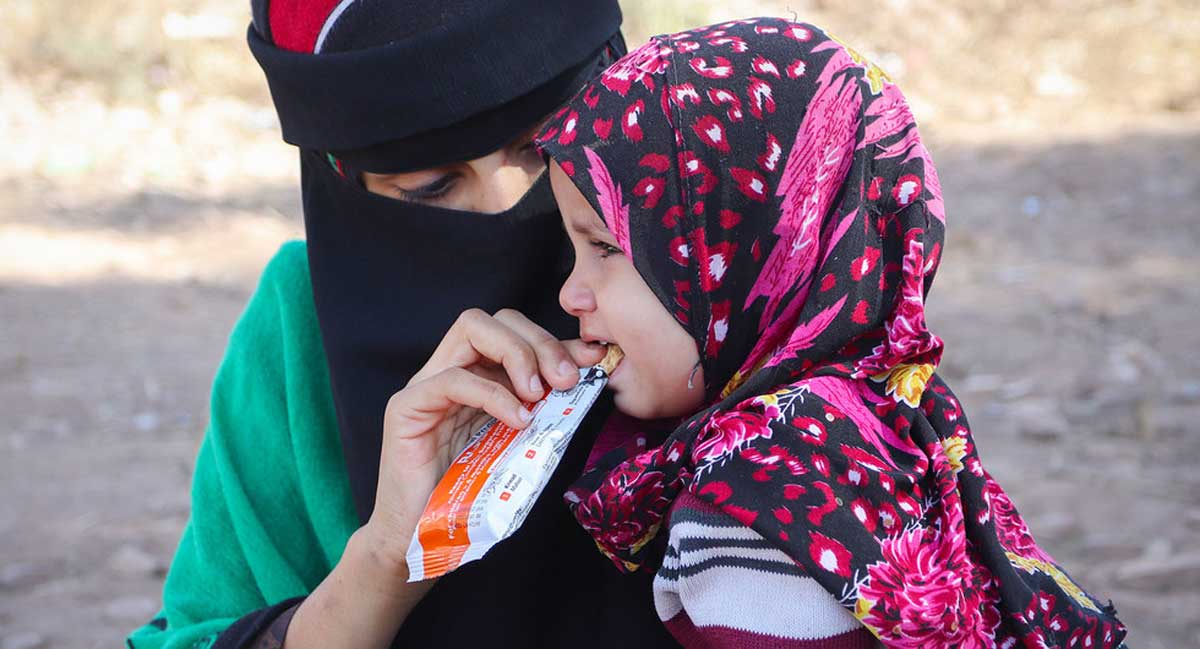 The impact of conflicts old and new, climate shocks and COVID-19, in addition to a lack of funding, have left millions more on the verge of famine than six months ago, the World Food Programme (WFP) said on Friday.
In an appeal for $5 billion "to avoid famine" and support the "biggest operation in its history", WFP spokesperson Phiri Tomson said that millions of refugees faced "uncertainty and hunger" as the impact of the pandemic on emergency aid budgets became clearer.
"The number of people teetering on the brink of famine has risen from 34 million projected at the beginning of the year, to 41 million projected as of June", he said. "Without immediate emergency food assistance, they too face starvation, as the slightest shock will push them over the cliff into famine conditions."
From bad to worse
According to the latest IPC food insecurity assessments – which humanitarians use to assess needs on a scale of one to five – the 41 million "are people who are in IPC phase 4 – emergency", the WFP spokesperson explained.
New refugee influxes linked to conflict and drought have increased needs for people in "IPC phase 5 – catastrophe" and "that number stands at 584,000 people", Mr. Phiri continued. "These are people in Ethiopia's Tigray region, Madagascar, particularly the southern part; South Sudan, especially as we are now at the height of the lean season in that country, and Yemen."
'Brutal choices'
Launching its Global Operational Response Plan, the UN agency highlighted operations in no less than eight countries and regions where it has had to make "brutal choices" because of significant funding shortfalls.
In practice, this has meant reduced rations "across east and southern Africa, as well as the Middle East…among some of the world's most vulnerable people who rely on WFP to survive", said Mr. Phiri.
"In some cases it's 40 per cent, in some cases it's 25 per cent, in some cases it's 60 per cent…The fact is, the assistance we provide is a basic need, the assistance we provide is just enough to help people get by."
West and Central Africa in crisis
For many vulnerable aid recipients in West and Central Africa, the COVID-19 pandemic has left them without the opportunity to work to supplement their rations and unable to pay for increasingly expensive staple foods. "Countries like Chad, Niger and Burkina, Mauritania; these are all countries of concern, including Sierra Leone as well," said Mr. Phiri, after a warning by the UN agency that the world was no longer moving towards Zero Hunger.
"Progress has stalled, reversed, and today, more than 270 million people are estimated to be acutely food insecure or at high risk in 2021," it said in a statement.
Forced displacement at record level, despite COVID shutdowns
The number of people fleeing wars, violence, persecution, and human rights violations, rose last year to nearly 82.4 million people, a further four percent increase on top of the already record-high of 79.5 million, recorded at the end of 2019.
According to the UN Refugee Agency flagship Global Trends Report published on Friday, the restrictive COVID-19 pandemic did not slow forced displacement around the world, and instead could have left thousands of refugees and asylum seekers stranded and vulnerable.
The new 'one percent'
Despite COVID-related movement restrictions and pleas from the international community for a concerted global ceasefire, displacement continued to occur – and to grow. As a result, more than one percent of the world's population – or 1 in 95 people – is now forcibly displaced. This compares with 1 in 159 in 2010.
The agency explains that while the full impact of the pandemic on wider cross-border migration and displacement globally is not yet clear, data shows that arrivals of new refugees and asylum-seekers were sharply down in most regions – about 1.5 million fewer people than would have been expected in non-COVID circumstances, reflecting how many of those seeking international protection in 2020 became stranded.
New and old crises
According to UNHCR, several crises – some new, some longstanding and some resurfacing after years – forced 11.2 million people to flee in 2020, compared to 11.0 million in 2019.
The figure includes people displaced for the first time as well as people displaced repeatedly, both within and beyond countries' borders.
By the end of 2020, there were 20.7 million refugees under UNHCR's mandate. Another 48 million people were internally displaced (IDPs) within their own countries.
Driven mostly by crises in Ethiopia, Sudan, Sahel countries, Mozambique, Yemen, Afghanistan and Colombia, the number of internally displaced people rose by more than 2.3 million.
When considering only international displacement situations, Syria topped the list with 6.8 million people, followed by Venezuela with 4.9 million. Afghanistan and South Sudan came next, with 2.8 and 2.2 million respectively.
Turkey continued to host the largest number of refugees with just under 4 million, most of whom were Syrian refugees (92%). Colombia followed, hosting over 1.7 million displaced Venezuelans.
Germany hosted the third-largest population – almost 1.5 million, with Syrian refugees and asylum-seekers as the largest group (44%). Pakistan and Uganda completed the top-5 hosting countries, with about 1.4 million each.
The COVID-19 crisis also hit the forcibly displaced hard, who faced increased food and economic insecurity as well as challenges to access health and protection services.
At the peak of the last year, over 160 countries had closed their borders, with 99 States making no exception for people seeking protection.
According to UNHCR, the dynamics of poverty, food insecurity, climate change, conflict and displacement are increasingly interconnected and mutually reinforcing, driving more and more people to search for safety and security.
A call to end the suffering
UNHCR is urging world leaders to step up their efforts to foster peace, stability and cooperation in order to halt and begin reversing nearly a decade-long trend of surging displacement driven by violence and persecution.
"Behind each number is a person forced from their home and a story of displacement, dispossession and suffering. They merit our attention and support not just with humanitarian aid, but in finding solutions to their plight", reminded the UN High Commissioner for Refugees, Filippo Grandi.
In a statement, Mr. Grandi underscored that while the 1951 Refugee Convention and the Global Compact on Refugees provide the legal framework and tools to respond to displacement, a much greater political will is needed to address conflicts and persecution that force people to flee.
"The tragedy of so many children being born into exile should be reason enough to make far greater efforts to prevent and end conflict and violence," he added.
Girls and boys under the age of 18 account for 42 percent of all forcibly displaced. They are particularly vulnerable, especially when crises continue for years.
New UNHCR estimates show that almost one million children were born as refugees between 2018 and 2020. Many of them may remain refugees for years to come.
Low rate of return
The agency emphasized that over the course of 2020, some 3.2 million internally displaced and just 251,000 refugees returned to their homes –a 40 and 21 percent drop, respectively, compared to 2019. Another 33,800 refugees were naturalized by their countries of asylum.
Refugee resettlement registered a drastic plunge with just 34,400 refugees resettled, the lowest level in 20 years – a consequence of a reduced number of resettlement places and COVID-19.
"Solutions require global leaders and those with influence to put aside their differences, end an egoistic approach to politics, and instead focus on preventing and solving conflict and ensuring respect for human rights," urged Grandi.
The UN Refugee agency reminded that 2020 is the ninth year of uninterrupted rise in forced displacement worldwide. There are twice as many forcibly displaced people than in 2011 when the total was just under 40 million.
Philippines: Investing in Nutrition Can Eradicate the "Silent Pandemic"
The Philippines needs to invest more in programs tackling childhood undernutrition to eliminate what is long considered a "silent pandemic" afflicting many of the country's poor and vulnerable population, according to recent study released today by the World Bank.
Childhood stunting – characterized by prolonged nutritional deficiency among infants and young children– is considered one of the most serious but least-addressed problems in the world and an even more pressing issue in the Philippines, says the report "Undernutrition in the Philippines: Scale, Scope and Opportunities for Nutrition Policy and Programming."
In the Philippines, around 30 percent of children under 5 years of age are stunted – considered high for its level of income and high compared to most of its neighbors. Other countries with similar levels of income have rates of stunting averaging around 20 percent of children under 5 years of age.
The Philippines' rate of stunting places it fifth among countries in the East Asia and Pacific region with the highest stunting prevalence, and among the top ten countries globally with the highest number of stunted children.
Ndiamé Diop, World Bank Country Director for Brunei, Malaysia, Philippines, and Thailand said undernutrition is a critical issue hampering the Philippines' human and economic development.
"Healthy children can do well in school and look forward to a prosperous future as productive members of society, while undernourished children tend to be sickly, learn less, more likely to drop out of school and their economic productivity as adults can be clipped by more 10 percent in their lifetime," said Diop. "Improving the nutrition of all children is key to the country's goals of investing in people and boosting human capital for a more inclusive pattern of economic growth. To achieve that, we need greater coordination among the local and national government units, as well as participation of the private sector and civil society to address this silent pandemic afflicting many poor and vulnerable families."
In some regions, the level of stunting exceeds 40 percent of children under five years of age. This is true in Bangsamoro Region in Muslim Mindanao (BARMM), Mimaropa, Bicol, and Western Visayas. In rural areas, children are more likely to be stunted than their urban counterparts.
Among the primary causes of undernutrition are poor infant and young child feeding practices, ill health, low access to diverse, nutritious foods, inadequate access to health services, unhealthy household environment, and poverty.
According to Nkosinathi Mbuya, World Bank Senior Nutrition Specialist, East Asia and the Pacific Region and lead author of the report, there is only a narrow window of opportunity for adequate nutrition to ensure children's optimal health and physical and cognitive development. It spans the first 1,000 days of life from the day of conception to the child's second birthday, he said.
"Any undernutrition occurring during this period can lead to extensive and largely irreversible damage to physical growth, brain development, and, more broadly, human capital formation," said Mbuya. "Therefore, interventions to improve nutritional outcomes must focus on this age group and women of child-bearing age."
Critical to tackling undernutrition at scale are better and higher levels of nutrition investments as well as adequate domestic financing for nutrition-related programs for vulnerable populations, says the report. Increased direct government funding to and from local government units (LGUs) to deliver on their multisectoral local nutrition action plans to be a priority.
The report suggests several priority recommendations, which if implemented over the next few years can bring about effective and sustainable progress in the Government's efforts to tackle the persistent challenge of undernutrition in the country.
These include securing adequate and predictable financing for nutrition-related programs to achieve nutrition goals; implementing at scale, an evidence-based package of nutrition interventions that should be made available to eligible households in high stunting municipalities; addressing the underlying determinants of undernutrition through a multi-sector effort, and; ensuring that nutrition is one of the key priorities in the agendas of both the executive and legislative bodies in municipalities.
Such a comprehensive effort would require high-level government ownership and leadership at all levels which would facilitate a whole-of government approach to achieving nutrition results, according to the report.