Vinayak Damodar Savarkar (1883-1966), popularly hailed as Veer Savarkar by his acolyte followers and Savarkar by his political and ideological opponents, is one of the most controversial men in modern India's history. Since Savarkarism, a staunch form of Hindu nationalism, succeeded in appearing as a powerful current of political nationalism in India in the 1990s, not only the ideologies but the very personality of Savarkar has been subject to historical autopsy and various interpretations. There is no doubt, Savarkar became the iconoclastic bandwagon of what later came to be known as Hindutva politics in India, and to Hindutva, he is like what St. Peter the Apostle is to Christianity. It is so because the whole edifice of Hindutva politics in contemporary India is based on a partial representation of Savarkar as expressed in his 1923 book 'The Essentials of Hindutva', and in his numerous speeches and activities. In addition, his practical politics as expressed in Abhinav Mela and Mitra Mela later became the organisational foundation of Rashtriya Swayamsevak Sangh which now defines Hindutva politics. Savarkar is the most authentic stepping-stone behind Hindutva politics and his commitment towards what he defined as Hindutva forced him to be tactical to submit many unconditional apologies to be released from the Andaman prison to extend his wings in the free world of Hindustan. Yet, to become the saviour of Hindu religion, Savarkar remains to be the most criticised Indian freedom fighter, and is sometimes portrayed alongside Muhammad Ali Jinnah, the father of Pakistan. Nothing but belligerent criticism, according to some political observations, Savarkar is also portrayed as a traitor who stood up against the Indian independence movement and apologised to the British government just to be freed from prison. It is unfortunate that a section in the Indian National Congress, especially under Nehru, too, represented Savarkar as someone who collaborated with the British Empire. Sarcastically, Indian Marxist intellectuals and leftist parties, who wish to locate the minutest apertures of socio-cultural movements and personal cults within the so-called materialist interpretations are adamant arguing that Savarkar is a Hindutva ideologue and that he collaborated with British colonialism, without the slightest mention that he was the product of an era of intensified religious tensions and his adamant commitment to Hinduism resulted in various streams of social reforms.
As a prelude, two factors need to be presented here. As Frank Anker Smith has shown, historians are not the custodians of 'the truth of past', instead they invent meanings and put it into interpretations suitable to their fashions and interests. Secondly, if we examine the history of British colonialism in India at least since 1757, we will be able to understand that a majority (something like 95 per cent) of middle-men, educated class, princes and political leaders have either collaborated or worked with colonial masters, and these names start from Mir Jaffar and extend to Mahatma Gandhi. About five per cent include the real heroes, if one wants to identify it so, of Indian nationalists who thought that the sacrifice of their lives would be much better than compromises. These are people like Birsa Munda, Surya Sen, Khudiram Bose, Bhagat Singh and others. This means, collaboration with the colonial state apparatus or a cluster of apology must not be the ultimate criterion to estimate or assess the life of stalwarts like Savarkar, Gandhi or Ambedkar. Doing so would be nothing but partisan and ahistorical interpretations.
Such distorted interpretations often take place in contemporary India, when we compete with each other to accuse Savarkar of collaborating with the British Empire. The problem of such distorted or partial narratives is that they forget to ask certain basic questions. For example, the way Savarkar was classified D-Class prisoner indicates that he was a danger to the British Empire. As well, why to hide the fact that many Indians of high repute had various secret engagements with colonial administrators, as demonstrated in the case of Madan Lal Dingra and the execution of Bhagat Singh and his comrades. Such distorted historical interpretations lead to contemporary political gimmicks as demonstrated by Mr. Rahul Gandhi who went to the extent of arguing that his name is not 'Rahul Savarkar' to offer an apology. Similarly, in my home state, Kerala, Savarkar's name is often equated with loyalty to the British Empire, and as an ardent form of anti-communist, acerbically forgetting that Savarkar raised his voice in 1959 against the Liberation struggle to bring down E.M.S. Namboothirippad's Communist ministry. For Savarkar, the struggle against E.M.S. Ministry was a Christian-Muslim ploy to derail what he termed as a 'Hindu' Ministry, though it was a communist-led ministry. Therefore, the ongoing (mis)representations of a devoted nationalist like Savarkar, for being an ideologue of Hindutva, and taking tactical but contradictory standpoints needs a balanced reading, significantly when his philosophies of Hindutva are misrepresented for partisan political purposes.
Devotion to India: Journey as a Nationalist
Savarkar was born into a Maharashtra Chitpavan Brahmin family in May 1883, hardly two months after the tragic and poverty-stricken demise of the world's most influential philosopher, Karl Marx. If the 1880s were times of despair and political revolutions in Europe, India was going through intensifying religious polarisations, especially under the foreign yoke of British colonialism. Under it, religion was becoming a basic component of socio-personal life while the whole structure of pre-colonial social conditions was acquiring new forms. By the 1880s, Bengal and Punjab had already witnessed various forms of religious tensions, mostly between Hindus and Muslims and between Hindus and missionaries. Maharashtra, too, was not an exception to such religious confrontations though the pace of such movements was very different. Adding fuel to the already strained religious harmony, the revolution of 1857 had redefined middle-class Indians' attitudes towards colonialism. The revolt of 1857 showed the danger of unified Hindu-Muslim power in India. As reflected in the revolt and the elevation of Bahadur Shah Zafar, who lived under the title of Mughal Emperor, symbolically, to the title of Emperor of India, the British Empire smelled danger.
However, as later history shows, the revolt of 1857 was the last major symbol of Hindu-Muslim unity. In post-riot India, religious identity can be found to take on more dangerous dimensions. The Hindutva ideologies of Bal Gangadhar Tilak and the Islamic movements led by Sir Syed Ahmed Khan and a multiplicity of socio-religious issues were the hallmarks of this period, especially in the three hotspots of Bengal, Maharashtra and Punjab. The influence of the nineteenth century reform-oriented and anti-colonial religious movements such as the Brahmo Samaj, Haji Shariatullah, Wahabi and Faraizi movements were reshaped into ardent but also fervent ideologies. Hindus and Muslims had already started to alienate each other, and mutual suspicion between these communities was promoted by the colonial administration, especially after the three months that shook the British Empire in 1857.
As Savarkar was born into a communally intensified social condition, and amid an anti-colonial situation, there was no doubt that two streams of ideologies influenced him. That is how the challenges to Hinduism and the colonial rule become points of interests for Savarkar. It means that colonial social engineering, especially the ploy to divide Hindus and Muslims, created more tensions in the minds of nationalist leaders who could also realise that the Muslim response to the Bengal partition of 1905 was propelled by communal interest, anticipating what was to happen later in 1947. Nevertheless, the fact is that Savarkar led his anti-British, nationalist agitation long before the 1905 Partition of Bengal and such form of extreme nationalism was the main reason for his expulsion from the famous Ferguson College in Pune. By the term 'extreme nationalism' I mean nothing but his deep patriotism, especially when Congress was trying to have a dialogue with British colonialism. This indicates Savarkar began his campaign with the determination to create the thunder of independence when moderate sections of the Congress were claiming that they should cooperate with the British and move on. Therefore, he was beyond the leaders of nationalism, who wore the nationalist garb of wanting achievements and strategic cooperation.
Although expelled from Ferguson College, Savarkar had the opportunity to graduate at Gray's Inn in London with the help of Shyamaji Krishnavarma. Savarkar arrived in London in 1906 and devoted his entire London life to the anti-British struggle. Fascinated by the Italian nationalist Mazzini's ideas, Savarkar founded an organisation called the Free India Society and propagated Indian nationalism among Indians in London. One thing to note is that Savarkar would have conquered great heights through strategic cooperation in London if he had wanted to. However, Savarkar did not seek to do so, but instead embraced nationalism. The reason for highlighting this is to remind us that Savarkar put nationalism ahead of practical gains when the vast majority of Indians in London continued their strategic cooperation with colonial politics. That is why he decided to celebrate the fiftieth anniversary of the First War of Independence in 1907, and that too in London which caused a great uproar, as students marched to pay their respects to the martyrs. The result was that Savarkarism began to be considered a dangerous philosophy, and the British police kept Savarkar under a panoptical model of surveillance. Such anti-Savarkar policies intensified with the unexpected act of Madan Lal Dingra in 1909, an Indian student, who killed Sir William Hutt Curzon Wyllie, a British administrator in London. While the entire Indian community in Britain, including Jawaharlal Nehru, has either disassociated itself from or condemned the act of Dingra, partly securing their interests, Savarkar was the only one to support Dingra openly. Naturally, Savarkar was accused of instigating Dingra to murder Wyllie, though no conclusive evidence suggested so. While Dingra was given the death penalty, the life of Savarkar was becoming pathetic in London, as by this time he was branded the sole enemy of the British Empire in India. After a short stay in Paris to avoid arrest, Savarkar returned to London to get arrested in 1910. Savarkar was then deported to India for further judicial procedures which ended up with Savarkar being sentenced to life imprisonment for fifty long years in a small cell in the cellular prison in the Andaman Islands.
As noted, the 1920s were periods of intense religious conflicts in India, especially between Hindus and Muslims. Since the conflict over the partition of Bengal in 1905, the mutual animosity between Hindus and Muslims continued and reflected in various forms: the establishment of Arya Samaj, Chapetkar brother's initiatives, and Mitra Mela and Abhinav Mela by Savarkar brothers show these intensified religious animosities. Along with these issues, the prison-centric proselytising efforts, mostly by Muslim groups, were becoming an issue in the Andaman jail. For someone like Savarkar, dangers to Hinduism within the closed walls of the cellular jail were indicators to recognise what is happening in India. Deepened worry about Hinduism might have prompted Savarkar to avoid wasting his time and energy in jail. This means, Savarkar may have been motivated to approach the British government in the form of apologies because of the perception that he must seek to return to India to save Hinduism which was going through a difficult period of caste feud, missionary influence and Islamic conversion attempts. However, this apology was just another tactic of the most dangerous Indian freedom fighter who went to London and encouraged political assassinations. Therefore, to overcome the rising political pressure and criticism in India, Savarkar was sent to India in 1921, but was sentenced to detention in Ratnagiri until 1937. As we can see, by the 1920s patriotism slowly shifted towards Hinduness in the mind of Savarkar due to his unconditional love for Hindu culture and his desire to protect it. The result was a book, titled 'Essentials of Hindutva' which he wrote in 1923.
If necessary, he had the opportunity to become a leader of the Congress or part of the British government, perhaps more than Nehru, by strategically playing the card of secularism and nationalism. The perfect example can be Gandhi's strategy of Khilafat satyagraha to extend his wings to the Muslim community. Nevertheless, Savarkar, also a poet and philosopher, did not hide his love for Hindu culture from within and went ahead with courage, and that is what now appears as Hindutva alias Savarkarism. That means, through his post-cellular politics, both as an ideologue of Hindutva and the steward of Hindu Mahasabha, Savarkar laid the foundation stone of Hindu nationalism in India, and produced various, often contradictory versions of Hindutva politics which to this day continue to be prominent in India's road towards cultural nationalism.
Savarkarism: Caste and Hindutva
Savarkar's nationalism was a mixture of Hindu-centered cultural ideology and a reconceptualization of India's past. While acknowledging that he was a staunch nationalist, he was also a social reformer committed to the cause of eradicating caste violence and building bridges among the various Hindu communities in India. Very interestingly, Savarkar's ideological development towards Hindutva was shaped by a Christian named Brahma Bandhav Upadhyay, whose argument that everything in India is rooted in Hinduism profoundly influenced Savarkar. So, Savarkar's Hindutva or Savarkarism was a mixture of various shades of Indian-ness and he wanted it to be reflected in all such aspects. There is no doubt that Savarkar's social reforms were tainted with his political motives, but that does not lead us to forget what he did to alleviate the social problems faced by Dalits in colonial India. Savarkar's struggles to keep temples open to the underprivileged and to eliminate caste problems often led him into conflict with the upper castes. Not only that, Savarkar initiated that lower caste Hindus should get the opportunity to educate their children. Savarkar has been at the forefront of educating underprivileged children belonging to the so-called untouchable communities. As part of his anti-caste initiatives, he regularly visited Dalit houses during festival seasons and spent time with them. The Patitpawan temple at Ratnagiri can be seen as the best example of Savarkar's social reform efforts and anti-caste movements. Savarkar ensured equality for the lower castes in the temple's governing body, which gave access to Hindus from all castes when the temple entry struggles led by Ambedkar had failed. It is pertinent to mention one more detail. The Ganesha festival and the pan-Indian coffee shops, started under the stewardship of Savarkar in 1930 and 1933 are the two examples of anti-caste ideology, but these transformational efforts through the participation and representation of the lower castes have not been mentioned much in the social history of India. For example, in the context of discourses of the public sphere in Europe, the famous German sociologist Habermas explains how coffee shops and salons influenced modernity transformation. Unfortunately, none of the Left-dominated Indian academic studies speaks of the pan-Indian coffee shops or its social relevance. However, Savarkar initiated that a Mahar community member should serve the food, at a time when inter-dining was impossible in India. If Indian modernity is also about questioning caste oppression and its various manifestations, there is no doubt that Savarkar had an essential role in the whole process, whether one accepts it or not. Undoubtedly, Savarkar was an advocate of a Hindu-centric political ideology, but it was always subject to change. Therefore, as far as Savarkar is concerned, Hindu culture can be interpreted in many different ways. For example, he has made statements about India's integrity, but also supported the partition of India. Similarly, his so-called Hindutva was an amalgamation of Aryan and Dravidian cultures, which sometimes even went so far as to say that beef may be eaten if desired.
Savarkar Image in Post-Colonial India
One of the most distorted portrayals of Savarkar's image in post-independence India was produced by Indian leftist intellectuals who accused him to be a communal fascist associated with Gandhi's murder, though no such conclusive evidence exist. Typically, postcolonial India's leftist circles always take what they call an anti-Hindutva stand, and argue that they oppose Sangh Parivar's philosophy, and therefore Savarkar. Ironically, Indian lefts' opposition to recognising Savarkar's full role has led to an ahistorical representation of Savarkar's leftist relationships, and how he has been praised by leftist or socialist intellectuals of international repute. For example, how do we interpret the fact that Savarkar earned a socialist image in the international anti-colonial circles in the 1920s, as demonstrated in the newspaper articles and a twenty-four-page pamphlet of Jean Longuet, the grand-son of Karl Marx, in support of Savarkar. Similarly, we seldom speak about Shaheed Bhagat Singh's high regard for Savarkar. As expressed in the former's instruction, one should understand three books to become a member of Hindustan Socialist Republican Association, and of these three, one was 'The Life of Barrister Savarkar'. Most strikingly, M.N. Roy, the stalwart Indian leftist intellectual, reportedly requested to be part of a reception committee in 1937 to celebrate Savarkar's release from Ratnagiri prison. As these situations demonstrate, Savarkar was a respected and celebrated freedom fighter, though the postcolonial Indian left obstinately rejects his contributions, while exaggerating his association with fascist Italy and Nazi Germany.
Conclusions
There is not only white and black in history but also grey matter. That is to say, individuals like Savarkar should be considered in light of all their contradictory identities. While recognising that Savarkar had every right to dream and work for Hindutva, one must also investigate his role in shaking the British Empire as one of the longest prisoners in colonial India's history. Of course, Savarkar's philosophy had an evident influence on India's Hindu-Muslim conflict, but let us not forget that the Hindu-Muslim riots caused Savarkar to become a Hindu nationalist, eventually.
Even if we reject all of Savarkar's anti-colonial and anti-Muslim ideologies, his struggles and social reform movements, especially his efforts for the Dalit community's upliftment, need to be further studied. Contradictory to what we usually see in Indian movies, heroes are not the seedbed of all virtues. There are also plenty of anti-heroes, who stand beyond the personalities of heroes. Unfortunately, Savarkar is a man whom a group once made an anti-hero of old heroes, both colonial and Indian, and that image remains without much change.
References
Why France holds the key to India's Multilateral Ambitions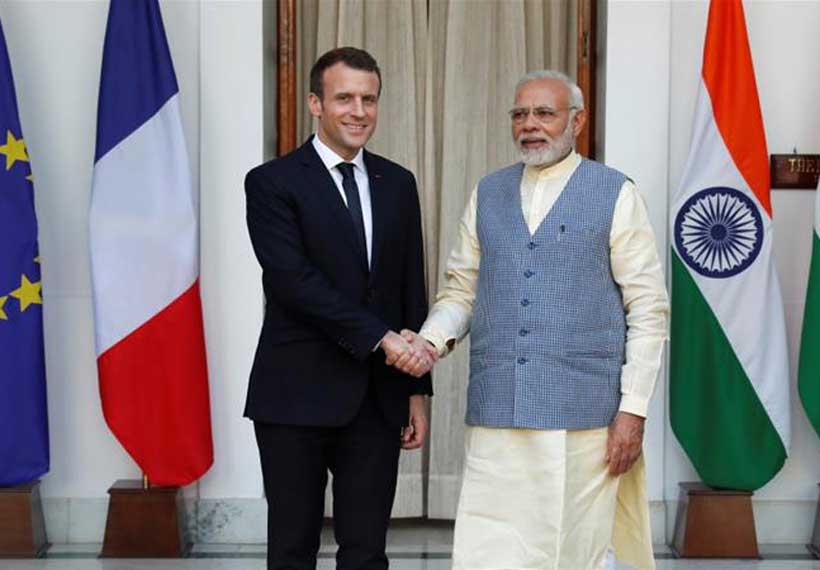 Authors: Prof. Nidhi Piplani Kapur and K.A. Dhananjay
As Indian Foreign Secretary Harsh Shringla pitches for permanent membership and reforms at the United Nations (UN), India's prowess in multilateral diplomacy is tested. Against this backdrop, allies and partners who intend to support India become a critical factor not only to its UN ambitions; but also, areas where India's multilateral interests are emerging – namely in the European Union (EU) and Indo-Pacific Region. In this regard, India's multilateral goals are threefold–securing a permanent membership at the UN, enhanced multilateral trade relations with the EU, and enlarged capacity-building in the Indo-Pacific. Yet, for realizing its multilateral endeavours, India's age-old relationship with France remains the key.
Since the signing of the Strategic Partnership with India in 1998, France has played an enormous role in supporting Indian interests. Whether it is backing India's stance on Kashmir, collaborating in defence and space, or even pledging solidarity in fighting the second wave of the pandemic, France has assisted India in its strategic and societal causes. Therefore, being a reliable and strategic ally, France is a perfect guide for India in the aforesaid multilateral pursuits primarily because of its credentials as a permanent member in the UN, founding member of the EU, and in recent times, an emerging power in the Indo-Pacific region too.
UN Reforms and Permanent Membership
Ever since India was elected as a non-permanent member of the UN Security Council in 2020, it has constantly batted for organizational reforms within the UN. As India puts it – 'reformed multilateralism' is in the need of the hour. It is a fact that the UN is currently beleaguered by an unevenly poised multilateral system, mainly wedged between the politics of the United States, Russia, and China, and hence is proving antithetical to the organisation's legitimacy and purpose per se. Besides, with China reportedly making inroads within the UN system, India's call for reforms underpins its cause to arrest Beijing's influence that could otherwise prove costly to its strategic interests, including territorial disputes along the Line of Actual Control.
At the UN, France has endorsed India's bid to overhaul the Security Council on numerous occasions. Currently, France and India are presiding over the Security Council in successive terms for July and August respectively. While India has signalled to make 'best' efforts to reform the UN during its short stint at the Security Council, France has already called for negotiations with India to explore and expedite the reformation it proposes. Whatever may be the challenges, France provides elbow room for India to set the ball rolling.
Brokering the India-EU FTA
The EU has been an important multilateral partner for India via trade and strategic relations. Post the EU-India virtual summit in May, an event that drew participation from leaders of all the 27 EU member states, there has been a lot of talk on India's burgeoning importance in Europe. The summit was a positive outcome for India, as negotiations for the long-pending Free Trade Agreement (FTA) with the EU were set to restart after a gap of 8 years. Notably, FTA talks with India come at a time when the highly debated EU-China trade deal was frozen by the European Parliament owing to 'tit-for-tat' sanctions surrounding China's human rights violations in Xinjiang and Hong Kong.
For India, the FTA is a watershed for extending multilateral relations with the European continent and an opportunity to consider an alternative to futile Regional Comprehensive Economic Partnership (RCEP) negotiations. Though the FTA might look vibrant and dynamic, the EU considers India's policy on market access, intellectual property, and data security unfavourable to pursue a free trade agreement. These issues may not be easy to forego, especially given the socio-economic conditions induced by the pandemic; but there comes the French angle to the discussion.
In the EU, France was one of the main proponents for resuming FTA negotiations with India. Since France has a significant foothold in the EU and a long-standing relationship with India, it has the tenacity to cement the middle ground while both parties deliberate on the FTA. This way, both India and the EU's interests are not shredded, and if the FTA becomes a reality, France gets to keep the legacy of brokering an otherwise impossible landmark deal.
Enlarged Indo-Pacific Cooperation
The rise of China and the consequent formation of the QUAD has put the Indo-Pacific region in the global geopolitical landscape. The Indo-Pacific is at the centre of India's strategic and territorial interests. As a prominent state in the region, India pursues a strategy that counters China's dominance and expands its outreach in the Indo-Pacific. Seeing the political circumstances in the Indo-Pacific, France has also shown a keen interest in exploring its prospects in the region.
From securing membership at the Indian Ocean Rim Association to participating in strategic engagements such as the Australia-India-France Trilateral Dialogue and the QUAD-Plus network, France is gradually expanding its footprint in the Indo-Pacific. Not to forget, through 4 overseas territories, France also has a regional presence in the Indo-Pacific. With the EU also launching its Indo-Pacific strategy, France naturally has a tactical advantage to even pilot European interests in the region.
Ergo, French entry in the Indo-Pacific is good news for India because now it has more partners to restrict China. As a result, multilateral capacity-building and maritime domain awareness operations in the Indo-Pacific look at a major facelift in ensuring maritime security, freedom of navigation, and most importantly – restrict Chinese expansionism. Given the French factor, enlarged Indo-Pacific cooperation is beneficial for India to rise as a pivot as well as keep an eye on China's incessant effrontery in the region.
Based on what France brings to the table, India is looking at a friend whose promising rapport provides a new prism for its multilateral aspirations. Albeit, the judicial probe ordered on the Rafale deal in France might cause light tremors in Indo-French relations and may also spill out a political limbo. It is a headache for both Paris and New Delhi to eschew, and hopefully, they could steer it in a way mutual interests do not succumb to the looming uncertainty.
Unleashing India's True Potential
As India strives to unleash its true potential to rise as a global powerhouse, it is tasked with a series of challenges that stunt its aspirations. To put this ambition into perspective, Dr. Aparna Pande discusses the various internal issues that have hampered its global aspirations and plagued the socio-cultural, economic, political and military dimensions, in her recent book Making India Great: The promise of a reluctant Global Power.
The book is structured in five chapters besides the introduction and the conclusion. The fundamental argument of the book sets out to delineate India's ambition of becoming a world power in the 21st century. The author discusses the contradiction that exists within Indian society that is 'although India aspires to become a global power, it lacks the ability to draw long term strategic plans that are necessary to achieve and realise its ambitions'. To attain this vision, India must overhaul its attitude and mindset to prescribe a course of action that is deemed fit to bridge the gap between India's potential and its policy outcomes. Dr. Pande rationally deconstructs the reasons behind India's economic slowdown and sheds light on the country's pursuit towards realising its true potential.
In the introductory chapter, the author revisits India's ancient heritage and modern history and spells out various historical accounts to depict the immature, parochial and tactless decisions and judgments made by the Indian political elite that have repeatedly toyed with India's ambitions. These vested interests have hindered the country's progress and fractured its strategic disposition in spite of possessing a robust ethical foundation, a secular religious society, a rich linguistic and cultural diversity. Furthermore, the author elaborates on India's achievements since its independence while knitting history with contemporary international politics.
By 2024, India will be the most populous country globally (p.X) and will be the world's third largest economy by 2050 (p.53). The author raises key arguments that address India's trajectory to become a major global power. She advocates for the need to focus on its important national subjects such as enhancing the country's defence capabilities, upgrading its military industry and expanding its diplomatic outreach globally, instead of focusing on the traditional problems related to religious vigilantism, caste and ethnic prejudice, and cultural divisions.
In the first chapter, "Ancient Culture, Modern Times", the author illustrates India's ancient culture and the faith in Indian exceptionalism. She beautifully explains the ancient history starting with the idea of renaissance and enlightenment and journeys through the social changes brought over time by various reformist movements namely the Arya Samaj and the Brahmo Samaj. The idea of Indianness as conceived by Jawaharlal Nehru, Mahatma Gandhi and Rabindranath Tagore indicates that modern India was built on its rich and ancient heritage. The two different traditions are highlighted within the Indian social order: one discussing India as a vibrant, inclusive and open society, while the other views India as an obscurantist society due to the existence of social practices of patriarchy, feudalism and chauvinist behaviour by Indian society. The country's progress is impeded by society's myopic vision and bigoted fabric.
The author opines that legislative decisions and political events in India are scrutinised by the public from the religious and cultural lens that hampers the growth and progress of the country. Rather than investing in strategic planning for defence and education, the Union Government has been spending more resources to protect cows with the intent to safe guard the religious sentiments of its people. Subsequently, these provisions adversely affect beef production countrywide and weakens the leather industry, affecting the Indian economy at large. As alluded by the author, such a comparison of the religious practices with the economic benefits could hurt the sentiments of the public, leading to undermine the majoritarian faith. In the larger context, among the many prevailing social and national issues there are far greater problems that need immediate redress to which the author has failed to shed adequate light on, such as gender inequality, patriarchy, the promotion of women empowerment, improvements to the national literacy rate and addressing the issue of poverty.
The second chapter discusses human capital, which acts as a pre-requisite driver for the modern Indian economy. In the ancient times, the country's potential for human resource can be viewed through an archaeological lens and has also laid the foundation of the world's oldest civilisation, the Indus Valley. In addition to the Indus valley, the subcontinent has witnessed the establishment of the well-engineered twin cities of Harappa and Mohenjo-Daro. Dr. Pande supports her argument on the country's human capital by supplementing the reader with a similar view from Gurcharan Das' book, where the author conveys that India's biggest failure has been in building human capabilities. Further, he states that to build human potential and capabilities, there is a need for an investment of human capital particularly in education and the health sector.[i] In concurrence with Mr. Das, Dr. Pande explicates that the failure of building human capabilities is due to misgovernance. Hence, she suggests that the Government should take pragmatic steps for policy formulation and skill development.
The third chapter elucidates about 'Economic Potential' of the Indian state. She discusses the success and failures of the Indian economy. Jawaharlal Nehru and Mahatma Gandhi accentuated on economic independence and self-sufficiency. The Indian economy has been growing since independence but is insufficient to cater to the needs of its growing population. Despite being a developing economy, there are millions of people in India living below the poverty line. The 1991 reforms were a shot in the arm for the Indian economy through the process of liberalisation and privatisation. As India is on its way to becoming one of the three largest economies by 2050, New Delhi is required to bring more reforms to its land, labour and financial policies. It needs to give up its paternalistic approach which hinders its economic growth. Dr. Pande also highlights India's obsession with producing everything within the country which leads to hyper-nationalism and proves to be one of the major drawbacks for the Indian economy only weakening its rise as a global power.
In the following chapter, the author analyses the country's foreign policy and geopolitics. While debating the geopolitical nature of the country, Dr. Pande enlightens the reader about some of the inevitable features of the Indian state. As one of the oldest standing civilisations, its geographic position is strategic and its vast population is an asset for the country's growth. The ancient sages have ascribed India as Vishwa Guru (world teacher) and have adopted the philosophy of Vasudhaiva Kutumbakkam (the world is one family). Prime Minister, Narendra Modi in his historic speech at the United Nations General Assembly in 2014 underscored the driving force of India's philosophy, reminding the world community about India's ancient history since the Vedic era, with the intent to bring reforms to the United Nations (UN), making it more democratic and participatory.
The author presents a case to underline the existence of India's strategic disposition through an adaptation of the Non-Alignment Movement. To establish and maintain its clout in the world order, India is associated with various organisations like the UN, the International Financial Institutions (IFIs) and several other multilateral institutions. The author presents a strong case for the need to introduce new reforms into the UN Security Council (UNSC) but also into the international economic order, including various multilateral economic institutions such as the International Monetary Fund and World Bank. More importantly, she advocates the need to promote India as a permanent member in the UNSC with the backdrop of India's rise in contemporary international relations given the country's growing economic, political and military prowess.
Talking about its foreign policy, India is considered a geographical, socio-cultural and economic centre for South Asia and plays the role of a 'Big Brother' within the South Asian region. India has always followed the 'Neighbourhood First' policy to maintain strategic relations with its immediate neighbours. Apart from South Asia, the chapter presents a stark contrast regarding India's relations with China and its economic and military rise which pose a threat to India and South Asia.
The last chapter examines India's "Military and Grand Strategy" and what India actually requires in order to become a global power. She illustrates the features of great powers as described by Hedley Bull. According to Bull, great powers are identified by 'comparability of status', 'rank in military strength', and the ability and recognition to 'play a part in determining issues that affect the peace and security of the international system as whole'.[ii] To incorporate these factors in its foreign policy, India needs a grand strategy in place which could be formulated through four major strands: Imperial Legacy, Messianic Idealism, Realism and Isolationism, as discussed by the author in her previous work.[iii] To achieve these goals, India can exercise the Kautilyan principles of Saam, Daam, Dand and Bhed (persuasion, temptation, punishment and exploitation respectively) as a means to achieve an end.
To this end, Making India Great is a well-researched handbook with various mesmerising facts but with a contested title which questions the greatness of the country. It allows readers to comprehend various reasons for India's reluctance and flawed progress on the global stage. The author suggests that the Government of India should introduce new reforms that would enable it, to take pragmatic measures in the economic, military, political and social spheres, which would provide greater impetus to its growing aspirations as a global power. Lastly, Dr. Pande fails to identify and analyse the loopholes existing in both, the decision-making apparatus and implementation process of various policies at the economic, political and military levels. Nevertheless, this work is of immense relevance to understand India's position as an emerging global power, in the context of the contemporary state of global affairs.
---
[i] Gurcharan Das, India Unbounded: The Social and Economic revolution from Independence to the Global Information Age, New York: Anchor Books, 2002, p. xviii.
[ii] Hedley Bull, The Anarchial Society: A Study of Order in World Politics, New York: Columbia University Press, 1977, pp. 200-03.
[iii]Aparna Pandey, From Chanakya to Modi: Evolution of India's Foreign Policy, Noida: HarperCollins India, 2017.
Application of Galtung's ABC Model on the Naxalite Insurgency of India
The conflict analysis model proposed by Johan Galtung in 1969 includes both symmetric and asymmetric conflicts. In the author's opinion, a conflict can be viewed as a triangle whose sides are represented by A (attitude), B (behaviors) and C (contradictions.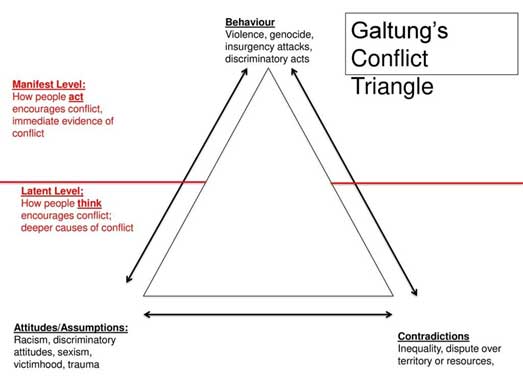 The Naxalite Insurgency
The Naxalite revolt which developed in the 1960's is the most seasoned of all. The Naxalite revolt gets its underlying foundations from a remote town called Naxalbari in West Bengal. They are the progressive communists bunches resulting from Sino-soviet split in Indian Communist Movement. The Naxalite uprising is a low-level war of Maoists against the Indian government. The insurrection began as a labor resistance in the eastern Indian town of Naxalbari in 1967 and has now spread to an extensive swath in the southern and eastern parts of the nation. In 2004 the Maoist dissident association People's War Group and the Maoist Communist Center of India converged to shape the Communist Party of India (Maoist). The Movement was driven by Charu Mazumdar, Kanu Sanyal and Jangal Santhal.
Contradictions
The main conflict includes real or perceived "incompatibility of goals" between the conflicting parties. In symmetrical conflicts, the contradiction is defined by the parties, their interests and conflicts of interests. In asymmetric conflicts, the contradiction is defined by the parties, the relationship between them and the conflict within this relationship.
Before continuing with Galtung's model analysis, it is necessary to highlight the differences between symmetric and asymmetric conflicts. When A and B have a relatively similar or equal position and they enter into a conflict due to diverging interests; we are talking about a symmetrical conflict. When in the relationship between A and B one of the parties has a clearly superior standing compared to the other (i.e. a clear situation of inequality between the two sides); we are referring to asymmetric conflict. This type of conflict occurs between the majority and a minority, between a government and a rebel group, between an employer and his employees, or between a master and his servants ("Transforming Civil Conflicts", The Network University. The University of Amsterdam, June 2000).
A conflict in Galtung's view = attitude + behavior + contradiction, where contradiction (C) is the root of the conflict, and attitude (A) and behavior (B) are meta-conflicts after (C). CAB is a possible example of a conflict sequence starting objectively with an attitude of inner life that is expressed externally through violent or not verbal and / or physical behavior. This definition helps us to talk about the CAB as a guiding conflict theory, as a dynamic phase of the conflict, or as an approach to solutions (Galtung, 2007, 22).
The contradiction here in this conflict is inequality and dispute over political rights and resources. The Naxalites get most help from Dalits and Adivasis. Together they sum for one fourth of India's population; a large portion of them live in rural India. Their bases for supporting the insurgency includes unemployment, new timberland provisions with confinement for their jobs, cultural degradation, feeble access to social education, confined and constrained access to regular assets, social abominations, relocation, political underestimation and suppression of rebellions. The affected areas have rich mineral resources but the inapproachability and negligence of the government is another which has kept the insurgency alive.
The demands of the insurgents are not of succession rather they demand their democratic rights. They want the government to implement improvements in the farming sector, give accommodations and full authority to the farmers, and abandon all private finances taken by the agricultural community to stop suicides by farmers, prepare a lasting and unified plan for tackling the scarcity situation and to be given equal opportunities, jobs, education, acceptance from the upper caste people.
Attitudes
Includes the perception of the parties; It can be positive or negative, strongly negative especially in violent conflicts when the parties develop humiliating stereotypes about each other. Attitude consists of emotive and affective components (I like or I do not like X), cognitive components (favorable or unfavorable information about X) and cognitive/ behavioral components (desire, will).
Attitudes or we say perception of conflicting parties, i.e., Government of India and Naxal rebel's groups are entirely negative. Indian government thinks of it as a national security threat and wants to counter it one way or the other. In 2006, the Ex-Prime Minister of India Manmohan Singh called the Naxalites "The single greatest inward security challenge." As the insurgency is not in just one part of the country but it is expanding in many regions which is a serious threat to the state's internal security. While the rebel groups being untouchables, think of the government as racist and discriminatory and want equal rights and opportunities as any other Indian.
Behavior
Involves cooperation or coercion / conciliation or hostility regarding the behavior, in case of violent conflict we talk about threats, coercion or destructive attacks.
The Indian National Congress is India's oldest party. Hence has seen a number of conflicts and insurgencies. The INC government sought after a double pronged approach depended on military and cruel police activities.
SalwaJudum was launched as part of counterinsurgency strategy by the Indian government. The Naxals and SalwaJudum used to assault each other with much greater savagery; numerous individuals were killed by Naxals and SalwaJudum. The SalwaJudum was at long last prohibited by the Supreme Court in 2011 for damaging human rights and the Constitution itself. The government then presented "Operation Green Hunt", an organized activity over a few states (Orissa, Madhya Pradesh, Chhattisgarh, Andhra Pradesh and West Bengal among others), to handle Naxalism. But the operation was also a failure.
The government then realized that using the military on their own people is not the solution to the problem hence, they made some developments in the affected regions but it did not give long lasting results; it resulted in the failure of the policies of Indian National Congress.
Andhra Pradesh has the best strategies to counter the Naxalite insurgents among all affected states. It perceived the Naxalite insurrection as a genuine risk. It has put resources into the Greyhounds; a unit arranged for a counterinsurgency reaction and has given extensive recovery bundles to repatriate the previous Naxalites.
They likewise made a few projects to help police faculty and their families if executed in the line of duty. Andhra Pradesh's counterinsurgency approach is unmatched in the whole country.
The Naxalite rebellion entered in these states later. They are the most badly influenced states because of their topography and demography. Because of a crackdown by police and military against the naxalites, the movement spread into many states. Since these states have a huge population and forested territory, they were the ideal areas for the guerillas to develop. None of these states has a solid counterinsurgency approach. Chhattisgarh has connected comparable guerrilla strategies and many operations like Operation Shikhar, Operation X, Operation Thunder and Operation Hill Top but neither of these operations have been able to purge the insurgency in the state. Jharkhand has led a few hostile activities, Odhisa uptil now have no strategies that can manage the uprisings. Every one of the three states is rich with mineral resources but none of them have powerful counterinsurgency technique. West Bengal is relatively successful in countering insurgency. The state government additionally got assistance from the central government.
The BJP government counterinsurgency strategy against the Naxalites combines a twofold unit approach; one approach is to utilize safety powers to create security whereas the other is winning hearts and minds of the overall public. Past governments utilized the relative systems, yet in light of a nonappearance of coordination and uneven execution between influenced states, it didn't give incredible results.
Social and economic inequity is seen as the main drivers of the Naxalite insurrection. Accordingly, the BJP government has reported sweeping policy, which incorporates improvement measures to manage social and economic degradation. The government has invested in the expansion of infrastructure which includes the creation of communication linkage and rail and road accessibility also in educating and providing basic services to the people. The number of violence decreased during BJP's time period, the credit is not alone to BJP government but also to previous governments.