Reports are coming out that China has built a village in the territory of India, Arunachal Pradesh is once again the victim of Chinese encroachment. The Report is published by India's leading news source NDTV based on Satellite images. It's a big concern but the Government of India had said that there is nothing to worry about, China had built these types of structures in the past so has India.
The images published in the report by NDTV came from Planet Lab, an American company from San Francisco that used an earth imaging satellite. They had taken images of Arunachal Pradesh and found that an area beside a river is inhabited between August 2019 and August 2020, China had astonishingly constructed more than 100 houses in a matter of few months. The village is constructed on the banks of the river Tsari Chu, lies in the upper Subansiri district, an area which has been long disputed between India and China and has been marked by armed conflict. Though this area is Indian territory, according to official Government maps, it has been ineffective Chinese control since 1959. However, earlier only a Chinese military post existed, but this time a full-fledged village that can house thousands has been built.
It's a dangerous sign for India, it seems obvious as the tension between India and China raised after Galwan valley, the top command in the PLA army had decided to construct villages, buildings, and settlements around the border area so they can encroach more area of India.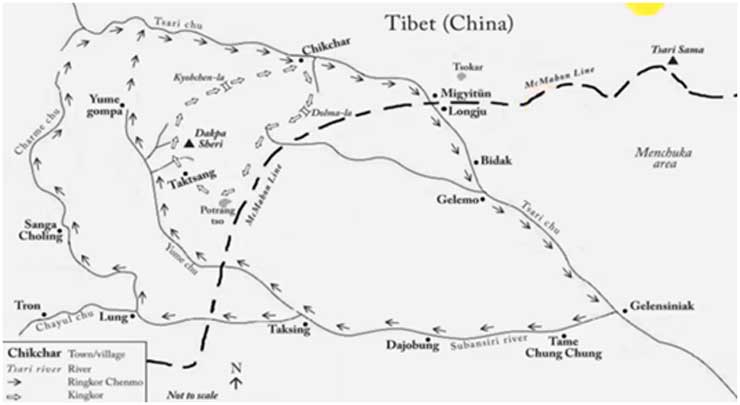 Politics over this had already started, the leader of the Indian National Congress, Rahul Gandhi tweeted that Prime Minister Modi had promised "Mei desh nahi jhukne dunga" but China had built a village in the Indian Territory. And to his response Kiren Rijiju, the Sports minister responded with a tweet " अपने गिरेबान में भी झाँका करो कभी-कभी, किसी दूजे पर गर्द झाड़ देना आसां बहुत होता है!" And stated that "Those locations you are referring to have been under Chinese occupation since very-very long Congress regime in India." But the painful reality is that the settlement made by china is Indian territory, the time of capture is irrelevant.
The surprise is that even the foreign ministry is not criticizing this encroachment and downplaying it by saying " China has undertaken such infrastructure construction activity in the past several years. In response, our government too stepped up border infrastructure including the construction of roads, bridges, etc, which has provided much-needed connectivity to the local population along the border." Though the statement is correct but foreign ministry should criticize China, Indian government should not forget that they faced huge criticism from China whenever they try to build a simple road on the borders. What the Chinese are doing is very important to their security and India need to do the same.
In 2017, China started a campaign called 'Plan for the construction of well-off villages in the Border Areas of the Tibet Autonomous Region' under which China made a budget of 5-6 billion dollars. China said that they are going to make well-planned villages with top-notch facilities and with the high-quality road on their borders, China promised that the houses will be cheap for the retired soldiers and local people so they can settle the population fast.
Why China will do this? Why one will settle villages at borders?
This is the best way of defense. Indo- China border is huge even though both countries have a huge army and border patrolling forces but one can not deploy soldiers everywhere and every time. So what China is doing is making many villages so whenever there is a movement from the Indian side immediately the people of that village will inform to Chinese Army, the people of the villages are the eyes of the army. China in a very planned way by investing billions of dollars is making villages on the Indian border. The same types of villages are made around the China-Nepal border, around the Bhutan border and now we are seeing it is made on Indian Border. And when we see India in comparison to China, our position is worse, we are doing just the opposite, they are inhibiting the villages and our facilities are so poor, no proper connectivity, no employment, no tourism at borders, so local peoples are leaving villages instead of inhabiting it. In the future, if China captures a small area, or make camp or construct villages then once again negotiations, Army Standoff and await for years will take place.
China is moving with a well-planned plan, need is India should issue a plan to inhibit people on border areas, it's a time for India to spend 4-5 billion dollars on border areas. States are doing their bit, Uttarakhand plans 'border tourism' to populate the abandoned villages so that people from the country can go on the border, visit the local villages, and contribute to the local economy. But this is a long-term plan and we are not doing anything concrete in this. China is almost subsidizing village construction but nothing is happening in India, so there is a need to copy what China is doing on the border, and it's time we should construct good quality villages at a rapid pace in Uttarakhand, Himachal Pradesh, Sikkim, and Arunachal Pradesh and provide this to people so that population settles there and these people became the eyes of Indian Defense Forces.
We should not forget that it was a village shepherd who helped in the Kargil war by informing about Pakistani infiltration.