India and the IEA enter new phase of closer collaboration
Less than four years after the International Energy Agency welcomed India as an Association country, IEA members and the Government of India today agreed to enter into a Strategic Partnership, strengthening their collaboration across a range of vital areas including energy security and clean energy transitions. The signing of the Framework marked a major milestone in global energy governance that could lead to eventual IEA membership for India.
The IEA and India signed the Strategic Partnership Framework during a virtual ceremony, with senior representatives from India and IEA Members in attendance. Participants included Ambassador Hiroshi Oe of Japan, the Chair of the IEA Governing Board, and Ambassador Jawed Ashraf of India. The Framework was signed by Mr Sanjiv Nandan Sahai, Secretary of the Ministry of Power, representing India, and Dr Fatih Birol, IEA Executive Director, on behalf of the Agency's members.
"Today is a historic day. The signing of this agreement reaffirms and advances the invaluable relationship that IEA members and India have," said Mr Sahai. "Under the framework of this newly formed alliance, we will establish with the IEA the key steps for enhancing energy security and substantive cooperation across the full spectrum of IEA activities. We hope this partnership leads to an extensive exchange of knowledge and can be a stepping stone towards India becoming a full member of the IEA."
"India will have a critical role in shaping the world's energy and climate future. As the leading global authority on clean energy transitions, the IEA is the perfect partner to support India as it expands and improves its energy system for the benefit of its 1.4 billion citizens," said Dr Birol. "I believe this Strategic Partnership is the natural next step for India and the IEA that could eventually lead to full membership. We're delighted to be further strengthening our work with India to help it pursue a secure and sustainable path forward, and look forward to working closely with the Government of India to develop and coordinate the contents of the Strategic Partnership."
The Strategic Partnership Framework represents a new phase in the relationship between the IEA and India, the world's third-largest energy consumer, making it the first IEA Association country to take a formal step to further advance ties with the Agency. A number of IEA members expressed their support for the big step forward.
"This signing ceremony marks a milestone of deepening the successful cooperation between India and the IEA," said Mr Anders Ygeman, Sweden's Minister for Energy and Digital Development. "Together we can achieve necessary changes for a green, sustainable and inclusive energy transition globally. Sweden greatly values this deepened cooperation and I look forward continuing working with my Indian colleagues."
"My deepest congratulations on the signature of the Framework for a Strategic Partnership between the International Energy Agency and the Government of India," said Mr Hiroshi Kajiyama, Japan's Minister of Economy, Trade and Industry. "It is important to strengthen the collaborative relationship between the International Energy Agency and the Government of India in order to ensure world energy security and to expedite clean energy transitions, so we welcome the signing of this framework."
India joined the IEA Family as an Association country in 2017, an act marked by a ceremony in New Delhi with Mr Piyush Goyal, then Minister for Power, Coal, New and Renewable Energy and Mines; and Mr Dharmendra Pradhan, Minister for Petroleum and Natural Gas; and the IEA's Dr Birol.
India is becoming increasingly influential in global energy trends. According to the IEA's in-depth report on India's energy policies, which was released in January 2020, the country's demand for energy is set to grow rapidly in the coming decades, with electricity use set to increase particularly fast. The country's reliance on fuel imports makes further improving energy security a key priority for the Indian economy.
"With India's increasing involvement, the IEA is able to more fully represent global energy users and producers," said Mr Angus Taylor, Australia's Minister for Energy and Emissions Reduction. "I applaud the commitment demonstrated by the Government of India in taking significant steps, not only to shore up their own domestic security but to also identify ways in which they can contribute to global energy security."
Italy also offered its congratulations to the IEA and India. "In a time when we face global key challenges, such as energy transition and the fight against climate change, we sincerely appreciate the strengthening and enhancing of the cooperation with India, a key partner for the IEA and for all of us members of the Agency," said Mr Luigi Di Maio, Italy's Minister of Foreign Affairs and International Cooperation. "As the current holder of the G20 Presidency and as partner of the UK in the COP26, Italy is committed to a sustainable, resilient and clean energy future, and I am sure that the Strategic Partnership with India will be a valuable asset in our common endeavour."
Today, the IEA and India cooperate on a wide-variety of topics, including the expansion of renewables, energy efficiency, the energy-environment nexus, oil stocks and emergency preparedness, data, investment and innovation. The IEA also regularly provides detailed analysis of India's energy sector, such as a recent deep dive on decarbonising the iron and steel sector, and an upcoming World Energy Outlook special report on India.
"Enhanced cooperation between India and the IEA will largely contribute to promoting development in various areas including global energy security, global energy governance and the use of sustainable energy resources," said Mr Toshimitsu Motegi, Japan's Minister of Foreign Affairs. "We look forward to the progress of the discussion between India and the IEA on the concrete cooperation. Japan will actively contribute to further enhancing the existing cooperative relations between India and the IEA."
"The agreement between the IEA and India to pursue a Strategic Partnership is a major step towards building a sustainable, secure and prosperous energy future globally. By joining forces even closer with India in addressing the energy and climate challenges of the future, we also tap into a great potential for innovation and sustainable growth for all partners involved," said Mr Peter Altmaier, Germany's Minister for Economic Affairs and Energy.
"As one of the world's largest energy consumers with the outlook for unparalleled growth, India's addition to the IEA family will further reinforce the solid stature and significant influence of the IEA, while extending the reach of many aspects of its work, including on energy security, electricity access and natural gas markets," said Mr Seamus O'Regan, Canada's Minister of Natural Resources. "It will also serve to strengthen the agency's reach in the context of its Clean Energy Transitions Programme."
Starting in 2015, the IEA has been opening its doors to major emerging economies that are at the centre of the global conversation on energy. Since then, eight countries have joined the IEA's Association programme: Brazil, China, India, Indonesia, Morocco, Singapore, South Africa and Thailand. Along with the IEA's 30 members and the three countries formally seeking accession, this expanded IEA Family now represents 75% of global energy demand, up from 40% in 2015.
The IEA was founded in 1974 by industrialised countries – within the framework of the Organisation for Economic Co-operation and Development (OECD) – in response to the oil embargo. As a result, countries seeking to become members of the IEA must also be members of the OECD and hold 90 days of oil imports as commercial stocks. But over the years, the IEA's mission has expanded substantially and today the agency is working with major economies around the world to enhance energy security and to help accelerate their clean energy transitions.
World Adds Record New Renewable Energy Capacity in 2020
Global renewable energy capacity additions in 2020 beat earlier estimates and all previous records despite the economic slowdown that resulted from the COVID-19 pandemic. According to data released today by the International Renewable Energy Agency (IRENA) the world added more than 260 gigawatts (GW) of renewable energy capacity last year, exceeding expansion in 2019 by close to 50 per cent.
IRENA's annual Renewable Capacity Statistics 2021 shows that renewable energy's share of all new generating capacity rose considerably for the second year in a row. More than 80 per cent of all new electricity capacity added last year was renewable, with solar and wind accounting for 91 per cent of new renewables.
Renewables' rising share of the total is partly attributable to net decommissioning of fossil fuel power generation in Europe, North America and for the first time across Eurasia (Armenia, Azerbaijan, Georgia, Russian Federation and Turkey). Total fossil fuel additions fell to 60 GW in 2020 from 64 GW the previous year highlighting a continued downward trend of fossil fuel expansion.
"These numbers tell a remarkable story of resilience and hope. Despite the challenges and the uncertainty of 2020, renewable energy emerged as a source of undeniable optimism for a better, more equitable, resilient, clean and just future," said IRENA Director-General Francesco La Camera. "The great reset offered a moment of reflection and chance to align our trajectory with the path to inclusive prosperity, and there are signs we are grasping it.
"Despite the difficult period, as we predicted, 2020 marks the start of the decade of renewables," continued Mr. La Camera. "Costs are falling, clean tech markets are growing and never before have the benefits of the energy transition been so clear. This trend is unstoppable, but as the review of our World Energy Transitions Outlook highlights, there is a huge amount to be done. Our 1.5 degree outlook shows significant planned energy investments must be redirected to support the transition if we are to achieve 2050 goals. In this critical decade of action, the international community must look to this trend as a source of inspiration to go further," he concluded.
The 10.3 per cent rise in installed capacity represents expansion that beats long-term trends of more modest growth year on year. At the end of 2020, global renewable generation capacity amounted to 2 799 GW with hydropower still accounting for the largest share (1 211 GW) although solar and wind are catching up fast. The two variable sources of renewables dominated capacity expansion in 2020 with 127 GW and 111 GW of new installations for solar and wind respectively.
China and the United States of America were the two outstanding growth markets from 2020. China, already the world's largest market for renewables added 136 GW last year with the bulk coming from 72 GW of wind and 49 GW of solar. The United States of America installed 29 GW of renewables last year, nearly 80 per cent more than in 2019, including 15 GW of solar and around 14 GW of wind. Africa continued to expand steadily with an increase of 2.6 GW, slightly more than in 2019, while Oceania remained the fastest growing region (+18.4%), although its share of global capacity is small and almost all expansion occurred in Australia.
Highlights by technology:
Hydropower: Growth in hydro recovered in 2020, with the commissioning of several large projects delayed in 2019. China added 12 GW of capacity, followed by Turkey with 2.5 GW.
Wind energy: Wind expansion almost doubled in 2020 compared to 2019 (111 GW compared to 58 GW last year). China added 72 GW of new capacity, followed by the United States of America (14 GW). Ten other countries increased wind capacity by more than 1 GW in 2020. Offshore wind increased to reach around 5% of total wind capacity in 2020.
Solar energy: Total solar capacity has now reached about the same level as wind capacity thanks largely to expansion in Asia (78 GW) in 2020. Major capacity increases in China (49 GW) and Viet Nam (11 GW). Japan also added over 5 GW and India and Republic of Korea both expanded solar capacity by more than 4 GW. The United States of America added 15 GW.
Bioenergy: Net capacity expansion fell by half in 2020 (2.5 GW compared to 6.4 GW in 2019). Bioenergy capacity in China expanded by over 2 GW. Europe the only other region with significant expansion in 2020, adding 1.2 GW of bioenergy capacity, a similar to 2019.
Geothermal energy: Very little capacity added in 2020. Turkey increased capacity by 99 MW and small expansions occurred in New Zealand, the United States of America and Italy.
Off-grid electricity: Off-grid capacity grew by 365 MW in 2020 (2%) to reach 10.6 GW. Solar expanded by 250 MW to reach 4.3 GW and hydro remained almost unchanged at about 1.8 GW.
Renewable energy access key to climate adaptation in Africa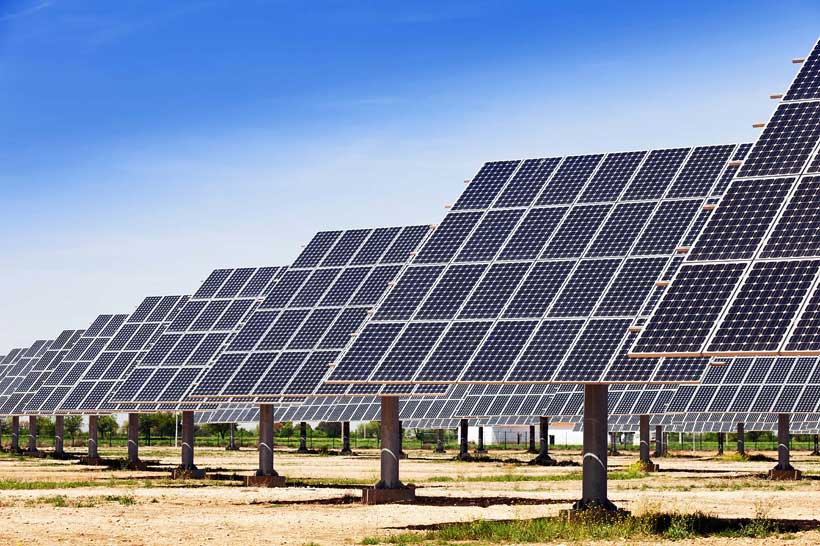 Support for climate adaptation in Africa is crucial, UN Secretary-General António Guterres said on Tuesday in appealing for greater action to provide renewable energy to hundreds of millions who still lack access to reliable and affordable electricity.
"As the continent that has contributed least to the climate crisis, Africa deserves the strongest possible support and solidarity", he told an online dialogue for leaders convened by the African Development Bank.
Mr. Guterres warned that "adaptation must not be the neglected half of the climate equation".
Old models failing
Although Africa has abundant and untapped renewable resources, it has received just two per cent of global investment in renewable energy over the past decade, he reported.
Old models of development and energy use have failed to provide Africans with universal energy access, he said, meaning hundreds of millions of people still lack reliable and affordable electricity or are cooking with polluting and harmful fuels.
"We can provide universal access to energy in Africa primarily through renewable energy. I call for a comprehensive package of support to meet this objective ahead of COP26," Mr. Guterres said, referring to the UN climate change conference in November.
"It is achievable. It is necessary. It is overdue. And it is smart: climate action is a $3 trillion investment opportunity in Africa by 2030," he added.
'Major finance gap'
However, the Secretary-General pointed to "the major finance" gap blocking progress towards this goal. He urged developed countries to deliver on their $100 billion climate commitment made over a decade ago.
"Developed countries and main financers must ensure a swift shift of the billions to support African green investments, to increase resilience and to create the conditions for scaled-up private finance", he said.
"And the private sector must step up and get organized to provide immediate, concrete solutions to governments. Local authorities can work with unions and community leaders on reskilling and social security nets."
Commitment and fiscal autonomy
While African Governments also can lead the way by committing to ambitious adaptation and mitigation plans, they first need to regain their fiscal autonomy, he said.
The Secretary-General stressed the need to extend the debt moratorium for developing countries, made last year in response to the COVID-19 pandemic, and even cancelling debts where appropriate.
Furthermore, Special Drawing Rights, a type of supplementary foreign reserve maintained by the International Monetary Fund (IMF), must also be made available to support Africa's recovery.
How Renewables Offer New Solutions for District Heating and Cooling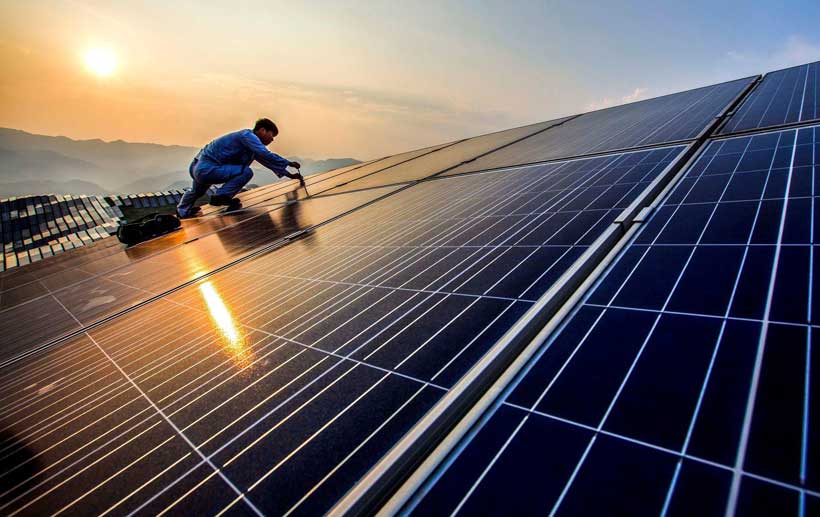 Heating is the largest end user of energy, accounting for over 50% of global final energy consumption worldwide. At present, much of this demand is met by burning fossil fuels, making the sector a significant contributor to greenhouse gas emissions and air pollution. Renewables can play a significant role in decarbonising the way we heat homes and businesses.
Traditionally, biofuels have been the main alternative to fossil fuels in district heating and cooling. However recent improvements in building insulation and digitalisation have opened district energy to widely accessible, low-temperature renewables such as low-temperature geothermal, solar thermal and waste heat sources.
These sources are widely available in many regions. Yet, they remain largely untapped because they are not immediately compatible with current district energy infrastructure and existing building stock according to IRENA's "Integrating Low-Temperature Renewables in District Energy Systems" published in collaboration with Aalborg university, Denmark.
Speaking during a recent workshop to launch the report, Miklos Antics, the President of the European Geothermal Energy Council, said more than 25% of the EU population lives in areas directly suitable for geothermal district heating.
The workshop was held under the framework of the Energy Solutions for Cities of the Future and under the umbrella of the Global Geothermal Alliance, with a focus on China with the support of the Chinese Renewable Energy Engineering Institute (CREEI). "District heating is of utmost importance to achieve decarbonised energy systems in China by 2060," said Professor Brian Vad Mathiesen from Aalborg University.
For his part, Haukur Hardarsson, Chairman and Founder of Arctic Green Energy, highlighted the fact that Sinopec Green Energy connected about 60 million square meters of floor area to geothermal district heating systems, saving the country and the world close to 13 million tons of CO2 over the last decade – showing the environmental value of geothermal energy for heating and cooling.
IRENA's analysis shares good practices from mature district heating and cooling markets with emerging markets and shows that a lack of data and a disconnect with building renovation strategies at the municipality level is holding back further integration of low-temperature renewables.
To overcome the challenges associated with the integration of low-temperature renewables into district heating and cooling, the report offers the following key recommendations:
Develop strategic heating and cooling plans based on clear political drivers and identify relevant stakeholders;
Elaborate technical scenarios based on heating and/or cooling demand and mapping of resources;
Integrate change of supply, modernization of the network and building renovations;
Promote the utilisation of locally available renewables for heating and cooling;
Establish enabling regulatory conditions, supportive financing options and business models
According to the report, heating and cooling challenges, such as issues with current energy supply, should be addressed in a co-ordinated and informed manner and with a long-term perspective.
"Development of district heating and cooling systems, particularly those that are compatible with low-temperature renewable energy resources, is one way to integrate more renewables in the heating and cooling sector. However, this requires a collaborative effort from all relevant stakeholders, to address the inherent challenges," said IRENA's Director of Country Engagement and Partnerships Gurbuz Gonul during the workshop.
"If action is taken, renewables can constitute up to 77% of the energy supplied to district heating energy systems by 2050, up from only 8% in 2017," he added.
The high upfront capital costs associated with the construction and refurbishment of the building stock as well as of the district heating and cooling network are substantial and it can take a decade or longer before any profits are realised, according to the report. This makes these projects a good match for investors seeking long-term revenue streams rather than quick returns.
The report also highlights the role of national and local authorities in strategic planning for heating and cooling and supporting district energy operators by de-risking investments and facilitating access to direct funding from the public sector. Project developers can also benefit from technical assistance programmes that assess the viability of projects, support the development of district energy infrastructure in new markets, and evaluate renewable energy supply options.
To read the full report, click here.