2020: Worst Year in Tourism History with 1 Billion Fewer International Arrivals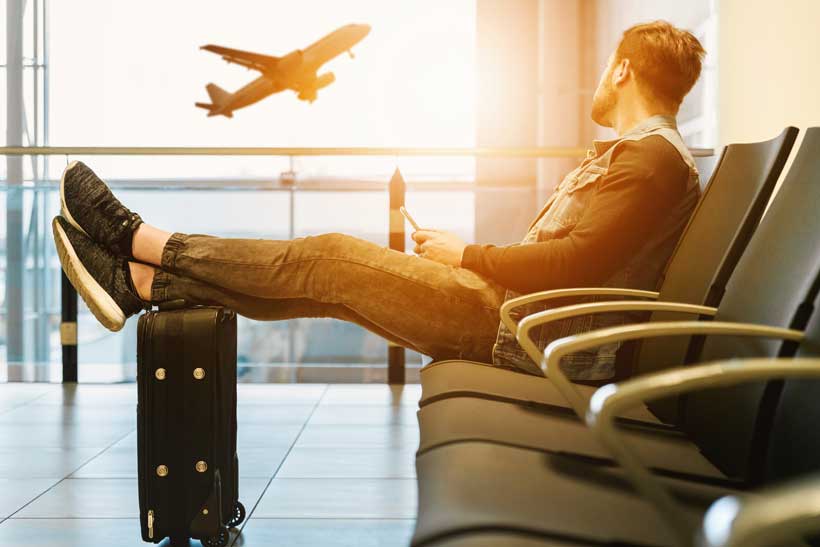 Global tourism suffered its worst year on record in 2020, with international arrivals dropping by 74% according to the latest data from the World Tourism Organization (UNWTO). Destinations worldwide welcomed 1 billion fewer international arrivals in 2020 than in the previous year, due to an unprecedented fall in demand and widespread travel restrictions. This compares with the 4% decline recorded during the 2009 global economic crisis.
According to the latest UNWTO World Tourism Barometer, the collapse in international travel represents an estimated loss of USD 1.3 trillion in export revenues – more than 11 times the loss recorded during the 2009 global economic crisis. The crisis has put between 100 and 120 million direct tourism jobs at risk, many of them in small and medium-sized enterprises.
Due to the evolving nature of the pandemic, many countries are now reintroducing stricter travel restrictions. These include mandatory testing, quarantines and in some cases a complete closure of borders, all weighing on the resumption of international travel. At the same time, the gradual rollout of a COVID-19 vaccine is expected to help restore consumer confidence, contribute to the easing travel restrictions and slowly normalize travel during the year ahead.
UNWTO Secretary-General Zurab Pololikashvili said: "While much has been made in making safe international travel a possibility, we are aware that the crisis is far from over. The harmonization, coordination and digitalization of COVID-19 travel-related risk reduction measures, including testing, tracing and vaccination certificates, are essential foundations to promote safe travel and prepare for the recovery of tourism once conditions allow."
Recovery outlook remains cautious
The latest UNWTO Panel of Experts survey shows a mixed outlook for 2021. Almost half of respondents (45%) envisaged better prospects for 2021 compared to last year, while 25% expect a similar performance and 30% foresee a worsening of results in 2021.
The overall prospects of a rebound in 2021 seem to have worsened. 50% of respondents now expect a rebound to occur only in 2022 as compared to 21% in October 2020. The remaining half of respondents still see a potential rebound in 2021, though below the expectations shown in the October 2020 survey (79% expected recovery in 2021). As and when tourism does restart, the UNWTO Panel of Experts foresee growing demand for open-air and nature-based tourism activities, with domestic tourism and 'slow travel' experiences gaining increasing interest.
Looking further ahead, most experts do not to see a return to pre-pandemic levels happening before 2023. In fact, 43% of respondents point to 2023, while 41% expect a return to 2019 levels will only happen in 2024 or later. UNWTO's extended scenarios for 2021-2024 indicate that it could take two-and-a-half to four years for international tourism to return to 2019 levels.
All world regions affected
Asia and the Pacific (-84%) – the first region to suffer the impact of the pandemic and the one with the highest level of travel restrictions currently in place – recorded the largest decrease in arrivals in 2020 (300 million fewer). The Middle East and Africa both recorded a 75% decline.
Europe recorded a 70% decrease in arrivals, despite a small and short-lived revival in the summer of 2020. The region suffered the largest drop in absolute terms, with over 500 million fewer international tourists in 2020. The Americas saw a 69% decrease in international arrivals, following somewhat better results in the last quarter of the year.
A full overview of the latest global, regional and sub-regional data can be found at the UNWTO World Tourism Barometer and the UNWTO Tourism Recovery Tracker.
UN Unanimously Approves Jamaica's Resolution for Global Tourism Resilience Day
After months of advocacy, high level discussions and partnerships, Jamaica has been successful in receiving the necessary support to have 17th February officially declared Global Tourism Resilience Day. The United Nations General Assembly (UNGA) adopted the resolution today with the support of over ninety countries.
This is the first ever Global Tourism Resilience Day which will now be recognised every year on 17th February.
Following a presentation at the UNGA's 58th Plenary meeting in New York today, Minister Bartlett highlighted the importance of the declaration: "Today's announcement will in fact signal to the world to put aside one day, 17th February, every year to not just observe but to create a greater level of consciousness around resilience. The pandemic has shown us that global disruptions will continue, so there will be more epidemics, pandemics and earthquakes like the one in Turkey today. The importance of this day is therefore to encourage capacity building for the world to be better able to respond to these global disruptions and recovery quickly."
Tourism is one of the world's major economic sectors and in 2019 accounted for 7% of global trade and one in ten jobs. However, tourism also remains one of the most vulnerable industries and this has been evident over the years with the negative impact of climatic events like hurricanes and earthquakes, pandemics and economic recessions.
"If we are to future proof the sustainability of tourism, now is the time to give greater consideration for building resilience and it is especially more critical for tourism dependent countries like Jamaica, whose economic livelihood rests on the survival of this industry. This is indeed a huge step in coalescing global support every year on this important matter and I thank all our stakeholders and partners who worked to make this happen," added Minister Bartlett.
The Global Tourism Resilience Centre (GTRCMC), headquartered in Kingston, has been a major driver in calls for capacity building in tourism resilience. Born out of the Montego Bay Declaration, the GTRCMC was established to address these inevitable disruptions through preparedness, management and recovery strategies.
"The GTRCMC has been the unwavering global voice for tourism resilience and to have achieved a day focused on bolstering our efforts, will encourage more partnerships among countries to build capacity through research and the coming together of the best minds" said Professor Lloyd Waller, Executive Director of the GTRCMC.
This is the second designation attributed to the efforts of Jamaica, since the designation of the International Year of Human Rights in 1968. The designation also comes ahead of the upcoming Global Tourism Resilience Conference which will be held at the University of the West Indies' Regional Headquarters in Kingston from 15-17th February 2023.
Indonesian women entrepreneurs adapt to a changing world
Sustainable tourism is proving to be a viable career option for women in the picturesque North Sulawesi region of Indonesia, where they are making the most of skills training provided by the UN.As the sun sets over the Celebes sea, and its orange glow turns the horizon gold, a couple of dozen tourists are on the pier at Budo, a village of 2400 perched on the ocean, 25 kilometres northeast of the regional capital Manado.
They snap photos and marvel at the view; a woman visiting from a nearby town exclaims that, even for the locals, the sun setting on the volcanoes is an extraordinary sight.
However, until a few years ago, the pier – about 300 meters long, crossing a mangrove forest to connect the village to the open sea – was dilapidated and used only by fishers heading out to sea.
But those were different times, explains Hani Lorens Singa, President of the Village Enterprise Association (BUMDES): back then there were far more fish, and no tourists.
Budo, like many coastal villages in North Sulawesi, in far northeastern Indonesia, has traditionally been dependent on small scale fishing, but fish stocks have shrunk, prompting a new focus on tourism as a way of creating livelihoods.
A programme set up by the International Labour Organization (ILO, a UN agency), is helping the rural community of Budo, and four other villages, to diversify into sustainable tourism, providing skills to local entrepreneurs, mostly women.
The pier has been renovated and painted, with support from the government, and benches and wooden huts have been added for the convenience of tourists, who pay an entrance fee of 10,000 Rupiahs ($0.65), to walk along it and enjoy the view.
Visitors can buy local delicacies and drinks at the ticket counter, and the orders are prepared and delivered to the pier by available members of the village association. "We share the work, we share the income – this is tourism at a human scale", says Mr. Lorens Singa.
Since the renovation, a fifth of the visitors spend more, ordering local delicacies and drinks at the ticket counter with the occasional visitor also staying the night.
Thanks to support from ILO and its partners, Budo has increased its income from tourism fivefold and now appears on the tourist trail: the village was the winner of the digital marketing category at the Ministry of Tourism and Creative Economy's Top 50 Village Tourism Award this year.
Despite the improvements, a lot still remains to be done, and Mr. Lorens Singa is not complacent. "We need to offer more reasons for people to stay for a meal or overnight," he insists.
Homestays, hashtags, and home cooking
About an hour's drive east of Budo, the inhabitants of Marinsow have taken a crash course in the bed and breakfast business, a steep learning curve for many of them.
"Many of the entrepreneurs we work with have never been tourists themselves, so without training, it is not obvious for them to know what tourists expect," says Mary Kent, the ILO Chief Technical Adviser for the project.
Marinsow is in a mining region, several kilometres away from Indonesia's pristine beaches, so tourists previously had no reason to stop by. But, since Marinsow was designated as a "priority tours destination" by the Government, the village has received a significant financial boost, aimed at diversifying the economy.
More than 50 villagers received small wooden bungalows on their plots to start bed and breakfast businesses, or homestays, as they are known in Indonesia. ILO, with local partners Klabat University and the Manado State Polytechnic, is helping to teach local people the skills needed to be a successful entrepreneur, such as bookkeeping, cost calculation and marketing, hospitality, and tourism.
"I was very surprised to learn that tourists prefer their sheet white and a diversity of meals," says Yeni Alelo. Ms. Alelo and the other participants have also learned the importance of using hashtags in social media marketing posts, so that tourists looking for a place to stay in the area find them more easily.
"The women's small businesses are financed through microfinance credits, and they have been able to make all the payments on time," says Gabriel Tamasengge, the village's mayor. "We are very proud of our women, of the business acumen we never knew they had."
The investment in skills for marketing and quality control in these communities is paying off, with about half of the few hundred tourists spending the night in Marinsow last year coming from outside the province, including an increasing number from abroad.
Back in Budo, there is interest in building more homestays, and increasing overnight stays, perhaps by creating a marketing campaign to convince foreign tourists from nearby world-class diving destinations within the Bunaken Marine Park to hop over for an evening meal and make a visit to a typical village, rather than sticking to the usual mass tourism destinations. The Village Enterprise Association also plans to offer cooking and handicraft classes, as well as fishing trips.
"Our task now is to make sure that when the funding from ILO and the government stops, we will have a fully formed business that allows us to stand completely on our own feet," says Mr. Lorens Singa. "We had the vision, and we have the commitment – I am confident we will succeed."
DiscoverEU awards 35,000 rail tickets to young people this autumn
Today, the Commission is releasing the DiscoverEU autumn call, thanks to which 35,000 young people will receive a rail pass to explore Europe and its rich culture.
The call is open to applicants from Erasmus+ programme countries, from today at noon to 25 October at noon. In order to win a travel pass, young people are invited to apply on the European Youth Portal, answer 5 quiz questions and a subsidiary one. Applicants who have successfully filled in the selection quiz, born between 1 January and 31 December 2004 will be able to travel in Europe for up to 30 days during the travel period 1 March 2023 and 29 February 2024.
Commissioner for Innovation, Research, Culture, Education and Youth, Mariya Gabriel, said: "2022 is the European Year of Youth and this is a crucial moment in European history. We need to focus on the younger generations, to offer them the possibility to broaden their horizon in order to build a more connected and tolerant world. This is what DiscoverEU is about. Through travelling, it allows young people to explore our diversity but also find out so many similarities."
With the European Year of Youth 2022, the number of travel passes has been boosted. In total, 70,000 passes are made available this year. DiscoverEU is now part of Erasmus+, therefore participants from Iceland, Liechtenstein, North Macedonia, Norway, Serbia and Turkey are also eligible to apply.
Recipients will continue benefitting from a discount card with more than 40,000 discount possibilities on public transport, culture, accommodation, food, sports and other services available in the eligible countries.
As part of the European Year of Youth, the Commission has launched the flagship initiative 'Youth discovers culture thanks to DiscoverEU in 2022′. That is why on 25 May 2022, the DiscoverEU Culture Route was launched. It combines various destinations and cultural branches, including architecture, music, fine art, theatre, fashion, design and more. DiscoverEU travellers can visit the European Capitals of Culture, destinations added on the prestigious UNESCO World Heritage List, or holders of the European Heritage Label. Moreover, they can also stop at locations with the Access City Award label. These are cities that have gone above and beyond to become more accessible to everyone, regardless of age, mobility or ability.
Erasmus+ National Agencies support young people through pre-departure information meetings preparing them for their journey. Through these meetings, DiscoverEU aims to promote discussions on sustainability, culture, and European identity, among others. In addition, as part of the European Year of Youth, the agencies organise the DiscoverEU Meet-ups, an initiative launched in summer 2022 composed of an exciting cultural programme between one and three days across all Erasmus+ countries. 49 of these Meet-ups have taken place so far and will continue in future years.
As social inclusion is a top priority of the Erasmus+ programme, participants with disabilities or health issues can be accompanied on their journeys. Apart from the travel costs, additional individual help is also provided. This year, the Erasmus+ National Agencies are also launching the DiscoverEU Inclusion Action, allowing organisations working with young people with fewer opportunities, to apply for grant.
The Commission encourages sustainable travel by rail. Special arrangements are available for young people from outermost regions, Overseas Counties and Territories, remote areas and islands.
Background
The Commission launched DiscoverEU in June 2018, following a preparatory action from the European Parliament. It has been integrated into the new Erasmus+ programme 2021-2027.
Since 2018, nearly 754,000 candidates applied for 165,000 travel passes available. According to the past travel survey, 66% of candidates declared that they travelled for the first time by train out of their country of residence. For many, it was also the first time they travelled without parents or accompanying adults and the majority indicated that they had become more independent.
The DiscoverEU experience has given them a better understanding of other cultures and of European history. It has also improved their foreign language skills. Two-thirds said that they would not have been able to finance their travel pass without DiscoverEU. Participants are invited to become DiscoverEU Ambassadors to champion the initiative. They are also encouraged to contact fellow travellers on the official DiscoverEU group online to share experiences and exchange tips, particularly on cultural experiences, or on how to travel digitally and sustainably.
To apply, eligible candidates need to complete a multiple-choice quiz on general knowledge about the European Union and other EU initiatives targeting young people. An additional question invites applicants to make an estimate of how many people apply in this round who are born on a Tuesday. The closer the estimate is to the correct answer, the more points the applicant gets. This will enable the Commission to rank the applicants. The Commission will offer travel passes to applicants following their ranking, until the available tickets run out.