India Needs a Review of its Foreign Policy Options against China
The situation on border is still tense and India requires a serious review of its foreign policy against China which has been consistently negating the traditional positions of the two states on borders. After the Galwan episode China dares again in Sikkim at Naku la but to face a bitter pushback. On January 21, 2021 the incident took place at Naku La (a pass in the northern Sikkim). Sikkim is a small state located between Nepal and Butan that merged with India in 1975 after a decisive referendum. The development took almost three decades for China to pass recognition in the year 2003. India and China share a long 3488 kilometers long border and Sikkim lies about 2500 kilometers (1500 miles) to the east of Ladakh. The border at Sikkim has witnessed a huge defence built up and military training exercises over the last few years, especially in the aftermath of Dokhlam crisis of 2017.
The Ambiguous Borders
The border between the two states is not fully demarcated and the process of clarifying and confirming the Line of Actual Control is in progress but to evade a conclusive agreement. McMohan line (850 kms. or 550 miles) drawn by British in 1914 at Simla determines the borders in the east. The dispute in the western zone of Ladakh Aksai Chin and Galwan and Pangong Tso owes to the failure of the British empire to demarcate a clear border line between the empire and China. In the pre-independence era two border lines were proposed known as 'Johnson Line' and 'Macartney -McDonald Line'. The Johnson line (proposed in 1865) shows Aksai Chin in Jammu and Kashmir i.e. under India's control whereas Macartney-McDonald Line (proposed in 1893) places it under China's control. While British initially remained silent over the former but in the light establishment of a Soviet Garrison near Sinkiang, as part of the larger game plan against the Soviet communists, they decided to officially follow the Johnson line that placed the huge land chunk of Aksaichin with India. However, the British failure to draw an agreed upon line with China passed a disputed legacy to India in 1947. And as Steven A. Hoffman remarks this 'British ambiguity' about Indian frontiers with China, paved the way for this post-colonial dispute. Since China followed a distinct policy over Tibet denying it an independent existence it unilaterally tried to impose the solution with Tibet and India which have resulted in intermittent conflicts between the two states.
The Chinese position on Tibet has turned more critical as US President Donald Trump has signed the Tibetan Policy and Support Act of 2020 (The Hindu). This gives United States' Tibet policy a ground from where the US can clamor for its long commitment to support the cause of Tibet and the Tibetan government in exile (Central Tibetan Administration, CTA). The Act will now make it the official policy of the US Government to derail any Chinese proposition of interfering in the religious life of the Tibetans especially, the selection of the new Dalai Lama. It also supports the cause of Central Tibetan Associations government-in-Exile at Dharamshala, India. If the US can be so decisive about its Tibet policy why can't India. India too has to review and reformulate its Tibet policy in view of the recent Chinese misdemeanors around the borders.
Modi's Foreign Policy & the Indo-Pacific
After the latest border standoff Modi's foreign policy has scored significantly as states like the US, France, Japan, Australia have turned pro-Indian against China. At the subcontinental level, however, it has faced the brunt of smaller states like Nepal, Maldives and Srilanka who have been under Chinese influence due to its 'debt trap diplomacy'. India has to realize this realistically how China is undermining its position in the subcontinent. Its relations with Maldives, Bangladesh, Afghanistan, Burma, and the Indian Ocean island states are currently satisfactory. The Chinese concern in South Asia is governed by its $62 billion dream project of CPEC that links Xinxiang province with Gwadar port. It runs through Karakoram area of Pak Occupied Kashmir, an officially claimed territory by India. In 2018 India even turned down the Chinese proposal of changing the name of the project as per Indian wishes. In the wake of the troubled waters in South China Sea and strained ties with Taiwan, South East Asian states and Hong Kong disorder CPEC provides a safe route for China to connect with South Asia, Middle East and Africa. Modi government has counterbalanced the Chinese overtures by following a more assertive approach in foreign affairs especially in the 'Indo-pacific' where it transforms the 'look east policy' into 'act east policy', secures a deal to build Sabang Port of Indonesia near Malacca strait, enters into oil exploration in South China sea with Vietnam and secures an understanding on strategically important Cocos island with Australia. He is the biggest challenge to China's ambitious BRI project since the road to Indian supremacy in the continent runs through its veins (Thakur 2019).
The Alternatives
The current BJP government has effectively checked the 'strategic maneuvers' of economically expanding and territorially asserting China at Doklam in 2017, Nakula in May 2020, at Galwan on June 15, 2020 and now again at Nakula on January 21, 2021. Since China has not dropped its 'inching forward policy' against its neighbors India needs to give a serious rethinking to its China policy. While China lays claim to Galwan and consider Arunachal as part of South Tibet India has to reexamine its policy of appeasement as has been charged by many. The policy of derecognizing of Tibet as part of China and claiming territories to the north of Aksaichin under Johnson line, officially followed by British in 1942, should be on the cards.
India has been following the 'One-China policy' (a policy that believes that there is only one sovereign state under the name China, as against the view that there are two states, the People's Republic of China (PRC) and the Republic of China (ROC) also called Taiwan) since 2003 when China also recognized Indian integration of Sikkim. The recent US Act over Tibet and Indo-US strategic partnership troubles China and China has counseled India to stick to the 'One China policy' and refrain from entering into any agreement with Taiwan. Zhao Lijian, the spokesperson of the Ministry of Foreign Affairs of the Government of China calls the Tibetan Government in Exile based in India at Dharamshala "a separatist political organization", working towards Tibetan freedom, a gross violation of Chinese constitution. China also expects India to dissociate itself from any collaboration with Taiwan government. In the meantime, the meeting between Lobsang Sangay of CTA and the US diplomat Robert A Destro also worries China that takes it as a step against the US commitment of not supporting the cause of Tibetan independence and TGiE (Tibetan Government in Exile). Since China doesn't honour the Mac Mohan line and the western borders India's sticking to the principle of 'one China policy' that considers Taiwan as part of PRC appears off the mark and deserves a withdrawal. Sympathy with the citizens of Hong Kong and Nepal over occupation of its territories by China (Rui village and 11 more strategic points) should be vocal and India should attempt at building a joint surveillance and monitory system over the borders of these smaller neighbors as a means of collective deterrence.
Although India and China are officially committed to the One-China, One-India policy, the latter has never kept the words thorough its border prickings. Today, when India is troubled by the question of Kashmir China has more sores at its end in the shape of South China Sea, Xinjiang, Hong Kong, Taiwan, issues with Japan and South Korea and Southern Magnolia. It provides significant leverage to Indian foreign policy school to probe for the 'appropriate policy exchanges' to undermine the Chinese position on its borders and South Asia. Alas! The policy of placation doesn't give way to the counsel of Kautilya and Sardar Vallabh Bhai Patel, who had advised Prime Minister Nehru to be aware from the Chinese expansionism and stand for Tibetan security to develop a buffer between the two states. India has emerged strongly out of the pandemic and its 'Vaccine Maitri' (free supply of vaccine to all the neighbors except Pakistan) would surely strengthen its ties with them. China has been critical of this benevolence but despite of Chinese propagation against the vaccine about 92 countries, including Brazil, Indonesia, Cambodia and Bolivia, have approached India for commercial supply of vaccines (News18). The foreign policy decisions on QUAD, Indo-Pacific, One China Policy, Tibet and South China Sea are primary keeping in view the new NAM policy which is fraught with dangers .
References
News 18. January 26, 2021. "Covid Diplomacy: How India's 'Vaccine Maitri' Jabs Have Put China on the Ropes".https://www.news18.com/news/india/covid-diplomacy-how-indias-vaccine-maitri-jabs-have-put-china-on-the-ropes-3339179.html
Thakur, Harish K. 2019. "Understanding the India China Border Fiasco: The Unfair Timing and the Befitting Reply". Iablis (Globkult). https://www.iablis.de/iablis/themen/2020-schach-dem-wissen/forum-2020/644-understanding-the-india-china-border-fiasco-the-unfair-timing-and-the-befitting-reply.
The Hindu. December 28, 2020. "Trump signs Tibet policy to preempt Chinese move on Dalai Lama's succession". https://www.thehindu.com/news/international/trump-signs-tibet-policy-to-preempt-chinese-move-on-dalai-lamas-succession/article33435635.ece
Modi's Illiberal Majoritarian Democracy: a Question Mark on the Future of Indian Minorities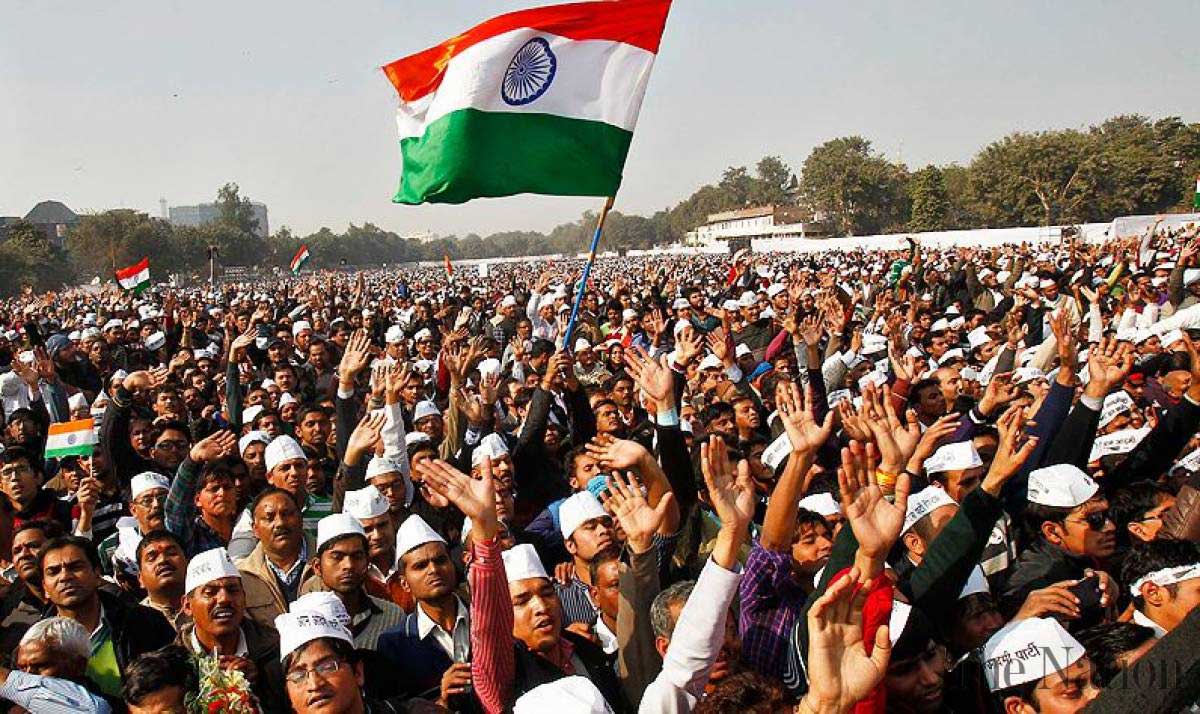 The word majoritarian is an adjective which relates to or constitutes a majority, majoritarian politics, or majoritarian democracy. It can be defined as a traditional political idea, philosophy or a practice according to which any decision whether political, social, or economic of an organized society should be made by a numerical majority of that society or it can be defined as a traditional political philosophy that stresses that a majority usually branded by religious, language, social class that also includes other recognizing factors of individuals in a society are subject to a level of superiority in a society because of which they have a say in every affair of a society. The concept of majoritarian dispensation in India under Narendra Modi has deep links with four other political philosophies i.e. Populism, Nationalism, Authoritarianism, and Sultanism. Before exploring Narendra Modi's majoritarian policy of governance in India and its effects on the future of Indian minorities, I will first uncover the link of majoritarianism to political philosophies as mentioned.
A majoritarian leader is actually a populist leader who works hard for the concerns of people that who thinks are being ignored by the established elite groups in a society, and who always present himself as a new man mostly of a modest and plebeian background against old political establishment, in spite of the fact that who is a seasoned political figure, but usually not centre stage. This is exactly what Narendra Modi is, because in his 2014 election campaign, he presented himself as a new man against the Ghandi's family's old political system despite the fact he was CM Gujrat at that time. He also presented himself as someone who belongs to a very plebeian background that he had to work in his father's tea shop when he was a child. Whereas, nationalism is a political idea or a philosophy that promotes and protects the interests of a particular nation, nationalism is the bedrock of most of the populists and NarendraModi is no exception. NarendraModi is a majoritarian national-populist leader who since his childhood has been the member of RSS, and now is a full time pracharak of RSS ideology that stresses that Hindu are the true and only sons of this Indian soil.
Majoritarian national- populist leaders like Narendra Modi are basically authoritarian leaders who reject political pluralism, and this is exactly what Modi is doing in India.Modi and the BJP has made it clear that no other party should compete with it, or is even needed, as indicative from its slogan of a 'Congress Mukt Bharat' (a Congress-free India).Whereas, Sultanism is a form of authoritarian government and according to Max Weber NarendraModi is a new sultan of India who is pushing India towards illiberal democracy by rejecting all kind of civil liberties particularly of Indian Muslim minority.
Modi's majoritarian policy of governance in India is basically the promotion of majoritarian democracy that asserts Hindus a special and superior status in India because they constitute 80.5% of total Indian population and that this majoritarian policy protests Hindutva ideology that stresses that Hindus are the only sons of this soil and that strengthen the Hindu community. This majoritarian democracy is a big question mark on India as the world biggest liberal democracy because continuous violence, rejection of civil liberties, and crimes against the minorities that are Muslims, Sikhs, and Christians have been on the increase. About 1.8 million people who are minority communities are tortured in police custody every year. The word murder of minorities has been replaced by the term encounter killings. Torture have increased to such a huge extent that it questions the credibility of the rule of law and criminal justice. Hindu nationalists are revolting all around India especially against Muslims because they are the largest minority in India constituting 13.4% of total population and because Hindus have resentment toward their religion, Christians and Sikhs are no exception to their violence because they too constitute 2.3% and 1.9% of total Indian population.
Unfortunately, India under Narendra Modi is crawling from the world's biggest liberal democracy to illiberal majoritarian democracy which is promoting and safeguarding only Hindu's civil rights and liberties and that which is negating minority's civil liberties and civil rights especially rights and liberties of Muslims of India. One such example of this is the Citizenship Amendment Bill (CAB).Under the act, for the first time in India, religion is a basis for granting citizenship. According to some this citizenship amendment bill by BJP is an intentional act in order to marginalize Muslims from mainstream politics. In addition to this, Muslims are not only being tortured at their religious places for their religious affiliations, but they are also being tortured at their educational institutions which is evident from a video of 15 December 2020, where Delhi police brutally tortured Muslims students of Jamia Millia Islamia university.
Keeping in mind Narendra Modi's illiberal majoritarian democracy, the future of liberal democracy or pluralistic India appears to be gloomy, where the future of Indian minorities especially Muslims is a big question mark.
CoVID-19 Control: Can Pakistan Learn From China?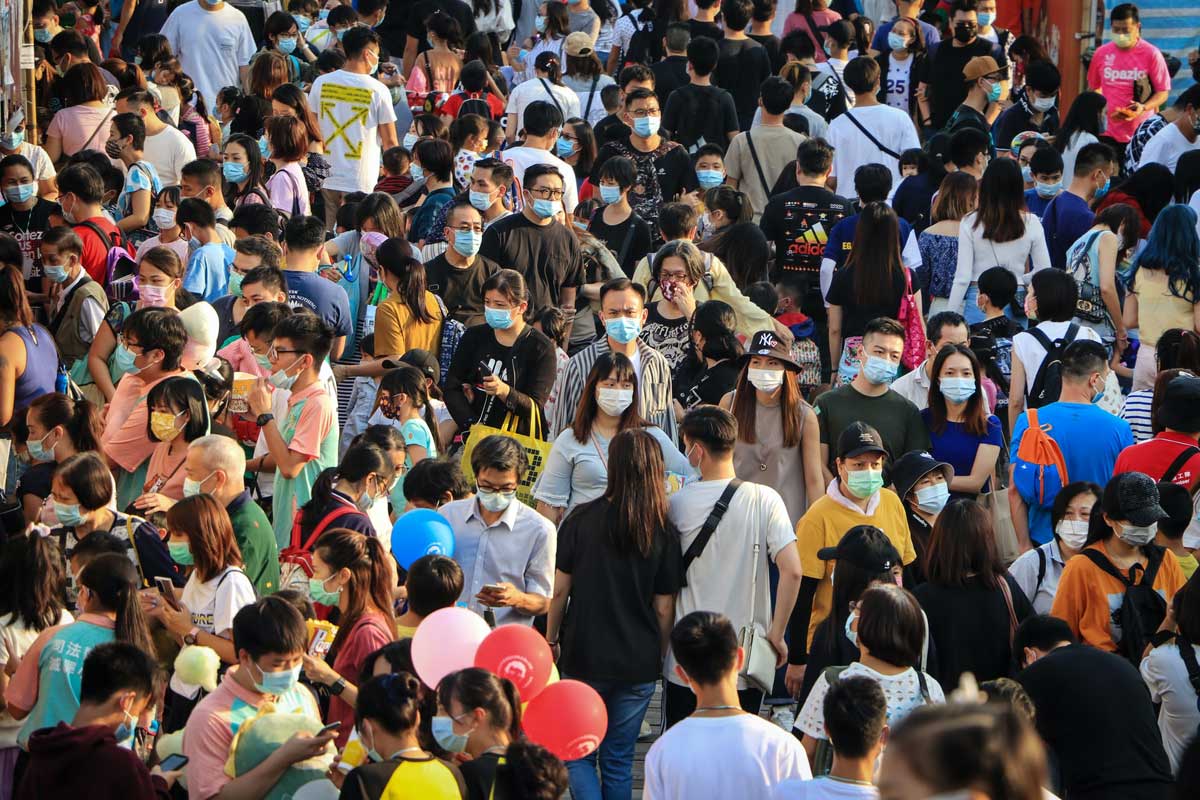 It has been over a year since the first case of CoVID-19 was confirmed in Pakistan. The tally has reached 721,018 confirmed cases, 15,443 have died and 4,143 critical cases by 11thApril2021. Across many countries, since January 2020, a massive surge of research into CoVID-19 had enabled the scientific and medical community to better understand how to manage and eliminate the virus through public health interventions. Today, we have learned, CoVID-19 causes acute symptoms and death. We have learned, immunity lasts at least eight months and we also have five licensed vaccines. We have learned, the long-term effects of CoVID-19 and the morbidity attached to having this virus. We have learned, virus transmission occurs through droplets and aerosols spread through coughing, sneezing, breathing and speaking. We also have learned, stopping the spread of CoVID-19 requires people to avoid mixing though restrictions on social life. We have learned, the virus can mutate into various strains that can be more transmissible – and we also have understand cat-and-mouse game between vaccine and variants.
To alleviate the destructive effects of CoVID-19 on the economy, Pakistan has sought debt relief of slightly around $2 billion from its G20 creditors. In addition to the G20 countries, China was the largest bilateral creditor with $9 billion, followed by Japan with $5 billion. By early April 2020, when there were just about 2,000 CoVID-19 positive cases in Pakistan, the World Bank approved $200 million package to help Pakistan. Likewise, the International Monetary Fund (IMF) had approved the payout of $1.386 billion as financial support to Pakistan to meet its urgent balance of payment needs halting from the CoVID-19 outbreak. Further, to support Pakistan's public health response to the CoVID-19 and allow to meet the basic needs of the vulnerable and poor segment of society, the Asian Development Bank (ADB) approved $500 million emergency assistance loan to Pakistan. Similarly, The Islamic Development Bank (IDB) also provided a $650 million financial package to support Pakistan in its efforts against the CoVID-19. All these grants were provided to Government of Pakistan to assist in effective and timely action in response to the spread of the CoVID-19. The objective was to strengthen Pakistan's public health infrastructure and to alleviate socioeconomic disruptions due to the pandemic. Despite huge grants and substantial endowments, Pakistan's response to the CoVID-19 has been unsatisfactory. Lack of basic healthcare infrastructure, disease surveillance and management system, and inconsistent implementation of policies and SOPs resulted in the rapid and incessant spread of third-wave of CoVID-19 throughout the county.
China's extraordinary organized and preventive risk management approach, established on coalition between government officials, virologists, epidemiologists and public health experts, has demonstrated to be successful in containing and controlling CoVID-19.The experience in China emphasized the significance of listening to science and public health experts during pandemic event. Firstly, China's response demonstrates the value of national research and public health capability. Huge investment in research and development rendered China much better prepared for CoVID-19. China's experience indicates the value of investing in national health and research scheme to boost laboratory capacity along with workforce. They are essential to a rapid and effective national response to health emergencies and to national health security. Secondly, a strong foundation of research and development cannot ensure effective control without powerful top-level political dedication to use science to confront the outbreak. Government and leaders must respect science, understand its significance, and act on science-based advice in a way that is best for society. Thirdly, attaining speedy and successful implementation of control measures for CoVID-19 requires extensive community engagement. Public solidarity during the CoVID-19 outbreak in China had been unprecedented. Control measures that could sacrifice personal freedom were accepted readily by the nation.
To be brief, cricket is to South Asia and football is to Europe. In fighting CoVID-19, everyone is equal. Everyone has the identical liability and shares the equal threat. The effective implementation of prevention and control measures in China is a model for Pakistan other parts of world to follow. From the beginning, a science-based, risk-informed and phased approach was taken, with a clear appreciation and enthusiasm. Today, China has restarted its economy, reopened and almost returned to normality. The key of success story is to make everybody responsible, get every single division involved and held executives accountable. These are the most prominent lessons Pakistan could learn from China at national and local levels. After the failure of "Smart-Lockdown" strategy, Pakistan needs to choose a strict strategy, should follow the example of China and continue the lockdown until the number of CoVID-19 infections is brought close to zero; the strategy should then be to maintain infection rates at very low level until vaccination is done. China's epidemic management provides an important experience from which countries such as Pakistan can learn. This applies in particular to Pakistan, which would risk to lose many of its achievements in case of a severe third wave of the epidemic. Government of Pakistan should involve not only public health experts, virologists and epidemiologists, but also scientist and respect science advice when making any decision that is required to keep the epidemic under control. The rest of the world can also learn from China's success in bringing outbreak under control.
United States snubs India for its excessive maritime claim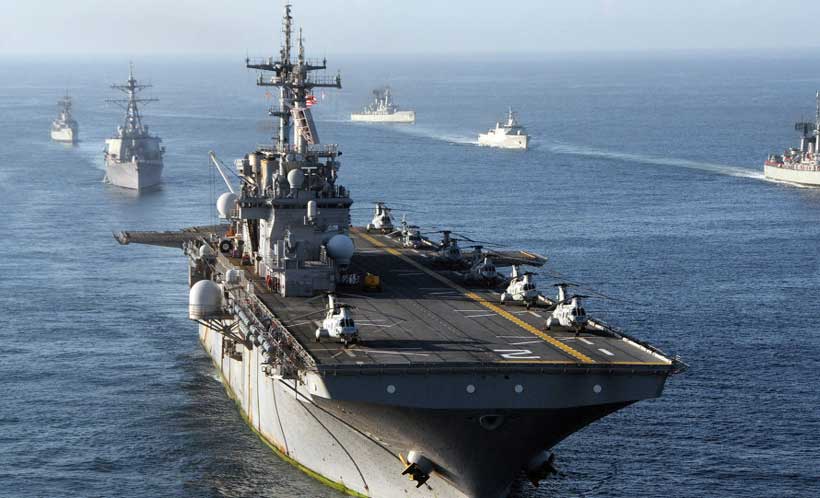 On April7, 2021, a 9,000-ton guided-missile destroyer, USS John Paul Jones (US 7th Fleet), waded (not strayed as it was deliberate) into the vicinity of India's Lakshadweep Islands. The ship was 131 nautical miles away from India's coast (12 nautical miles territory) but well within its exclusive economic zone (200 nautical miles, 370.4 kilometre).
Shockwaves
The trespass by the US destroyer triggered indignation through all walks of life. It conjured up memories of the arrival of the 7th fleet during the Indo-Pak war of 1971. The fleet gave a message, loud and clear, to India that it should not dare finish West Pakistan, its long cherished desire. Even Nehru, an ostensibly liberal leader, regarded the creation of Pakistan a blunder. His rancour against Pakistan reaches a crescendo in his remarks: "I shall not have that carbuncle on my back." (D. H. Bhutani, The Future of Pakistan, page 14). During 1971, Pakistan was a US ally. Now India is in the anti-China US-backed basket.
Yet, the `destroyer' conjured up memory in India's mind of `bitter' American intervention. Congress leaders voiced surprise at the U.S. move. In a tweet, Manish Tewari said, "This never happened in the 10 years of UPA [Congress-led rule] or perhaps even before that as far as I can recall. The last time I remember it being so rather in your face was 1971 – Task Force 74 – 7th Fleet. What then happened is History. Hope the NDA/BJP shows some Oomph?" Echoing the surprise, former Union Minister Jairam Ramesh, said, "And this happened when the former U.S. Secretary of State and Climate Envoy, John Kerry, was meeting Ministers in New Delhi."
The euphoria created by US gung-ho support for Quad, and Pakistan's exclusion from the climate conference petered out.
India's foreign office tried to play down the event by stating that it was not a "military manoeuvre". So, the USA was not bound to inform India about it. But, to India's chagrin, the U.S. The Navy announced that its ship the USS John Paul Jones had carried out Freedom of Navigation Operation (FONOP) in the Indian EEZ, adding that its operations had "challenged" what the U.S. called India's "excessive maritime claims." The U.S. defends its actions saying they were in compliance with international laws. Even Pentagon spokesperson John Kirby justified what India calls "intransigence' by announcing the US Navy's move was in compliance with international law. He told reporters, "I can tell you that the USS John Paul Jones, a Navy destroyer, asserted navigational rights and freedoms in the vicinity of the Republic of the Maldives by conducting innocent passage through its territorial sea in normal operations within its exclusive economic zone without requesting prior permission. We conduct routine and regular FONOPs, as we have done in the past and will continue to in the future. FONOPs are not about one country, nor are they about making political statements'.
India compelled to protest
As a face-saving gesture, India was forced to protest the U.S. decision to conduct a patrol in the Indian Exclusive Economic Zone (EEZ) in the western Indian Ocean, rejecting the U.S.'s claim that its domestic maritime law was in violation of international law. India's external-affairs ministry retorted, 'The Government of India's stated position on the United Nations Convention on the Law of the Sea (UNCLOS) is that the Convention does not authorise other States to carry out in the EEZ and on the continental shelf, military exercises or man oeuvres, in particular those involving the use of weapons or explosives, without the consent of the coastal state.' The ministry insisted that the USS John Paul Jones was "continuously monitored" transiting from the Persian Gulf towards the Malacca Straits.
The incident is a rare falling out between the two partners in the Quadrilateral Grouping that had recently committed to upholding freedom of navigation in the Indo-Pacific together.
Bone of contention
The USA shrugged off India's ennui. According to the annual FONOP reports released by the U.S. Department of Defence for each fiscal year, the U.S. had been regularly conducting FONOPs in Indian EEZ. The FONOPs were carried out in several c continental shelves of several countries including its allies and partners. The USA regarded Indian maritime claim as "excessive" and in violation of International Law. From 2007 onwards till 2017, the U.S. carried out multiple FONOPs every year challenging "excessive" Indian maritime claims. No FONOP was carried out in 2018 and 2020 and one FONOP in 2019.
Difference of opinion is due to the fact that the USA has not ratified the UN Convention on the Law of Seas. India and China have ratified it with some reservations. But, the USA does not care a fig about provisos attached by China and India.
Ashamed of USA's crass rebuttal, India is coining excuses to mitigate its embarrassment. To relieve pressure on Indian government, former Navy Chief Admiral Arun Prakash interpreted the US "trespass" as if it were a message to China that the USA has unfettered "freedom of navigation". Prakash Tweeted
"While India ratified UNCLOS in 1995, the U.S. has failed to do it so far. For the 7th Fleet to carry out FoNOPs missions in Indian EEZ in violation of our domestic law is bad enough. But publicising it? USN please switch on IFF (Identification, friend or foe)! Prakash added FONOPs by U.S. Navy ships, "ineffective as they may be," in South China Sea, are meant to "convey a message to China that the putative EEZ" around the artificial SCS islands is an "excessive maritime claim." "But what is the 7th Fleet message for India?" he asked.
Might is Right
Obviously, the USA is acting upon might-is-right policy. India itself acted upon this policy to devour princely states, and annex Nepalese territory. Junagadh and Kashmir disputes are still unresolved on UN agenda. Indian Union is an artificial sally.
In its entire history India had never been a single nation, or one country, until united at gun point by the British. The artificial nature of modern India created by the British colonialists and adopted by post-colonial India generated insurgencies and separatist movements.
At the time of partition, India was in grip of virulent insurgencies and separatist movements (Dravidian South, Khalistan, Seven Sisters in the North East, so on). Wikipedia lists 68 major organizations as terrorist groups. Of them, nine are in the northeast (seven sisters states), four in the center and the east (Maoist/Naxalites), seventeen in the west (Sikh separatist groups), and thirty eight in the northwest (Kashmir). India kept afloat as a union only at the barrel of gun. The Indian army chief paid a five-day visit to Bangladesh as a prelude to conducting a massive operation against the Naxalbari militants.
UK and USA's Diego Garcia headache
International Court of Justice advisory opinion on Chagos Islands has catapulted Indian Ocean into limelight. The ICJ `advisory' is a blow to UK's forcible occupation of Chagos Islands, including the strategic US airbase of Diego Garcia atoll (leased out to the USA by the UK).
The ICJ President Abdulqawi Ahmed Yusuf observed, `The UK has an obligation to bring to an end its administration of Chagos archipelago as rapidly as possible'. The court ruled that separation of Chagos Islands from Mauritius during decolonisation in the 1960s constituted an "unlawful detachment" and was a "wrongful act".
In 1966, the U.S. signed a secret agreement with Great Britain allowing the Pentagon to use the Indian Ocean territory as an airbase in exchange for a big discount on Polaris nuclear missiles. Three years later, hundreds of Navy Seabees arrived by ship and began pouring out two 12,000-foot runway that would become a bulwark of American Cold War strategy in the region, and a key launching pad for the first and second Gulf wars, the 1998 bombing of Iraq and invasion and carpet-bombing of Afghanistan.
The base can house more than 2,000 troops and 30 warships at a time. It has two bomber runways, a satellite spy station and facilities enabling the use of nuclear-armed submarines. It served as a CIA black site (like Guantanamo Bay) to interrogate and torture terror suspects including those from Afghanistan, Pakistan and Indonesia.
The base holds key to America's Afghan exit plan, by year 2024, to avoid a rout at the hands of Taliban.
Hand aloft
To India's chagrin, the USA wants to exert its authority on Indian Ocean also. Forty seven countries have the Indian Ocean on their shores. The Indian Ocean is the third largest body of water in the world. It occupies 20 percent of the world's ocean surface – it is nearly 10,000 kilometers wide at the southern tips of Africa and Australia and its area is 68.556 million square kilometers, about 5.5 times the size of the United States. India's motto is 'whoever controls the Indian Ocean dominates Asia'. Admiral Alfred T. Mahan (1840-1914) of the United States Navy highlighted the strategic importance of the Indian Ocean in these words: "whoever attains maritime supremacy in the Indian Ocean would be a prominent player on the international scene. The Indian peninsula (i.e. the Deccan and below) juts 1,240 miles into the Indian Ocean. 50 per cent of the Indian Ocean basin lies within a 1,000 mile radius of India, a reality that has strategic implications. Under the law of the sea, it has an exclusive economic zone of 772,000 square miles. Chennai is a mere 3,400 miles away from Perth in Australia, slightly more than the distance between New York and Los Angeles.
To dominate Straits of Malacca (bordering Indonesia and Malaysia), India established its Far Eastern Marine Command at Port Blair in the Andamans. It has developed Port Blair as a strategic international trade center and built an oil terminal and trans-shipment port in Campal Bay in the Nicobar Islands.
Concluding remarks
In diplomacy, there are no permanent friends or foes, only permanent interests. Afghan exit plan requires the USA continues to retain Diego Garcia.