Climate change is a 'global emergency'- Poll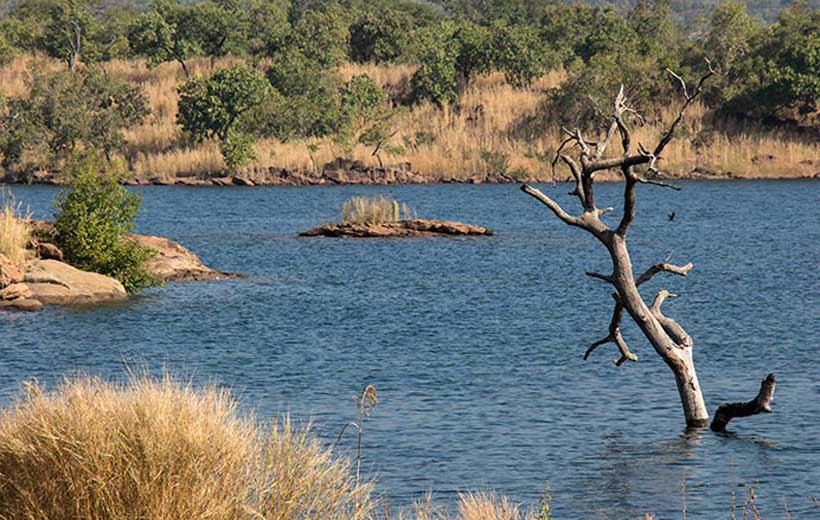 Almost two-thirds of over 1.2 million people surveyed worldwide say that climate change is a global emergency, urging greater action to address the crisis, results from a new UN climate survey revealed on Wednesday.
Described as the biggest climate survey yet conducted, UN Development Programme (UNDP)'s "People's Climate Vote" poll also showed that people supported more comprehensive climate policies to respond to the challenges. The survey covered 50 countries with over half the world's population.
"The results of the survey clearly illustrate that urgent climate action has broad support amongst people around the globe, across nationalities, age, gender and education level," Achim Steiner, UNDP Administrator said in a news release.
The poll also showed "how" people want their policymakers to tackle the climate crisis.
"From climate-friendly farming to protecting nature, and investing in a green recovery from COVID-19, the survey brings the voice of the people to the forefront of the climate debate. It signals ways in which countries can move forward with public support as we work together to tackle this enormous challenge," Mr. Steiner added.
'Biggest survey ever' on climate change
UNDP said that the poll was the world's biggest survey ever of public opinion on climate change. It was conducted as countries prepare for negotiations at November's COP26, the 26th session of Conference of the Parties to the UN Framework Convention on Climate Change (UNFCCC).
The survey asked respondents if climate change was a global emergency and whether they supported 18 key climate policies across six action areas: economy, energy, transport, food and farms, nature, and protecting people.
Its target audience of 1.2 million included over half a million people under the age of 18, a key constituency on climate change that is typically unable to vote yet in regular elections. Innovations, such as distribution across mobile gaming networks, were used to ensure that the young audience were reached.
According to UNDP, polling experts at the University of Oxford weighted the huge sample to make it representative of the age, gender, and education population profiles of the countries in the survey, resulting in small margins of error (+/- 2 per cent).
People want broad climate policies
The results showed that people supported "broad climate policies", beyond the current situation, UNDP said.
For instance, in eight of the ten survey countries with the highest emissions from the power sector, majority backed more renewable energy. In four out of five countries with the highest emissions from land-use change and enough data on policy preferences, the majority supported conserving forests and land. Nine out of ten of the countries with the most urbanized populations backed more use of clean electric cars and buses, or bicycles.
The survey also found a direct link between a person's level of education and their desire for climate action, according to UNDP.
There was very high recognition of the climate emergency among those who had attended university or college in all countries, from lower-income countries such as Bhutan (82 per cent) and Democratic Republic of the Congo (82 per cent), to wealthy countries like France (87 per cent) and Japan (82 per cent).
Findings also revealed that while younger people (under 18) were more likely to say climate change is an emergency, other age groups were not far behind, with 65 per cent aged 18-35; 66 per cent aged 36-59; and 58 per cent over 60, expressing affirmation.
"[This] illustrated how widely held this view has become," said UNDP.
A beginner's guide to sustainable farming
Industrialized farming has been a reliable way to produce lots of food at a relatively low cost. But it's not the bargain it was once believed to be. Unsustainable agriculture can pollute water, air and soil; is a source of greenhouse gases, and destroys wildlife. All told that costs economies about $3 trillion every year. And to top it all off, some farming practices have been linked to the emergence of zoonotic diseases, such as COVID-19.
18 June is Sustainable Gastronomy Day, which celebrates local cuisine that is produced in ways that are both environmentally friendly and minimize waste. To mark the occasion, we take a closer look at how to make agriculture more sustainable and what that would mean for the economy, the environment and human health.
What exactly is sustainable agriculture?
It is farming that meets the needs of existing and future generations, while also ensuring profitability, environmental health and social and economic equity. It favours techniques that emulate nature–to preserve soil fertility, prevent water pollution and protect biodiversity. It is also a way to support the achievement of global objectives, like the Sustainable Development Goals and Zero Hunger.
Does sustainable agriculture really make a difference to the environment?
Yes. It uses up to 56 per cent less energy per unit of crops produced, creates 64 per cent fewer greenhouse gas emissions per hectare and supports greater levels of biodiversity than conventional farming.
Why does sustainably produced food seem more expensive?
It may be more costly because it is more labour-intensive. It is often certified in a way that requires it to be separated from conventional foods during processing and transport. The costs associated with marketing and distribution of relatively small volumes of product are often comparatively high. And, sometimes, the supply of certain sustainably produced foods is limited.
Why are some foods so much more affordable–even when they require processing and packaging?
The heavy use of chemicals, medicines and genetic modification allows some foods to be produced cheaply and in reliably high volumes, so the retail price tag may be lower. But this is deceiving because it does not reflect the costs of environmental damage or the price of healthcare that is required to treat diet-related diseases. Ultra-processed foods are often high in energy and low in nutrients and may contribute to the development of heart disease, stroke, diabetes and some forms of cancer. This is particularly concerning amid the COVID-19 pandemic; the disease is especially risky for those with pre-existing health problems.
Do we all have to be vegan?
No. But most of us should eat less animal protein. Livestock production is a major cause of climate change and in most parts of the world, people already consume more animal-sourced food than is healthy. But even small dietary shifts can have a positive impact. The average person consumes 100 grams of meat daily. Reducing that by 10 grams could improve human health while reducing greenhouse gas emissions.
Is sustainable agriculture possible in developing countries?
Yes. Because sustainably produced food is typically more labour-intensive than conventionally made food, it has the potential to create 30 per cent more jobs. And because it can command higher prices, it can also generate more money for farmers.
Is it possible to make sustainably produced food that is affordable for everyone?
Yes. As demand for certain foods increases, the costs associated with production, processing, distribution and marketing will drop, which should make them less expensive for consumers. Policymakers can also play a role, facilitating market access and leveling the financial and regulatory playing field.
If it is so important, why hasn't sustainable farming been adopted as a global standard?
There is a lack of understanding of the way that agriculture, the environment and human health intersect. Policymakers do not typically consider nature as a form of capital, so legislation is not designed to prevent pollution and other kinds of environmental degradation. And consumers may not realize how their dietary choices affect the environment or even their own health. In the absence of either legal obligations or consumer demand, there is little incentive for producers to change their approach.
What are some ways to consume food more sustainably?
Diversify your diet and cook more meals at home. Eat more plant-based foods; enjoy pulses, peas, beans and chickpeas as sources of protein. Eat local, seasonal foods. Purchase sustainably produced foods and learn more about farming practices and labeling. Avoid excessive packaging, which is likely to end up as landfill. Don't waste food: eliminating food waste could reduce global carbon emissions by 8-10 per cent. Cultivate your own garden, even if it is a small one in your kitchen. Support organizations, policies and projects that promote sustainable food systems. And discuss the importance of healthy and sustainable foods with producers, vendors, policymakers, friends and family.
CEOs to G7 and World Leaders: Support "Bold" Net-Zero Commitments
Over 70 CEOs said they stand ready to work with public sector leaders around the world to reduce emissions. Members of the Alliance of CEO Climate Leaders signed an Open Letter championing public-private cooperation ahead of the G7 summit in order to supercharge net-zero commitments, polices and actions.
The signatories are looking for governments to accelerate the transition to net-zero before COP26 in order to accelerate even more action from the private sector. The letter emphasizes public-private collaboration as vital and welcomes transformative policy change.
"It is an important and significant move for this many CEOs to put their names forward for deeper collective collaboration," said Dominic Waughray, Managing Director, World Economic Forum. "It sends a clear signal to policy-makers that many global business leaders are ready to make the transition to a net-zero future. As we move towards COP26, public-private collaboration will be key to unlocking investment, setting more ambitious targets to reduce emissions, and turning this ambition into action."
The Alliance of CEO Climate Leaders is the only CEO-led community open to all companies worldwide that want to make clear commitments and work to transition to net-zero. Members believe the private sector has a responsibility to actively engage in global efforts to reduce greenhouse gas emissions and to help lead the global transition to a low-carbon, climate-resilient economy. The World Economic Forum hosts the alliance.
The full text of the Open Letter and the list of signatories can be found here on the here on the Forum's Agenda news site.
Recreate, Re-imagine, Restore!
Leaders in global politics, science, communities, religion and culture joined hands today to officially kick off the UN Decade on Ecosystem Restoration – a rallying call for the protection and revival of millions of hectares of ecosystems all around the world for the benefit of people and nature.
Led by the UN Environment Programme (UNEP) and the Food and Agriculture Organization of the UN (FAO), the Decade on Restoration – which runs from 2021 to 2030 – was proclaimed by the United Nations General Assembly in a 2019 resolution.
The launch took the form of a high-level virtual gala with the participation, alongside the heads of UNEP and FAO and UN Secretary-General António Guterres, of Imran Khan, the Prime Minister of Pakistan, which hosts World Environment Day on 5 June this year; Pope Francis; Félix-Antoine Tshisekedi Tshilombo, President of the Democratic Republic of Congo and Chair of the African Union; German Chancellor Angela Merkel; and Prime Minister of Barbados, Mia Mottley. Among the global figures who spoke were UN Messenger of Peace Jane Goodall and other goodwill ambassadors, advocates, youth representatives, scientists and CEOs.
"By restoring ecosystems, we can drive a transformation that will contribute to the achievement of all the Sustainable Development Goals. The task is monumental. We need to replant and protect our forests. We need to clean up our rivers and seas. And we need to green our cities," the UN Secretary-General said in his message. "Accomplishing these things will not only safeguard the planet's resources. It will create millions of new jobs by 2030, generate returns of over $7 trillion dollars every year and help eliminate poverty and hunger."
The FAO Director-General QU Dongyu, noting that the increasing pressure on the world's natural resources is affecting the well-being of 40 percent of the global population, called for a change of mindset.
"Business as usual is not an option!" he underscored. "We need to prevent, halt and reverse the degradation of ecosystems worldwide, including our farmlands and forests; our rivers and oceans. More efficient, inclusive, resilient and sustainable agri-food systems can help restore ecosystems and safeguard sustainable food production, leaving no one behind," he added.
"We must use this moment in history to launch a massive global movement to save our terrestrial and marine ecosystems even as we continue to decarbonize. Everyone has a 'to-do' here," said UNEP Executive Director Inger Andersen. "Governments must ensure COVID-19 stimulus packages contribute to a sustainable and equitable recovery from the pandemic. Businesses and the financial sector must reform operations and financial flows so that they restore the natural world. And as individuals and consumers, it is time rethink choices, demand deforestation-free products and vote for sustainability in the polling booths."
"Restoring the nature we have damaged means, in the first place, restoring ourselves," said Pope Francis in a video message relayed by Cardinal Pietro Parolin, Secretary of State. "We welcome this United Nations Decade on Ecosystem Restoration, let us be compassionate, creative and courageous. May we take our proper place as a 'Restoration Generation.'"
The Decade aims to inspire and support governments, multilateral organizations, civil society, private sector companies, youth, women's groups, indigenous peoples, farmers, local communities and individuals globally, to collaborate, develop and catalyse restoration initiatives across the world. The effort will involve a raft of activities. They range from redirecting fiscal incentives and financial flows to promote restoration to undertaking research on restoration in terrestrial and marine environments, building the technical capacity of restoration practitioners globally and monitoring global progress on restoration.
The Decade aims to mobilize hundreds of millions of people to restore nature and foster a global restoration culture in which restoration initiatives are scaled up across the planet.
"The world has no choice but to go on a nature positive pathway which will not only boost the economy but also protect the environment," said Imran Khan, Prime Minister of Pakistan, whose country in 2019 embarked on an ambitious plan to plant 10 billion trees.
Welcoming the launch of the UN Decade, Felix-Antoine Tshisekedi Tshilombo, President of the Democratic Republic of Congo and Chair of the African Union, noted that the African continent had made multiple commitments through several regional Declarations, pledges, Calls to Action and pilot activities, but there was a need to mobilize the necessary resources and expertise to lead large-scale implementation.
"The restoration of terrestrial, marine and freshwater ecosystems should be undertaken in such a way as to avoid creating land conflicts or conflicts of use," he added. "It must therefore be part of visionary spatial planning processes that take into account inter-sectoral trade-offs, respecting land and resource tenure rights of local communities and other vulnerable social groups."
In her message, German Chancellor Angela Merkel said: "We have to do more to protect and restore natural habitats – and we have to do it now, not some time in the future."
"We have to ensure now that forests, which we need not least to regulate our climate, are protected and replenished," she added.
The Chancellor also announced that Germany would be the first country to provide funding – 14 million Euro – to the Multi-Partner Trust Fund for the Decade on Ecosystem Restoration.
The launch of the Decade on Ecosystem Restoration today leads into World Environment Day on 5 June, the United Nations' flagship day for promoting worldwide awareness and action for the environment. Held under the theme of ecosystem restoration, this year's World Environment Day is hosted by Pakistan, which will mark the day and the start of the UN Decade with an event taking place in Islamabad and officiated by Prime Minister Imran Khan with the participation from a host of dignitaries from around the world including UNEP Executive Director Inger Andersen and senior officials from FAO, UN-Habitat and UNDP, as well as senior officials from countries including Germany and Saudi Arabia.