This article focuses on the Iranian official position on the latest escalations of Artsakh (Karabakh) war which started in the morning of September 27, 2020. The main military operations were happening in the bordering areas of Iran and even several artillery bombs, rockets and unnamed aerial vehicles occurred in the territory of Iran. Actually, after the independence of the South Caucasus states, Tehran created good relations with Azerbaijan and Armenia. In general, Iran was not interested in a non-stable situation in its northern borders, where regional war was going on between Artsakh, backed by Armenia and Azerbaijan, backed by Turkey, which was supplying Azerbaijan with modern weapons and jihadists from the Middle East. This time, Iran decided to choose a side.
Iran's Options
Actually, Iran had only two options, it could stay neutral or take the Azerbaijani side. Iran chose the second option. Here I will bring several facts. During the war, in northern provinces of Iran-Eastern Azerbaijan, Western Azerbaijan, Zanjan and Ardabil, where the majority of the population are identifying themselves as Iranian Azeris, anti-Armenian demonstrations where organized. Protestors were demanding from the Iranian government to close Iranian-Armenian border for weapons, which were being supplied from Russia through Caspian Sea and mainland routs to Armenia. As a result, Iran prohibited to transfer any kind of weapons to Armenia and spokesperson of Iranian Ministry of Foreign Affairs, mentioned that Iran was implementing its decision, and announcements, that Armenia was still getting its weapons through the territory of Iran, did not coincide with the reality. On October 6, Advisor of the Supreme leader of Iran, Ali Akbar Velayati announced, that Armenians occupied Azerbaijani lands and they must return them. For making his statement much more acceptable and understandable for most of Iranians, he noted that Iran's position in Palestine and Artsakh is the same, that they are standing with Azerbaijani side as they are standing with Palestinians. Moreover,Ayatollah Khamenei stated "the main solution to the problem is a return of all occupied lands of Azerbaijan by Armenia and this must be done and international borders must be respected." It is also true, that he spoke about physical security of Armenians in "occupied lands", he also noted, that terrorists, which were being used by [Azerbaijani] side, would be killed, if they tried to cross Iranian borders. Azerbaijani side "thanked Ayatollah Khamenei for backing its stance on Karabakh conflict".
In turn, deputy minister of Iranian Foreign Affairs, Abbas Araghchi, who also visited Baku, Yerevan, Moscow and Ankara for discussing Artsakhi war, announced that Iran closed its borders for transferring weapons to Armenia, he condemned Artsakhi side for shelling Azerbaijani Barda city and did not mention about heavy bombardments of Stepanakert, Shushi, Martakert and Martuni by Azerbaijan. He also stated that for 27 years Iran had always condemned the "occupation" of Azerbaijani lands.
Reasons of Iranian choice
As it was mentioned, Iran backed Azerbaijan. Even Azerbaijani president Aliyev announced, that Iran supplied weapons to Azerbaijan. There were 3 main reasons, which could explain the Iranian decision.
Iran and Azerbaijan develop their relations in economic and transportation spheres, for instance in the context of International North South Transport Corridor(INSTC) Tehran and Baku have agreed to invest US$500 million each for linking Azerbaijani railways with Iranian. It will provide an opportunity to connect their railways with Russians as well. Thus, these two states by the help of their cooperation will get an opportunity to play important role in INSTC, which lays from Indian Mumbai to Russian Saint Petersburg.
There are more than   15 million ethnic Azeris in Iran, and this time their lobby played very decisive role and Iran took Baku's side in a demonstrative way, without even bothering  to give any diplomatic covering to it. There were also some Iranian politicians and scholars, who were speaking about keeping status quo, which was in place after 1994 ceasefire. They were arguing that, if Artsakhi Armenians lose the war, Turkish influence would grow in South Caucasus, which is bordering with Northern Iran, but this position did not receive enough attention from Iranian government.
In 1979 Iran proclaimed it as an Islamic Republic of Iran. For a long time, this country struggles for leadership in Shia Muslims world. For this reason, it could not take the Armenian side, when religious leaders from Qom, Mashhad and Najaf were pressing Iranian government to help Shia Azerbaijan against Christian Armenia. Khamenei's representatives in Eastern Azerbaijan, Western Azerbaijan, Zanjan and Ardabil announced about their support to Baku, arguing that Azerbaijan was also a member of Shia community.
Conclusion
In sum, Iran took the Azerbaijani side taking into consideration its growing cooperation with this country in economic and transportation spheres, same religion and to meet the demands of ethnic Azeris in its northern provinces. Tehran also tried to keep the opportunity for the future in its competition with Turkey for Azerbaijanis hearts. Throughout last years, Iranians succeeded in creating a network in Armenia, through their "soft power" diplomacy. They were working with the Armenian society through social networks, media and tried to convince, that Iran supported Armenia in Artsakhi crisis before, during and after the war, even after aforementioned statements, concrete steps of the Iranian and Azerbaijani decision makers. Of course, there are also several Armenian independent specialists, who are not involved in this network, but they also think in the same way. Anyway, these kind of presentations of Iranian policy on Artsakhi conflict, made baseless expectations from Iran in Armenian society and I do believe, that during war this kind of "advices" hindered Armenian decision makers in their calculations.
The following question is going to Ayatollah Khamenei and Araghchi: How Armenians in Artsakh can "occupy" their homes and lands, if they live there for thousands of years? It is the same, if someone tries to argue, that Iranians occupied Esfahan or Tabriz. Even the statement about physical security of Armenians, which was made by Khamenei does not correspondent with Araghchi's statement, as the last one failed to speak about human rights of Artsakhi people, when he was arguing it for Azerbaijani people.This is making another reason for not letting Iran to stand a side in peace talks, which it is offering not the first time and only relay on Organization for Security and Cooperation of Europe's Minsk group format, where Russia, France and US are the main players.
It is also worth mentioning, that Artsakhi conflict maybe the only case in the world, when interests of long-time adversaries-Iran and Israel coincided. Both of them supplied Azerbaijan with weapons and supported it politically.
It will be quite interesting to follow what will possibly happen to Iran in the future, when jihadists with their families create enclave in territories which Azerbaijan took from Artsakh. Will they be used against Iran in the future? Actually, in Syria, they were struggling against Iranian ally, Syrian president Bashar al-Assad, and Iranian troops in Syria.
Turkish troops will stay in Azerbaijan, Ankara will get in the ground military base, as they helped Azerbaijan and now it is time to get its benefits from the efforts used. For this reason, the following question arises:
Is it really correspondent with Iranian geopolitical interests to have NATO troops, in the face of Turkey next to its Northern provinces, where people mostly speakTurkish language and sympathize Turkey and see it as a "big brother"? Did Tehran make right choice when it fully supported Azerbaijani side during the war? Future will bring answers to these questions. But the answer can be also, that maybe Turkey, Azerbaijan and Iran have created road map for further cooperation having religious, economic interconnectedness as a main base and their cooperation in Artsakhi conflict was part of it.
Lessons of Ukraine and the Death of Leadership: Only History Exists
Having considered a plethora of articles pontificating on Moscow's military action in Ukraine, whether journalistic, academic, ideological, purely propagandistic and/or emotional, I feel constrained to say, as a diplomat turned historian of diplomatic history, that there seems to be a lack of understanding of why the so-called 'international community' (read 'collective West') currently seems to be suffering from a bout of ignorance, confusion and inconsistency in its inter-state relations. At the risk of sounding supercilious, I shall explain why so many agenda-driven pundits, in their shallow 'analyses', do not seem to have a clue about why our alleged leaders are running around like headless chickens. To begin to understand, we need to go deep into the causes of our institutional instability. These causes begin with the individual.
My starting point is that the current disorder is directly related to the quality of our alleged leaders, who no longer seem to have the space to reflect on reality. This is reflected in society as a whole. Put more subtly, in order to reflect, one needs the space not to have to think. Think about this (if you have some mental space), and you may begin to get my point. If you cannot grasp this, then you had better stop reading, since you may have inadvertently succumbed to the phenomenon of mind-numbing globalism-induced speed and greed assailing much of the 'international community' (i.e. the 'West'), which has resulted in a lack of awareness of history. The teaching of history in western universities is indeed dying. Opinions have been replaced with appinions, and diplomacy with Twittering and Facebooking. Let us now deal with the salient factors, beginning with our mental underpinning, and then comment on the current 'Ukrainian stupidity'.
Fear of Simplicity
In his history of the Peloponnesian Wars, Thucydides wrote that the simple way of considering matters, which is so much the example of a noble nature, was seen as an absurd characteristic, and soon died. Humans, most of whom feel insecure, do indeed tend to avoid simplicity, often hiding in theory, psychological models and circumlocution to justify their behaviour or approach to problems. In short, they fear being naked and exposed, often for no logical reason. Many look only to the future, ignoring the fact that only history in its purest form—the past—exists. As all is permanently flowing, the present cannot exist, as it becomes history as it happens. It follows that the future cannot exist, as it, too, becomes history as it occurs. By future, then, we really mean our desires and plans. And by 'present' we mean 'awareness'. Mankind expends great effort in ignoring, or cherry-picking from, history, even decrying it as a dangerous irrelevance to progress (whatever 'progress' actually means).
It seems that many pundits are unaware of what triggered the current disorder. For example, in 2004, I took the risk of predicting to myself that the addition of ten new members to the EU, including atavistically Russophobic Poland and the Baltic statelets, also NATO members, would lead to a lack of EU foreign policy cohesion, and to institutional instability. And so it has, but many of our so-called western analysts appear oblivious to even this recent history (let alone of earlier history), preferring to concentrate on the current engineered narrative—often imposed—of Russia trying to re-create the Soviet Union, which is balderdash. Let us now try to think a little deeper, and leave the gutter press—and 'mainstream'—narrative.
From Individual to State
Individual human characteristics such as fear, insecurity, greed, love and hate are what make up groups, institutions and states. The more secure a state is and feels, the less likely it will be to behave irrationally and aggressively, just as is the case with an individual. But when lack of communication sets in, suspicion and fear increase, as does, concomitantly, lust for power. As Thucydides wrote, 'love of power, operating through greed and through personal ambition, was the cause of all this evil.' The evil was of course the Peloponnesian Wars that so devasted the Greek world. The result of suspicion and greed has been with us since time immemorial, and serious statesman like Bismarck and de Gaulle understood this well. Today matters have altered: there are few real statesmen left in the West. Comparing the likes of de Gaulle, Willi Brandt, Jean Monnet and Helmut Schmidt with Anthony Blair, Boris Johnson, Liz Truss and Joe Biden, is totally unfeasible.
Such people seem more emotional about nations, rather than states, not understanding the difference, and that states came into being in order to control the atavistic lusts of humans. Any even brief reading of Giambattista Vico (beloved of James Joyce) will grasp that the world moves from chaos and back to order, and then back to chaos. At the moment, there is increasing chaos, particularly in the so-called 'West'. Yet still most people in the 'West' have been systemically and systematically inculcated with the idea that they are an example to the rest of the world, which is apparently less developed and lacking in real values.
Mental Confusion
Many pundits lack clear understanding of the difference between the concept of 'state' and 'nation', the latter muddied by the idea of the 'nation-state', a veritable oxymoron. Etymologically speaking, a nation is where one is born. Nowadays, a nation is a group of people of similar language, culture, religion, blood and heritage, usually born in the same area. As such, very few nations correspond precisely to state borders. Perhaps the Jewish State can claim to be, since the majority of its inhabitants are Jewish. The question becomes tricky, however, when one considers that more Jews reside outside the Jewish State than inside it. In this sense, the Jewish nation covers most countries of the world. Mass movements of populations have rendered a completely precise definition of a nation difficult. For example, when an American president speaks of the American nation, one can wonder whether he means anyone born in the US, which includes original indigenous tribes and elements of various other nations, or whether he really means 'state', but prefers the more emotional sounding 'nation'.
The concept of state is simpler: a group of peoples living within a defined and internationally recognised border, with its own government and sovereignty. As such, territory is the essential factor. We know enough about the ancient Greek city states and Renaissance Italy to see that states based on territory have existed for a long time. One can also argue that pre-imperial England and France were states, rather than empires. But when we come to the term 'nation-state', matters become complicated.
First, many IR analysts, often of the realist school, use the words 'nation' and 'state' interchangeably. A way of avoiding this ambiguity is to use the word 'country', but even that is vague. To confuse the issue, politicians and others use the term 'national interest', when they really mean 'state interest'. Even the term 'international relations' lacks in precision, since it really means 'inter-state relations'.
Unlike with the word 'state', it is difficult to come to terms with the term (pardon the pun) 'nation-state'; it seems to be a utopian ideal at best or an oxymoron at worst. The fixation with the Peace of Westphalia of 1648 by many IR analysts and historians has rather muddied the waters, since there are claims that the concept of sovereignty arose out of the various associated treaties. While it is true that various sovereign German states were created out of the Holy Roman Empire, and that they were able to choose whether to be Roman Catholic or Protestant, and that the principle of equality between states was established, Jean Bodin had already established the concept of sovereignty in 1576, in his work Les Six Livres de la République, in which he argued that a state should be sovereign. There are also differing interpretations of sovereignty, perhaps one of the more extreme versions being encapsulated in Louis XIV's statement 'L'état, c'est moi'. A geohistorian might prefer the word 'independence'. But for all the Peace of Westphalia's contribution to the idea of sovereign states respecting each other's sovereignty, it could even be argued that it served as a failed attempt to establish a permanent peace, since in fact it led to further strife, this time between nominally sovereign countries, perhaps because de Groot's ideas on international law, encapsulated in his book 'On the Law of War and Peace', published in 1625, were not to every sovereign state's liking.
As to the idea of Westphalian religious freedom, in 1685, France revoked the Edict of Nantes, which guaranteed freedom of worship to Protestants in 1598, and England continued to discriminate against Roman Catholics until well into the Nineteenth Century. Religion and nationalism continue to be a problem to this day, as the case of the break-up of Yugoslavia and, at a world level, Moslem fundamentalism and Christian Zionism, demonstrate. Attempts to create states based on nations have failed, as for example the case of the Kurds and Yugoslavia dramatically show, and continue to show. Consider the history of Albanian nationalism, Bosnia-Herzegovina and Macedonia. The nation-state is simply an ideal, rendered impossible because the word 'nation', with its emotional content, clashes with the cold and rational state. A homogenous nation governed by its own sovereign state is more of an ideal than a reality, although Iceland and Japan may lay claim to a measure of convergence.
Ukrainian Identity Weakness
Technically and legally, Ukraine is a sovereign state, but hardly a solid one: a mishmash of Slavic tribes and religions, a history of strife and border changes, only papered over by the Soviet experience. Then, just as in the Balkans, atavism took over, and previously externally imposed artificial constructs began their inevitable collapse. As an astute British ambassador wrote, 'it is certainly arguable that the younger the state, the more the quest to seek an identity'. The older and more established the state, the more entrenched will be the characteristics of its people, since the institutions established hundreds of years ago are part and parcel of those states. Such states (and here we are thinking of, for example, Russia, France, England and Japan) have a certain linguistic continuity and an unbroken line of literature going back to even before the state was formed. In the case of Ukraine, the oldest institution is the Russian Church.
Geopolitical Stupidity
To crown it all, we have the current obsession with the term 'geopolitics', used almost ad nauseam by politicians, journalists and academics today to explain matters. Usually, they do not even know the difference between geopolitics and geostrategy, using the terms interchangeably, blissfully unaware of the dangers of over-simplification (as opposed to their shying away from simplicity). It all boils down to the fact that geopolitics has proven to be an excuse for creating unnatural borders based on business, and grabbing other people's resources. It is enough to look at a map of the Middle east and Africa to grasp this. Certain Arab states were created because of oil interests. Saudi Arabia and the Gulf States come to mind. The fact that the close links of these countries to the West can be explained geopolitically (thanks to oil or, as I call it, black blood) demonstrates that geopolitics today has little to do with people or morality, but more with the interests of large corporations and the governments that support them in the name of 'national' interests. People become geostrategic fodder. From a British viewpoint, geopolitics means keeping Germany and Europe away from Russia, as it has done for at least the last two hundred years, and is currently doing, along with US-controlled NATO. Morality and regard for human life have little to do with geopolitics, whose proponents tend to suffer from inconsistency and hypocrisy.
Inconsistency and Hypocrisy
Listening to the US Secretary of State, Blinken, pontificating on a rules-based international order is a bizarre experience, given that the US has itself been destroying this order for several years, by unilaterally pulling out of international treaties, and illegally attacking sovereign states, with its acolytes. The pundits seem to have forgotten Kosovo, Iraq and Libya. When former US president Bush, of Iraq-killing fame, mixed up the Ukraine and Iraq, this spoke volumes for his stupidity, even if after sniggers from the audience, he recognised his Freudian slip. To hear a British ambassador speak to some Athenian students of 'we, the forces of good' in the run-up to the illegal destruction of Iraq reduces him to an arrogant puppet propagandist. Given what has happened to western diplomacy in the age of digitalised globalism, this not surprising.
Death of Western Diplomacy
Not all western diplomacy has succumbed to egotism, digitalisaton and Twitterisation: the Vatican, for example, still sticks mainly to tradition. Professional diplomats were once the nuts and bolts of relations between states. Before electronic communication came to the fore, they had considerable authority, but once political leaders in different countries could communicate with each other on the telephone, jump on an aeroplane to meet their homologues abroad, and nowadays hold video conferences, ambassadors and their staff and officials at home found their importance diminishing to that of a public relations agent. Nevertheless, their advisory rôle remained crucial: a Foreign Minister can hardly be expected to know his counterparts the world over, let alone the hundreds of bilateral issues between his country and the two hundred odd countries with which his country has relations.
But globalisation, and the speed of its accompanying digital technology, have had a major effect on traditional diplomacy. Take the case of the British Foreign, Commonwealth and Development Office (FCDO): the registry no longer exists, the typing pools have disappeared, and ambassadors no longer write valedictory despatches. Despatches as a whole are disappearing. With the slow but inexorable introduction of the desktop computer, e-grams (the first one was sent in 2004) have replaced telegrams, and minutes are e-mailed to colleagues, sometimes in the same room. Since there are no registries, it is far more difficult to access the file: instead, there is a series of cumbersome electronic steps to be gone through. Although all communications are meant to be registered, the procedure is far too time-consuming for most officers to bother to register a minute, letter or e-gram. In the serious days, whenever one read a letter, telegram or report, and had acted on it, one wrote either 'pa' ('put away') or 'BU' (Bring Up'), with a date. Before filing the paper, the registry clerk would note the 'BU' date, and give the file to the desk officer on the desired date.
All that is gone. According to a recently retired ambassador, the collective memory has gone, and most written work is done 'on the hoof'. Where once the FCO had three personnel departments, namely Personnel Operations Department, Personnel Services Department and Personnel Policy Department, there is now a 'Human Resources Directorate'. Where there was once Training Department, we now have the Human Resources Directorate, which includes a 'Recruitment and Development Department', including in turn a 'Learning and Development Team'.
The FCDO now uses the language of globalisation. This change has been accompanied by a dumbing down in training. A human resource (person) no longer benefits from week-long—and longer—drafting courses, which were once run by retired diplomats. They are now offered through 'Civil Service Learning'. Thus, much of the FCO's past expertise in training has been subsumed into the broader Civil Service, and partly stultified.
The upshot of all this is that diplomats meet each other far less during their working day, huddled as they are in front of their computers. On-line meetings also often replace face-to-face ones. Electronic communication substitutes for natural communication. The American spell-check, based on American operating systems and Windows has by and large replaced the draft wending its way upwards to be perfected. There is far less formality. Only older members of the service sign letters to their homologues with 'Yours ever', as was once the accepted custom. As for the enjoyable quick gossip sessions, the demise of the Registry has killed them off.
A 'Chief Operating Officer' (once known as 'Chief Clerk') of the Diplomatic Service proudly announced not long ago that six ministers and eighty ambassadors were on Twitter, almost as if this is the be-all and end-all of successful diplomacy and communication. Yet it is well known how controversial Twitter can be, and that it can lead to all kind of spats, not to mention being open to attack from virtually any quarter. Twitter is essentially a private game, often for people to bloat their egos. Those who use it to promote their official views or careers open themselves to unwarranted attacks from cranks and enemies. To imply that it is a useful part of diplomacy is off-beam. It can actually lead to a dissipation of seriousness, and is but a cheap substitute for serious analysis and evaluation, so vital to the formulation of policy. For even if there is still some traditional formulation of policy, it is surely being eroded subliminally in the minds of those responsible for the interests of the United Kingdom. As Guicciardini wrote: 'Any man who takes upon him to introduce changes into the government of Florence, unless he be constrained thereto by necessity or happen to be at the head of affairs, lacks wisdom. […] after the change is made you are condemned to endless torment in having always to fear further innovation.' We see how fashionable innovations can create their own momentum, and get out of control. This is what is currently happening, with the Ukrainian stupidity a prime example.
Values
In the West's current obsession to attack all things Russian, we are constantly bombarded with the phrase 'our values', as if we are better than the rest. The word 'democratic' is used non-stop in the propaganda. Never mind that the American/NATO export of our 'superior' values has led to millions of dead civilians in lesser countries, rendering them failed states, and worse than before. Never mind that NATO member Turkey is dictatorial in many ways, or that the UK has a political prisoner, Julian Assange. In fact, much of the West has descended into moral decadence and decay, in the name of 'neo-liberalism', with 'wokishness' and egotism in the ascendant. Now it is considered good practice to teach little schoolchildren about unnatural sex and changing gender (as if that is possible!). LGBTQ etc rules the roost. Indeed, it is one of the FCDO's official aims to export the message to the world. This is western morality. A clear exception in the West is Hungary, which has a decent leader. Russia has realised the insidious influence of the neo-liberal woke brigade, and has taken steps to prevent its children being seduced.
If any of you think that this is irrelevant to the title of this brief essay, think again: people as a whole, including our leaders, have been affected by the decay which, let us note, includes the undermining of education. Not so long ago, the British Prime Minister, Cameron, spoke of 'broken Britain', referring to family life. He would have done well to mention the increasing disappearance of history. As we start to conclude, bearing in mind our starting point that the current disorder is directly related to the quality of our alleged leaders, who no longer seem to have the space to reflect on reality, let us mention the German Green Party: it has transmogrified from a peace-loving, environment-loving movement to a war-mongering anti-Russian party. It is bizarre that a youngish woman, Annalena Baerbok, is a Green, and German Foreign Minister, doing all she can to promote NATO's anti-Russia agenda. In this connexion, I wonder if any of you has noticed the increase in the number of youngish women politicians in Europe, presumably in the name of having to be politically correct and wokish. A recent photograph of foreign ministers of the G7 shows four women and four men. The women are all wearing trousers. One is inclined to wonder whether one day some of the men will be wearing skirts or dresses. Even the revered and reviled Margaret Thatcher would wear a dress. Should anyone think that I am tending towards misogyny, think again: one of the most impressive women on the world stage is the Russian foreign ministry spokeswoman, Maria Zakharova. She makes Baerbok look like a small-minded and badly educated child, just as Sergei Lavrov does. Indeed, the quality of Russian officials reflects a superior education and knowledge of history, as well as a sense of decent manners.
Finally
If you have got this far, you may agree that it is time to conclude. As a former diplomat turned historian of diplomatic history, this is what I have gathered, simply put: following the West's failure to westernise Russia during the Yeltsin years, it was unable to accept this failure, since the NATO business juggernaut had no reverse gear. Once atavistically anti-Russian Poland and the Baltic statelets had jumped on the bandwagon, prodded by the US and EU, it was only a question of time before Moscow would have to react in one way or another. NATO's eastward expansion continued, for no logical reason. The Maidan coup was the last straw, when the Donbas was attacked. The Kiev regime began to kill Russian-speakers, and despite the Minsk agreements, Kiev did not honour them. Moscow felt morally obliged to help its Russians. To cut a long and tortuous story short, there is now a proxy war between NATO and Moscow. NATO has no reverse gear, and the low-quality western 'leaders' are simply not up to the job.
Strange though it may seem, it has fallen to the cynical but realistic Henry Kissinger to say what needs to be done: Ukraine must cede territory to Russia for the killing to stop, and to avoid nuclear war. As for the pundits saying that things will never be the same again, this is nonsense: Ukraine will simply return to its former natural shape as a small and hopefully neutral buffer state. To paraphrase Guicciardini, things have always been the same, the past sheds light on the future, and the same things return, albeit in different names and colours. He also wrote: 'In my youth I believed that no amount of reflection would enable me to see more than I took in at a glance. But experience has shown me this opinion to be utterly false; and you may laugh at anyone who maintains the contrary. The longer we reflect, the clearer things grow and the better we understand them […] The affairs of this world are so shifting, and depend on so many accidents, that it is hard to form any judgment concerning the future.'
I doubt very much whether the likes of Baerbok and Truss have even heard of Guicciardini, but I'll wager that Lavrov has. Only history exists.
From our partner RIAC
Demystifying the Myth of War Crimes in Ukraine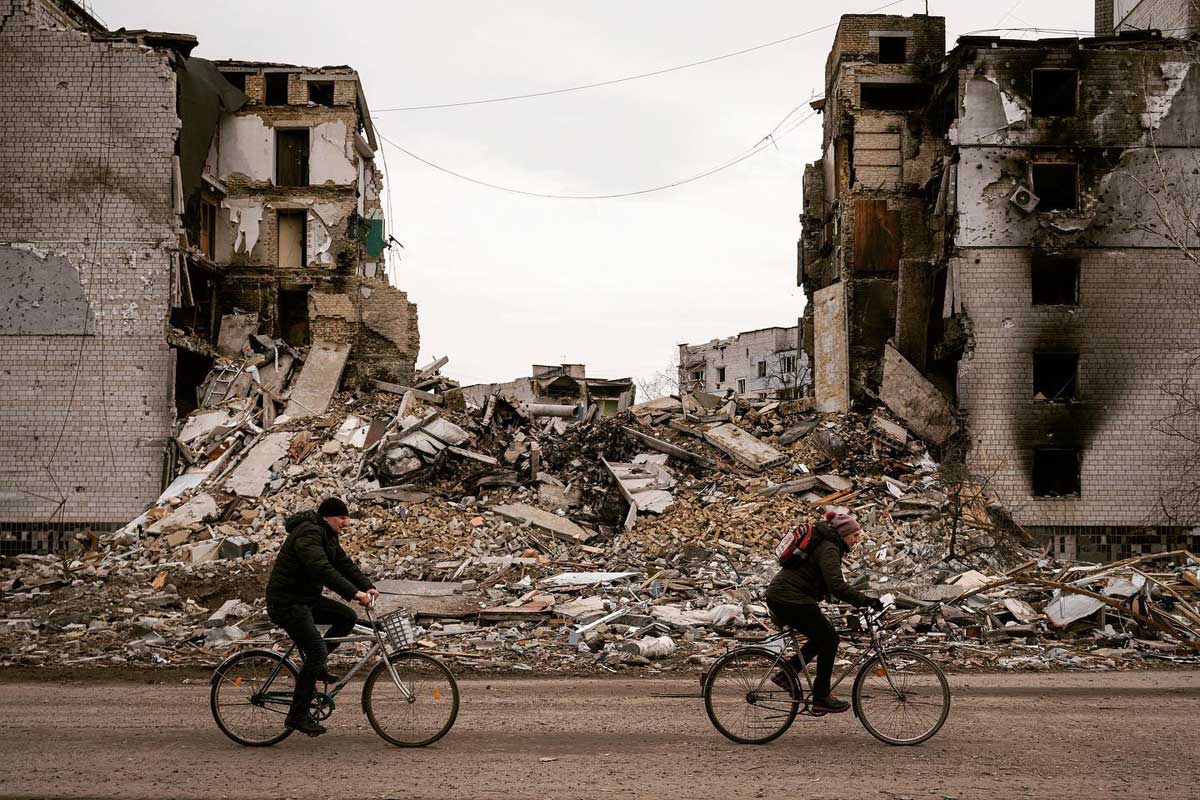 Hypocrisy – a prevalent trait of the western powers. West's policies on human rights are deluged with double standards. What is going around the world is a secondary, to them safeguarding their interest is prime. What Indian barbaric regime is doing in India with the minorities and in Indian occupied Kashmir, Israelis in Palestine, is not enough to catch an eye, because Muslims are dying, its none of their business. Let's recap what USA did in Afghanistan and Iraq. How war crimes done by the west in these countries can be ignored. Humanity suffered at the hands of these western states. Innocent people got killed in the drone strikes and the West called it 'Collateral Damage'. Innocent civilians suffered pain, hunger, and anguish, but West was mute. Human rights are for all without any discrimination based on religion, origin, race and colour. Unfortunately, the hypocrite USA only consider Human Rights for its allies and the holy land of USA. Clear violations of international humanitarian law are done by USA and its western allies in Afghanistan and other states. Moreover, the crime partner of USA, India is doing ferocious acts in India Occupied Kashmir, but all of them are silent.
As per the standards set by USA, kill innocent people and then an apology by Central Command is enough to justify an unjust loss of human life. Yes, the world should follow this too. Why only Americans have the right to make unjust just. Who will set an example of justice, war mongers, liars and killer USA? Oh yes, wonderful, now make big news out of nothing or yes something on Ukraine. Ukrainians are the only human left on the face of earth to get the western sympathizes. But it's important for the Ukrainian decision makers to not to be fooled by the USA. Demystifying the war crimes by Russia in Ukraine is not to support Ukraine but yes to counter Russia. The very reason why this conflict started is West itself. And then, yes USA is excellent at imposing sanctions and it did the same with Russians as well. But, literally speaking who is going to listen to USA, not even India, one of the USA's defense partners.
International Criminal Court – ICC should know its responsibility and first of all held USA accountable for the war crimes in Afghanistan and Iraq. Fake news, misinformation, mal-information, and disinformation is playing big role in manipulating the contemporary international politics. States are using this to hijack the actual information and create an environment of mistrust. Access to actual information in such circumstances in becoming difficult. Why Russian news channels are blacklisted, why only Ukrainian and other foreign media outlets are into play. USA is busy in narrative building based on fake information. USA is actually selling the despairs of Ukrainian people. Therefore, huge responsibility also lies on journalists as well. Are we living in the stone age or in 21st century? Where is responsible journalism? The journalist and civil societies should work as pressure groups and push ICC to open investigations on unlawful killings by USA and its allies in Afghanistan. ICC also open inquires on the atrocities done by Israelis in Palestine, and Indian barbarism in Indian Occupied Kashmir. A detailed systematic investigation is need of hour.
This will reveal the horrible face of these elites of international arena. The USA forces in Afghanistan have "committed acts of torture, killings, cruel treatment, outrages upon personal dignity, rape and sexual violence". Did Russian forces have created a 'secret kill team' to allegedly kill innocent Ukrainian Civilians? The answer is NO. Let's also consider 'Collateral Damage' in the case of Russia – Ukraine War. Instead of making world fool again on Ukraine, USA should remorse over its war crimes. A shameless country with no ethos is going to advocate Human Rights when its own citizens are not safe from the hate-fire it started. Humanity – a word, not known to USA. All it knows is to control other states' resources, sovereignty, and independence. Subtle interference in the other countries' internal matters, and creating fault-lines to manipulate the policy making. I doubt USA as an example of human rights and democracy. Disinformation is the new normal for USA.
The Illusion of Constraint: Russia Advances in Eastern Ukraine Despite Harsh Sanctions
The war of attrition is gradually becoming a reality as Russia continues to make gains in the east. According to Ukrainian officials, Russian forces now control about 80% of the eastern Ukrainian city of Severodonetsk. Despite new aid packages by the US and European Union (EU), Ukrainian armed forces are struggling in Donbas as a brutal Russian offensive is underway – forces now controlling over 20% of Ukrainian territory, according to president Zelensky. Analytical estimates reveal that Russia (alongside pro-Russian rebels) has already seized almost 90% of eastern Donbas; en route to upend the city of Severodonetsk and Lysychansk in the province of Luhansk. And geopolitical experts believe a similar showdown in the neighboring Donetsk province would ease Russian domination over the entire Donbas region.
The Ukrainian dignitaries have consistently insisted on long-range artillery support to counter Russia's onslaught. However, a single contention prevails in the Western cohort: supplying long-range weaponry could enable Ukrainian attacks beyond Russian borders, perhaps invoking a direct conflict with a belligerent Russia. Thus, the Western support remains mostly limited to conservative alternatives as Russia defies earlier odds to gain an upper-hand. The core western defense has been the barrage of sanctions imposed on Russia and the damage to the Russian economy. The West believes it could avoid militarily provoking Russia and still economically debilitate the country to the point of desperate negotiation. However, the truth is far divergent from this popular belief.
Even after three and a half months, the torrent of sanctions has failed to decimate the Russian economy as initially envisioned by the West. Putin has spent the last two decades fortifying the Russian economy via integration into the global financial apparatus. Sure, the invasion in late February spurred financial restrictions and constraints on trade. But the initial panic has since receded as relative stability is taking on the reins. The Central Bank of Russia has played a pivotal role in preventing a financial collapse. As sanctions threatened to spur a crisis, the Bank of Russia hiked the policy rate to 20% – encouraging savings; preventing the egress of investments. The Kremlin mandated the state-owned enterprises to hold export receipts in Roubles. And salaries and pensions were generously increased to compensate for the inflationary effects of the invasion. Three months forward, the interest rates are back to the pre-invasion level of 9.5%. The Rouble – crashing to a record low in days following the invasion – is trading near four-year highs. And inflation, though still a vice, has cooled off to 17% year-on-year from a two-decade peak in April. While fiscal and monetary policies have considerably stabilized the economy, another underlying factor has unsurprisingly buttressed the rebound: the Russian energy sector.
Foreign companies are pulling out, investments are downgrading, and currency reserves are locked up around the globe. Then how exactly is Russia financing the war in Ukraine? Sure the stocks of imports are running low, and people are spending less. Yet how is the Russian war machine still operational when the world is closing up for Russia? Ironically, the world is indirectly financing the Russian agenda in Ukraine. Fossil fuel exports have always been monumental for the Russian economy. Receipts from oil and gas exports made up roughly 45% of Russia's federal budget in 2021. According to a market report of the International Energy Agency (IEA), Russia's oil revenue alone is up by 50% this year – despite the toughest raft of sanctions ever meted out by the West. The US has utterly banned Russian energy imports while the EU has managed to reduce its reliance on Russian energy supplies. According to the data from the Center for Research on Energy and Clean Air (CREA) – a Finnish nonprofit think tank – the EU lowered natural gas imports from Russia by 23% in the first 100 days of the invasion (February 24 to June 3) compared to the same period last year. The data further reveals that the EU reduced its oil imports from Russia by 18% in May. Still, Russia earned a record $97 billion in revenue from exports of fossil fuels despite a modest fall of 15% in export volumes. How is that possible?
Despite trading at roughly 30% discount from international prices, Russian crude is sailing as surging global oil prices are still fetching receipts over 60% higher compared to last year. The volumes have certainly lowered as many countries have refused to trade with Russia to avoid American fury. Yet some countries have contended for cheap Russian energy supplies to guard domestic economic interests. India has been surprisingly vocal and determined about its choices of self-interest despite Western pressure. Since the invasion, India has procured 27% of its crude needs from Russia – up from less than 5% in April. According to research, India has cumulatively imported roughly 18% of Russia's total oil exports since the invasion – increasing from roughly 1% pre-war quota. China has been another noteworthy importer of Russian oil, building its strategic reserves amid high global oil prices. Despite agreeing on a partial embargo banning roughly three-quarters of Russian oil imports to the region, Europe would not cast a substantial blow to Russia until 2023. While criticizing India and China for purchasing Russian oil, the EU has perhaps neglected its own energy imports from Russia, approximating €57 billion in the first 100 days of the invasion. And in spite of lofty promises to wean off Russian energy, European countries like Hungary and Slovakia would continue to rely on Russian oil via pipeline till at least 2024. Hence, while the West convenes to topple Russian dominance in Ukraine, the efforts are unfortunately not enough to fluster Putin – at least in the short run.
Nonetheless, the sanctions would hurt Russia somewhere down the line. Elvira Nabiullina – Governor of the Bank of Russia – recently admitted: "The effect of sanctions has not been acute as we feared at the beginning. [However] it would be premature to say that the full effect of sanctions has manifested itself." The windfall energy export receipts may continue, but the import shortfall could damage the productivity of other sectors of the Russian economy. However, we need to understand that this is a war of attrition. And (despite a budget deficit) Russia has enough fiscal room to finance its domestic and military needs shortly. Mr.Richard Connolly – Director of the Eastern Advisory Group – sums up the reality perfectly: "For as long as the political will is there in the Kremlin and for as long as export prices remain high, I don't see any immediate financial constraints confronting the Kremlin." Hence, as sanctions fall short and Ukrainian defense fissures, the outlook is bleak – especially when Kyiv is resistant to negotiate territorial gains to fend off a humanitarian catastrophe.
Ultimately, the West needs to acknowledge its failure and decide: Is the sluggish war in favor of Ukraine or Russia? And what would be the primary goal of negotiations if Russia gains enough territory to dictate the terms? Given how the West has already exhausted almost all of its economic options and military options are off the table, I wonder how even the negotiations could do any good to Ukraine!