Shining a light on sexually exploited women and girls forced into crime
Trafficked and sexually exploited woman and girls can find themselves facing prosecution and conviction for those very same crimes, in some countries, a new UN report shows. The study aims to help prosecutors to better handle these complex cases, and protect the genuine victims.
No clear-cut cases
A 2017 criminal case in Canada, to take one example from the report, involved an 18-year-old woman defendant was charged with the forced prostitution of two female minors, aged 14 and 16. She had instructed one of them on how to dress, and what to do with clients, and taken away the cell phone of the other, to prevent her from escaping.
She was found guilty and sentenced to eight months in prison. However, it was revealed during the case that she too was a victim of sexual exploitation. The court heard that she was under the control of a male trafficker, and had been exploited from the age of 16, and physically abused by pimps.
The case, which is included in Female Victims Of Trafficking For Sexual Exploitation As Defendants, a new publication from the UN Office on Drugs and Crime (UNODC), shows the complexity of many human-trafficking-related cases, in which the defendant may also be a victim, who either had no alternative but to obey an order, and commit a crime, or hoped to limit their own exploitation or escape poverty by playing a role in the crime. The study also found that traffickers use the women and girls as a shield to protect themselves from being punished for their crimes.
Punished twice
"Ever since UNODC started collecting statistics on human trafficking 15 years ago, women and girls have consistently represented the majority of reported victims", says Zoi Sakelliadou, a UNODC Crime Prevention and Criminal Justice Officer, who coordinated the development of the study.
"We've also seen that the percentage of female perpetrators of trafficking who are at the same time victims of this crime, is steadily high too, especially if compared to female offenders in other crimes. The traffickers not only earned a profit by sexually exploiting the victims, but then made them commit crimes so they could escape liability and prosecution".
The report shows that traffickers deliberately used the "victim-defendants" in low-level roles, that exposed them to law enforcement authorities – meaning they were more likely to get caught.
These roles included the recruitment of new victims, collecting proceeds, imposing punishments, or posting advertisements for victims' sexual services.
In very few of the examined cases did the victims engage in acts of trafficking in an attempt to move up the hierarchy of the criminal organization or for financial gain.
It was not just the statistics that led UNODC to analyse this topic, explains Ms. Sakelliadou, but also calls from law enforcement and criminal justice officials, who stressed the complexity of investigating and adjudicating cases that involve female victims of trafficking as alleged perpetrators.
The study also highlights the clear links between human trafficking and violence against women, domestic violence, and the role of intimate partner violence.
"We found that in around a quarter of the cases examined, the women had been subjected to multiple forms of violence prior to and during the trafficking process, including from early childhood", says Ms. Sakelliadou. "We hope this study will support the law enforcement and criminal justice officials and the NGOs who handle these complex cases and support the victims."
No safe harbour: lifting the lid on a misunderstood trafficking crime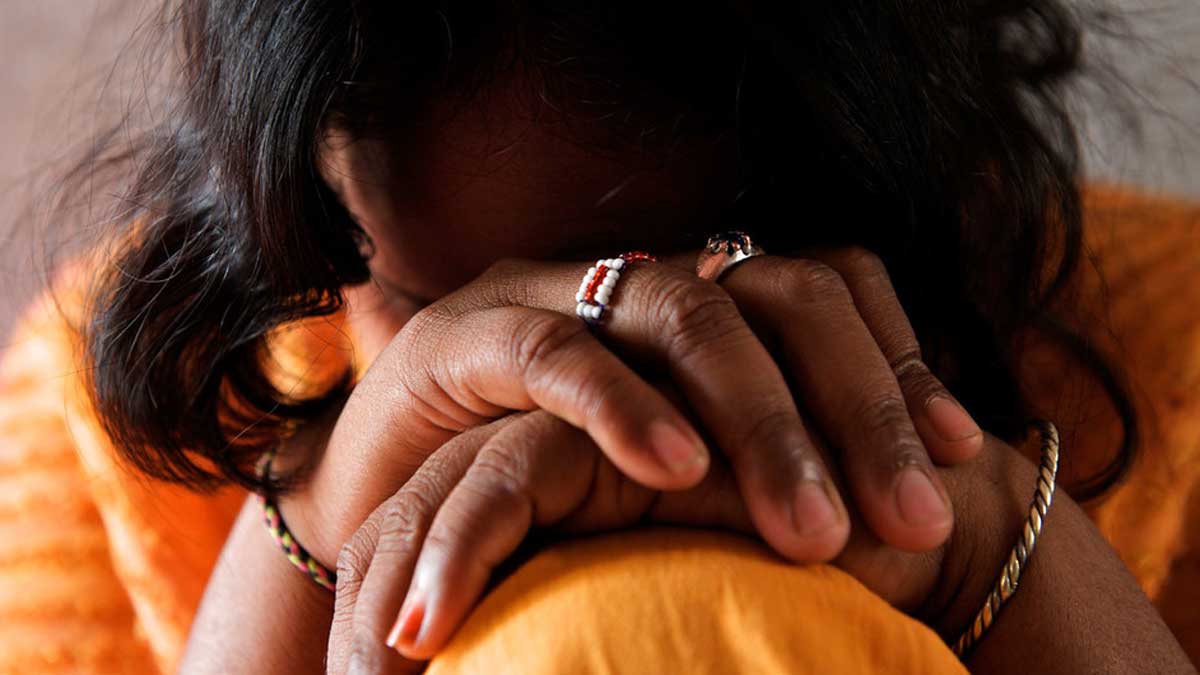 The crime of harbouring, in which victims of human trafficking are accommodated or forced to stay in a specific location, is not universally understood by courts around the world. A new UN study aims to address that issue, and improve protection for victims.
A journey of exploitation
Harbouring is one of five actions that constitute an 'act' in the internationally recognised definition of human trafficking, and is often used by prosecutors and judges for convictions of this crime.
The act can take place before and during exploitation, or between periods of abuse, encompassing a wide variety of settings, including brothels, private homes, factories, farms, or fishing vessels.
These locations can be dangerous, inhumane and unsanitary, and cn be controlled by criminals involved in the trafficking network.
In another case, victims who had been brought from Thailand to Australia were harboured during transit and at the place of exploitation: while being transported the victims were accommodated in hotels and accompanied by minders.
Once they were received by the offenders, the victims were either accommodated in the brothel where they were forced to work, or alternatively stayed at the offenders' house, and were transported to and from the brothel each day.
Trafficking victims can also be subjected to harbouring once they arrive at the place of exploitation. In a case from the Dominican Republic, the offenders, a married couple, recruited a Chinese national to work in their business.
They promised to pay her and provide her with food. Instead, she was not paid, forced into domestic servitude and subjected to abuse.
A misunderstood concept
However, a new publication from the UN Office on Drugs and Crime (UNODC) has found that there is neither a uniform understanding of the act of harbouring, nor a consistent approach to this concept during court proceedings.
"Harbouring is one of the most frequent acts when committing human trafficking, but the concept is not interpreted in the same way throughout the world," says Martin Hemmi, the UNODC expert who led the study.
"Some countries require the victims to be concealed or moved between locations for harbouring to be considered as an act of human trafficking. Others stipulate a minimum amount of time for the harbouring process," adds Mr. Hemmi. "It is important to fully understand the concept to get justice for victims of this crime."
The language barrier
Further findings show there are different meanings of the word 'harbouring' in the various language versions of the UN Trafficking in Persons Protocol, which is the world's primary legal instrument to combat this crime.
In French and Arabic, the word used for harbouring has a positive connotation in the sense of hosting, while in English, Chinese and Russian, it can be perceived as having a negative meaning in the sense of hiding or concealing.
"Due to these discrepancies, the same conduct is considered human trafficking in one country but not necessarily in another," says Mr. Hemmi.
"This has wide consequences. For the perpetrator, it can have an effect on the sentence. For the victim, it has an impact on rights and protection measures. For the courts, it can hamper requests for legal assistance and international cooperation."
Wherever and however it occurs, harbouring with the intent of exploitation is an act of human trafficking and a violation of the victim's rights and dignity, says Martin Hemmi.
"We hope that our new study will be used by investigators, prosecutors and judges to lead to a better understanding of this terrible crime and support measures to effectively protect victims and punish traffickers," he concludes.
Only 'real equality' can end vicious cycle of poverty
Although poverty and privilege "continue to reproduce themselves in vicious cycles", it is possible to break the chain and shift the paradigm, an independent UN human rights expert told the General Assembly on Wednesday.
Presenting his report, The persistence of poverty: how real equality can break the vicious cycle, Special Rapporteur on extreme poverty and human rights, Olivier De Shutter, said that "with political will", it is possible to end centuries of entrenched inequality and "move from fate to opportunity".
Early investment
"Investing in early childhood, promoting inclusive education, given young adults a basic income financed through inheritance taxes, and combating anti-poor discrimination are the key ingredients needed to break the cycles of advantage and disadvantage", Mr. De Shutter said in his statement.  
Acknowledging that many countries pride themselves on ensuring high levels of social mobility, the human rights expert stated that "the truth is that the persistence of privilege at the top, and deprivation at the bottom, are all too commonplace." 
"The top 10 percent of people living in OECD countries control 52 percent of total net wealth, while the bottom 60 percent own just over 12 percent, condemning the poor to a lifetime of poverty", he said. According to the report, based on data from countries which are part of the Organization for Economic Cooperation and Development (OECD), it takes four to five generations for children in low-income households to reach the mean income in their country. In emerging countries such as Brazil, Colombia or South Africa, it can take up to nine or even more generations.  
Tougher with time
Observing that children born in disadvantaged families were denied equal opportunity, the Special Rapporteur examined the channels through which poverty is perpetuated, in the areas of health, housing, education and employment. 
"Children born in poor families have less access to healthcare, decent housing, quality education and employment than those in better-off households", De Shutter said. "This dramatically reduces their chances of breaking free from the poverty trap".
Describing the outcomes as "appalling", the Rapporteur added that children born in a family experiencing poverty are more than three times as likely to be poor, aged 30, than those who were never poor. 
Poverty costs
The UN rights expert reminded that child poverty is not only "morally unconscionable and a human rights violation", but also expensive. "In the United States, child poverty costs over one trillion dollars annually, or 5.4% of its GDP, but for each dollar invested on reducing it, seven dollars would be saved," said the expert.
Calling for and end to the myth that inequality is an incentive that encourages people to work harder, Mr. De Shutter said that the facts point to the exact opposite: "Inequality lowers social mobility and entrenches advantage and disadvantage over decades. When we fetishize merit, we stigmatize those in poverty or with low incomes, and blame them for their own condition".  
Call for action
Stressing that "no child should be penalized for being born in poverty" in mind, and stating that, in fact, "poverty is a failure not of the individual, but of society", Mr. De Shutter called on governments to act now, "before another generation is condemned to the same fate as their parents".
Restore sexual, reproductive health rights lost during COVID, rights expert urges
Sexual and reproductive health rights, are human rights, the independent UN expert on the right to health reminded Member States in the General Assembly on Wednesday, saying that it was essential to restore services in the field, that have been eroded during the COVID-19 pandemic
"Millions of women globally had limited or no access to maternal and new-born healthcare, some 14 million women lost access to contraception, and specialized services for victims of gender-based violence became inaccessible, when they were needed most", said Dr. Tlaleng Mofokeng.
The Special Rapporteur pointed out that lockdowns, movement restrictions and diversion of funds due to COVID-19 have "jeopardized access to essential sexual and reproductive health services".
In presenting her report on the effect of the pandemic on physical and mental health services, she also spoke of "new measures and laws in place across regions, further restricting access to safe abortion, a component of sexual and reproductive services encompassed in the right to health".
Reversing a legacy
As part of the right to health, the UN expert called on States to move beyond the COVID-19 pandemic to rebuild and strengthen health systems for advancing sexual and reproductive health rights for all.
"Governments must remove obstacles and ensure full access to quality services, including maternal health care, contraception and abortion services, screening for reproductive cancers and comprehensive sexual education", she said.
However, Dr. Mofokeng noted that many obstacles continue to stand between individuals and their exercise of their rights to health, rooted in patriarchy and colonialism, and others in structural and systemic inequalities.
"Patriarchal oppression is universal, permeates all societies and is at the very origin of the erosion of autonomy and the control of girls and women's bodies and sexuality to the detriment of their enjoyment of sexual and reproductive rights", she spelled out.
"Colonialism has permeated patriarchy across regions and its legacy continues today through laws, policies and practices that deny or restrict sexual and reproductive rights and criminalize gender diverse identities and consensual adult same-sex acts", added the Special Rapporteur.
Rooted in law
She reminded governments that sexual and reproductive health rights are rooted in binding human rights treaties, jurisprudence, and consensus outcome documents of international conferences.
"I call on States to respect and protect key principles of autonomy, bodily integrity, dignity and well-being of individuals, especially in relation to sexual and reproductive health rights", she said.
"I pledge to engage with States and all relevant actors to uphold the right of everyone to the enjoyment of the highest attainable standard of physical and mental health".