Key Reforms Needed to Grow Albania's E-commerce Sector
A new World Bank Albania E-Commerce Diagnostic highlights key reforms needed to better leverage digital trade as opportunity for economic development.
E-commerce can be an important asset for Albania. Online sales channels allow businesses to reach more customers, at home and abroad. Customers gain from greater convenience and more choice. Sectors enabling e-commerce can create new jobs, including in technology companies, logistics and online payments.
During the COVID-19 pandemic, online markets are playing a particularly important role by allowing economic life to continue despite social distancing. The 2020 World Bank Enterprise Survey reveals that almost 20 percent of Albanian firms surveyed reported having either started or increased online business activity during the crisis.
To help Albania seize the digital trade opportunity, this new diagnostic identifies a roadmap of critical reforms in logistics and customs; digital connectivity; online payments; private sector capabilities and skills; and the e-commerce regulatory framework.
Georgia Can Unlock Potential for Green Growth
The World Bank and the Government of Georgia held today a virtual event focused on the findings and recommendations of a recent World Bank report, Georgia: Towards Green and Resilient Growth. The report examines the potential for Georgia's transition to green and resilient growth – a model of economic development that efficiently uses natural resources, minimizes pollution and environmental impacts, and is resilient against climate change impacts.
The report estimates losses associated with pollution and degradation of agricultural and forest land and coastal zones. In 2018, air pollution in Georgia contributed to more than 4,000 lives lost, while its economic costs were estimated at $560 million, or 3% of GDP. The cost of agricultural and forest land degradation, which disproportionately impacts the rural poor who derive their livelihoods from land, was estimated at $128 million. Restoring landscapes is projected to reduce the poverty gap by 6%.
Climate change will further exacerbate environmental degradation, particularly in Georgia's coastal zones. In 2018, climate-driven flooding, erosion, waste, and damage to soil were estimated at 5% of coastal zone GDP. The report emphasizes the importance of natural assets for Georgia's long-term development and outlines how recovery from the COVID-19 pandemic presents an opportunity for the country to build back better, fairer, and greener.
"The World Bank Group stands with the Government of Georgia on its green pathway to economic recovery. We are delighted that our technical expertise and analysis is shaping Georgia's green transition, addressing natural resource degradation, reducing the vulnerabilities of resource-dependent people, and identifying a green growth strategy that is just and works for all of Georgia – from the coast, plains, and mountains to urban centers," said Sebastian Molineus, World Bank Regional Director for the South Caucasus. "The Government of Georgia has shown that it is ready to embrace this unique opportunity and we are committed to supporting all of Georgia on this green pathway."
The World Bank's global knowledge leadership and support for green growth provide an important contribution to Georgia's approximation to the European Union. Becoming an EU member state means greening the country's growth and aligning with the European Green Deal, soon to be a defining feature of the EU's approach to development.
"The Government of Georgia recognizes the green economy opportunities for the country and its potential for sustainable economic growth, job creation and poverty reduction. Despite the challenges brought on by the pandemic, we are trying to approximate our legislation with best international practices in green development," said Ekaterine Mikabadze, First Deputy Minister of Economy and Sustainable Development of Georgia. "Considering the significance of the impacts of climate change on economic development, we highly appreciate the assistance of our international partners, including the World Bank, for supporting us throughout our green transition."
Under the 2015 Paris Agreement, Georgia has pledged to enhance sustainable development and to curb global warming through its recently updated Nationally Determined Contribution (NDC), which sets forth specific measures for greenhouse gas emission reductions and climate-change adaptation. As part of its updated NDC, Georgia pledged a 35-percent reduction of greenhouse gas emissions by 2030 as compared to 1990. At the Conference of the Parties (COP) in Glasgow later this year, Georgia and all Paris Agreement signatories will be reporting on progress made towards these targets.
"I commend the Government of Georgia for recognizing the importance of the country's unique coastal and marine resources and emphasizing in its updated NDC climate adaptation measures in its coastal zone. The resilient use of natural resources, including those in coastal areas, and bringing back tourism after the COVID-19 pandemic, are among the priority interventions," said Steven Schonberger, World Bank Sustainable Development Regional Director.
The report emphasizes that the green growth model will require a mix of bold policy actions that strengthen forest and landscape management, develop a climate-resilient coastal zone, manage pollution, and build a multi-sectoral approach to sustainable development.
Looking to the future, the World Bank is supporting the Green Transition Platform that will outline a green growth path for Georgia to achieve its climate targets (NDC). Among the priority actions on this path are implementing policies to enhance efficient resource use, decarbonizing and adapting to climate change, and promoting technological innovation and environmentally friendly industries and jobs.
Widespread Informality Likely to Slow Recovery from COVID-19 in Developing Economies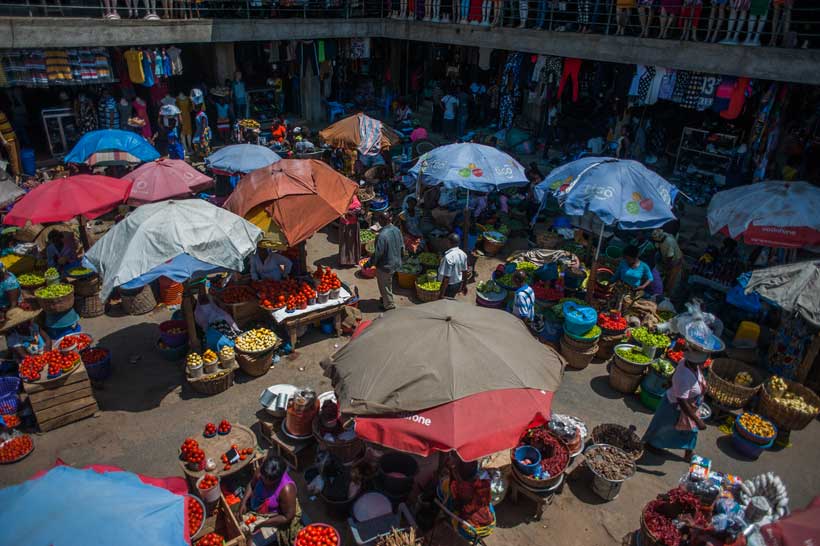 A strikingly large percentage of workers and firms operate outside the line of sight of governments in emerging market and developing economies (EMDEs)—a challenge that is likely to hold back the recovery in these economies unless governments adopt a comprehensive set of policies to address the drawbacks of the informal sector, a new World Bank Group study has found.
The study, The Long Shadow of Informality: Challenges and Policies, is the first comprehensive Bank analysis examining the extent of informality and its implications for an economic recovery that supports green, resilient and inclusive development in the long-term. It finds that the informal sector accounts for more than 70 percent of total employment—and nearly one-third of GDP—in EMDEs. That scale diminishes these countries' ability to mobilize the fiscal resources needed to bolster the economy in a crisis, to conduct effective macroeconomic policies, and to build human capital for long-term development.
In economies with widespread informality, government resources to combat deep recessions and to support subsequent recovery are more limited than in other economies. Government revenues in EMDEs with above-average informality totaled about 20 percent of GDP—five to 12 percentage points below the level in other EMDEs. Government expenditures also were lower by as much as 10 percentage points of GDP. Similarly, central banks' ability to support economies is constrained by the underdeveloped financial systems associated with widespread informality.
"Informal workers are predominantly women and young people who lack skills. Amid the COVID-19 crisis, they are often left behind, with little recourse to social safety nets when they lose their jobs or suffer severe income losses," saidMari Pangestu, World Bank Managing Director for Development Policy and Partnerships. "This analysis will help to fill knowledge gaps in an understudied area and get policy makers back on track to tackle informality, which will be critical going forward as we work to achieve green, resilient and inclusive development."
High informality undermines policy efforts to slow down the spread of COVID-19 and boost economic growth. Limited access to social safety nets has meant that many participants in the informal sector have neither been able to afford to stay at home nor adhere to social-distancing requirements. In EMDEs, informal enterprises account for 72 percent of firms in the services sector.
High levels of informality generally means weaker development outcomes. Countries with larger informal sectors have lower per-capita incomes, greater poverty, greater income inequality, less developed financial markets, and weaker investment and are farther away from achieving the goals of sustainable development.
Informality in EMDEs varies widely across regions and countries—as a percentage of GDP, it is highest in Sub-Saharan Africa, at 36 percent. It is lowest in the Middle East and North Africa, at 22 percent. In South Asia and Sub-Saharan Africa, pervasive informality is largely the result of low human capital and large agricultural sectors. In Europe and Central Asia, Latin America and the Caribbean, and the Middle East and North Africa, heavy regulatory and tax burdens and weak institutions have been important factors in driving informality.
The study shows that informality can be tackled in EMDEs—in fact, while it remains high, it had been on a declining trend for three decades before the COVID-19 pandemic. Between 1990 and 2018, on average, informality fell by about 7 percentage points of GDP to 32 percent of GDP. The decline partly reflected policy reforms: over the past three decades, many EMDE governments implemented policy reforms either to increase the benefits of formal-sector participation or to reduce the costs of such activities. These included tax reforms, reforms to increase access to finance, and stronger governance.
The study provides five general recommendations for policymakers in EMDEs: first, take a comprehensive approach—because informality reflects broad-based underdevelopment and cannot be tackled in isolation; second, tailor measures to country circumstances because the causes of informality vary widely; third, improveaccess to education, markets, and finance so that informal workers and firms can become sufficiently productive to move to the formal sector; fourth; improve governance and business climates so the formal sector can flourish; and fifth, streamline tax regulation to lower the cost of operating formally and increase the cost of operating informally.
Defying Predictions, Remittance Flows Remain Strong During COVID-19 Crisis
Despite COVID-19, remittance flows remained resilient in 2020, registering a smaller decline than previously projected. Officially recorded remittance flows to low- and middle-income countries reached $540 billion in 2020, just 1.6 percent below the 2019 total of $548 billion, according to the latest Migration and Development Brief.
The decline in recorded remittance flows in 2020 was smaller than the one during the 2009 global financial crisis (4.8 percent). It was also far lower than the fall in foreign direct investment (FDI) flows to low- and middle-income countries, which, excluding flows to China, fell by over 30 percent in 2020. As a result, remittance flows to low- and middle-income countries surpassed the sum of FDI ($259 billion) and overseas development assistance ($179 billion) in 2020.
The main drivers for the steady flow included fiscal stimulus that resulted in better-than-expected economic conditions in host countries, a shift in flows from cash to digital and from informal to formal channels, and cyclical movements in oil prices and currency exchange rates. The true size of remittances, which includes formal and informal flows, is believed to be larger than officially reported data, though the extent of the impact of COVID-19 on informal flows is unclear.
"As COVID-19 still devastates families around the world, remittances continue to provide a critical lifeline for the poor and vulnerable," said Michal Rutkowski, Global Director of the Social Protection and Jobs Global Practice at the World Bank. "Supportive policy responses, together with national social protection systems, should continue to be inclusive of all communities, including migrants."
Remittance inflows rose in Latin America and the Caribbean (6.5 percent), South Asia (5.2 percent) and the Middle East and North Africa (2.3 percent). However, remittance flows fell for East Asia and the Pacific (7.9 percent), for Europe and Central Asia (9.7 percent), and for Sub-Saharan Africa (12.5 percent). The decline in flows to Sub-Saharan Africa was almost entirely due to a 28 percent decline in remittance flows to Nigeria. Excluding flows to Nigeria, remittances to Sub-Saharan Africa increased by 2.3 percent, demonstrating resilience.
The relatively strong performance of remittance flows during the COVID-19 crisis has also highlighted the importance of timely availability of data. Given its growing significance as a source of external financing for low- and middle-income countries, there is a need for better collection of data on remittances, in terms of frequency, timely reporting, and granularity by corridor and channel.
"The resilience of remittance flows is remarkable. Remittances are helping to meet families' increased need for livelihood support," said Dilip Ratha, lead author of the report on migration and remittances and head of KNOMAD. "They can no longer be treated as small change. The World Bank has been monitoring migration and remittance flows for nearly two decades, and we are working with governments and partners to produce timely data and make remittance flows even more productive."
The World Bank is assisting member states in monitoring the flow of remittances through various channels, the costs and convenience of sending money, and regulations to protect financial integrity that affect remittance flows. It is working with the G20 countries and the global community to reduce remittance costs and improve financial inclusion for the poor.
With global growth expected to rebound further in 2021 and 2022, remittance flows to low- and middle-
income countries are expected to increase by 2.6 percent to $553 billion in 2021 and by 2.2 percent to $565 billion in 2022. Even as many high-income nations have made significant progress in vaccinating their populations, infections are still high in several large developing economies and the outlook for remittances remains uncertain.
The global average cost of sending $200 remained high at 6.5 percent in the fourth quarter of 2020, more than double the Sustainable Development Goal target of 3 percent. Average remittance costs were the lowest in South Asia (4.9 percent), while Sub-Saharan Africa continued to have the highest average cost (8.2 percent). Supporting the remittance infrastructure and keeping remittances flowing includes efforts to lower fees.
Regional Remittance Trends
Formal remittance flows to the East Asia and Pacific region fell by an estimated 7.9 percent in 2020 to around $136 billion due to the adverse impact of COVID-19. Positive growth in remittances from the United States and Asia helped to mostly offset declines from the Middle East and Europe, which fell by 10.6 percent and 10.8 percent respectively in 2020. The top recipients in terms of the share of remittances in GDP in 2020 include many smaller economies such as Tonga (38 percent), Samoa (19 percent), and Marshall Islands (13 percent). For 2021, a modest growth of about 2.1 percent is expected due to anticipated recovery in major host economies such as Saudi Arabia, the United States and the United Arab Emirates. Remittance costs: According to the World Bank Remittances Prices Worldwide, the average cost of sending $200 to the region fell slightly to 6.9 percent in the fourth quarter of 2020. The lowest-cost corridors in the region averaged 3 percent for transfers primarily to the Philippines, while the highest-cost corridors, excluding South Africa to China, which is an outlier, averaged 13 percent.
Remittances to Europe and Central Asia fell by about 9.7 percent to $56 billion in 2020 as the global pandemic and weak oil prices had a significant impact on migrant workers across the region. The economic crisis of 2020 was not unprecedented compared to the past crises of 2009 and 2015, which saw remittances to the region fall by 11 and 15 percent, respectively. Nearly all the countries in the region experienced declines in remittances in 2020. The depreciation of the Russian ruble significantly lowered the US dollar value of remittance flows to the region. For 2021, remittance flows are estimated to fall further by 3.2 percent as the region's economies are expected to recover from the crisis slowly. Remittance costs: The average cost of sending $200 to the region fell modestly to 6.4 percent in the fourth quarter of 2020. Russia remained the lowest-cost sender of remittances globally, with the cost of remitting from the country falling from 2.1 percent to 1 percent. Within the region, the differences in costs across corridors are substantial: the highest costs for sending remittances were from Turkey to Bulgaria, while the lowest costs for sending remittances were from Russia to Georgia.
Remittances flows to Latin America and the Caribbean grew an estimated 6.5 percent to $103 billion in 2020. While COVID-19 caused a sudden decrease in the volume of remittances in the second quarter of 2020, remittances rebounded during the third and fourth quarters. The improvement in the employment situation in the United States, although not yet to pre-pandemic levels, supported the increase in remittance flows to countries such as Mexico, Guatemala, Dominican Republic, Colombia, El Salvador, Honduras and Jamaica, for whom the bulk of remittances originate from migrants working in the United States. On the other hand, the weaker economic situation in Spain negatively affected remittance flows to Bolivia (-16 percent), Paraguay (-12.4 percent) and Peru (-11.7 percent) in 2020. In 2021, remittance flows to the region are expected to grow by 4.9 percent. Remittance costs: The cost of remittance transfers to the region was 5.6 percent in the fourth quarter of 2020. In many smaller remittance corridors, however, costs continue to be exorbitant. For example, the cost of sending money to Cuba exceeds 9 percent. Sending money from Japan to Brazil is also expensive (11.5 percent).
Remittance flows to the Middle East and North Africa region rose by 2.3 percent to about $56 billion in 2020. The growth is largely credited to strong remittance flows to Egypt and Morocco. Flows to Egypt increased 11 percent to a record high of nearly $30 billion in 2020, while flows to Morocco rose 6.5 percent. Also registering an increase was Tunisia (2.5 percent). In contrast, other economies in the region experienced losses in 2020, with Djibouti, Lebanon, Iraq, and Jordan posting double-digit declines. In 2021, remittances to the region is likely to grow 2.6 percent due to moderate growth in the euro area and weak outflows from the Gulf Cooperation Council (GCC) countries. Remittance costs: The cost of sending $200 to the region fell slightly in the fourth quarter of 2020 to 6.6 percent. Costs vary greatly across corridors: the cost of sending money from high-income countries of the Organisation for Economic Co-operation and Development to Lebanon remained very high, mostly in the double digits. On the other hand, sending money from GCC countries to Egypt and Jordan costs around 3 percent in some corridors.
Inward remittance flows to South Asia rose by about 5.2 percent in 2020 to $147 billion, driven by surge in flows to Bangladesh and Pakistan. In India, the region's largest recipient country by far, remittances fell by just 0.2 percent in 2020, with much of the decline due to a 17 percent drop in remittances from the United Arab Emirates, which offset resilient flows from the United States and other host countries. In Pakistan, remittances rose by about 17 percent, with the biggest growth coming from Saudi Arabia followed by the European Union countries and the United Arab Emirates. In Bangladesh, remittances also showed a brisk uptick in 2020 (18.4 percent), and Sri Lanka witnessed remittance growth of 5.8 percent. In contrast, remittances to Nepal fell by about 2 percent, reflecting a 17 percent decline in the first quarter of 2020. For 2021, it is projected that remittances to the region will slow slightly to 3.5 percent due to a moderation of growth in high-income economies and a further expected drop in migration to the GCC countries. Remittance costs:The average cost of sending $200 to the region stood at 4.9 percent in the fourth quarter of 2020, the lowest among all the regions. Some of the lowest-cost corridors, originating in the GCC countries and Singapore, had costs below the SDG target of 3 percent owing to high volumes, competitive markets, and deployment of technology. But costs are well over 10 percent in the highest-cost corridors.
Remittances to Sub-Saharan Africa declined by an estimated 12.5 percent in 2020 to $42 billion. The decline was almost entirely due to a 27.7 percent decline in remittance flows to Nigeria, which alone accounted for over 40 percent of remittance flows to the region. Excluding Nigeria, remittance flows to Sub-Saharan African increased by 2.3 percent. Remittance growth was reported in Zambia (37 percent), Mozambique (16 percent), Kenya (9 percent) and Ghana (5 percent). In 2021, remittance flows to the region are projected to rise by 2.6 percent, supported by improving prospects for growth in high-income countries. Data on remittance flows to Sub-Saharan Africa are sparse and of uneven quality, with some countries still using the outdated Fourth IMF Balance of Payments Manual rather than the Sixth, while several other countries do not report data at all. High-frequency phone surveys in some countries reported decreases in remittances for a large percentage of households even while recorded remittances reported by official sources report increases in flows. The shift from informal to formal channels due to the closure of borders explains in part the increase in the volume of remittances recorded by central banks. Remittance costs: Sub-Saharan Africa remains the most expensive region to send money to, where sending $200 costs an average of 8.2 percent in the fourth quarter of 2020. Within the region, which experiences high intra-regional migration, it is expensive to send money from South Africa to Botswana (19.6 percent), Zimbabwe (14 percent to), and to Malawi (16 percent).