Strengthening Indonesia's Fiscal Resilience to Natural Disasters and Health-Related Shocks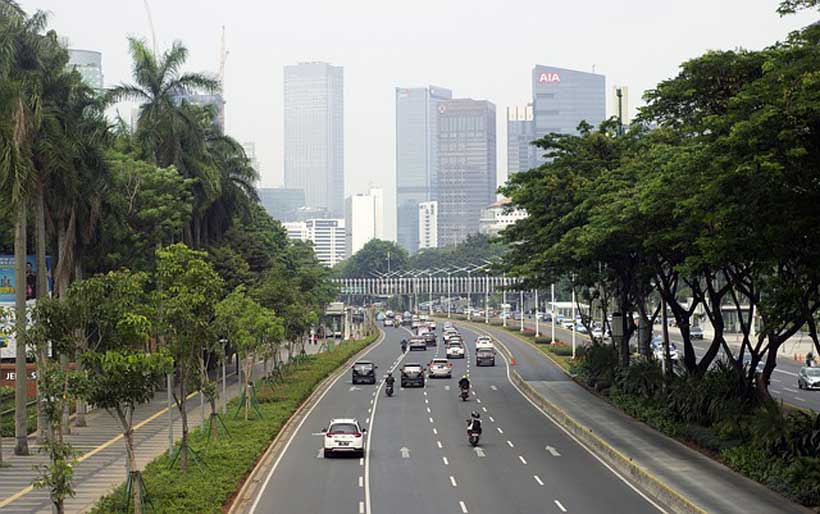 The World Bank's Board of Executive Directors today approved a $500 million loan to strengthen Indonesia's financial and fiscal resilience. The loan will help the country build and strengthen its financial response to natural disasters, climate risks, and health-related shocks.
Such shocks and disasters have become a constant threat to Indonesia's development progress. From 2014 to 2018, the central government spent between US$90 million and US$500 million annually on disaster response and recovery, while local governments spent an estimated additional $250 million over the same period.
The cost of disasters is expected to increase further due to climate change and urban growth, adding to the burden on public spending. The needs are particularly acute now, with Indonesia experiencing multiple financial, fiscal, and social impacts due to the COVID-19 pandemic.
"Financial preparedness for disasters, climate shocks, and health crises such as COVID-19 is increasingly important for Indonesia. This support will help the government deliver a more targeted and timely response, reducing the impact of disasters and helping to protect Indonesia's development progress," said Sri Mulyani Indrawati, Minister of Finance of the Republic of Indonesia.
Planning an effective financial response after disasters and climate shocks helps to protect the budget and ultimately the population. By reducing the impacts of disasters, such planning can help protect the poor and vulnerable who often bear the brunt of disasters as they tend to live in hazard areas, lack access to basic services, and have limited access to financial resources to cope with the aftermath.
The new project will support the Government's National Disaster Risk Finance and Insurance Strategy by strengthening Indonesia's fiscal and financial resilience through a Pooling Fund for Disasters. This fund will become the central mechanism through which post-disaster financing can flow from different sources. The fund will look to leverage domestic and international insurance markets to provide financial capacity to backstop the fund.
The project will also help ensure effective and transparent flow of the funds to relevant government agencies, including budget tracking on disaster-related expenditures, faster social assistance payments for victims of disasters, and improved preparedness planning for health shocks. Central and local government agencies will receive additional, faster, and more effective financial support after a disaster.
"The improved availability and flow of funds will ultimately support the population of Indonesia who will benefit from faster and better targeted response to disaster and health shocks. This will particularly benefit the poorest and most vulnerable, who are most affected by delayed disaster response and often lose their livelihoods and incomes, which keeps them in poverty," said Satu Kahkonen, World Bank Country Director for Indonesia and Timor-Leste.
The project is supported by a $14 million grant from the Global Risk Financing Facility (GRiF) to assist building technical capacity, environmental and social management systems, bring new technology to the management of the Pooling Fund, and invest in evaluations and learning, including how to best serve the most vulnerable groups. Supported by a Multi-Donor Trust Fund with over $200 million from Germany and the United Kingdom, GRiF provides grants and technical expertise to help developing countries safeguard progress and recover more quickly from the financial impacts of climate shocks, disasters, and crises.
COVID-19 and social protection
The June segment of the 109th International Labour Conference has come to a close – the first virtual ILC in its history and one that featured intensive discussions on the impact of COVID-19 on the world of work and how to ensure a human-centred, inclusive recovery.

During plenary discussions, delegates addressed the Director-General's report to the Conference on Work in the time of COVID , which applied the human-centred approach of the ILO's 2019 Centenary Declaration to achieving a sustainable and inclusive global pandemic response. Delegates unanimously adopted a Global Call to Action outlining measures to create a human-centred recovery from the pandemic to avoid long-term scarring of economies and societies.

The Global Call to Action commits countries to ensuring that their economic and social recovery from the crisis is "fully inclusive, sustainable and resilient."

A World of Work Summit was held on 17 – 18 June, which featured addresses from world leaders and representatives of workers' and employers' organizations, and the United Nations. They included Pope Francis, President of the Republic of Korea, Moon Jae-in, Portuguese Prime Minister, António Costa, US President, Joe Biden and President of the Democratic Republic of Congo, Félix Tshisekedi. The Summit focused on the need for a global response to the COVID-19 crisis and the action required to build a better future of work.

The Conference adopted the report of its Committee on the Application of Standards (CAS), which adopted conclusions on the application of specific ILO Conventions in 19 countries. It included Belarus, El Salvador and Zimbabwe in special paragraphs identifying particularly serious problems in the application of standards. It agreed on the importance of promoting employment and decent work in a rapidly changing world of work, stressing the need for governments, in consultation with employers' and workers' organizations and stakeholders to develop, implement, monitor and review policies and programmes rooted in International Labour Standards.

A discussion on Social Protection focused on the impact of COVID-19 and on the rapid changes occurring in the world of work. Delegates adopted conclusions that outlined a framework for urgent action towards universal, adequate, comprehensive and sustainable social protection systems that are adapted to developments in the world of work.

The actions included measures to strengthen national social protection policies, close financing gaps, strengthen governance and adapt social protection systems in the aftermath of the crisis and in the context of the future of work.

Delegates adopted an emergency resolution on Myanmar , which called for the restoration of democracy, the reestablishment of civilian rule, the end to arbitrary detentions and violations of human rights, and the restoration of fundamental principles and rights at work. It called on the ILO Governing Body to monitor the situation in Myanmar and follow up on the implementation of the resolution.

Delegates also voted to adopt the ILO Programme and Budget for the 2022-23 biennium . In addition, they agreed to abrogate or withdraw 29 outdated international labour instruments.

Closing this segment of the ILC, the ILO Director-General, Guy Ryder, expressed his satisfaction at the results obtained during what he described as a 'remarkable' Conference, guaranteeing the institutional and business continuity of the Organization.

"What has been done over the last few weeks places our Organization where it needs to be. It equips our Organization to rise to the challenges of this most difficult moment in the world of work. It's an expression of how many governments, workers and employers look to us for leadership and action."

Nearly 4,500 delegates took part in the virtual ILC, including 171 ministers and vice-ministers and high-level representatives from workers and employers, from 181 ILO Member States.

The second segment of the Conference will take place from 25 November to 11 December this year, with an agenda that includes thematic discussions on inequalities and the world of work, as well as skills and life-long learning.
An Education Reform Path for Lebanon
Lebanon needs to urgently embark on a comprehensive reform agenda that puts students at the center of the education sector and prioritizes quality of education for all, according to a new World Bank report released today. Low levels of learning and skills mismatch in the job market have put the future of generations of Lebanese children at risk and imply a critical need for more and better targeted investments in the sector.
The report, titled "Foundations for Building Forward Better: An Education Reform Path for Lebanon", presents an overview of key challenges facing the education sector. It provides evidence-based solutions founded on a diagnostic of the factors contributing to the learning crisis and proposes policy reform recommendations over the short- and medium- to long-terms. The proposed reform plan is in line with the objectives of the Ministry of Education and Higher Education's 5-year draft sector plan, which aims to improve equity, learning outcomes, and governance in education. The report also draws from the latest available education sector research, including studies conducted under the Research for Results Program launched back in 2016.
The compounded crises that have assailed Lebanon over the past several years –Syrian refugee influx, economic and financial crisis, the COVID-19 pandemic, and the Port of Beirut blast– have all put severe strains on an already struggling education system. Pre-COVID-19 learning levels were already comparatively low, with only 6.3 years of learning taking place, after schooling is adjusted for actual learning. The global pandemic has led to extended school closures since March 2020, which will likely result in a further and significant decrease in learning. Effectively, students in Lebanon are facing a "lost year" of learning. Despite efforts to reopen schools, a more systematic approach for planning at the district level, in close collaboration with regional education office directors, is needed as the response requires local solutions.
"Lebanon needs to urgently reform the education sector and build forward better," said Saroj Kumar Jha, World Bank Mashreq Regional Director. "Now more than ever, Lebanon needs to invest more and better in improving learning outcomes for children and making sure Lebanese youth are well equipped with the right skills required by the job market to enable them to contribute to Lebanon's economic recovery".
The multiple crises and the resulting increase in poverty rates, with more than half the population likely below the national poverty line, have also directly impacted demand for education and student retention. The contraction in the economy, plummeting purchasing power and the steep deterioration in living conditions will likely lead more parents to shift their children to public schools in the coming years, as well as higher student drop-outs, especially among marginalized households. The report presents key aspects for restructuring the education sector financing in support of a more efficient and equitable system and to prevent further learning loss.
The report puts forward for discussion sector-wide mid-term reform recommendations across seven key strategic areas: I) Restructuring Sector Financing; II) Diagnostics to Support Overcoming the Learning Crisis; III) Improvements of Teacher Utilization and Quality of Teaching; IV) School Environment and School Accountability Measures; V) Education Strategy and Curriculum Reform; VI) Early Childhood Education; and VII) School to Work Transitions and Youth. These recommendations for action tackle key challenges within the sector and approaches towards addressing the growing learning crisis and meeting the increased demand for public education in the country while regaining equity and efficiency.
Financing to Support Reforms for Inclusive Growth and Development
The World Bank approved the second in a series of three single-tranche Inclusive Growth Development Policy Operations (IGDPO) to support key reforms for enabling inclusive growth in Liberia. The financing, amounting to $40 million, comes in the form of an International Development Association (IDA) concessional credit of $20 million and an IDA grant of $20 million to be disbursed as budget support. The underlying reforms being supported seek to remove distortions in selected sectors, strengthen public sector transparency, and promote economic and social inclusion.
"The continued implementation of critical policy reforms in sectors such as energy and agriculture helps create a conducive environment for transformative investments being made in these sectors by the Government, with support from development partners," said Dr. Khwima Nthara, World Bank Liberia Country Manager.
Building on reforms supported under the first reform program approved last year, the key reforms under this second program are expected to help increase agriculture productivity by promoting farmers' access to certified seeds; reduce power theft and commercial losses at the Liberia Electricity Corporation (LEC) by making electricity affordable for the small consumers with the reduction in electricity tariffs for poor households from $0.385/kWh to $0.22/kWh in May 2021; streamline and increase the transparency of tax waivers and in turn, improve revenues to enhance the provision of public services, especially for poor households; strengthen the oversight and transparency of State-owned Enterprises (SOEs); promote financial inclusion through the amendment of the Payments Act and introduction of digital credit; and finally, create an efficient, transparent and sustainable Social Safety Net System.
"Strengthening Domestic Revenue Mobilization, through reduction of duty waivers and tax holidays, is critical to expanding fiscal space for increased public investment that is domestically financed," said Mamadou Ndione, World Bank Senior Economist and Task Team Leader of the IGDPO program.
The reform programs being supported are aligned with the Liberia's Pro-poor Agenda for Prosperity and Development and the World Bank's Country Partnership Framework.