Over 1.9 billion people in Asia-Pacific unable to afford a healthy diet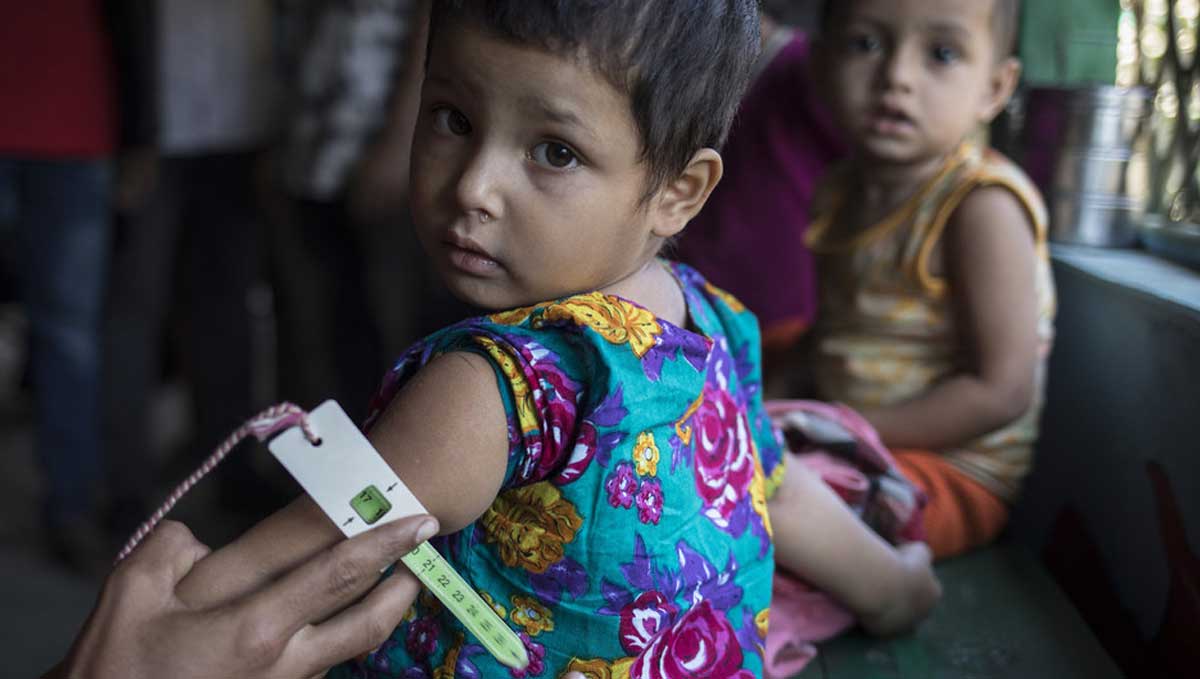 The economic impact of the coronavirus pandemic and surging food prices are keeping almost two billion people in Asia and the Pacific from healthy diets, United Nations agencies said on Wednesday.
According to the 2020 Regional Overview of Food Security and Nutrition, the region's poor have been worst affected, forced to choose cheaper and less nutritious foods. The report is jointly produced by the Food and Agriculture Organization (FAO), the UN Children's Fund (UNICEF), the World Food Programme (WFP) and the World Health Organization (WHO).
"The outbreak of COVID-19 and a lack of decent work opportunities in many parts of the region, alongside significant uncertainty of food systems and markets, has led to a worsening of inequality, as poorer families with dwindling incomes further alter their diets to choose cheaper, less nutritious foods," the agencies said.
"Due to higher prices for fruits, vegetables and dairy products, it has become nearly impossible for poor people in Asia and the Pacific to achieve healthy diets, the affordability of which is critical to ensure food security and nutrition for all – and for mothers and children in particular."
As a result, progress is also slowing on improving nutrition, a key target for the Sustainable Development Goals (SDGs). As of 2019, over 350 million people in the region are estimated to have been undernourished, with an about 74.5 million children under five stunted (too short for their age) and 31.5 million suffering from wasting (too thin for height).
'Impact most severe in first 1,000 days'
The UN agencies went on to note that while nutrition is vitally important throughout a person's life, the impact of a poor diet is most severe in the first 1,000 days, from pregnancy to when a child reaches the age of two.
"Young children, especially when they start eating their 'first foods' at six months, have high nutritional requirements to grow well and every bite counts," they said.
The agencies called for an integrated systems approach – bringing together food, water and sanitation, health, social protection and education systems – to address underlying factors and achieve healthy diets for all mothers and children.
'Changing face of malnutrition'
They also highlighted the "changing face" of malnutrition, with highly processed and inexpensive foods, readily available throughout Asia and the Pacific. Often packed with sugar and unhealthy fats, such food items lack the vitamins and minerals required for growth and development and also increase the risk of obesity, diabetes and cardiovascular disease.
The report urged governments to invest more in nutrition and food safety to promote healthy diets, as well as regulate sales and marketing of food for consumers, especially children. It also highlighted the need for action within the private sector, given the sector's important role in the food system and its value chains for achieving healthy diets.
Human rights experts demand UAE provide 'meaningful information' on Sheikha Latifa
United Nations independent human rights experts on Tuesday demanded that the United Arab Emirates provide "meaningful information" on the fate of Sheikha Latifa Mohammed Al Maktoum as well as assurances regarding her safety and well-being, "without delay".
Sheikha Latifa, the daughter of the Emir of Dubai, and Prime Minister of the UAE, Mohammed bin Rashid Al Maktoum, was reportedly abducted while attempting to flee the country in 2018. In February, footage was released that reportedly showed her being deprived of her liberty against her will.
Independent rights experts, including the UN Special Rapporteur on violence against women voiced concern that since the February video, and subsequent official request for further information on her situation, "no concrete information has been provided by the authorities".
"The statement issued by the Emirates authorities' merely indicating that she was being 'cared for at home' is not sufficient at this stage", they added.
The rights experts also said they were troubled by the allegations of human rights violations against Sheikha Latifa, and of the possible threat to her life.
Evidence of well-being 'urgently required'
According to the information received, she continues to be deprived of liberty, with no access to the outside world, they added, noting that "her continued incommunicado detention can have harmful physical and psychological consequences and may amount to cruel, inhuman or degrading treatment".
"Evidence of life and assurances regarding her well-being are urgently required", the human rights experts urged, calling for independent verification of the conditions under which Sheikha Latifa is being held, and for her immediate release.
In addition to the Special Rapporteur on violence against women, the call was made by the members of the working groups on enforced or involuntary disappearances; and on discrimination against women and girls; as well as the Special Rapporteurs on torture and other cruel, inhuman or degrading treatment or punishment; and on extrajudicial, summary or arbitrary execution.
The Special Rapporteurs and Working Groups are part of what is known as the Special Procedures of the Human Rights Council. The experts work on a voluntary basis; they are not UN staff and do not receive a salary. They are independent from any government or organization and serve in their individual capacity.
Six reasons why a healthy environment should be a human right
At least 155 states recognize their citizens have the right to live in a healthy environment, either through national legislation or international accords, like the Universal Declaration of Human Rights.
Despite those protections, the World Health Organization estimates that 23 per cent of all deaths are linked to "environmental risks" like air pollution, water contamination and chemical exposure.
Statistics like that are why the United Nations Human Rights Council recently passed a resolution reaffirming states' obligations to protect human rights, including by taking stronger actions on environmental challenges.
Here are some of the ways that a compromised planet is now compromising the human right to health.
1. The destruction of wild spaces facilitates the emergence of zoonotic diseases.
The alteration of land to create space for homes, farms and industries has put humans in increasing contact with wildlife and has created opportunities for pathogens to spill over from wild animals to people.
An estimated 60 per cent of human infections are of animal origin. And there are plenty of other viruses poised to jump from animals to humans. According to the Intergovernmental Science-Policy Platform on Biodiversity and Ecosystem Services, "as many as 1.7 million unidentified viruses of the type known to infect people are believed to still exist in mammals and waterfowl. Any one of these could be the next 'Disease X' – potentially even more disruptive and lethal than COVID-19."
2. Air pollution reduces quality of health and lowers life expectancy.
Across the globe, nine in 10 people are breathing unclean air, harming their health and shortening their life span. Every year, about 7 million people die from diseases and infections related to air pollution, more than five times the number of people who perish in road traffic collisions.
Exposure to pollutants can also affect the brain, causing developmental delays, behavioural problems and even lower IQs in children. In older people, pollutants are associated with Alzheimer's and Parkinson's diseases.
3. Biodiversity loss compromises the nutritional value of food.
In the last 50 years alone, human diets have become 37 per cent more similar, with just 12 crops and five animal species providing 75 per cent of the world's energy intake. Today, nearly one in three people suffer from some form of malnutrition and much of the world's population is affected by diet-related diseases, such as heart disease, diabetes and cancer.
4. Biodiversity loss also reduces the scope and efficacy of medicines.
Natural products comprise a large portion of existing pharmaceuticals and have been particularly important in the area of cancer therapy. But estimates suggest that 15,000 medicinal plant species are at risk of extinction and that the Earth loses at least one potential major drug every two years.
5. Pollution is threatening billions worldwide.
Many health issues spring from pollution and the idea that waste can be thrown "away" when, in fact, much of it remains in ecosystems, affecting both environmental and human health.
Water contaminated by waste, untreated sewage, agricultural runoff and industrial discharge puts 1.8 billion people at risk of contracting cholera, dysentery, typhoid and polio. Methylmercury – a substance found in everyday products that contaminate fish – can have toxic effects on the nervous, digestive and immune systems when consumed by humans. And a growing body of evidence suggests that there is a cause for concern about the impact of microplastics on marine life and the food web.
As well, every year, 25 million people suffer from acute pesticide poisoning. And glyphosate – the world's most widely-used herbicide– is associated with non-Hodgkin lymphoma and other cancers.
Even medicines can have a negative impact as they infiltrate ecosystems. A 2017 UNEP report found that antibiotics have become less effective as medicine because of their widespread use in promoting livestock growth. About 700,000 people die of resistant infections every year.
6. Climate change introduces additional risks to health and safety.
The last decade was the hottest in human history and we are already experiencing the impacts of climate change, with wildfires, floods and hurricanes becoming regular events that threaten lives, livelihoods and food security. Climate change also affects the survival of microbes, facilitating the spread of viruses. According to an article published by the Intergovernmental Science-Policy Platform on Biodiversity and Ecosystem Services, "pandemics are likely to happen more frequently, spread more rapidly, have greater economic impact and kill more people."
Migrants left stranded and without assistance by COVID-19 lockdowns
Travel restrictions during the COVID pandemic have been particularly hard on refugees and migrants who move out of necessity, stranding millions from home, the UN migration agency, IOM, said on Thursday.
According to the International Organization for Migration (IOM), the first year of the pandemic saw more than 111,000 travel restrictions and border closures around the world at their peak in December.
These measures "have thwarted many people's ability to pursue migration as a tool to escape conflict, economic collapse, environmental disaster and other crises", IOM maintained.
In mid-July, nearly three million people were stranded, sometimes without access to consular assistance, nor the means to meet their basic needs.
In Panama, the UN agency said that thousands were cut off in the jungle while attempting to travel north to the United States; in Lebanon, migrant workers were affected significantly by the August 2020 explosion in Beirut and the subsequent surge of COVID-19 cases.
Business as usual
Border closures also prevented displaced people from seeking refuge, IOM maintained, but not business travellers, who "have continued to move fairly freely", including through agreed 'green lanes', such as the one between Singapore and Malaysia.
By contrast, those who moved out of necessity – such as migrant workers and refugees – have had to absorb expensive quarantine and self-isolation costs, IOM said, noting that in the first half of 2020, asylum applications fell by one-third, compared to the same period a year earlier.
Unequal restrictions
As the COVID crisis continues, this distinction between those who can move and those who cannot, will likely become even more pronounced, IOM said, "between those with the resources and opportunities to move freely, and those whose movement is severely restricted by COVID-19-related or pre-existing travel and visa restrictions and limited resources".
This inequality is even more likely if travel is allowed for anyone who has been vaccinated or tested negative for COVID-19, or for those with access to digital health records – an impossibility for many migrants.
Health risks
Frontier lockdowns also reduced options for those living in overcrowded camps with high coronavirus infection rates in Bangladesh and Greece, IOM's report indicated.
In South America, meanwhile, many displaced Venezuelans in Colombia, Peru, Chile, Ecuador and Brazil, lost their livelihoods and some have sought to return home – including by enlisting the services of smugglers.