Global War on Terror: Pakistan's Role and Evolving Security Architecture for sustainable peace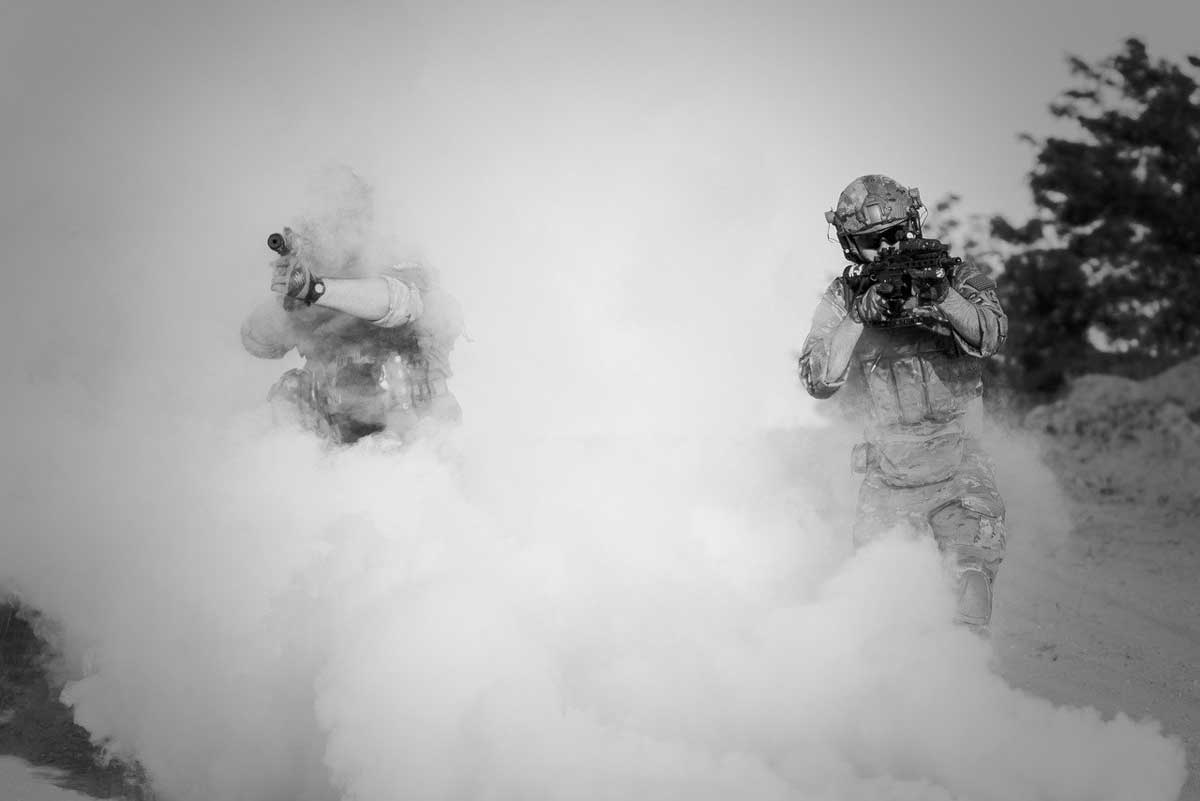 If Afghanistan, according to former president of the United States (US) George W Bush was the center of terror, then Pakistan had been the center of war against it. After the 9/11 attacks, while announcing the Global War On Terror (GWOT), the former Bush administration invited international community including Pakistan for cooperation and adopted the foreign policy approach of "with us or against us" pick. Thus, there was no choice for the Pakistan except joining the US war in Afghanistan aimed terrorism elimination. The US policy of "with us or against us" to fight together against a common enemy could be dubbed as classic realist approach of "enemy of my enemy is my friend".
Pakistan played a "crucial role" to eradicate the threat of terrorism to fulfill its desire for peace and stability at regional as well as global level. Despite playing pivotal role to fight the US-war on terrorism, Pakistan's sacrifices and contributions has not been acknowledged and notion of 'do more' was raised by the US officials. However, terrorism encompasses various tactics to launch violent attacks against military personnel, civilians, and public. The most common tactics include use of Improvised Explosive Devices (IED), suicide bombing, firing, Hand Grenade, Gun and bombs and Rockets. Thus, it is difficult to respond the tactics of terrorism as an act of war through military operations. Realizing the complicated nature of counter-terrorism operations and lack of success of the US forces in Afghanistan to hit the tactics of terrorist, only way forward for the US is negotiations and political settlements. Pakistan performed important role to construct roadmap for US-Taliban talks and provided relentless support in ongoing Afghan peace process. Pakistan's role and efforts to facilitate peace negotiations between the U.S. and Taliban to agree on 'Doha agreement' are widely appreciated by International community and acknowledged by the US. But when it comes to the US war on terror, Pakistan is still denied of its due appreciation in its fight against terrorism and relentless support to coalition forces in Afghanistan. Pakistan's contribution of providing logistic and military support by giving access to its bases and ports to the US, deployment of its forces along its border with Afghanistan to eliminate infiltration of terrorist, intelligence and information sharing to hit and capture extremist leaders is much more than its commitments to Operation Enduring Freedom (2001–2014) or GWOT.
GWOT and Escalating Instability in Pakistan
In the aftermath of its decision to join GWOT, Pakistan became targeted by radical terrorist groups due multiple factors including foreign financial assistance to internal sectarian hostility, religious extremism, emergence of Islam in politics. Significantly the turmoil in Afghanistan had spill over impact in Pakistan. Escalating terrorist attacks and huge influx of Afghan refugees in Pakistan instigate instability and insecurity in the country. Pakistan paid heavy price for its decision to join coalition in terms of relations with Afghanistan, low growth in economic sector including loss of human lives and psychological effects. Pakistan is plagued unprecedented levels of violence since Pakistan joined the GWOT as a front-line state. Independent sources reported that in the post 9/11 period, Pakistan lost 64,000 lives, damaged infrastructure and suffered financial losses of 150 billion USD.
Pakistan undertook a series of military operations to counter the menace of terrorism and extremism. According to the Global Terrorism Database, the sudden explosion of the terrorist attacks occurred in 2005 till 2014. Counter terrorism operations by Pakistan's military contributed in the WOT and played a pivotal role in winning it. Significant decrease in terrorist activities in Pakistan since 2014 highlights achievement of military operations against terrorists and militants.(See figure 01)
Source: Global Terrorism Data Base & Pakistan Institute for Peace Studies (PIPS)
Pakistan's Security Situation in 2020 and Geographic Distribution of terrorist activities
The trends in terrorist attacks indicates that number and lethality of terrorist activities in Pakistan is declining and country is heading towards peace and stability. In 2020, a total of 146 terrorism incidents were reported from across the country in which 220 people lost their lives, while another 547 were wounded. However, in 2019, a total of 230 terrorism incidents were reported from across the country in which 318 people lost their lives, while another 720 were wounded. The statistics for 2020 show a decline in number of terrorist attacks by nearly 38% as compared to 2019 when 230 attacks took place. Geographical distribution of terrorist attacks indicates a notable difference among provinces. Like the previous year, Khyber Pakhtunkhwa (NWFP) and Balochistan had suffered most numbers of incidents; when compared with 2019, all the provinces have witnessed decline in terrorist activities. Meanwhile, Federal Capital Islamabad, Gilgit-Baltistan and Azad Jammu and Kashmir remained the safest places as not even a signal terrorist attack occurred during the year 2020. Statistics mentioned in Pakistan's security report 2020, published by Pakistan Institute for Peace Studies (PIPS) shows that country is making gradual progress to eradicate terrorism.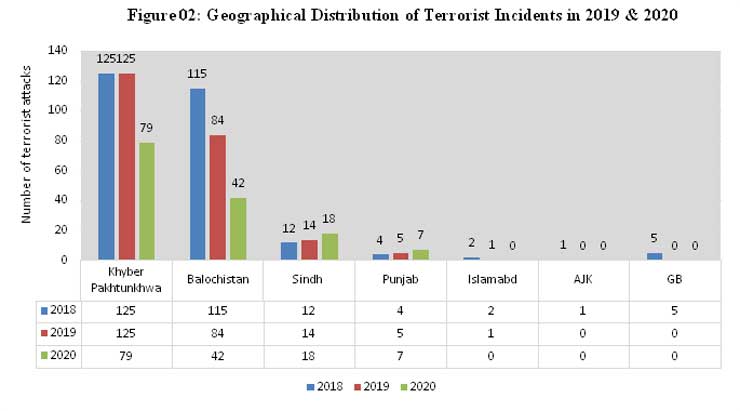 Source: South Asia Terrorism Portal (SATP), National/Local newspapers & Pakistan Institute for Peace Studies (PIPS)
Conclusion
Pakistan's counter terrorism operations have played significant role to fight the violence and establishing peace in the country. Yet, Pakistan's fight against terrorism is facing challenges due to continuing foreign finances and resources supply to terrorists' organizations. Pakistan's Counter-terrorism strategies should formulate mechanism to further strengthen multilateral cooperation among states to prevent, protect and pursue an attack and enhance the capacity to minimize the consequence of terrorist attack. Pakistan has entered in a fruitful phase of combating terrorism and managing its consequences efficaciously. Thus far, the US needed to acknowledge the unconditional contributions and sacrifices made by Pakistan and support the country in fighting this exhaustively expensive war on behalf of world community.
Despite acknowledging strict measures, Pakistan has to stay on the grey-list in FATF
President of The Financial Action Task Force (FATF), Dr. Marcus Pleyer, announced in a press conference held on 25 February 2021 after the four-day virtual plenary meeting in Paris, France, that "Pakistan remains under increased monitoring," adding that while Islamabad had made "significant progress," there remained some "deficiencies" in mechanisms to plug terrorism financing.
The Financial Action Task Force (FATF) is an inter-governmental formal decision-making body. It was founded in 1989 during the G7 Summit in Paris to develop policies against money laundering. It is a "policy-making body "that generates the political will to bring about national legislative and regulatory reforms in money laundering. It has also started dealing with virtual currencies. The FATF Secretariat is located in Paris. It sets standards and promotes effective implementation of:-
a. Legal, regulatory, and operational measures for combating money laundering.
b. The FATF works to identify national-level vulnerabilities to protect the international financial system from misuse.
Pakistan has been on the FATF grey list since June 2018 and has been asked to implement the FATF Action Plan fully by September 2019. Pakistan has implemented almost 90% of the recommendations; only three out of 27 points are not fully implemented.
Pakistan has suffered heavy economic losses due to being put on the grey-list; according to some estimates, Pakistan has suffered US Dollars 38 billion.
The FATF president noted that Pakistan was working towards its commitment made at a high level to implement the illicit financing watchdog's recommendations, saying "that is not the time to put a country on the blacklist."He added that as soon as Pakistan completed the action, the watchdog "will verify the reforms' sustainability and discuss in next plenary in June."
However, there are no chances that Pakistan could be put on the blacklist because it has at least three members of the FATF — China, Turkey, and Malaysia — that can sustain all pressures against any downgrade.
The government of Pakistan is committed to fully implementing the action plan, and to date, the progress achieved is admired by other FATF members.
However, FATF is also being used as a political tool against other nations. By reviewing the countries on the blacklist, the new additions are North Korea and Iran- the West's adverse enemies. Also,the addition of Morocco, Burkina Faso, Senegal, and the Cayman Islands, are political decisions. As a matter of fact, the Western world is using international organizations, including FATF, to coerce their political opponents. Pakistan was a close ally with the West during the cold war era, and the front line state on Afghan war and non-NATO ally in the war on terror, yet faced worst sanctions like Pressler Amendments, Kerry Loggar Bill, etc.
Pakistani journalist Adeela Khan stepped up and raised a question asking FATF president Marcus Pleyer why India is not on the grey or blacklist of FATF even after financing proxies in Afghanistan, using Afghan soil to end terrorism in Pakistan, and violating human rights in India Occupied Kashmir. There more than forty banks in India involved in money laundering. The Incident of terrorism in Sri Lanka can be traced back to India. Yet India is not on the grey list or blacklist. India has been playing an ugly role in keeping Pakistan on the grey list. Although the EU Disinfo lab has revealed that Indian state-sponsored media think tanks and professionals play a dirty role in spreading fake news and disinformation against China and Pakistan yet, the world has not realized India's evil intentions.
A bais and discriminatory attitude may harm the FATF's reputation ultimately.
Many neutral people ask similar questions and demand justice and a fair playground for all nations, above the political motives and discrimination. The international community may maintain the reputation of International organizations and integrity – merit-based decisions.
On the one hand, Pakistan is trying its best to implement the FATF plan fully, and on the other hand, it is demanded that a fair playground be provided to judge the case for Pakistan. It is expected that in the next plenary session to be held in June 2021, Pakistan will come out of the grey list.
'Disturbing spike' in Afghan civilian casualties after peace talks began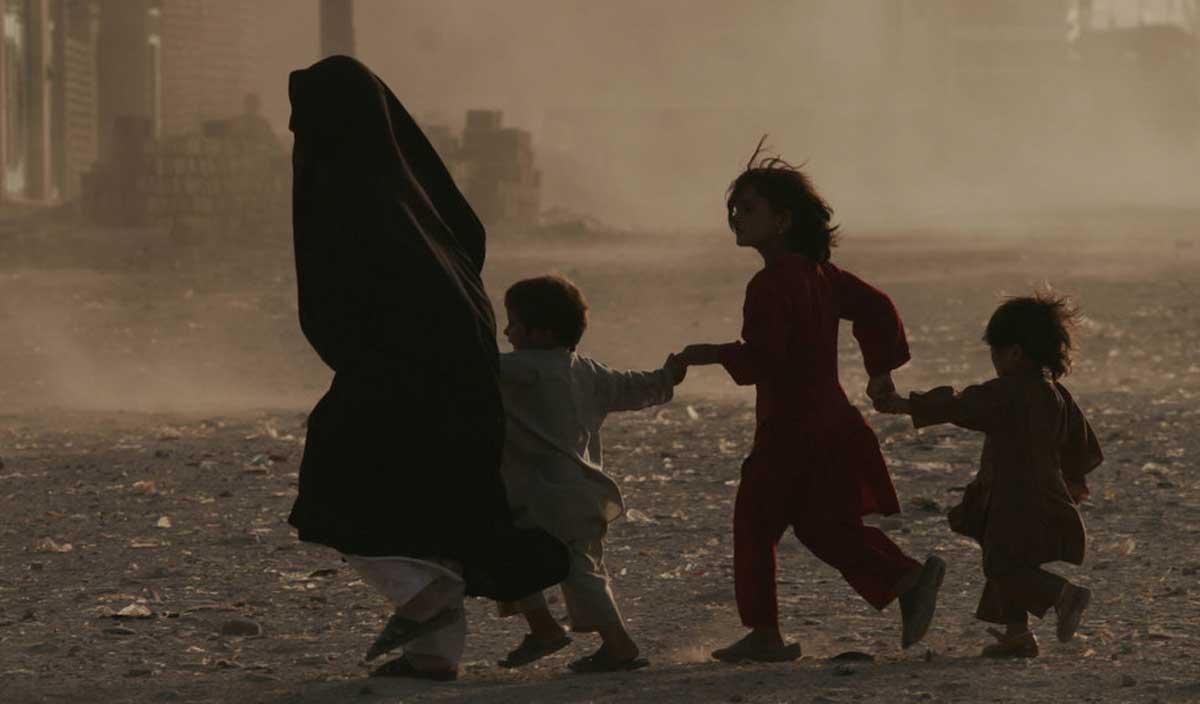 Civilian casualties in Afghanistan witnessed a sharp rise since peace negotiations started in September last year, even though overall deaths and injuries dropped in 2020, compared to the previous year, according to a UN human rights report launched Tuesday.
In their annual Afghanistan Protection of Civilians in Armed Conflict Annual Report, the Office of the UN High Commissioner for Human Rights (OHCHR) and the UN Assistance Mission in the country (UNAMA) documented some 8,820 civilian casualties (3,035 deaths and 5,785 injuries) in 2020, about 15 per cent less than in 2019.
It was also the first time the figure fell below 10,000 since 2013.
However, the country remains amongst the "deadliest places in the world to be a civilian", according to Michelle Bachelet, UN High Commissioner for Human Rights.
"I am particularly appalled by the high numbers of human rights defenders, journalists, and media workers killed since peace negotiations began in September", she said.
At least 11 rights defenders, journalists and media workers lost their lives since September, resulting in many professionals exercising self-censorship in their work, quitting their jobs, and even leaving their homes and the country – in hope it will improve their safety.
Rise in 'targeted killings'
According to the report, the overall drop in civilian casualties in 2020 was due to fewer casualties from suicide attacks by anti-Government elements in populated areas, as well as drop in casualties attributed to international military forces.
There was, however, a "worrying rise" in targeted killings by such elements – up about 45 per cent over 2019. The use of pressure-plate improvised explosive devices (IEDs) by the Taliban, air strikes by the Afghan Air Force, and ground engagements also resulted in increased casualties, the report said.
According to the report, anti-Government elements bore responsibility for about 62 per cent civilian casualties, while pro-Government forces were responsible for about 25 per cent casualties. About 13 per cent of casualties were attributed to crossfire and other incidents.
2020 could have been 'a year of peace'
Deborah Lyons, Special Representative of the UN Secretary-General for Afghanistan and head of UNAMA, called on all parties to take immediate and concrete action to protect civilians, urging them "not to squander a single day in taking the urgent steps to avoid more suffering".
"2020 could have been the year of peace in Afghanistan. Instead, thousands of Afghan civilians perished due to the conflict", Ms. Lyons said.
The "overriding objective" of the report is to provide the parties responsible with the facts, and recommendations, so they take immediate and concrete steps to protect civilians, she added.
Ms. Lyons highlighted that "ultimately, the best way to protect civilians is to establish a humanitarian ceasefire" – a call consistently made by Secretary-General António Guterres and the Security Council.
"Parties refusing to consider a ceasefire must recognize the devastating consequences of such a posture on the lives of Afghan civilians."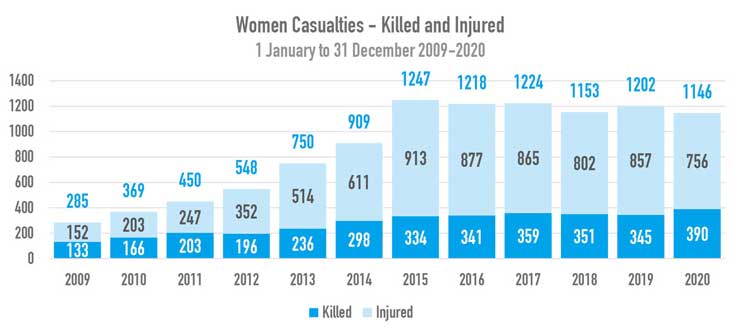 UNAMA-OHCHR report: Women casualties (killings and injuries) documented between 1 January 2009 and 31 December 2020
'Shocking toll' on women and children
The report went on to note that the years-long conflict in Afghanistan "continues to wreak a shocking and detrimental toll" on women and children, who accounted for 43 per cent of all civilian casualties – 30 per cent children and 13 per cent women.
"This report shows the acute, lasting needs of victims of the armed conflict and demonstrates how much remains to be done to meet those needs in a meaningful way", High Commissioner Bachelet said.
"The violence that has brought so much pain and suffering to the Afghan population for decades must stop and steps towards reaching a lasting peace must continue."
Attacking civilians 'serious violations'
With the conflict continuing, parties must do more to prevent and mitigate civilian casualties, the report said, urging them to fully implement the report's recommendations and to ensure that respect and protection of human rights is central to the ongoing peace negotiations.
It also reminded the parties that deliberately attacking civilians or civilian objects are serious violations of international humanitarian law that may amount to war crimes.
Is Blacklisting on Cards for Pakistan?
Financial Action Task Force (FATF) has been an integral part of the economic decision making and regulatory procedures of the country. The days of the ultimate decision are finally on cards as the Global Watchdog is expected to evaluate and review the performance and strategies of Pakistan via virtual meeting tentatively scheduled for February 22-25, 2021. This would be a much-anticipated review since a keen eye would be payed following a long hiatus to the litigations recently undertaken by the country to eliminate the risks and gaps in the financial framework which might earn Pakistan, a way out from the grey list. However, while the preceding meeting only guided more hopes for better litigation and measures to curb terror financing, brimming foreign propaganda and nefarious rulings within the country itself might hamper the way out but instead could dig the trench further towards a harrowing financial turmoil.
Pakistan was placed on the grey list back in June 2018 due to strategic deficiencies. Just before the Covid-19 pandemic wreaked havoc in the world, Pakistan was allowed a breather of 4-months to comply with the 27-point action plan; of which Pakistan met only 14 targets while missing out on the rest of 13 targets. Moreover, Pakistan could only satisfy 10 of a total of 40 recommendations devised by the task force. These lags led to a major pitfall in the Pakistan's Stock Market; PSX plummeting bellow 30,000 points. Furthermore, a bitter narrative started blooming regarding arch-rival India pulling all the strings to push Pakistan down further, even in the blacklist. This was largely shunned by the Indian representatives but the failure of the economic and diplomatic front of Pakistan was evident by now.
The FATF plenary was scheduled, like traditionally, in June. However, all scheduled evaluations and review procedures were deferred for 4-months in the wake of the Covid-19 pandemic, allowing yet another unforeseen yet thoroughly welcomed relief span to Pakistan to strive more actively to meet the requirements.
In the preceding 4 months, Pakistan acutely worked to amend the contradicting laws and policies, the parliament playing an agile role to introduce new bills relating to counter-terrorism and countering money laundering as an act to expedite compliance to the international laws and ultimately meeting up all 27 points in the action plan. Almost all the bills presented, albeit some political resistance, were eventually passed which even led to optimism in the stock market; PSX climbing back over 40,000 points after more than half a year, rallying to record high levels despite of the pandemic wreaking havoc on the investors' mentality across the globe.
The meeting held, after a steep deferral, back in October 2020; the FATF committee observed and commended on the vigilant stance assumed by Pakistan to crawl out of the Grey list. Pakistan has since delivered on 22 out of the 27 core points of the action plan defined. However, the meetings adjourned till February, retaining Pakistan in the grey list under the tag of 'jurisdiction under enhanced monitoring' whilst praising the steps of counter-terrorism and anti-money laundering adopted by Islamabad.
Pakistan was warned back in February last year that if not complied by the 27-point action plan, it could be a great threat to the foreign mechanism and would be eventually moved to the monitored jurisdiction, notoriously also known as the 'Blacklist'. Later this month, FATF would examine if Pakistan meets the 8 key categories of the action plan; remedial actions taken against money laundering, counterfeit terrorism while also reviewing the vigilance of the institutions in countering Terror Financing and actively managing risk. The committee representing Pakistan would perpetually convince the plenary that the country in-fact meets the criteria and transitioning over the next month, the fate of the tormented economy would finally prevail in light of the decision made.
However, Pakistan has been sluggish in taking action against the notorious entities linked to terrorism around the region. The meeting nears with the pinned watch of UN regarding Pakistan's role of providing a safe haven to Lashkar-e-Taiba founder, Hafiz Saeed, or the notorious acquittal of Ahmed Omer Sheikh, the prime culprit of the Daniel Pearle Murder case of 2002. Pakistan, however, claims to have made virtue on 22 of the defined 27 points while has garnered 'Substantial progress' on the remaining 5 points. Thus, the optimism brews that the meeting would push the country out of the list and would open more financial avenues especially in these distressful conditions.
Although Pakistan's Foreign Office including the Foreign Minister, Shah Mahmood Qureshi, appears optimistic to climb out of the grey list after 3 years, the infamous decisions passed by the Supreme Court of Pakistan, the excessive money laundering cases surging against the ex-office holders of Pakistan and the determined efforts of India to subvert Pakistan in global politics, all thwart down that optimism bit by bit. And while some of the economic experts claim that the decision of advancing Pakistan off the Grey list would be naïve move and would arguably impact regional dynamics, the decision could fall in tandem with the preceding outcome of sustaining the grey list status or could deteriorate the level further as gauged by a political expert, opining his narrative: "The facts demand that Pakistan remain on the grey list. The FATF shouldn't just keep Pakistan on the grey list. It should rather warn Islamabad that absent rapid and wide-ranging reform; blacklisting is coming".