UN agencies supporting mammoth India COVID-19 vaccine rollout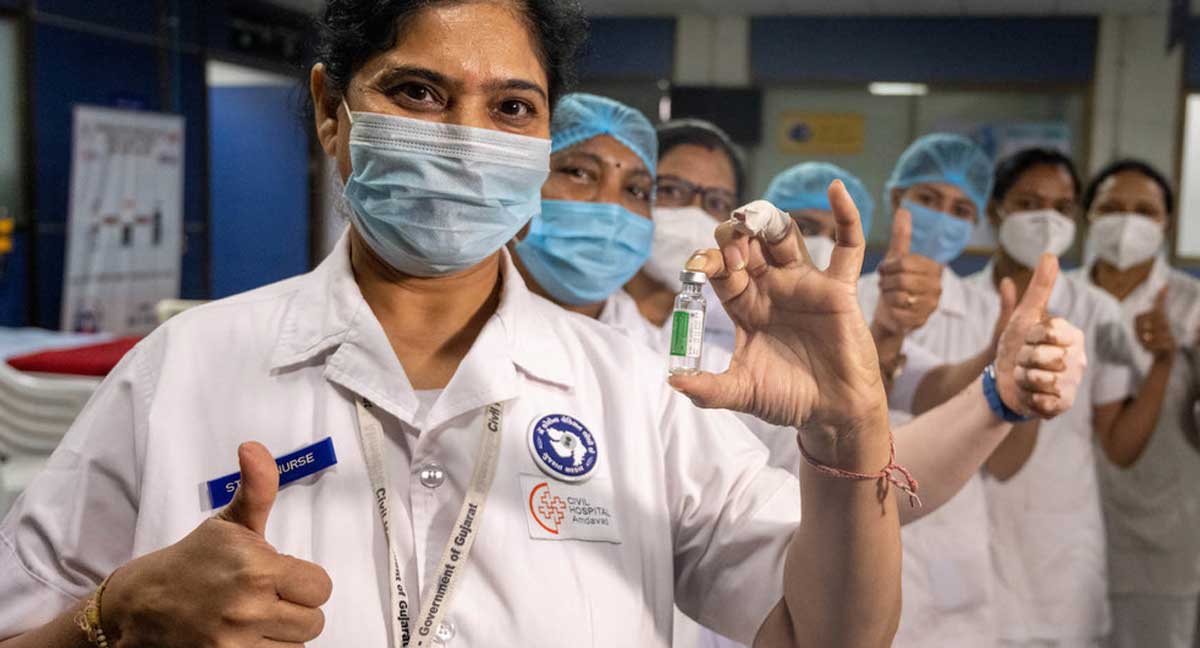 India has begun what is the world's biggest COVID vaccination campaign so far, deploying hundreds of thousands of health workers, with the training and support of the UN World Health Organization (WHO).
On 16 January, the first day of the campaign, 207,229 vaccine shots were given across the country, one of the worst-hit by COVID-19, with over 10 million COVID-19 infections and 150,000 deaths.
"[We] provided technical assistance to the Government of India for the development of operational guidelines and other training materials for state and district programme managers and vaccinators, and establishing tracking and accountability frameworks", Roderico H. Ofrin, WHO Representative in India said.
"WHO field officers have facilitated the highest-level oversight through regular task force meetings at state and district levels, which are chaired by the Principal Secretaries (Health) at the state level, and District Magistrates at the district level", he added.
According to media reports, an estimated 10 million health workers are targeted to be vaccinated in the first round, followed by other front-line workers such as police, security forces and municipal staff, with plans to inoculate 300 million people by August.
Supporting preparations
Prior to the start of the campaign, UN agencies help with detailed preparations.
For its part, WHO participated in dry-run simulations and provided feedback on management of vaccines, registration of beneficiaries, as well as reporting on vaccination coverage and adverse events following immunization.
It also worked with the Government and the UN Development Programme (UNDP) on real-time reporting and problem-solving when issues arose at the vaccination sites, according to Dr. Ofrin.
At the provincial level, WHO also supported implementation and monitoring of health policy, such as developing standard operating procedures, preparing technical briefs, and providing best practices from other parts of the India as well as other countries.
Reliable information
Similarly, the UN Children's Fund (UNICEF) supported communication and advocacy efforts to ensure the dissemination of factual information to stakeholders and communities. The agency also helped train healthcare staff in infection control and prevention, and psychosocial support to children and caregivers.
Aside from directly supporting vaccine rollout, UN agencies continued their programmes to assist the most vulnerable communities impacted by COVID-19 and its socio-economic fallouts.
For instance, the UN World Food Programme (WFP) supported NGOs in order to identify and register some 19,000 vulnerable households and distributed food packets; while the UN Population Fund (UNFPA) conducted awareness raising programmes on sexual and reproductive health, and prevention of gender-based violence, on behalf of some 30 million vulnerable individuals.
The three W's
Though vaccination programmes are underway, continued vigilance against COVID-19 and preventing its spread remain as important as ever.
WHO's Dr. Ofrin urged continued vigilance over tracking cases, cluster investigation, isolation and clinical care, and quarantining to break the chain of transmission.
Alongside, he also highlighted the "three W's – wear a mask, wash your hands and watch your distance."
"These efforts must continue to stop the spread of COVID-19. We as individuals and communities must work with the Government to save lives and the economy by protecting health and livelihoods," he added.
Why Students Should Have Sports Pauses Between Lectures
Including physical activities and exercise in your day can provide some great benefits. As a student, you may have a busy schedule that can make it difficult to engage in healthy habits. However, playing sports between lectures or being involved in a college team on campus has many benefits. Unfortunately, some students report that walking is their daily exercise. While this does help keep the body moving, it is not enough to meet today's standards.
Here, we look at how a student, and even teachers, can benefit from playing sports between their lectures and classes. Whether it is done on campus or at a gym with peers, including fitness exercise is one of the ways to ensure your body and brain remain healthy.
Aerobic Exercise for Brain Health
As a college student, it can be hard finding the time to include sports in a schedule. However, playing sports and adding exercise are essential for brain function. While trying to juggle attending classes, completing coursework, and writing essays, students may need to find some extra help. With essay writing services, one can get assistance with essays, research papers, homework, and more. Students can free up some time and still maintain their grades. Asking for help does not mean failure. It can be a great way for any struggling student to learn how to spell for good grades, meet strict deadlines, and more.
During that extra time, getting involved in sports between classes or lectures can be very beneficial. This can positively affect a protein called BDNF, which promotes the growth of nerve cells. Types of aerobic exercise will also help with heart health and can enhance your mindset. It will improve alertness and attention, allowing students to learn and retain information easier. This can help those that struggle with writing essays or a research paper. Adding exercise or playing low-impact sports could boost motivation so that students can complete their next assigned essay on their own.
Help with Stress and Anxiety
Stress is something that every student will deal with. They have to complete courses, write essays, and even rewrite papers based on teacher comments on students' writing. This all takes up time and can lead to great levels of stress. There have been studies conducted on how engaging in sports activities can reduce these things. By taking a time-out period during the day to exercise, daily stressors can be reduced. During this time, engaging in a low-intensity workout can effectively reduce anxiety and stress.
Aerobic exercise will help one rebuild confidence and alleviate some anxiety. When exercising, there will be reduced muscle tension, and it teaches one to look for different situations that provoke stress or anxiety. Many students stress or have anxiety over their grades. If you have a student contract for grades in college, there is an agreement between you and the professor on grading papers a bit differently. Even though you may have this contract, stress will always be a factor when completing assignments. Taking some time to play sports on campus between classes or study sessions can help with this.
Improves Sleep
Whether you are a student tackling courses or a teacher grading college papers, getting a good night's sleep is essential. Having some type of physical routine and exercising will help to improve sleep quality. Those who play sports will also be able to fall asleep faster. While sleeping, the brain is always working and retaining information from studying. Not getting enough sleep can lead to decreased attention in class. By getting in a good 8 hours, higher brain functions will not be impaired, allowing you to be a better student and maintain good grades.
To get the most from exercise, try to schedule workouts, practices, or scrimmages in the morning or afternoon. If you exercise too close to when you go to sleep, your body temperature may be too high, resulting in the inability to fall asleep.
How to Incorporate Exercise
If you are one that does not regularly exercise but you want to start enjoying the benefits, there are some ways to easily add a routine to your schedule. Students have many things to worry about when attending a university. Staying healthy and having good brain function are usually not things that many think of. However, they are essential to your academic success. If you are ready to include exercise, here are some tips that can be useful:
· Save Money – Money is the main concern for any student, and not everyone can afford a gym membership. There are some free or inexpensive ways to have access to what is needed for a good workout. Buying or borrowing resistance bands, exercise balls, or jump ropes are just a few examples.
· Make a Schedule – Just like you have a schedule for classes and homework, having one for sports is also needed. This will allow you to set aside specific time slots for playing a game or getting in practice, making it a priority. Experts suggest performing exercise regimes in the morning, so there are no excuses for procrastination later in the day.
· Make Lifestyle Adjustments – Making small changes during the day can help achieve exercise goals. Choose to take the stairs instead of escalators, walk or bike around campus, and add a walk during study breaks instead of snacking or socializing.
· Join School Activities – There are many others who are looking to stay healthy and keep fit. Some schools have activities that include programs and classes. These are held on campus, so they provide easy access and allow for interaction with peers. Every college will have a wide array of sports that can be enjoyed. You can join teams representing your university or play some social games with others.
Conclusion
Academic performance is the main focus for college students, but it is not everything. Your general health should also be a concern. You will need to be mentally and physically healthy so you can benefit from those good grades that are being earned. There is no need to take part in rigorous training sessions or intense sporting activities. Simple activities can promote a healthy body and mind, and many activities can be found right on campus.
Monkeypox virus testing for 20 African Union Member States
With rising cases of Monkypox virus in Africa, the Centre for Disease Control (Africa CDC) and the African Society for Laboratory Medicine (ASLM) have jointly held its first training on Real-Time PCR-based Monkeypox virus (MPXV) testing for 20 African Union Member States in Abuja, Nigeria.
It was the first in the series of hands-on training on real-time PCR-based monkeypox virus (MPXV) diagnosis launched and organized in partnership with Nigeria Centre for Disease Control (NCDC) in June.
The three-day training workshop is designed to cover a combination of theoretical and hands-on training in the collection and handling of MPXV suspected specimen; isolation of nucleic acid; detection of MPXV using RT-PCR assay; interpretation and reporting of results for public health interventions.
Furthermore, the Africa CDC in partnership with Jiangsu Bioperfectus Technologies Co., Ltd. will distribute MPXV RT-PCR kits to expand testing in participating Member States.
Dr. Yenew Kebede, Head Division of Laboratory Systems and Networks at the Africa CDC, said: "Laboratory testing capacity is key to expand MPXV surveillance in endemic and non-endemic countries across the continent. This training is timely and critical to build and expand MPXV testing capacity and capability across the continent. We will continue to organize additional trainings and distribute testing kits to additional African Member States in order to strengthen MPXV surveillance in the continent."
Dr. Ifedayo Adetifa, Director General of NCDC, commented: "Establishing diagnostic capacity for infectious diseases including for monkeypox virus is an essential first step in gaining the understanding required for preparedness and response. So, we are very delighted to partner with Africa CDC to conduct hands-on training for 20 African countries on the RT-PCR based detection of monkeypox virus. The training covers a range of topics from collection and handling of specimen to RT-PCR testing and reporting of results to inform response and containment strategies."
Dr. Ahmed Ogwell, Acting Director of the Africa CDC, said: "Africa CDC will continue to support Member States in strengthening their capacity and capability to detect and respond to disease outbreaks. Recently, we have issued a call for more support to Member States and increased access to diagnostics, therapeutics and vaccines to limit the spread of MPXV. The MPXV training and the distribution of test kits is key to expand MPXV surveillance across the continent."
The participants are expected to put into practice the skills and knowledge gained from this training to expand MPXV testing and surveillance in their home country. Furthermore, the training workshop will create a network of laboratory experts to collaborate and share expertise and resources in MPXV detection and response.
The training was coordinated and supported through the Africa CDC – Africa Pathogen Genomics Initiative (Africa PGI). The training workshop targeted 20 participants from 20 African Union (AU) Member States: Benin, Chad, Cote d'Ivore, Democratic Republic of Congo, Ethiopia, Gabon, Ghana, Guinéa, Liberia, Mali, Mozambique, Niger, Republic of Congo, Senegal, Sierra Leone, South Sudan, Sudan, Togo, Uganda, and Zambia.
COVID-19: BA.4 and BA.5 variants spur 20 per cent rise in cases
COVID-19 cases are on the rise in some 110 countries, driven by the BA.4 and BA.5 variants, said the UN health agency chief on Wednesday, amounting to a 20 per cent spike overall, and a rise in the number of deaths across three of the six world regions monitored by the World Health Organization.
WHO Director-General Tedros Adhanom Ghebreyesus stressed in his weekly briefing to journalists that the global figure overall remains "relatively stable", but nobody should be under any illusion, that the coronavirus is on the way out.
"This pandemic is changing but it's not over. We have made progress but it's not over."
Act together
"Only with concerted action by governments, international agencies and the private sector can we solve the converging challenges", said the WHO chief.
He warned that our ability to track the virus is under threat as reporting and genomic sequences are declining. The optimistic mid-year deadline for all countries to vaccinate at least 70 per cent of their populations is looking unlikely, with the average rate in low-income countries, standing at 13 per cent.
On the bright side, in the past 18 months, more than 12 billion vaccines have been distributed around the world, and 75 percent of the world's health workers and over-60s are now vaccinated.
20 million lives saved by shots
The influential Lancet medical journal, estimates that 20 million lives have been saved because of vaccines, said Tedros.
Last year, it was the hoarding of vaccines by rich and manufacturing countries which proved to be the major barrier to access, but this year, it's what he described as the wavering "political commitment to getting vaccines out to people – and challenges of disinformation", which are thwarting the pace of inoculations at the national level.
He called for all at-risk groups, to be vaccinated and boosted, as soon as possible.
"For the general population, it also makes sense to keep strengthening that wall of immunity, which helps lessen the severity of the disease and lowers the risk of long- or post-COVID condition."
He said continuing 'mild' cases are disruptive and damaging, keeping children out of school and adults from their jobs, "which causes further economic and supply chain disruption."
He said the goal of 70 per cent coverage was still desirable, based on the principle that if we don't share vaccines equitably, "then we undercut the philosophy that all lives have equal worth."
Second generation vaccines
Tedros said that it was critical for funding to be secured for "second generation vaccines", as well as testing and treatments.
"The ideal solution would be the development of a pan-coronavirus vaccine that covers all the variants so far and potentially future ones", the WHO chief declared.
"This is feasible, WHO continues to convene scientists and researchers and there has been a lot of research into this virus and understanding immunology overall."
New global trials
He said through the agency's Solidarity Trials, global trials of new vaccines could take place to rapidly establish their safety and efficacy.
"Now is the time", he concluded, for government health departments to integrate tests and anti-virals into clinical care, so that people that are sick can be treated quickly.
"With new variants of concern likely – genomic sequencing remains critical. I also call for accelerated efforts and incentives to be developed around the moonshot of developing a pan-coronavirus vaccine."