America's trade deficit (excess of imports minus exports) reached its minimum in February 2020, and since then has increased 84% from February's -3708, up to November's -6812. America has one of the world's highest rates of coronavirus-19, or Covid-19, infection, and therefore is less productive and more needy than most countries are, during the coronavirus crisis, and is consequently importing more and producing less. The reverse has generally been the case for the countries that have had good policy-responses to the virus — those countries' economies have either been virtually unharmed by, or else have actually boomed from, this pandemic.
China's mere month-long trade deficit from coronavirus was an enormous -62.05 in February, but by March China popped back up to+19.93 and has remained above +36 since that time, and it reached its high of +75.43 in November. China has one of the world's lowest rates of coronavirus-19 infection, and is therefore exporting more as it fulfills the needs of countries (such as America) that are producing less because of the coronavirus crisis.
A major study by Jungle Scout, "Global Imports Report 2020", says that:
Those countries that were able to recover from the impact of early 2020 economic events are the countries faring better later in 2020. For example, China had the most drastic year-over-year reduction in U.S. imports among the top 20 countries in February and March, second only to Hong Kong. But in April, China bounced back significantly, achieving approximately 40% year-over-year growth in U.S. imports. The countries that were able to recover early are the countries faring better later in 2020.
On December 17th, Matthew C. Klein at Barrons headlined "China's Pandemic Recovery Accelerates While the U.S. Economy Rolls Over" and he reported that, "Soaring consumer spending, rapid manufacturing growth, and robust exports are pushing up the speed of China's recovery from the pandemic even as the third wave of the viral outbreak and the withdrawal of federal government income support are causing the U.S. economy to turn over."
One of the very few countries that were hit about as little as China by this pandemic is Vietnam, whose northern border is China. Vietnam has perhaps the world's most vigorous and well-planned policies to restrain this virus. The country's only two months of trade deficit were during April, at -12.20, and popped back up to +12.33 in May, then peaked at +49.86 in August, and declined sharply down to +6.00 in November, and then down to -10.00 in December. Although Vietnam's worst month of the infection was August, after which the numbers of new daily cases returned quickly to the extraordinarily low numbers of the preceding months, Vietnam was hit hard by retaliation (such as complaints and investigations) from the U.S. regime in October, which caused an especially hard drop from 29.39 in October down to November's +6.00, and then December's -10.00. China wasn't hit so hard by the U.S., mainly because Trump had already turned the screws against them earlier, and China had thus already reoriented its exports toward other countries. Yet, still, China has, steadily, each year, during the past five years, produced almost exactly 40% of all imports by the U.S. The impact of America's policies against China has been much bigger in boosting America's imports from China's competitors than it has been in reducing America's imports from China. America has been increasing its imports mainly from Vietnam, Germany, and Taiwan. So, those have been the chief beneficiaries of Trump's anti-Chinese policies.
Another of the very few countries that have been hit by this coronavirus even less hard than China has been is Taiwan, which is almost unique in its enjoying a positive balance of trade throughout the year, and so Taiwan has produced record-breaking trade surpluses ever since May. This is largely because Taiwan is selling more to all of the desperate countries, such as the United States (which regime is especially happy to increase its purchases from Taiwan so as to decrease its purchases from China and from Vietnam). Taiwan is perhaps the world's top gainer as a consequence of this pandemic.
Unlike China, Vietnam, and Taiwan, Germany has been somewhat poor in its coronavirus policies, and has 24,493 cases per million inhabitants, versus 16 in Vietnam, 36 in Taiwan, and 61 in China. America, by comparison, has 73,795. So, whereas America is over 3 times worse than Germany, it's 4,612 times worse than Vietnam, 2,950 times worse than Taiwan, and 1,210 times worse than China. Germany is benefitting not because its coronavirus policies have been good but because the American regime wants to crush China and for some products this means buying from Germany instead.
The people who were saying that the aggressive types of measures that countries such as China, Vietnam, and Taiwan, were imposing against this virus would hurt instead of help those nations' economies were not only wrong but they had their understanding exactly upside-down. They were exactly and precisely and extremely wrong. And if the United States (and perhaps some of its allies) had not been retaliating against the countries (other than Taiwan) that are the most successful against this virus, then the countries that have been doing an outstanding job of protecting their populations from this virus would be economically benefitting even more than they have been economically benefitting from their success against this virus. The result for the well-performing countries is not only lower rates of disease and lower rates of deaths, but higher rates of economic production and GDP.
Coronavirus has thus been redirecting global leadership away from the United States. One might anticipate that America will respond by relying increasingly upon its military in order to impose its will — no longer as any sort of role-model to inspire its 'allies'. For example, on Christmas Day, December 25th of 2020, at the very same time that the nation's austerity hawks were blocking passage of a covid-19 relief bill in the U.S. Congress, and millions of Americans were terrified at the resulting prospects of soon becoming made homeless, CNN headlined "US Army prototype cannon blasts target from 43 miles away", and presented video of a successful test of a tank's cannon firing a small guided missile against a military vehicle that was located 43 miles away, which video CNN accompanied with martial music in celebration of the huge explosion and fireball-annihilation of that targeted vehicle. America would then be selling its threats more, and its benefits less, and CNN was already a liberal cheerleader for this change to a more 'assertive' style of propaganda. But if this is liberal propaganda, then what is conservative propaganda; or: How will CNN now distinguish itself from, say, Fox?
Trump's replacement, Biden, has appointed, to his Administration's international affairs posts, individuals who are just as intensely neoconservative (or "hawkish" or "war-loving") as Trump did; and, therefore, the incentive for America's trading-partners to become less economically dependent upon America is likely to decrease little, if at all, and America's balance-of-trade numbers will probably improve little, if at all, during his Presidency. America seems set on being an aggressive declining power, economically, no matter how much it will be spending militarily in order to prop-up its power. America's billionaires have been thriving while America has been spending around half of the entire world's military expenditures, and, so, this type of U.S. Government is unlikely to change in the near future.
No let-up in Indian farmers' protest due to subconscious fear of "crony capitalism"
The writer has analysed why the farmers `now or never' protest has persisted despite heavy odds. He is of the view that the farmers have the subconscious fear that the "crony capitalism" would eliminate traditional markets, abolish market support price and grab their landholdings. Already the farmers have been committing suicides owing to debt burden, poor monthly income (Rs. 1666 a month) and so on."Crony capitalism" implies nexus between government and businesses that thrives on sweetheart deals, licences and permits eked through tweaking rules and regulations.
Stalemate between the government and the farmers' unions is unchanged despite 11 rounds of talks. The farmers view the new farm laws as a ploy to dispossess them of their land holdings and give a free hand to tycoons to grab farmers' holdings, though small.
Protesters allege the new laws were framed in secret understanding with tycoons. The farmers have a reason to abhor the rich businesses. According to an a January 2020 Oxfam India's richest one per cent hold over four times the wealth of 953 million people who make up the poorest 70 per cent of the country's population. India's top nine billionaires' Inc one is equivalent to wealth of the bottom 50 per cent of the population. The opposition has accused the government of "crony capitalism'.
Government has tried every tactic in its tool- kit to becloud the movement (sponsored y separatist Sikhs, desecrated Republic Day by hoisting religious flags at the Red ford, and so on). The government even shrugged off the protest by calling it miniscule and unrepresentative of 16.6 million farmers and 131,000 traders registered until May 2020. The government claims that it has planned to build 22,000 additional mandis (markets) 2021-22 in addition to already-available over 1,000 mandis.
Unruffled by government's arguments, the opposition continues to accuse the government of being "suit-boot ki sarkar" and an ardent supporter of "crony capitalism" (Ambani and Adani). Modi did many favours to the duo. For instance they were facilitated to join hands with foreign companies to set up defence-equipment projects in India. BJP-ruled state governments facilitated the operation of mines in collaboration with the Ambani group just years after the Supreme Court had cancelled the allotment of 214 coal blocks for captive mining (MS Nileema, `Coalgate 2.0', The Caravan March 1, 2018). Modi used Adani's aircraft in March, April and May 2014 for election campaigning across the country.
"Crony capitalism" is well defined in the English oxford Living Dictionaries, Cambridge and Merriam –Webster. Merriam-Webster defines "crony capitalism" as "an economic system in which individuals and businesses with political connections and influence are favored (as through tax breaks, grants, and other forms of government assistance) in ways seen as suppressing open competition in a free market
If there's one".
Cambridge dictionary defines the term as " an economic system in which family members and friends of government officials and business leaders are given unfair advantages in the form of jobs, loans, etc.:government-owned firms engaged in crony capitalism".
A common point in all the definitions is undue favours (sweetheart contracts, licences, etc) to select businesses. It is worse than nepotism as the nepotism has a limited scope and life cycle. But, "crony capitalism" becomes institutionalized.
Modi earned the title "suit-boot ki sarkar" when a non-resident Indian, Rameshkumar Bhikabhai virani gifted him a Rs. 10 lac suit. To save his face, Modi later auctioned the suit on February 20, 2015. The suit fetched price of Rs, 4, 31, 31311 or nearly four hundred times the original price. Modi donated the proceeds of auction to a fund meant for cleaning the River Ganges. `It was subsequently alleged that the Surat-based trader Laljibhai Patel who bought the suit had been favoured by being allotted government land for building a private sports club (BJP returns 'favour', Modi suit buyer to get back land, Tribune June21, 2015).
Miffed by opposition's vitriolic opposition, Ambani's $174 billion conglomerate Reliance Industries Ltd. Categorically denied collusion with Modi's government earlier this month. Reliance clarified that it had never done any contract farming or acquired farm land, and harboured no plans to do so in future. It also vowed to ensure its suppliers will pay government-mandated minimum prices to farmers. The Adani Group also had clarified last month that it did not buy food grains from farmers or influence their prices.
Modi-Ambani-Adani nexus
Like Modi, both Adani and Ambani hail from the western Indian state of Gujarat, just, who served as the state's chief for over a decade. Both the tycoons are reputed to be Modi's henchmen. Their industry quickly aligns its business strategies to Modi's nation-building initiatives. For instance, Adani created a rival regional industry lobby and helped kick off a biannual global investment summit in Gujarat in 2003 that boosted Modi's pro-business credentials. During 2020, Ambani raised record US$27 billion in equity investments for his technology and retail businesses from investors including Google and Face book Inc. He wants to convert these units into a powerful local e-commerce rival to Amazon.com Inc. and Wal-Mart Inc. The Adani group, which humbly started off as a commodities trader in 1988, has grown rapidly to become India's top private-sector port operator and power generator.
Parallel with the USA
Ambani and Adani are like America's Rockefellers and Vanderbilt's in the USA's Gilded Age in the second half of the 19th century (James Crabtree, The Billionaire Raj: a Journey through India's New Gilded Age).
Modi government's tutelage of Ambanis and Adanis is an open secret. Kerala challenged Adani's bid for an airport lease is. A state minister said last year that Adani winning the bid was "an act of brazen cronyism."
Threat of elimination of traditional markets
Farmers who could earlier sell grains and other products only at neighbouring government-regulated wholesale markets can now sell them across the country, including the big food processing companies and retailers such as WalMart.
The farmers fear the government will eventually abolish the wholesale markets, where growers were assured of a minimum support price for staples like wheat and rice, leaving small farmers at the mercy of corporate agri-businesses.
Is farmers' fear genuine?
The farmers have a logical point. Agriculture yield less profit than industry. As such, even the USA heavily subsidies its agriculture. US farmers got more than $22 billion in government payments in 2019, the highest level of farm subsidies in the last 14 years, and the corporate sector paid for it. The Indian government is reluctant to give a permanent legal guarantee for the MSP. In contrast, the US and Western Europe buy directly from the farmers and build their butter and cheese mountains. Even the prices of farm products at the retail and wholesale levels are controlled by the capitalist government. In short, not the principles of capitalization but well-worked-out welfare measures are adopted to sustain the farm sector in the advanced West.
Threat of monopsonic exploitation
The farmers would suffer double exploitation under a monopsony (more sellers less buyers) at the hands of corporate sharks. They would pay less than the minimum support price to the producers. Likewise, consumers will have to pay more because the public distribution system is likely to be undermined as mandi (regulated wholesale market) procurement is would eventually cease to exist.
Plight of the Indian farmer
The heavily indebted Indian farmer has average income of only about Rs. 20000 a year (about Rs. 1666 a month). Thousands of farmers commit suicide by eating pesticides to get rid of their financial difficulties.
A study by India's National Bank for Agriculture and Rural Development found that more than half of farmers in India are in debt. More than 20,000 people involved in the farming sector died by suicide from 2018-2019, with several studies suggesting that being in debt was a key factor.
More than 86 per cent of India's cultivated farmland is owned by small farmers who own less than two hectares of land each (about two sports fields). These farmers lack acumen to bargain with bigger companies. Farmers fear the Market Support Price will disappear as corporations start buying their produce.
Concluding remarks
Modi sarkar is unwilling to yield to the farmers' demand for fear of losing his strongman image and Domino Effect'. If he yields on say, the matter of the farm laws, he may have to give in on the Citizenship Amendment Act also. Fund collection in some foreign countries has started to sustain the movement. As such, the movement may not end anytime soon. Unless Modi yields early, he would suffer voter backlash in coming elections. The farm sector contributes only about 15 per cent of India's $2.9 trillion economy. But, it employs around half its 1.3 billion people.
Brighter Future Waits Ahead
Our footprints on the sands of time are about to be washed up by the next wave. We need to set out new paths, urgently, after all, the real power of wisdom not hidden in knowing it all; but in not knowing enough. Because whatever we may think of our mastery of our own crafts is in reality achieving 'mastery' as an acknowledgment of arriving at a point of not knowing enough therefore continuous hunger and craving to search for bigger answers. Otherwise, just a few experts would have been enough for the world. Observe how after two millennia passed, we still have not figured out achieving grassroots prosperity, diversity, tolerance and equalities.
Only if our new wisdom understood will we advance or else stay lost at the beaches. Our new world of today needs new words, new vocabulary, and new narratives to allow correctly knitting the tapestries of our miseries and equally weaving strong and fit enough sails for the coming stormy winds of tomorrow. Muffled in the old-fashioned terms of the past, the double-sided, agenda-centric language used today, already lost its authenticity. Today's language mummified in bandages of political correctness, already tombed intellectualism and spoken words into deprivations, while whatever enunciated as rehearsed acts via teleprompters is still undecipherable by the global populace. Realities now demand change to honest words to assemble new narratives, to calm restless citizenry to deliver its truthful meaning in bold progressions.
Loudly enunciated are our acceptances of our victory and defeats or we stay silent to our deceptions. There is a brighter future ahead, indeed, but firstly, if we only accept for a moment that our previous attempts on grassroots prosperity creation were failures of sorts, suddenly pandemic recovery appears meaningful. If we also accept our previous trajectory of economic development spanning the last decade was somewhat hit or miss on targets, suddenly, new horizons appear. If we accept also that all our power-skills and rich-knowledge almost maxed out, suddenly brighter futures start to appear. Because, only when we discover a window, find some empty spaces tumble into voids, and chasms new things start to pour in, new ideas flourish, the processes start as enlightenment for new discoveries to commence. No matter where we stand on this earth, a new world has once again brought us on crossroads to face new transformation for brand new adventures
Our limitations on our performance are true measurements to qualify us to enter the cockpits. Historians will recognize this pandemic recovery as a very special moment; declare this era as a small blip in the course of human endeavor and a glitch that 'possibly' corrected the role of government administration to allow far more talented and upskilled citizenry at helm to advance. One: The corporate leaderships of technology companies acquired extraordinary smarts many times more powerful over what their own top national political leadership team displays and thus unable to tackle any technology sides of the economy. Two: Digitized and technologically advanced vertical sectors across 200 nations and 10,000 cities shut out national political leaderships and local institutional administrators as obsolete and unprepared to deal with the required speed of response and execution and therefore losing future control of the national economic drivers of national economy in global jurisdictions. Frequent flyers know a lot about flying city to city but definitely are not certified and qualified pilots to fly jumbos around the world. The power play of the digital economy once enters the ocean of platform economies of the world will become extremely specialized, therefore, unless prepared, nation-by-nation, top political leadership and government agencies will lose grip on all such technology advancement games and become simply spectators. Study crypto-currency deployments, Space travel and satellite transportation, AI and trading games, Jack Ma and China over ruling financial sectors as a start.
Our mobilization of hidden resources and talents are proof of what we just learned coming out of fog. For the first time in 100 years, globally speaking, a new world emerges; The pandemic has already prepared the humankind to rediscover "the meaning of life" the purpose of "co-existence" while to the poor of the world "re-learn to survive" and to the rich "re learn to create common good". Is pandemic germinating our entrepreneurial intellectualism? Is this the kind of transformation humankind has been waiting for over a century? Why is futurism calling for futuristic literacy?
Our billion hungry every night despite two millennia past, we must show our resolve or our negligence will destroy us. The poor of the world; in neglect, misery and almost buried alive, Millionaires anxiously digging their own graves, now exhausted, Billionaires digging deeper to find their own legacy if any and Trillionaires buying up heavens in the clouds to block other voices. The Towers of Babylon going half empty, displaying signs of 'vacancy' fires of hell at the base only provide gentle warmth to the upper celestial floors of luxury living. Where sweetness is missing in the bitter medicine of our times ignored but candies alone will never cure; the message in the bottle found on the bloody beaches tossed but the noise of fakery drowns us all. Imagine, if we compressed the last two millennia in two minutes. We just evaporated at the last second. Universe did not even notice.
Wondering, what was the possible message in that bottle, if any?
Kickstarting the U.S. Economy: A Rebound or Further Inequity?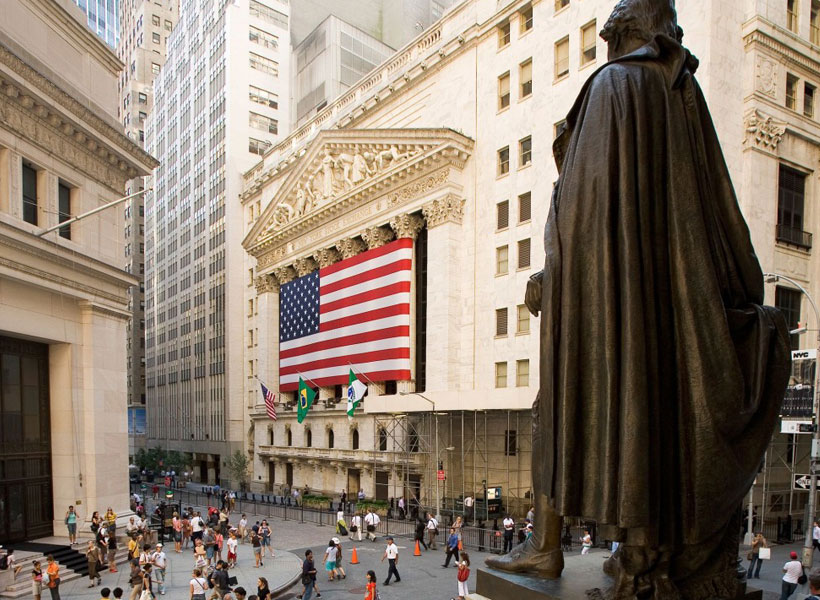 The global economy has seen its fair share of peculiarity in recent years; much attributed to the developing economies rather than the stable sovereigns of the world. However, the wave of the pandemic has toppled the conventional trend unlike ever before. Whilst the developing economies gain traction, the European economies are crumbling under the whelming pressure of the pandemic.
The US economy, however, is on its track to rebound at nothing but an accelerated pace that is optimistic as it is sinister. Forecasters have been predicting an economic boom post the pandemic for months yet the claims were rebuffed as overly quixotic. The economic boom is on cards that could contract the surging unemployment rates and could even push the economy towards a prolonged growth trajectory.
The economic recovery is evident from the jump in retail sales all over the US: levels anticipated to bloom further amidst speculations of a hefty aid package advocated by president Biden. Moreover, the FED has predicted a growth of 4.5% in the US output; the highest predicted level of GDP growth in over two decades. The optimism is matched by the leading economists, likes of Goldman Sachs putting a word in their perspective: 'We [US] are very likely to get a very high growth rate'.
The budding confidence in the economy is majorly linked to the rollout of vaccines. Albeit slow-paced, the vaccination drives are striving hard to meet targets set by the authorities. Coupled with the shift in the government, the national focus is primarily etched in the campaigns to ensure timely inoculation before the virus strikes again.
However, the inoculation would grip over the country for most of the year 2021, keeping the natural order of the country at bay. The economy, thus, is bolstered by Federal aid packages; pouring trillions of dollars in rental packages and unemployment benefits. The resulting is a pile of surplus disposable income which awaits an opportunity to be expended. Given the mounding pressure of recession and health crisis cumulated over the yesteryear, the income would be sufficient enough to suffice under the newfound rental and mortgage reliefs purported by the federal government. Combined with free public transportation, the added monetary value could be utilized as soon as the country bounces back from lockdowns.
The surplus income could further expand if congress approves the magnanimous aid package proposed by the democrats under the plan of president Joe Biden. As vaccinations continue to immunize the population and income blooms within common households, approaching summers could prove to be a haven for the US economy to shine bright. Peak demand for hotels and transport is expected in the second and third quarter of 2021; unemployment is predicted to level down to 4.1% due to surging demand for labour in the HoReCa sector whilst simultaneously kickstarting the dormant business of airlines and smattering of other means of transit.
Even the most experienced economists, however, have pitched reservations to the envisioned rebound of the US economy. The prime facet impeding that prospect is the intermittent campaign of vaccination. The inoculation has been slower than expected and the adverse effects of the jabs have instilled a fear that threatens to further stall the efforts to vaccinate the population. With the ensue of new virus variants in California and irregular vaccination drives, the expected recovery could defer to late 2021 and even 2022. This could make the US vulnerable to the 3rd wave of Covid as per the pattern of cases observed last year.
The political standoff is another factor that could push economic prosperity into despair. The simmering tensions post the impeachment trial of Donald Trump have surfaced over the last two months. The demarcation in the senate is as clear as it has ever been over decades and even the split in the republicans has brewed post the acquittal of Trump. Both parties locking horns this early casts a confusion that stood out in the recent energy crisis in Texas; the federal and state governments bumping heads whilst the state drowned in stark darkness and bitter cold. This disparity paints a bleak picture for the United States given Mr. Trump could stir more instability with the prospect of running the election again in 2024.
The escalating oil prices also indicate a tough road for nearly the entirety of the manufacturing sector of the economy along with any lucrative opportunity to the airline industry in the forthcoming months. As the world still reels from the pandemic, the crush in the oil supply from the US has rendered the valuation at high levels; a contrast to the plummeting prices just last year. The Brent index has surged more than 28% since December 2020, pushing the prices up to as high as $66 per barrel. With the forecasts expecting Brent to further climb up the trajectory and the subsequent production crunch from Russia and OPEC members, oil prices could rise up and beyond $70 per barrel. This price surge, as a result, could convert the booming economy into hyperinflation since the US would continue to rely on imported petroleum until it regains the economic traction to be self-sufficient again. Thus, the pilling income could transition into sky-high prices post the pandemic.
Mirroring the recession of 2001, while the economy started to expand within a year, the unemployment rates remained high for the better part of the decade. Drawing parallels from that period, while the growth is projected to touch the 5.8% mark later in the fiscal year of 2021, a congruent projection could not be made on the front of economic recovery. Although high inflation has never been an issue for the US in the past, unlike the developing nations, sluggish recovery in employment, brimming tensions in the political arena, and irregular inoculation rates could widen the gap of wealth in the country. Inequity, thus, is inevitable as an opportunity cost of growth at the expense of an inflating economy. The affluent strata of the society would reap the benefits much more rapidly than the working class. Whether it would be of long-term virtue or despair: time is the deciding factor for the common citizens of America.