When shall the UNSC declare RSS a terrorist outfit?
Pakistan has urged the United Nations Security Council to designate India's Rashtriya Swayamsevak Sangh (RSS), the parent organization of the ruling Bharatiya Janata Party (BJP), as a terror group. Pak representative demanded that the RSS should also be included within ambit of the 1267 Sanctions Committee.
It is unfortunate that declaring an individual or entity a terrorist has become a political ploy. The freedom fighters of yester years like the taliban could become terrorists of today. Cuban and Latin American terrorists were displayed as freedom fighters in US gallery of portraits.
That's the crux of the problem. India calls Kashmiri freedom fighters 'terrorists'. It called Bengali insurgents 'mukti bahini', freedom fighters'. Unlike Kashmir, erstwhile East Pakistan was not a disputed state like Jammu and Kashmir. It was an integral part of Pakistan. But, India harboured, nurtured, trained and armed so-called Bengali 'freedom fighters' on Indian soil.
The White House welcomed Jalaluddin Haqqani (founding father of formidable Haqqani Taliban) as a guest.
India has a convenient way to exercise its diplomatic clout to get declared any entity a `terrorist'_ through linking it with `freedom movement' (euphemistically called `terrorism' by India) in the occupied Kashmir.
Why the RSS qualifies as a terrorist organisation
Congress leader Digvijaya Singh, former Madhya Pradesh chief minister, has alleged that "All arrested 'Hindu terrorists' have had RSS link". He claimed, `All Hindu terrorists who have ever been caught have association with RSS in some way or the other. Nathuram Godse, who assassinated Mahatma Gandhi, was also part of RSS. So, this ideology is spreading hatred, hatred breeds violence, and from violence is bred terrorism'.
"All Hindu terrorists who have ever been caught have association with RSS in some way or the other. Nathuram Godse, who assassinated Mahatma Gandhi, was also part of RSS, bomb blasts were executed by people influenced by Sangh ideology" said Digvijaya Singh
Reinforcing his stand on "Sangh terror," he said, "bomb blasts were executed by people influenced by Sangh ideology, be it Malegaon blast, Mecca Masjid blast, blast in Samjhauta express or Dargah Sharif."
Accusing RSS of propagating violence, Singh said, "The outfit which propagates violence and hatred, further propagates terrorism."
Defending Singh's charges, senior Congress leader Salman Khurshid said that his statements needs to be seen in the right context. "Ideologically Digvijay Singh has very strong views. He has opposed minority extremism and said that every kind of extremism is bad. We must contextualise what he said rather than generalise it and think he is saying it against one community or organisation," Khurshid said.
Howdy Modi critic's allegations
Speaking at the Houston City Council against the city's participation in the "Howdy Modi" pep rally, Pieter Friedrich expounded the RSS's nexus with worldwide terrorism'. Transcript of his speech:`
Last month, a white supremacist terrorist murdered 22 people in El Paso, Texas. His evil act was inspired by the murder of 51 people at mosques in Christchurch, New Zealand. That man's evil act was inspired by the murder of 77 people in Norway in 2011.In Norway, terrorist Anders Breivik left a manifesto that describes how he was inspired by other extremist and nationalist groups around the globe.
Breivik pointed to the RSS in India. He praised the "right wing Hindu nationalism" of the RSS and its goal of making India a "Hindu nation." He praised the RSS for how "they dominate the streets… and often riot and attack Muslims." He said the goals of white supremacists and the RSS are "identical" and that they should "learn from each other and cooperate as much as possible."
The RSS is a fascist paramilitary founded in 1925 — the same year that Hitler published Mein Kampf. The RSS developed with inspiration from the Nazis. And it produced Narendra Modi. In 2002, Modi presided as soldiers of the RSS massacred 2,000 Muslims. They gang-raped women, hacked people to death, burned people alive. Leaders of the pogrom later confessed on camera that Modi sanctioned their violence.
For this reason, Modi was banned from entering the USA for over 10 years. Today, under Modi's iron-fisted regime, Christians, Dalits, Muslims, Sikhs, and every Hindu who disagrees with the hate, violence, and supremacy of the RSS lives in fear of their lives.
Modi's hands are stained with blood. Those who shake his hand in welcome cannot wash their hands of complicity in his crimes. Bishop Desmond Tutu once said, "If you are neutral in situations of injustice, you have chosen the side of the oppressor." So what then if you roll out the red carpet for the oppressor? The philosopher Plato said, "Silence is consent." So what then if you raise your voice in support of the oppressor? Rather than "Howdy, Modi," the City of Houston ought to be saying, "Adios, Modi."
RSS fits in US `terror definition
U.S. Department of Defense Definition of Terrorism: terrorism refers to "the calculated use of unlawful violence or threat of unlawful violence to inculcate fear; intended to coerce or to intimidate governments or societies in the pursuit of goals that are generally political, religious, or ideological."
Narendra Modi is the RSS avatar
Narendra Modi, the current Prime Minister, like so many other Bharatiya Janata Party stalwarts, makes no bones about having been a member of the Rashtriya Swayem Sevak Sangh (National Volunteer Corps). The RSS has ubiquitous influence in all states and Union territories. Without its consent, no-one can get a party ticket or contest elections.
The RSS is a conglomerate of disguised terrorists. Indian media dare not focus its violent activities, but it is sometimes exposed by viral images of violence by its workers. Images show the RSS members participating in Delhi riots, lynching suspected beef eaters, or Muslim prayer goers. The RSS militants get identified while chanting religious slogans. Gandhi's assassin, Nathuram Godse, was an RSS member. It was the RSS that had spearheaded the demolition of the Babri mosque on December 6, 1992.
RSS emulates the Nathsi
In a work that expressed admiration for Nazi Germany's purge of Jews, Golwalkar wrote in 1939, "… the foreign races in Hindusthan must either adopt the Hindu culture and language, must learn to respect and hold in reverence Hindu religion, must entertain no idea but those of the glorification of the Hindu race and culture, i.e., of the Hindu nation and must lose their separate existence to merge in the Hindu race, or may stay in the country, wholly subordinated to the Hindu Nation, claiming nothing, deserving no privileges, far less any preferential treatment not even citizen's rights." (MS Golwalkar, We Or Our Nationhood Defined, Bharat Prakashan, 1939, 104-105).
Golwalkar made it clear that in the RSS view, Hindu majoritarian identity politics is the only acceptable nationalism, and any politics of asserting an identity separate from the Hindu identity is 'anti-national' and 'divisive.' He wrote: "Let us remember that this oneness is ingrained in our blood from our very birth because we are all born as Hindus." (Bunch of Thoughts, p. 255).
M.S. Golwalkar, referred to Christians and Muslims as "internal threats". He praised Nazi Germany as an example of "race pride" from which India could learn. Satish Misra, a political analyst at the Observer Research Foundation in New Delhi says, [Indian prime minister] "Modi is the most loved child of the RSS."
Neerja Chowdhury, a political commentator and columnist reported: 'The party advocates that to be a true Indian one has to be a Hindu. It describes other religious minorities, Sikhs, Jains, Buddhists, as part of India, because their faiths originated there. They believe that even India's Muslims are actually Hindu because their Hindu ancestors were forced to convert to Islam'.
The anti-conversion laws in states, ban on cow slaughter, annexation of the disputed Jammu and Kashmir State, and now combined civil code on the anvil are the RSS's demands. The RSS wants to convert non-Hindu to Hinduism under its homecoming (ghar wapsi) policy. C.P. Bhishikar's biography of Hedgewar, Keshav Sanghnirmata tells how tbe RSS founder equated Muslims to "yavana" snakes. RSS spurns Indian Constitution and believes India is a place for Hindu nation (rashtra) to live exclusively in.
The RSS's genocidal role is a caricature of the Indian constitution, visualizing a `sovereign socialist secular democratic republic' and its article prohibiting discrimination on the grounds of religion, race, caste, sex, or place of birth.
Attacks on Muslims
Since 2006, there had been several terror attacks at locations with a majority Muslim population. The deadliest attack was February 2007 bomb explosions on the Samjhauta Express train that runs between Lahore and Delhi, killing 68 people, including 43 Pakistani nationals.
In the same year, there were two more blasts at Muslim places of worship. The investigations had revealed that the terror attacks were carried out by Hindu nationalist organizations. The Indian media has widely covered what is popularly called 'saffron terror'.
For instance, Swami Aseemanand was accused of conspiracy in the 2007 bomb attack on the Lahore-bound Samjhauta Express train, the 2007 Ajmer dargah blast case, and in the 2007 Mecca Masjid blast terror case.
Pragya Singh Thakur, also known as Sadhvi Pragya, is currently a Member of Parliament from the BJP. She was an accused in the 2008 Malegaon blast. Six people were killed and over 100 others injured when an explosive device strapped on a motorcycle went off near a mosque in Maharashtra's Malegaon. No cour in India could dare punish theRSS terrorist.
It was the RSS which had founded the Jan Sangh, the BJP's ancestor in 1951. It has acted as an umpire in times of crisis within the BJP and provides its indispensable cadres during election campaigns.
Induction of the RSS cadres into Indian civil service
On April 27, 1948, Vallabhbhai Patel wrote a letter to Jawaharlal Nehru: "I need hardly emphasise that an efficient, disciplined and contented service … is a sine qua non of sound administration under a democratic regime even more than under an authoritarian rule. The service must be above party and we should ensure that political consider­ations either in its recruitment or in its discipline and control, are reduced to the minimum, if not eliminated altogether."
An RSS-ridden civil service cannot work a secular constitution. For, "it is perfectly possible to pervert the constitution, without changing its form, by merely changing the form of the administration and to [sic] make it inconsistent and opposed to the spirit of the constitution".
The parliamentary system is based on a professional, politically neutral civil service. Put political favourites in crucial positions and the entire system is perverted. Yet, hordes of the RSS members were recruited into civil service.
Political influence
Former UP chief minister Kalyan Singh said in 2000: "I have spent a greater part of my life in [the RSS] and I can say that right from the distribution of election tickets … in BJP to selecting cabinet ministers, it is only the RSS which calls the shots. What else is political activity?' "
Rakesh Sinha, BJP's Rajya Sabha MP and Hedgewar's biographer, said, "Hedgewar formed RSS in order to consolidate the Hindus. He wanted to liberate them from restrictions imposed by the protracted Mughal-British rule.
Driving force for Hedgewar to form RSS was Vinayak Damodar (Veer) Savarkar's ideas on Hindutva and motherland. Savarkar had spelled out that only those who considered India as their fatherland and a holy land could be considered patriots. He ruled out Muslims, suggesting that their patriotism should always be suspected.
The ruling BJP has a symbiotic relationship with RSS as is obvious from Babri Masjid demolition.
Shashi Throor's view
Dr. Tharoor was the Congress nominee for the post of UN secretary-general. during the Jaipur literature festival he said, `We are living in a country where on the one hand the Prime Minister says the Constitution is his holy book and on the other hand, he extols as a hero and instructs his Ministers to study the works, writings, and teachings of Deen Dayal Upadhyaya, who explicitly rejects the Constitution. "
The only thing that had stood in its [BJP's] way is a two-third majority in the Rajya Sabha". BJP's official ideology is "Integral humanism", coined by Deendayal Upadhyaya in 1965. The RSS stands committed to Hindutva, a term coined by VD Savarkar. Upadhyaya sugar-coated the term Hindutva as Bharteeyata. Upadhyaya presented his `theory of Muslim purification' at the BJP National Council meeting in Kozhikode in 2015.
Conclusion
When shall the world wake to recognise the hydra-headed monster that the RSS is?
'Disturbing spike' in Afghan civilian casualties after peace talks began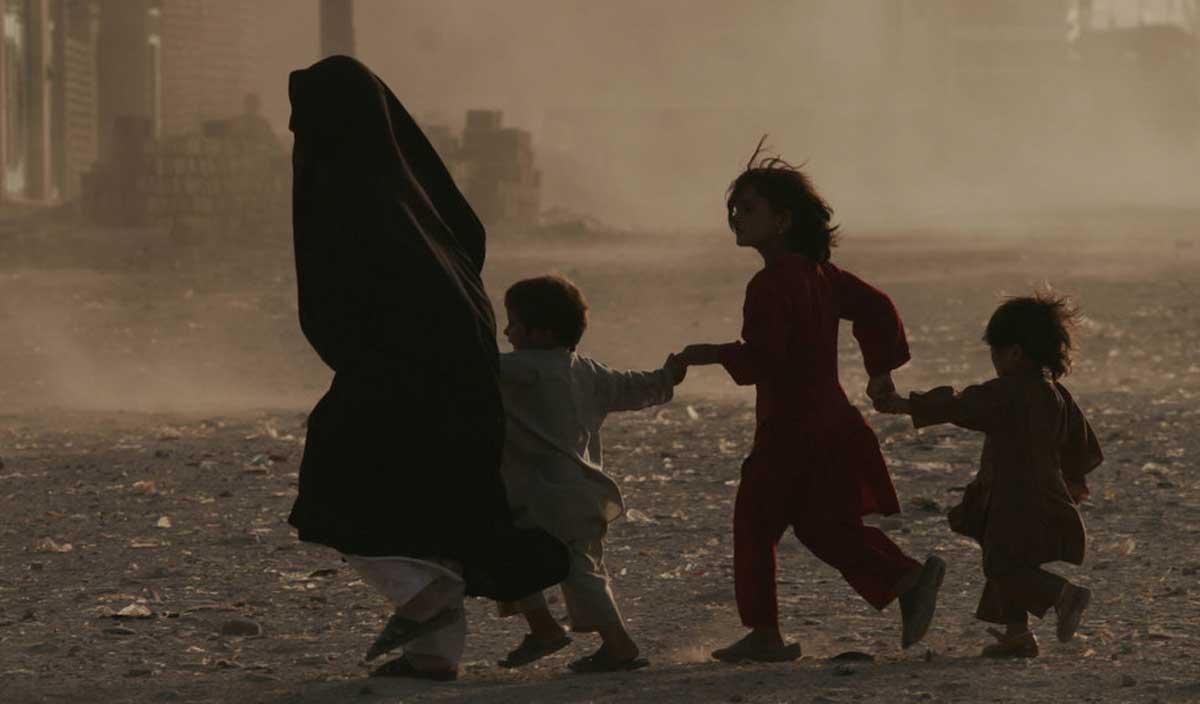 Civilian casualties in Afghanistan witnessed a sharp rise since peace negotiations started in September last year, even though overall deaths and injuries dropped in 2020, compared to the previous year, according to a UN human rights report launched Tuesday.
In their annual Afghanistan Protection of Civilians in Armed Conflict Annual Report, the Office of the UN High Commissioner for Human Rights (OHCHR) and the UN Assistance Mission in the country (UNAMA) documented some 8,820 civilian casualties (3,035 deaths and 5,785 injuries) in 2020, about 15 per cent less than in 2019.
It was also the first time the figure fell below 10,000 since 2013.
However, the country remains amongst the "deadliest places in the world to be a civilian", according to Michelle Bachelet, UN High Commissioner for Human Rights.
"I am particularly appalled by the high numbers of human rights defenders, journalists, and media workers killed since peace negotiations began in September", she said.
At least 11 rights defenders, journalists and media workers lost their lives since September, resulting in many professionals exercising self-censorship in their work, quitting their jobs, and even leaving their homes and the country – in hope it will improve their safety.
Rise in 'targeted killings'
According to the report, the overall drop in civilian casualties in 2020 was due to fewer casualties from suicide attacks by anti-Government elements in populated areas, as well as drop in casualties attributed to international military forces.
There was, however, a "worrying rise" in targeted killings by such elements – up about 45 per cent over 2019. The use of pressure-plate improvised explosive devices (IEDs) by the Taliban, air strikes by the Afghan Air Force, and ground engagements also resulted in increased casualties, the report said.
According to the report, anti-Government elements bore responsibility for about 62 per cent civilian casualties, while pro-Government forces were responsible for about 25 per cent casualties. About 13 per cent of casualties were attributed to crossfire and other incidents.
2020 could have been 'a year of peace'
Deborah Lyons, Special Representative of the UN Secretary-General for Afghanistan and head of UNAMA, called on all parties to take immediate and concrete action to protect civilians, urging them "not to squander a single day in taking the urgent steps to avoid more suffering".
"2020 could have been the year of peace in Afghanistan. Instead, thousands of Afghan civilians perished due to the conflict", Ms. Lyons said.
The "overriding objective" of the report is to provide the parties responsible with the facts, and recommendations, so they take immediate and concrete steps to protect civilians, she added.
Ms. Lyons highlighted that "ultimately, the best way to protect civilians is to establish a humanitarian ceasefire" – a call consistently made by Secretary-General António Guterres and the Security Council.
"Parties refusing to consider a ceasefire must recognize the devastating consequences of such a posture on the lives of Afghan civilians."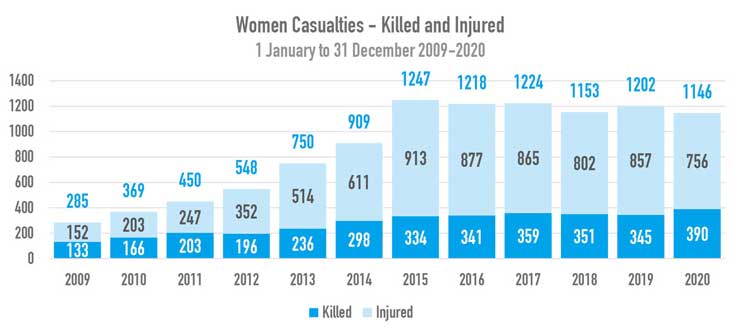 UNAMA-OHCHR report: Women casualties (killings and injuries) documented between 1 January 2009 and 31 December 2020
'Shocking toll' on women and children
The report went on to note that the years-long conflict in Afghanistan "continues to wreak a shocking and detrimental toll" on women and children, who accounted for 43 per cent of all civilian casualties – 30 per cent children and 13 per cent women.
"This report shows the acute, lasting needs of victims of the armed conflict and demonstrates how much remains to be done to meet those needs in a meaningful way", High Commissioner Bachelet said.
"The violence that has brought so much pain and suffering to the Afghan population for decades must stop and steps towards reaching a lasting peace must continue."
Attacking civilians 'serious violations'
With the conflict continuing, parties must do more to prevent and mitigate civilian casualties, the report said, urging them to fully implement the report's recommendations and to ensure that respect and protection of human rights is central to the ongoing peace negotiations.
It also reminded the parties that deliberately attacking civilians or civilian objects are serious violations of international humanitarian law that may amount to war crimes.
Is Blacklisting on Cards for Pakistan?
Financial Action Task Force (FATF) has been an integral part of the economic decision making and regulatory procedures of the country. The days of the ultimate decision are finally on cards as the Global Watchdog is expected to evaluate and review the performance and strategies of Pakistan via virtual meeting tentatively scheduled for February 22-25, 2021. This would be a much-anticipated review since a keen eye would be payed following a long hiatus to the litigations recently undertaken by the country to eliminate the risks and gaps in the financial framework which might earn Pakistan, a way out from the grey list. However, while the preceding meeting only guided more hopes for better litigation and measures to curb terror financing, brimming foreign propaganda and nefarious rulings within the country itself might hamper the way out but instead could dig the trench further towards a harrowing financial turmoil.
Pakistan was placed on the grey list back in June 2018 due to strategic deficiencies. Just before the Covid-19 pandemic wreaked havoc in the world, Pakistan was allowed a breather of 4-months to comply with the 27-point action plan; of which Pakistan met only 14 targets while missing out on the rest of 13 targets. Moreover, Pakistan could only satisfy 10 of a total of 40 recommendations devised by the task force. These lags led to a major pitfall in the Pakistan's Stock Market; PSX plummeting bellow 30,000 points. Furthermore, a bitter narrative started blooming regarding arch-rival India pulling all the strings to push Pakistan down further, even in the blacklist. This was largely shunned by the Indian representatives but the failure of the economic and diplomatic front of Pakistan was evident by now.
The FATF plenary was scheduled, like traditionally, in June. However, all scheduled evaluations and review procedures were deferred for 4-months in the wake of the Covid-19 pandemic, allowing yet another unforeseen yet thoroughly welcomed relief span to Pakistan to strive more actively to meet the requirements.
In the preceding 4 months, Pakistan acutely worked to amend the contradicting laws and policies, the parliament playing an agile role to introduce new bills relating to counter-terrorism and countering money laundering as an act to expedite compliance to the international laws and ultimately meeting up all 27 points in the action plan. Almost all the bills presented, albeit some political resistance, were eventually passed which even led to optimism in the stock market; PSX climbing back over 40,000 points after more than half a year, rallying to record high levels despite of the pandemic wreaking havoc on the investors' mentality across the globe.
The meeting held, after a steep deferral, back in October 2020; the FATF committee observed and commended on the vigilant stance assumed by Pakistan to crawl out of the Grey list. Pakistan has since delivered on 22 out of the 27 core points of the action plan defined. However, the meetings adjourned till February, retaining Pakistan in the grey list under the tag of 'jurisdiction under enhanced monitoring' whilst praising the steps of counter-terrorism and anti-money laundering adopted by Islamabad.
Pakistan was warned back in February last year that if not complied by the 27-point action plan, it could be a great threat to the foreign mechanism and would be eventually moved to the monitored jurisdiction, notoriously also known as the 'Blacklist'. Later this month, FATF would examine if Pakistan meets the 8 key categories of the action plan; remedial actions taken against money laundering, counterfeit terrorism while also reviewing the vigilance of the institutions in countering Terror Financing and actively managing risk. The committee representing Pakistan would perpetually convince the plenary that the country in-fact meets the criteria and transitioning over the next month, the fate of the tormented economy would finally prevail in light of the decision made.
However, Pakistan has been sluggish in taking action against the notorious entities linked to terrorism around the region. The meeting nears with the pinned watch of UN regarding Pakistan's role of providing a safe haven to Lashkar-e-Taiba founder, Hafiz Saeed, or the notorious acquittal of Ahmed Omer Sheikh, the prime culprit of the Daniel Pearle Murder case of 2002. Pakistan, however, claims to have made virtue on 22 of the defined 27 points while has garnered 'Substantial progress' on the remaining 5 points. Thus, the optimism brews that the meeting would push the country out of the list and would open more financial avenues especially in these distressful conditions.
Although Pakistan's Foreign Office including the Foreign Minister, Shah Mahmood Qureshi, appears optimistic to climb out of the grey list after 3 years, the infamous decisions passed by the Supreme Court of Pakistan, the excessive money laundering cases surging against the ex-office holders of Pakistan and the determined efforts of India to subvert Pakistan in global politics, all thwart down that optimism bit by bit. And while some of the economic experts claim that the decision of advancing Pakistan off the Grey list would be naïve move and would arguably impact regional dynamics, the decision could fall in tandem with the preceding outcome of sustaining the grey list status or could deteriorate the level further as gauged by a political expert, opining his narrative: "The facts demand that Pakistan remain on the grey list. The FATF shouldn't just keep Pakistan on the grey list. It should rather warn Islamabad that absent rapid and wide-ranging reform; blacklisting is coming".
Europe Must Confront Iranian Regime's Terrorism
After a two-and-a-half-year investigation, on 4thFebruary 2021, a Belgian court sentenced four culprits for attempting to bomb a large gathering of tens of thousands, including politicians and dignitaries, at a global summit organized by the Iranian opposition – the National Council of Resistance of Iran (NCRI) – in Villipinte, France in June 2018.
The perpetrators who attempted to attack the global summit included Assadollah Assadi, a senior accredited Iranian diplomat, who received the maximum sentence of 20 years in prison on attempted murder and terrorism charges – and his three accomplices who were imprisoned for 15,17, and 18 years, respectively. This was the first time that an Iranian diplomat was convicted in Europe.
The conviction and the sheer scale of the crime requires the EU to reconsider its approach to the Iranian regime.
The 2018 global summit was attended by tens of thousands of people who advocate for democracy and freedom in Iran. If the foiled terrorist plot had been successful, thousands of innocent people, including European citizens and prominent political figures, would have been killed or injured. The head of Belgium's national security has blamed the Iranian regime for orchestrating the attack, including Iran's Foreign Ministry and Ministry of Intelligence and Security who played a significant part in the execution of the attack.
Such terrorism-related trials are not new for the regime. In 1997, the regime was tried for a major terrorist act in Germany. The proceedings were called the Mykonos trial after a Berlin restaurant in which regime agents gunned down several opponents.
In a report dated April 10, 1997, the European Union's Presidency stated: "The High Court of Justice's findings in Berlin in the Mykonos case indicates Iranian regime officials' involvement at the highest level."
On April 29, 1997, the Council of the European Union reaffirmed that progress in normalizing relations between the EU and Iran would only be possible if Tehran's officials respect international law and cease terrorist acts, including those against Iranians residing abroad. When the regime refused to comply,Europe made a declaration to expel Iranian nationals with intelligence and security ties. Twelve countries that were not members of the European Union at the time also complied with the declaration.
21 years after the Mykonos trial, Assadi used his diplomatic cover to take a high-powered explosive on a passenger plane from Iran to Austria. He then personally handed it over to two intelligence agents to detonate it at the NCRI rally in Paris. The irrefutable evidence in this case shows Iranian regime officials' involvement at the highest levels.
Separately, the regime's ambassador and three diplomats were expelled from Albania (January 2020), three diplomats were expelled from France and the Netherlands (March 2018), and a diplomat was expelled from Denmark (October 2018) in the wake of the regime's terrorist plots. All of these expulsions reveal the involvement of the regime's embassies, Foreign Ministry and Ministry of Intelligence and Security to create terror in the European region.
Despite all of this, the EU has not taken any serious measures to counter the regime's belligerence.
Europe's failure to take appropriate actions has emboldened Tehran. Inaction reassures the regime that it can act with impunity, even in Europe. Europe has essentially communicated to the world's foremost state sponsor of terrorism that not even an attempt to bomb a peaceful gathering, which could lead to the killing of hundreds of European citizens, would bear any consequences. Thus, Europe's appeasement is in large part fueling the regime's aggression.
It is naive to speculate that Tehran's Foreign Minister Javad Zarif did not know about this conspiracy. Zarif sits on the Supreme National Security Council, which approves all such major security decisions. Additionally, his ministry and embassies serve as logistical and operational centers for terrorism and espionage.
Those who hatched and approved this terrorist plot, none other than senior Iranian leadership, must be brought to justice. This step is a necessary deterrent against Tehran, the godfather of international terrorism.
German security officials are reportedly still investigating the numerous trips that Assadi made throughout Europe, where he helped establish an extensive Iranian regime spy network across the region. At the time of his arrest, he had received several receipts for payment of money. The identities of money recipients have yet to be determined. The regime has always used its embassies and so-called religious and cultural centers abroad as centers of espionage against its opponents.
Normalizing diplomatic relations with the Iranian regime must be made contingent on disbanding its terrorist apparatus in Europe and ensuring that it will never again engage in terrorism in Europe. By taking this critical step, European leaders will protect their own citizens and effectively counter the regime's terrorist threats.