The revolving doors to the White House, the Senate, and the House are set to welcome president Joe Biden and his administration. Now that the Democrats control the executive and the legislative branches of government, they have carte blanche to push through unprecedented economic stimuli to benefit all Americans. Taking center stage is a massive $1.9 trillion stimulus on top of the $900 billion stimulus recently passed by Congress under President Trump. Combined with the $2.9 trillion stimulus in 2020, the US economy is now flush with cash.
All that money has plenty of different directions to go, including Wall Street and Main Street. Americans across the board are anticipating $1400 stimulus checks to go with the $600 released in December 2020. Dubbed the 'American Rescue Plan,' the stimulus money is intended to get the economy moving again, by empowering consumers who have faced sweeping job losses, cutbacks, and personal difficulties.
The stock markets have reacted to these stimuli as expected – bullishly. A snapshot of the US financial markets confirms the impact of the stimulus, and what's to come. The 1-year change for the major US indices reflects strong gains for the NASDAQ composite index (38.44%), the S&P 500 Index (13.17%), and the Dow Jones Industrial Average (5%).
Markets across Europe, the Middle East, and Asia have performed poorly over the past 1 year, owing to the government enforced lockdowns vis-a-vis the pandemic. The best performing European market over the past 1 year was the DAX (+2.38%). This begs the question: How will all the stimulus money impact the stock markets, and demand for gold?
What Happens When Central Banks Start Flooding the Market with Trillions of Dollars?
Monetary stimulus is designed to assist struggling American households who through no fault of their own were furloughed, or now face tremendous economic uncertainty. SMEs across the board are cutting costs, and letting people go. In December 2020, hiring rates in the US dropped for the first time in 7 months. Industries affected most by the pandemic include service-related businesses, travel and tourism, restaurants and bars.
It's not only low income families struggling against adversity; it's middle income earners too. Several measures have been proposed, including raising unemployment benefits to $400 weekly, and increasing the minimum wage to at least $15 per hour. All of these bold initiatives have yet to be passed by Congress, and signed into law by the President.
The effects of these massive stimuli will reverberate across the economy. There are definite winners and losers from massive spending. The Deficit/GDP ratio is already 15%, and monetary supply growth has increased by 25%. Inflationary concerns are growing, but for now the stock markets are shrugging off the prospect of higher prices and welcoming the stimulus. Low-income earners will benefit most from the stimulus, but every action has a reaction in the financial markets.
Currently, the Federal Reserve Bank has indicated no change to interest rates. This is surprising, given that bond yields are increasing. Multiple economists are concerned that the infusion of trillions of dollars into the economy will ultimately lead to rising prices, and nullify the intent of the stimulus packages. Equity markets and housing markets have shown tremendous resilience, and growth in recent months. State governments will be getting their fair share of stimulus money, as 'financial healing' kicks off in earnest.
TheFed's bond-buying program continues in earnest as quantitative easing goes into overdrive. Millions of Americans remain out of work, and the unemployment rate is at pre-pandemic numbers. If the proposed economic boom kicks in, inflation will likely result before the end of the year. Markets across the US rallied in 2020, and bullish sentiment continues into 2021.
Analysts point to high valuations in the stock markets that are not supported by the fundamentals. The CARES Act was like a steroid shot for the market. The Paycheck Protection Program (PPP) ensured that at least some of the $1200 + $600 checks found a way to stock markets. Brokerages across the board reported increased registrations and trading activity. Americans are certainly taking to stay-at-home work/life by actively engaging in the financial markets. This will likely continue with an additional $1400 stimulus check.
Which Stocks Will Benefit?
Source: StockCharts.com SPX 500 Large Cap Index
Major US banks are set to benefit over the short-term, thanks to their ability to borrow money at short-term interest rates, and lending that money out over the long-term at higher rates. The biggest US banks should all see an uptick in stock price performance. Bank of America (NYSE: BAC) has a market capitalization of $285.563 billion, and the performance outlook for the stock is bullish over the short-term, mid-term, and long-term.
Wells Fargo & Company (NYSE: WFC) has a market capitalization of $132.469 billion, with a medium-term and long-term bullish performance outlook. Much the same is true for Citigroup (NYSE: C) with a market cap of $133.77 billion, and a medium-term bullish outlook. Energy efficient stocks will also benefit from the Biden administration. Companies like Tesla stand in good stead with a green energy-focused Presidency, House, and Senate
Analysis of bank stocks provides interesting insights. For example, BAC has climbed from November lows of under $24 per share to $33 per share. The stock price is higher than its short term moving average (50-day MA), and the long-term moving average (200-day MA) of $29.04 and $25.26 respectively. Technical analysis of BAC, using the Ichimoku Cloud confirms bullish momentum moving forward.
Indeed, experts at Bank of America attested to the benefit of passing the stimulus, without which a recession would have occurred. In a similar way, WFC stock, and C stock are also up sharply since the November 2020 lows. Bollinger Bands indicate that the run on bank stocks is likely to continue as momentum is clearly on rising prices for bank stocks.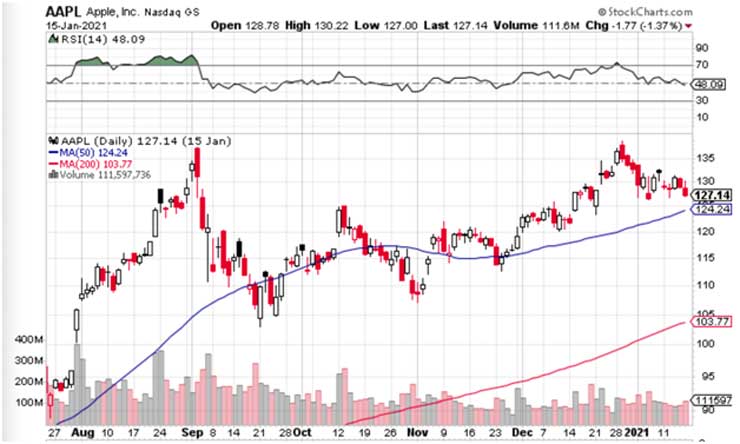 Source: StockCharts AAPL
Besides bank stocks, there are plenty of other stocks to watch, including (NASDAQ: BKNG), Renesola Ltd (NYSE: SOL), Snap Inc (NYSE: SNAP), and Apple Inc (NASDAQ: AAPL).Pictured above, AAPL is currently trading around $127.14 per share [January 18, 2021]. It is bullish, compared to the 50-day moving average of $124.24 and 200-day moving average of $103.77 per share.
Bollinger Bands for Apple indicate a slight tightening,and stabilisation of prices at a much higher level than the lows recorded in July and August 2020. As the world's most valuable company, AAPL is on the rise once again. Momentum indicators such as Ichimoku Cloud tend to suggest that AAPL is set for additional gains.
Which Sectors of The Stock Market Will Flop?
The shift away from crude oil and natural gas to green energy will cripple the oil industry and all the stocks that populate it. If these companies don't start switching to alternative energy investments they will stagnate. WTI crude oil is currently trading around $52.09 per barrel, while Brent crude oil is trading around $54.76 per barrel [January 18, 2021].
The long-term charts of companies like Exxon Mobil Corp, Chevron Corporation, Royal Dutch Shell all point in the same direction – decline. In fact, these major multinational companies are at their worst levels in 10 years. US oil consumption is flattening out, while that of global oil consumption is increasing. Overall, nonrenewable energy sources such as oil and natural gas are long-term bearish, and best avoided. The global focus is on clean energy, not oil and natural gas.
Other long duration assets such as biotech stocks will likely slump over the short-term. Given that these stocks are discounted to the present, makes them unattractive to investors right now. However, any attempts to expand the Affordable Care Act will work to the advantage of biotech stocks, and pharmaceutical stocks, because people have greater access to healthcare.
The lukewarm reaction of stocks to the stimulus plan is predicated on the notion that additional stimulus will invariably result in additional taxes. If lawmakers in Congress require that taxes be raised in order to pay for the income redistribution, stocks will slump. The cruise ship industry, hotel industry, and entertainment industries still have a ways to go before a recovery is on the cards.
The strongest-performing sectors include many household names. The likes of shopify, Nvidia, cryoport, Pinduoduo, and Albemarle were considered winners in 2020. The biggest losers were airlines such as Boeing, and United, real estate and retail operations such as Simon, and oil and gas industries like British Petroleum.
Overall, the stocks which outperformed market expectations included freight and logistics, basic materials, Internet retail, software applications, and semiconductors. Heading into 2021, the S&P 500 index was up 16.3%, and growth continues. There are 'moral hazard' concerns with any big stimulus. Prior to the pandemic, approximately 20% of public companies were operational, but unable to repay their debts. After the pandemic hit, that number swelled to 32%.
How will the Stimulus Affect Demand for Gold?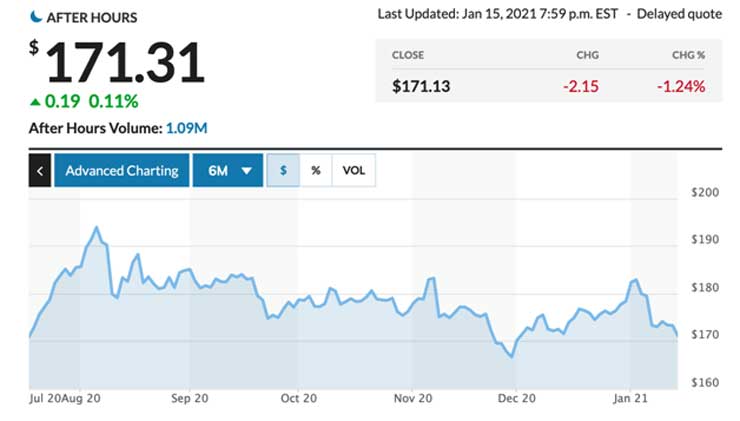 Source: MarketWatch SPDR GLD
Traders and investors tend to buy gold when stock markets are performing poorly. The pandemic hit the brakes on the economy, and gold benefited. During uncertain times, gold becomes the go-to commodity, as it functions as a store of value. With trillions of dollars in stimulus money finding its way into the markets and households, there is no threat of a recession anytime soon. Gold prices such as GLD are off their highs, and trading at weaker levels.
When the Fed decides to raise interest rates once again, possibly to curb inflation, gold will again get hit. Since gold is not an interest-bearing commodity, it doesn't benefit investors the same way that interest earning bonds do. As the 10-year yields on bonds continues to increase, capital will exit gold stocks, ETFs, and holdings and move to the bond markets, and interest-bearing accounts. That the gold price forecast is bearish is par for the course under current conditions.
It is against this backdrop of change and uncertainty that trillions of dollars in stimulus will weave its way into the fabric of the American economy through households and businesses. How that plays out in the stock markets remains to be seen, but for now all signs are positive.
The Philippines' Circular Future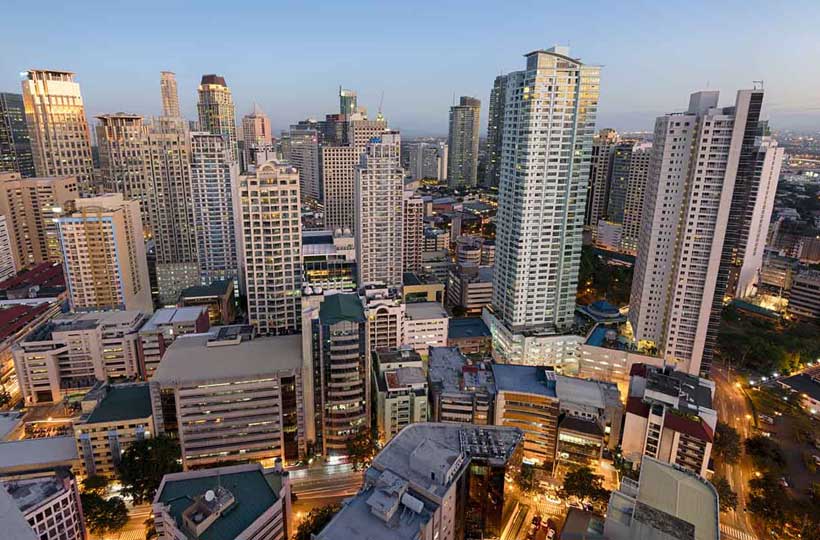 From the period of 2000-2019 The Philippines placed 4th as the most affected by climate-related disasters according to the Climate Risk Index. This is because geographically, it occupies an area that makes it a hotspot for tropical typhoons and other natural disasters. But the system of rural livelihood in the Philippines and it's archipelagic state are also contributing factors to its vulnerability to the impacts brought about by the climate crisis, such as sea-level rise and extreme weather events.
Understanding these realities, the government has been proactive in developing the country's adaptive and mitigating capacities. These efforts are seen in their national and global initiatives such as the establishment of The Climate Change Act of 2009, a law that aims to prevent and reduce the adverse impact of climate change, as well as taking part in the Paris Agreement through its NDCs that commits to a 75% reduction in carbon emissions by 2030.
A Circular Economy
Beyond the health and social crises caused by COVID19 pandemic, it has also underscored the importance of fast tracking climate action and the need to rethink economic systems through circular models as supported by the Department of Finance Secretary Carlos G. Dominguez III. Currently, the House Bill (HB) 7609, also known as "Philippine Circular Economy Act of 2020" is being proposed to serve as a mitigation strategy to accelerate the country's contribution to the 2030 Agenda for Sustainable Development through mainstreaming of circular and sustainable consumption and production strategies. Similarly, according to The Circularity Gap Report 2021 of the Circle Economy, the implementation of a circular economy would complement the efforts of the NDCs globally, as it will aid in keeping the global temperature rise to well below 2degC by 2032.[1]
Circular economy is a consumption production model that in essence would allow elimination of waste through maximizing the use of valuable resources within systems, the opposite of current linear economies in which products are disposed of after use. This can be achieved by ensuring that materials circulate within operating networks while also allowing natural systems to regenerate. In order to implement this effectively would require collective commitment from stakeholders across the value chain i.e. from the public and private sector, up to the consumers.
Inline with this pursuit, among other proposed key initiatives of the government that are being developed is the Single Use Plastic Regulation Act (HB 9147), a tiered phase-out plan for single-use plastics (SUPs) that aims to improve the country's waste management and promote circularity. The HB 9147 is also aimed to foster engagement within the business community through the integration of an Extended Producers Responsibility (EPR) scheme. This EPR scheme will serve as a policy tool that would instill accountability from producers throughout the lifecycle of their products that utilize plastic packaging. This scheme will promote funding and collaboration among the private sector and the government through the shared responsibility in managing these waste. At the same time this will encourage innovation of more sustainable and eco-friendly designs for products and packaging.
Business opportunities in the shift from linear to circular pathways
Accordingly, these proposed policies should not be viewed as threats by businesses in order to reap the benefits it entails. Gary Steele, group CEO of TES, enumerates several opportunities that businesses can leverage from this scheme, such as improved reputation and customer relationship through extended value adding services. Steele recognizes that this system also decentralizes sources of raw materials needed for the production of goods, thus contributing to strengthening the supply chain. As such, a circular economy would open avenues for innovative business opportunities that would result from the recycling of waste materials and even repair of products among others. Ultimately these opportunities contribute to reduced cost and increased profits, making a strong case for the implementation in business models and marketing strategies.
Building momentum towards transformational change
However, the degree of circularity within the Philippines is still relatively low as noted in a study by the Asian Development Bank in 2020[2]. Reasons for this are mainly due to its large primary resource extraction sector, growing infrastructure development and poor waste management at municipal levels. Albeit laws such as the Ecological Solid Waste Management Act of 2000 have been implemented, the country's lenient law enforcement and lack of infrastructure continues to serve as barriers to its waste management efforts.
That being said, it is imperative that the Philippines continues to develop an enabling environment for businesses to champion circularity through financial incentives, new legislations and the enforcement of already existing laws. Given the economic, environmental and social benefits that a circular economy presents, it's vital that it continues to build on this current momentum in contextualizing and mainstreaming the concept of a circular economy in the country. It is important that the countries, including the Philippines, exhaust all efforts in contributing to climate action to prevent the forecasted catastrophic events that lie ahead. This would need transformational changes in our systems, one of which is a shift to a circular future.
---
[1] Circle Economy. (2021). The Circularity Gap Report 2021.
[2] ADB. (2020). Regional: Supporting Implementation of Environment-Related Sustainable Development Goals in Asia and the Pacific (Philippine Subproject) Circular Economy in the Philippines.
Will Meritocracy Save The Post Pandemic World?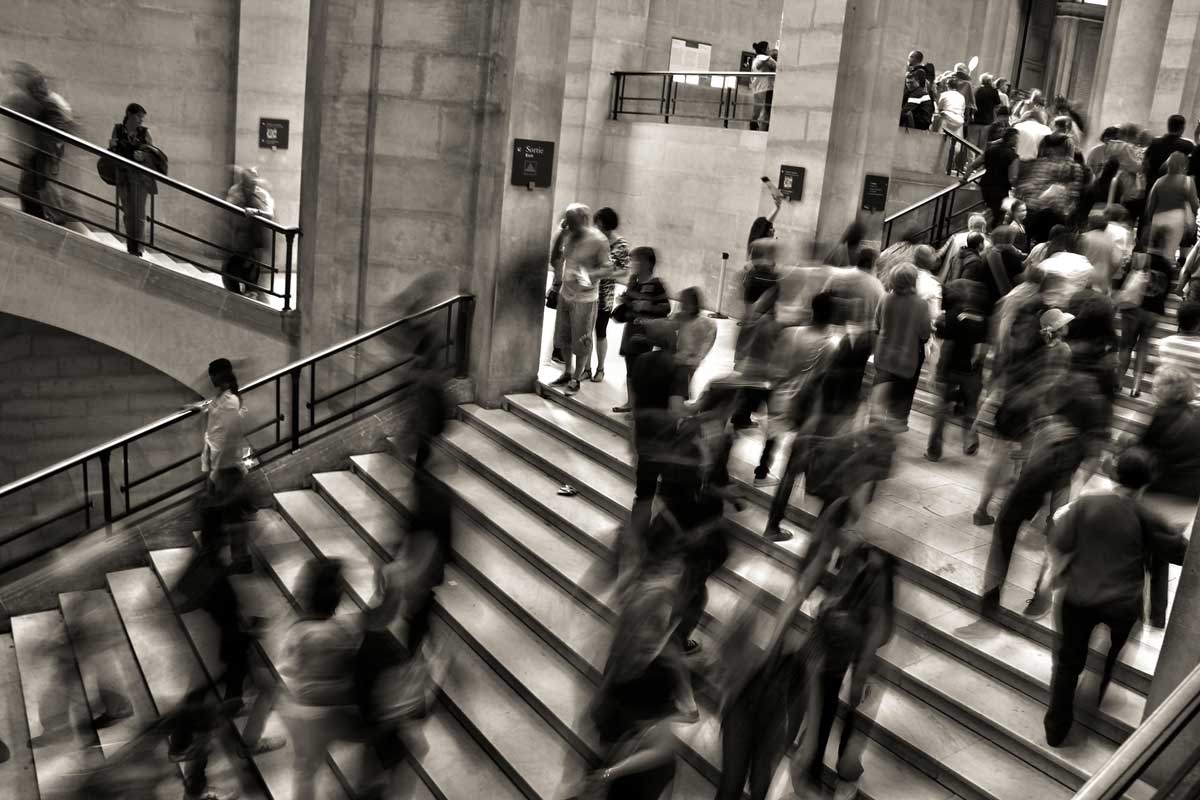 The Reality of Human Endurance: Protection of self-incompetence is a condition of the human heart as our own self-discovery by our own mind only exposes us to our own fragility and our limits on our already acquired skills. Despite such skills always surrounded by additional untapped hidden talents, but when passages of excruciating pain required achieving transformative advancements the heart draws curtain to such adventures out of fear.
Most importantly at times, self-discovery alerts us of a dormant self-destructive beast living in stagnation within us. To advance and search for any new thought, any new skill, or any new enlightenment, it is always an odyssey for the mind, to search for wisdom is to fight monsters, like a warrior on a bold adventure of courage in a lonely journey. Be a warrior and discover your own universe of hidden talents. Meritocracy awaits for you…
Most economies of the world already visibly damaged, Covid-19,a new sheriff in town, a dealer's choice game on the table; needed is an ace card to bring meritocracy, performance, productivity and profitability or lose big time. Select a few nations of your choice, observe their levels of executions and digitization, study their bureaucracies and determine their rate of resilience and if and how they will survive over the next five years. Now, the real difficult questions
Why shut down the electricity of the building and climb the skyscraper via the staircase. After all the gross negligence by most nations to neglect digitization and to not to adopt almost free technologies is now visible as an unforgivable fault. Digitization, most critically needed in the main economic hubs, trade-groups, associations and the entire small medium businesses across the nation on integrated platforms. With the majority of nations locked up in an old mindset. They simply cannot zip up to the top floor, exhausted and breathless as they are climbing stairs and badly stuck on lower floors.
Therefore, what is wrong with stubbornly bureaucratic mindset and why it refuses to showcase its diversity of talents and skills to the world. Most importantly, why are such questions not part of the daily national debates? Why are layers of economic development leadership so shy, trade groups so afraid and political leadership so confused about it?
The New Realities: Post pandemic recovery will take no prisoners. Out of the cage, the constant mutation of our economic thought has now morphed into an ugly monster. Alarm bells are ringing. The world has changed on economic behaviorism every millennia and this period is no different. Eventually modern intelligentsia of the world, seeking common good, one again will pass through the eye of the needle and arrive on the other side badly battered and bruised but a bit better. This is how humankind has saved itself from total obliteration. This is how the global populace has learned to linger as economic shifts of power are coming near you.
The Rise of Meritocracy: Unless bureaucracies unlearn to leave their broken past behind, embrace the future, digital platforms, global diversity and exportability, the paper-based mindset economies will only end up in waste-paper-baskets. Meritocracy will eat bureaucracy for lunch. There is no other way. Soon it is going to be lunchtime.
Adjustments: acquire mastery of such affairs on fast track; rediscover constant learning, constant disruptions and constant advancements, future needs a new global-age mindset. Understanding of the micro manufacturing and micro-exports logic is a key issue, the digital platforms and the sense to where commerce headed are the landscapes. Unless western economies rediscover manufacturing, blended with technology, platform economies the billions will march down on the old system.
Century ago, the industrial age forced acquisition of heaviest machinery to advance, now there is nothing heavy investments, but the free flying minds on freely available technologies and platforms that are in charge.Today optimization of freely available technology requires little or no muscle power but definitely demands superior mental-powers. Upstanding how to use critical thinking and declaring lifelong learning as a normal requirement will bridge progress. Smartness today means to identify your hidden enemies; knowing what messages that draw you towards tribalism, hate and destruction, knowing what is Media and what is fakery, what is Social Media or if Political Rhetoric is nothing but a special agenda to divide and conquer. Do not become divisible.
What a difference a century makes, during 1922, the Union of Soviet Socialist Republics formed, Tomb of Tutankhamen discovered, BBC formed and Gandhi put in Prison by the British. Our 2022 will unfold the post pandemic economic realities. With dozens of elections, reshuffling of cabinets, recycling of promises and Teleprompters on garage sales the socio-econo mood swings will test freedom to yell the truth.
Global shift of powers now defined. Colossal economic failures identified. Global opinion solidifies. Universal struggles start to appear. Neither, super-taxing bearers of the Pandora papers will save the economies nor will the real surprises out of the Pandora's Box from hyperinflation to hyper-deflation will save us. Candle light visit to tragic landscapes of Beirut speaks volume as it sinks to the dark ages. Uplift mobilization of entrepreneurialism will save nations. Advancements towards "meritocracy" are personal development trends, therefore, a call of the times, a new truth, and new reality. Change and change again, statues are for the birds to poop on…
The rest is easy
Work safely from Paradise
Due to the pandemic, Caribbean nations have been among the most impacted and most devastated economies, as most of them rely on tourism to keep their economies afloat. Tourism has decreased dramatically as a result of the Covid-19 pandemic and the suspension of air travel, with the Caribbean countries seeing a 69% percent drop. This has inevitably caused a major shock to Caribbean economies, requiring them to adopt measures to mitigate the pandemic's economic consequences. Caribbean nations have made a number of steps to lure remote workers to their country, including launching a range of programmes. This has been accomplished by creating new visa categories and using targeted marketing to entice remote workers and freelancers to come and remain in Caribbean countries, allowing them to "Work from Paradise."
This approach has also been warmly received by the broader Caribbean population, as it allows remote employees from other parts of the world to come and work in the Caribbean without displacing local workers. Increasing income from foreign travelers/remote employees is also helping to improve local trade and the Caribbean economy, making this a win-win situation for Caribbean countries. Given the ongoing movement from traditional workplaces to remote working and digital workspaces, there is a fantastic opportunity for Caribbean countries to fill this new niche and grow their economies. Countries whose economy are based on tourism can genuinely benefit from this potential, since digital nomadism is expected to grow even more in the post-covid era. Anguilla, Antigua and Barbuda, Aruba, Bahamas, Barbados, Bermuda, Cayman Islands, Curacao, Dominica, and Montserrat are among the Caribbean countries that have introduced digital nomad visas and similar programmes to improve their economies. Emphasizing the low cases of Covid in these countries make them more than ideal locations to work safely.
Such visa programs have received widespread support across the world, as seen by the enormous popularity of Barbados' Welcome Stamp, which allows remote workers to stay as digital nomads in Barbados for a period of 12 months. This has aided in the inflow of income into the country, boosting the Caribbean nation's economic condition. To take advantage of these digital visa programs even more, Caribbean nations have been investing in infrastructure, communications, and healthcare to improve their facilities and entice more digital nomads to their country. This has also led in economic growth, owing to the increased focus on communications infrastructure, which has resulted in quicker and more reliable internet access. Not only has this boosted the economy, but it has also benefited local businesses and the Caribbean public because of the enhanced, stable access to the digital domain. Barbados' capacity to swiftly attract digital nomads and investments due to its fast internet speeds demonstrates the necessity of good digital infrastructure and a fast, stable internet connection. The advantages to other Caribbean countries' economy will surely be larger than merely attracting digital nomads if they invest in internet infrastructure as well. Having personally visited and have done business in many of these Caribbean nations, it is not a bad thing working from paradise.
Apart from focusing on remote workers and digital nomads, Caribbean countries have been working on a variety of fronts to strengthen their economy. To begin with, several Caribbean nations are concentrating on regional domestic tourism as an underserved market and are thus recruiting Caribbean residents to strengthen their tourist-based economies. This is assisting in bringing in revenue for pandemic-affected countries. Second, to stimulate economic growth, Caribbean nations are investing in both physical and digital infrastructure to give their economies a boost amid the Covid pandemic. This infrastructure investment has not only helped their economies float, but it has also brought in some much-needed cash, thanks to greater, reliable access to digital markets. Finally, Caribbean nations are focused on stabilizing and assisting small and medium-sized businesses to keep them active and operational and avoid additional income and revenue losses. The Caribbean economies are trying to not just stabilize, but also to increase their economic growth, using tactics and strategies like these to take advantage of the new global realities brought about by the Covid pandemic. If all the Caribbean nations take use of the pandemic's productive potential, they will be able to ride out the pandemic wave with little to no economic consequences in the long term.