Gallup: Trump Globally the Least Respected U.S. President This Century
On January 15th, the Gallup World Poll issued its preliminary report for their upcoming "Rating World Leaders: 2021" report. It shows the results that have been tabulated for 60 of the 135 countries where they annually sample global public opinion about U.S. leadership. One especially clear finding from it is that when their final report for all 135 countries will be issued, it will show that among the three U.S. Presidencies on which Gallup has internationally surveyed — which are only the three U.S. Presidents in this century — Trump is clearly the one who is globally respected the least, even lower than George W. Bush was respected.
Here are the findings, in each of the 60 nations, and the percentage increase or decrease from Gallup's last completed survey report, "Rating World Leaders: 2020":
"Approval of U.S. Leadership Across 60 Countries and Areas"
"Do you approve or disapprove of the job performance of the leadership of the United States?"
% "Approve":
Dominican Republic, 66% was 56% in 2020
Cameroon, 62 was 61
Georgia, 61 was 43
Zambia, 56 was 26
Albania, 56 was 67
Philippines, 55 was 58
Uganda, 53 was 47
Mauritius, 50 was 59
Zimbabwe, 50 was 59
Ecuador, 43 was 34
Colombia, 42 was 41
Moldova, 40 was 45
Brazil, 40 was 38
Japan, 39 was 34
Kyrgyzstan, 34 was 32
Namibia, 34 was 31
Bulgaria, 32 was 26
Cambodia, 32 was 49
Hong Kong, Special Administrative Region of China, 31 was 31
Poland, 30 was 59
South Korea, 30 was 41
Bolivia , 30 was 31
Australia, 29 was 23
Taiwan, Province of China, 28 was 40
New Zealand, 26 was 17
Mexico, 26 was 17
Malta, 26 was 30
Ethiopia, 25 was 37
Argentina, 24 was 26
Ukraine, 24 was 32
Greece, 21 was 19
Croatia, 21 was 25
Morocco, 21 was 22
Serbia , 20 was 19
Ireland, 20 was 30
Finland, 20 was 20
Slovenia, 19 was 20
Cyprus, 19 was 27
Tunisia, 19 was 24
Italy, 19 was 22
France, 18 was 23
Russia, 18 was 11
Netherlands, 18 was 20
Canada, 17 was 22
Spain, 17 was 23
Chile, 16 was 16
Estonia, 15 was 17
United Kingdom, 15 was 25
Denmark, 14 was 24
Turkey, 13 was 12
Slovakia, 13 was 28
Norway, 12 was 15
Portugal, 12 was 14
Belgium, 12 was 17
Sweden, 11 was 12
Switzerland, 10 was 13
Austria, 9 was 11
Iran, 6 was 6
Germany, 6 was 12
Iceland, 5 was 9
Remarkably, Gallup doesn't poll in China on this question. (Nor does Pew.)
Notably, Trump is more disapproved-of in Europe than in any other part of the world. (Also, as Pew reported on 16 December 2020, "In Europe, more trust Putin than Trump.")
Those percentage-changes that we've just shown total to a decline, among all 60 countries, of 121 percentage-points (-121%), or, almost exactly, a -2% change from the 2019 findings that had been reported in Gallup's "Rating World Leaders: 2020".
Gallup says that "until all of Gallup's 2020 fieldwork is complete in a few months, it is still too early to say that the U.S. will see its worst ranking in the history of Gallup's World Poll." However, Gallup's "Rating World Leaders: 2020" report covered 135 lands, and the 60 lands that they have tabulated as of now, for the 2021 report, seem to be a representative sampling of all of those 135, and collectively those 60 populations have reduced their respect for America's leadership by 2%. In the 2020 report, the global level of approval for America's leadership was 33%. The all-time-low had been the 30% figure in 2017, Trump's first year, a finding which was based on Trump's promises, not on his performance. The upcoming final Gallup report "Rating World Leaders: 2021" will — if the results from those 60 lands do turn out to be representative of the global findings — produce a 31% global approval level by all of the approximately 135 lands that will be covered in it. For each of Trump's four years, then, the global percentages will have been (for each one of his four years) 30%, 31%, 33%, and (now, in his final year) 31%. Each year, it was even lower than the prior record low, of George W. Bush, had been, at 34% in 2008.
There was higher disapproval than approval of America's leadership during the Presidencies of George W. Bush and of Donald Trump than there was approval of either U.S. President's leadership. Strikingly, however, there was higher approval than disapproval during (and throughout) the two terms of office of Barack Obama. That Nobel Peace Prize winner was/is internationally admired. (Crazy, but true: he was an international charmer.)
Here are summarized (with links to the evidence regarding) the actual chief international achievements of each of these three U.S. Presidents:
George W. Bush: destroying Iraq, and destroying Afghanistan.
Barack Obama: destroying Syria, and destroying Ukraine, while continuing Bush's destructions of Iraq and of Afghanistan.
Donald Trump: destroying Iran, and destroying Venezuela, while continuing his predecessors' destructions of Iraq, Afghanistan, Syria, and Ukraine. He also made the destruction of Palestine even worse than it had previously been.
So, the question regarding incoming U.S. President Joe Biden will be whether he will continue this tradition further, or reverse it. Because, it's really all the same tradition, throughout all three U.S. Presidencies this century. By contrast, global perceptions are that those three U.S. Presidents were drastically different from one another.
On 15 September 2020, Pew bannered "U.S. Image Plummets Internationally as Most Say Country Has Handled Coronavirus Badly" and reported that:
The publics surveyed also see Trump more negatively than other world leaders. Among the six leaders included on the survey, Angela Merkel receives the highest marks: A median of 76% across the nations polled have confidence in the German chancellor. French President Emmanuel Macron also gets largely favorable reviews. Ratings for British Prime Minister Boris Johnson are roughly split. Ratings for Russian President Vladimir Putin and Chinese President Xi Jinping are overwhelmingly negative, although not as negative as those for Trump.
Right above that was this graph, which shows starkly the false European perception that Barack Obama was vastly superior to George W. Bush and Donald Trump: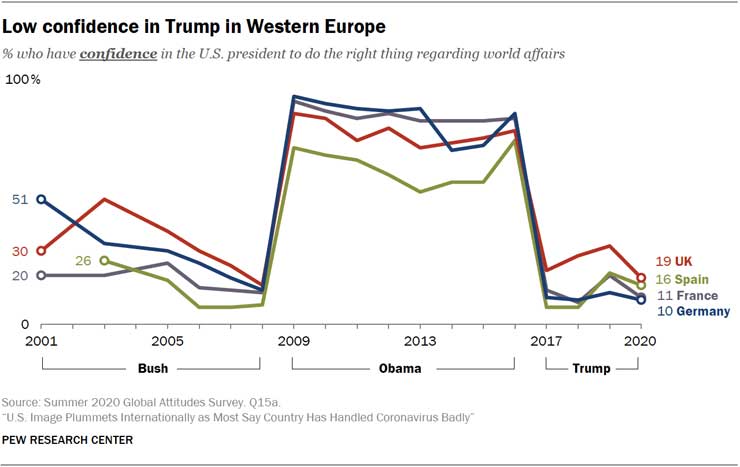 Apparently, most Europeans have no problem with a U.S. President who continues America's use of torture, and who continues America's legal immunity of prosecution for banksters, and who imposes ethnic cleansing abroad, and who aims for achieving a U.S. first-strike ability to conquer Russia by a sudden nuclear blitz attack. Style is everything, for them; substance is nothing, to them. Why didn't they like Hitler? Is it only because he did it to them?
9th Summit of the Americas in Los Angeles: Outcomes in 2022
The 9th Summit of the Americas—delayed for a year by the pandemic—attracted unprecedented scrutiny of Latin American and global media, already at the stage of preparations. It was not only the matter of Washington's "invitation campaign" and the (predictable) response of Latin American leaders to it. Rather, the White House had been expected to offer new ideas, showcase new approaches, initiate new proposals, which would make it possible to confirm and solidify U.S. leadership in the Western hemisphere, particularly given the growing competition with China in a region of America's traditional interests. Joe Biden failed to achieve a breakthrough: the final declaration proved to have a far narrower scope than expected, while Latin Americans demonstrated their agency on the global stage once again. The Summit of the Americas never became Joe Biden's diplomatic triumph, but it would not do to underestimate Washington's ability to play "a long game", achieving the goals set in circuitous ways. Recent history knows a number of such instances.
Record no-shows
The Forum's main sensation was the pointed refusal of the leaders of five states (Mexico, Bolivia, Honduras, Guatemala, El Salvador) to attend the event in person. Some did not attend due to objective circumstances, but everyone who declined the invitation to appear at the summit had their own reasons, with the main being the White House's high-profile decision not to invite the leaders of Cuba, Nicaragua and Venezuela. Traditionally, the hosts of previous summits selected the invitees, and scandals had been known to happen. In 2018, Peru did not invite Nicolas Maduro, and previously, the US traditionally opposed Cuba's attendance (the country participated in the summit only twice).
Many observers have deemed Joe Biden's rigid stance on the three states illogical, particularly given Washington's simultaneous efforts to normalize relations with Havana and Caracas that have recently manifested in the easing of sanctions. It is important to keep in mind, however, that the ideological component has traditionally been of key importance for the U.S. in its relations with the region. Nor could Joe Biden ignore the harsh stance of most American elites; an invitation extended to these three states would have had horrendous domestic political consequences for the current administration. Tellingly, the White House also refused to invite its Venezuelan "protégé" Juan Guaido—Joe Biden only had a telephone conversation with him.
The refusal of several Latin American leaders to attend the Summit in person should be interpreted with care. Frequently, such a decision looked like a desire to trumpet their stance in Washington's face, creating an opportunity for publicity, especially since most heads of state that ignored the event still sent large delegations, closely following the course of the Summit closely.
Nonetheless, even many of those presidents or heads of government who chose to travel to Los Angeles openly expressed their disagreement with Washington's approaches, condemning the non-invitation of the three states. Argentina's President Alberto Fernandez and Belize's Prime Minister Johnny Briceño were particularly stark in this regard. They were diplomatic, yet open in personally telling Joe Biden their grievances during the first principal session. The two leaders condemned both the sanctions against Cuba and Venezuela and the exclusion of these states from the list of invitees.
In his response, Joe Biden had to make conciliatory statements on the need to search for common language despite existing differences. Many observers viewed Latin Americans' demarche as a manifestation of the U.S. weakening regional influence and a symbol of new geopolitical realities in the Western hemisphere. In fact, U.S. partners in Latin America traditionally dish direct criticisms or disagreements to U.S. leaders. Suffice it to remember the famous 4th Summit of the Americas in 2005 in Mar del Plata, where three presidents (Lula da Silva, Hugo Chavez, and Nestor Kirchner) "buried" the Free Trade Area of the Americas (FTAA/ALCA) initiative, right in the presence of George W. Bush. Condemnations of anti-Cuban sanctions and of Cuba's exclusion from forums have also become a tradition with Latin Americans. But when Washington appears to face consolidated Latin American opposition, this has a knack for switching work in many areas into bilateral format where the U.S. has far more opportunities for pushing through its stances and interests. For instance, when the FTAA/ALCA project failed, the U.S. rather focused on bilateral free trade agreements—over the next decade, Washington did conclude them with most of states of the region.
The language of initiatives
Washington's main drive at the Summit can be defined as an intent to limit the presence of external actors in the traditional area of U.S. interests. China was not in any way involved in the Summit, U.S. officials did not mention Beijing in any of their speeches—yet, it was invisibly present throughout the event. During his main speech at the Forum's opening on June 6, Joe Biden articulated new suggestions concerning cooperation, stressing that the Western hemisphere has enough resources of its own to handle its principal problems. The U.S. is trying to contain China's expansion into the LCA, but it has failed to snatch the initiative from China so far. The Americas Partnership for Economic Prosperity, a new Washington-proposed initiative, can be seen as an attempt to offer an alternative to Chinese proposals for Latin America that include the "New Silk Road" project. Proposing strategic initiatives is a traditional form of communication of the United States with Latin America (whether at the time of John F. Kennedy or George H. Bush). The U.S. lost initiative in the region during Donald Trump's presidency, with Joe Biden now striving to respond to the principal challenges of development: post-pandemic recovery, migration and security, digitization, rebounding investment, the "green" agenda. Many elements in the new initiative are not yet entirely clear. The White House has noticeably been preparing these proposals "in haste," without elaborating every item in a careful fashion. It is also obvious that the U.S. intends to retain its leadership in such areas as digitization (as a snub against the Electronic Silk Road), military assistance and cooperation, logistics, green technologies.
However, many experts exhibit understandable skepticism when it comes to Joe Biden's proposals. What is striking is the openly small financing Washington proposes, particularly if compared to the aid the U.S. is currently extending to Ukraine. Emphasis on the environmental agenda and respect for democratic norms can be seen as an instrument of future restrictions against those who do not comply with these requirements, at least in the eyes of Washington. Such demands are already a standard feature of trade agreements spearheaded by the U.S. (for instance, USMCA).
Each Summit of the Americas traditionally ends with a thematically expansive final declaration to cover all the problems in social, economic and political development. The current Forum's organizers were expected to produce something of the sort. However, the attendees only adopted the Los Angeles Declaration on Migration and Protection at the end of the Summit, a document that boils down to Washington's desire to "share responsibility" for resolving the migration crisis with all the nations of Latin America, both countries of origin and transit states. Certainly, the issue of Latin American migrants is a burning problem for the U.S., Mexico and states of Central America. The situation may be further complicated by the expected food crisis, which is spurred, in the White House's opinion, by Russia's special military operation in Ukraine. The declaration includes a large set of measures on ensuring security for migrant flows, on combating the root causes of their exodus, and on bolstering regional coordination and cooperation in this area. The document was signed by 20 states (some abstained), including all the Central American states whose leaders were not present at the Summit.
Recognizing the importance of interactions in the matter of migration, Latin Americans must have been expecting something greater than just a call for "shared responsibility" from the U.S. Initially, the organizers had ambitious plans on a far larger range of issues rather than mere migration. Preliminary discussions focused on environmental issues and environmental protection; however, since Brazil refused to sign such a declaration (under the pretext of Brazil's relevant legislation being stringent enough already), the document was not submitted for final signing. Washington did preliminary bilateral work with key manufacturers calling upon them to ramp up oil production and exports of agricultural products to counteract the energy and food crisis. In his main speech, Joe Biden said that these crises were mostly caused by the situation in Ukraine and Russia's actions in particular. Washington possibly planned for the final document to tie condemnation of Russia's actions with plans for collectively counteracting the mounting crises (if the U.S. had succeeded in getting Latin Americans to support such decisions).
Many observers interpret problems with attendance as well as the openly limited final decisions and documents as Joe Biden's unequivocal diplomatic defeat and proof of Washington's weakening stance in Latin America. However, the Summit of the Americas is only the "tip of the iceberg" of the multitude of America's extremely complicated and multilayered relations with the region. The U.S. remains Latin America's principal trade and economic partner and a crucial source of technologies and investment. Indeed, there was a certain dip in trading in the 2000s. Recently, however, Washington succeeded at largely regaining its standing despite China's active expansion into the region. The U.S. is the integral security factor in Latin America, the main recipient of migrants, and it would not do to underestimate the U.S. influence on most regional governments in spite of their growing agency.
Having drawn its conclusions from the Summit's failures, the White House will continue to "push its agenda through" in bilateral formats as it keeps all of its influence resources. At the final press conference, a journalist asked Antony Blinken on the issue, and the Secretary of State's response encapsulates this approach. Commenting on the refusal of some to sign the Los Angeles migration declaration, he was confident that all countries will accede to it sooner or later, pursuant to targeted work with each state. Washington has "strategic patience" in spades.
From our partner RIAC
The Canal System and the Development of the Early American Economy
The prosperity and development of the United States that it enjoys today did not come out of thin air. This is especially true in its early days of economic development which has a lot to do with the construction of the transportation system. In the beginning, it was the development of water transportation, then the railway, next followed by the highways. The construction of these major transportation systems supported the early development, prosperity, and rise of the U.S., laying the foundation for it to become a major world power.
The early water transport in the U.S. is rather interesting, and it mainly aimed to connect more places in the country by excavating and expanding the canal system. According to incomplete statistics, the total length of canals in the U.S. is 18,000 km. This 18,000 km long canal was of great significance to the early economic development of the country. This well-connected water transportation system has greatly enriched the exchange of commodities, promoted trade, and enabled the convenient transportation of raw materials, salt, whisky, energy coal, and many other products within the country. The domestic market of the U.S. had also expanded, and its national economy transformed from weak to strong.
The longest and the most well-known canal in the U.S. is the Erie Canal. The Erie Canal is named after the lake and starts from the Niagara River which originates from Lake Erie. It spans upstate New York and joins the Hudson River in Albany, the capital city of New York State, with a total length of 574 km. It is not only the longest canal in the U.S. but also the sixth-longest in the world. Back in the early 19th century, before the automobile existed, there was an urgent need for a transportation route from the Atlantic coast to the Appalachian region. A canal was proposed to run from Buffalo on the east shore of Lake Erie through the canyons of the Mohawk Valley to Albany on the upper Hudson River.
In 1817, the New York State Legislature approved the construction of the Erie Canal. After much arduous work, the canal was finally opened on October 25, 1825. Its total length is 584 km (363 miles), The channel was cut 12 m (40 feet) wide and 1.2 m (4 feet) deep. In order to solve the problem of water level drop, a total of 83 locks have been built in the canal, each lock is 27 m by 4.5 m, allowing the navigation of flat-bottomed barges with a maximum displacement of 75 tons (68 tonnes).
The Erie Canal was the first express transportation to provide the east coast and west interior of the U.S. much faster than the animal-pulled carts most commonly used at the time. Not only did it speed up transportation, but it also cut transportation costs along the coast and inland by 95%. Fast canal traffic made western New York more accessible, resulting in rapid population growth in the Midwest. The canal had as much impact on the development of the upper Midwest as it did on the development of New York City. Many pioneers flocked west through the canal, into Michigan, Ohio, and Illinois, Indiana, from where they shipped agricultural products through the canal to be marketed in New York, and the return journey was loaded with industrial goods and supplies to the west. Manufacturing industries emerged on both sides of the canal, supplying a steady stream of products to New York City. From Buffalo to New York, land freight once reached $100 per ton, and it was only $10 by the canal. In nine years, tolls had paid back the cost of the construction of the canal. By the time the toll was abolished in 1882, the revenue from the canal had been used to pay for the construction of several canal spurs, and there was substantial tax payment as well.
The canal has been expanded several times. After its reconstruction in 1909, it has become 544 km long, 45 m wide, and 3.6 m deep. By the 20th century, New York had developed a network of canals connecting Lakes Champlain, Ontario, and Finger, and the Erie Canal remained the central route, capable of navigating barges with a capacity of 2,200 tons. The establishment of the Erie Canal connected the water transport of the Great Lakes with New York Harbor and became the main waterway of the navigable canal system in New York State. The freight from Lake Erie to New York only required the cost of one-tenth of the former, making the city, much smaller than Philadelphia and Boston at that time, rapidly developed into the largest port and city in the country. The construction of the Erie Canal played a major role in promoting the economic development of the eastern United States and New York. The population of New York in 1820 was 123,700, and the population of Philadelphia was 112,000. By 1860, the numbers rose to 1.08 million and 566,000 respectively. Consequently, New York thrived as a port city. In 1800, only about 9% of all foreign goods in the United States entered the United States through New York Harbor, yet by 1860, that percentage jumped to 62%. The strengthening of New York's status too indirectly led to the gradual establishment of Wall Street's status. In this regard, the Erie Canal contributed greatly to such progress.
In addition to changing urban patterns and the rise of industry, the Erie Canal had a far-reaching impact on the U.S. economy, gradually transforming it into a consumer-led economy that determined the subsequent U.S. economic landscape. Culturally, the opening of the Erie Canal also boosted the Protestant revival movement known as the Second Awakening. Western New York was one of the main areas of this movement, and a crucial reason for this was the opening of the Erie Canal. In the small towns emerging on both sides of the canal, various sects began to proselyte in places where their churches had yet to be common, and some emerging religious groups took root there and rapidly developed, including the Church of Jesus Christ of Latter-day Saints, commonly known as the Mormons.
Other than the evangelization along the Erie Canal, many new trends of thought also made their appearance there, such as the early feminist movement, the abolition movement, and utopianism, which all found their initial supporters in the emerging towns in that region. Hence, the construction of the Erie Canal played a driving role in the changes of the American cultural pattern.
From the day the Erie Canal was built, the vast area between the Appalachian Mountains and the Mississippi River, especially the Midwest around the Great Lakes, was no longer the frontier of the United States, but was connected to the east coast and became the heartland of the country. The economic and social changes it brought about had put the U.S. on the first step toward becoming a great power. The central and western regions could industrialize swiftly, forming the Great Lakes industrial areas, mining areas, and urban belt. All of these were inseparable from the Erie Canal, therefore it is not unreasonable for many to consider the opening of the Erie Canal as the official beginning of the first industrial revolution in the U.S.
There are numerous canals within the U.S. According to incomplete statistics, the country has built a total of 18,000 km of canals. The entire country has also become an organic whole because of these canals, which not only effectively enhanced the ability to resist droughts and floods, but also greatly developed the American economy and market.
Final analysis conclusion:
The construction of the canal system played an important role in the early transportation improvement, trade flow, market expansion, cultural dissemination, and urban development of the United States. This, in turn, has greatly promoted the development of the American economy and played an important role for it to become a major power.
Aligning values into an interest-based Canadian Indo-Pacific Strategy
Russia's invasion of Ukraine is an explicit challenge to the post-WW 2 order. This order has brought peace and stability and created the conditions for economic growth in the global north and Global South. It has also brought relative peace and economic integration in the Europe and in the Indo-Pacific.
Today, this order is now being challenged by Russia today but also by China. The consequences could mean that a might-is-right approach and Machiavellian approach to foreign policy will become the new normal for countries like Canada, a self-described middle power.
A Machiavellian order is an order in which larger countries can bully, cajole and pressure, mid and small size countries to do what they are demanded is an explicit challenge to Canadian interests, as well as the interests of like-minded countries such as Japan, Australia, South Korea, European countries and countries in the Global South.
The Trudeau Government has clearly and explicitly criticized the Russian government's invasion of Ukraine by Russia. Ottawa has coordinated with other middle powers and as we speak through the G-7 Summit in Germany on how to handle Russia's invasion of the Ukraine.
Unity will be important, especially as energy security becomes more and more critical of an issue for Central and Eastern European countries. The growing food crisis that has manifested as a result of the Russian invasion is also an area that the G-7 will need to coordinate to provide relief to many countries in the Global South.
This message will be further discussed at the NATO summit in Spain. Here, Japan, South Korea, Australia New Zealand will join the NATO members to demonstrate their shared commitment to a rules-based order to pushing back against aggression to change the current order and to find ways to work together to support the Ukraine and resist Russian aggression. Here, Canada has an important role in terms of energy security and food security.
With ample access to energy and food resources, there is a possibility for Canada and other partners such as the U.S. to divert some of its significant grain and energy resources to the Europe to help alleviate some of the stress associated with the invasion of Ukraine.
Coordinated military support as well will be important to ensure that the Ukrainians can resist and eventually take back territory that was taken by force by Russia.
There is an interesting paradox in Canada's approach. While explicitly criticizing Russia's might-is-right approach to foreign relations in Eastern Europe and particularly with Ukraine, Canada continues to waver in using the same language in the Indo-Pacific.
The Indo-Pacific region is also facing a might-is-right approach to reshaping the Indo-Pacific order. The use of lawfare, gray-zone operations, military force and belligerent threats all are aimed at reshaping the Indo-Pacific order in such a way that creates a Chinese centric regional order in which China's neighbors as well as stakeholders that engage in the region will think about China's interests before their own interests and their interest with Washington.
Canada needs to continue to invest in the Indo-Pacific. A good place to start will be to explicitly state Canada's concerns about that Machiavellian approach to foreign policy in the region and the efforts by China to reshape the region such that states lose aspects of their autonomy. This will require an Indo-Pacific strategy to be built on a clear objective of how Canada sees the Indo-Pacific Region evolving forward and how Canada would like to contribute to that broader vision of the Indo-Pacific.
Japan, Australia, the United States, Germany, Denmark, and the E.U. have laid out their own Indo-Pacific strategies. They focus on maritime security, a rules-based order, transparency, development and importantly, good governance. We see little rhetoric concerning progressive issues as well as little mention of the core values such as democracy, human rights and freedom of press. This is intentional. These countries and associations understand the heterogeneity within the region.
The-Indo Pacific region is home to soft authoritarian regimes, socialist regimes, democracies and monarchies. Unfortunately, each has very different views about democracy, human rights and progressive issues.
Where they are aligned is in their interests. Their interests are focused on trade, economic integration development, the digital economy, resolving territorial issues through dialogue and consensus-based decision making and not excluding any country region or political entity from the region's political economy.
Simply, associations and regions like ASEAN, South Asia and the E.U. see inclusivity as a key criterion to the Indo-Pacific peaceful evolution This means any Indo-Pacific strategy that emerges out of these countries does not exclude China or strive to eject non-democratic states.
Rather, their Indo-Pacific strategies focus on inculcating peace and stability in the Indo-Pacific region through development, trade, infrastructure and connectivity, institution building, good governance and deterrence.
In the Canadian case, the broader vision for the Indo-Pacific should echo but not necessarily replicate the Indo-Pacific Visions of the country's mentioned above. Canada's priority should be peace, stability, open access, a transparent, rules-based order that ensures Canada can have free access to economies and societies throughout the region.
At the same time, Canada's interests in the Indo-Pacific should include shaping the region such that traditional security issues such as territory issues in the South China Sea, East China Sea, the Taiwan Straits and the Himalayan plateau do not devolve into kinetic conflict that fundamentally disrupts the region's development and stability.
Traditional security issues are not the only issue that can affect Canada's interests in the region. Non-traditional security issues such as climate change, terrorism, transnational diseases, extremism are all potential concerns for Canada as it could create instability in the region, disrupt their economies, destabilize supply chains as well as create problems for trading partners.
As Canada celebrates another Canada Day, it should reflect upon what are the key elements of an Indo-Pacific strategy.
Here a six-fold approach may be a useful approach to creating an Indo-Pacific strategy that helps achieve Canada's national interests in the Indo-Pacific region. A first pillar of an Indo Pacific strategy should be one of Inclusive Development.
Here, Canada can help build stability, improve governance and contribute to broad inclusive development in the region. Through support for NGOs, investment in infrastructure and connectivity, coordinating with regional stakeholders and ensuring that inclusive development results in sustainable and replicable development in the region. Importantly, inclusive development in the region should de-emphasize the progressive character of inclusivity found in the domestic context of Canada as it is less prioritized in the region. This does not mean that a progressive approach is absent but it is sensitive to the local cultures and societies.
A second pillar should focus on Canada's comparative advantages, Energy and critical mineral security. Based on improvements in environmental technology and technologies that are used to exploit both energy resources and critical minerals, Canada should make this the second pillar of their Indo-Pacific strategy as an open, reliable source of energy and critical minerals.
Canada could carve a position within the Indo-Pacific region in which it is the key provider of energy and critical minerals to industries that use both products. We've seen in the wake of the invasion of Ukraine, that energy security has become timely and we expect that energy security and critical minerals to be subject to weaponization in the future in the build-up to or in a conflict.
Consequently, Canada can contribute energy and critical mineral significantly by making this a key pillar in their strategy.
A third pillar should focus on coordinating and investing in Middle Power Diplomacy. In short, Canada needs to coordinate with other middle powers such as Japan, South Korea, Australia, New Zealand European powers to ensure that the US China Strategic competition does not shape them. Rather, coordination shapes the dynamics of the US China Strategic competition in such a way that it decreases and or attenuates the negative effects on countries we've already seen Canada engage in middle power diplomacy with some success.
The 2020 Agreement, in which Canada marshaled middle powers and other countries to join a Declaration Against Arbitrary Detention in State-to-State Relations following the arrest of Michael Kovrig and Michael Spavor in China is a good example. We also saw Canada bring together middle powers and the United States to discuss denuclearization of the Korean Peninsula in January 2018.
More coordination of middle powers in the areas of good governance, transparency, energy cooperation and financial cooperation would be a unique but also important contribution by Canada in the Indo-Pacific.
Here, one could easily imagine Canada working with the Partners in the Blue Pacific (PBP) to provide energy security, health infrastructure, good governance to the Pacific Island nations.
We could also see Canada contribute to the Indo-Pacific Economic Framework by marshalling middle powers to support this standard setting agreement that will shape how we think about trade. The standards that we use to negotiate new technologies ,the internet, cyber as well as AI.
A fourth pillar should be supporting Economic security, infrastructure and connectivity. Here Canada needs to find ways to consolidate its own economic security so that is more resilient against economic shocls, outside Canada, as well as inside Canada.
The COVID 19 pandemic is a good example of an external shock to the Canadian economy. We had challenges in terms of acquiring personal protective equipment and other goods as China shut down their country to manage the initial Covid-19 outbreak.
The current COVID-19 policies in Shanghai and Beijing further consolidates the logic that Canada needs to build resilience into its economy, to invest and protect its own economic security.
Internally, the floods in the fall of 2021 in British Colombia also disrupted Canadian exports abroad.
Economic security, resilience and infrastructure and connectivity can help ensure that Canada's economy remains online and integrated into the global economy and resilient against external and internal shocks. This will require bolstering infrastructure and connectivity at home so that we have world class infrastructure that is resilient against internal shocks.
Also, Canada has a role in contributing to infrastructure and connect to the within the Indo-Pacific region. While we have limited capacities, we have capabilities that can piggyback onto existing infrastructure connectivity programs that are associated with the Quadrilateral Security Dialogue. The Japan-India-Australia resilient supply chain initiative and bilateral and other multilateral infrastructure and connectivity initiatives that have come online over the past three or four years. All of this will be important for Canada's Indo-Pacific strategy in ensuring that Canada's economic security is based on a resilient economy that is bolstered by infrastructure connectivity at home and abroad.
A fifth pillar for Canada will continue to be focused on security and in particular, Maritime Security in the Indo-Pacific region. With sea lines of communication in the Indo-Pacific responsible for about $5.5 trillion in trade every year and energy resources being transported through the key arteries located in the Indian Ocean, Malacca Straits South China Sea, Taiwan Straits as well as East China Sea, Canada has an interest in ensuring that the sea lines of communication remain open, governed by international law and free from coercion.
Cooperation in sea lines of communication will need to take place within existing frameworks or new frameworks. Quad plus arrangements have already taken place in January 2021 Canada participated in the Sea Dragon 21 exercises to provide an opportunity for Canada to monitor and observe Quad exercises.
We also see Canada engage in sanctions monitoring in the East China Sea in an effort to prevent sanctions invasions by North Korea. These activities continue to need to be expanded by working with like-minded countries within the region focused on maritime domain awareness search and rescue, humanitarian relief and disaster assistance and dealing with non-traditional security challenges such as illegal fishing, piracy and others.
While this is not an easy task, this pillar of a Canadian Indo-Pacific strategy is important to contributing to the region's peace and stability as well it is important for protecting Canadian imports and exports to the region. In 2021, more than $21 billion of Canadian goods went through the region this sum continues to increase as Indo-Pacific nations look to Canada to secure energy as well as agricultural products. Ensuring that sea lines of communication remain open, stable and peaceful will continue to be a critical part of any Canadian Indo-Pacific strategy.
Lastly, a sixth pillar of a Canadian Indo-Pacific Strategy should focus on Climate Change.
The Indo-Pacific region is hosts the three most populated countries, Indonesia, India and China. It is also home to ASEAN. Collectively, the population of the Indo-Pacific region is at least 3.5 billion and the current development patterns suggest that they will have severe water and food security issues as their environment degrades do to climate change and global warming.
More extreme weather systems, the salination of the Mekong and Bangladeshi delta's as sea levels rise will change the ecology of these critical production areas that that will create social instability, economic stress and likely political instability associated with economic refugees moving to find safer, more predictable geographic locations to leave and work.
We will also see tropical diseases and insects push north and southward disrupting agricultural and social systems.
Canada has a clear interest in investing in climate change mitigation, promoting environmentally friendly governance and business systems and technology transfer that lessen the negative impact of climate change. The scale of the problem will require Canada to pursue this sixth pillar through regional and global coordination.
With a pragmatic and realistic approach that is based on understanding the heterogeneity of the Indo-Pacific region, a Canadian Indo-Pacific Strategy should include but not be exclusive to: Inclusive development, Trade and Economic Residence, Climate Change, Maritime Security, Energy and Critical Mineral Security, and Middle Power Diplomacy.