How Crimea Strengthened Russia's Eurasian Identity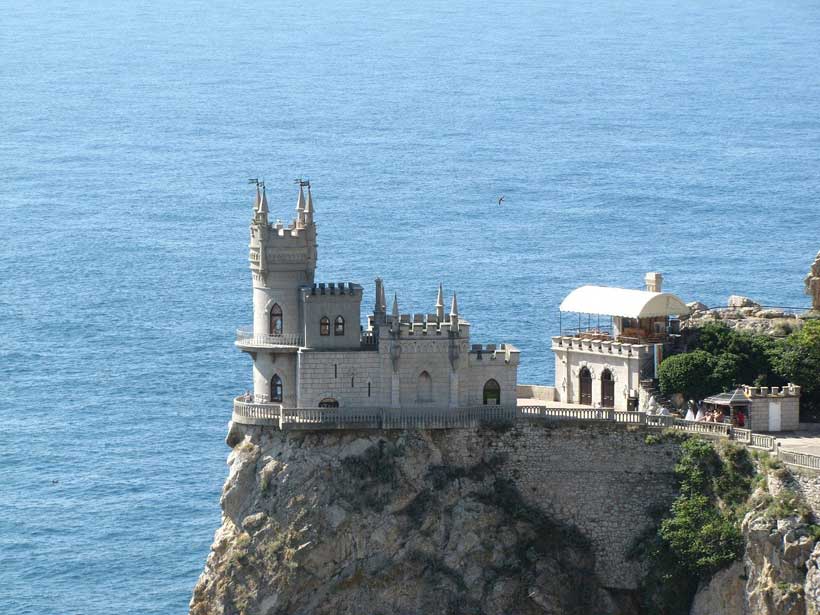 While the west imagined Crimea was just a territorial dispute that had got out of hand and its annexation a move forced on Putin to salvage something from the ruins of his Ukrainian policy, the Chinese saw it as the moment Russia flipped from being a Eurocentric power to a Eurasian one. The bridge that connected mainland Russia to Crimea which cost $3,69 bln and stretched for 19km symbolized the fact that this was not just a buffer zone but sacred territory and there was no going back as its unity with Russia was eternal. A massive new mega church the resurrection to honour Crimea's return to the motherland. Leading Siloviki from the power ministries such as defence minister Sergei Shoygu was pictured in a mosaic to show that the days of Russian were over and that the security services were once again watching over Russia and ensuring that the enemies encircling it were kept at bay .The temporal and the sacral under Putin were once again in harmony after decades of being at odds with one another.
The idea that Russia through Eurasia was coming back to itself was a perennial topic of influential nationalists .The infatuation with the west was over and Russians were once again appreciating that being different did not mean inferior. For example Dmitry Rogozhin the head of Russia's space agency commented that "in space one must not run after beautiful goods with wonderful labels under the music of Bowie, but one must lean first and foremost on well functioning systems." The excellence of Russia's high performance sectors should energize the low expectation culture that bedevilled many Eurasian projects . So for example regarding the Blagoveshchensk-Heihe bridge which was built to accommodate 300,000 vehicles and had a load capacity of 4 million tonnes prime minister Mikhail Misushtin on its commemoration wanted to know "what it was like working with Chinese partners" on the project. Like the Chinese Russians should not tolerate excuses for shoddy work and should not look at the Crimea annexation as an exception but a rule. Not as a one off event with a short lived effect that disappeared once the euphoria ended but something to be harnessed permanently so it could be applied on an industrial scale across multiple sectors.
Eurasian road
Russia had proved in Crimea that it had an edge in cyber technology in particular and could act unilaterally to defend its interests. But it was working at razor thin margins and stretching them to the limits so it could only be sustained for a short time. It was much more effective combined with a partner China that had spare capacity and an abundance of riches and did not have to work fast in case it used up all its resources too quickly. It only needed to employ a fraction of their strength and allow the Russians to spread the burden with the Chinese. Where they could concentrate on upgrading their labour and production capacity without the pressure of bringing immediate results. So whereas the Blagoveshchensk- Heihe bridge was a "difficult object because the weather did not allow us to work in the snow, the access road was snowed over" the barriers were " quickly pushed them to one side". And apart from Vant all the material was sourced from Russian factories. So "we ordered different products from Omsk, Tomsk – at various factories."
As new technology became available the costs and risks of operating in the region would fall to acceptable limits and allow it to "reach central Russian living standards." Its mass introduction would have a dramatic effect so that Siberia and companies like SIBUR would "have highly efficient and competitive production which would strengthen its position not only in the domestic market but in the world." It could then pave the way for "thousands of high technology work places, transport and social infrastructure." This would have a "multiplying effect" on the economy there. And in the case of joint projects such as the Amur gas processing plant the goal was "in the area of metal construction, building material, laboratory and tele mechanical equipment it would be 100% localized." The problem was to keep as much production as possible within the region and not allow it to move across the border while engaging with the Chinese to the maximum extent. And that any gains in efficiency brought about by digitalization would not come at the expense of hollowing out of the local economy and turn it into a hub for low grade goods.
Regional Dynamo
The Chinese would not be allowed to capture the regional market but it would not done in a way that would discriminate against Chinese companies and deter them from trading. The Russian attitude was that it would be scrupulous in respecting Chinese economic interests and would not disrupt the level playing fields to gain an unfair advantage. They might look to tweak the relationship a bit but not undermine the general direction of travel. The Chinese would continue to enjoy a privileged status within the Russian far east just as minority autonomous regions enjoyed a privileged position within the Federation. This allowed them to champion the cause of engagement with China by presenting it as a Eurasian enclave which shared as much with China as it did with Russia. So the Governor of the Jewish autonomous province Rostislav Goldstein extolling the opening of the bridge between Nizhneleninsko and Tsunyan looked forward to the time where "in the territories around the bridge industrial parks should appear which could produce additional value. And then we need to learn to produce our own products." He added that "there is an idea now unrealized that we could get permission to create a cross border territory where Russian companies could learn from Chinese comrades." So in the enterprise of Vostochny port for example "very attractive conditions of work were established." And thus "decent pay, social guarantees, comfortable and secure conditions for production" would develop "team building". And the benefits would be shared by "colleagues and members of their family who had access to health resorts, nurseries and convalescence centres."
The degree of political closeness did not heavily influence Chinese economic decision making. It did not mean that because a country had friendly relations with China business opportunities would automatically follow. For the Chinese geopolitical considerations were much less important than economic opportunities .They viewed Eurasia in pragmatic rather than hard line ideological terms so that even if they shared the same authoritarian leanings the most important factor was economic competence. A country was judged by its economic fitness rather than its political compatibility. The departure from liberal norms was minimal and the extent of their ambitions was confined to working within the system and adapting it to its needs rather than replacing it with a new order based around Moscow and Beijing . The Chinese approach was subtle and multidimensional helping reinterpret the Russian state as a conservative bulwark at its core with distinct, complementary regional particularities open to prevailing global influences.
Russia-Zimbabwe's Parliamentary Relations Still at Exploratory Stage
Speaker of the National Assembly of the Republic of Zimbabwe Jacob Mudenda and his delegation paid a reciprocal working visit late September to Moscow, held separate meetings with Russian Upper House Speaker Valentina Matviyenko and Chairman of the State Duma Vyacheslav Volodin, and finally addressed the plenary session of the State Duma.
Speaker Valentina Matviyenko said at a meeting with Jacob Mudenda that the United States has been trying to push its politics on the African continent, keeping African nations in the grips of neo-colonial rule.
"We highly appreciate it that the Zimbabwean leadership remains committed to the development of bilateral relations and mutually beneficial cooperation with Russia. And that Zimbabwe is resolutely resisting the unprecedented pressure of the collective West led by the United States, their open attempts to dictate their will," Matviyenko said.
The Federation Council speaker cited the US bill 'Countering Malign Russian Activities in Africa that was introduced in the course of Russia-Ukraine crisis which began Feb 24 after Russia initiated its "special military operation" primarily aims at protecting Russian-speaking population in Eastern Ukraine.
Significant to note here that at a meeting with his US counterpart Joe Biden, South African President Cyril Ramaphosa stressed that it would be unfair to punish African states for their ties with Russia, and expressed his concern about the Russian Malicious Acts Bill.
This document was submitted to Congress on March 31. At the end of April, it was approved by the House of Representatives. After that, it went to the Senate. The bill, according to its authors, is aimed at countering Russia's 'malevolent' activities in Africa.
This would include agreements which are unwanted by Washington, and cooperation between Russia and Africa in a variety of areas – from trade, investment and development of natural resources to military-technical cooperation.
The bill obliges Washington to take punitive measures against African nations that facilitate Russia's 'malignant' activities. Concrete sanctions will be developed on the basis of this document by the US Department of State, and they should be commensurate with the restrictions imposed by Washington against Moscow in connection with Russia's special military operation in Ukraine.
Chairman of the State Duma Vyacheslav Volodin held a meeting with Speaker of the Parliament of Zimbabwe Jacob Mudenda, and later Mudenda addressed the plenary session of the State Duma. In his speech, he drew attention to a special military operation in Ukraine, and underscored the Republic of Zimbabwe's support for all efforts aimed at a peaceful resolution of the conflict.
"However, this conflict between the Russian Federation and Ukraine is complex and deeply rooted in the history of geopolitics. For many centuries, the history of Russia and Ukraine has been inextricably linked," said Mudenda, further pointed to the fact that there is real threat for the Russian Federation posed by the presence of NATO's nuclear arsenal at arm's length near its borders.
According to Jacob Mudenda, the special military operation in Ukraine should be considered as a pre-emptive defensive step against the enemy. The Speaker, in addition, noted the importance of the swift end to the conflict for the African continent. Russia and Ukraine are the food suppliers, its shortage is felt in Africa.
"Across Africa, the steep rise in food prices causes concern, the continent is experiencing food difficulties due to the conflict in Ukraine and the grain supplies do not reach Africa. Africans are forced to cut their spending. Food inflation affects a lot the poor people, who spend a significant part of their money on buying food. People have to buy products of lower quality," said Mudenda.
According to him, Zimbabwe understands well the reasons for Russia's decision to start the special military operation. That was the reason why the President of the Republic of Zimbabwe, Emmerson Dambudzo Mnangagwa, rejected the United States appeal to support sanctions against Russia.
Mudenda noted the role of Russia in the fate of Africa. He is convinced that Zimbabwe would never have gained independence without Russia. "Russia firmly supported Zimbabwe's aspirations for self-determination and independence. Thank you, Russia," concluded the Speaker of the Parliament of Zimbabwe.
Russia and Zimbabwe have common challenges. Sanctions have been imposed against Zimbabwe and the Russian Federation. The unipolar world, the desire to preserve it, leads to bad consequences. The world must be multipolar. Relations should be built on the principles of friendship and non-interference in the affairs of sovereign states. Then everything will be all right, stressed the Chairman of the State Duma.
The Speakers signed an agreement on cooperation between the State Duma and the National Assembly of Zimbabwe. "Zimbabwe is one of our key partners in Africa. We are convinced that we should develop relations within the framework of the parliamentary dimension," said Vyacheslav Volodin and added the parliaments of the two countries could do a lot to provide legislative support to the decisions made by the Presidents Vladimir Putin and Emmerson Mnangagwa.
The Russian side had accepted an invitation to participate in the meeting of the African Parliamentary Union, which will be held in Zimbabwe in November. lt will accept the proposal to be observer in the African Parliamentary Union, just as China and Turkey. Russia's Federation Council and the State Duma have expressed appreciation for cooperating on various questions on international platforms, regional organizations and specifically to the Republic of Zimbabwe. Diplomatic relations between Russia and Zimbabwe marked their 40th year.
Russia's Great Game: Donetsk, Lugansk, Zaporozhye and Kherson are now Part of the Russian Federation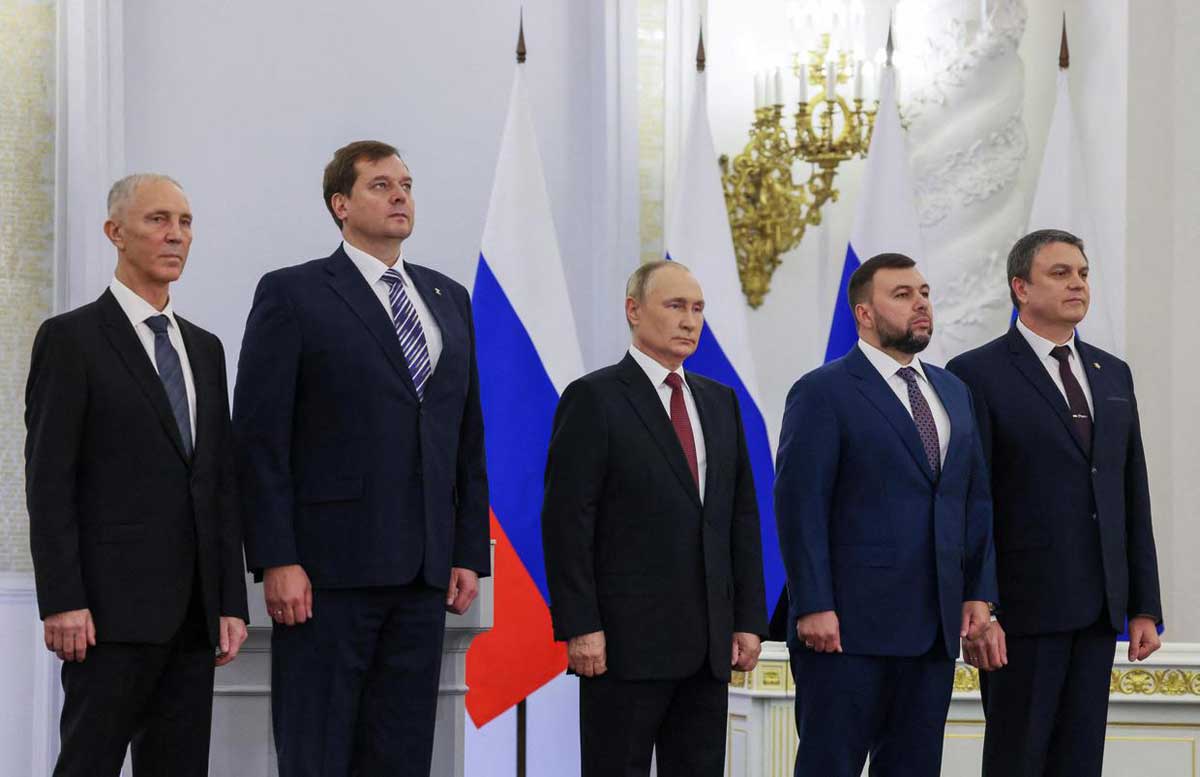 Russian President Vladimir Putin, by signing a new decree on legal recognition of four regions' independence and finally to join the Russian Federation, shows another tremendous historical achievement since the collapse of the Soviet system in 1991. The decree, made available on the official database, was published on the official Internet portal for legal information on September 30.
On September 23-27, the republics of Donetsk and Lugansk (DPR and LPR) as well as the Kherson region and the liberated territories of the Zaporozhye Region, held referendum to join Russia. In all of these regions, the overwhelming majority of voters favoured becoming part of the Russian Federation. These regions have been a thorny question these past several years, and with the accusation against Kiev for committing the highest level of human rights including intimidation, discrimination and maltreatment of Russian-speaking population in the Eastern Ukraine.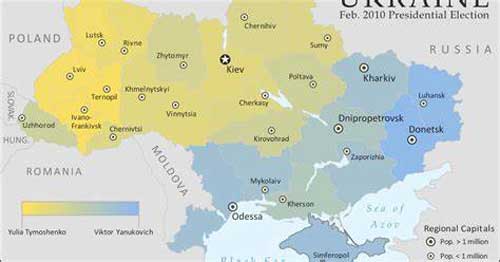 "In accordance with the generally recognized principles and norms of international law, recognizing and confirming the principle of equal rights and self-determination of peoples enshrined in the United Nations Charter, and taking into consideration the will expressed by the people of the Kherson region at the referendum held on September 27, I hereby order that the state sovereignty and independence of the Kherson region be recognized," the president's decree on recognition of the Kherson region said.
Russia has recognized the independence of the Kherson and Zaporizhzhya regions in line with decrees signed. A similar document signed by Putin "recognizes the state sovereignty and independence of the Zaporizhzhya region." Accordingly, a colourful ceremony of signing accession treaties with four new territories – the people's republics of Donetsk and Lugansk (DPR and LPR), as well as the Zaporozhye and Kherson regions – was held in the Kremlin.
In all of these regions, Donetsk and the Lugansk People's Republics as well as the Zaporozhye and the Kherson regions, with the results of the referendum showing a very high turnout, the overwhelming majority of voters favoured becoming part of the Russian Federation. The referendum ballots in all the four regions have been considered valid. The heads of the regions officially ask Russia's leadership to admit them into the Russian Federation.
Below are the results of the referendum: Voting Turnout
– In the Kherson Region, 571,001 people took part, or 78.86% of the population.
– In the Zaporozhye Region, 541,093 people cast their ballots, or 85.4% of the total number of voters
– The LPR reported a turnout rate of 94.15%, with 1,662,607 people having cast their votes.
– Turnout in the DPR where 2,131,207 people participated in the voting hit 97.51%.
Final results
– In the Kherson Region, 87.05% of those who voted opted for joining Russia (497,051 people), with 12.05% (68,832) opposing the idea.
– In the Zaporozhye Region, the initiative was supported by 93.11% of voters (430,268 people).
– In the DPR, 99.23% of the electorate said they would favor uniting with Russia.
– In the LPR, 98.42% of the participants in the referendum voted for joining Russia.
What's next? The United States and the entire European Union, as well as Germany, Canada and Japan have already stated they will not recognize the results of the vote. The United States has prepared a draft resolution asking the UN Security Council to condemn the referendum.
UN Secretary General Antonio Guterres pointed out that the UN position on the referendum as unequivocal and slammed, in unreserved terms, the accession unto the Russian Federation.
Secretary General Antonio Guterres said: "Any decision to proceed with the annexation of Donetsk, Lugansk, Kherson and Zaporozhye regions of Ukraine would have no legal value and deserves to be condemned."
"The UN Charter is clear," Guterres stressed, "Any annexation of a State's territory by another State resulting from the threat or use of force is a violation of the Principles of the UN Charter and international law. The United Nations General Assembly is equally clear."
He further stressed that "Russian Federation, as one of the five permanent members of the Security Council, shares a particular responsibility to respect the Charter. It cannot be reconciled with the international legal framework. It stands against everything the international community is meant to stand for. It flouts the Purposes and Principles of the United Nations. It is a dangerous escalation. It has no place in the modern world. It must not be accepted."
Guterres pointed out that the UN position on the referendum is unequivocal. "We are fully committed to the sovereignty, unity, independence and territorial integrity of Ukraine, within its internationally recognized borders, in accordance with the relevant UN resolution. I want to underscore that the so-called referenda in the occupied regions were conducted during active armed conflict, in areas under Russian occupation, and outside Ukraine's legal and constitutional framework. They cannot be called a genuine expression of the popular will."
"Any decision by Russia to go forward will further jeopardize the prospects for peace. It will prolong the dramatic impacts on the global economy, especially developing countries and hinder our ability to deliver life-saving aid across Ukraine and beyond. It is high time to step back from the brink. Now more than ever, we must work together to end this devastating and senseless war and uphold the UN Charter and international law," Guterres concluded.
That however, the Russian Permanent Mission to the United Nations said Guterres remained silent about the Kiev government's actions in Donbass after 2014, and also about the situation around Kosovo but stopped short of condemning the US and NATO's occupation of a part of the Syrian territory.
"Against this backdrop such a direct assault by the UN Secretary-General on the fundamental right of self-determination expressed by the population of DPR, LPR, Kherson and Zaporozhie regions represents yet another example of double standards," Russian diplomats said in an official statement September 29.
"We regret that instead of acting as foreseen by the UN Charter, the Secretary General chose to be instrumental in influencing the position of UN Member States ahead of the anticipated initiation by the Western countries of the discussion of the issue of referenda in the GA," the statement reads.
In addition to above, Russian Foreign Ministry spokeswoman Maria Zakharova said at her weekly media briefing that "The (Ukrainian President Vladimir) Zelensky regime and, of course, most importantly, its American handlers do not want to accept reality, do not want to see this side of international law. On the contrary, they cynically question the procedure of the plebiscite and its results, considering them null and void."
Zakharova stressed that the referendum in the DPR, the LPR, as well as in the Kherson and Zaporozhye regions were held "in full compliance with the norms and principles of international law and did not contradict international practice, and that they were legal."
"Everything is questioned: both the form and the essence. They call names, stick labels, and do everything in their power to show their significance and rightness. Of course, they resort to the image of democracy, which is sacred for them," the spokeswoman continued.
"These are statements of those who for many years have been flagrantly violating human rights everywhere: in Ukraine, in Western countries, on the territories of the occupied countries in different parts of the world. This is said by those who contributed to the transformation of the young Ukrainian state into a totalitarian, aggressive, neo-Nazi state. And today it encourages with money and arms orders to shell peaceful cities with artillery," she added.
Russian experts have expressed their views, especially after the referendum on joining Russia ended with positive results. The local Russian Vedomosti wrote that throughout Russia, most people support the entry of the new territories. "Over 70% of those surveyed are ready to support their accession," All-Russia Public Opinion Research Center Director General Valery Fyodorov told the paper. "It's even higher than support for the special military operation, which has remained at about 70%," he added.
As for the international recognition of the plebiscites, Russian International Affairs Council Director General, Andrey Kortunov, told widely circulated Russia's Izvestia that "there is the precedent of Crimea's accession, which, as we all know, almost no one recognized, including Russia's partners in the CIS, China and the vast majority of nations in the global South."
"The sanctions that will be imposed on these territories and their population are crucial. Another important thing is that after the areas join Russia, the possibility of political dialogue with Kiev will be hard to imagine. Clearly, the Ukrainian authorities will be reluctant to hold peace talks with Russia on such terms as it would be tantamount to political suicide. These are the consequences that Moscow will have to take into account," the expert added.
"The main goal of the referendum is to assure the people that Russia will protect these territories and they will not change hands," Leading Researcher at the Russian Academy of Sciences' Institute of World Economy and International Relations, Dmitry Trenin, noted. "It is the military's job to fix the line of contact, it's not done through political measures. The military will be far more motivated to defend the sovereign territory of Russia than some Ukrainian region that Russia controls," the analyst emphasized.
Russian President Vladimir Putin, concerned about security risks and lack of security guarantees from the North Atlantic Treaty Organization (NATO) observing its promise of not expanding further eastward, embarked on "special military operation" ultimately aims at "demilitarization and denazification" of the former Soviet republic of Ukraine on February 24 after both Federation Council and the State Duma (legislative chambers) approved and gave the greenlight for this operation.
As a new world is awakening to the worsening situation, global leaders still believe that all countries have to respect and operate within the confines of international law. That all countries must be guided profoundly by the principles of non-interference in internal matters, respect for national sovereignty and territorial integrity. Russia is currently experiencing a raft of sanctions imposed by the United States and Canada, European Union, Japan, Australia, New Zealand and a host of other countries.
The Road Ahead: Dissecting Russia's Economic Diplomacy With Africa
During the September ceremony to receive foreign ambassadors, Russian leader Vladimir Putin offered spiteful goal-setting policy outlines and some aspects of lofty Russia's economic policy directions for Africa. Most of these directions considered significant have, over these years, featured prominently in all his previous speeches on Russia's relations with Africa.
On September 20, in the St Alexander Hall of the Grand Kremlin Palace, Putin received letters of credence from 24 newly-arrived ambassadors, including nine from Africa (Algeria, Egypt, DR Congo, Libya, Mali, Senegal, Sudan, Tanzania and Uganda). By tradition, Putin briefly characterised the relations between Russia and countries whose envoys came to the Kremlin ceremony.
In a grandiose style, Putin gave a line-up of cheerful-looking ambassadors a step-by-step account of the global situation, the necessity for Russia's "special military operation" in neighbouring Ukraine, questions relating to regional security, and economic instability due to rising prices for energy and commodities. He underscored the development of multipolar and more democratic and fair world order had entered its active phase.
"Regrettably, the objective movement towards multipolarity has come up against resistance from those trying to preserve their dominant role in international affairs and to control everything – Latin America, Europe, Asia and Africa," Putin said.
Referencing the current international situation with an emphasis on the critical regional problems of the African continent and the bilateral relations of African countries whose ambassadors were accredited to the Russian Federation, Putin stressed "the importance of the upcoming second Russia-Africa summit in St. Petersburg in 2023 for strengthening diverse relations between Russia and African countries."
Putin further touched on Moscow's efforts to restore its geopolitical foothold on the continent after the historical collapse of the Soviet era. While the summit is considered a significant development for Russia's power-wielding ambitions, Putin strongly reminded African ambassadors that the second Russia-Africa summit is scheduled to be held in St Petersburg in 2023. "We hope that together we will be able to give a new impetus to the comprehensive development of mutually beneficial cooperation between Russia and the African states," he said.
Significant to note here that at the far end of the first summit, Russia and Africa issued a joint declaration; among the questions was to hold the summit every three years. Both Russia and Africa could not hold the summit during its third year, both Russia and Africa failed to choose the summit venue. While reasons were not assigned for this sharp inconsistency, policy experts suggested either the Central African Republic (CAR) or the Republic of Mali could hold the summit. CAR and Mali are "reliable Russia's partners," and holding the summit would have resonating effects.
During his speech, Putin invited the President of Algeria Abdelmadjid Tebboune, to visit Russia. Understandably, Algeria is Russia's second-largest trading partner in Africa regarding trade volume. And trade and economic cooperation continue to develop actively, as well as ties in other areas, including military-technical and cultural ties. Reports say Russia supports Algeria's balanced regional and international affairs policy and continues to work together towards strengthening stability in the Middle East, North Africa and the Sahara-Sahel region.
"We consistently build friendly relations with Egypt under the fundamental Agreement on Comprehensive Partnership and Strategic Cooperation signed in 2018. We view Egypt as one of our most important partners in Africa and the Arab world. We are in constant contact with President Sisi," according to Putin.
The intergovernmental commission has been working, promoting trade growth, which increased by more than 40 per cent in the first six months of this year. Large joint projects are being implemented, such as constructing the El Dabaa nuclear power plant and creating a Russian industrial zone near the Suez Canal. There is a regular political dialogue and close foreign policy coordination. Within the general policy framework, Russia does not grant concessionary loans and has not publicly allocated a budget for Africa.
But in this exceptional case, Russia and Egypt signed an agreement, and the total cost of construction is fixed at $30 billion. Russia provides Egypt with a loan of $25 billion, which will cover 85% of the work. The Egyptian side will cover the remaining expenses by attracting private investors. Under the agreement, Egypt is to start payments on the loan, which was provided at 3% per annum, in October 2029.
Ambassador Harouna Samake (Republic of Mali) was among the envoys in the Kremlin and listened attentively as Putin welcomed the intention of the leadership of the Republic of Mali to form a long-term strategic partnership with Russia and develop mutually beneficial ties.
During a detailed telephone conversation in August with Interim President Assimi Goïta, Putin agreed to continue joint efforts in countering international terrorism and religious extremism. He further pledged that Russia would continue to provide the Malian people with comprehensive assistance and support in various ways.
The same diplomatic rhetoric praised Russia's relations with Uganda, one of Russia's reliable partners in Africa. The United Republic of Tanzania has listed promising spheres such as peaceful nuclear research, transport, energy and tourism. These spheres have been on Russia's list for many other African countries.
Over the years, Russia has performed dismally in Africa's transport and energy sector. In theory, it has expressed heightened interest in exploring and producing oil and gas in Africa. But so far, its investment efforts are not seen in the region. Russia claims the leading position as an energy supplier and is now rapidly diversifying its products at discounted prices to the Asian market. Therefore, it is logical that African leaders should not expect much from the Russian Federation in this oil and gas (energy) sector.
Currently, all African countries have a serious energy crisis. Over 620 million in Sub-Saharan Africa do not have electricity out of 1.3 billion people. In this context, several African countries are exploring nuclear energy as part of the solution. Three decades after the Soviet collapse, not a single nuclear plant has been completed in Africa.
Some still advocate for alternative energy supply. Gabby Asare Otchere-Darko, Founder and Executive Director of Danquah Institute, a non-profit organization that promotes policy initiatives and advocates for Africa's development, wrote in an email that "Africa needs expertise and knowledge transfer that can assist Africa to develop its physical infrastructure, add value to two of its key resources: natural resources and human capital."
Russia has respectable expertise in one key area for Africa: energy development. "But, has Russia the courage, for instance, to take on the stalled $8-$10 billion Inga-3 hydropower project on the Congo river? This is the kind of development project that can vividly send out a clear signal to African leaders and governments that Russia is, indeed, ready for business," he said in an interview discussion.
The renewable energy potential is enormous in Africa, citing the Democratic Republic of Congo Grand Inga Dam. Grand Inga is the world's largest proposed hydropower scheme. It is a grand vision to develop a continent-wide power system. Grand Inga-3 is expected to have an electricity-generating capacity of about 40,000 megawatts – nearly twice as much as the 20 largest nuclear power stations. The cost of building nuclear power does not make sense when compared to the cost of building renewables or other energy sources to solve energy shortages in Africa.
With high optimism and a high desire to strengthen its geopolitical influence, Russia has engaged in sloganism, and many of its signed agreements have not been implemented. The joint declaration adopted at the first summit is intended to raise the African agenda of Russia's foreign policy to a new level and remains the main document determining the conceptual framework of Russian-African cooperation. Many remain as submit paperwork. China, Japan, India, the United States, the European Union and other players are progressively implementing their African strategies.
Over the years, Russia has shown high interest in Libya, whose ambassador, Emhemed Almaghrawi (State of Libya), was part of the Kremlin ceremony in September. Over the years, Russia has struggled to improve its bilateral political and economic dialogue and cooperation with that North African country. It has faced many pitfalls and obstacles, though.
"We attach great importance to relations with Libya and are interested in a fair and lasting settlement of the protracted internal conflict in that country. Russia will continue to support Libya's sovereignty and territorial integrity and help the friendly Libyan people defend their right to a decent life, peace and security. As the internal situation in Libya stabilises, we look forward to resuming bilateral cooperation in various fields," Putin said.
Russian Foreign Minister Sergey Lavrov condemned the Atlantic alliance when he spoke to students at the Moscow State Institute of International Relations in Moscow on September 1. Russia claims it lost billions of dollars in energy, defence, and infrastructure contracts it had negotiated with the removal of Col. Qaddafi. Russia's state arms exporter lost an estimated $4 billion in Libyan contracts after the UN Security Council imposed an arms embargo on Libya.
Russian Railways had secured a $3 billion contract to build a high-speed rail link from Sirt to Benghazi. Many of these contracts were either signed in Qaddafi's presence or were organized by him. Russia's state news agency ITAR-TASS estimates that the country could lose as much as $10 billion in business if Libya's new leadership challenges the legality of the existing contracts.
As Anna Borshchevskaya, an Ira Weiner Fellow at the Washington Institute for Near East Policy, observes that military has been part of the foreign policy of the Russian Federation, and Russian authorities have been strengthening military-technical cooperation with some African countries.
"A major driver for Moscow's push into Africa is military cooperation more broadly. These often include officer training and the sale of military equipment, though the details are rarely publicly available," she acknowledges, "and it will continue so in Russia's relations with Africa.
Russia has made significant arms deals with Angola and Algeria. Reports show that Egypt, Uganda, Tanzania, Somalia, Mali, Sudan and Libya have also bought arms from Russia. Small countries such as Burundi, Botswana, and Rwanda, with distinctively impoverished populations and budgetary limitations, have signed agreements. Russia also provides military training and support; it has defence orders worth $14 billion from African countries.
According to Nezavisimaya Gazeta, quoting military experts, Russia has much to gain by promoting and attempting to dispose off its Soviet-era military equipment in Africa. After all, Russia is self-sufficient and has economic independence, so with enthusiasm, convincing African leaders to purchase fertilizers and grains, thereby pushing them towards depleting their hard-earned revenues. Without a doubt, African leaders endlessly boast of vast uncultivated lands, making little efforts to support and mechanize agriculture.
During these months of the Russia-Ukraine crisis and sanctions from the United States, Europe and Pacific allies, Russian diplomacy has repeatedly stressed that Moscow is ready to export 30 million tons of grain and over 20 million tons of fertilizer by the end of 2022.
According to local Russian media reports, the Russian Agriculture Ministry's Agroexport Federal Centre for Development of Agribusiness Exports, in close partnership collaboration with Trust Technologies and the business expert community, drew up a business plan for the development of exports for agricultural products (grain, dairy, meat and confectionery products) to promising markets of African countries.
The project's goal is to prepare a practice-oriented model for increasing supplies and enhancing the competitiveness of Russian agricultural goods in the African market. The report says nine African countries have been chosen as target markets for the delivery of agricultural products. These are Angola, Cameroon, Ethiopia, Ghana, Kenya, Mauritius, Nigeria, Tunisia and South Africa.
That report explicitly notes African leaders' readiness to spend state budgets on food imports; without a doubt, "food security" is the central theme for the 2023 Russia-Africa summit. These countries account for 40% of the continent's population and one-third of all African imports of agricultural products; Russia estimates to earn some $33 billion from Africa.
In practical terms, a microscopic analysis of Russia's economic presence gives many interpretations and contradictions. While currently, Russia seems to be soliciting the support of Africa to lead the emerging new world order, Russia still does not recognize that it needs to adopt more public outreach policies to win the minds and hearts of Africans. Its economic footprint on the continent is comparatively weak. Instead of addressing its own investment agenda, it has consistently criticised other foreign players, especially the United States and European countries, that are active in Africa.
Many Russian companies have abandoned their projects in Africa. The latest is the lucrative platinum project contract that was signed for $3 billion in September 2014, the platinum mine is located about 50 km northwest of Harare, the Zimbabwean capital. The Darwendale project involves a consortium of the Rostekhnologii State Corporation, Vneshekonombank and Vi Holding in a joint venture with some private Zimbabwe investors and the Zimbabwean government.
After widely campaigning for the construction of what was referred to as the "Southern Oil&Gas Pipelines" that was supposed to connect three or four southern African countries, Russia's Rosneft finally abandoned the project. And similarly, State Nuclear Enterprise Rosatom never mentioned again the proposed nuclear plant construction signed by Jacob Zuma of South Africa.
Russia's Lukoil undertook exploratory feasibility studies in Sierra Leone, Nigeria, Cameroon and Ghana, only to abandon these projects. Nigeria's Ajeokuta Steel Plant project remains a dream project for Russians. Norilsk Nickel (Nornickel), the Russian mining giant, ceased operations in Botswana. It owned a stake in the Tati Nickel in Botswana, where production was expected to reach its highest level. It has previously given a positive assessment of the possibilities for developing its production assets in South Africa and many African countries. There is a long list of Russian companies that under-performed or performed badly and finally exited Africa.
Just a few weeks before his departure from Moscow, the Zimbabwean ambassador to the Russian Federation, Brigadier General Nicholas Mike Sango, told me in an interview discussion that several issues could strengthen the relationship. One important direction is economic cooperation. African diplomats have consistently been persuading Russia's businesses to take advantage of the Africa Continental Free Trade Area (ACFTA) as an opportunity for Russian businesses to establish footprints on the continent. This view has not found favour with them, and it is hoped over time, it will.
Although the government has not pronounced incentives for businesses to set sights and venture into Africa, Russian businesses generally view Africa as too risky for their investment. He said that Russia needs to set footprints on the continent by exporting its competitive advantages in engineering and technological advancement to bridge the gap that is retarding Africa's industrialization and development.
"Worse is that there are too many initiatives by too many quasi-state institutions promoting economic cooperation with Africa saying the same things in different ways, but doing nothing tangible," he told me during the lengthy pre-departure interview. He served the Republic of Zimbabwe in the Russian Federation from July 2015 to August 2022. He previously held various high-level posts, such as military adviser in Zimbabwe's Permanent Mission to the United Nations and as an international instructor in the Southern African Development Community (SADC).
There are several similar criticisms from former ambassadors. According to Mandisi Mpahlwa, former South African Ambassador, Sub-Saharan Africa has understandably been low on post-Soviet Russia's list of priorities, given that Russia is not as dependent on Africa's natural resources as other major economies. The reason: Soviet and African relations, anchored as they were on the fight to push back the frontiers of colonialism, did not necessarily translate into trade, investment and economic ties, which would have continued seamlessly with post-Soviet Russia.
"Russia's objective of taking the bilateral relationship with Africa to the next level cannot be realized without a close partnership with the private sector. Africa and Russia are close politically but geographically distant, and the people-to-people ties are still underdeveloped. This translates into a low level of knowledge on both sides of what the other has to offer. There is perhaps also a fear of the unknown in both countries," Mpahlawa said in an interview after completing his ambassadorial duty in the Russian Federation.
Russia has a lot of policy weaknesses in Africa. Reports indicated that more than 90 agreements were signed at the end of the first Russia-Africa summit. Thousands of bilateral agreements are still on the drawing board, and century-old promises and pledges for supporting sustainable development are authoritatively renewed with African countries. Like a polar deer waking up from its deep slumber, Russia is flashing its geopolitical headlights in all directions on Africa.
Russia's Ministry of Foreign Affairs website indicates that there have been several top-level bilateral meetings, signing of MoUs and bilateral agreements during the past years. In November 2021, a policy document titled the 'Situation Analytical Report' presented at the premises of TASS News Agency was very critical of Russia's current policy towards Africa.
While the number of high-level meetings has increased, the share of substantive issues and definitive results on the agenda remains small. It explicitly points out the inconsistent approach in dealing with Africa. Russia lacks public outreach policies for Africa. Apart from the absence of a public strategy for the continent, there is a lack of coordination among various state and para-state institutions working with Africa.
Ultimately, actions, not words, will determine if upcoming Russia -Africa Summit and the proposed Africa strategy will reset relations with the continent. The significant fact here is that little has been achieved since the first Russia-Africa summit held in October 2019. According to the Russian Foreign Ministry's Ambassador-at-Large and head of the Secretariat of the Russia-Africa Partnership Forum, Oleg Ozerov, food security will be one of the top issues on the agenda of the second Russia-Africa Summit.
It is a fact that Russia's ties with Africa declined with the collapse of the Soviet Union in 1991. In the aftermath of the Soviet Union, Russia continues efforts in search of possible collaboration and opportunities for cooperation in the past years. But most essentially, Russians must understand clearly that little has been achieved in Africa. Several bilateral agreements signed with individual countries are not implemented, while in the previous years, there has been an unprecedented huge number of "working visits" to Africa.
According to our research findings, in stark contrast to key global players, for instance the United States, China, the European Union and many others, Russia's policies have little impact on African development paradigms. Russia's policies have often ignored Africa's sustainable development questions. Experts have repeatedly suggested Russia adopt an Action Plan – a practical document that would fill cooperation with substance between summits. In conclusion, Russians must strongly remember that Africa's roadmap is the African Union Agenda 2063.