Review: As Coronavirus Rise Past Three million, Africa Hopes for Vaccine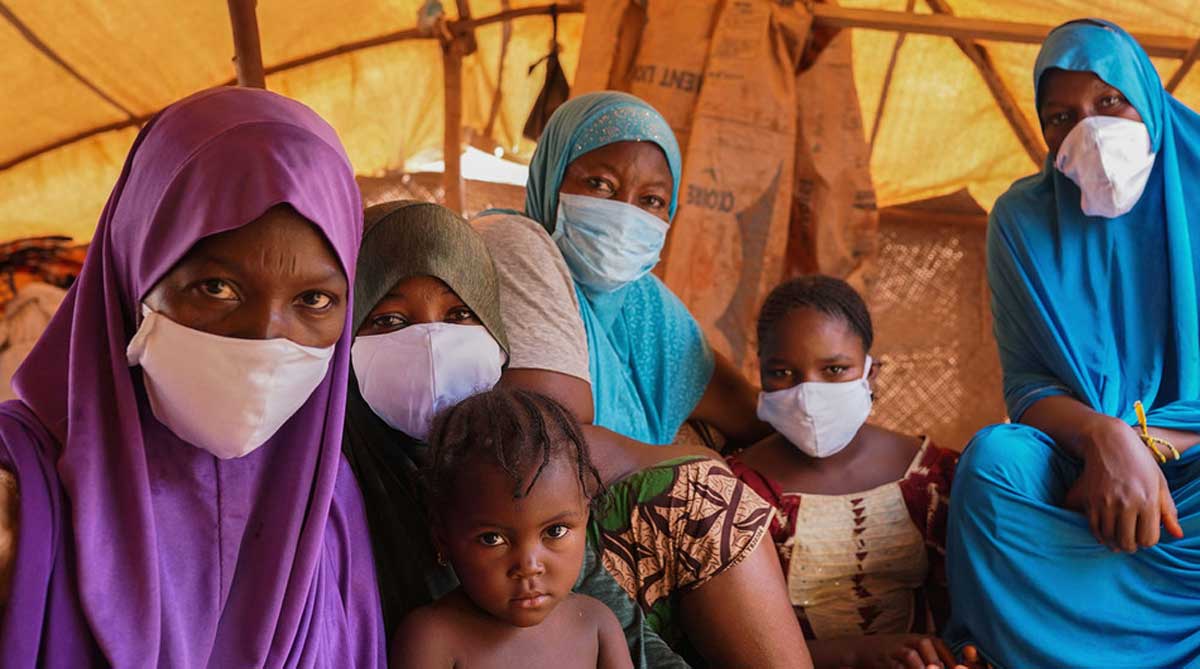 With its large population and fragile health systems, Africa has recorded more than three million Covid-19 cases, still less deadly as compared to other regions in the world, according to the Africa Centers for Disease Control and Prevention (Africa CDC). According to Africa CDC, Africa's coronavirus tally was 3,021,769 as of January 10. The death toll was 72,121 and the number of recoveries was 2,450,492. The biggest number of coronavirus cases were reported from South Africa, Morocco, Egypt, Tunisia, and Ethiopia.
South Africa, with more than 1.2 million reported cases, including 32,824 deaths, accounts for more than 30% of the total for the continent of 54 countries and 1.3 billion people. The high proportion of cases identified in South Africa, were attributed to more tests carried out than many other African countries.
African countries are expecting to get medical equipment, most especially vaccine, to help them out of the pandemic. These they expect from external sources. During January 4-9, Chinese State Councilor and Foreign Minister Wang Yi paid official visits to Nigeria, the Democratic Republic of Congo (DRC), Tanzania, Botswana and Seychelles. Wang Yi emphasized that China is willing to deepen mutually beneficial cooperation in diverse spheres with Africa. For example, China's efforts to create a new image in Africa through China-European Union Cooperation in vaccine.
Both China and the EU vow to work as a global collaboration under the World Health Organization in terms of accelerating the development and manufacture of Covid-19 vaccines, and assuring fair and equitable access for every country in the world. It's about making the vaccine a global public good.
Last December, during his annual media conference, President Vladimir Putin made it known that Russia's readiness to help foreign countries including Africa. With regard to cooperation with other countries, it would boost the technological capabilities, enterprises to produce the vaccine, foreign countries would invest their own money into expanding their production capacities and purchasing the corresponding equipment, he explained.
Foreign countries would be investing in these projects: the enlargement of production facilities and the purchase of equipment. "As for cooperation with foreign countries: nothing is stopping us from manufacturing vaccine components at facilities in other countries precisely because we need time to enhance technological capacities of our vaccine manufacturing enterprises. This does not hinder vaccination in the Russian Federation in any way," Putin said.
According to January report from the Tass News Agency, the Russian Direct Investment Fund has only registered the first Russian vaccine Sputnik V in Africa. "Russian Direct Investment Fund announces the first registration of Sputnik V in Africa. Ministry of Pharmaceutical Industry of Algeria registered Sputnik V on January 10th," as follows from a post on their official Twitter account.
According to the Russian Direct Investment Fund, the registration was done under the accelerated Emergency Use Authorization procedure. This procedure was also used to register this vaccine in Argentina, Bolivia, and Serbia. The Fund said that supplies to Algeria would be possible thanks to its international partners in India, China, South Korea and other countries.
Writing under the headline "Africa's Road to Recovery in 2021 Is a Fresh Start" published originally by Chatham House, Dr Alex Vines, the Director for the Africa Program at Chatham House, said many African countries would be much more seriously affected by the socioeconomic consequences of the global economic slowdown triggered by the pandemic. Even before Covid-19 hit, an increasing number of African countries were indebted and financially stressed.
He wrote that African debt would become a greater global concern in 2021 as many African states remain the world's poorest and most fragile and have been hard hit by the economic and financial costs imposed by the pandemic.
In his analysis, Dr Vines further pointed out that 2021 will also see increased geopolitical rivalry for influence in Africa. This will include competition over generosity, ranging from positioning over debt cancellation to providing Covid-19 vaccines. China has its Sinopharm vaccine and has already signed up to Covax, the international initiative aimed at ensuring equitable global access. The Russians have their Sputnik V vaccine, the UK has its AstraZeneca and University of Oxford vaccine, and the US the Moderna and Pfizer-BioNTech (with Germany) vaccines.
Reports from Quartz also said Africa appears not part of the supply priorities of the Pharmaceutical companies producing the foremost Covid-19 vaccines. While Pfizer-BioNTech has offered to supply just 50 million Covid-19 vaccines to Africa starting from March to the end of this year, Moderna and AstraZeneca have not yet allocated supplies for Africa. AstraZeneca directed the African Union (AU) to negotiate with the Serum Institute of India for its vaccine to see if they can get a deal. Serum Institute of India has earlier obtained the license to produce the AstraZeneca vaccine.
The Quartz report said most African countries mainly relied on the COVAX co-financing public-private facility backed by the Bill & Melinda Gates Foundation to enable rapid and equitable access to Covid-19 vaccines for lower income countries. The facility promised access to vaccines for up to 20% of participating countries' population with an initial supply beginning in the first quarter of the year to immunize 3% of their population. However, COVAX is underfunded, and these countries must look for other avenues to access more doses to vaccinate the 50% of their population in order to reach immunity.
Since the beginning of the pandemic, several countries around the world have been making efforts to facilitate local vaccine development, clinical trials, and some had made upfront payments for vaccines to encourage early production. Outside of South Africa, most African economies have played too little or no role at all in the development of Covid-19 vaccines and had likewise made little or effort to secure vaccines while other economies around the world were doing so.
For instance, a globally respected genomic and infectious disease laboratory in Nigeria announced the development of a Covid-19 vaccine in September that is 90% effective against the virus in the preclinical trial but it has not been able to carry out clinical trials due to lack of support and funding.
While Kenya recently announced that through the COVAX facility, it ordered 24 million doses of the AstraZeneca vaccine, with supply expected to start arriving in the second week of next month, several African countries are opting for vaccines from India, Russia, and China. This is despite skepticism about the vaccines from Russia and China in particular. Both countries rolled out their vaccines without phase 3 clinical trial results that confirm the vaccine effectiveness.
South Africa said it made a deal with Serum Institute India and will be getting 1.5 million doses of AstraZeneca vaccine for its health workers starting this month. The country, which is going is also in talks with Russia and China to procure vaccines. Currently, Guinea is testing the Russian vaccine, Sputnik V and has ordered 2 million doses.
Morocco has ordered 65 million doses of the Sinopharm vaccine from China, and AstraZeneca vaccine from Serum Institute India. Egypt plans to buy 40 million doses of the Sinopharm vaccine, has already received 50,000 doses of the vaccine in December, and expecting another 50,000 in the second or third week of this month when vaccination will commence. Nigeria says vaccine access was in its discussions this week with the Chinese foreign minister during his visit to the county, according to the report from Quartz.
Besides the fact that Africa has registered its three million cases, Africa still behind the United States and European countries, and Asian countries such as China and India when it comes to the Covid-19 outbreak. For many African countries, it is still the time to reflect on African countries' responses to Covid-19. Although it has abundant resources, Africa remains the world's poorest and least developed continent, and worse with poor development policies. It is time to prioritize and focus on sustainable development.
Significantly, the global pandemic has exposed the weaknesses in Africa's health system, adversely affected its economic sectors, it is therefore necessary for African leaders, the African Union (AU), regional organizations and African partners be reminded of issues relating to sustainable development and integration. It sets as a reminder to highlight and prioritize the significant tasks set out by the UN 2030 Agenda for Sustainable Development and the African Union's Agenda 2063.
Wagner: Putin's secret weapon on the way to Mali?
France is outraged at the prospect of Russian mercenaries from the Wagner group arriving in Mali. However, Paris is seeking a way out of an unwinnable conflict.
On September 13, a Reuters news agency article citing unnamed sources and reporting advanced negotiations between Mali and the Russian mercenary company Wagner sparked a firestorm of reactions. The United States, Germany, and the United Nations have all warned Bamako's military against such collaboration. According to them, the arrival of Russian mercenaries – a thousand have been estimated – would jeopardize the West's commitment to fighting the jihadists who control a large portion of Malian territory.
But France, understandably, is the most vocal against such a move. The former colonial power has maintained a military presence in the country since 2013, when it halted the jihadists' advance on the capital. Florence Parly, the French Minister of the Armed Forces, visited Bamako on September 20th to warn Malian colonels in power following two coups in August 2020 and May 2021. Wagner's choice, she said, would be that of "isolation" at a time when "the international community has never been so numerous in fighting jihadists in the Sahel".
What the minister does not mention is that France's commitment to Mali is waning. Emmanuel Macron used the second Malian coup d'état last June, less than a year before the French presidential election, to announce a "redeployment" of French forces in Mali. Although Paris refuses to discuss a de facto withdrawal, even if it is partial, the truth is that the tricolored soldiers will abandon the isolated bases of Kidal, Timbuktu, and Tessalit in the country's north by next year, concentrating on the area further south of the three borders with Niger and Burkina Faso.
Europeans, who are expected to be more supportive of France, are also perplexed. The humiliation of the Western withdrawal from Afghanistan has served as a wake-up call. The Afghan government's sudden collapse in the face of the Taliban has demonstrated how difficult it is to build a strong army and institutions. This scenario appears to be repeating itself in Mali.
The possibility of a rapprochement between Bamako and Moscow is taken seriously because Putschists in Mali have always been sensitive to Russian offerings. Colonel Sadio Camara, Mali's Defense Minister, visited Russia on September 4. Disagreements over a reversal of Mali's alliances are said to have been one of the causes of the Malian colonels' second coup, which ousted the civilian transitional government last May.
Russia also acts as a boogeyman for the Malian military. According to a Daily Beast investigation, the Malian army organized a supposedly spontaneous demonstration last May demanding Russian intervention. This was also a warning to the international community, which is growing weary of the country's poor governance and repeated coups.
Is Mali transitioning from the French to the Russian spheres of influence? Since Moscow gained a foothold in the Central African Republic, the scenario is not a figment of the imagination. Russian instructors and Wagner's mercenaries have proven their worth in this former French backyard. Even though the UN condemns Russia's atrocities in this conflict, the Russians were able to push back the rebels who were threatening the capital Bangui last December with the help of UN peacekeepers and Rwandan reinforcements.
The Kremlin denies any involvement with the Wagner group. However, the company is actually run by a close associate of Vladimir Putin. The use of private mercenaries allows Moscow to avoid military commitments abroad, as it did previously in Ukraine and Libya. "Russia is not negotiating a military presence in Mali," said a Kremlin spokesman in mid-September. When questioned by the magazine Jeune Afrique on September 20th, Central African President Faustin-Archange Touadéra swore that he had "not signed anything with Wagner." "In the Central African Republic, we have companies that were established in accordance with the law and operate on liberalized markets," he explained.
Nothing has been decided on Wagner, it is repeated in Bamako. According to the military, the selection of foreign "partners" is a matter of Mali's "sovereignty." They regard these "rumors" as an attempt to "discredit the country." The Malian junta is under siege, not only from jihadists but also from the international community. The latter is calling for elections to be held in February to return power to civilians, as stipulated in the military-agreed transition charter. Electoral reform must come before the election. However, Colonel Assimi Gota, the transitional president, has shown little interest in preparing for these elections. The Malian junta may also be hoping that Russia's partners will be less stringent on democratic requirements.
Google Drives Deeper into Africa
As the African Continental Free Trade Area (AfCFTA), the new initiative that places emphasis on intra-African trade – including free movement of goods, capital and people – foreign players have accordingly raising eyes on using the new opportunity to expand their operations in Africa.
Foreign enterprises are gearing up to localize production in industrial hubs and distribute their products across the borderless territory considered as a single market in Africa. Thus, by its description, Africa's estimated population of 1.3 billion presents itself a huge market – from baby products through automobiles and to anything consumable.
Google LLC, the U.S. Global Technology Gaint, has primarily set its eyes on business, with a comprehensive plan to expand its operations into Africa. Google made known its plans to commit US$1 billion over the next five years in tech-led initiatives in Africa. It is investing this US$ 1 billion in Nigeria and African countries to support and transform the digital market over the next five years.
In its media release, it said the investment would include landing a subsea cable into the continent to enable faster internet speeds, low-interest loans for small businesses, equity investments into African startups, skills training and many more directions determined in future.
This is in a bid to enable fast, affordable internet access for more Africans, building helpful products, supporting entrepreneurship and small business, and helping nonprofits to improve lives across Africa.
The Chief Executive Officer (CEO) of Google and Alphabet, Sundar Pichai, noted that the company was building global infrastructure to help bring faster internet to more people and lower connectivity costs. Through the Black Founders Fund, Google will invest in Black-led startups in Africa by providing cash awards and hands-on support.
The developing world represents the best chance of growth for large internet companies, and today, one of the very biggest set out its strategy for how it plans to tackle that.
"We've made huge strides together over the past decade – but there's more work to do to make the internet accessible, affordable and useful for every African. Today, I'm excited to reaffirm our commitment to the continent through an investment of US$1 billion over five years to support Africa's digital transformation, to cover a range of initiatives from improved connectivity to investment in startups," said Pichai.
According to him, this is in addition to Google's existing support through the Google for Startups Accelerator Africa, which has helped more than 80 African startups with equity-free finance, working space and access to expert advisors over the last three years. The subsea cable is set to cut across South Africa, Namibia, Nigeria and St Helena, connecting Africa and Europe.
According to Managing Director for Google in Africa, Nitin Gajria, it will provide approximately 20 times more network capacity than the last cable built to serve Africa. It is projected to create about 1.7 million jobs in Nigeria and South Africa by 2025 as the digital economy grows.
Google further announced the launch of the Africa Investment Fund, where it will invest US$50 million in start-ups across the continent providing them with access to Google's employees, network, and technologies to help them build meaningful products for their communities.
It will additionally disburse US$10 million in low-interest loans to small businesses in Nigeria, Ghana, Kenya and South Africa in order to alleviate hardships brought about by the Covid pandemic.
Google is bringing venture capital into the continent. The fund might work in a similar fashion as the Google for Startups Accelerator programme.
Although Africa has a Big Four (Nigeria, Kenya, South Africa and Egypt) in terms of startup and venture capital activity on the continent, the accelerator has made sure to accept applications from startups in less-funded and overlooked regions. These countries include Algeria, Botswana, Cameroon, Ivory Coast, Ethiopia, Ghana, Morocco, Rwanda, Senegal, Tanzania, Tunisia, Uganda and Zimbabwe.
Founded in September 1998 by Larry Page and Sergey Brin, Google is considered as one of the Big Five information technology companies alongside Amazon, Apple, Facebook and Microsoft. Google specializes in internet cloud services, software and hardware as well as online advertising technologies.
ASARPI, registered in South Africa as The Institute for Advanced Study of African Renaissance Policies Ideas and in Mauritius as Advanced Study of African Renaissance Policies Ideas, is not only a primarily virtual Pan African bridging Asia think tank but is also a global multicultural restorative justice and peacemaking making movement.We of ASARPI believe and strive daily to live lives embracing ,living , and advocating restorative justice embedded policy ideas and practices which eradicate serious quality of life problems such as colonialism, racism sexism, ageism,poverty, environmental injustices, anti-religious bigotry,poor government and civil society leadership; and lack of access to decent water,healthcare, law, and education.Core in this ASARPI mission is our rock solid belief that we are all made in the image of God and thus are all brothers and sisters in need of recovering our humanity in the authentic embracing of others especially those we have been wrongly taught we are inferior or superior to since as human beings we are all endowed with gifts and talents deserving to be recognized, cultivated, mentored, and used positively for our self benefit and that of our loved but most importantly ,for the benefit of the rest of humanity.
Giving honor to The Right Honorable Lady Sarojini Jugnauth , welcome Giving honor to my great friend and more than that great brother Mr.Maxime N.C King , to my present and absent brothers and sisters of the Diplomatic Corps lead by my gracious sister Her Excellency Rezina Ahmed, High Commissioner for Bangladesh as well as my brothers and sisters of The Chinese Chamber Silk Route Business community, including FALCON ; educational political, religious , and other civil society leaders and my other brothers and sisters here today including the marvelous leadership of Jienfie Smart City on this October 1 National Day of the People's Republic of China, and UN International Day Greetings and Welcome. Thanks for coming. All other protocols are respected , appreciated,and observed.
I wish to thank my brother Maxime King for inviting me as Director of ASARPI, to be the Honorary Chair of this historical The SILK ROAD FOUNDATION & The CHINESE BUSINESS CHAMBER__Africa event in germinating right here in Jinfei Smart City the seeds of something well bigger than life in a new needed perspective in linking the economic and business relations among Chinese and other Asians with their continental African brothers and sisters with full effort as well in involving Africans and Asians not only on the two massive continents of the world but also Africans and Asians in their global Diasporas with points of conversions and synergies. As we move forward we need to be forward thinking about mutual respect and collaboration rather than imitating our western brothers and sisters who for centuries indulged in creating and sustaining oppressive and exploitative hierarchies of colonialism, slavery, racism, seismic,ageism,indentured labor, genocide, massive poverty , and the devastation of environments including the disability of biodiversity creating such horrible ecological imbalances generating the terrible pandemics which are characterizing our lives in this 21st century world in which we are trying to survive let alone prosper.
We can do much better than this since as human beings we all are made in the image of God in need of embracing each other and thus finding our own sustaining humanity. We must do better than this what the West has done to us and what we have and do to each other in grotesquely bigoted attitudes and ill exploitative treatments as Africans and Asians take the center field of global affairs with a West not declining but in serious need of reorientation in understanding that White Supremacy and its demands for hegemony and imperialism does not work any more.
We need new ways of coming to justice and peace tables in how we do economics and business together in a world with declining resources though with incredible digital age technologies thus in need to learn how to collaborate rather than taking and keeping rather than going to war to take the oil, the other precious minerals and to take the land of the helpless and hopeless if not by war through deceptive humanitarian overtures with evil undercurrent agendas. We need to do much better. We must and can in bold design and implementation with effective monitoring and evaluation authentic, build a sustainable new world glowing from an African and Asian center which produces quality technologies and commodities from fashions to food to automobiles made to last rather than made cheaply to roll over profits. Where human responsibilities and rights are lived each day not merely talked about. We need to use surplus capital from means of digital knowledge and traditional industrial production to be philanthropically socially responsible and responsive rather than copying the Western way of being greedy and stingy or promoting philanthropic initiatives which are superficial and short term rather than sustainable, Liberating, and empowering. We can do all of this because now we can .
We Africans and Asians wherever we are , no longer have to stoop to those in the North and in the West or in other ways ask for permission and have our sovereignty and other human rights imposed on. Not with nearly half of the global economy being anchored in China and in other Asian countries and with African national leaders increasingly understanding that they too hold extraordinary promise in being serious economic players especially when in coalition with China and other nations as genuine partners in global economic and business futures.
We have a long way to go. What matters is what we are going to do in the described partnership we mark and celebrate today. We are going here in Mauritius on this train of a new era of African and Chinese and otherwise Asian economic and business collaborative partnerships not only for the betterment of our national and continental selves but for the entire world in desperate need to make new mojitos in new glass mugs to bring together all of us be it with chopsticks, utensils, or eating with our hands. So it is the reason why ASARPI as a virtual and face to face think tank is joining brotherly and sisterly arms with the SILK_ROAD Foundation, the African_ China Business Forum, the Chinese Business Chamber , and other Asian business partners in locked brotherly and sisterly arms with African partners to be THE venue for freedom of exchange of ideas and strategies to do the necessary to bring what we dream as being a more equitable world driven by justice and peace and human responsibilities and human rights into a stunning reality for the entire world to see but more importantly benefit from in the liberation and empowerment of all humanity no matter who we are demographically, nationalities,our systems of governance, and our religious beliefs .Let's go.Let's get going Now Now.