Hamm: "What time is it"?
Clov: "The same as usual."
Samuel Beckett, Endgame
Credo quia absurdum, said the ancient philosopher. "I believe because it is absurd."[1] Are there any rational explanations for enduring four dissembling years of lethal Trump horror? Though pertinent explanations are ipso facto rational, what about the object of these required answers – that is, a far-reaching national surrender to wholly irrational governance?
It's time for candor. Even on a planet so wittingly disordered, so seemingly resigned to self-destruction,[2] the Trump years have been uniquely corrosive and dangerously incoherent. In essence, where so much has been preposterous on its face, these once unimaginable times have signaled a genuine victory for absurdity[3]. What else can one reasonably say after an American president makes repeated medical claims that contradict his own scientific advisors; asserts that Joe Biden, then his rival, "hates and wants to hurt God…;" recommends injecting household disinfectants as therapeutic or prophylactic agents for Covid19 infection; insists that children are "almost immune" to Corona virus; and maintains that "only 1%" of those infected" suffer palpable harms?
Credo quia absurdum.
Approaching the end of his presidency – in late December 2020 – Donald J. Trump was cited for being "the most admired man in America. This was at exactly the same moment that Covid19 deaths had reached a grievous record and when the federal government openly abdicated its core responsibilities for rational vaccine distribution. It was also at the precise moment of Trump-Pence celebrations of "US Space Force," a caricatural creation that siphoned off billions of desperately-needed health dollars to fund military operations that were quite literally inconceivable.
There are egregious particulars to note. Any viable democracy demands carefully refined efforts of "mind." This means, in turn, variously careful applications of analytic scrutiny and disciplined "thought."[4] Anything less substantial could leave the United States unprepared for a paralyzing "second wave" of leadership abdications.
Let us not be unwary. America could not tolerate any Trump-like presidential encore. Without systemic remediation, the United States could sometime make itself existentially vulnerable again, either incrementally, or all at once.
Next time such vulnerability could extend to assorted nuclear harms.[5] And these harms could intersect or overlap with the ravaging damages of pandemic disease. Indeed, it is not beyond plausible probability that such intersections o r overlaps would be authentically synergistic.
By definition, if synergistic, the "whole" of any prospectively negative effects would exceed the sum of its constituent "parts."
What then?
What now?
First, Americans need to learn more systematically and insightfully from the many Trump-created declensions. This means an overarching imperative to discover the origins of this country's near-fatal leadership plague . This ought not be a query of geography, but rather one of mindset or ideology. In this indispensable inquiry, history, science and law must be restored to an appropriate pride of place. It must be understood that such a manifestly unfit American president did not emerge ex nihilo, in a vacuum, from nothing.
Donald Trump was the more-or-less predictable outgrowth of an American polity and society nurtured by "bread and circus,"[6] the result of an amusement-based commonwealth that too often loathes serious thought.[7] Tens of millions of Americans were comfortable voting for a president who openly and habitually undermined "due processes of law," who allowed an unprecedented mass dying and who never read anything, ever.[8]
The ironies are conspicuous. Any true democracy requires, inter alia and at a minimum, a decent respect for literacy. But no such basic regard obtains in these unhappy United States, not even today. Instead, nurtured by a consistently callous indifference to wisdom, Americans have generally resisted the strenuousness of honest intellectual effort or analytic thought.
The basic problem is not just that tens of millions of citizens know so very little of truth. It is that they want to know so very little. For ascertaining truth, there is "simply" too little will.[9]
When they voted for Donald J. Trump, these American s wittingly endorsed a candidate for whom truth was not "merely" anathema. In this president's inverted world, authentic truth is quite literally "against the faith." Over the past four years, it has effectively been transformed for millions into a distinct form of "impiety."
Questions must be answered. How did we ever arrive at such a dark space of governmental contrivance and anti-Reason? Who is America's real "enemy?"
To reply, the discernible core adversary of any dignified American polity is never any one particular ideology or another. It is neither "left wing radicals" nor "right wing extremists." It is, instead, a sustained collective citizen antipathy to Reason and Virtue. Naturally, Americans can't usually be expected to recognize the philosophic (Platonic-Socratic ) origins of these coinciding objectives, but they can at least make an effort to learn about underlying ideas.
In its basic contours, this craven American antipathy to Reason and Virtue is universal. It is rooted less in any specific time or place than in a ubiquitously human horror of exercising disciplined thought. At the same time, this species of universality in no way diminishes anti-Reason's durable harms to the United States.[10] For Americans just newly emerging from the bruising darkness of Donald J. Trump's crude authoritarianism, the first order of business – the very first societal "repairs" – must be undertaken at home.
"The enemy is the unphilosophical spirit which knows nothing and wants to know nothing of truth," clarified 20th century German philosopher Karl Jaspers in Reason and Anti-Reason in Our Time (1952). It is this identical demeaning spirit that continues to dominate the present-day United States.[11] Although we can take some palpable comfort from the electoral defeat of Donald J. Trump, it is still worth noting that pundit and academic post-mortems of this disgraced American presidency focus on narrowly technical electoral explanations and on identifiable defects or derelictions of the losing candidate.
Nowhere, it is safe to predict, will capable analysts or thinkers seek to find coherent explanations in appropriately broader considerations of context.
It is finally time to ask: Wherein lie the pertinent roots of America's antipathy to intellect and serious learning? A generic but pertinent answer is supplied not by political and social scientists, but by Fyodor Dostoyevsky. In his classic Notes from Underground (1864), the great Russian writer compares the attractions of "reason" and "desire," concluding that the latter – "the manifestation of life itself" – has the upper hand.
Always.
There are significant variations from country to country, and from time to time, but history reveals that anti-Reason political leaders are always aspiring somewhere "in the wings."[12] Here, often diligently, they prepare to pounce against whatever might support the less immediately gratifying claims of intellect or "mind." Or against whomever.[13]
This insight ought not appear new to us. We should have learned all this from the historic end of Weimar Germany and Nazi Germany. We should also have learn this lesson from the incrementally calamitous Trump years here in the United States. Though America's four-year subjection to falsehood and doctrinal anti-Reason has not been genocidal (the jurisprudential crime of genocide expressly includes criminal intent, or mens rea), the animating sentiments of the Trump White House have been furiously opposed to universal human rights and fundamental human freedoms.[14]
Perversely, it was Donald J. Trump's unabashed disregard for justness and fairness that became its singular and signature mantra.[15] But why receive such wide and enthusiastic support from so many millions of Americans? In this regard, even the final election vote count is hardly comforting or reassuring. Even now, tens of millions of citizens remain deeply sympathetic to a president who could never decipher the most elementary social problems, figure out basic elements of climate science and disease, or deliver even the most minimally coherent logical argument.
This has been a president, lest we forget, who opined that individual injections of bleach could be an effective way of defeating the Corona virus.
There is much more. In the United States, prima facie, presidential elections represent an immutable fixture of democracy. Nonetheless, though necessary, they are also insufficient in dealing with this suffering country's most seriously underlying challenges. To deal satisfactorily with the Corona Virus pandemic (our current worldwide "plague") and with the corresponding global chaos, America will first have to "fix the microcosm."
Always, every advancement in society and law must begin with the individual human being.[16] "Ultimately," summarizes 20th century Swiss psychologist Carl G. Jung in The Undiscovered Self (1957),"everything depends on the quality of the individual."
"Intellect rots the mind," warned Third Reich Propaganda Minister Joseph Goebbels at the Nuremberg rallies of 1935. "I love the poorly educated" said candidate Donald J. Trump in 2016. This comparison or commonality need not suggest that the Trump administration was in any way intentionally murderous, but only that both regimes had received their "primal" nurturance from the darkly-poisonous font of anti-Reason.[17]
Among other things, Trump rallies, in the fashion of their more seemingly sinister Nazi antecedents, represented incoherent gatherings of the faithful, replete with ritualistic phrases of banalities, of gibberish, chanted in loud and atavistic chorus.
During the glaringly rancorous Trump Era, there obtained in the United States not even a pretense of intellectual integrity or "Mind." Both thinking and dignity have been strikingly out of political fashion. Let us cut to the chase. In the most cantankerous public realms defined by the White House, truth has never been regarded as worthwhile or advantageous.
For this now outgoing president who learned a great deal from de facto mentor Joseph Goebbels, truth was just a regrettable liability.
Quo Vadis? Where do we go from here? Though not generally understood, looking behind the news is everyone's first obligation of good citizenship. Only here, in the background, in areas not immediately obvious and not being dissected on television or online, can we still discover the meaningfully permanent truths of American political life.
Additional core questions must be answered. Americans should more sincerely inquire: "How can a US president have so willfully ignored and accepted his Russian counterpart as "puppet master?" Even in the wholesale absence of Emersonian "high thinking" within the Trump White House,[18] it should have become perfectly obvious that one superpower president became the all-too-submissive marionette of the other. Functioning within a balance of power or Westphalian[19] international system, this eccentric sort of US geopolitical subordination put the entire American nation in existential jeopardy.[20]
Donald Trump's "America First"[21] was merely the newest iteration of a long-failed world political system of belligerent power management.[22] The "balance-of-power" has never actually been more than a facile metaphor. Despite its name, it has never had anything to do with ensuring or ascertaining equilibrium. As such, balance has always been subjective, a matter of assorted individual perceptions. There is more. Adversarial states in this zero-sum "Westphalian" dynamic can never be sufficiently confident that strategic circumstances are suitably "balanced." In consequence, each side to any contest or competition must perpetually fear that it will somehow be left behind, thus creating ever wider and even cascading patterns of national insecurity and collective disequilibrium.
There remain still more serious questions to answer. As a nation, when shall Americans finally agree to bear truthful and informed witness on Constitutional governance?[23] Can there remain any doubt that there is much more to these founding principles than robotic recitals of alleged Second Amendment rights? Surely this country must be about much more than just the right to bear arms, especially when this right is defined in ways that would have been starkly incomprehensible to the Founding Fathers.
To wit, can anyone reasonably argue that the original intended rights of gun ownership should now extend to automatic weapons?
Cultural context remains vital, even determinative, to explaining Donald J. Trump's ascent to the presidency. Trump did not arise ex nihilo. What went so terribly wrong with American "high thinking?" How, more precisely, did we allow a once-promising and still-rising nation to slide uncontrollably toward collective national misfortune?
We have seen that in the unsteady nuclear age, such misfortune could sometime have included catastrophic human wars.[24] With such dreaded inclusion, we the people might sometime have needed to witness an unprecedented fusion. This fearful coming-together could have been an explosive alloy of banality and apocalypse.[25]
It would not have been a tolerable fusion.
In the profane melodrama and farce directed by US President Donald J. Trump, we Americans were not authentically tragic figures. At no time have we been just the passive victims of a disjointed and contrived presidency. As long as we refused to speak out at less delicate levels of truth-telling – and this refusal meant much more than showing up to vote in 2020 – we fully "deserved" our consequent losses.
Amid such consequential "theatrical" matters, we Americans may have much less to learn from Plato, Aristotle or Shakespeare than from 20th century psychologists Sigmund Freud and Carl Jung. Even a cursory glance at these two seminal thinkers from Vienna and Zurich should remind us of ever-present human dangers posed by "horde" or "mass."Freud and Jung were both strongly influenced by the Danish Existentialist thinker Soren Kierkegaard (who personally preferred the term "crowd" to "horde" or "mass") and by German-Swiss philosopher Friedrich Nietzsche.
Without guile, Nietzsche had spoken woefully (and prophetically) of the "herd."
Whatever term we might now decide to favor, one key point should remain unassailable and constant: When an entire nation and society abandon the most basic obligations of critical thinking and "reason" (again, this observation about "reason" should bring us back to the German post-War philosopher, Karl Jaspers[26]), we should expect accelerating deformity and eventual tyranny. Nietzsche, in his masterpiece Zarathustra, was even more specific. "Do not seek the higher-man in the marketplace," the philosopher- prophet had warned presciently.
In the United States, we failed to listen. Donald J. Trump's wholly mundane and manipulative skill sets were acquired in the market-based worlds of real-estate bargaining, casino gambling and "branding." Plainly, they did not "carry over" to intersecting intricacies of high-politics and diplomacy. Basing his foreign policies on an explicit rejection of intellect[27] – a rejection continuously affirmed by his various appointments of ill-equipped family members and others to senior posts – we have been left with a tortured world of disappearing friends and still-multiplying foes.
Now, perhaps, with a promisingly sane new president elected, American national leadership can begin to offer more than clichés, empty-witticisms or delusionary "deals."[28] Trump's assorted trade wars, like his disjointed approach to pandemic disease ("Operation Warp Speed") became a gargantuan net-negative for the United States. But what is most important now, after so much damage has already been inflicted and suiffered, is that we avoid similar presidential failings going forward.
In the end, every society represents the sum total of its individual souls seeking some sort or other of "redemption." This overriding search is never properly scientific – after all, there can be no discernible or tangible referent for a human "soul" – but some important answers may still lie outside mainstream scientific investigations.[29] These "subjective" answers ought not be disregarded. At times, at least, they should be consciously sought and meticulously studied.
In President Donald J. Trump's deeply fractionated American republic, We the people have cheerlessly inhabited a stultifying "hollow land" of unending submission, crass consumption, dreary profanity and shallow pleasures. Bored by the suffocating banalities of daily life and beaten down by the grinding struggle to stay hopeful amid ever-widening polarities of health and disease, of wealth and poverty, our weary US citizens – people who have had every right to vote, but not to keep their teeth[30] – grasped anxiously for available lifelines of distraction.
In 2016, this presumed lifeline was a hideously false prophet of American "greatness."
In 2016, legions of Americans unaccustomed to reading anything of consequence were easily taken in by mountains of cheap red hats and by starkly inane political slogans.
For Donald Trump, cynical simplifications represented the planned path to electoral victory. Correspondingly, evident anti-Reason became this president's primary stock in trade. Even more sinister, this nefarious posture quickly became a hideous national "faith."
"Intellect rots the mind" said Third Reich Propaganda Minister Joseph Goebbels in 1935.
"I love the poorly educated" said US Presidential candidate Donald Trump in 2016.
There is not much light between these "faith-based" statements. In principle, at least, these hideous commonalties became de rigueur. Misdirected by incessantly hollow claims of "American Exceptionalism" and "America First," we somehow managed to forget that world politics is first and foremost a system. It follows, going forward, that considerations of US security and prosperity be consciously linked to the calculable well-being of other states and other societies.
In world politics, as in life generally, "We are all in the soup together."[31]
There is more. Until now, we Americans have unceremoniously ignored the Jesuit philosopher Pierre Teilhard de Chardin's clear warning from The Phenomenon of Man (1955): "The egocentric ideal of a future reserved for those who have managed to attain egoistically the extremity of `everyone for himself' is false and against nature.[32] No element can move and grow except with and by all the others with itself."
Any society that makes tax avoidance into a key virtue – even one used as a primary standard of presidential selection – is a society without adequate visions of survival, meaning or virtue.
In "Trump World" we have been ignoring almost everything of commendable intellectual importance. Should there remain any sincere doubts about this bitter indictment, one need only look at the current state of American higher education. In many ways, this realm is now just another defiled expression of Nietzsche's (Zarathustra's) "marketplace."[33]
In Donald Trump's America, we the people were no longer being shaped by any suitably generalized feelings of reverence or compassion, nor, as has already been demonstrated, by even the tiniest hints of "mind." Until now, America's oft-preferred preoccupation, encouraged by the White House and shamelessly unhidden, was a closely- orchestrated indulgence in other people's lives and (with an even greater enthusiasm) their sufferings. In German, there is even a specially-designated word for this grim pathology of the human spirit.
It is called schadenfreude, or taking an exquisite pleasure in the misfortunes of others.
For the most part, this voyeuristic frenzy has been juxtaposed against the comforting myths of American superiority. In the end, however, this particular fiction, more than any other, is apt to produce further collective declension and expanded individual despair. This was the case even when American president Trump chose to wrap himself in the flag, literally, a 2018 Trump embrace of rare and defiling repugnance. Later, on June 1, 2020, a similarly revolting Trump prop embrace was extended to the Bible, this during a peaceful protest in Washington DC.[34]
It's good to have Nation on your side, Donald J. Trump had figured out, but even better to have God on your side. Never were the bitterly grotesque ironies of Bob Dylan's brilliant song ("With God on Your Side") more clearly on display.
"I belong, therefore I am." This is not what philosopher René Descartes had in mind when, in the 17th century, he urged greater thought and expanding doubt. It is also a very sad credo. Unhesitatingly, it shrieks loudly that social acceptance by the mass or herd or crowd is roughly equivalent to physical survival, and that even the most sorely pretended pleasures of inclusion are worth pursuing.
There is more to explain. A push-button metaphysics of "apps" now reigns supreme in America. This immense attraction of smart phones and correspondingly bewildering social networks stems in large part from a barren society's machine-like existence. Within this increasingly robotic universe, every hint of human passion must be shunted away from any still-caring human emotions, and then re-directed along certain uniform and vicariously satisfying pathways.
Jurisprudentially, although international law obliges the United States to oppose all crimes of genocide and related crimes against humanity, and despite the fact that this binding international law is an established part of the law of the United States,[35] Donald J. Trump issued pardons for egregious war crimes. This issuance included the "Blackwater Four," criminals convicted inter alia of murdering children in Iraq and Afghanistan.
Under law, these criminals merited the description known as hostes humani generis, or "common enemies of humankind."
When this American president first defended Russia's Vladimir Putin against the advice of America's intelligence community, we ought already to have known we were in real trouble. Significantly, during his tenure, Donald J. Trump has never backed off this unsupportable priority. Why hasn't this humiliating sycophancy not been subjected to any serious public scrutiny?
There is more. When Trump said of North Korean dictator Kim Jung Un "We're in love," we ought have then suspected that an American president's alleged plan for "denuclearization" was hopelessly without merit. From the start, the plan lacked any conceivable semblance of analytic foundation.
There is more pertinent detail for us to consider. Across this Trump- beleaguered land, our once traditionally revered Western Canon of literature and art has increasingly been replaced by more "practical" emphases on job preparation, loyalty-building sports and "branding." For most of America's young people, even before the pandemic, learning has become an inconvenient and thoroughly burdensome commodity.
Beware, warns Zarathustra, of seeking virtue, fairness or justice at the marketplace. This is a place only for commerce, for trading, for buying and selling. It is a venue designed only for "deals." It is never a proper place for identifying potentially suitable national leaders.
In an 1897 essay titled "On Being Human," Woodrow Wilson inquired coyly about the authenticity of America. "Is it even open to us to choose to be genuine?" he asked. This president (a president who actually read and wrote serious books) answered "yes," but only if we would first refuse to join the misdirecting "herds" of mass society.
Otherwise, President Wilson had already understood, our entire society would be left bloodless, a skeleton, dead with that rusty corrosion of broken machinery, more disabling even than the sordid decompositions of an individual human being.
In all societies, Ralph Waldo Emerson had understood, the care of individual "souls" should be the most insistent national responsibility. Conceivably, there could sometime emerge a better"American Soul,"but not until we could first agree to shun several inter-penetrating seductions of mass culture. These are rank imitation; shallow thinking; organized mediocrity; and a manifestly predatory politics focused on ethnicity, gender, race and class.[36]
Any such far-reaching rejection will not be easy. It will take time. It will take vision.[37]
Still, newly liberated from the degrading shackles of a Trump presidency, hope may no longer have to sing softly, in a determined undertone, sotto voce. Soon it will be able to re-emerge without excuses, increasingly reasonable and newly purposeful.
The alternative could be unseemly and injurious. It would be for us not to have learned something useful from the defiling Trump Era; that is, to continuously embrace a rancorous orientation toward intellect and politics. In broad conceptual and generic outline, this orientation was described earlier by Sören Kierkegaard. The 19th century Danish philosopher invoked what he famously called "a sickness unto death."[38] For the moment, at least, "We the people" have managed to negotiate an eleventh hour escape from this all-consuming "sickness" – from the enduring horror of Donald J. Trump's bitter presidency – but there remains one overriding obligation.
It is to render this essential escape from darkness to enlightenment[39] more conspicuous, more welcome, more durable and more permanent. The American public's retreat from Reason did not begin with the bilious Trump presidency, and it will not end abruptly with the presidency of Joe Biden. Nonetheless, we can, as a society, take steps to get beyond the ruthless ignorance of Trump-era governance and acknowledge the singularly incomparable benefits of reasoned thought[40]. With the electoral defeat of Donald J. Trump Americans have already made a necessary beginning, but that is all that has been accomplished thus far.
We are still only at "the beginning."
In The Myth of Sisyphus, Albert Camus inquires: "Does the Absurd dictate death?" Understood in specific context of the recent Trump presidency, the "correct" answer is tangible and also unassailable. At every imaginable assessment of Trump-induced or accelerate harms – e.g., pandemic disease; human rights disregard; nuclear arms proliferation; Realpolitik or global power politics; chaos[41] – the specter of nothingness made itself palpable.[42] With little basis for any disagreement, (1) death remains the glaring prototype of absolutely all injustice; and (2) Trump-generated absurdities produced or actively promoted a terminal outcome.
At the beginning of a new American presidency, shall we start to imagine some plausible "liberation" from lethal absurdity, or ought we to resignedly accept this death-dictating ethos as irremediably fixed and immutable? The most realistic answer, paradoxically, may come from the absurdist playwright Samuel Beckett, with whose Endgame dialectic this essay first began.
"What time is it?"queries one character.
"The same as usual," responds the other.
There is no "cure" for absurdity. It is a condition, a predilection, that lies latent in the human species itself, unchanging, most likely forever. It follows that absurdity should be regarded as an immutable "first principle," an axiom or postulate that must simply be taken as given and from which all policy prescriptions must ultimately be deduced.
This conclusion need not be interpreted as either a lamentable liability or as an existential threat. It just "sets the stage" for future presidential policy prescriptions based upon truth, not on contrivance. Absurdity is neither good nor bad.
It merely is.
—————-
---
[1] See Tertullian, De Carne Christi. See also: Timothy David Barnes, Tertullian: A Historical and Literary Study. Oxford University Press, 1985.
[2]See, in this vein, Hermann Hesse's Steppenwolf (1927: "The world, as it is now, wants to die, wants to perish, and it will."
[3]The term also refers to a once-ascendant literary genre, the "theatre of the absurd," a posture highlighted by such playwrights as Samuel Beckett, Eugene Ionesco, Arthur Adamov, and Jean Genet. One can discover pertinent intellectual roots here in the earlier writings (and paintings) of surrealism, dada and – especially – Franz Kafka.
[4]This term will be explained more fully later on as an express referent to writings of 20th century political philosopher Hannah Arendt.
[5]See, by Professor Louis René Beres, at The Hill: https://thehill.com/opinion/white-house/418509-americas-greatest-danger-nuclear-war-decision-making-by-donald-trump In specific regard to Trump-created dangers of a nuclear war, we may be reminded of still-timely verse by "Beat Poet" Lawrence Ferlinghetti: "In a surrealist year….some cool clown pressed an inedible mushroom button, and an inaudible Sunday bomb fell down, catching the president at his prayers on the 19th green." (A Coney Island of the Mind, 1958).
[6]It was Juvenal (Satires, X) who coined the Latin phrase panem et circenses, forever stigmatizing the decadence and desolation of ancient Rome.
[7]We should be reminded here of Bertrand Russell's trenchant observation in Principles of Social Reconstruction (1916): "Men fear thought more than they fear anything else on earth – more than ruin, more even than death."
[8]Ironically, the Founding Fathers of the United States were intellectuals. As explained by famed American historian Richard Hofstadter: "The Founding Fathers were sages, scientists, men of broad cultivation, many of them apt in classical learning, who used their wide reading in history, politics and law to solve the exigent problems of their time." See Hofstadter's Anti-Intellectualism in American Life (New York: Alfred A. Knopf, 1964), p. 145. To be sure, we can discover a tangible bit of sexism and racism in these commending characterizations, but such aspects of "enlightenment" thought must properly be viewed in their 18th century context.
[9] In modern philosophy, the provenance of this key explanatory term lies in Arthur Schopenhauer's The World as Will and Idea (1818). For his own inspiration (and by his own expressed acknowledgment), Schopenhauer drew freely upon Johann Wolfgang von Goethe. Later, Nietzsche drew just as freely (and perhaps more importantly) upon Schopenhauer. Goethe. also served as a core intellectual source for Spanish existentialist Jose Ortega y' Gasset, author of the prophetic work, The Revolt of the Masses (Le Rebelion de las Masas (1930). See, accordingly, Ortega's very grand essay, "In Search of Goethe from Within" (1932), written for Die Neue Rundschau of Berlin on the occasion of the centenary of Goethe's death. It is reprinted in Ortega's anthology, The Dehumanization of Art (1948) and is available from Princeton University Press (1968).
[10]Prospectively, the worst such harm would be a nuclear war. On the plausibly expected consequences of a nuclear war, see by this author, Louis René Beres, Apocalypse: Nuclear Catastrophe in World Politics (Chicago: University of Chicago Press, 1980); Louis René Beres, Mimicking Sisyphus: America's Countervailing Nuclear Strategy (Lexington, Mass., Lexington Books, 1983); Louis René Beres, Reason and Realpolitik: U.S. Foreign Policy and World Order (Lexington, Mass., Lexington Books, 1984); Louis René Beres, Security or Armageddon: Israel's Nuclear Strategy (Lexington, Mass., Lexington Books, 1986); and most recently, Louis René Beres, Surviving Amid Chaos: Israel's Nuclear Strategy (Rowman & Littlefield, 2016; 2nd ed., 2018).
[11] In a similar vein, Spanish 20th century thinker Jose Ortega y'Gasset says in The Revolt of the Masses (1932): "The mass man has no use for reason. He learns only in his own flesh."
[12]Says Jose Ortega y'Gasset in Revolt, the "mass man" is a sorely primal and universal being, one who has somehow "slipped back though the wings…."
[13] "Conscious of his emptiness," warns Karl Jaspers in Reason and Anti-Reason in our Time (1952), "a man tries to make a faith for himself in the political realm. In vain."
[14]In effect, because all US law is founded upon "the law of nature" (see US Declaration of Independence and US Constitution), this Trump-era opposition to human rights and freedom is ipso facto in opposition to Natural Law. This Natural Law is based upon the acceptance of certain principles of right and justice that prevail because of their own intrinsic merit. Eternal and immutable, they are external to all acts of human will and interpenetrate all human reason. It is a dynamic idea, and together with its attendant tradition of human civility runs continuously from Mosaic Law and the ancient Greeks and Romans to the present day. For a comprehensive and far-reaching assessment of the Natural Law origins of international law, see Louis René Beres, "Justice and Realpolitik: International Law and the Prevention of Genocide," The American Journal of Jurisprudence, Vol. 33, 1988, pp. 123-159. This article was adapted from Professor Beres' earlier presentation at the International Conference on the Holocaust and Genocide, Tel-Aviv, Israel, June 1982.
[15]An additional question comes to mind, one posed originally by Honore de Balzac about the "human comedy," not about politics in particular: "Who is to decide which is the grimmer sight: withered hearts or empty skulls?"
[16]In 1965, the Jewish philosopher, Abraham Joshua Heschel, lamented in Who Is Man?: "The emancipated man is yet to emerge…"
[17] In his Reason and Anti-Reason in our Time (1952), German thinker Karl Jaspers explains: "There is something inside all of us that yearns not for reason, but for mystery – not for penetrating clear thought, but for the whisperings of the irrational." These were the seductive "whisperings" of the Third Reich, and – at least among the several million avid subscribers to Donald J. Trump's assorted conspiracy theories, also here in the United States.
[18] Reference here is to American Transcendentalist philosopher Ralph Waldo Emerson, who in the 19th century called famously for "plain living and high thinking." Plainly, and meaningfully, virtually no one in the Trump orbit has even heard of this country's most esteemed school of philosophy. Like their "master," they typically "learn only in their own flesh."
[19]See: Treaty of Peace of Munster, Oct. 1648, 1 Consol. T.S. 271; and Treaty of Peace of Osnabruck, Oct. 1648, 1., Consol. T.S. 119. Together, these two treaties comprise the Peace of Westphalia.
[20] The belligerent nationalismof Donald Trump has stood in marked contrast to authoritative legal assumptions concerning solidarity between states. These jurisprudential assumptions concern a presumptively common legal struggle against aggression, genocide and terrorism. Such a "peremptory" expectation, known formally in law as a jus cogens assumption, had already been mentioned in Justinian, Corpus Juris Civilis (533 CE); Hugo Grotius, 2 De Jure Belli ac Pacis Libri Tres, Ch. 20 (Francis W. Kesey., tr, Clarendon Press, 1925)(1690); and Emmerich de Vattel, 1 Le Droit Des Gens, Ch. 19 (1758). In the introduction to Le Droit Des Gens -The Law of Nations or the Principles of Natural Law – Swiss jurist Emmerich de Vattel cites to Cicero: "For there is nothing on earth more acceptable to that Supreme Deity who rules over this whole world than the councils and assemblages of men bound together by law, which are called States." (Somnium Scipionis). This view is a far cry from the later Nietzschean view that "State is the name of the coldest of all cold monsters" (Zarathustra) or Jose Ortega y'Gasset, "The state, after sucking out the very marrow of society, will be left bloodless, a skeleton, dead with hat rusty death of machinery, more gruesome even than the death of a living organism (The Revolt of the Masses, 1930).
[21] See, by this author, Louis René Beres: https://www.jurist.org/commentary/2019/06/louis-beres-america-first/ See also, by Professor Beres, at Yale Global Online: https://yaleglobal.yale.edu/content/what-trumps-foreign-policy-ignores
[22] Earlier, by this author, see: Louis René Beres, The Management of World Power: A Theoretical Analysis (University of Denver, 1973) and Louis René Beres, Transforming World Politics: The National Roots of World Peace (University of Denver, 1975).
[23] See, by Professor Beres: https://www.jurist.org/commentary/2017/07/Beres-president-trump-impeachment1/ See also, by Professor Beres: https://www.jurist.org/commentary/2020/12/louis-rene-beres-presidential-crimes-and-pardons/#
[24] This brings to mind the closing query of Agamemnon in The Oresteia by Aeschylus: "Where will it end? When will it all be lulled back into sleep, and cease, the bloody hatreds, the destruction"?
[25] C'est beau, n'est-ce pas, la fin du monde?" queries French playwright Jean Giraudoux. See: Sodome et Gomorrhe II, 2
[26] See especially Reason and Anti-Reason in our Time (1952).
[27] In the observation of French poet Guillaume Apollinaire, "It must not be forgotten that it is perhaps more dangerous for a nation to allow itself to be conquered intellectually than by arms." See: "The New Spirit and the Poets" (1917).
[28]In his philosophic essay, The Dehumanization of Art (1925), Jose Ortega y'Gasset accurately foresaw what has been happening here in the United States: "The demagogues, impresarios of alteracion, who have already caused the death of several civilizations, harass men so that they will be able to reflect, manage to keep them herded together in crowds, so that they cannot reconstruct their individuality….They tear down service to truth, and in its stead offer us myths."
[29] Both Sigmund Freud and Carl Jung thought of "soul" (in German, Seele) as the very essence of a human being. Neither Freud nor Jung ever provides a precise definition of the term, but it was not intended by either in any ordinary religious sense. For both, it was a still-recognizable and critical seat of mind and passions in this life. Interesting, too, in the present context, is that Freud explained his already-predicted decline of America by various express references to "soul." Freud was plainly disgusted by any civilization so apparently unmoved by considerations of true "consciousness" (e.g., awareness of intellect and literature), and even thought that the crude American commitment to a perpetually shallow optimism and material accomplishment would occasion sweeping psychological misery.
[30] One has to wonder just how many Americans can even afford to have essential dental care. As a practical matter, for a great many Americans (both poor and aged) teeth are simply no longer affordable. In a nation of staggering inequality, they have become a luxury for most elderly persons.
[31]To coexist in this all-consuming "soup," there have been insightful prophets of global integration, notably Condorcet, Immanuel Kant, Auguste Comte and H.G. Wells. For the best available treatment of these prophets and their still-indispensable ideas, see W. Warren Wagar's The City of Man (1963) and Building the City of Man: Outlines of a World Civilization (1971). Professor Wagar was a commendable visionary himself, one with whom I earlier had the honor to work at Princeton (World Order Models Project) during the late 1960s.
[32]This brings to mind the Natural Law origins of US jurisprudence. The Stoics, whose legal philosophies arose on the threshold of the Greek and Roman worlds, regarded Nature as humankind's supreme legislator. Applying Platonic and Aristotelian thought to a then-hopefully emerging cosmopolis, they defined this nascent order as one wherein humankind, by means of its seemingly well-established capacity to reason, can commune directly with the gods. As this definition required further expansion of Plato's and Aristotle's developing notions of universalism, the Stoics articulated a further division between lex aeterna, ius natural and ius humanum. Though not widely understood or conspicuous in the United States, this division further elucidates the background of America's ongoing legal responsibilities.
[33]See, by Professor Beres, at The Daily Princetonian: https://www.dailyprincetonian.com/article/2018/06/a-core-challenge-of-higher-education
[34]See, by Professor Beres at JURIST: https://www.jurist.org/commentary/2020/06/louis-beres-secret-service-trump/
[35] In the words of Mr. Justice Gray, delivering the judgment of the US Supreme Court in Paquete Habana (1900): "International law is part of our law, and must be ascertained and administered by the courts of justice of appropriate jurisdiction…." (175 U.S. 677(1900)) See also: Opinion in Tel-Oren vs. Libyan Arab Republic (726 F. 2d 774 (1984)).The specific incorporation of treaty law into US municipal law is expressly codified at Art. 6 of the US Constitution, the so-called "Supremacy Clause."
[36] Sigmund Freud was always darkly pessimistic about the United States, which he felt was "lacking in soul" and a demeaning place of great psychological misery or "wretchedness." In a letter to Ernest Jones, Freud declared unambiguously: "America is gigantic, but it is a gigantic mistake." (See: Bruno Bettelheim, Freud and Man's Soul (1983), p. 79.
[37]Italian film director Federico Fellini insightfully: "The visionary is the only realist." Similarly, from the German philosopher Karl Jaspers: "Everyone knows that the world-situation in which we live is not a final one." (Man in the Modern Age, 1951).
[38] In a different essay, Point of View, "That Individual," Kierkegaard says: "The crowd is untruth." Though succinct, it remains a telling and comprehensive observation. The core sentiment here is almost identical to Friedrich Nietzsche's discussion of the "herd" in Zarathustra and of "mass" by Swiss psychologist Carl G. Jung in The Undiscovered Self (1957). Sigmund Freud, too, spoke in several sources (e.g., Civilization and its Discontents) about the "horde."
[39] See Immanuel Kant's long famous imperative, "Dare to know!," in What is Enlightenment (1784).
[40]These benefits call to mind the relevant oeuvre of political philosopher Hannah Arendt, especially The Human Condition(1958); Eichmann in Jerusalem (1963); and The Life of the Mind (1978). In the same vein, the seventeenth-century French philosopher Blaise Pascal remarks prophetically in Pensées: "All our dignity consists in thought….It is upon this that we must depend…Let us labor then to think well: this is the foundation of morality." Similar reasoning characterizes the writings of Baruch Spinoza, Pascal's 17th-century contemporary. In Book II of his Ethics Spinoza considers the human mind, or the intellectual attributes, and – drawing further from Descartes – strives to define an essential theory of learning and knowledge.
[41]Whether it is described in the Old Testament or other major sources of ancient Western thought, chaos can also be viewed as a source of human betterment. In essence, chaos is that which prepares the world for all things, both sacred and profane. Further, as its conspicuous etymology reveals, chaos represents the yawning gulf or gap wherein nothing is as yet, but where all civilizational opportunity must inevitably originate. Appropriately, the great German poet Friedrich Hölderlin observed: "There is a desert sacred and chaotic which stands at the roots of the things and which prepares all things." Even in the pagan ancient world, the Greeks thought of such a desert as logos, which indicates to us that it was presumed to be anything but starkly random or without conceivable merit.
[42]Says the French poet Saint-John Perse, "And all at once, all is power, and presence for me, here, where the theme of nothingness rises still in smoke."
The American Initiative for a "Better World" and its difference with the Chinese Belt and Road
During their summit held at the end of July 2021 in the city of "Cornwall" in Britain, the leaders of the countries (the Group of Seven major economic leaders "G7" led by Washington) have been announced the launch of an ambitious global initiative called "Rebuilding a Better World". It is internationally, known as:
Build Back Better World (B3W)
The "Rebuilding a Better World" initiative aims to (meet the massive financing requirements for infrastructure needs). The most important differences and distinguishes between (the Chinese initiative for the Belt and Road and the American initiative to build a better world), are highlighted, through:
1) The intense Chinese interest in doing (development initiatives that are not politically conditional, unlike the American tool that sets political goals and conditions as a condition for the work of projects or the provision of loans, as well as China's interest in infrastructure and community projects), and this is the most obvious and famous reason for the "Belt and Road" initiative, whereas the maps showed China's roads, railways, and pipelines networks extending with partner countries, in addition to cooperation in (the field of digital technologies, educational and social institutions, and security services), which creates a network of relations that will continue in the future, in contrast to the US case or initiative.
2) We find that while (the leaders of the seven major economic countries neglected to develop long-term strategic plans in their initiative for a better world to serve poor and developing peoples), the vision of the "Belt and Road" has been more clearly manifested through the spread of many other developmental initiatives and the other extensions with it, which include the "Silk Road" for its projects, such as: (The Health Silk Road Initiative to combat "Covid-19", and the launch of the "Digital Silk" initiative, known as (Information Silk Road).
3) At a time when Washington and its allies ignored the interests of developing countries, China has contributed to (leading the global development initiatives, especially the Healthy Silk Road to help countries affected by the spread of the pandemic), an initiative mentioned for the first time in the (White Book of Chinese Policy in 2015), Chinese President "Xi Jinping" announced officially the "Health Silk Road" that was presented in a 2016 speech delivered by the Chinese President in Uzbekistan, as well as the new road and the most recent Chinese initiative, known as the "Polar Silk Road", which also known as the "Ice Silk Road", which stretches across the "North Pole", it was first highlighted in 2018.
4) In the belief of China to lead global development efforts, in contrast to ignoring the "Better World Initiative", it was represented in China's leadership in the field of "climate and environmental governance", so the Chinese government initiated the launch of the "Green Silk Road Fund", which was established by Chinese investors to promote (Chinese projects that take into account environmental standards), and the latest and most advanced here is the Chinese announcement of the "Space Silk Road", which is the development of the Chinese "Beidou" system for artificial intelligence technology, and others.
5) Here, we find that at a time when China's desire to support and modernize all African and poor countries is increasing, the American initiative, which is alleged to be an alternative to the Chinese plan, has come to China's interest in projects (the Chinese satellite navigation system), and it is scheduled to be used and developed China as an alternative to GPS services.
6) The American President "Joe Biden" adopted the "Building Better for the World" project, stressing that its mainly focus on the (climate, health, digital sector, and combating social inequality), because the "Belt and Road" initiative – as stated by assistants to US President "Biden" – has transformed from a series of unauthorized projects connected to infrastructure, a cornerstone of Beijing's foreign policy strategy, and the initiative supported China with raw materials, trade links, and geopolitical influence, so the "White House" wants to engage in projects with greater environmental and labor standards than those funded by China, and with complete transparency regarding financial terms. Perhaps that point raised by Washington towards China comes without (the United States of America presenting concrete evidence of the validity of those accusations to China, as well as Washington's failure to penetrate deep into the African continent compared to the Chinese side).
7) American reports accuse Beijing of being (the reason for the decline of its influence on the African continent, and the United States faces many obstacles and challenges to regain its influence again in Latin American countries, which considers China as a trading partner and an important and vital investor in the African and Latin region). For example, bilateral trade between Brazil – the largest economy in South America, and China increased from $2 billion in 2000 to $100 billion in 2020. Perhaps this in itself (supports China's credibility with its development projects to serve African and developing peoples, in contrast to African and Latin rejection, for example, of American influence and penetration in their countries).
8) The most important analytical thing for me is that the relationship of the Chinese "Belt and Road Initiative" with African countries supports "the call of China and Chinese President "Xi Jinping" towards a multilateral and multipolar world". Therefore, we find that (China's agreement with these African countries came in their support for multipolarity in the world, which the United States rejects), while African countries and the developing world mainly welcome the "Belt and Road Initiative", which meets the needs of economic development in their countries, which the alleged American initiative will be unable to meet.
9) It also represents the Chinese initiative for the Belt and Road (a prelude to the China-Pacific cooperation road to link China and Latin America more closely, through the 21st century Maritime Silk Road from China to Latin America, which the United States strongly opposed, which reduces travel time between them, it works on developing infrastructure and connectivity, and investing in port works and ocean corridors between the Atlantic and the Pacific. Which (made the countries of Latin America and the Caribbean consider cooperation with Beijing a huge investment opportunity and a support for economic and social development plans, as well as an improvement in the region's competitiveness).
10) It is worth noting that what distinguishes (the Chinese initiative for the Belt and Road from the American Better World Initiative, is its "sweeping popularity globally"), especially if we know that more than 100 countries have joined the Beijing initiative, which made it stronger politically and diplomatically. China signed cooperation documents on Belt and Road construction with 171 countries and regions around the world, and the trade value between China and countries along the Belt and Road amounted to about 1.35 trillion dollars in 2020, accounting for 29.1 percent of the total value of China's foreign trade which (the United States of America will be unable to provide in light of the current economic crisis, unlike China). The investment cooperation between them amounted to about $17.7 billion, and the Chinese Ministry of Commerce stated that the companies of the "Belt and Road" countries have established 4,294 institutions in China, with an investment value of $8.27 billion.
11) and even came (confessions by well-known American bodies of China's developmental role in confronting the United States of America), for example, a report by the "American Council on Foreign Relations" confirmed that: "Since the launch of the "Belt and Road" initiative in 2013, Chinese banks and companies have funded and the construction of power stations, railways, highways, and ports, as well as communications infrastructure, fiber-optic cables and smart cities around the world, and if the initiative continues to implement its plans, China will be able to stimulate global economic growth, and meet the needs of developing countries for the long term". This is an American testimony and a clear acknowledgment of the strength of the Chinese Belt and Road Initiative and its development projects around the world.
12) It remains to be noted here that (the American attempts to put forward alternative development initiatives for the Chinese Belt and Road is a kind of American political competition with China, so the question here is: Why did the United States not provide real development projects over the past long years), so we understand that the Belt Initiative The road is the largest infrastructure program in the world, and indeed it has become an economic and political challenge for Washington. Experts believe that the preoccupation of the United States with its financial and economic crises has contributed greatly to giving China the opportunity to extend its economic and development influence among the countries of the world. The "Rebuilding a Better World" initiative comes among other US initiatives to try to confront and confront China, such as the Ocos Defense Security Agreement with Britain and Australia, as well as the first meeting of the "Quad Quartet" with the leaders of India, Japan and Australia. The "Biden administration" is also seeking to hold bilateral talks with countries in order to promote the American initiative, and recently talks were held with Indian Prime Minister (Narendra Modi), especially since India has refused to join the Belt and Road Initiative due to border disputes with China. Therefore, we understand (the targeting of the United States of America to countries with conflict with China to attract them to its alternative initiative, in contrast to the openness of the Chinese Belt and Road Initiative to the whole world).
Accordingly, we arrive at an important analysis that says that the term "rebuilding better in the American sense" ignores and neglects development initiatives to serve the people, a better world, which is (an American political initiative rather than a development one such as the projects of the Chinese Belt and Road Initiative). Here it becomes clear to us that the American initiative for a better world appears to be (influenced by the slogans and policies of both US President "Joe Biden" and British Prime Minister "Boris Johnson"), Rebuilding Better is the slogan of the American campaign, but without setting specific agreed plans or a timetable for everyone.
Russia and the United States Mapping Out Cooperation in Information Security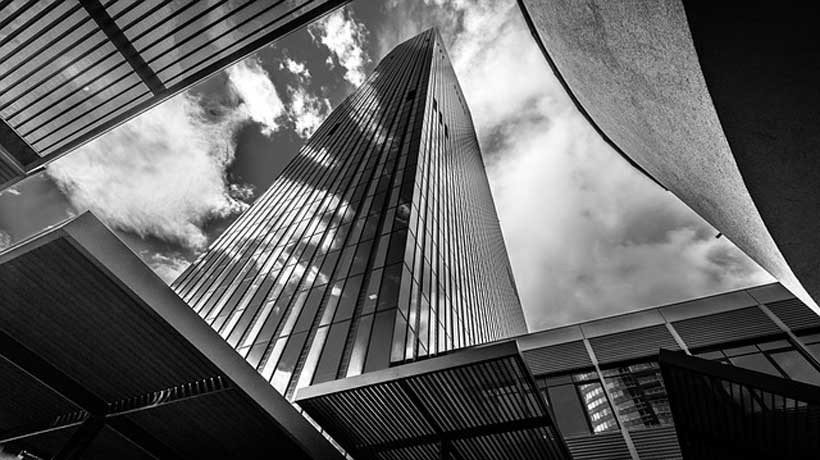 Authors: Elena Zinovieva and Alexander Zinchenko*
The first committee of the 76th session of the UN General Assembly has adopted a draft resolution on international information security sponsored by Russia and the United States by consensus. The document has a record number of co-sponsors, with 107 countries putting their name to the document, although it is Russia and the United States that promote the document as its main sponsors. While the draft resolution still needs to go through a vote at the UN General Assembly this December, we can assume the vote will go more as less the same way it did in the committee.
The very fact that Russia and the United States came up with a joint draft resolution is a significant step forward in the bilateral cooperation in the field of international information security, especially given the fact that the United Nations hosted two competing platforms operating between 2019 and 2021, the Open‑Ended Working Group (the OEWG) established at Russia's initiative and the Group of Governmental Experts (the GGE) led by the United States.
The joint draft resolution and a step towards an institutionalization of the dialogue came as a result of the agreements reached at the summit between President Vladimir Putin of Russia and President Joe Biden of the United States on June 16, 2021. Four rounds of expert consultations have already taken place under the auspices of the security councils of the two countries, says Anatoly Antonov, Russia's Ambassador Extraordinary and Plenipotentiary to the United States.
Besides, the Russian diplomat pointed to the successes in suppressing hacker activity and combating the criminal use of ICTs. The fight against cybercrime is one the main concerns voiced by the U.S. in this area, especially after the high-profile ransomware attacks on the energy and food industries in 2021. Subsequent dialogue led to a restoration of interaction in this area, which is occurring within the framework of the 1999 bilateral agreement on mutual legal assistance in criminal matters, a document that allows the parties to exchange information on cybercriminals in pretrial detention, including in matters when it comes to collecting evidence of the person's guilt. Cooperation between the two countries has involved the United States transferring materials for the legal suppression of the activities of such international cybergroups as Evil Corp, TrickBot and REvil. In turn, Russia has informed the American colleagues that Moscow has managed to thwart the activities of a criminal group using the Dyre/TrickBot malware and prosecute those responsible.
Additionally, there has now been greater interaction between Russian and U.S. centers for responding to computer incidents, the Federal Security Service's National Computer Incident Response and Coordination Center (the NCIRCC) and the Department of Homeland Security's US–CERT. However, the sides still harbor their concerns, pointing to the fact that there is room for cooperation to be fostered and enhanced. For example, most attacks on Russian infrastructure in 2020, the NCIRCC suggests, were carried out from the United States, Germany and the Netherlands. By the same token, the Western media continues to level mostly unsubstantiated accusations against Russia for its supposed involvement in cyberattacks, while cyber defence activities have become overly politicized.
Meaningful interaction, once it produces positive results, facilitates an atmosphere of trust between the parties, opening the door for closer cooperation to establish a universal international regime for information security, including with respect to the issues that are more global and complex in their scope. Russia's agenda in bilateral negotiations is not limited to combating cybercrime—Sergey Ryabkov, First Deputy Minister of Foreign Affairs, has stressed—as it includes a broad range of issues relating to international information security, including military and political use of ICT, which is the major threat to international stability today. Moreover, since 1998, Russia has been calling for a global regulation of international interaction in information security and for rules to be formulated under the auspices of the United Nations to guide responsible behaviour of states in this area.
The dialogue and the joint work in this area have been reflected in the draft resolution, and it takes Russia's priorities into account. Specifically, the document sets out the important principles and rules of the responsible behaviour of states in the information space, which Russia has been advocating for since 1998: encouraging the use of ICTs for peaceful purposes, preventing conflicts arising in its use, preventing the use of ICTs for terrorist and criminal purposes. The document places a particular emphasis on the importance of preventing cyberattacks targeting critical infrastructure.
The draft resolution also welcomes the 2021 report adopted by the Open‑Ended Working Group on developments in the field of information and telecommunications in the context of international security, making special note of how important the renewed group's proceedings will be for 2021–2025. At the same time, the resolution suggests that the OEWG's activities may well result in a binding UN document on international information security to be adopted.
It would seem the United States and Russia have sent a positive signal to the international community, recognizing the threats to international information security and acknowledging the importance of norms to be devised that would guide responsible behaviour of states in the information space. These norms would underpin the international regime for information security, as is envisioned by the Principles of State Policy of the Russian Federation on International Information Security adopted by the Russian President on April 12, 2021. The document aims to strengthen peace and international security, which are increasingly dependent on the advances in information and communications technologies. "The international community has proven in practice that it is capable of negotiating and working out acceptable solutions when it comes to resolving fundamental issues of national and international security," noted Andrey Belousov, Deputy Permanent Representative of the Russian Federation to the United Nations Office in Geneva.
First published in our partner RIAC
*Alexander Zinchenko, Ph.D. in History, Lead Expert at the Centre for International Information Security, Science and Technology Policy at MGIMO University
How the Republican Party Has Tightened U.S.-Taiwan Ties
Taiwan, also known as the sovereign Republican of China (ROC), set up in the aftermath of the revolution in 1911 in China. The U.S. government recognized the ROC as the legal government of China till the end of 1978 and has thereafter maintained a non-diplomatic relationship with the island after its official recognition of People's Republic of China (PRC) as the legal government of China in 1979. Even though the U.S.-Taiwan relationship is deemed as "unofficial" by the U.S. Department of State, official contacts between the two governments based on the Taiwan Relations Act have never ceased, the most important of which includes U.S.-Taiwan arms sales. The "strategic ambiguity" embedded in the three U.S.-PRC Joint Communiqués in 1972, 1979 and 1982 allows the U.S. to maintain its involvement in the regional security of Taiwan Strait under a statutory framework despite PRC's countless opposition.
America's long-standing commitment to Taiwan and involvement in the region is not only bound by the jurisdiction of the Taiwan Relation Act, but has created "historical and ideological connections". The support for Taiwan, especially when in the face of an increasingly aggressive China, is usually bipartisan in the U.S., but the Republican party seems to be more provocative when it comes to defending Taiwan from the threat of mainland China. Historically, Republican politicians usually stroke first to take a pro-Taiwan stance when disputes across the Taiwan Strait arose. Meanwhile, the ongoing "asymmetric polarization" in the U.S. – the Republican Party is turning conservative more than the Democratic Party turning liberal – is influencing Washington's policies involving the Taiwan Strait. In 2020, conservative Republican senators Josh Hawley and Ted Cruz introduced the Taiwan Defense Act (TDA) and Taiwan Symbols of Sovereignty (Taiwan SOS) Act respectively, both of which aimed at defending Taiwan from Chinese Communist Party's oppression and even invasion. As Republicans are rapidly turning more conservative, is it likely that the U.S.-Taiwan relations will enter a honeymoon phase? And how that would affect U.S.-Taiwan arms sales?
Historical links between U.S. Republican Party and Taiwan
1949 – 1971: The China Lobby
Throughout the history U.S.-Taiwan relations, there have been multiple times when conservative Republican officials and public figures have worked at the forefront of campaigning for closer U.S.-Taiwan ties, often along with anti-PRC policies.The Republican Party's intimacy with Taiwan dates back to 1949 when the Chinese Civil War ended. The defeat of Chiang Kai-shek split U.S. policymakers on the issue of whether to defend Taiwan if Communists from China initiated an attack. Democratic Secretary of State Dean Acheson was prone to abandon the island while Republican Senators Robert Taft and William Knowland, together with former Republican President Hoover adamantly demanded that America should protect Taiwan.
In the 1950s, the China Lobby, a broad network of people who shared the common goal of support Chiang Kai-shek's recovery of mainland China from Mao Zedong-led communism, represented the apex of Taiwan's success in America. It involved both Nationalist Chinese officials and right-wing American politicians who were mostly Republican politicians, including Senator Barry Goldwater, Jesse Helms, Senator Bob Dole, and Representative Dana Rohrabacher. Although not every supporter of Chiang actually cared about Taiwan issues since many of them simply took advantage of it to advance their own political agendas, the China Lobby, supported by the Republican Party, was capable of arguing for their cause aggressively and intimidating dissidents.
2.2 1971-1991: The Sino-US Normalization – Inner Conflicts among Republicans
Republican President Nixon won bipartisan support for his trip to China in 1972, which marked the end of U.S. efforts to isolate People's Republic of China. Praises for Nixon's China initiative came not only from leading congressional Democrats such as Senator Ted Kennedy and Mike Mansfield, but liberal communist James Reston. However, domestic controversy and criticism also arose and mostly came from conservative Republicans who complained that the preliminary rapprochement undermines America's longtime ally – Taiwan. As the conclusion of Nixon's visit to China, the "U.S.-PRC Joint Communique (1972)" was issued, which incurred opposition and even wrath of Nixon's conservative Republican supporters who were upset by the gradual reduction in U.S. forces in Taiwan as implied by the communique.
A decade later, Republican President Ronald Reagan issued the "U.S.-PRC Joint Communique on Arms Sales" – also known as 1982 Communique – which clarified that the U.S. intended to gradually decrease its arms sales to Taiwan, but Reagan's secret Memorandum on the 1982 Communique specified that the reduction in U.S. sales of arms to Taiwan was "conditioned absolutely upon the continued commitment of China to the peaceful solution of the Taiwan-PRC differences". As a matter of fact, not only did the Reagan administration have Republicans in Congress reassured through his written clarification that the communique would not disadvantage Taiwan, but he continued to work to assuage potential criticism from the pro-Taiwan Republicans by selling twelve C-130H military transport aircraft to Taiwan in 1984.
2.3 1992-2016: The Gradual Revival of Republican-Taiwan Ties
In 1992, an agreement was reached by PRC and ROC governments in the name of "1992 Consensus" in which the commitment of "one China, respective interpretations" was shared and seen as the foundation of the rapprochement between the two sides of Taiwan Strait ever since. Douglas H. Paal, the Director of American Institute in Taiwan (AIT) between 2002 and 2006, buttressed the 1992 Consensus by emphasizing its critical importance to maintaining cross-strait peace in 2012, days before the presidential election of Taiwan. However, the former Republican Senator Frank H. Murkowski supported Tsai Ing-wen's challenge to the 1992 Consensus – "Taiwan consensus", and claimed that Tsai' proposal "represents the will of the Taiwan people".
Two years after the proposal of 1992 Consensus, the Clinton administration sought to upgrade the U.S.-Taiwan relations but still restricted high-level Taiwanese government officials' access to U.S. visas. In the same year, Republicans swept the mid-term elections, which led to a growing movement in the Congress that favored closer relations with Taiwan. In 1995, Newt Gingrich, the Speaker of the House as well as the conservative Republican representative of Georgia stated that president of ROC should not only be able to visit the United States, but ROC itself deserved a seat in the United Nations.
The majority of House Republicans' support for Clinton Administration's efforts into bringing China into WTO was surprising, but harsh criticism against China also came from Republican politicians and public figures such as Representative Chris Smith, Representative Dana Rohrabacher, and 1992 Republican presidential candidate Patrick Buchanan, most of whom were allies of conservative forces that held anti-PRC and pro-sentiment.
2.4 2017 – present: Increasingly Conservative Republicans and Closer U.S.-Taiwan Ties
After winning the 2016 U.S. president election, the Republican president-elect Donald Trump had a 10-minute conversation with the President of Taiwan Tsai Ing-wen, an unprecedented move for a soon-to-be U.S. president and Taiwan's top leader. This led many people to label Trump as a pro-Taiwan president and some even speculate his intention to support the independence of Taiwan.
The conservative Republican president's policies toward Taiwan were as bold and aggressive as his domestic policies. Even though some may claim Trump's attitude was "neither new nor Taiwan-specific", it cannot be denied that his leadership, directly or indirectly, accelerated Republican Party's right-leaning dash and that came with more pro-Taiwan policies that got under Beijing' nerve. In 2018, Trump "gladly signed" the Taiwan Travel Act that encourages all levels of U.S. government officials to travel to Taiwan and high-level Taiwanese officials to enter the U.S.. The bill was introduced by the Republican representative Steven Chabot and won bipartisan support before being signed into law by Trump. In 2020, the Republican Senator Josh Hawley introduced the Taiwan Defense Act (TDA) to ensure America's obligations of defending Taiwan from Chinese Communist Party's invasion. In the same year, the Republican Senator Ted Cruz recognized Taiwan's National Day and introduced Taiwan Symbols of Sovereignty (Taiwan SOS) Act.
The conservative Republican Secretary of State Mike Pompeo is also known for his staunch support for Taiwan. During the final days of Trump's presidency, Pompeo announced that the U.S. was lifting restrictions on U.S.-Taiwan relations by allowing U.S. government contacts with Taiwan despite an increasing risk of invoking Beijing to trigger a new cross-strait crisis. Even in the post-Trump era, Republicans does not seem to put a stop to their pro-Taiwan cause. In April 2021, the Republican Representative John Curtis introduced the "Taiwan International Solidary Act" to condemn China's overreach of the sovereignty of Taiwan – a year after he authored the "Taipei Act" to strengthen Taiwan's international diplomatic recognition and had it passed by bipartisan support. The ongoing partisan divide has yet to show a sign of deceleration after Trump left the office. Based on the redder Republican Party's historical favor toward Taiwan, it is likely that there will be more Republicans initiating anti-PRC and pro-Taiwan policies, including increasing U.S. arms sales to Taiwan.
Asymmetric Polarization in the U.S.
As early as in the 1990s, themes of polarization, division, and fragmentation started to be discussed by media and political commentators of American politics. The editor of the Columbia Journalism Review declared the conservative politician Patrick Buchanan's speech at the Republican convention in 1992 a "culture war" and asserted "There is increasing polarization in American society over race, religion, family life, sex education and other social issues". Similar perceptions include "the sharpening cultural polarization of U.S. society after the mid-1970" and the two dividing values camps in America – the "culturally orthodox" and the "culturally progress". As shown in Figure 1, Republican legislators have been turning more conservative and Democratic legislators more liberal, which makes the Senate and House more divided than ever since the end of the first World War.
Figure 1: Increasing Polarization in Congress 1870-2010 based on DW-NOMINATE Index
Each point represents the discrepancy between two parties' mean DW-NOMINATE scores. Higher values along the y-axis indicate stronger political polarization. (source: Moskowitz & Snyder, 2019)
The Republicans and Democrats in the U.S., with their ongoing conflicts commonly acknowledged, are not simply mirror images of each other. A wealth of studies find that the two parties are not moving away from the center at equal speeds. Scholars such as Jacob Hacker and Paul Pierson point out that the phenomenon "asymmetric polarization" – Republicans have marched much further right than Democrats have moved left – is what has escalated partisan conflicts, which is also demonstrated by Figure 2. Nolan McCarty, the professor of Politics and Publica Affair of Princeton University, asserts that the polarization is "a Republican-led phenomenon where very conservative Republicans have replaced moderate Republicans and Southern Democrat". The disproportionate share of rising polarization is thereby greatly explained by Republican party's march toward the ideological extreme.
Figure 2: Asymmetric Polarization based on DW-NOMINATE Scores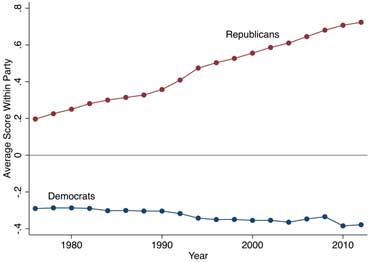 (source: Moskowitz & Snyder, 2019)
Correlations between U.S. Asymmetric Polarization and US-Taiwan Relations and Arms Sales
Compared to 1991 when it had more than 20 countries as suppliers of arms, Taiwan only has the U.S. as its supplier nowadays. America, however, remains Taiwan's sole and largest supplier of arms by taking advantaging of the strategic ambiguity of the U.S.-PRC Joint Communique of 1982 and the Taiwan Relations Act. More importantly, keeping arms sales to Taiwan can be used as political leverage by the U.S. for the U.S.-RPC relations. The U.S. military sales agreements with Taiwan amounted to $9 billion and delivers totaled $12.3 billion between 1991 and 1998. During the Bush and Obama Administration, U.S.-Taiwan arms sales were oftentimes delayed or cancelled due to concerns over relations with the RPC or U.S. domestic political disputes in Taiwan. However, to counter the cross-Strait military imbalance, the arms sales to Taiwan during the Trump Administration exceeded any previous administrations over the last four decades, including seven packages of arms sales in 2017, C-130 and F-16 fighter parts and accessories in 2018 and 2019. As shown by Figure 3, the overall volume of U.S.-Taiwan arms sales experiences an increase between 1981 and 2010 despite some fluctuations.
 Figure 3: U.S. Government Arms Deliveries to Taiwan 1981 – 2010 ($billion, values not adjusted for inflation)
The scatterplot is composed by the author of this article (source: Arms Control Association, n.d.)
For years, Republicans constantly praise the common value shared by the U.S. and Taiwan and never attempt to hide their stance on defending Taiwan under the Taiwan Relations Act should China violate the peaceful status quo across the strait. The U.S. support for Taiwan is oftentimes dominated by Republicans who tend to convert their anti-CCP ideology to pro-Taiwan policies. Those prominent Republican politicians include Senator Marco Rubio, Senator John McCain, and former National Security Advisor John Bolton. Republicans' pro-Taiwan impression culminated when Donald Trump, the Republican then-President-elect, had a phone call from Taiwan's President Tsai Ing-wen, the first official U.S.-Taiwan conversation since 1979. Throughout history, most prominent pro-Taiwan Republican politicians have shown a higher level of conservatism than their colleagues based on DW-NOMINATE ideology scores, including Senator Barry Goldwater, Senator Frank H. Murkowski, and Senator John Curtis, whom of which have made great contributions to tightening the relations between the U.S. and Taiwan. According to those Republicans, Taiwan is a loyal friend of the United States who deserves their strong support which includes the timely sale of defensive arms.
With Republicans' accelerating right-leaning dashing, the anti-China sentiment has been rising and a large portion of it has been translated into pro-Taiwan actions. The Trump Administration's hardline reprimand of CCP has starkly juxtaposed Taipei and Beijing in the current international political environment. This has enhanced the image of Taiwan as "a tiny democratic ally threatened by a totalitarian neighbor", which has given Republicans more legitimacy to take aggressive actions to defend democracy of Taiwan by means of promoting more arms sales to the island.
However, is the asymmetric polarization the only reason behind the increasing U.S.-Taiwan arms sales? Even the polarization of Republicans seems to proceed at a faster pace, Democrats' process of radicalization is tagging along. The boundary between liberal and left had almost vanished by the end of the 1980s, and the self-identifying radicals started to be replaced by leftists relabeled as "progressive". The progressive movement of Democrats has been accelerated by "neoliberal globalism" and the "Cyber Left" – an amalgamation of hundreds of thousands of online organizations, blogs, Twitter and Facebook groups. A study of Brookings finds that the ratio of progressive non-incumbent House winners to total democratic candidates was as high as 41% in 2018, a huge increase compared to 26% in 2016 and 17% in 2014. There is a chance that Democrats could also show stronger support for Taiwan to help the island stand up to the presence of increasingly aggressive China, which is also consistent with their emphasis on a harmonious global community and "social responsibility". It is true that notable Democrats such as Senator Bob Menendez, Senator Ted Kennedy or Speaker Nancy Pelosi do have been open about their appeal for Taiwan's rightful place on the global stage and have never been shy about celebrating Taiwan's democracy. Whereas, it is also progressive Democrats' pro-globalization stance that makes them tend to downplay anti-Communism ideology and thus provide insufficient legislative support for Taiwan. Therefore, military support for Taiwan is still and will be dominated by the conservative Republicans who uphold anti-Communism ideology and value a strong military power to increase security and peace.
Conclusion
The history has proven the Republicans' overall pro-Taiwan stance from the perspective of ideological similarity, strategic purposes and common values. The increasingly right-leaning Republicans' support for Taiwan is not only confined to the legislative branch, but has permeated the executive branch. Being regarded as the most pro-Taiwan president in the US history, Donald Trump lifted U.S.-Taiwan arms sales "to the next level" by not only upgrading the quality of arms, but significantly changing the frequency and procedure of sales.
Biden's ambition to reunite the U.S. is not likely to happen on a short notice given the highly divided American society in terms of income inequality, identity politics, race divergence and so on. The ongoing asymmetric polarization is only going to get worse before it gets better, and that would lead more conservative Republicans, instead of moderate ones, to take power in the foreseeable future. Against the backdrop of deteriorating U.S.-PRC relations, hawkish policies for China will become the mainstream among Republicans. That may not necessarily increase the arms sales to Taiwan under the Biden Administration, but the partisan divide in the current American political environment has made and will make pro-Taiwan policies one of the few agendas that can reach a bipartisan agreement. Therefore, that would neither leave sufficient scope for the Biden administration to adjust its Taiwan policy nor make its China policy too different than his predecessor despites his eager to fix the relations with the second largest economy.