In 2019, South Korea imported 745,000 metric tonnes of palm oil, up from 194,000 metric tonnes in 2005. It is one of the fastest-growing markets for the commodity in the world, driven by government policies to boost palm oil as a lucrative green industry and to secure food and energy supplies from overseas.
Most of this palm oil comes from Indonesia and Malaysia and until recently was used in processed food, such as instant noodles. But under the country's "Green New Deal" introduced earlier this year, palm oil is being promoted as a source of renewable energy, as biofuel for transport and power generation.
But palm oil's green credentials are hotly debated. While the US and Europe are taking steps to restrict use because of links to widespread deforestation and high carbon emissions, South Korean public institutions have given millions of dollars in subsidies to companies developing plantations in Indonesia in the name of "green" development.
Environmental activists and lawyers in South Korea have become increasingly vocal about the industry's links with human rights violations and deforestation in Indonesia, and are demanding the government stop financing destructive practices.
Demand soars
South Korea relies on overseas imports for 97% of its energy and 75% of its food resources. After the 2008 global food crisis, the government set out to secure both edible and industrial palm oil, launching an "Overseas Agro-resources Development" programme in 2009. That public loan scheme covered 70% of the business costs of private South Korean companies to produce and distribute wheat, soybean, corn and crude palm oil.
Palm oil is designated a strategic commodity under South Korean law. The Overseas Agriculture & Forest Resources Development and Cooperation Act, and the Overseas Resources Development Business Act are used as legal grounds to subsidise Korean palm oil companies overseas. The Korea Forest Service and various finance institutions classify oil palm development as "bioenergy afforestation" projects. This is a perverse use of the word afforestation, which generally means planting trees for environmental and climate benefits, not clearing tropical forest for monoculture plantations.
"I find these acts very imperialistic. The government is helping companies to take resources from other countries because we are resource-poor," said Chung Shin-young, a lawyer with Advocates for Public Interest Law (APIL), who has been investigating South Korea's palm oil industry and leading the campaign to stop public finance of the industry.
Public and private investment in the palm oil industry has also been driven by the use of palm oil as a transport fuel since the mid 2000s. Since 2015, South Korean companies importing or exporting petroleum fuel products have had to ensure their oil products are at least 2.5% biodiesel. The proportion was later increased to 3%. As of 2017, palm oil and its by-products accounted for 88% of South Korea's biodiesel imports.
Public money funds deforestation and human rights abuses
South Korean palm oil producers found themselves in the international spotlight in 2016 when environmental advocacy group Mighty Earth, in partnership with the Korean Federation for Environmental Movements (KFEM), exposed massive forest clearance in the palm oil concessions of Korindo and Posco International in Indonesian-administered Papua. Satellite data and drone images showed that Korindo had cleared 30,000 hectares of rainforest in the previous two years while Posco International had cleared 19,000 hectares in the previous four.
Korindo established its first oil palm plantation in Papua in 1998. Recent years have seen a marked expansion of its activities in the province, with 30,000 hectares of forest cleared between 2013 and 2016. (Image: Mighty Earth)
"The Korean model of palm oil plantation deforestation harkens back to the old, dark days of the palm oil industry when forests, wildlife and indigenous lands were obliterated for the purpose of establishing giant expanses of monoculture plantations, the profits of which mainly go to foreign owners," said Deborah Lapidus, senior campaign director at Mighty Earth.
The problem is these two companies have been operating their palm oil business with public money from the Korea Forestry Service and the Export-Import Bank of Korea (Korea Exim Bank), said Chung.
"If you look at the detailed statement of the government loan to Posco International, you will learn that they rarely run a business on their own money. But it's not only Posco International. LG International, Daesang, and JC Chemical before them got a loan from the Korea Forestry Service," said Chung. Her team was one of the first local groups to investigate South Korean palm oil companies' links to rights violations and massive deforestation in Indonesia since 2016, together with the Korean Federation of Environmental Movements (KFEM).
"The agency's very first public loan to the palm oil industry was to an oil palm afforestation company, Daesang Holdings, in 2008. In total, 3.8 billion-won (around US$3.2 million) was financed for a bioenergy afforestation project in Indonesia," explained Shin Gun-seop, an administrative officer at Korea Forest Service's Overseas Resources Development Office.
Between 2010 and 2019, Korea Forest Service provided 40.1 billion won (around US$33 million) to plant oil palms in around 24,000 hectares, mostly in Indonesia, according to Shin. Daesang Holdings, LG International Corp., Kodeco, and JC Chemical were some of the recipients of these public loans.
Livelihoods destroyed
The expansion of South Korean palm oil companies has put indigenous communities' livelihoods at risk, many of whom had been displaced from their forest land in the past.
"My concern is that the presence of Korindo and Posco International in Papua will further widen gaps and deepen injustices in Papua where big business take everything and the local community is left with empty hands. For most indigenous Papuans, forests are their supermarkets, banks, hospitals and sacred places. Massive forest conversion means they lose their livelihoods," said Angky Samperante from the Papuan rights group Yayasan Pusaka. His team has been struggling to protect the rights of indigenous peoples and the environment of Papua against Korean palm oil companies since 2010.
A family from the Kowin Marind tribe whose land has been affected by deforestation to make way for a Korindo plantation in Papua (Image: Mighty Earth)
The Forest Stewardship Council (FSC) has been closely monitoring Korindo's operations since complaints against its destructive practices and human rights violations were first made by Mighty Earth in 2017, but has stopped short of stripping it of its sustainability certification. Korindo Group published a statement on its website in July 2019 saying it rejected complaints that it was involved in illegal forest fires but agreed to work with FSC to improve its standards.
The Korean palm oil industry has been linked with the suffering of indigenous communities in Indonesia from the start. Korindo Group started the first "Korean" palm oil business in Merauke, Papua province, in 1995. There the Marind and Mandobo peoples had already been forced from their customary forest by the central government's development plan in the early 1970s. PT. Tunas Sawa Erma, the palm oil company of Korindo Group, acquired a palm oil business permit in 1997 and by December 2001 had planted palms over 7,800 hectares of land. This set the scene for the next set of large-scale Korean palm oil ventures in Indonesia from 2007.
The major players
Apart from Korindo, six other big South Korean companies have become major players in the palm oil industry, financed by public money. Almost US$200 million worth of public funding has been given to these companies to develop over 65,000 hectares of palm oil plantations in Indonesia. These estimates are based on publicly available and verified data from the Korea Forest Service, Export-Import Bank of Korea and the South Korean parliament. And according to an independent investigation by APIL (Advocates for Public Interest Law), almost all of these companies have ongoing land and rights violation conflicts with local communities.
Local advocacy groups have been running a campaign to stop government loans to the palm oil companies in Indonesia since APIL and KFEM (Korean Federation for Environmental Movements) published a report based on their investigation in 2019.
"It's our tax money going into the industry that is complicit in land grabbing, indigenous people's rights and labour rights violations. We are pushing Korean export credit agencies to have their own human rights standards to follow when providing a public finance loan to overseas projects like the palm oil industry. It is the government offices' constitutional responsibility to avoid any human rights violations," said Chung.
Carbon emissions
Local scientists are also raising their concerns about the government's growing "carbon debt" given its support for the palm oil industry.
"South Korea has been using a by-product of crude palm oil called Palm Fatty Acid Distillate (PFAD) as a main source of bioenergy. Due to its high carbon intensity and environmental cost, PFAD would not be permitted as a main source of biodiesel in countries like the US and UK," said Shin Jung-Yull from Korea Energy Agency's audit division.
According to Shin's 2018 PhD dissertation, PFAD accounted for 47% of Korea's biodiesel feedstock in 2015, and emits 5.7 times more greenhouse gases than alternative oils. The European Union plans to phase out palm oil-based transport fuels by 2030, because of the deforestation and higher emissions they cause.
Mounting pressure
Since 2015, South Korean lawmakers have also been questioning the relevant ministries over the effectiveness and sustainability of public financing in the overseas palm oil industry through parliamentary inspections and research service reports.
Under public pressure, Korea Forest Service excluded Korindo from receiving overseas public financing and seized additional loan support for oil palm afforestation projects in 2019. This was after the agency introduced new evaluation criteria requiring companies to provide evidence, such as satellite images, to prove that they are not responsible for "conversion of forest". However, companies receiving loans before 2019 are not bound by the stricter criteria.
Membership of the Roundtable of Sustainable Palm Oil (RSPO) – the global certification organisation set up to promote ethical palm oil – is not included in public financing criteria, and neither is a commitment to No Deforestation, No Peat, No Exploitation (NDPE) policies.
Despite this, there has been huge public pressure on companies to take action. Posco International voluntarily joined RSPO membership and introduced a zero-deforestation policy for its palm oil plantation in Indonesia's Papua province in March this year.
When asked to respond to the international outcry over their activities in Indonesia, Joyce Eun Jeong Seo of Posco International's Sustainable Management Department told China Dialogue: "In carrying out the palm oil business in Indonesia, Posco International and its subsidiary PT Bio Inti Agrindo recognised and complied with indigenous customary laws as a top priority and strives to fulfil the level of social responsibility required by international norms as a responsible global company."
Posco International was the first South Korean business to introduce a NDPE (no deforestation, no peat, no exploitation) policy earlier this year. But between 2012 and 2017, its subsidiary in Papua cleared 26,500 hectares of mostly primary forest to establish a plantation. (Image: Google Earth, Landsat / Copernicus)
But Korean citizens have only just started to demand more transparency about the palm oil supply chain and the problems around this ubiquitous commodity.
"We all know that our country has to rely heavily on overseas resources for our food and energy. But the government cannot blind its citizens by using 'national interest and security' logic to justify human rights violation, deforestation and carbon emissions," said Kang Myung-hwa, a 34-year-old citizen from Seoul.
From our partner chinadialogue
New Leadership Takes Charge in Vietnam: Challenges and Prospects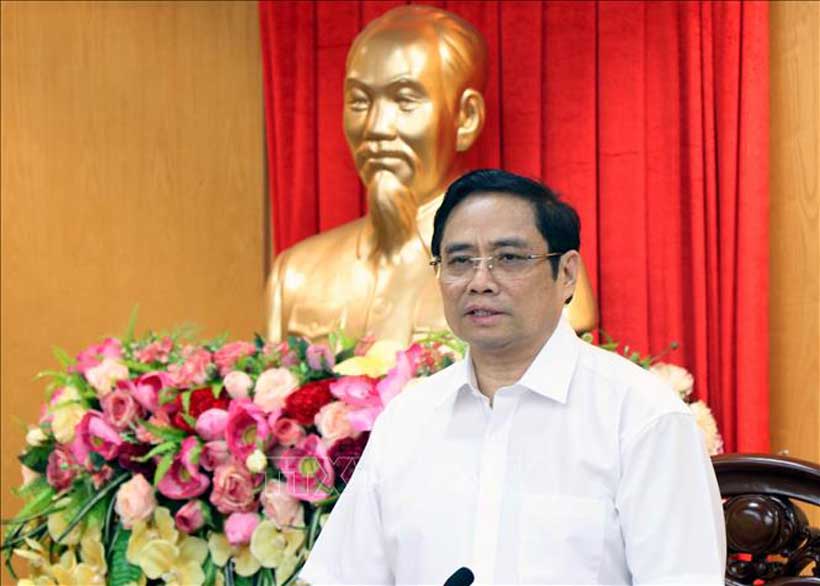 On 05 April Vietnam's National Assembly officially elected Mr. Pham Minh Chinh, member of the Politburo as the Prime Minister of Vietnam replacing the erstwhile Prime Minister Mr. Nguyen Xuan Phuc. The National Assembly resolution was passed with the support of an overwhelming majority of the legislators (462 out of 466) voting for Mr. Chinh.
In the ruling quartet of four key leadership appointments Mr. Nguyen Phu Trong was elected to a third term as General Secretary of the Vietnam Communist Party on 01 April, while previous Prime Minister Xuan Phuc was appointed as the new President and Hanoi's Communist Party chief Vuong Dinh Hue was elected as the Chair of the Vietnam National Assembly i.e. Vietnam's Parliament. The key leadership of Vietnam comprising of the aforementioned four leaders comes with a wide variety and range of experience. Mr. Trong has now considerable experience in Communist Party of Vietnam's party work as well as in Presidential duties whereas Mr. Xuan Phuc, the new President has rich experience in governance after serving as Prime Minister for five years. Further, both Mr. Trong and Mr. Xuan Phuc would serve as a bridge between the old and new administrations thus ensuring a degree of continuity between the old and new using as also their wisdom and experience while imbibing the enthusiasm and innovative outlook of the new PM Chinh and Vuong Dinh Hue, new Chair of the National Assembly. Notwithstanding these leadership changes Vietnam is expected to continue to follow its economic policies of opening up in addition to adhering to its multi directional foreign and security policies. The installation of a new government is unlikely to result in any disruptions in Vietnam's existing relationships with global or regional actors or for that matter with international or regional groupings/organizations.
Prime Minister Pham Minh Chinh who was earlier the chair of the party's Central Organisation Committee and who has also served in the Ministry of Public Security is well known for his administrative acumen and organizational work. As the Secretary of the Quang Ninh Provincial Party Committee he was instrumental in improving the overall management and administrative structures in the province in addition to enhancing its competitive index to number three among all the provinces. However, lately Quang Ninh has reached the top in the competitive index which has improvement in socio-economic development as the most important element of measure. This achievement has been widely attributed to Mr. Pham Chinh's contribution during his tenure in Quang Ninh province. Further, he takes interest in environmental issues and has been credited with turning Quang Ninh's 'Brown Economy' into 'Green Economy'. Thus he is not only a technocrat but also an effective leader.
PM Chinh's tasks and priorities have already been laid down in the Resolution of the XIII Congress of the Party, which focuses on six key tasks and three strategic breakthroughs which include national digital transformation, development a digital-based economy, greater stress science and technology development and creating more conducive environment for business development as well as for manufacturing concerns. Ensuring national defense, security, sovereignty, territorial integrity and social order and safety would be the top most tasks in his mind as he faces an uncertain and unstable situation in the South China Sea.
Vietnam during the tenure of the previous government headed by Prime Minister Nguyen Xuan Phuc made great progress in strengthening the economy as well as in enhancing Vietnam's position and stature in the international arena. This was despite the negative impact of Covid-19 not only on the Vietnamese economy but also on regional and other economies worldwide. In recent years Vietnam economy became one of the fastest growing economies in the South East Asian region with a growth of 7.08 percent in 2018; Foreign Direct Investment in 2018 was 30 billion US Dollars which was an increase of 44 percent compared to the previous year. In 2020 the year of Covid-19 pandemic, Vietnam with its efficient and effective anti-Covid-19 measures was able to mitigate the negative effects on the economy while it continued to integrate its economy with the world. According to the General Statistics Office (GSO) Vietnam's economy expanded 2.91% in 2020 with a trade surplus of over 19 billion USD whereas many regional economies have contracted showing negative growths in their GDPs.
Most challenging task for the new Prime Minister would be to lay down a firm foundation in the next five years based on which Vietnam can develop into a modern state with a fully developed economy in league with countries like South Korea, Japan and the western countries. Vietnam could aspire to reach such a stage in next two to three decades aided by suitable economic and social developmental policies guided by the vision of the political leadership. The current year i.e. 2021 marks the commencement of the Five Year Economic and Social Development Plan (2021-2025) and the Ten Year (2021-2030) Economic and Social Development Strategy. It would be the new political leadership's task to successfully implement the plan and strategy with foresight and innovation.
Further, at the international level Vietnam became the Chairman of United Nations Security Council in April 2021 and this was second time that Vietnam became the rotating Chairman in its two year tenure of 2020-2021. This has enabled Vietnam to contribute its bit to promote peace, stability and security at the global level as well as in regional affairs and further integrate with the world. Vietnam in its dealings with the international community is in favour of pursuing multilateralism and diversified foreign policies. Vietnam has been also well recognised for its contribution to the ASEAN as its Chair for the year 2020 when Coronavirus pandemic the ASEAN community in a number of ways. Additionally, as part of its integration with the international community it entered into several Free Trade Agreements (FTA) such as the EU (EUFTA), the Comprehensive and Progressive Agreement for Trans-Pacific Partnership (CPTPP) and the Regional Comprehensive Economic Partnership (RCEP).
In so far as the bilateral relationship with India is concerned the new Vietnamese leadership is expected to continue with its traditional and strong relationship in multifarious fields with India. The previous Prime Minister Mr. Xuan Phuc and now the President has had a number of summits with India's Prime Minister Modi. The bilateral relationship is underpinned by the Comprehensive Strategic Partnership Agreement signed in 2016 encompassing a number of areas ranging from political engagement, economic cooperation, and expansion of trade, defence and security cooperation, energy cooperation as also people to people exchanges besides many other areas. Now the new President Xuan Phuc in concert with Prime Minister Chinh would be able to impart further impetus to the growing bilateral cooperation. There is a need to further expand the bilateral defence and security cooperation between both sides keeping in view the changing regional and global security environment.
At the international level both India and Vietnam being the non-permanent members of the UN Security Council can further cooperate and contribute to peace, security and prosperity while dealing with regional and global issues. Further, Vietnam and India have been cooperating in regional organizations like the ASEAN to realise the goals and objectives of such organizations. India and Vietnam also share similar perceptions on what is happening in the South China Sea where militarization of islands and reefs has taken place and India will continue to support, in concert with other powers, freedom of navigation and over flights in South China Sea and adherence to international norms.
Overall, the new Vietnam leadership being a blend of the old and new is expected to consolidate the progress made in political, economic, social development and security fields as it strives to realise the aims and objectives of five and ten year plans and strategies. Considering the past record and achievements of the new leadership it can be easily said that Vietnam is well poised to meet the challenges of the new era.
Application of PLTU Batubara in the Perspective of Kalimantan people
Indonesia is one of the largest coal producers and exporters in the world. Since 2005, there have been many small pockets of coal reserved on the islands of Sumatra, Java, Kalimantan, Sulawesi and Papua. This makes Indonesia increasingly utilize all natural resources that have existed in the ancestral lands to make coal energy sources as a Steam Power Plant (PLTU) in addition of abundance basic materials, this coal-based PLTU is considered to have better efficiency in terms of price. Cheaper and faster in process compared to other energy sources.
Behind the efficiency of coal, which is used as the main fuel, there is a process that is considered ineffective for local residents and the surrounding environment, because in PLTU, coal is burned to take heat and steam, so it can release combustion residue in the air. From this combustion residue, it will spread to aquatic plants or enter the human lungs. Coal is burned to take heat and its steam releases combustion residue in the air. The remainder of this combustion will spread to aquatic plants or enter human lungs.
In the theory, all of this has been filtered so that the smoke that comes out is not dangerous, but the reality can be different from the facts in the field.
Inside the PLTU smoke, there are pollutants which contain dangerous compounds such as mercury and other compounds such as arsenic, lead, PM 10, sox and PM 2.5. These particles stay in the air for a long time and can fly hundreds of kilometers. If humans are exposed to mercury or pm 2.5 continually, there will be asthma, respiratory infections, lung cancer and even damage to the brain, kidneys and heart. It is clear that the air environment and settlements are not good for local residents due to the danger of compound content that will threaten the health of the surrounding community, especially since the PLTU distance from residents' settlements is not a safe distance. This is evidenced by the case that occurred in November 2018, Sangah Sangah village Kutai Kartanegara, East Kalimantan, experienced 5 houses destroyed, 11 others were damaged and the main road collapsed due to mining activities that were too close to public facilities and settlements.
Kalimantan, Borneo, some of farmers in the suburbs of Samarinda Timur have lived for 20 years as neighbors that are very close to the coal mines in this village. Meanwhile, according to the regulations of the minister of environment and regional regulations Kutai Kartanegara the minimum distance between mining activities and settlements is 500 M but in fact, all of the regulations are not applied. While the existence of a coal-fired PLTU has made clean water is only a history. The residents stated that they only relied on rainwater and water from the emblem that brought along the silt Previously, before there was a coal mine, the rice fields were not damaged, the environment was beautiful and safe, but the situation drastically changed since the coal power plant, residents' crops such as rice fields and so on were exposed to mud so that they produced plants that were not of the same quality as before.
This is very unfortunate because in 1991 this village was designated as a village of rice barns with a production of 2600 tons of unhulled rice in every harvest time. Disappointment and despair began to appear on the faces of the villagers who felt the problems that were increasingly choking local residents, not only polemic about the environment and plants. The existence of a coal company and a PLTU have also claimed the lives of several villagers due to the reclamation of coal mines.
The local community certainly did not remain silent, so they filed a protest by one of the residents of Nyoman Derman from Kertabuana Village, Kutai Kertanegara Regency. Nyoman intercepted heavy equipment but was instead arrested and given a 3-month prison sentence on the grounds of disrupting company operations. When the community takes an active role to defend and protect all assets owned by the government, the government does not protect. On the contrary, this is not in accordance with the constitution of our country which upholds human rights which are emphasized in the 1945 Constitution in article 27 to article 34 of the 1945 Constitution which regulates Human Rights.
The problems do not end with environmental problems but also at the same time claiming the lives of many local residents. The excavation of ex-coal mining holes resulted in many human lives being lost, among others in 2011-2018 in East Kalimantan as a result of the mining excavation hole itself. At least, it has been claimed the lives of as many as 39 people. Between 2014-2018 nationally, there were 115 people who died as a result of mining holes
This can't be underestimated into an ordinary problem caused by the longer, it continues to claim casualties due to 3,500 former mine pits that have not been properly filled so that it continues.
The Impacts of the Covid-19 on Vietnam's Workforce
By March 2021, Vietnam has experienced 3 phases of the Covid-19 pandemic (phase 1: from March to April 2020; phase 2: from July to September 2020; phase 3: from January to March 2021), with 2,575 infected cases, 302 cases undergoing treatment, 2,234 recovered cases and 35 deaths. Similar to many other countries in the world, Vietnam has suffered serious impacts of the Covid-19 pandemic in all fields: economy, politics, culture, social life, yet the most direct influences were on Vietnamese workforce.
Major impacts that the Covid-19 epidemic has exerted on the Vietnamese workforce can be summarized as follows:
First, the impacts on the employees' job
This was one of the basic and direct dominant impacts over others. According to the Report of the General Statistics Office of Vietnam (GSO), due to the sudden fall in the labor force in the2nd quarter, the general number of employees (aged 15 and above) in the economy in 2020 sharply decreasedin comparison to that in 2019. The number of working employees aged 15 and abovewas53.4 million people (a decrease of 1.3 million people compared to that in 2019 – arespective decrease of 2.36%). A comparison of the decrease in the number of labor force between 2019 and 2020 is shown in Figure (1). This demonstrated an obvious drop in the number of jobsfor Vietnamese workforce under the impacts of Covid-19 pandemic.
Figure 1: Labor force growth/decrease rate
Unit: %
(Source: GSO)
The Covid-19 pandemic did not only deprive many workers of opportunities for formal employment, but also left them inunemployed. To be specific: generally in 2020, the number of under-employed workers was roughly 1.2 million, an increase of 456.7 thousand people compared to that in 2019. The underemployment rate in the working age group is 2.51%. (Figure 2).
Figure 2: Number of people and underemployment rate by quarter, 2019-2020
(Source: GSO)
With animproving multilateral diplomacy and expanding international relations, Vietnam now has diplomatic relations with 189 countries and territories around the world,maintains close relations with more than 30 countries and three major countries (China, Russia, India) are comprehensive strategic partners. Economic-trade relations play a key role in the international relations of Vietnam and the country is currently considered an attractive destination for investment and international cooperation in Southeast Asia. As a result, the Covid pandemic has influenced Vietnam's economic relations with their international partners in both ways. Approximately one third of businesses suffered shortage of input materials; the larger the enterpriseswere, the more serious the shortage was; domestic and foreign consumption markets were narrowed, export orders declined and goods circulation faced various difficulties … Due to theweak financial potentials and liquidity in the business sector, the fact thatthe COVID-19 pandemic spread with complicated progressesresulted in production delays, difficulties in production capital, with 52.8% of businesses experiencing a decline in annual business profits4 in 2020. Therefore, businesses were forced to use redundancy, unpaid job leave, shortened working hours … as temporary solutions to maintain their operation and stability.
However, thanks to proactive and creative countermeasures at all levels and decisive policies to prevent economic slowdown, Vietnam's economy has developedits ownresilience, gradually resumed its operation under new normal conditions, becoming one of three countries in Asia with positive growth in 2020.Accordingly, the number of unemployed and underemployed workers in the fourth quarter of 2020 witnessed a sharp decrease compared to that in the previous quarters and gradually stabilized.
Secondly, the Covid-19 pandemic affected employees' income
Loss of job opportunities, shortened working hours, layoffs, unemployment had direct impacts on employees' income. According to the Report of the General Statistics Office, compared to that in 2019, the average monthly income of Vietnamese employees in 2020 decreased in all three economic sectors. Specifically: In 2020, the average income of employees was 5.5 million VND, a 2.3% decrease compared to that of 2019 (equivalent to 128 thousand VND less). Income of employees in service sector witnessed the highest decrease of215 thousand VND; followed by those in agriculture, forestry and fisheries, with 156 thousand VND. Employees in industry and construction suffered the lowest decrease, with 100 thousand VND /person/ month. This impact was clearly illustrated in Figure 3 below:
Figure 3: Average income of workers by economic sector, 2019-2020
Unit: million dong
(Source: GSO)
Third, the Covid-19 pandemic directly affected the employees' mental factors
When employment and income are affected, workers' mental health will be direcly influenced too. To be specific, employees may experience frequent anxiety, pessimism, insecurity and mood swings. Results from a scientific survey showed that: only 8% of office employees and managers suffer from stress and pressure during a pandemic, but up to 86.9% of workers have feelings of anxiety, pessimism, insecurity and mood swings. This impact was most evitable among workers with children (including married or single parents), female workers, and especially female migrant workers with children.
In addition, the Covid-19 crisis created aninconsistent impact on relations among employees' family. In particular, forsome part of employees, family relationships were greatly improved when members stayed at home and spent more time together; on the other hand, a large part had the opposite experience(more disputes, domestic verbal or behavior abuse), especially forimmigrated workers and female immigrated workers with children. This was an evitable consequence when they worried about their health and future. TheCovid-19 pandemic also increased the risk of gender-based violence. Statistics of the Central Vietnam Women's Union showed that, during Covid-19social distancing, the number of calls from violence-suffering women to the Association's hotline increased by 50%; the number of victims receiving rescue assistance and acceptance to the House of Peace also increased by 80% over the same period last year.
Some solutions from the Government and businesses to contribute to overcoming the impact of the Covid 19 pandemic on Vietnamese workforce
Solutions from the Government of Vietnam
Confronting serious impacts of COVID-19 pandemic on the economyoverthree consecutive phases, the Government of Vietnam actively put their focus on administrating and providing methods as well as decisive actions with the mottos: "Fight the pandemic like fighting against enemies", "Go to each alley, knock on each door andcheck on each person"; and "dual goals" (preventing and combating the pandemics while promoting socio-economic development), "lightning-speed tracking, zoning", "four On-sitesguidelines"(on-site commands, on-site forces, on-site vehicles and equipments, on-site logistics), withcore focus on the active role of local governments. These directions were supported by all administrative levels, branches, localities and citizens. The Government as well as their organizations called for and mobilized all social resources for the pandemic prevention; citizens and business groups actively joined hands to fight the epidemic despite numerous difficulties. (For example, when the medical lacked espiratory machines, Vingroup immediately produced their own to provide for the country).
Also since then, the Government has quickly introduced monetary, fiscal, and social security policies in order to support businesses and people during the most difficult period of COVID-19 shock. Specifically: a financial package of 180 billion VND to support business; zero-interests loans to pay wages to workers; Social protection package of 61.580 billion VND (for employees who were distanced, delayed or lost their jobs due to post-pandemic impacts); 11.000 million VND of electricity bill discount; bank loans interest rates reduction; 285.000 billion credit package for commercial banks…..These practical guidelines and measures have assisted businesses to overcome difficulties, improved perseverence, gradually normalized or adjusted their production and business plans, enhancing digital transformation and trade promotion… These activitieshave created positive impacts on stabilization of job, incomes, daily necessity and mental health of the workforce.
Second, solutions from businesses and unions
In response to the Covid-19 pandemic, the enterprise community quickly came up with new directions and solutionsin order tocontinue their operation duringhard time. Approximately two thirds of enterprises have applied at least one of the abovementioned solutions, trying to adapt their production activities to new normal conditions.
Demonstrating the motto"love and support", many businesses used different combined measures, such as deferred goods payment (used by 33.3% of businesses), shared orders (used 7.9 % of businesses), barter goods (used by 3.8% businesses), customers loans (used by 2.8% of businesses) …
Besides, in order to join hands with businesses in supporting employees, government organizations, especially trade unions, constantly stand out to help workers overcome their difficulties (for example: The Trade Union of Ho Chi Minh City Industrial -Processing Zone has organized various activities such as visiting, sending gifts, supporting funding and persuading landlords to reduce house rental, especially for female pregnant workers or those nursing a child under 12 months old …)
In general, the Covid-19 pandemic has created great impacts on all aspects of life in Vietnam, especially the workforce – the most vulnerable group facing numerous difficulties so far. However, the Government and people of Vietnam are determined and strictly follow these policies: "Joining hands to protect the workers' interests and rights, encouraging workers to overcome difficulties together";targeting at "dual goals" to secure stable jobs and income for employees, supporting post-Covid-19 business recovery. On the spirit of "Employees First", the government and enterprises are unanimously determined to overcome theevitable challenges of the Covid-19 pandemic, to make Vietnam a spotlight in the region and the world in preventing Covid-19 in generaland protecting the legitimate rights of employees in particular.