Proposition of Modernity
International climate diplomacy may appear to the observer as a newly forged and unknown process compared to other well-established diplomatic affairs. Still as with other diplomatic pursuits of the sovereign state, at its core it must address the need to reach global goals through logical, fair and international legal argument. Given the tremendous scope and complexity of the enterprise this would only be possible through incremental negotiation and compromise among key actors and stakeholders. Incremental progress can only be achieved within a set of global goals, which are designed to codify the relations among states with respect of management and remediation of a new and growing peril – the continuously increasing variability and presence of extreme patterns in global climate. Although the manifestations of this global peril are predictable their exact occurrences and their magnitudes in our physical reality are chaotic in nature. This very attribute of the extreme climatic peril makes the propagation of impacts in our economic, financial and social networks highly uncertain and viable to assume the nature of systemic shocks. The modernity of climate diplomacy is expressed in two proposed aspects of its character. Firstly, it is presented as a philosophically virtuous policy, fully motivated by the general public good. Secondly it is presented as the balance of two opposing forces – one of inaction and objection to engagement, and a second of constructive drive to outcomes clearly defined in the best societal interest in its most international scope. These two forces and the outcomes of their interaction are subject to contagion by the fundamental threat of extreme climate variability. Their interaction creates uncertainty and volatility of outcomes. Such attributes are well suited to be reviewed in the mathematical theory of chaotic process.
A Newly Forged Framework
A traditional, well-studied and fundamental diplomatic framework such as the Westphalian system is based on three central propositions. Firstly, international diplomacy has a currency of its own – and this is the power of states. Secondly, the diplomatic system has a measurable equilibrium among actors, which is achieved with the help of this currency, and this is the balance of power. The system is highly procedural and not substantive. Instead of engaging in a clash of ethical and cultural principles, competing actors concern themselves purely in both competing and collaborating in transactions of power, without interference of ideologies. They will outperform and challenge each other at times and thus create instability and systemic change. Then through settlement and negotiation the system will return to its equilibrium – the balance of power among sovereign actors.
The propositions of the Westphalian system most closely describe the current diplomatic framework of international security and its arrangements. It is immediately evident that the Westphalian system of balance of power, and hence of international security, would differ with an effective framework of climate diplomacy in significant and principled manner. While within the framework of international security, sovereign state power is indeed the currency of balance and stability, the same would not be true within the premises of climate diplomacy. State power and influence will still allow actors to pursue and accomplish their goals in this field, however it cannot guarantee by itself equilibrium in the task of managing the emerging risk of climate change. This equilibrium is not found in transactions among states, it is not achieved in gains and losses across the diplomatic table, but it is to be pursued in managing a global, physical threat, which originates not from the actions of a single state, but from the cumulative activity of all human civilization, where certainly not all participants contribute equally. Fundamentally, unlike in traditional balance of power diplomacy, by projecting state power in international affairs, an actor cannot gain advantage over others. The nature of the threat is such that it depends entirely on geography, locality and physical processes, whose impacts are extremely hard to forecast. The losses of one state, emanating from the damage of extreme climate, are not the gains of another. The balance, if at all and if ever achieved is not between states or alliances, but between the whole community of states and a growing global threat. This balance will be evidently expressed in a stable physical and global environment, which allows for the secure and prosperous development of all states and societies. The framework of balance of power diplomacy, even within a multilateral setting, is clearly not appropriately conditioned, or more accurately, it is not adequately equipped to shape and bring about a manageable and survivable balance of the climate threat.
The Philosophy of Public Good
Multilateral diplomacy preserves the same principles as Westphalian system, while the technical setting of the exchange is a forum, transparent to multiple actors, rather than the more traditional one-to-one diplomatic endeavors of sovereign states. The substance of the process – the currency of the exchange among actors yet remains the power of states. To create a more effective thought paradigmnew intellectual forces will need to be mobilized to motivate a sense of immediacy and inevitability of desirably positive diplomatic action. Once this process is awake, however, such forces or streams of thought do not necessarily always need to be in supportive manner of constructive proposition. They may very well be in opposition to effective action and productive outcomes. In many other areas of social and political life, the original state of public thought and hence of international diplomacy has been that of conservative inaction. Then in reality and by principles of origin there must be two intellectual and philosophical forces or traditions behind the execution of international climate diplomacy, representing two actual political forces and types of action, those of disruption and balance.
We can trace the philosophical roots of these two forces to ancient Greek philosophical thought. One tradition is of inaction and disengagement; and a second of positive, public good-motivated action. The philosophical tradition of Epicureanism justifies an absolute materialist view of personal and social life, without a higher and universal set of shared values, without the tenets of common humanism. The pursuit of pleasure, of satisfaction of all material appetites and needs of the individual becomes a primary objective, a primary reason of existence. Epicureanism is not only an individualistic philosophy, it has a political and social stance. It sees society as built out of necessity, with individuals striving for success and their existence commandeered by proto Darwinian forces. Furthermore, a political life for the citizenis not needed or desirable. Privacy, private friendships, and private relationships and contracts rather than social contracts are the desirable mode of social engagement.
In the opposing direction, the Stoic tradition of Greek philosophy can be traced as the force of equilibrium, as the stream of thought which justifies positive, engaged and decisive action. Stoicism sees order, reason and balance in the world and the cosmos, and these states are definable in precise mathematical terms. It sees order and reason in a chaotic universe. Thus, in Stoic thought exists the concept of natural justice. In a system of balance and order, there must be a force of justice, and this force must be working on the premises of universal humanistic principles. The supposition is that values of common and cosmopolitan humanity do exist, and they are universal and shared.
A civic and international regime of positive action, of duty and commitment with meaning and purpose of serving the community virtuously is fundamentally existent in Stoic philosophy. A utilitarian streak could add some strength to this stream of thought by defining active climate diplomacy making to be in the best interest of the public good, and hence being perceived as a virtuous act. Such public perceptions should give public service of this kind additional degree of veracity. The utilitarian aspect comes in the perception of a virtuous policy as always seen to be a just policy. On an international stage among many actors and under the observant eye of many and various societies of experts just and honest diplomacy acts are always the best policy. Hence it is always rational and prudent to be honest and just in dealings of international affairs and diplomacy.
This argument itself exhibits an underlying streak of the Machiavellian tradition, which is not necessarily a disadvantage in this case. This tradition has been interpreted more often to promote a degree of calculated cynicism. A closer examination however, may lead to redefine this attitude as practical and working realism, which is effectively conditioned to produce results for the common good of society. The Machiavellian reinforcement of the argument of the benefits of a just and fair climate diplomacy is justified on the premise that these actions are in fact taking place on a stage, and thus political actors are always on display, always being studied and judged by local and foreign societies and groups. If he were a contemporary of ours, Machiavelli would very likely maintain that on such a stage of the grandest and broadest making, the legitimacy of climate diplomacy can only be derived from its established essence of being a political action designed in the best interest of the whole of the people. Thus, the process must be perceived as a true instrument for social justice with a highest order of purpose to produce the common good.
These two opposing forces – one of inaction and disengagement, and a second searching for equilibrium in the promise of the public good, which shape the process of climate diplomacy making require a more technical and systemic analysis. Such analysis is needed to better evaluate the shaping of balance between these forces, to define the constructive and deconstructive tendencies of their interaction. If such exploration contributes to clarity of understanding, to more granular visualization of detail and process, then it would be well worth the investment. The various modern theories of the mathematical sciences are well suited to provide tools and insights to set some foundation for such type of analytical review.
Forces of Mathematical Chaos
Independent and parallel risk factors of economic, security and social nature coexist in physical reality. At times of smooth and undisturbed operations of the international financial, security and political networks the interdependence between such risk factors does not seem evident. At such times this interdependence is generally not observed by actors of international diplomacy, simply because it is not a source of systemic tension. Such interdependence however is revealed at times of extreme and catastrophic events of natural and man-made origin. At such times of systemic stress networks' interconnectedness serves as a source for risk contagion and becomes a point of political and public debate and oftentimes contention.
Global crisis such as the current pandemic serve to increase the comprehension of interconnectivity among global actors and nodes. The speed and magnitude of propagation of political and economic risk across seemingly otherwise independent networks is affected by inherent properties, which facilitate branching and cascading of climate risk into other socio-economic and security forms of risk. Hence to properly design effective diplomatic practice to address such global and agile threat a mechanism and function of solid theoretical nature needs to be developed and formalized. Systemic properties of interconnectedness are key to facilitating the propagation of climate risk across security and socio-economic networks – a process defined as chaotic contagion. Then the task for international diplomacy practitioners and researchers is to understand the properties of interconnectedness of economic, financial, insurance, social networks, such that diplomatic practices, tools and continuous processes are developed and validated.
From first principles of the mathematical theory of chaotic processes one expects that there is order within every seemingly chaotic system. This sense of order is maintained by comprehensive and measurable patterns and rules of behavior of processes and explainable trends in outcomes. The very physical nature of the underlying global peril, and the corresponding diplomatic tasks and actions for states, which arise from this peril, dictate and define the nature of climate diplomacy. Thus, there are rarely repetitive and regular activities in this sphere of international relations. An international diplomatic system of this nature, a system which can be described as driven by chaotic processes, which govern the interaction among its actors, would be characterized as a complex and dynamic system, with inherent capacities to adapt. Such a framework of diplomacy would be naturally conditioned to perpetuate turbulent and significant changes, much more so, and much more often than a traditional security diplomatic framework. At the same time such a system is capable to bring order in an irregular environment, all be it, a sense of chaotic order.
Chaotic systems in theoretical sciences are the subject to two contradicting and counter-positioned forces. One force and its characteristic expressions work towards increasing unpredictability, complexity and constant disruption. The main attribute of these forces of unpredictability is non-linearity of direction. This is coupled with excessive contagion and propagation of risk and peril, enabled by interconnectedness of nodes, which further brings about systemic uncertainty in general. A second trend and set of systemic attributes balances the chaotic framework by exercising continuous transformation towards self-organization, self-control and innovation towards equilibrium. This vigilance of state of actors and of nodes, combined with diversity of state of the entire system has a positive balancing effect on the most extreme trends of excess shock and of uncertainty of the chaotic framework.
Volatile Outcomes
Compared to traditional security challenges, climate change is a more complex threat – it involves more actors and more nuanced trade-offs. Still the existing general diplomatic order prevents undesirable collapse of climate diplomacy networks at times of excessive stress and tension. At its core international diplomacy is as much about statecraft and leadership as it is about institutions and protocols. The chaotic and uncertain nature of policy moves and of the policy positions of sovereign states provide a clear opportunity for execution of precisely such statecraft by actors with the needed invested interest, resources and capabilities. A sense of urgency and a sense of pending crisis, which always accompany climate change discussions, would further support actors seeking constructive outcomes. Once more the need for timeliness – itself the pressing requirements of action in the immediate present, provides another chance to display leadership in diplomatic action.
At time of severe crisis, as the current experience of the pandemic shows, the first reaction of states was to protect their own borders and to ensure equipment for their own citizens. This is a rational reaction of self-defense and self-preservation. However, it is against the norms, treaties and agreements of multi-lateral collaboration, and particularly so within communities and organizations such as the European Union, where such inter-state relations are the ethos and mode of operation. Furthermore, if the institutional and statist instinct of self-preservation is combined with an identifiable and already existing lack of confidence and suspicion ofmulti-lateral frameworks of collaboration and of treaty making, the effect would be only further disruption and unpredictability.
The same conclusions and experiences are transferable and applicable to the climate risk crisis, which is unfolding at a much slower pace and thus its physical impacts are measurable over longer periods of time. On the other hand, because of the network and contagion properties between climate risk and socio-economic networks, a propagation of climate risk to these networks is expected to have a much more dramatic and sudden impact. A most evident case in point is the impact of rising temperatures and draught intensities in the Maghreb and Sahel regions of Africa on armed conflict and thus on population migrations. Here a gradual and slow unfolding risk factor through propagation and projection into socio-economic realities causes a measurable event of new and completely different nature.
Such a socio-economic shock is expected to have dual impact on both the philosophical and onthe mathematical theory of chaos planes. In one of its expressions, the shock will have disruptive and divisive effect on diplomatic networks, triggering state actions of self-insurance and of defending of one's own interests and assets, which overshadows and takes precedence over existing practices and networks of multi-lateral collaboration. In the theory of chaos this will be the arrival of a disruptive, unpredictable and turbulent event, which has the potential to change the regime of operation of clearly otherwise independent socio-economic networks. The duality of expected expression may come in the second phase of self-organizing and remediating action towards achieving equilibrium and balancing out the effects of the initial shock.
This action of self-balance, with a degree of innovation, toward systemic equilibrium may become effective only if it is driven by actors of international diplomacy and presented asa contribution to the common good. On a global scale it is very hard to define the concept of the common good even in areas of international relations, where states have much longer experiences of engagement, of defining norms and treaties, such as security, crisis management and peace keeping. Such a task is further complicated by the general and evident abandonment of the moral vocabulary of the interest of the people and of the common good.International diplomacy such as climate diplomacy would manifests itself in most confident and unequivocal manner when it is executed in the name of the public good.
The predominant methodology of traditional international diplomacy is that of the balance of power,of zero-sum games. The vision and practice of climate diplomacy must be that of non-zero-sum game, of the alternative – of a positive sum game. At the same time this vision needs to be directed by informed and innovative pragmatism, which evaluates and directs streams of unilateral and collaborative behavior by states on the merits of their outcomes. Such diplomatic action needs to emphasize that false belief leads to failure of reasoning and this in turn may lead to counter-productive unilateral action.Such enlightened pragmatism will need to establish the link between diplomatic action and scientific and statistical facts. Reality outside and underneath many common perceptions needs to be uncovered. Policy and diplomacy engagement would become more than a mere accumulation of facts and actions. At the same time, it is logical to see opposition to climate diplomacy. In a time of crisis, people retract to basic values and known quantities and entrench to defend them.
The objective of all diplomatic activity, and that of climate change included, is to achieve its end goals. This is much more important than the preservation of its virtuous nature, at all time, in all engagements, and among all actors. It is acceptable that most of the time, on the big scenes of international relations, it is perceived to be virtuous. This is only possible if there is a single or few sovereign authorities behind these endeavors, which will gain from success, and will gain from the public perception of being seen to act in the common good, being directed by virtuous principles of common humanitarian nature. At times the classical thesis of political morality may prove to be naïve. Then the use of social, economic and environmental justice must be seen to be effective, instrumental and inevitable to balance the unveiling of this naiveté. In the rhetorical tradition we see that it is possible to excuse vices by presenting them as neighboring virtues. Naivete is one of these a borderline attributes of international climate diplomacy, liable to be interpreted either way, depending on the skill of the actors and the circumstances of the engagement. Despite the perception of naivete, on the technical level, the diplomatic actors will need to feel skillfully the temper of the big stakeholders – the major sovereign powers of the day, almost at once as the diplomatic engagement of the day takes shape. Then the task of the proponent, of the power behind the constructive engagement is to drive this sentiment, refining the movement of the argument, refining the pace of collaborative and multilateral events. For the diplomatic engagement to be effective, it needs to constantly evolve and improve.The message of climate diplomacy needs to cover from the deepest and technically most sophisticated argument to the most accessible level of common and simple moral grounds. Thus, the engagement of climate diplomacy will seamlessly fit into the needed pattern for any relevant audience. A truly strategic diplomatic engagement would be able to score well and make big gains from small premises.
Soft Power Dynamics in Middle Eastern Conflict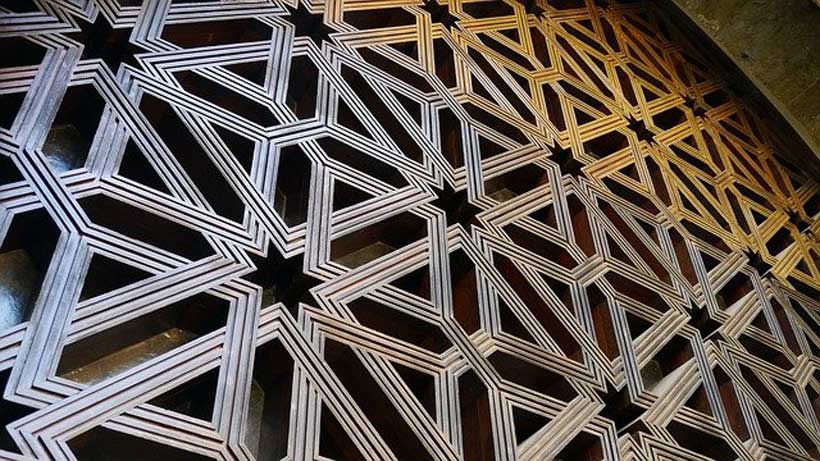 The Middle East is synonymous with eternal conflict as being at the cross-point between Africa, Europe, and Asia.
The paper intends to understand how the power could be derived from the cultural roots in a world filled with pre-existing biases based on religious values, nationality, and interpretation of history.
Palestine receives strong international support through social media by sharing its pain and grievances increasing its soft power that hampers Israel's international relations. A new question emerges can the soft power paradigm be used to resolve the problem?
The roots of the Middle Eastern problem are driven by historical-religious literature which shows the Middle East to be the historic homeland of Jews and they wanted to get back to their original homeland due to two-millennium long suppression that finally ended up as the holocaust.
Israel continues to emphasize and promote stories related to Second World War which help them gain the legitimacy to exist as a state. It is also remarked that the holocaust may have been a decisive condition for the creation of a Jewish state but this action would have occurred sooner or later.
One of the biggest strengths for Israel and its legitimacy comes from the Biblical literature which has some historical stories in it and mentions Israel and Judah in the Middle East providing American Christian Support which seems to be dropping as a result Israel needs to work on its soft power.
A similar strength can be found in Quran for Israeli as Surah Al-Ma'idah in Chapter 5 verse 12 states about the Children of Israel and verse 21 explains that they are "destined to enter and not to turn back else they will become the loser." These verses motivate Israeli for their cause which raises an interesting phenomenon that some pro-Israeli media would use Quranic verses to gain legitimacy.
History needs to be studied to understand how and where the differences between Jews and Muslims started. Originally there was a peaceful relation between Jews and Muslims but Jews refuse to acknowledge Muhammad a non-Jew as one of the prophets of God which caused the relationship between Jews and Muslims to deplete.
Finally, Banu Qurayza a Jewish community allied with Qurashites against Prophet Muhammad that caused Medina to suffer a war-built hatred towards Judaism.
However, even after looking at the differences Muslims, Christians, and Jews are Abrahamic religions maintaining their base Judaic-monotheistic tradition as both Roman Catholics and Arab previously had polytheistic culture and Israel has indirectly benefitted from this historical fact.
Israel could benefit from various religions by showing show respect to the leaders of Abrahamic religions and even maintain an apologetic attitude on behalf of some of the members of the Jewish community which may have conducted villainous actions as per some stories based on other religious doctrines.
The tower of one's ego can prohibit supporting the national interest which could only be achieved by becoming softer to gain soft power.
It is argued that the ancient Philistine is related to present-day Palestine. Palestine as a result gets associated with David and Goliath or Samson's struggle with Philistine. However, the term Palestine is more complicated which had developed in the period.
There are also claims that the Syria Palaestina was constructed as a punishment for Bar Kochba Revolt in 135CE while the name Palaestina given to the region seems to be older than Bar Kochba Revolt and even older than the Roman Emperor Hadrian.
The image of the Israel and Palestine conflict is connected towards mythical combat between David and Goliath. David was an inexperienced youth who later became king of Israel and defeated a giant from ancient Philistine called Goliath.
Some actors who are sympathetic to the Palestinian cause have also connected Palestine with David who was weak at the beginning of the story while they perceive Israel as an unjust giant and the toughest fighter in the region.
The Middle Eastern conflict goes beyond religion and history as it has multiple dimensions due to multiple crimes against humanity causing people to be refugees that inflict social, political, and economic damages.
A medium to obtain soft power is by resolving the humanitarian crisis and Israel being perceived as a perpetrator tampered with its national image.
Israel as an economically advanced country with large spending power can establish economic institutions to raise funds in providing education, training, and employment to victims of that conflict regardless of their religion, ethnicity, gender, or political views who have been scattered around the world which would help Israel gain legitimacy.
The economic recovery of the war victims can minimize some damage enforced upon the national image but there is a strong opinion that the Palestinian community lacks legal rights as being in Israeli jurisdiction. So, political rights might have to be secured to the Palestinians while they have to live in Israel for Israel to create a positive national image.
The Israeli government also create an option for the Palestinian community to have the right to return, granting them protection in Knesset (Israeli Parliament), while promoting Arab Israeli politicians, and can even reflect how they have shaped the Israeli government in the international arena to build Israel's soft power.
Finally, the last piece of the puzzle is the social affairs which are closely tied to the soft power paradigm.
There is a clear fear that the Jews are eclipsing the social identity of the Palestinian people but in reality, they are closely linked as Arabic language and Hebrew are Semitic languages, their scripts have common Aramaic ancestry, and Halaal and Kosher dietary cultures are also similar.
There should be an effort to study the similarities to build unity and to study unique qualities as to appreciate one another's differences. Israel could also create Cultural Relations Centers around the world that promote both Jewish and Palestinian language, culture, and cuisine to create respect and solidarity.
There can also be the production of television programs, movies, digital applications which could allow people to understand the Middle Eastern community.
Tel Aviv is the center for the development of many technological advancements and carries great potential to build creative applications and visual storytelling that could help spread awareness about the Middle East.
On the other hand, the Palestinian Authority could request the Israeli government to provide scholarships in various Israeli Universities which could enhance their credential for making effort to create a peaceful world as well as proposing exchange programs by inviting Israeli students to visit regular Palestinian colleges and working spaces decreasing bitterness.
The Palestinian Authority could also pursue Israeli investment in core-Palestinian settlements that could create employment as well as mutual dependence allowing Palestine to grow with a greater bargaining power while maintaining a symbiotic relationship.
Culture, history, and institutions can be combined to create harmony. A key aspect to gain soft power and legitimacy is by becoming softer by showing respect to the opponents while appreciating and accepting others' viewpoints.
Therefore, the study of religion, history has to be conducted from a neutral perspective that can be trusted by all international actors and could serve as a uniting factor while maintaining an apologetic attitude towards historic mistakes. There needs to be an effort to provide economic and political compensation for the victims which have caused notoriety in the international arena and finally the culture of the two competing communities needs to be celebrated through cultural institutions to build trust and harmony.
Biden-Putting meeting: Live from Geneva
19:00 The places of the flags on the Mont Blanc bridge on which President Biden and President Putin will pass to reach the meeting venue on Wednesday usually hold the flags of the different Swiss cantons. Not today. The American and Russian flags have been placed to welcome the two leaders.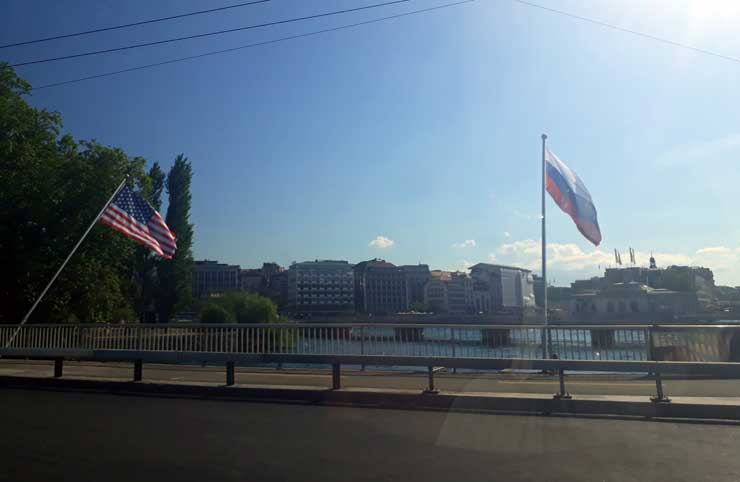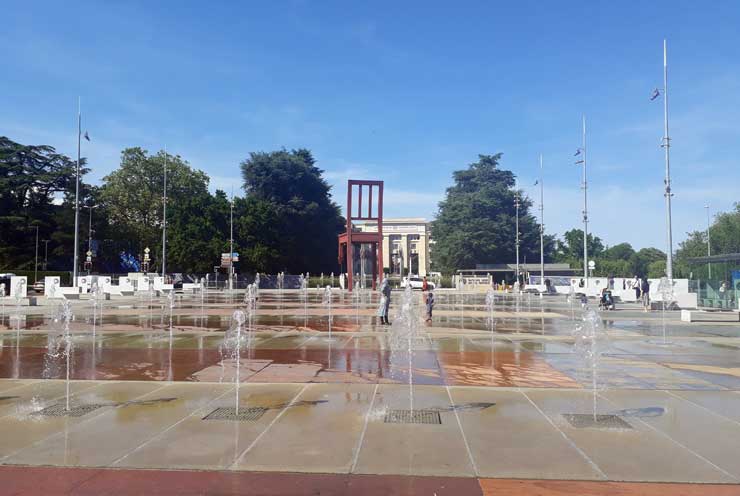 18:00 A day before the Geneva summit: Hotel Intercontinental where the American delegation and probably President Biden himself is staying, how the city looks like a day before the meeting, what are the security measures like, why isn't the UN involved and are the usual protests expected?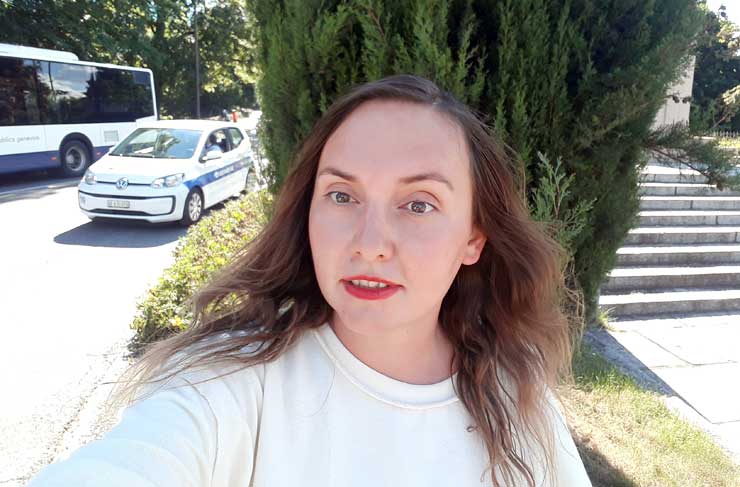 Iveta Cherneva with live video political commentary from Geneva one day ahead of the Biden-Putin Summit
Will the promotion of cricket in GCC add to its Soft Power?
In recent years, Gulf Cooperation Council (GCC) countries, have been trying to bolster their 'Soft Power' in a number of ways; by promoting tourism, tweaking their immigration policies to attract more professionals and foreign students and focusing on promoting art and culture. The United Arab Emirates (UAE) has taken the lead in this direction (in May 2017, UAE government set up a UAE Soft Power Council which came up with a comprehensive strategy for the promotion of the country's Soft Power). Under Crown Prince Mohammad Bin Salman (MBS), Saudi Arabia has also been seeking to change its international image, and it's Vision 2030 seeks to look beyond focusing on economic growth. In the Global Soft Power Index 2021, Saudi Arabia was ranked at number 24 and number 2 in the Gulf region after the UAE (the country which in the past had a reputation for being socially conservative, has hosted women's sports events and also hosted the G20 virtually last year)
Will the promotion of cricket in GCC add to its Soft Power?
One other important step in the direction of promoting Soft Power in the GCC, is the attempt to popularize cricket in the Gulf. While the Sharjah cricket ground (UAE) hosted many ODI (One Day International )tournaments, and was witness to a number of thrillers between India and Pakistan, match fixing allegations led to a ban on India playing cricket at non-regular venues for a duration of 3 years (for a period of 7 years from 2003, Sharjah did not get to host any ODI). The Pakistan cricket team has been playing its international home series at Sharjah, Abu Dhabu and Dubai for over a decade (since 2009) and the sixth season of the Pakistan Super League is also being played in UAE. Sharjah has also hosted 9 test matches (the first of which was played in 2002).
Sharjah hosted part of the Indian Premier League (IPL) tournament in 2014, and last year too the tournament was shifted to UAE due to covid19 (apart from Sharjah, matches were played at Dubai and Abu Dhabi). This year again, the UAE and possibly Oman are likely to host the remaining matches of the IPL which had to be cancelled due to the second wave of Covid19. The ICC Men's T20 World Cup to be held later this year (October-November 2021), which was actually to be hosted by India, could also be hosted not just in the UAE, but Oman as well (there are two grounds, one of them has floodlights). International Cricket Council (ICC) is looking for an additional venue to UAE, because a lot of cricket is being played there, and this may impact the pitches. The ICC while commenting on the possibility of the T20 World cup being hosted in the Middle East said:
, "The ICC Board has requested management [to] focus its planning efforts for the ICC Men's T20 World Cup 2021 on the event being staged in the UAE with the possibility of including another venue in the Middle East'
GCC countries are keen not just to host cricketing tournaments, but also to increase interest in the game. While Oman has a team managed by an Indian businessman, Saudi Arabia has set up the SACF (Saudi Arabian Cricket Federation) in 2020 and it has started the National Cricket Championship which will have more than 7,000 players and 36 teams at the school level. Peshawar Zalmi, a Pakistani franchise T20 cricket team, representing the city of Peshawar the capital of Khyber Pakhtunkhwa, which plays in the Pakistan's domestic T20 cricket league – the Peshawar cricket league — extended an invitation to the SACF, to play a friendly match against it. It's owner Javed Afridi had extended the invitation to the Saudi Arabian team in April 2021. Only recently, Chairman of SACF Prince Saud bin Mishal met with India's Ambassador to Saudi Arabia, Dr Ausaf Saeed, to discuss ways for promoting the game in Saudi Arabia. He also visited the ICC headquarters at Dubai and apart from meeting officials of ICC also took a tour of Sharjah cricket ground.
GCC countries have a number of advantages over other potential neutral venues. First, the required infrastructure is already in place in some countries, and there is no paucity of financial resources which is very important. Second, there is a growing interest in the game in the region, and one of the important factors for this is the sizeable South Asian expat population. Third, a number of former cricketers from South Asia are not only coaching cricket teams, but also being roped in to create more enthusiasm with regard to the game. Fourth, UAE along with other GCC countries, could also emerge as an important venue for the resumption of India-Pakistan cricketing ties.
Conclusion
In conclusion, if GCC countries other than UAE — like Saudi Arabia and Oman — can emerge as important cricketing venues, their 'Soft Power' appeal is likely to further get strengthened especially vis-à-vis South Asia. South Asian expats, who have contributed immensely to the economic growth of the region, and former South Asian cricketers will have an important role to play in popularizing the game in the Gulf. Cricket which is already an important component of the GCC — South Asia relationship, could help in further strengthening people to people linkages.