ASEAN and North Korea: A Way Forward
Due to the stalemate on the Korean peninsula, it is time to find alternate policies to deal with North Korea. Past inter-Korean history has indicated that a long term multilateral approach is the way to go compared to a short term based crisis diplomacy. The process of bringing North Korea to the negotiating table requires the support of diverse actors especially when regular channels of communication have been blocked. To this end, ASEAN (Association of Southeast Asian Nations) as an organization and its member states have the capacity to take a larger role in inter-Korean affairs in providing a structured process for regional confidence building and security cooperation. Past history of ASEAN indicates the organization has the capacity to facilitate engagement of North Korea through its many institutionalised frameworks, especially between South Korea and the United States.
ASEAN, formed in 1967 has embraced dynamic East Asian countries as dialogue partners. Its member states are deeply aware that security incidents triggered by North Korea will significantly affect Southeast Asia's own development. Basically, any whiff of instability in East Asia will spell trouble for ASEAN's economic growth which is interlinked greatly with the Japanese, South Korean and Chinese economies. A stable East Asia is crucial as ASEAN is also the main driver of initiatives such as the East Asian Community, East Asian Summit, ASEAN Plus Three and so on and not forgetting the newly minted Regional Comprehensive Economic Partnership (RCEP).
Despite's ASEAN's regional importance, it is intriguing that the role of ASEAN in inter-Korean peace and security issues has not been explored to its fullest. Though the East Asian region is commonly associated with dynamic economic growth, nonetheless, North Korea is the only country in East Asia that has a reputation for reclusiveness. Despite a number of inter-Korean summits and US-North Korea meetings in Singapore and Hanoi between 2018 and 2019, North Korea has disengaged itself from all forms of diplomacy beginning 2019. Against this backdrop,i n the absence of sustained official dialogue between the U.S. South and North Korea as well as the collapse of the Six Party Talks, ASEAN is capable of engaging North Korea, with the condition, its presence is supported by major players.
For decades, ASEAN has faithfully supported Seoul's position towards North Korean denuclearisation. This is due to North Korea's intermediate range ballistic missiles, which are capable of reaching Southeast Asia. In addition, historically, ASEAN believes in the Nuclear-Weapon-Free Zone Treaty (SEANWFZ) which disallows its members to acquire or produce nuclear weapons. For these reasons, ASEAN has continued its support for North Korean denuclearisation.
In promoting New Southern Policy to all 10 ASEAN Member States (AMS), President Moon Jae In of South Korea repeatedly urged regional governments to get involved in the Korean Peninsula peace process as well as integrate North Korea into regional affairs. To date, however, besides asking for support, there has not been a concrete South Korean proposal to institutionalize ASEAN as a serious player in inter-Korean affairs. Therefore ASEAN remains secondary to the involvement of bigger powers on the Korean peninsula.
There are multiple channels where ASEAN and its member states can engage North Korea in a more meaningful manner and at the same time integrate Pyongyang into the ASEAN community processes which includes the security, economic and social communities. The 'ASEAN Way,' a non-confrontational approach to diplomacy which relies on building trust through regular consultations allows for the organization to be a facilitator or a mediator between the two Koreas and become an additional platform for the United States and other major powers in engaging Pyongyang.
Though North Korea has embraced multilateralism in the past, Pyongyang has been more successful in interacting bilaterally with ASEAN member states. Due to historical and ideological linkages, ASEAN member states have relatively civilised relations with North Korea. Pyongyang has established diplomatic relations with every ASEAN country, and has embassies in every country in the region except for the Philippines and Brunei. In addition, Thailand, as host of the ASEAN meetings in 2000, took the initiative to invite the North to join the ASEAN Regional Forum (ARF). It has to be noted that Cambodia assisted Thailand greatly when inviting the North Koreans.
Pyongyang's interactions with ASEAN is varied. Southeast Asian private and non-governmental firms have also been allowed to operate in North Korea. For example, while Singaporean household and luxury goods are common, Thailand's Loxley Pacific built the internet infrastructure in North Korea. In addition, a Singapore based NGO, Choson Exchange, has continued to train young North Koreans in business and entrepreneurship.
Nonetheless, the murder of Kim Jong Un's half-brother Kim Jong Nam in a Malaysian airport in February 2017 and the discovery of numerous illegal activities in the region did strain relations. Despite this and increased missile and nuclear tests in 2017, ASEAN member states refused to break off diplomatic ties or expel North Korea from the ARF.
Given the fact that Kim Jong-un readily accepted Singapore and Vietnam as summit locations for US- North Korea talks, it is reasonable to argue that not only does he view ASEAN positively but the economic developments of these states is appealing to him. Presumably, Kim Jong Un was assessing if these two Southeast Asian states could be exemplars for achieving economic modernisation of North Korea.
Currently, North Korea's engagement with ASEAN is limited to the ARF and Council for Security Cooperation in the Asia Pacific(CSCAP) at the Track One and Track Two levels. These platforms have been useful for North Korea to interact with other states. Following the breakdown of the Six-Party process in late 2008, the ARF has served as one of the few remaining channels of institutionalized contact on security issues for North Korea. Since the COVID-19 era has severely affected the North Korean economy, the timing is right for ASEAN to amalgamate Pyongyang into the regional economic expansion. Therefore, North Korea should be invited to be part of other ASEAN-led mechanisms, such as the East Asia Summit (EAS), the Regional Comprehensive Economic Partnership (RCEP) and the ASEAN Ministerial Meetings with Dialogue Partners. These platforms will provide a range of opportunities for North Korea to extend deeper regional security and economic engagement.
Despite the fact that North Korea had acceded to the Treaty of Amity and Cooperation in Southeast Asia (TAC), a prerequisite to become a dialogue partner, ASEAN previously rejected North Korea's request to become a dialogue partner. It can be assumed the rejection was directly related to frequent North Korean missile tests.
In comparison to other regional organisations, ASEAN is better qualified than most to keep North Korea continually engaged as well as in providing a favourable setting for addressing the state's legitimate concerns. To the North Koreans, ASEAN is seen as being impartial when dealing with Pyongyang. Against this backdrop, there is a diplomatic opportunity for ASEAN to play the role of a mediator in bring together Pyongyang, Seoul and the US.
Since North Korea's relations with both Seoul and Washington is at an all-time low, ASEAN should reconsider inviting North Korea as a dialogue partner or at least an observer. This will allow ASEAN to gain support from the international community to bring North Korea into the East Asian community vision. Such a move would certainly provide North Korea a strong rationale to participate and become a stakeholder in regional affairs. To avoid being alienated further, participation in ASEAN would give North Korea a chance to highlight its position, perceived threats and other areas of concern. In the long run, it could very well eliminate North Korean perceptions of insecurity and lack of trust towards the global community and might even give it the security guarantee it wants. A platform for active engagement, mediated by a neutral party, offers a slim chance that North Korea might return to the negotiating table as well be prepared to commit to a more staggered approach towards denuclearisation. For ASEAN to have an informed, sustainable and practical North Korea policy, it would require political will and South Korea's institutionalised participation, which probably can be conducted within the context of the New Southern Policy. As North Korea's participation grows in ASEAN, more likely than not, the state will be able to take advantage of newer opportunities that may lead it to concentrate more on economic development rather than building its nuclear capabilities further.
The Anandamahidol Foundation and the Legacy of Rama the Ninth of Thailand
Founded in 1955 by the late King Bhumibol Adulyadej, Rama the Ninth of Thailand, the AnandaMahidol Foundation has supported and sponsored exceptional young students of Thailand to pursue graduate studies abroad in eight fields of studies. These fields include Medicine, Science, Engineering, Social Sciences, Arts and Humanities, Agriculture, Dentistry and Veterinary – all quintessential to the sustainable development of Thailand. For nearly seven decades, the graduates of this Foundation have served various roles and positions in Thai society and altogether advanced the production of knowledge for Thailand.
Dr. Rattana Lao, a trained Educator and a recipient of the Foundation from Social Sciences, interviewed Dr. Jain Charnnarong, an experienced Mechanical Engineering and the president of the Ananda Mahidol Alumni Club, about the Foundation, the late King's Philosophy and what it means to Thailand's future.
Inspiration of the AnandaMahidol Foundation
The origin of the Foundation began as the late King wanted to honor the memory of His elder brother and His Majesty was advised to do something about education. Due to the dire need of the nation, the first scholarships were given to two medical students: Professor Charas Suwanwela and Professor Prawase Wasi. Since, nearly 400 students from eight fields have been awarded the scholarship. Each scholarship recipient excels in their own fields and dedicates their lives to the betterment of the society. Today, it is important for us as a Foundation to reflect on our role in the society and think critically about how we can work together in unity. We need to think what the country needs and focus on it.
Example of developmental issue in Thailand
Environmental issue is the main problem. Two years ago, I was asked by Professor Charan Mahatummaratana, the then Chairman of the Ananda Mahidol Alumni Club, about the PM2.5 issue in Thailand. There are two main reasons for the dust problem: burning of fossil fuel and openburning wildfire. As long as Bangkok still depends on personal transportation via cars, there is not much we can do about fossil fuel. We have to wait for the transformation of the society toward more public transportation and the use of alternative sources of energy.
Wildfire is another problem. It is caused by ignorance andcarelessness of the people. Sometimes, farmers wanted to burn post-harvest materials in their lands for a rai or two, but it spread into the forest escalating to 100,000 rai of wildfire. Some wildfires last continually for months and the villagers suffer from air pollution.
Ananda Mahidol Foundation's involvement in addressing development issue
It began at Bann Kor, in Li, Lumphun – in the north of Thailand, where our Foundation's work as a sandbox. A few of us went to the village toresearch in order to understand the plight of Kor. There were engineers, scientists and botanists. The botanists helped enlightened the team about the intricate relationship between different species in the forest, especially between plants and mycorrhiza. The main question is how we can live in harmony with the forest, how can human mitigate the intrusion to the forest and limit environmental degradation.
Bann Kor Sandbox and the late King's Philosophy
The root cause of forest invasion is poverty. Villagers need to eat. They need to survive. During the summertime, most villagers are unemployed and they depended on the forest for their living. They might want to burn a rai or two but the fire escalated to 100,000 rai due to carelessness. This is the cause of the wildfire.
Going into Bann Kor reminded all of us about the late King's Philosophy on sustainable development. There needs to be betterwater management, soil and access to the market.
Our study on Bann Kor shows that there is sufficient water in the forest: both on the surface and underground but there lacks water management system. The state needs to invest for the villagers to have sustainable water infrastructure. His Majesty the late King of Thailand talked a lot about sustainable water management. Throughout His Majesty's life, he did many projects related to water – more than 1,000 projects altogether. Water is the first step of life, for plants and for human. Without water, there is no food security nor life.
Soil is also important. It is about agriculture. Then comes access to the market. If any village can maintain the balance between water, soil and access to market, while preserving the nature,there is hope for sustainable development.
Youth is important
Knowledge production and learning matter significantly to the development equation. We must educate the new cadre of youth in the village to know how to live with the forest in harmony. In the beginning of the project, we asked the youth what kind of plants grow in their forest, they couldn't answer it. It is a fallacy that people who live with the forest do not understand the forest.
They could not see the relationship between different living things in the forest. They lack basic knowledge and understanding about the forest. We have to change that. We have to reeducate them. We have to show them the intersectionality betweenwildfire, environmental degradation and poverty. It's essential to integrate these knowledge into the school system so students are made aware of the impact of their action. If we can do that, we can hope to begin a journey to address the issue of climate change.
It all begins with young people.
Indonesian G20 presidency promises to put a 'battle for the soul of Islam' on the front burner
Indonesian religious affairs minister Yaqut Cholil Qoumas set the bar high for President Joko Widodo as well as Nahdlatul Ulama, the religious backbone of Mr. Widodo's government when he laid out the agenda for his country's presidency of the Group of 20. The G20 groups the world's largest economies.
Speaking to the G20 Interfaith Forum in Bologna as Italy prepared to handover its presidency to Indonesia, Mr. Qoumas also threw down a gauntlet for Indonesia's Middle Eastern competitors in a battle to define the degree to which Islam incorporates principles of tolerance, pluralism, gender equality, secularism and human rights as defined in the Universal Declaration of Human Rights.
The battle, which is likely to likewise determine which Muslim-majority country or countries will be recognized as leaders of the Islamic world, takes on added significance with the Taliban takeover of Afghanistan and concerns about Taliban policy towards militants on Afghan soil.
Meanwhile, uncertainty about US reliability as a security guarantor in the Gulf is prompting regional foes to contain their differences to ensure that they don't spin out of control, increasing their emphasis on the projection of soft power.
Turkey's 2022 budget appears to signal the shift and the importance President Recep Tayyip Erdogan attributes to this particular challenge.
The budget of the powerful Directorate of Religious Affairs or Diyanet is expected to increase by 20 per cent for fiscal 2022, giving it greater financial flexibility than the ministries of interior, foreign affairs, trade, industry and technology, environment and urbanization, energy and natural resources and culture and tourism.
These ministries are key for enabling Turkey to resolve its economic problems, compensate for the fallout of the pandemic and enhance its appeal as a potential leader of the Muslim world.
The Diyanet, in another sign of Mr. Erdogan's emphasis on religious rather than national identity, recently urged Turks to use the religiously framed greeting Peace Be Upon (Selamün aleyküm) You rather than phrases like Good Morning (Gunaydin), prevalent in Turkey since its founding as a republic almost a century ago.
Diyanet president Ali Erbas argued in a recently published Turkish-language book, Human Religion and Religion in the Information Age, that the greeting 'Good Morning' traced its origins to the pre-Islamic era.
These latest moves suggest that Mr. Erdogan is taking his country, also a member of the G20, down a path diametrically opposed to what Mr. Qoumas was arguing in Bologna.
The minister contended in contrast to Mr. Erdogan's policies that religion "has the potential to help block the political weaponization of identity; curtail the spread of communal hatred; promote solidarity and respect among the diverse people, cultures and nations of the world; and foster the emergence of a truly just and harmonious world order, founded upon respect for the equal rights and dignity of every human being. Yet to realize this potential, we must wisely manage the inevitable struggle between competing values, as globalization brings highly diverse peoples, cultures, and traditions into ever closer contact."
Mr. Qoumas made his remarks as an Islamist journalist called on Mr. Erdogan to avoid the weaponization of religion.
Writing in Karar, a Turkish publication believed to be close to Mr. Erdogan's erstwhile prime and foreign minister, Ahmet Davutoglu, who left the ruling Justice and Development Party (AKP) to found a party of his own, journalist Ahmet Tasgetiren, warned that the president appeared to be politicizing the Diyanet.
Drawing a comparison to Mr. Erdogan' politicization of Turkey's judiciary, Mr. Tasgetiren noted that it "weakens people's confidence in it." Pleading with Mr. Erdogan, Mr. Tasgetiren cautioned that "the politicization of the religion and the Diyanet ruins people's relationship with religion… I think you would never want this for the religion. For the religion's sake, please."
Mr. Qoumas, the scion of an influential Nahdlatul Ulama family and the former head of the group's powerful youth wing, GP Ansor, went on to say in his speech that "one major task that lies before us is to identify, and conscientiously observe, those universal values that a majority of the world's inhabitants already acknowledge, such as the virtues of honesty, truth-seeking, compassion and justice. Another parallel task is to develop a global consensus regarding shared values that the world's diverse cultures will need to embrace if we are to co-exist peacefully."
Implicitly, the minister noted that in contrast to its competitors – Saudi Arabia, the United Arab Emirates, Turkey, and Iran – in the battle to reshape mainstream Islam, Nahdlatul Ulama, one of, if not the world's largest Muslim civil society organization, has put its money where its mouth is.
Mr. Qoumas noted that a gathering in 2019 of more than 20,000 Muslim religious scholars associated with Nahdlatul Ulama ruled that the legal category of infidel was "neither relevant to nor applicable within, the context of a modern nation-state." In doing so, Nahdlatul Ulama became the world's first major contemporary Sunni Muslim religious entity to seek to update and modernize Islamic jurisprudence.
Mr. Qoumas stopped short of laying out an agenda for dealing with other concepts in Islamic law that Nahdlatul Ulama clerics have identified as either problematic or obsolete such as blasphemy. Nahdlatul Ulama has argued that concepts like the dhimmi or people of the book who are recognized in classical Islamic jurisprudence but not granted equal status before the law, and apostasy, had been invalidated by the ruling on infidels.
To be sure, countries like Saudi Arabia and the UAE, where Islamic law is at the least recognized constitutionally as a main source of legislation if it does not constitute the main fountain of legislation, have significantly liberalized social rights.
Saudi Arabia has significantly enhanced women's rights in recent years by lifting a ban on women's driving, liberalizing gender segregation, reducing men's control over women's lives, and expanding professional opportunities.
Similarly, the UAE announced last November a major overhaul of the country's Islamic personal laws, allowing unmarried couples to cohabitate, loosening alcohol restrictions and criminalizing "honour killings," a widely criticized religiously packaged tribal custom that allows a male relative to kill a woman accused of dishonouring a family.
Liberalization of social mores in Saudi Arabia and the UAE were anchored in civilian law, rules, and regulations but neither country, in contrast to the process initiated by Nahdlatul Ulama, adopted Islamic jurisprudence accordingly.
That way, the two Gulf states, in contrast to Indonesia, seek to keep tight state control of their interpretation of Islam with no input by civil society.
The dichotomy raises fundamental questions, including whether what Nahdlatul Ulama calls the "recontextualization" of Islam can be achieved by autocratic or authoritarian regimes that are seeking to ensure their survival and project themselves internationally in a positive light or whether religious reform needs to be popularly anchored and driven by civil society.
Despite being in government, Mr. Qoumas implicitly provided his answer to the question by quoting a poem by Kyai Haji Mustofa Bisri, a prominent Nahdlatul Ulama spiritual leader. The poem, titled 'Religion' focuses on the behaviour of the individual rather than the role of the state.
"Religion is a golden carriage prepared by God to convey you along the path to His Divine Presence.
Don't become mesmerized by its beauty, much less enchanted to the point that you come to blows with your own brothers and sisters over who occupies the front seat.
Depart!" the poem reads.
Visit of Chinese Foreign Minister to Southeast Asia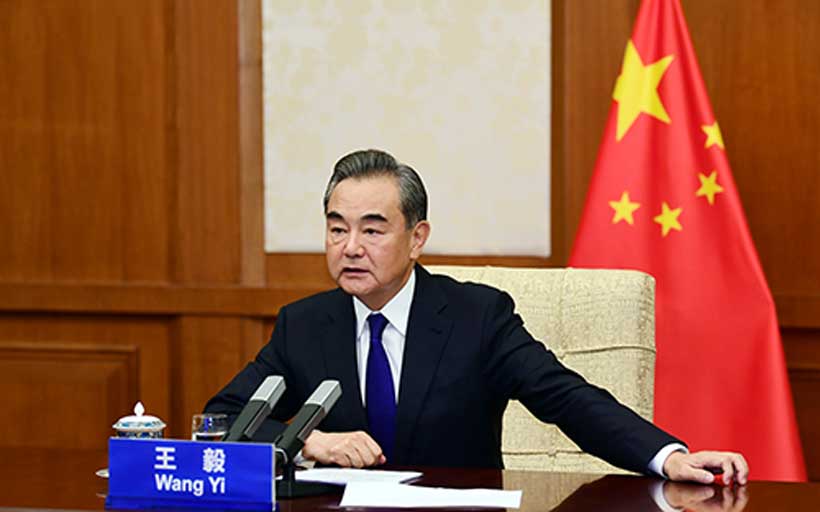 Following the visit of Kamala Harris, the vice president of the USA to Vietnam and Singapore, the Chinese foreign minister Wang Yi visited the two countries as well as Cambodia to engage the regional players. Vietnam has become the cynosure of major powers such as the US, Japan, and China. The visit of Japanese Defence minister and the US defence secretary happening within a period of three months. US defence secretary visited Vietnam in July 2021 while the Japanese defence minister visited Vietnam in September 2021.
Given the hyper activism which was shown by the two members of the Quad, the Chinese foreign minister sensing these strategic dynamics choose to visit Vietnam to comfort the ideological partner that China would be acting constructively. The Chinese foreign minister during the visit to the country clearly stated that Vietnam should stop entertaining extra regional powers in South China Sea and resist from complicating the situation while magnifying the maritime territorial disputes. This clearly shows that China was rattled by the very fact that US has been undertaking extra efforts in engaging Vietnam through vaccine and health diplomacy as well as creating favourable conditions for Vietnam to enhance trade relations with the US. As part of a reassurance strategy, China has committed to donating 3 million doses of COVID-19 vaccine and is willing to support Vietnam in their fight against COVID-19 pandemic.
In the last two years the Vietnam foreign ministry has been criticising Chinese manoeuvres in South China Sea and threatening legitimate activities of Vietnam in its Exclusive Economic Zone. The illegal activities undertaken by Chinese survey ships and fishermen militia in Vanguard bank, Reed Bank and Whitsun Reef were a manifestation of Chinese hyper activism. This has been criticised by the US state department as well as members of international community.
In the second leg of the visit, the Chinese foreign minister visited Singapore and had fruitful interactions with his counterpart Vivian Balakrishnan. Given the fact that Singapore is slowly emerging as a critical lynchpin in the larger Quad objectives in the region. Therefore, for China, engaging the city state is critical for securing its strategic periphery and engaging Singapore for its trade and economic interests. The proposal of development cooperation proposal by the Chinese foreign minister is to get assurance from the Southeast Asian neighbours regarding good neighbourliness and commitment to the Belt and Road Initiative (BRI) undertaken by the China in the maritime domain.
The Chinese foreign minister had visited almost nine countries in the last one year when Vietnam was the Chair of ASEAN. This was primarily to counter the efforts which have been made by the high-level delegations of the United States government which included the visit by the United States vice president Kamala Harris, US defence secretary, the US deputy Secretary of State and the visit of armed forces officials to the Southeast Asian countries. China's neighbourhood diplomacy clearly shows the anxieties from the point of view of China after US has intensified surveillance and intelligence activities as the latest Malabar defence exercises(25th edition) which concluded recently near Guam. Chinese assertive activities have been operationalised by the Chinese naval ships, Chinese Coast Guard, Chinese hydrographic survey ships, and the Chinese maritime boat militia which has been threatening navies and fishermen of littoral countries in South China Sea. The military exercises undertaken by China closer to the contested waters in South China Sea, particularly in the Paracel islands, which belongs to Vietnam, and strengthening the illegal structures built on those islands is primarily aimed to counter the group sails undertaken by the US and its alliance partners as well as any concerted activity undertaken by the Quad countries.
The visit to Cambodia was expected given the fact that the politics in Cambodia is heating up because of the Hun Sen political ambitions of placing his son at the helm of power and helping Chinese to set up a full-fledged Chinese naval base at Ream naval base. The US projects in that region has been stopped and relocated to other areas which was not liked by the US agencies.
The vaccine diplomacy which has been adopted by the Chinese foreign minister to address the deficit of vaccines in countries such as Cambodia and Vietnam is symbolic.
In this context it is also important to investigate the Japanese overtures in this regard. The Japanese have signed a defence partnership agreement with the Vietnamese which assures the exports of Japanese defence equipment to the socialist country. Under the partnership it is expected that not only arms and equipment, but also technological support and training of the technicians will be undertaken by the Japanese forces. This is the first of its kind defence partnership agreement between Japan and Vietnam showcasing the growing trust between the two countries. There have been certain writings which allude to the fact that a trilateral between India, Vietnam and Japan might be in the offing. Scholars such as Gitanjali Sinha Roy feel that Japan with its technological supremacy, and India with its large armed forces along with Vietnam's strategic location will act as a common platform to address regional security concerns in the Indo -Pacific region. India being a regional player in the Indian Ocean region and Japan being a formidable power in the Pacific would add heft to the larger maritime security objectives.
The involvement of the European powers in the security of indo Pacific region with reference to the UK, France and Germany showcases that many players would be involved in ensuring maritime security in the region for trade and commercial aspects.
This visit of Chinese foreign minister should be seen from the point of view of reassuring Chinese commitment to the regional peace while at the same time giving a veiled warning to the neighbours that China is still a very potent power in South China Sea, and it would not allow any intervention by the extra territorial powers which tries to intervene in the South China Sea dispute. This visit clearly highlights that China has been startled by the active diplomacy undertaken by countries such as Japan and US and why keeping countries such as Singapore and Vietnam in good humour is critical for Chinese interests.
Vietnam's ingenuity in handling diplomatic relations with the US, China and Japan and maximizing national strategic interests is appreciated. Through skilful handling of relations with these three countries, Vietnam has become a partner contributing to the peace and security of the region and affirming its central role in Southeast Asia.