New COVID-19 variants under the microscope as travel bans mount over UK mutation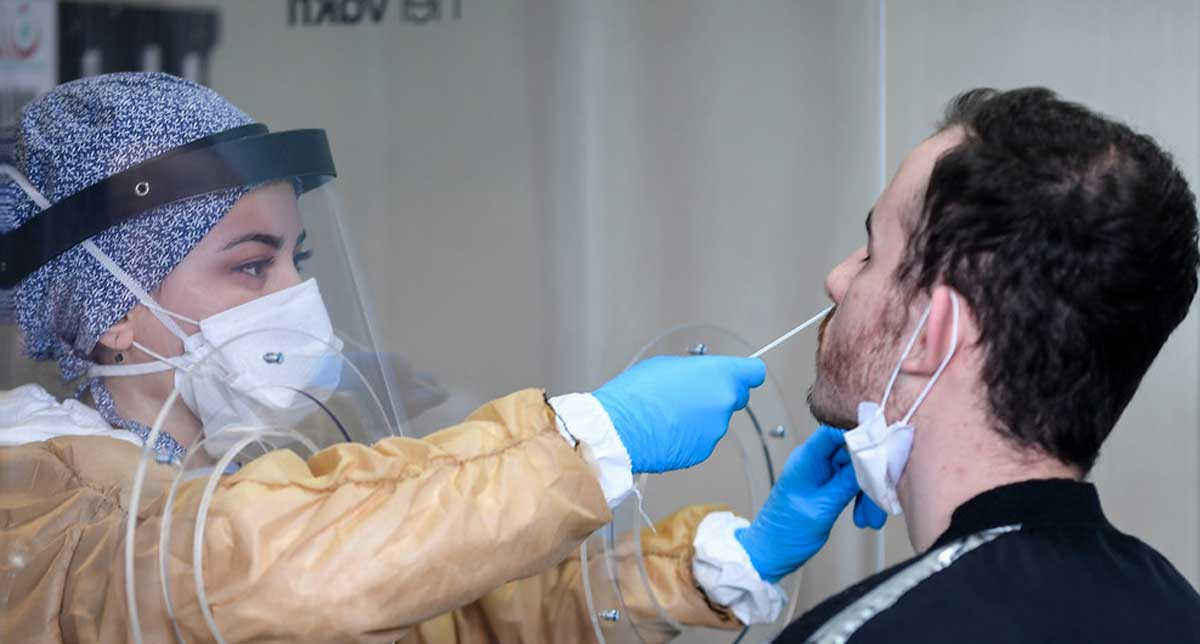 The UN health agency chief said on Monday that scientists have been working to understand new COVID-19 variants that have been reported in South Africa and the United Kingdom.
According to news reports, more than 40 countries have now banned arrivals from the UK, because of mounting concerns over a new, more transmissible mutation of the new coronavirus, although health officials there stress that there is no evidence it is more deadly, or that it would not respond in the same way to the vaccines cleared for emergency use.
"The bottom line is that we need to suppress transmission of all SARS-CoV-2 viruses as quickly as we can", World Health Organization (WHO) Director-General Tedros Adhanom Ghebreyesus told a regular press briefing.
"The more we allow it to spread, the more opportunity it has to change", he added.
In early 2021, $4.6 billion in additional funding will be needed to purchase COVID-19 vaccines for at least 20 per cent of low and lower middle income countries, according to the WHO chief.
"This will ensure health workers and those at highest risk of severe disease are vaccinated, which is the fastest way to stabilize health systems and economies and stimulate a truly global recovery", he said.
Charting new courses
As part of the hundred-hundred initiative – a major sprint by WHO, the UN Children's Fund (UNICEF) and the World Bank to support 100 countries in conducting rapid readiness assessments and develop country-specific plans within 100 days for vaccines and other COVID-19 tools – 89 countries have already completed assessments and teams are working round the clock to ensure that governments and health systems are ready for the global vaccine rollout.
While the pandemic has exploited the world's vulnerabilities and inequalities, it has also shown that "in the face of an unprecedented crisis, we can come together in new ways to confront it", said Tedros.
"Every crisis is an opportunity to question the way we do things, and to find new ways of doing them", he upheld.
'A gateway'
For 30 years, the UN Development Programme (UNDP) has published an annual snapshot of global development. The 2020 Human Development Report, released last week, takes an in-depth look at the COVID-19 pandemic and what it might mean for the future.  
While acknowledging that the coronavirus outbreak has led to an unprecedented development crisis, UNDP chief Achim Steiner told journalists at the regular WHO briefing that that it can, however, be turned into a "gateway" for deploying social norms, incentives and nature-based solutions.
He flagged that the equitable distribution of COVID vaccinations requires governments to work together in unprecedented ways and called it "the ultimate stress test for planetary health" as it will be delivering the "largest public health intervention of a lifetime and driving an inclusive and green recovery".
Mr. Steiner doubled down on the belief that empowering people can bring about the action needed to live in balance with the planet in a fairer world.
He reiterated UNDP's commitment to play its part, along with WHO, the UN family, and GAVI, the vaccine alliance, and others through the ACT Accelerator and the third Sustainable Development Goal's (SDGs) Global Action Plan.
Breast cancer: an aggressive variant triggers a hunt for cures
By Vittoria D'alessio
Breast cancer is the most common type in women and, in Europe alone, causes almost 92 000 deaths a year. Though this number is undoubtedly high, survival rates are improving. Advances in prevention, detection and treatment mean a patient now has a 90% chance of survival.
But one particularly aggressive variant is bucking the trend: triple negative breast cancer (TNBC), so named because it lacks three kinds of cell proteins. Tumours in this category account for around 15% of breast-cancer cases and the outlook is far worse than for other types.
Triple trouble
Tumours grow faster, spread more often before being discovered and are likelier to come back after treatment. And when TNBC does recur in other organs, an early death is likely, with survival rates as low as 11%.
Currently, no specific treatment exists for TNBC. The response usually involves surgical removal of the tumour followed by a cocktail of chemotherapy drugs that are known to work against other types of cancer. Often, however, the results are patchy and temporary.
'After some time, the body often creates defences against this cocktail and it no longer works,' said Dr Andreia Valente, co-coordinator of an EU-funded project to find cures for TNBC. 'When this happens, the tumour usually becomes multi-drug resistant, meaning it doesn't respond to any other type of chemotherapy treatment, and the cancer then becomes very aggressive.'
Dr Valente, who works at the University of Lisbon in Portugal, and her research partner Dr Helena Garcia coordinate CanceRusolution, a one-year Women TechEU initiative running until end-May 2023.
Rare metal
Efforts are focused on ruthenium, a rare, silvery-white metal known to be well-tolerated by the human body. From early experiments, it appears that the ruthenium-based drug the project team has developed both halts the growth of TNBC cells and stops them from spreading.
A second round of trials, this one on animals, is due to start soon. Alongside these, the researchers will be analysing the drug's safety profile to ensure it is toxic to cancer cells but harmless to the rest of the body.
Chemotherapy is notorious for its brutal side-effects – ranging from nausea and lack of appetite to exhaustion and hair loss – because drugs that attack the fast-growing cells of a tumour typically kill healthy cells too.
Early results from CanceRusolution suggest a drug based on ruthenium would cause fewer side-effects in patients because healthy cells seem to be unaffected.
'So far, from a toxicity point of view, the drug's profile looks good,' said Dr Garcia. 'Our studies show that 24 hours after administering the drug, there's a high concentration of the compound in the tumour, but in the surrounding blood and urine it's almost gone. This means the secondary effects of our drug should be low.'
Cell traits
A healthy breast cell is packed with receptors – proteins expressed on the surface of the cell. They allow it to respond to hormones (for instance, by enlarging during pregnancy) and other vital molecules involved in controlling how the cell grows, divides and repairs itself.
Most cancer cells also possess receptors. To make an accurate diagnosis, a clinician will analyse a sample of diseased breast tissue to discover which receptors – known as biomarkers in this context – are being expressed.
Three biomarkers are commonly found in breast tumours and drugs have been developed to target all three. But TNBC is an outlier. It possesses none of these biomarkers and, as a result, provides no obvious pathway to sabotage tumour growth.
Trojan-horse approach
The drug developed by the team in Portugal gets around this problem by delivering the drug as a nanoparticle that enters the tumour through defects in the tumour's blood-supply system. Once inside, it cracks open, Trojan-horse style, to release the active ingredient. This targets a completely different component of TNBC cells – the cytoskeleton: the complex network of interlinking protein filaments that fills the cell's interior and acts as scaffolding.
'The drug then destroys the foundations of the cell,' said Dr Garcia. 'Without a functioning cytoskeleton, the cell has no way of surviving. It splatters.'
With new funding, the researchers believe their drug could be ready for evaluation in humans within two years.
Diverse group
Thinking of TNBC as a single type of breast cancer is an oversimplification. It is in fact a highly diverse group of cancers.
Researchers, however, lack a classification of subtypes. Having one would allow them to zero in on new biomarkers that, it is hoped, would pave the way for new tailored treatments.
Classifying patients according to the precise character of their tumour, and seeking new targets for TNBC treatments, are pillars of another EU-funded project – P70-IMMUNEBREAST.
After studying 350 cancerous tissue samples, the project's researchers have devised a classification system based on how much 'kinase' – an enzyme and another cancer biomarker – is expressed by a tumour.
Earlier research showed that one particular kind of kinase, P70S6K, is found in high levels in TNBC tumours.
'What we're interested in is the link between this kinase and the body's immune response,' said researcher Dr Rebeca Jimeno. 'Tumours develop in our bodies and – when all goes well – our immune system recognises them and destroys them.'
The big question is why this system sometimes fails.
Immunity angle
Dr Jimeno, who is based at the Spanish National Cancer Research Centre, has found that when high levels of P70S6K kinase are expressed, fewer B cells are found in a tumour.
B cells recognise, infiltrate and finally destroy cancer cells. In other words, P70S6K allows cancer to hide from the immune system and grow undisturbed.
One of the next research steps is to find an appropriate inhibitor for this kinase.
'Drugs are being tested, but I suspect it will be some years before one is found that's well-tolerated by the body,' said Dr Jimeno.
She is hopeful that a cure will eventually be found.
'We're trying so hard to find a solution for this unmet need, and I'm confident that one piece of research at a time, we'll get there,' said Dr Jimeno.
Research in this article was funded via the EU's Marie Skłodowska-Curie Actions (MSCA). This material was originally published in Horizon, the EU Research and Innovation Magazine.
Making face creams from coffee beans as cosmetics get greener
By Tom Cassauwers
'Plant ingredients have always been used in cosmetics,' said Heiko Rischer, head of plant biotechnology at VTT, a Finnish research centre. 'But in recent years, there's been a revived interest in plant-based compounds. Consumers are interested in greener and more sustainable ingredients.'
Today, most of the key ingredients used in the €80 billion European cosmetics industry are synthetic or animal-based or taken from wild plants. Producing these ingredients sometimes includes solvents or processes that are unsustainable and are becoming less popular with consumers. Harvesting wild plants also puts natural ecosystems under pressure.
Rischer and other European scientists are investigating how to get more natural and sustainable plant-based ingredients into cosmetic products.
Ecosystem pressure
The EU-funded InnCoCells project that VTT is coordinating is creating alternative ingredient options by growing plants or plant cells for use in cosmetics in a sustainable way.
'We grow plant cells and organs in bioreactors,' Rischer said. 'But other partners grow the entire plants in aeroponics and greenhouses or in the field.'
InnCoCells is researching the commercial production of innovative cosmetic ingredients from plants such as basil or aromatic ginger.
'Our work is currently in a bio-prospecting stage,' said Rischer. 'We evaluate different plant species for compounds. We start from a wide range of potential plants and reduce them over time.'
The team aims to develop up to 10 ingredients to bring to the market within the next three years – although it's still early days for a project that started in May 2021.
'Finding our way in this jungle of plant options is a challenge,' Rischer said.
The focus is on the bio-active compounds in cosmetics, meaning the ingredients that create a desired effect such as anti-ageing of the skin rather than ingredients like stabilisers or fragrances. An essential part of the work in InnCoCells is to have the cosmetics do what they promise in a transparent way.
'Cosmetics need to open up the evidence, so that products actually do what they claim,' said Rischer. 'This would really help the consumer make choices. When we buy food, there's a lot of information on the package helping the consumer. We need to do the same for cosmetics.'
Coffee creams
In a separate, just-ended, initiative to green the cosmetics industry, the EU-funded Prolific project transformed plant residues into ingredients for beauty products. The team extracted polyphenols from coffee silverskins, a type of compound useful in cosmetics because of its anti-ageing effects on the skin. The polyphenol extract was standardised and used in a prototype face cream.
Normally, polyphenols are already derived from plants. But the compound is extracted through a chemical procedure resulting in waste that needs to be disposed of carefully. The project applied an environmentally friendly method, called subcritical water extraction, which only uses water under very high pressure to extract the polyphenols from the coffee silverskins.
All in all, the Prolific research used a range of new processes to derive useful compounds from agricultural waste of different plant sources such as coffee beans, fungi and legumes.
'We use a cascading approach,' said Annalisa Tassoni, the project's scientific coordinator and an associate professor at the University of Bologna in Italy. 'We do a first extraction, after which we look at what remains and try to extract another compound.'
Ultimately the residual fibres were used at different stages of production. Three prototype cosmetics were made by Greek partner company COSMETIC including a face cream, toothpaste and even a container jar that was made from plant fibres.
'We valorise all the parts of the residues,' said Georgios Tsatsos, general director of COSMETIC. 'This goes up to the fibres left after the extraction process.'
Plant-based compounds
Several steps need to be taken before these green compounds can reach the cosmetics market. The techniques used by Prolific in processing coffee are close to being introduced into cosmetics production, but the methods need to be scaled up so that plant-based compounds can compete with synthetic ones.
'There's a lot playing in favour of this process for coffee,' said Tassoni, 'We opened up perspectives, and confirmed that certain techniques really work.'
While it will be difficult to outcompete all of the synthetic techniques in use in the cosmetics industry, Rischer is optimistic about the outlook for more environmentally sound approaches.
'The cosmetics market is very big and diverse,' he said. 'Consumers are demanding more sustainable and green cosmetics, and within our own niche, we can have an impact.'
Research in this article was funded by the EU. This material was originally published in Horizon, the EU Research and Innovation Magazine.
In fight against male cancer, caring for mental health is a growing priority
By Anthony King
At a hotel in the Scottish city of Aberdeen about 20 years ago, urologist James N'Dow and other doctors met a group of men who had suffered prostate cancer to ask for feedback on their care before and after surgery. The clinicians were stunned by the critical, albeit constructive, responses.
'Frankly, they felt abandoned,' said Professor N'Dow, who works at the University of Aberdeen. 'When we discharged them after surgery, we thought their general practitioners were looking after them and their GPs thought we were.'
Minding the mind
Dealing with the emotional and mental toll of prostate cancer has grown in importance along with detecting and curing the disease itself. Prostate cancer is the second-leading cancer among men in Europe and is sometimes mistakenly viewed as a disease only of old age. It caused an estimated 335 500 cases, or 12.5% of cancers, in the EU in 2020.
Prof N'Dow heads an Innovative Medicines Initiative project – PIONEER – on prostate cancer that seeks to improve diagnosis and treatment. A parallel EU-funded initiative called FAITH is developing an electronic application for cancer survivors that could help spot if the "black dog" of depression is stalking them.
'Depression is a big thing in post-cancer survivors,' said Gary McManus, who leads FAITH and works at the Walton Institute for Information and Communication Systems Science in Waterford, Ireland.
Four in 10 men who have been treated for prostate cancer say they are anxious or depressed to some degree, with troubles worsening the more advanced the cancer, according to a 2020 study by Europa Uomo, a European advocacy movement for sufferers of the disease. Prostate cancer can increase the risk of suicide.
Stopping the spread
When prostate cancer is caught early enough, a man can be cured. If it spreads beyond the prostate, the cost of treatment is high and delivers minimal benefit. Usually, the disease will spread – metastasize – to the bones and lymph nodes.
'It is not curable at that stage,' said Prof N'Dow. 'We are still picking up too many men with metastatic disease – and this is a failure of the system.'
Without treatment, the average period of survival from prostate cancer that has spread beyond the gland is about 21 months. With some newer therapies, some metastatic prostate cancer patients can survive five years or more.
Even when the cancer is aggressive, if it is restricted to the prostate gland a patient can be cured by surgery or radiation therapy – or a combination. Almost 95% of these patients are still alive up to 15 years after their diagnosis. Treatment can, however, affect a man's urinary or erectile function.
Prof N'Dow hails recent EU recommendations to screen prostate cancer in men up to the age of 70 using a blood test and magnetic resonance imaging (MRI) scans based on an individual's risk. Certain men over 50 and those of African descent or with a family history of prostate cancer are at heightened risk from this cancer and should be targeted for early detection.
Tracking the blues
Amid the efforts to improve detection and cures, FAITH's planned app highlights the heightened focus on the psychological well-being of cancer patients.
Although it is being tested on people who have overcome lung and breast cancer, the app could be made to work for survivors of the disease in other parts of the body including the prostate.
In its study two years ago on anxiety or depression among men who have been treated for prostate cancer, Europa Uomo said 0.5% felt either one to an "extreme" degree and almost 4% to a "severe" extent. Nearly 11% and 28% fell into "moderate" and "slight" categories, respectively.
A tracker of sorts, the app is being developed by European technologists and cancer doctors working together. The tests are taking place at three hospitals in Ireland, Spain and Portugal.
At home, a wearable watch records movement and sleep patterns that get fed into a phone app. Patients must occasionally answer questions from the app, for example about dietary choices, while a voice module checks for any changes in a person's speech that may indicate depression.
In all, 27 measurements are being tracked in a bid to uncover which ones could flag a downward trajectory in a patient's mental health. Performance will be compared against clinical questionnaires that doctors already use to monitor patients.
'Once the patient is signed out of the hospital, they're often on their own,' said McManus. 'If the hospital gives this app to a patient, doctors can remotely monitor how the patient is getting on.'
The phone app will not send sensitive patient data to the Internet. Instead, an algorithm is updated on the phone and fed back to the development team, which helps improve the app's performance.
'We'll build our algorithm and try to pick out these downstream trajectories,' said McManus. 'Then we are basically training the app.' Eventually, if the app picks up worrying signals, 'an alarm is raised in the hospital and the patient is contacted,' he said.
Empowering patients
The mental-health aspect of cancer diagnosis and care needs to be improved across Europe, according to Prof N'Dow, who said that this is a central goal of the European Association of Urology, where he is adjunct secretary general responsible for education.
'The impact psychologically of the diagnosis or consequences of treatment is huge,' he said. 'This is something we understood in PIONEER.'
The project has sought to ensure that treatment comparisons take into account the impact on patient quality of life such as sexual, bowel or urinary function. Also crucial has been to identify those outcomes that matter most to patients.
That is why PIONEER has included patients themselves in discussions aimed at determining key unanswered research questions about prostate cancer.
'Patients understand what they need,' Prof N'Dow said. 'Our job is to improve the lives of the most vulnerable and get them back to the life they knew before it was rudely interrupted by disease. The psychological well-being of the patient and their families should be recognized as central to that.'
Research in this article was funded via the EU. This material was originally published in Horizon, the EU Research and Innovation Magazine.