Serbia Has Undertaken Critical Steps in Cybersecurity
Serbia performs well across many areas of cybersecurity capacity and has a strong understanding of existing gaps and opportunities for capacity building, according to a new report assessing the country's cybersecurity. The report, which uses the Cybersecurity Capacity Maturity Model for Nations (CMM) methodology, developed by the Global Cyber Security Capacity Centre (GCSCC) of the University of Oxford, is the first assessment of its kind conducted by the World Bank, with support from the Ministry of Trade, Tourism and Telecommunications.
The assessment found that Serbia has a substantial commitment to addressing the challenges of cybersecurity and highlights the country's comprehensive cybersecurity policy and legal foundation, which enables Serbia to create protection mechanisms – including the National CERT – that can ensure the resiliency of critical infrastructure across the country. The assessment also revealed that Serbia has substantial capacity to develop cybersecurity expertise – both through professional development and academic channels facilitated by a growing technology industry in the country.
"The Republic of Serbia laid out in detail the key topics of the national cybersecurity strategy, which include incident response, protection of vital ICT systems, and the establishment of competent authorities in charge of information security in the Republic of Serbia. This systemic approach ensures the establishment of a sound overall environment for this field to develop, which we consider to be the basis for efficient digitalization,'' said Tatjana Matic, Serbia's Minister of Trade, Tourism and Telecommunications.
"In addition to further improvement of institutional and business cybersecurity, we will focus on raising citizen awareness of the importance of data protection and information security, as cybersecurity is a prerequisite for the development of a sustainable and successful modern digital society and economy."
The assessment found that a strong industry demand for cybersecurity skills creates challenges for government retention of cybersecurity professionals – an area the study suggests should be addressed. Other areas cited for improvement include strengthening public awareness of the risks to privacy posed by the Internet, as well as further adoption of cybersecurity standards and good practices in both small and large enterprises.
"We congratulate Serbia on successfully completing the CMM assessment, which will provide a benchmark for measuring the future advancement of cybersecurity and serve as a building block for a national consensus on a cybersecurity status-quo and future actions. We would like to commend Serbia for publishing the report, which will be a useful reference for both national and international stakeholders to understand the state of cybersecurity in Serbia," said Stephen Ndegwa, World Bank's Country Manager for Serbia.
The CMM aims to enable governments to benchmark cybersecurity capacity across five dimensions:
cybersecurity policy and strategy;
cyber culture and society;
cybersecurity education, training and skills;
legal and regulatory frameworks; and
standards, organisations and technologies.
The GCSCC and its strategic international partners have deployed the CMM in more than 80 countries around the world.
"This was the tenth country in Europe that did a CMM review and it provided us with very interesting insights into our research on the maturity of cybersecurity capacity across the world. The gaps that the researchers have identified provide evidence for important needs which are not only specific to Serbia but which could also be observed in other countries in around the globe, but in particular in the Western Balkan region." said Professor Michael Goldsmith, Co-Director of the GCSCC.
"We hope that this report will offer a comprehensive and useful understanding of Serbia's capacity and that the recommendations will contribute to the on-going work to enhance cybersecurity capacity across all five dimensions of the CMM".
This assessment was conducted under the Global Cybersecurity Capacity Program II, financed by Korea's Ministry of Economy and Finance, through the Korea-World Bank Group Partnership Facility (KWPF), which is administered by the World Bank. As part of this Program, the country also benefited from a capacity-building workshop delivered in November by the Global Cybersecurity Center for Development (GCCD), part of Korea's Internet & Security Agency (KISA). The two-week long online workshop in November-December 2020 convened numerous local cybersecurity experts, who were exposed to cutting-edge knowledge on cybersecurity from the Republic of Korea.
"We hope this online seminar can help Serbian cybersecurity personnel and serve as a bridge to deepen cybersecurity cooperation between Korea and Serbia. KISA will keep moving forward to expand global cooperation by sharing Korea's experiences and our examples of cyber incident responses," said Kwanghee Choi, Director of KISA.
Earth Observation Data Could Represent A Billion-Dollar Opportunity For Africa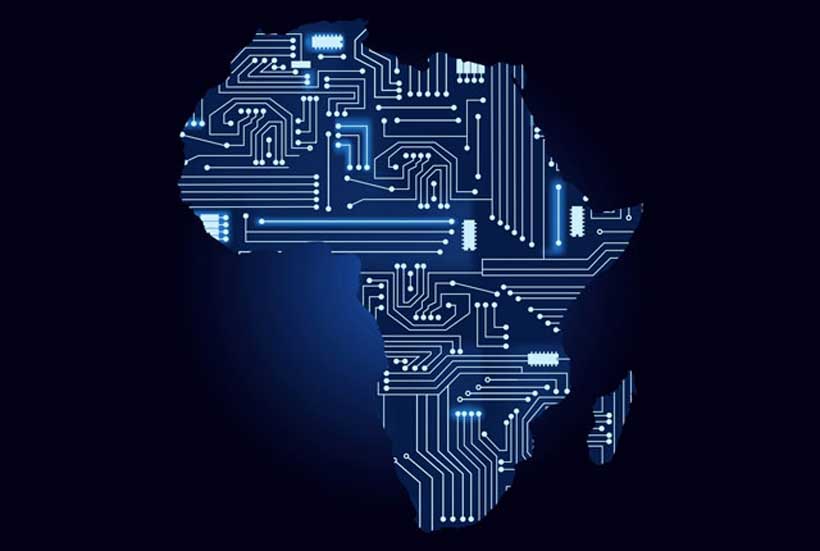 Earth observation [EO] data provides a billion-dollar opportunity for economies on the African continent, one that could create jobs and build new resilience after COVID-19.
The newly released report Unlocking the Potential of Earth Observation to address Africa's critical challenges lays out the multiple economic benefits from EO data. The report was written in collaboration with Digital Earth Africa, an initiative that is a world first in providing freely accessible data that maps the entire African continent.
This report marks the first known time the potential impact of EO for Africa has been quantified. According to estimates, EO could be worth up to $2 billion a year thanks to:
1. A strengthened EO industry. Improved use of EO data could lead to an extra $500 million in yearly EO sales along with new job opportunities and increased fiscal revenues.
2. Boosted agricultural productivity. Better data could potentially be worth an extra $900 million a year, thanks to water savings and productivity gains for farmers, not to mention reduced pesticide usage.
3. Better regulation of gold mining activity. Data allows countries to crack down on illegal mining, providing a potential savings of at least $900 million from reduced environmental damage and fiscal evasion.
The report shows the opportunity available in EO data to strengthen economies and reach sustainability goals. EO data can help governments make more informed decisions regarding water, agriculture, food security and urbanization. Advancing new collaborations between public and private efforts can incentivize data sharing to develop EO industries on the continent even further.
Dr Adam Lewis, Managing Director of the Digital Earth Program welcomes the findings of the report as the first of its kind to quantify the potential benefits of the program. "Through collaboration with key partners both within Africa and across the globe, we have made significant progress in turning this potential into a reality. Over the last 12 months the program has met a number of milestones in improving access to data and services within Africa. Working with Amazon Web Services as well as international space agencies and the private sector, we have been able to provide access to locally stored analysis-ready satellite data within Africa." Adam said.
"We are proud to support Digital Earth Africa's efforts to make Earth observation data more easily accessible to African nations," said Ana Pinheiro Privette, Lead for Amazon Sustainability Data Initiative. "Through the Amazon Sustainability Data Initiative, Amazon is making available petabytes of Earth observation data, which provide valuable insights for communities to manage climate impacts including increased floods and droughts."
Valuing the impact of EO is an emerging practice globally, with recent reports covering the Asia Pacific, Australia, the European Union and the UK, but this is the first such report for Africa. The report was developed following examination of the readiness of African countries to effectively and efficiently grow their geospatial capabilities, integrated with study of the potential economic benefit of EO data adoption on specific sustainable development focus areas.
Data-Driven Operations Are Key to Future of Manufacturing
In the near future, manufacturing companies will collaborate in hyperconnected value networks in which data-and-analytics applications drive productivity, new customer experiences and societal and environmental impact. A new white paper, Data Excellence: Transforming Manufacturing and Supply Systems, released today presents the challenges for manufacturers and provides the steps to overcome them.
According to the report, nearly three-quarters of 1,300 surveyed manufacturing executives consider advanced analytics to be critical for success and more important today than three years ago. However, only a few companies capture the full value that data and analytics can unlock to address manufacturers' most pressing challenges. Less than 20% of surveyed participants prioritize advanced analytics to promote either short-term cost reductions or longer-term structural cost improvements. Only 39% have managed to scale data-driven use cases beyond the production process of a single product and thus achieve a clearly positive business case.
Surveyed manufacturers cited various challenges that impeded their efforts to further scale and implement data-and-analytics solutions within their plants and across networks:
They struggle to prioritize the right value-adding use cases from a broad range of applications
They have not put in place technological enablers, such as data security or advanced algorithms
They lack critical organizational enablers, such as skills and capabilities and effective internal governance
This study by the World Economic Forum, in collaboration with the Boston Consulting Group (BCG), features insights from a unique community of 40+ manufacturing organizations and leading academics and public sector representatives, identifying six priorities to capture value from data and analytics in manufacturing:
Define a data-to-value strategy and roadmap
Incentivize internal and external ecosystem partners
Build capabilities to capture and use data
Implement an open platform to unlock data silos
Enable connectivity for low-latency, high-bandwidth data flows
Ensure data security and privacy
"These findings will help accelerate our journey to support companies in devising a path forward to reach the next level of data-based manufacturing excellence, build trust among manufacturing, suppliers and customers, and unlock new value through the development of new data-driven ecosystems," said Francisco Betti, Head of Shaping the Future of Advanced Manufacturing and Production at the World Economic Forum.
"Manufacturing is on the verge of a data‑driven revolution," said Daniel Küpper, Managing Director and Partner of BCG and a report co-author. "But many companies have become disillusioned because they lack the technological backbone required to effectively scale data-and-analytics applications. Establishing these prerequisites will be critical to success in the post-pandemic world."
As a next step, the community is co-developing a Manufacturing Data Excellence Framework, which comprises value-adding applications as well as technological and organizational success factors. Companies will be able to leverage this framework to accelerate the development of globally connected manufacturing data ecosystems.
World Bank Group and CES Announce Global Tech Challenge Winners
World Bank Group and CES announced the winners of the Global Tech Challenge at CES®2021.
The result of a partnership between the Consumer Technology Association (CTA) and the World Bank Group, the Global Tech Challenge was launched at CES 2020 to reward scalable and innovative technological solutions in three main areas: digital health in East Africa, resilience in India and gender equality around the world. Technology solutions that helped communities respond to the COVID-19 pandemic were also prioritized.
Selected among over 1,000 applications, three winners were selected for gender equality, 10 for resilience and 17 for digital health. More details about the selected innovations can be accessed here for health, resilience and gender equality.
Global Tech Challenge winners will have the opportunity to access financial and/or technical assistance to pilot and scale their solutions on the ground with private sector companies, governments and within development projects financed by the World Bank Group, one of the largest sources of funding and knowledge for developing countries.
"From closing the digital divide to building resilience in the face of natural disasters or pandemics, innovation can solve some of the most pressing development challenges. The World Bank Group is pleased to support impactful programs focused on bringing equal access to connectivity to women in developing countries and to recognize cutting-edge solutions such as AI-enabled robots to rebuild homes in post-disaster areas. Now is the time to scale up solutions that have proven effective, so that no one is left behind in the new digital era," said Makhtar Diop, the World Bank's Vice President for Infrastructure.
"Disruptive technologies are a fundamental driver of economic growth and job creation—and key to solving development challenges around the world. At IFC, we are proud to support the private sector in bringing these technologies to emerging markets, with innovations that range from portable ultrasound devices that can detect COVID-19 to medical tools that provide real-time cardiac diagnoses even in remote areas," said Stephanie von Friedeburg, Interim Managing Director and Executive Vice President, and Chief Operating Officer at IFC.
"We are thrilled to be continuing our work with the World Bank so the world's best and brightest innovators at CES can collaborate with the World Bank Group to enter new markets, provide solutions and aid in development," said Karen Chupka, EVP, CES, Consumer Technology Association (CTA).
Owned and produced by CTA, CES 2021 will be an all-digital experience connecting exhibitors, customers, thought leaders and media from around the world. CES 2021 will allow participants to hear from technology innovators, see cutting-edge technologies and the latest product launches, and engage with global brands and startups from around the world. For over 50 years, CES has been the global stage for innovation, and CES 2021 will provide an engaging platform for companies large and small to launch products, build brands and form partnerships.