CAR: UN chief condemns escalating violence during election campaign
With a week to go until elections are scheduled to take place in the Central African Republic (CAR), the UN is concerned about an escalation of armed attacks, amid reports that armed groups have taken control of towns near the capital, Bangui.
"The Secretary-General has been following reports of increasing tensions in the Central African Republic with growing concern", his spokesperson said in a press statement issued on Friday.
Mr. Guterres called for an urgent end to all hostile actions, and for Central Africans to work together, to ensure favourable conditions for the holding of credible, inclusive and peaceful elections on 27 December, and to "refrain from disinformation, hate speech and incitement to violence".
In Bangui and in other regions, the peacekeepers of the United Nations Mission in the Central African Republic (MINUSCA) are on high alert to protect civilian populations and secure the elections.
The Special Representative of the UN Secretary-General in CAR, Mankeur Ndiaye, took to Twitter on Saturday, to reassure citizens that MINUSCA will do its utmost to ensure the security of the electoral process, and called on the Central African population not to panic, and to provide the necessary support to the national security forces and to the peacekeepers.
In view of the deteriorating security situation in the west of the country, Mr. Ndiaye decided on Friday to deploy MINUSCA forces to Bossemptélé and Bossembélé, two municipalities to the north-west of Bangui, which have been targets of attacks by armed groups.
Settle disputes peacefully and implement the peace agreement
In his statement, Mr. Guterres called on all those involved in the political process to resolve any dispute peacefully, "in accordance with the constitution and in the interests of the Central African people who have suffered for too long from violence and instability ". Mr. Guterres also called on the signatory parties to the Political Agreement for Peace and Reconciliation, signed in February 2019, to strictly implement it and to refrain from any action that could jeopardize national stability and the holding of elections.
"The Secretary-General reiterates the United Nations commitment to work closely with national, regional, and international partners, to support the people and Government of the Central African Republic in their efforts to advance peace and ensure a peaceful democratic process', his spokesperson said.
Multiple reports of alleged human rights violations in Tigray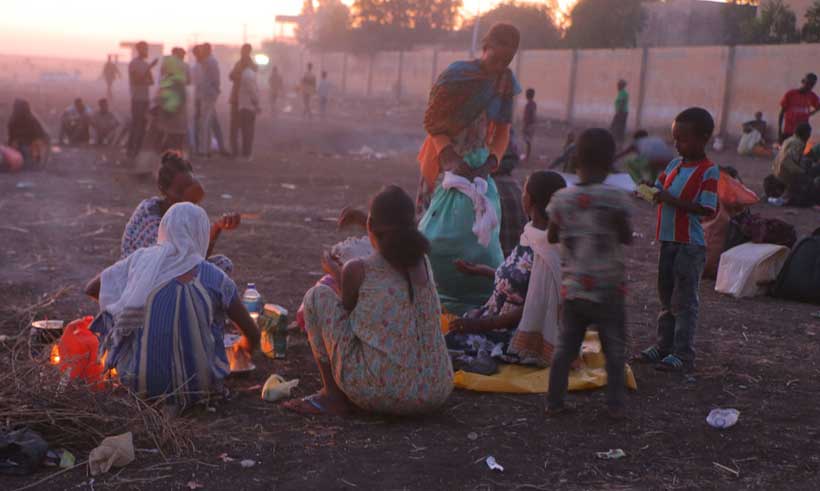 UN human rights chief, Michelle Bachelet on Monday deplored "multiple and severe reports of alleged gross violations of human rights, humanitarian and refugee law" committed by all parties to the conflict in Tigray.
In an update to the UN Human Rights Council (OHCHR) on the situation in the northernmost regional state in Ethiopia, Ms. Bachelet said the conflict has "continued unabated," and "risks spilling over to the whole Horn of Africa".
In the last few months, "mass detentions, killings, systematic looting, and sexual violence" have created "an atmosphere of fear and an erosion of living conditions that resulted in the forced displacement of the Tigrayan civilian population. Civilian suffering is widespread, and impunity is pervasive, she said.
Joint investigation
The UN High Commissioner for Human Rights also informed the Council on progress made in the joint investigation by the OHCHR and the Ethiopian Human Rights Commission (EHRC) following the conclusion of the fieldwork phase of the report.
The full range of information collected is currently being analysed, but Ms. Bachelet said it was already clear that cases documented comprise multiple allegations of human rights violations.
These included attacks on civilians, extrajudicial killings, torture, and enforced disappearances. Sexual and gender-based violence has also included gang rapes, sexualised torture and ethnically targeted sexual violence.
Violations by all parties
According to Ms. Bachelet, Government forces and their allies continue to be implicated in allegations of human rights violations.
Reports also suggest that people of Tigrayan ethnicity have been detained by law enforcement officials on ethnic grounds, mostly in Addis Ababa.
She noted that incitement to hatred and discrimination were also documented targeting people of Tigrayan ethnicity, as well as attacks on journalists and the suspension of media outlets' licenses and shutdowns of Internet and telecommunications in Tigray.
Ms. Bachelet added that Tigrayan forces have also allegedly been responsible for attacks on civilians, including indiscriminate killings resulting in nearly 76,500 people displaced in Afar and an estimated 200,000 in Amhara.
More than 200 individuals have reportedly been killed in the most recent clashes in these regions, and 88 individuals, including children, have been injured, she said.
There have also been reports of the recruitment of children into the conflict by Tigrayan forces, which is prohibited under international law.
Avoid national division
Ms Bachelet urged the Government of Ethiopia to accept the recommendations of the joint investigation report that will be issued on 1 November 2021 and to give human rights and humanitarian actors unhindered access. She called for all parties to immediately end hostilities and negotiate a lasting ceasefire to "avoid the risk that Ethiopia will be torn apart".
 WHO airlift
The largest single shipment of humanitarian cargo to date has been airlifted to Ethiopia by the World Health Organization (WHO), the UN agency said on Monday.
85 metric tons of life-saving medical supplies were flown by a charter flight from WHO's Logistics Hub based in Dubai to in Addis Ababa on Friday. The supplies, including essential medicines, trauma and emergency surgery kits, infusions, consumables, equipment, and cholera kits, are enough to address the urgent needs of more than 150 000 people.
"This delivery will help bolster our efforts to provide relief to hundreds of thousands of families who are grappling with a difficult humanitarian situation," said Dr Boureima Hama Sambo, WHO Representative in Ethiopia.
Currently, nearly 2.5 million people are in need of health assistance from WHO and partners. The shipment to Ethiopia wrapped up a historic week for the WHO Dubai Logistics Hub. Four times the weekly average has been dispatched with over 450 metric tons of medical supplies valued at more than $ 4.3 million in support of cholera outbreak response in Nigeria, critical shortages of medicines in Afghanistan, and trauma and surgical supplies to Syria and Yemen. 
Republic of Korea offers support for smallholder farmers in Mozambique
The Korea International Cooperation Agency (KOICA) donated US$5.7 million through the World Food Programme (WFP) for a project to support smallholder farmers in Sofala Province, central Mozambique.
The project will improve food security and livelihoods with a focus on climate resilience for smallholder farmers and will be implemented from this year in the districts of Chemba, Maringue and Caia in Sofala province and will benefit 36,000 smallholder farmers and their families until 2025.
The programme will work with the Ministry of Land and Environment, the Ministry of Agriculture and Rural Development and the National Institute of Meteorology (INAM).
Mozambique is one of the most vulnerable countries to the impacts of climate change. Over the past three years, five tropical cyclones (Desmond, Idai, Kenneth, Chalane, Eloise and Guambe) have caused human and material damages mainly in central Mozambique.
H.E. Ambassador Sung Jun Yeo said that he expects the project is going to be successfully implemented and 36,000 smallholder farmers and their families will have the capacity to maintain a stable livelihood and secure food through the project. "We hope that the friendly relationship between the Government of Mozambique and that of the Republic of Korea is firmly established through various grant aids from the Korean Government via KOICA," emphasized the Ambassador.
"This generous donation from the people of Korea through KOICA will help change the lives of Mozambicans most affected by climate change", said Antonella D'Aprile, WFP Mozambique Country Director. "By supporting smallholder farmers to become climate resilient, we are also protecting their livelihoods and food security of their families and communities. We thank KOICA on behalf of the people that we serve".
The Korea International Cooperation Agency (KOICA) was established as a governmental agency dedicated to providing grand aid programs of the Korean government in 1991. KOICA endeavors to combat poverty and support the sustainable socioeconomic growth of partner countries. By doing so, KOICA establishes and strengthen friendly ties with developing countries.
The United Nations World Food Programme (WFP) is the 2020 Nobel Peace Prize laureate. WFP is the world's largest humanitarian organization, saving lives in emergencies and using food assistance to build a pathway to peace, stability and prosperity for people recovering from conflict, disasters and the impact of climate change.
Somalia's Economy Rebounding from 'Triple Shock'
Somalia's economy is rebounding from the "triple shock" that ravaged the country in 2020: the COVID-19 pandemic, extreme flooding, and the locust infestation. Real GDP growth is projected at 2.4 percent in 2021. This growth momentum is expected to continue in the medium term and reach pre-COVID-19 levels of 3.2 percent in 2023.
The latest World Bank Somalia Economic Update reports that the economy contracted by 0.4 percent in 2020, less severe than the 1.5 percent contraction projected at the onset of the global pandemic. Higher-than-anticipated aid flows, fiscal policy measures put in place by the Federal Government of Somalia to aid businesses, social protection measures to cushion vulnerable households, and higher-than-expected remittance inflows mitigated the adverse effects of the triple shock.
The report notes that the disruptions stemming from COVID-19 containment measures reduced federal and state revenue collection while increasing pressure to spend more on health and disaster relief. Large increases in external grants enabled the federal government to begin rebalancing public spending toward economic and social services and to provide funds for new social programs and emergency response projects to increase resilience.
"As Somalia embarks on the road to recovery from the triple shocks, policy interventions that raise productivity, create jobs and expand pro-poor programs will be key," said Kristina Svensson, World Bank Country Manager for Somalia. "Creating jobs and ensuring that the most vulnerable are supported throughout the crisis need to be at the center of policy action and private sector response."
Interventions to improve the investment climate and encourage the formalization of businesses to attract more private investment would include reforms focused on reducing the cost of electricity and improving on its reliability, leveling the playing field among private firms, reducing red tape, and broadening financial inclusion.
The special focus of the report is on the health sector. It highlights that 30 years of political instability has made Somalia's health system the second most fragile in the world. The COVID-19 pandemic has brought the sector under sharp focus and put investing in Somalia's health system as an urgent political and economic consideration that is foundational to reducing fragility.
"Support for the health sector is an essential component of resilient and inclusive development and investing in health sets Somalia on a path to reaping substantial demographic dividends from improvements in life expectancy and reductions in fertility," said John Randa, World Bank Senior Economist. "These investments are planned to contribute to improved health outcomes and strengthened government systems."
The report also notes that strengthening Somalia's health system is one of the biggest direct influences on improving human development and enhancing economic development in the country. The report recommends opportunities in the areas of health financing, health service delivery and stewardship to improve Somalia's health sector. Incoming funding from the World Bank is aimed at helping Somalia focus on high-impact, cost-effective interventions that target the primary burdens of disease.