Conflict, floods and COVID-19 push South Sudanese into extreme hunger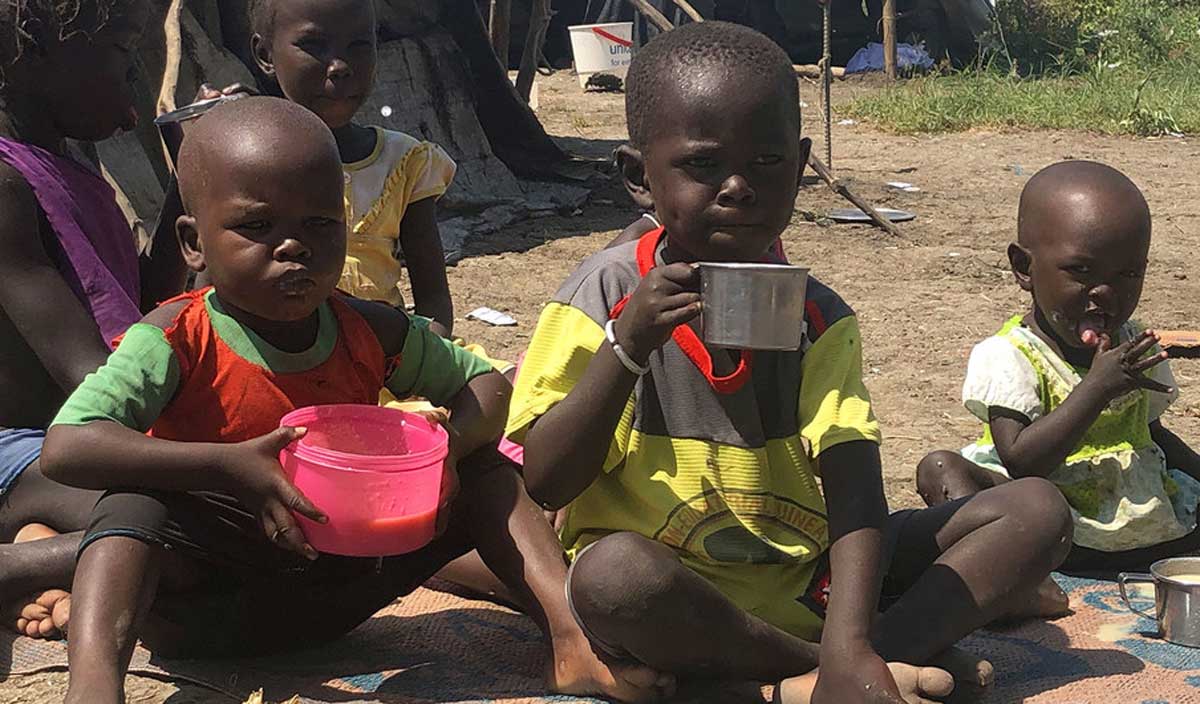 Driven by insecurity, the effects of COVID-19, an on-going economic crisis, and the impact of flooding on livelihoods, three UN agencies called on Friday for immediate humanitarian access to eastern South Sudan's Pibor county, where people are facing catastrophic levels of hunger.
The Food and Agriculture Organization (FAO), UN Children's Fund (UNICEF), World Food Programme (WFP) and other humanitarian aid organizations, are scaling up their responses to save lives and avert a total collapse of livelihoods in hard-to-reach areas.
"We call on all parties to stop the violence and to ensure safe humanitarian access in order to prevent an already dire situation from turning into a full-blown catastrophe", said South Sudan's FAO Representative Meshack Malo. 
A grim forecast
A new UN-backed Integrated Food Security Phase Classification (IPC) report projects that from April to July 2021, an estimated 7.24 million people, or 60 per cent of the country's population, face either a state of official food crisis, or worsening acute food insecurity.
"The coming year will be extremely tough, but we are determined to do all we can to reach more people for longer periods of time", said Makena Walker, WFP's Deputy Country Director.
IPC figures – which estimate that between October and November, 6.5 million people in South Sudan faced severe acute food insecurity – follow two independent reports published by the IPC Global Support Unit last week, indicated that tens of thousands are likely to face famine conditions in Jonglei state's Pibor county, where many families are experiencing high levels of acute malnutrition and even death.
The independent analysis also found that some communities in Akobo, Aweil South, Tonj East, Tonj North and Tonj South counties, are confronting catastrophic conditions.
"WFP is extremely worried about the rising numbers of people suffering because of the lack of sufficient food and nutrition, intensified conflict, unprecedented flooding and high food prices", said Ms. Walker.
Children at risk
Meanwhile, in Pibor, some 1.4 million children between six months and five years old are expected to be acutely malnourished in 2021, according to the IPC report.
This includes 313,000 children experiencing severe acute malnutrition and more than a million moderate-to-acute malnutrition.
"These children need urgent treatment to prevent them from dying", said UNICEF's South Sudan Representative, Mohamed Ayoya.
"The data leave us with no doubt about the sense of urgency for all of us – Government, donor community and humanitarian actors – to join hands and ensure all these children get the treatment they need", she added.
Moreover, 483,000 pregnant or breastfeeding women are acutely malnourished and in need of treatment.
This year, UNICEF has treated 170,000 children affected by severe acute malnutrition, with a 94 per cent recovery rate and will further scale up its interventions supporting therapeutic treatment and stabilization centres in the most affected counties to protect and save children's lives.
"At the same time, we need to invest more in actions to prevent children from becoming malnourished in the first place", the UN official underscored.
Upping assistance
Over the past two months, WFP has extended food assistance to nearly 80,000 people in Pibor and has begun scaling up aid to critically food insecure areas there and other at-risk areas.
FAO has prioritized farming and agro-pastoral communities to assist in increasing their production and preserve their livelihood.
Among other things, this year it has supported over 100,000 farming families to grow their own food from seeds, and vaccinated and treated more than five million animals, which has benefitted 164,000 households.
UN chief condemns 'ongoing military coup' in Sudan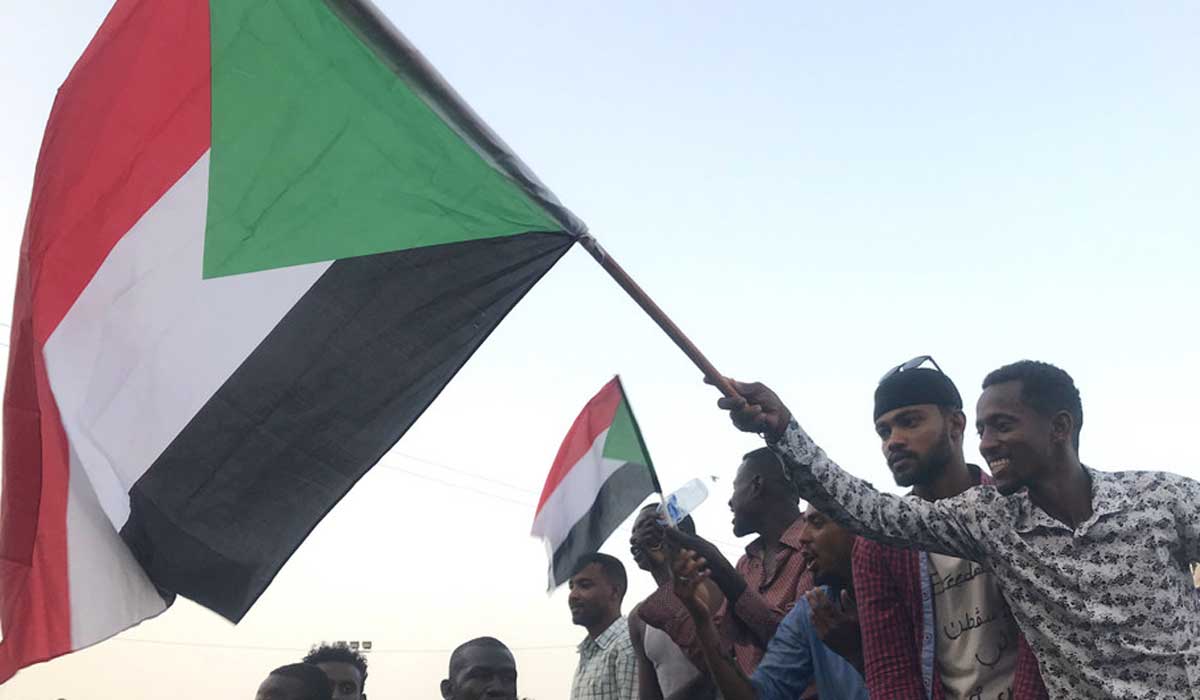 UN Secretary-General, António Guterres on Monday condemned the "ongoing military coup" in Sudan, saying Prime Minister Abdalla Hamdok and all other officials, "must be released immediately." 
Long-time ruler Omar al-Bashir was overthrown by the military following months of popular protest in April 2019, and a transitional government was set up comprising both military and civilian leadership, after a power-sharing agreement, that was due to lead to full democratic elections in 2023.
Now, according to news agencies, Sudan's military has dissolved civilian rule, arrested political leaders and declared a state of emergency. Protesters have reportedly taken to the streets of the capital, Khartoum, and there are reports of gunfire.
In a statement posted on Twitter, the Secretary-General said that "there must be full respect for the constitutional charter to protect the hard-won political transition."
"The UN will continue to stand with the people of Sudan", Mr. Guterres assured.
Progress in jeopardy
The UN High Commissioner for Human Rights also condemned the attempted coup.
"These actions threaten the Juba Peace Agreement and jeopardize the important progress made towards democracy and respect for human rights", Michelle Bachelet said.
She called on military authorities to abide by the constitutional order and international law, withdraw from the streets, and resolve any differences with civilian leaders serving on the Transitional Council through dialogue and negotiation.
"I utterly deplore the reported arrest of the Prime Minister, several Ministers, leaders of the Forces of the Freedom and Change and other civil society representatives, and call for their immediate release", she continued.
Communication systems down
Ms. Bachelet also pointed out reports that the internet is down in the country and other means of communication are suspended.
"Blanket internet shutdowns contravene international law, and Internet and mobile services must be restored, as they are essential for people to seek and receive information, particularly in these unsettling circumstances", she explained.
She asked military and security forces to refrain from unnecessary and disproportionate use of force, to respect people's freedom of expression, as well as the right of peaceful assembly.
According to her, "it would be disastrous if Sudan goes backwards after finally bringing an end to decades of repressive dictatorship."
"The country needs to move forward to consolidate democracy, a wish expressed countless times by the Sudanese people, including loudly and clearly on the streets last week and today", she added.
UN Mission
The head of the UN Integrated Transition Assistance Mission Sudan (UNITAMS), also released a statement, declaring that the arrests of the Prime Minister, government officials and other politicians are "unacceptable." 
"I call on the security forces to immediately release those who have been unlawfully detained or placed under house arrest", Volker Perthes said. "It is the responsibility of these forces to ensure the security and wellbeing of people in their custody." 
The UNITAMS chief, who acts as a Special Representative of the Secretary-General, also urged everyone involved to exercise the utmost restraint.
"All parties must immediately return to dialogue and engage in good faith to restore the constitutional order", Mr. Perthes concluded.
Madagascar: Severe drought could spur world's first climate change famine
More than one million people in southern Madagascar are struggling to get enough to eat, due to what could become the first famine caused by climate change, according to the World Food Programme (WFP).
The region has been hit hard by successive years of severe drought, forcing families in rural communities to resort to desperate measures just to survive.
Madagascar, the fourth largest island in the world, has a unique ecosystem which includes animals and plants found nowhere else on the planet. The country experiences a dry season, usually from May to October, and a rainy season that starts in November.
Daily life disrupted
However, climate change has disrupted the cycle, affecting smallholder farmers and their neighbours, said Alice Rahmoun, WFP Communications Officer in the capital, Antananarivo, speaking to UN News on Thursday.
"There is of course less rain, so when there is the first rain, they can maybe have hope and sow some seeds. But one little rain is not a proper rainy season," she said.
"So, what we can say is that the impacts of climate change are really stronger and stronger….so harvests fail constantly, so people don't have anything to harvest and anything to renew their food stocks."
Varying impacts
Ms. Rahmoun was recently in southern Madagascar, where WFP and partners are supporting hundreds of thousands of people through short and long-term assistance.
The impact of the drought varies from place to place, she said. While some communities have not had a proper rainy season for three years, the situation might be even worse 100 kilometres away.
She recalled seeing villages surrounded by dried-out fields, and tomato plants which were "completely yellow, or even brown", from lack of water.
Surviving on locusts
"In some areas they are still able to plant something, but it's not easy at all, so they are trying to grow sweet potatoes. But in some other areas, absolutely nothing is growing right now, so people are just surviving only eating locusts, eating fruits and cactus leaves," said Ms. Rahmoun.
"And, just as an example, cactus leaves are usually for cattle; it is not for human consumption."
The situation is even more dire because, she added, "even the cactus are dying from the drought, from the lack of rain and the lack of water, so it's really, really worrying".
Families barely coping
The plight of families is also deeply troubling. "People have already started to develop coping mechanisms to survive," she said.
"And that means that they are selling cattle, for example, to get money to be able to buy food, when before, they were able to get food and feed themselves from their own field production, so it's really changing the daily life for people."
Valuable assets such as fields, or even houses, are also put up for sale. Some families have even pulled their children out of school.
"It's also a strategy right now to gather the family's forces on finding income-generating activities involving children, so this has obviously a direct impact on education," Ms. Rahmoun said.
Providing life-saving aid
WFP is collaborating with humanitarian partners, and the Malagasy Government, to provide two types of response to the crisis. Some 700,000 people are receiving life-saving food aid, including supplementary products to prevent malnutrition.
"The second one is more long-term response to allow local communities to be able to prepare for, respond to and recover from climate shocks better," said Ms. Rahmoun. "So, this includes resilience projects such as water projects. We're doing irrigation canals, reforestation and even microinsurance to help smallholder farmers to recover from a lost harvest, for example."
WFP ultimately aims to support up to one million people between now and April, and is seeking nearly $70 million to fund operations. "But we are also involving more partners to find and fund climate change solutions for the community to adapt to the impacts of climate change in southern Madagascar."
COP26: Prioritize adaptation
In just over a week, world leaders will gather in Glasgow, Scotland, for the COP26 UN climate change conference, which UN Secretary-General António Guterres has called the last chance to "literally turn the tide" on an ailing planet.
Ms. Rahmoun said WFP wants to use the conference to shift the focus from crisis response, to risk management.
Countries must be prepared for climate shocks, and they must act together to reduce severe impacts on the world's most vulnerable people, which includes the villagers of southern Madagascar.
"COP26 is also an opportunity for us to ask governments and donors to prioritize funding relating to climate adaptation programmes, to help countries to build a better risk management system, and even in Madagascar, because if nothing is done, hunger will increase exponentially in the coming years because of climate change," she said, adding: "not only in Madagascar, but in other countries."
'Overzealous' security services undermining South Sudan peace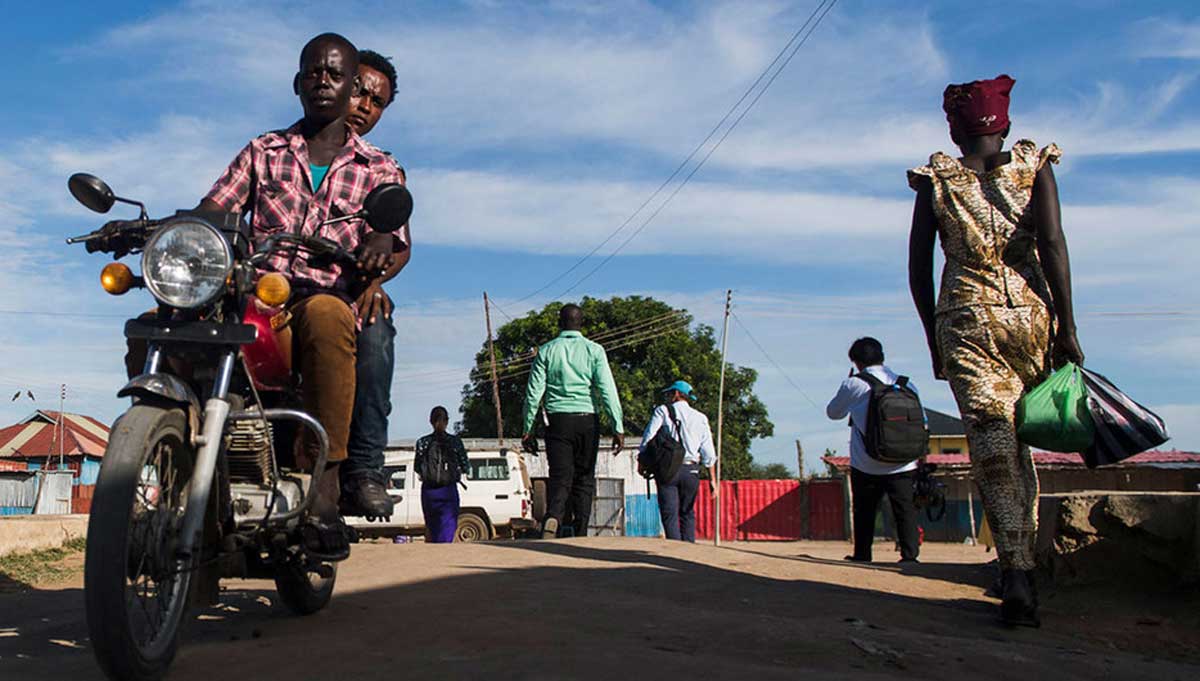 State security forces in South Sudan have been responsible for imposing new and potentially arbitrary restrictions against the country's most prominent civil society leaders, issuing "credible" death threats that have undermined peace efforts, UN-appointed independent rights experts said on Wednesday.
In an alert, the Commission on Human Rights in South Sudan alleged that "overzealous" security forces had prevented dissent so dramatically, that civic space was now eroding "at an accelerating pace", forcing rights defenders to flee and discouraging others from taking their place. 
"The State's targeting of high-profile human rights defenders will have a chilling effect on civil society and will discourage public participation and corrode confidence in the important processes of transitional justice, constitution making and national elections, which are essential for the success of the transition envisaged by the 2018 Revitalised Peace Agreement," said Commissioner Andrew Clapham.  
Communication breakdown
The actions of the National Security Services (NSS) have included detentions, raids, a likely internet shutdown and an enhanced security presence on the streets of Juba, the panel said in a statement.
Those targeted by threats, harassment and intimidation have included prominent human rights defenders, journalists and civil society actors. Many have played a key role in the country's peace and justice processes. 
"Jame David Kolok and Michael Wani are among those now sheltering outside the country in fear for their lives," the UN Commission said, in reference to Mr. Kolok's membership of the Technical Committee to Conduct Consultative Process on Truth, Reconciliation and Healing – a position reaffirmed in May by the Ministry of Justice and Constitutional Affairs.
Frozen out
Mr. Wani had been a youth representative on the National Constitution Amendment Committee, according to the UN panel, which noted that both men's bank accounts, "and those of the non-government organisations they lead, are among those recently blocked on government orders, with other civil society actors also affected".
The 2018 Revitalised Agreement for the Resolution of Conflict in South Sudan contains power-sharing arrangements between President Salva Kiir and opposition leader, Riek Machar.
The accord requires the drafting of a permanent Constitution and the establishment of a Commission on Truth, Reconciliation, and Healing.
Although implementation of these and other measures – such as public consultation requirements – have been slow, government leaders have renewed pledges and taken steps toward these in recent months, the UN Commission said.
"These latest restrictions and acts of harassment follow the formation on 30 July of a new civil society coalition whose members planned a public assembly to take place on 30 August," it explained.
Clampdown in Juba
The UN Commission – which was appointed by the Human Rights Council in March 2016 to investigate crimes linked to civil war that erupted in 2011 – noted that this public assembly could not take place amid "detentions, raiding of premises, an apparent internet shutdown, and an enhanced presence of security forces on the streets of Juba".  
Numerous civil society leaders are still in detention and their wellbeing is unclear, the commissioners said.
"The State's authorities must respect and protect the rights of human rights defenders; this is an obligation under international law," said Commissioner Barney Afako. "It would also demonstrate that South Sudan's commitment to strengthening its systems for the consolidation of human rights is genuine."