UN rights experts 'deeply troubled' by impunity for killing of Palestinian children
UN independent human rights experts, on Thursday, called for an impartial and independent investigation into the killing of a 15-year-old child by Israeli security forces at a West Bank protest this month.
"The killing of Ali Ayman Abu Aliya by the Israeli Defense Forces – in circumstances where there was no threat of death or serious injury to the Israeli Security Forces – is a grave violation of international law," special rapporteurs Michael Lynk and Agnès Callamard said in a statement.
"Intentional lethal force is justified only when the security personnel are facing an immediate threat of deadly force or serious harm," they added.
The boy was the sixth Palestinian child killed in 2020 by Israeli forces using live ammunition, said the experts. On 4 December, he was shot in the abdomen by an Israeli soldier, during protests by Palestinian youths against the construction of a nearby illegal Israeli settlement outpost. He died later that day in a hospital.
Information gathered by OHCHR and civil society organizations indicated that protesters had thrown stones at Israeli Security Forces, who responded with rubber-coated metal bullets, tear gas and, eventually, live ammunition.
Some 1,048 Palestinian children have been injured by Israeli security forces across the Occupied Palestinian Territory between 1 November 2019 and 31 October 2020, added the experts, citing information received.
"Children enjoy special protected rights under international law … each of these killings raises deep concerns about Israel's adherence to its solemn human rights and humanitarian law obligations as the occupying power," they said.
Investigations 'rarely result' in accountability
The Israeli Security Forces announced that they would conduct an investigation into Abu Aliya's killing. The human rights experts noted, however, that investigations by the Israeli Defense Forces of fatal shootings of Palestinians by its soldiers rarely result in appropriate accountability.
Civil society organizations have documented the deaths of 155 Palestinian children by Israeli Security Forces using live ammunition or crowd-control weapons since 2013, the experts added. Only three indictments on criminal charges have been issued for offences directly tied to those killings.
In one case, the charges were dropped; the responsible soldier reached a plea deal and was sentenced to nine months jail for death by negligence; and in the third, a soldier was convicted of not obeying orders and sentenced to one month in military prison.
Ensure children 'no longer face death'
"This low level of legal accountability for the killings of so many children by Israeli security forces is unworthy of a country which proclaims that it lives by the rule of law," the experts said.
They called on the Government of Israel to either conduct an independent, impartial, prompt and transparent civilian investigation according to international standards, or to allow an international impartial and independent human rights review to be conducted.
"Such an investigation – domestic or international – must be directed towards ensuring that children living under occupation no longer face death or injury when exercising their legitimate right to protest, and that the culture of impunity for military misconduct is ended."
Special Rapporteurs are part of what is known as the Special Procedures of the Human Rights Council. The experts work on a voluntary basis; they are not UN staff and do not receive a salary. They are independent from any government or organization and serve in their individual capacity.
Russia will deploy nuclear weapons in Belarus – EU and NATO went ballistic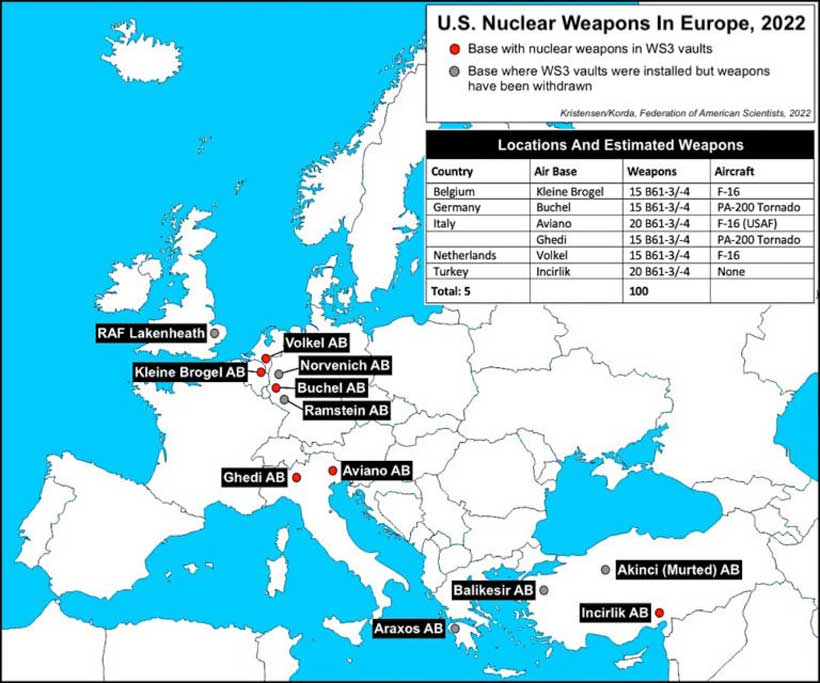 Baroness Goldie, who is an experienced Scottish politician and life peer who served as Leader of the Scottish Conservative Party from 2005 to 2011 and as the UK's Minister of State for Defence since 2019, said to the Parliament: "Alongside our granting of a squadron of Challenger 2 main battle tanks to Ukraine, we will be providing ammunition including armour piercing rounds which contain depleted uranium. Such rounds are highly effective in defeating modern tanks and armoured vehicles."
The Anglo-Saxon clique's core objective is a calculated escalation of the proxy war that is certain to draw forth a robust reaction from Moscow, as predictable as night follows day, writes M.K. Bhadrakumar, Indian Ambassador and prominent international observer.
Indeed, that is precisely what happened when Russian President Vladimir Putin announced that Russia will deploy its tactical nuclear weapons in Belarus. Putin linked this to a request from Belarus in reaction to Baroness Goldie's statement in London a week ago.
More importantly, Putin also drew the analogy of the US placing its nuclear weapons on the territories of the allied NATO countries for decades.
The EU and NATO went ballistic after Putin's disclosure. EU's chief diplomat Josep Borrell said Moscow's decision was "an irresponsible escalation and threat to European security." He promised to impose "further sanctions" against Belarus!
A NATO spokeswoman called Moscow's decision "dangerous and irresponsible." Interestingly, though, the Biden administration neatly side-stepped the issue, focusing instead that the US has not seen any signs that Russia has moved nuclear weapons to Belarus or anywhere else!
What is the game plan? First, the Anglo-Saxon clique would hope that the issue will create further disquiet and insecurity in Europe vis-a-vis Russia and would rally European countries behind the Biden administration at a time when fault lines were appearing within the transatlantic alliance over a protracted war in Ukraine that might be catastrophic for European economies.
However, Washington is hard-pressed to respond to Putin's remark that Russia is only doing something that the US has been doing for decades.
The crux of the matter is, as with the Cuban missile crisis of 1962, the Russian decision on tactical nuclear weapons in Belarus is retaliatory, drawing attention to the US missiles stationed close to its borders. (An estimated 100 nuclear weapons are stored in vaults in five European countries — Belgium, Germany, Italy, Netherlands and Turkey.)
Worse still, the US practices a controversial arrangement known as "nuclear sharing", under which it installs nuclear equipment on fighter jets of select non-nuclear NATO countries and train their pilots to carry out nuclear strike with US nuclear bombs. This is happening when the US, being a party to the nuclear Non-Proliferation Treaty (NPT), has promised not to hand over nuclear weapons to other countries, and the non-nuclear countries in the NATO's sharing arrangement have themselves promised not to receive nuclear weapons from the nuclear weapon states!
The NATO declared last year that seven NATO countries contributed dual-capable aircraft to the nuclear sharing mission. These countries are believed to be the US, Belgium, Germany, Italy, Netherlands, Turkey and Greece. And all are signatories to the NPT!
There is no question that depleted uranium munitions are radioactive and toxic and their heavy use in the Yugoslavia and Iraq wars has been linked to birth defects and cancers. It has been tied to "the highest rate of genetic damage in any population ever studied" in Fallujah, the city subjected to two brutal US sieges during the invasion of Iraq.
Britain appears to be creating conditions in Europe to justify the basing of nuclear-armed US bombers at Lakenheath in Suffolk, which were removed in 1991 in line with the Intermediate Nuclear Forces treaty, stresses M.K. Bhadrakumar.
Free will trumps determinism in Gulf politics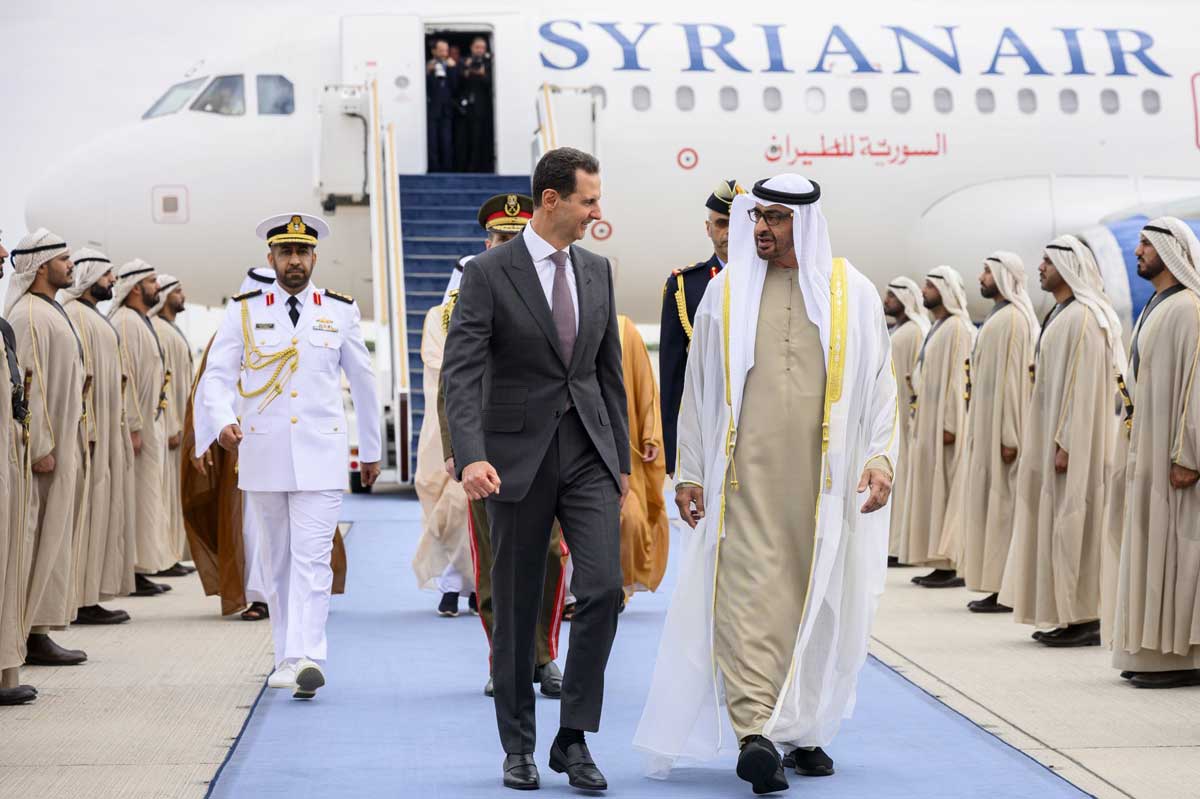 China's mediation to normalise Saudi-Iranian diplomatic ties has been widely welcomed internationally, especially in the West Asian region. A clutch of unhappy states that do not want to see China stealing a march on any front, even if it advances the cause of world peace, mutely watched, notes M.K. Bhadrakumar, Indian Ambassador and prominent international observer.
The US led this pack of dead souls. But the US is also on the horns of a dilemma. Can it afford to be a spoiler?
Saudi Arabia is not only the fountainhead of petrodollar recycling — and, therefore, a pillar of the western banking system — but also America's number one market for arms exports. Europe is facing energy crisis and the stability of the oil market is an overriding concern.
Saudi Arabia has shown remarkable maturity to maintain that its "Look East" policy and the strategic partnership with China do not mean it is dumping the Americans. Saudis are treading softly.
Yet, the fact remains that the Saudi-Iranian deal drives a knife into the heart of the US' West Asian strategy. The deal leaves the US and Israel badly isolated. The Jewish lobby may show its unhappiness during President Biden's bid for another term. China has stolen a march on the US with far-reaching consequences, which signifies a foreign policy disaster for Biden.
Washington has not spoken the last word and may be plotting to push back the peace process from becoming mainstream politics of the West Asian region. The American commentators are visualising that the Saudi-Iranian normalisation will be a long haul and the odds are heavily stacked against it.
The Saudi official said China's role makes it more likely that the terms of the deal will hold. "It (China) is a major stakeholder in the security and stability of the Gulf," he noted. The official also revealed that the talks in Beijing involved "five very extensive" sessions on thorny issues. The most difficult topics were related to Yemen, the media, and China's role, the official said.
Meanwhile, there are positive tidings in the air too — the likelihood of a foreign minister level meeting between Iran and Saudi Arabia in the near future and, more importantly, the reported letter of invitation from King Salman of Saudi Arabia to Iranian President Ebrahim Raeisi to visit Riyadh.
Iranian Foreign Minister Hossein Amirabdollahian remarked on Sunday with reference to the Yemeni crisis that "We [Iran] are working with Saudi Arabia on ensuring the stability of the region. We will not accept any threat against us from neighbouring countries."
To be sure, the regional environment is improving. Signs of an overall easing of tensions have appeared. For the first visit of its kind in over a decade, the Turkish Foreign Minister was in Cairo and the Egyptian FM has been to Turkey and Syria.
Last week, on return from Beijing, Admiral Ali Shamkhani, secretary of Iran's Supreme National Security Council headed for the UAE where President Sheikh Mohammed received him.
Soon after that Syrian President Bashar al-Assad arrived in the UAE on an official visit. "Syria has been absent from its brothers for too long, and the time has come for it to return to them and to its Arab surroundings," Sheikh Mohamed told Assad during their historic meeting at the presidential palace.
Evidently, the regional states are tapping the "feel-good" generated by the Saudi-Iranian understanding. Contrary to the western propaganda of an estrangement lately between Saudi Arabia and the UAE, Sheikh Mohammed is identifying closely with the positive trends in the regional environment.
This is where China's overarching role fostering dialogue and amity becomes decisive. The regional countries regard China as a benign interlocutor and the concerted attempts by the US and its junior partners to run down China make no impact on the regional states.
Fundamentally, both Saudi Arabia and Iran have compulsions to shift the locus of their national strategies to development and economic growth. This has received scant attention. The Western media has deliberately ignored this and instead demonised the Saudi Crown Prince and created a doomsday scenario for Iran's Islamic regime.
That said, the known unknown is the tension building up over Iran's nuclear programme… A Russian-Chinese coordinated effort is needed to forestall the US from raking up the nuclear issue in tandem with Israel and ratchet up tensions, including military tensions, in such a way that a pretext becomes available to destabilise the region and marginalise the Saudi-Iran agreement as the leitmotif of regional politics.
On balance, the regional states are acting on free will, increasingly and eschewing their determinism that was wedded to decisions and actions that were thought to be causally inevitable.
The realisation has dawned now that it is within the capacity of sovereign states to make decisions or perform actions independently of any prior event or state of the universe, stresses M.K. Bhadrakumar.
There is optimism that Syria stands to gain out of Saudi-Iranian rapprochement
The circumstances surrounding the flare-up in Syria between the US occupation forces and pro-Iranian militia groups remain murky. President Biden claims that the US is reacting, but there are signs that it is likely being proactive to create new facts on the ground, notes M.K. Bhadrakumar, Indian Ambassador and prominent international observer.
The US Central Command claims that following a drone attack on March 23 afternoon on an American base near Hasakah, at the direction of President Biden, retaliatory air strikes were undertaken later that night against "facilities used by groups affiliated with Iran's Islamic Revolutionary Guards Corps."
However, this version has been disputed by the spokesman of Iran's Supreme National Security Council who accused Washington of "creating artificial crises and lying." The Iranian official has alleged that "Over the past two days, American helicopters have carried out several sorties with the aim of increasing instability in Syria and transferred Daesh (Islamic State) terrorists in the territory of this country."
He said Washington must be held accountable for such activities. The official warned that Tehran will give a prompt response to any US attack on whatever false pretext against Iranian bases that exist on Syrian soil at the request of Damascus for fighting terrorism.
Is the US deliberately ratcheting up tensions in Syria even as the China-brokered Saudi-Iranian rapprochement is radically changing the security scenario in the West Asian region in a positive direction?
There is optimism that Syria stands to gain out of Saudi-Iranian rapprochement. Already, the Saudi Foreign Ministry revealed that talks are going on with Syria for resuming consular services between the two countries, which will pave the way for the resumption of diplomatic relations and in turn make it possible to reinstate Syria's membership of the Arab League.
Saudi Arabia has established an air bridge with Syria to send reef supplies for those affected by the devastating earthquake in February.
The backdrop is that the normalisation of relations between Syria and its estranged Arab neighbours has accelerated. It must be particularly galling for Washington that these regional states used to be active participants in the US-led regime change project to overthrow the government of President Bashar al-Assad. The Saudi-Iranian rapprochement badly isolates the US and Israel.
From such a perspective, it stands to reason that the US is once again stirring up the Syrian cauldron. Lately, Russian aircraft have been reported as frequently flying over the US's military base At Tanf on the Syrian-Iraqi border where training camps for militant groups are known to exist.
Israel too is a stakeholder in keeping Syria unstable and weak. In the Israeli narrative, Iran-backed militia groups are increasing their capability in Syria in the last two years and continued US occupation of Syria is vital for balancing these groups. Israel is paranoid that a strong government in Damascus will inevitably start challenging its illegal occupation of Golan Heights.
A key factor in this matrix is the nascent process of Russian mediation between Turkiye and Syria. With an eye on the forthcoming presidential and parliamentary election in Turkiye in May, President Recep Erdogan is keen to achieve some visible progress in improving the ties with Syria.
Erdogan senses that the Turkish public opinion strongly favours normalisation with Syria. Polls in December showed that 59 percent of Turks would like an early repatriation of Syrian refugees who are a burden on Turkish economy, which has an inflation rate of 90 percent.
Significantly, Erdogan telephoned Russian President Vladimir Putin on Saturday and the Kremlin readout mentioned that amongst "topics concerning Russian-Turkish partnership in various fields," during the conversation, "the Syrian issue was touched upon, and the importance of continuing the normalisation of Turkish-Syrian relations was underlined. In this regard the President of Türkiye highlighted the constructive mediatory role Russia has played in this process."
It is entirely conceivable that Erdogan has sought Putin's help and intervention to reach a modus vivendi with Assad quickly. Of course, this is a spectacular success story for Russian diplomacy — and for Putin personally — that the Kremlin is called upon to broker the Turkish-Syrian normalisation.
The China-brokered Saudi-Iranian normalisation hit Washington where it hurts. But if Putin now brokers peace between two other rival West Asian states, Biden will be exposed as hopelessly incompetent.
And, if Turkiye ends its military presence in Syria, the limelight will fall on the US' illegal occupation of one-third of Syrian territory and the massive smuggling of oil and other resources from Syria in American military convoys.