Fighting displaces over 500,000 in northern Mozambique
Attacks by armed groups in Mozambique's Cabo Delgado, Nampula, Zambezia and Niassa provinces have displaced more than 530,000 people, many of whom have been forced to move multiple times, the UN refugee agency (UNHCR) said on Friday.
According to the agency, majority of the affected families have sought refuge in the safer southern districts of Cabo Delgado province, where around 90 per cent of those displaced are sheltered by host communities.
"The situation in Cabo Delgado is a protection crisis for more than half a million civilians on the run, with widespread reports of human rights abuses and disregard for international humanitarian law", UNHCR spokesperson Babar Baloch said.
Access to some areas in the province remains limited due to violence, insecurity and the rainy season, with communities being cut off from basic services for months, he added.
More than 2,000 people have been killed since the conflict started in 2017. In the violence houses have been looted and burned, families separated and health centres and schools seriously damaged.
The affected provinces were already suffering high levels hunger and malnutrition. However, the situation has deteriorated rapidly, with over 900,000 people now facing crisis or emergency levels of food insecurity.
"There is serious indication that this crisis could spread beyond the country's borders", warned Mr. Baloch.
Few possessions
People have been forced to flee their homes with few possessions, in most cases without their identification and civil documents, further increasing their vulnerability, Mr. Baloch added.
The situation of women of girls is particularly concerning.
"Some women and girls have been abducted, forced into marriages, in some cases raped, or subjected to other forms of sexual violence. The displaced population remains significantly vulnerable to gender-based violence," he said.
Humanitarian response
UN agencies on the ground have been supporting the affected communities and working to ensure that basic international humanitarian principles are upheld.
UNHCR protection teams for instance are monitoring the situation in Cabo Delgado and other provinces to identify needs, and respond to gender-based violence and protection concerns. The agency has also provided shelter materials, tarpaulins, sleeping mats, blankets, kitchen sets, buckets, jerry cans and solar lamps.
UN launches $250 million appeal
Amid growing needs, the UN and humanitarian partners in Mozambique launched, on Friday, an appeal for $254 million to provide vital assistance and protection to 1.1 million in the affected regions in 2021.
Myrta Kaulard, Humanitarian Coordinator for Mozambique, said that with needs rapidly rising, humanitarian actors urgently require more funding to scale-up their response across the northern provinces of the country.
"We count on the support of the international community to provide timely funding to ensure that people fleeing violence can access much-needed relief", she added.
Insecurity and bureaucracy hampering aid to Ethiopia's Tigray region
Nearly three months after the start of conflict in Ethiopia's Tigray region, hundreds of thousands of people have yet to receive assistance, the United Nations reported on Wednesday, citing information from its humanitarian coordination agency, OCHA.
"Humanitarian assistance continues to be constrained by the lack of full, and safe, unhindered access to Tigray, caused by both insecurity and bureaucratic delays", UN Spokesperson Stéphane Dujarric told journalists.
"The UN and its humanitarian partners in Ethiopia urgently call on all parties to allow the immediate safe passage of humanitarian personnel and their supplies to the Tigray Region to be able to reach all people who desperately need assistance."
Over two million in need
Mr. Dujarric said the UN continues to receive alarming reports of civilians being injured and killed in rural areas in Tigray, as well as of violations against civilians, though verification remains a challenge. 
"Aid workers have been able to deliver assistance in some areas, mainly in cities, where access has been granted by the authorities. However, the number of people reached is extremely low compared to the 2.3 million people we estimate are in need of life-saving assistance", he said.
The situation is particularly critical for newly displaced people and refugees, especially those who were living in two camps that remain inaccessible, according to OCHA.
Humanitarians further warn that the majority of the 270,000 people receiving benefits through the Government's Safety Net Programme have also been without assistance as banks in most rural areas have been closed since before the crisis began.
"These are extremely vulnerable people who rely on monthly cash transfers to meet their basic needs," said Mr. Dujarric.
Mali transition presents opportunity to break 'vicious circle of political crises'
The current political transition period in Mali offers an opportunity to "break out of the vicious circle of political crises followed by coups d'état", the UN envoy in the country told the Security Council on Wednesday.
Following the 18 August mutiny that ousted President Ibrahim Boubacar Keïta, Special Representative and Head of the UN Stabilization Mission in Mali (MINUSMA) Mahamat Saleh Annadif, said the country was now four months in, to a planned 18-month transition period, leading to presidential and legislative elections.
"However, it is never too late to reach a minimum consensus on the essentials of peace and stability, because the future of Mali is at stake", he stated.
'Positive dynamics'
Against this backdrop, Mr. Annadif said the UN, African Union, Economic Community of West African States (ECOWAS) and others have always stood ready to support Mali's institutional transitions.
He said that several missions and meetings had taken place in Bamako since the August coup and described consultations between the Government and the signatories of the 2015 Agreement on Peace and Reconciliation "encouraging".
The Malian Government has been seeking to restore stability and rebuild following a series of setbacks since early 2012 that fractured the country, including a failed coup d'état, renewed fighting between Government forces and Tuareg rebels, and the seizure of its northern territory by radical extremists. The weakening of central institutions, loss of confidence in political actors and the rise of religious leaders demanding change, were among the factors leading up to last August's events.
As one positive example of political progress being made, the UN envoy drew particular attention to the "positive dynamics" of key officials who visited the restive city of Kidal to organize a "solemn swearing-in hearing of the new Governor" on 31 December, flagging that "such an event has not taken place in Kidal for almost ten years".
Interim parliament at helm
Mr. Annadif said that despite a hold up in State appointments, the National Transitional Council (CNT) had been established on 3 December, with Transitional President Bah N'Daou having appointed 121 members who are now acting as a de facto government towards restoring full constitutional order.
Serving as an interim parliament that will vote on political, institutional, electoral and administrative reforms, the UN envoy called their role "crucial for the consolidation of democracy and the success of credible elections allowing a return to constitutional order, as provided for in the Transition Charter".
Successes and challenges
While pointing to "successes" of the international force, the MINUSMA chief acknowledged that security in border areas of Mali – which remains the deadliest UN peacekeeping mission of all – and in the country's centre, remains "worrying and unpredictable".
However, he said that MINUSMA continues to "adapt" to these multifaceted challenges and "strengthen its capacity" to better respond.
Moreover, the missions "adaptation plan" to better protect civilians and promote community reconciliation in central Mali is producing "significant results" with additional temporary bases and the intensification of dedicated joint patrols "to advance the reconciliation processes between communities in local conflict zones", said Mr. Annadif.
Foundation laid
The MINUSMA head lauded the efforts of Malian forces to improve their rights performance and underscored that reforms are a key dimension in ensuring the legitimacy of the next elected government.
He reassured the Ambassadors that the foundation has been laid for a successful political transition in the country as well as reliable security arrangements for its diverse regions.
However, he stressed that the transition's success depends upon "the successful completion of political, institutional, electoral and administrative reforms with the aim of inclusive, credible elections, the results of which will be accepted by the majority of Malians and Malians".
Humanitarian crisis looms in Madagascar amid drought and pandemic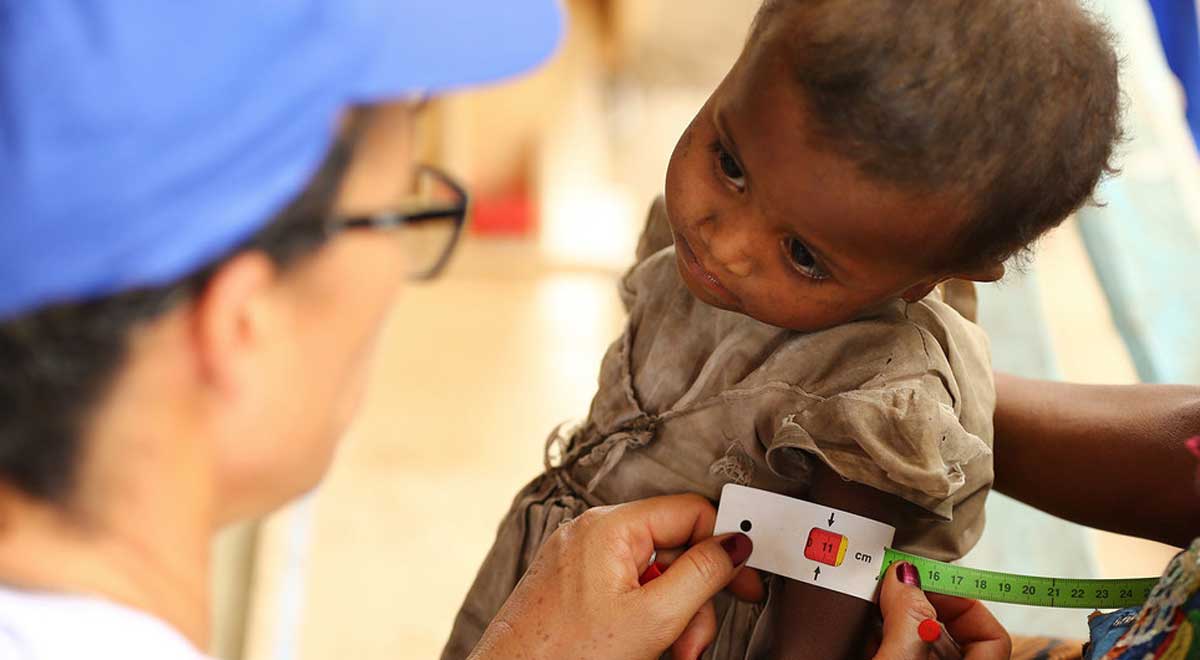 In southern Madagascar, "famine-like conditions" have doubled the number of people in need of humanitarian assistance compared with last year, to more than 1.3 million. Successive droughts and a lack of jobs linked to COVID-19 restrictions are to blame, the World Food Programme (WFP) said on Tuesday.
"We have seen the doubling of the numbers of food-insecure between the data we had in July 2020 and November 2020; we moved from 700,000 people food-insecure in the Grand South or Grand Sud of Madagascar, to 1.3 million", said Lola Castro, WFP Regional director for Southern Africa and Indian Ocean States.
Speaking by video link to journalists during a scheduled briefing in Geneva, Ms. Castro appealed for $35 million.
She insisted that urgent action was needed to stave off a humanitarian crisis, with a third of those in Southern Madagascar struggling to put food on the table.
Climate vulnerable
Part of the current crisis is linked to Madagascar's vulnerability to climate shocks, a problem it shares with the southern African region, the WFP official said.
"The rains that normally come November-December, we only had one day of rain in December in the whole region. And the thunderstorms have been blasting…and destroying and burying the crops that were there", she added. "The result is famine-like conditions", with 1.3 million people food insecure, 135,000 children moderately, severely or acutely malnourished.
With markets closed because of COVID-19 restrictions and people forced to sell their possessions to survive, the UN agency warned that drought conditions are set to persist well into 2021, with many forced to leave their homes in search of food and work.
"In 2020 the population of the South relies on casual labour and goes to urban areas or to the fields to really have additional funds that will allow them to survive during the lean season, that is normally between November and April every year", Ms. Castro explained. "But this year there was no labour, they moved around without finding any labour anywhere, both in urban areas or in the rural areas, due to the drought and due to the COVID lockdown."
Eating mud, roots and leaves
The situation has forced people to eat "whatever they can find", Ms. Castro continued. "Cactus mixed with mud, roots, whatever they can find, leaves, seeds, whatever is available. And the situation really is more dramatic because this year also the funds have not arrived enough on time to really be able to procure food or to provide cash transfers to these people."
Children have been worst affected by the food crisis, WFP warned, with global acute malnutrition (GAM) in children under five, in the three most affected regions (Androy, Anôsy and Atsimo Andrefana), faced by 10.7 per cent of youngsters.
"This is the second highest rate in the East and Southern Africa region. The most recent projections put the number of children likely to suffer from acute malnutrition at more than 135,000, with more than 27,000 of these classified as severe", the agency said in a statement.
75 per cent 'foraging for food'
"Children have abandoned schools. 75 per cent of the children in this area are either begging or foraging for food", Ms. Castro said, before highlighting the extraordinary nature of the current emergency.
"What we are saying here is that the situation we're facing in southern Madagascar is not normal. It's very different to any normal year of crisis and that we really need to act immediately; 300,000 people need at the moment safe-living support."
In a bid to promote resilience among the most vulnerable communities, WFP and partners have worked with women's groups "to change, diversify the food they produce, try to produce different type of nutrients for the children", Ms. Castro said, noting that it cost around $45 a month to feed a family of five. "But we haven't reach everybody and it's not enough."