Five Project Management Skills You Need To Have
With the sudden shift to remote work imposed due to the COVID19 outbreak, the need for effective project management has surged substantially. This has increased the responsibilities a project manager usually handles.
Handling a remote team while coordinating multiple projects becomes difficult when a project manager has to work on strict deadlines. To successfully accomplish all this and ensure quality results, a project manager must possess certain project management skills.
Here are five important project management skills a project manager must have:
Time management skills:
Time management skills are a must for every project manager to successfully handle multiple projects without delaying them. Effective project managers make use of project management tools to manage tasks well and deliver projects on time.
The best project management software comes with in-built time tracking tools to help managers understand exactly how much time a certain task takes. This helps in creating a realistic timeline for the team members in order to achieve the project goals within a given timeframe.
A project manager needs to be able to multitask efficiently without causing confusion within the team. This requires strong organizational skills in order to prioritize tasks. Keeping all aspects of a project organized means designating tasks and documenting processes for future reference.
Organizing the workflow for optimum results is crucial to ensure processes run smoothly. Without organizational skills, your team may fail to line up and deliver work successfully. They may also find it difficult to deal with any unexpected challenges.
Project managers delegate work to a team that is working towards a common goal. To guide and encourage a team, a project manager must exhibit strong leadership skills. They are critical to ensure everyone is motivated and performing to the best of their abilities.
Leadership skills come with the responsibility of setting goals for every team member and ensuring they are being met diligently. This makes it absolutely essential for a manager to walk the talk and not just dictate. Although leadership skills come with experience, project managers must keep giving their most sincere effort towards learning it.
Also known as social skills, interpersonal skills help managers to connect with their team members and build strong work relationships. These skills test a manager's ability to handle a social situation through verbal and non-verbal elements.
Interpersonal skills are important for a project manager in order to build a healthy work environment. They require personal interaction as every team member is different from the other. These skills also help in fostering engagement amongst team members leading to a united workforce.
Having risk Management skills means being able to foresee, analyze and mitigate the effects of a risk that could adversely affect an organization's financial situation or reputation. A manager must possess risk management skills to combat all possible risks that their team could face during a project.
Every business has risks, even though they may not be evident. A lot of times, a manager's ability to detect and handle one shows how experienced he/she is. A manager should always value their team's opinion in a risk-related situation. After all, the earlier a risk is detected the higher are the chances of minimizing its effects.
Conclusion:
It goes without saying that conflicts are inevitable in a team. Apart from all the above mentioned skills, a project manager must also have conflict management skills to ensure remote team members work in unison and produce quality work. It ensures a project is executed from start to end with more efficiency.
Top 5 Examples of Best Nonprofit Grant Proposals
Introduction
Compiling a grant proposal is a complicated task. Nonprofits have to conduct ample amounts of research, create multiple drafts and compile everything to fit the criteria of the grant foundation. The odds of getting your proposal accepted are already stacked against you and the best way to ensure success is by staying prepared. One way you can make your grant proposal air-tight is by reviewing successful grant proposals. You can add points from previously successful documents to strengthen your case.
Preparation is key
Drafting a grant proposal can be a lengthy process. It is a good idea to start gathering data and reviewing it beforehand. Reviewing successful grant proposals can help you get new ideas and perhaps, inspiration even. You can find a list of effective examples on the internet and we have compiled a few here to make things easy for you.
5 Examples of effective grant proposals
To ease the understanding, the examples are divided as per the sectors for which nonprofits often work.
Education
Education is a key foundation for society and if you are looking to seek a grant to support an educational initiative, this particular example might be conveniently helpful.
Salem Education Foundation: This particular grant was submitted by a school that sought to receive funding for enriched learning opportunities that lay beyond the scope of a conventional classroom. This particular grant proposal was written for history students of the school.
Youth
Children can be the most at-risk group of society and there are a multitude of nonprofits that aim to help them. Consequently, there are a huge number of grants that aim to help children fulfill their potential and lead happy lives. The following example is how a grant proposal should look like when the focus of their goal is improving the lives of children.
William T. Grant Foundation: This grant is given to those groups that actively conduct research that is solely focused on improving the lives of young people in the United States. The foundation often publishes accepted grant proposals to help guide those looking to apply. Review their proposals for a better idea on how to craft yours.
Individual and family support
If your nonprofit is actively seeking to serve the disadvantaged population of society, then you will need to submit a proposal that highlights their plight. The following proposal is an example that will help you decide the inclusions for your proposal.
Kennett Area Senior Center: This particular grant was submitted by the Kennett Area Senior Center to the community grant foundation. The grant proposal was a request for funds to provide assistance and necessary services for senior citizens.
Arts
If your nonprofit is aiming to raise funds for an arts program or a project, the following example demonstrates what your grant proposal should look like. Upon review you will be clear on what to include in your documentation:
University of Minnesota's Imagine Fund: Take a look at various successful proposals that were submitted to the Imagine Fund program. This program is known for supporting arts-related projects.
Science
Whether it is scientific research, conservation, or any form of scientific endeavor, the following proposals can provide you with ideas for your grant proposal. You can review them and figure out what to include and how you can solidify the strength of your proposal.
NIAID: The National Allergy and Infectious Diseases grants various funds to institutes and nonprofits looking to drive advancement in the field of science and scientific research. You can peruse through various types of successful grants and figure out what made each one stand out.
Final thoughts
These examples are just some of many grant proposals that have achieved success. By studying them and reviewing the literature, your nonprofit can take away ideas and insights which can be useful in drafting your proposal.
Global value chains in the aftermath of the pandemic: What role for the G20?
Can embedding inclusive and sustainable transformation at the core of multilateral efforts help ensure that countries benefit from integration in global value chains (GVCs)? This was the question addressed by a stellar line-up of speakers brought together for a webinar organized by the United Nations Industrial Development Organization (UNIDO), together with the International Affairs Institute (IAI) and in cooperation with the Kiel Institute for the World Economy and the German Institute for Global Area Studies.
In the framework of the T20 Spring Roundtables, the virtual event brought together more than 200 participants worldwide. The discussion focused on inclusiveness and sustainability in global value chains in the aftermath of the coronavirus disruptions, and served as a platform to develop ideas and recommendations for the G20.
UNIDO's Director General, LI Yong, said that to build back better, "we can stimulate inclusiveness by focusing our policy efforts on building state-of-the-art capabilities in small and medium-sized enterprises (…) and sustainability through smart regulation, including a new generation of trade and investment agreements." Moreover, he stressed the need "to increase our joint efforts towards strengthening multilateral approaches to policymaking.
Pier Carlo Padoan, the Vice President of the IAI and T20 Italy Lead Co-Chair of Task Force 3: Trade, Investment and Growth, echoed the sentiment and brought the focus onto how we can strengthen the backbone of global value chains, and reaffirmed that "the G20 must retain its leadership in building up a new paradigm of sustainable growth," despite the deep flaws and scars created by the coronavirus crisis in the current system.
"Making global supply chains fair and sustainable is a task in which policymakers and private enterprises have to engage," said Norbert Barthle, Parliamentary State Secretary in Germany's Federal Ministry for Economic Cooperation and Development. He said Germany's Due Diligence Act is looking to address these challenges holistically by ensuring higher social standards in global value chains, leveling the playing field, and enhancing transparency in supply chains.
When looking at the playing field, buyers and suppliers find themselves in uneven positions, depending on the governance landscape. In this context, Beata Javorcik, Chief Economist of the European Bank for Reconstruction and Development (EBRD), underlined that "we need clear messaging about commitments to sustainability, we need to reduce information asymmetries," as this will enhance the inclusiveness of global value chains, allowing for firms of all sizes to engage with and participate in global trade.
Diving deeper into global trade, Pamela Coke-Hamilton, the Executive Director of the International Trade Centre, highlighted the importance of ensuring transparency and predictability for greater participation of small and medium sized enterprises (SMEs) in global value chains. Coke-Hamilton said this can be achieved by mainstreaming and facilitating compliance with international standards, supporting innovation and digital technologies, and promoting sustainability.
Marco Felisati, Business 20 Sherpa and Confindustria's Deputy Director of Internationalization and Trade Policy, echoed the panel's view that "there is no trade-off between competitiveness and sustainability." He highlighted that "on the contrary, complying with high sustainability factors is a competitiveness factor, and being competitive is a prerequisite for GVCs to be sustainable and inclusive."
Mario Cimoli, Deputy to the Executive Secretary of the Economic Commission for Latin America and the Caribbean (ECLAC), reaffirmed that "manufacturing continues to be crucial." He said in Latin America the pandemic has highlighted that manufacturing remains a key issue, as it is the only way "to expand industry, create diversification, and to sustain wages."
As many countries are opening up again after a year of restrictions, speakers agreed that the time is now to look beyond the pandemic and focus on ensuring that global value chains become more inclusive and sustainable. The panel agreed that international coordination through multilateral bodies such as the G20 will be vital in moving forward.
World Bank Supports Croatia's Firms Hit by COVID-19 Pandemic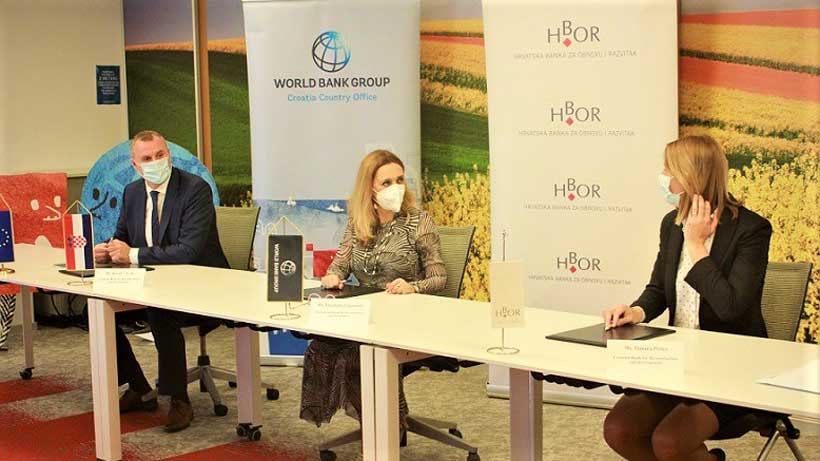 Tamara Perko, President of the Management Board of the Croatian Bank for Reconstruction and Development (HBOR) and Elisabetta Capannelli, World Bank Country Manager for Croatia, signed a Loan Agreement for the HEAL Croatia Project (Helping Enterprises Access Liquidity) in the amount of EUR 200 million (US$242 million equivalent). The Croatian Deputy Prime Minister and Minister of Finance, Zdravko Marić also signed a Guarantee Agreement with the Bank for the Loan. The HEAL Croatia Project will provide liquidity and financial restructuring to firms that have been hit by the COVID-19 pandemic and by the two devastating earthquakes of 2020 and will support an inclusive and resilient recovery.
The COVID-19 crisis has caused a sharp decline in the economic activity of Croatian businesses and has had a profound effect on jobs and livelihoods. The pandemic disrupted firms' production and reduced the demand for their goods and services, while the financial sector tightened lending to companies, due to rising credit risk. The crisis also exacerbated Croatia's regional disparities and reduced credit access for young firms and for firms owned and managed by women.
To mitigate such negative effects, the HEAL Project will increase access to finance to firms focused on export, both small and medium enterprises (firms employing fewer than 250 people) and mid-caps firms (employing from 250 to 3000 people), as well as for firms from less developed regions of Croatia, and firms owned or managed by women. It will also increase access for young enterprises (operating less than five years). The Project will support HBOR's continued development through improved business processes, strengthened sustainability and climate change resilience, and use of EU funds.
"The loan being signed today represents a continuation of the significant support provided by the World Bank to the Republic of Croatia since the beginning of the crisis in 2020, which is reflected in operations worth a total of EUR 760 million (including HEAL). With this project, we are contributing to the further recovery of Croatia's private sector, following the existing measures of the Government of the Republic of Croatia adopted in the context of the COVID-19 pandemic, post-earthquake reconstruction and creating foundations for future sustainability and resilience," said Zdravko Marić, Deputy Prime Minister and Minister of Finance of the Republic of Croatia.
"Terms and conditions granted by the World Bank will provide us an additional source of finance for granting further favorable loans to our entrepreneurs. We are pleased that the World Bank has recognized the significance of financing entrepreneur groups whose importance has also been recognized in HBOR's five-year strategy. Exporters and entrepreneurs in underdeveloped areas are among them. In addition to granting favorable financing terms, the World Bank will support us in improving our Environmental and Social Management System. This will be important as HBOR's activities in the coming period will be particularly committed to building more capacity for supporting sustainable projects and inclusive growth," stated Tamara Perko, President of the Management Board of HBOR.
"We look forward to a smooth and quick implementation of the HEAL Croatia project which will help preserve jobs and support household livelihoods through direct support to approximately 150 firms employing around 25,000 people. The Project will contribute to a resilient, inclusive and sustainable recovery of Croatia, which has been hard hit by the global pandemic, the economic recession, and the devastating earthquakes of March and December 2020," said Elisabetta Capannelli, the World Bank Country Manager for Croatia.
The HEAL Croatia project complements two other World Bank crisis operations approved last year, the Croatia Crisis Response and Recovery Program and Earthquake Recovery and Public Health Preparedness Project – worth together US$ 500 million, to help mitigate the effects of the economic shock, advance recovery, facilitate earthquake reconstruction and strengthen national systems for public health preparedness for pandemic outbreaks. The Justice for Business Project focused on improving the business regulatory procedures and justice service standards for businesses and citizens was also approved in March 2020, bringing the World Bank support to the country to EUR 760 million under the ongoing Country Partnership Framework.
The World Bank has been a partner to Croatia for over 27 years. During this period, the Bank has supported more than 50 projects, worth almost US$5 billion, produced numerous studies, and provided technical assistance to help strengthen institutions and support the design of policies and strategies. The Bank's current program focuses on mitigating the economic and social impact of COVID-19, post-earthquake reconstruction, transport, justice, innovation, business environment, land administration, science and technology, and economic development of the Pannonian region.