From September 27 to November 10, the Armenian Republic of Artsakh (Nagorno-Karabakh) in the South Caucasus was exposed to a genocidal assault at the hands of Azerbaijan and Turkey. The entire world watched while the aggressors committed many crimes and indiscriminately shelled the indigenous lands of Armenians.
Turkey also sent Azerbaijan mercenaries from Syria with known affiliations to Islamic radical groups. This was confirmed by a recent United Nations report, as well as by the testimonies of many Syrian mercenaries and reports by international media outlets.
Together with Azerbaijani military forces, they perpetrated war crimes against Armenians. They murdered civilians, injured journalists and targeted homes, forests, hospitals, churches and cultural centers, among other non-military targets. They used white phosphorus and cluster munitions in violation of international law. At least 90,000 Armenians were forced to abandon their ancestral lands in Artsakh as a result.
The war finally halted after 45 days as a result of the Russia-brokered agreement imposed on Armenia.
According to the agreement, there would be "an exchange of prisoners of war and other detained persons and bodies of the dead." However, even after the signing of the agreement, multiple videos emerged showing Azeri military members and their partners beheading, mutilating and dismembering captured Armenian civilians and prisoners of war. These gruesome crimes were filmed and proudly posted on social media by Azerbaijani soldiers themselves.
On December 7, for example, Azerbaijanis uploaded yet another video of a beheading on one of their many Telegram channels. In the video, a soldier of the Azerbaijani special forces is seen beheading an elderly Armenian civilian while his fellow soldiers videotaped the war crime. The elderly Armenian man was begging for his life.
As these ISIS-like crimes were being committed against Armenians, Turkish and Azerbaijani soldiers participated in a military "victory parade" in Azerbaijan's capital city of Baku on December 10. The parade, organized to celebrate the countries' joint "military victory" over Artsakh, was attended by Turkish President Recep Tayyip Erdogan and Azerbaijan's President Ilham Aliyev.
During the "victory parade," Erdogan delivered a speech in which he praised Enver Pasha, one of the planners of Ottoman Turkey's 1914-1923 Christian genocide, which cost the lives of around 1.5 million Armenians and at least one million Greeks and Assyrians. The Ottoman military march was also played during the event.
Erdogan referred to the 1918 Islamic Army of the Caucasus created by Enver Pasha and led by the Ottoman commander, Nuri Pasha. The Islamic Army of the Caucasus was responsible for the massacres to eliminate the non-Muslim population of Baku, mainly Armenians. Erdogan said:
"Today is the day when the souls of Nuri Pasha, Enver Pasha and the brave soldiers of the Islamic Army of the Caucasus are blessed."
Erdogan also confirmed Turkey's support for the recent Azeri assault against Armenians. According to the official website of Turkey's Presidency, "Turkey, with all its institutions and organizations, supported Azerbaijan's fight from the very beginning, underlined President Erdoğan, further stressing that it will continue to stand by the brotherly Azerbaijan with all its capabilities."
During his speech Aliyev claimed that the Armenian capital of Yerevan, Armenia's Lake Sevan and the Syunik (Zangezur) region in southern Armenia are "historic lands of Azerbaijan."
This was not the first time Aliyev referred not only to Artsakh but also to the Republic of Armenia as "Azerbaijani lands." In 2018, for instance, Aliyev referred to the same Armenian regions as "historic lands of Azerbaijan." "Azerbaijanis' return to those territories," he added, "is our political and strategic goal, and we need to work step-by-step to get closer to it."
Meanwhile, the Russia-brokered agreement appears not to provide security for Artsakh. On December 11, Azerbaijan violated the agreement by launching an attack against Artsakh's Hadrut district. Aliyev, however, blamed Armenia for the attacks, threatening to "break its head with an iron fist" and added, "This time, we will destroy them completely."
Dr. Anahit Khosroeva, a genocide scholar and historian based in Yerevan, said:
"The recent Azeri attack against the villages in Hadrut breaks my trust in the agreement. Russian troops did not immediately stop the attack. People in Artsakh's capital, Stepanakert, think that the safety of their city is at risk, as well. There is massive diplomatic uncertainty concerning the agreement. How effective it will be and how committed Russian troops will be to protecting the security of Artsakh remains to be seen."
Khosroeva also criticized the dominant media narrative concerning the war against Artsakh:
"The international media adopted this incredibly misleading narrative which tries to put equal blame on 'both sides'. Can they not see the difference between the perpetrator and the victim? Who started the war and who committed an ethnic cleansing campaign is obvious: Azerbaijan and Turkey. Yet, much of the international media stuck to this unethical and false narrative and whitewashed Azerbaijani crimes, which misinformed the world community and has cost so many innocent lives.
"For 45 days during the war, our cities were bombed incessantly. But the international community did not care. They just watched as Azerbaijan, Turkey and jihadists massacred our people. At the very least they should now try the perpetrators in international courts for their crimes."
Khosroeva noted that the UN Office on Genocide Prevention and the Responsibility to Protect is clear about the definition and punishment of war crimes:
"The UN says that lists of war crimes can be found in both international humanitarian law and international criminal law treaties, as well as in international customary law.
"According to the 8th article of the Rome Statute of the International Criminal Court, several acts constitute war crimes such as 'willful killing; torture or inhuman treatment, including biological experiments; willfully causing great suffering, or serious injury to body or health; extensive destruction and appropriation of property, not justified by military necessity and carried out unlawfully and wantonly; compelling a prisoner of war or other protected person to serve in the forces of a hostile power; willfully depriving a prisoner of war or other protected person of the rights of fair and regular trial; unlawful deportation or transfer or unlawful confinement; and taking of hostages.' Azerbaijan and Turkey committed all these and more against Armenians during and after the war.
"Given Erdogan's statements about Enver Pasha, it seems that Erdogan pursues an annihilationist policy that aims at completing the Armenian Genocide which his Ottoman ancestors started."
Journalist Lika Zakaryan was in Stepanakert during the war and reported on it daily. "During the 45-day war," she said, "people in Artsakh expected the world to do something to stop Azerbaijan and Turkey – to take concrete actions but not to stay silent, and stop calling on 'both sides to de-escalate.' They waited for the world to make the perpetrator and aggressor, Azerbaijan, stop its attacks. But it never happened."
Zakaryan is also concerned about the agreement:
"I do not think it can provide full security for Artsakh," she said. "No peacekeepers can provide it when in some places there are only 30 meters between Artsakh and Azerbaijan. I think the biggest risk concerning the agreement is the giving of Karvachar and Lachin districts to Azerbaijan, which turns Artsakh into an enclave.
"Azerbaijan remains a major threat to us. People here are scared of a second Armenian genocide, an even more suffocating blockade, and a new war. And until Azerbaijan is brought to account for its war crimes, these possibilities will remain."
Turkey and Azerbaijan's genocidal assault against Armenians are mainly propelled by two reasons:

1) The traditional Turkish/Azeri genocidal hatred against Armenians and Christianity, and
2) Turkey's goal of pan-Turkist expansionism, which Turkey also calls the "Red Apple" doctrine.
One month before Azerbaijan and Turkey attacked Artsakh, the Director of Communications of the Turkish presidency, FahrettinAltun, shared a video of what he called the "Red Apple" anthem on his Twitter account on August 24. He wrote:
"For us, the Red Apple means great and strong Turkey. It is the sacred march of our nation that made history from Manzikert to July 15. The Red Apple is a great plane tree that provides shade for the downtrodden to refresh. The Red Apple is what the entire humanity has longed for from Gibraltar to Hedjaz and from the Balkans to Asia."
The video presents the Turkish military and Erdogan as heirs to the medieval Turkic Seljuk dynasty, as well as to the Ottoman Empire.
According to the pro-government newspaper Hürriyet:
"The Red Apple image, one of the most important symbols of Turkish nationalism, symbolizes a goal and purpose for Turkish states. It refers to a place to be reached, or a town to be conquered. It sometimes expresses the ideal of establishing a state, sometimes the ideal of world domination, and sometimes the ideal of Turkish unity…. Red apple is a symbol of jihad carried out especially towards Western countries during the Ottoman period."
The "Red Apple" image is believed to have first emerged among the Central Asian Turks. According to the anti-government newspaper Sözcü:
"As a trait of the Turkish state tradition, Red Apple represents the idea that the Turkish state should rule over other states and nations across the world. After oral literature, it [i.e., the Red Apple doctrine] was first passed to written sources through the Oğuzname [the name of several documents about the myths of the Turks]. According to a Turkish tradition, which is also mentioned in the Oghuz and Göktürk [Turkic tribes in the Central Asia] inscriptions, it is believed that the Turkish khan [ruler] is the khan of not only the Turks but of the whole world and that conquests were made in accordance with this principle.
"They [Turks] believed that God entrusted the world sovereignty to the Turks. It is seen as a very effective motif in the state tradition of the Huns, Göktürks and Seljuks [Turkic tribes from Central Asia]. According to Oğuzhan [the king of the Turkic people in Central Asia], the sky is the tent of the state and the sun is the flag. This idea included not only Turks' thoughts of state administration, but also the very old principles of the Turkish religion."
Turkic peoples are not natives of Asia Minor or the South Caucasus. They are originally from Central Asia and invaded the region starting in the eleventh century. Armenians, however, are an indigenous people of the land and have resided there for millennia. Throughout the centuries, however, Armenians have been assaulted by Turkic peoples several times. Among the greatest of these assaults were the 1071 Seljuk Turkic invasion of the Armenian town of Manzikert in the Greek Byzantine Empire and the 1914-23 Christian genocide by Ottoman Turkey.
According to "Red Apple" ideology, the presence of Armenians in Artsakh and Armenia is viewed as a barrier preventing a Turkic Islamic corridor among Azerbaijan, Turkey and other Turkic Muslim countries. Hence, Turkey and Azerbaijan appear to aim at erasing Armenia from the map. To this end, they commemorate the perpetrators of the Christian Genocide by Ottoman Turkey and claim the historically Armenian lands, including Yerevan. The Turkish government remains proud of its history, filled with many crimes against Armenians and other Christians, and thus continues committing further crimes against the descendants of the genocide survivors.
However, Erdogan's regime will not stop at Artsakh, as Turkey's imperialist agenda does not only target Armenians. Erdogan has publicly announced his regime's neo-Ottomanist goals for years. If Turkey and Azerbaijan achieve their expansionist goals in the South Caucasus, they will continue targeting and trying to expand their influence and even territories through parts of Europe, the Middle East, Africa, and Asia, which the Ottoman Empire occupied for centuries. Turkey already occupies northern Cyprus and northeast Syria, which the international community ignores. And reports have recently surfaced that Turkey is allegedly preparing to send jihadist fighters from eastern Syria to Jammu and Kashmir to help Pakistan.
The unprovoked aggression by the Turkish-Azeri armies against Armenians once again demonstrates that the Turkish state sees the Armenian Genocide as "unfinished business." Enver Pasha, whom Erdogan praised in Baku, was one of the leaders of the Ottoman Committee of Union and Progress, also known as the "Unionists," who planned and perpetrated the Armenian Genocide.
Prominent sociologist OhannesKılıçdağı noted in an article he recently penned that for both the pan-Turkist ideology represented by the Unionists and the Kemalist ideology that established Turkey, wiping out Armenia remains a goal. Kılıçdağıwrote:
"For both the Unionists before Kemalism and the Unionists continuing their existence under the name of Kemalism, Armenia is a 'road accident' or a 'historical accident' that should have never happened. It was the result of an unexpected 'last minute' resistance of the exhausted Armenians after the genocide. I think that eliminating this road accident is still alive as a target for Turkey's military and civilian government mechanisms."
Given Turkey's and Azerbaijan's hostile statements and murderous aggression against Armenians, it is not an overstatement to say that the security of the rest of Artsakh and Armenia is at risk. A full century after the Armenian Genocide, Armenians are still exposed to a genocidal assault by Turkey and its ally, Azerbaijan. And sadly, the world is still standing idly by.
About the author: Uzay Bulut is a Turkish journalist and political analyst formerly based in Ankara. Her writings have appeared in The Washington Times, The American Conservative, The Christian Post, The Jerusalem Post, and Al-Ahram Weekly. Her work focuses mainly on human rights, Turkish politics and history, religious minorities in the Middle East, and antisemitism.
Demystifying the Myth of War Crimes in Ukraine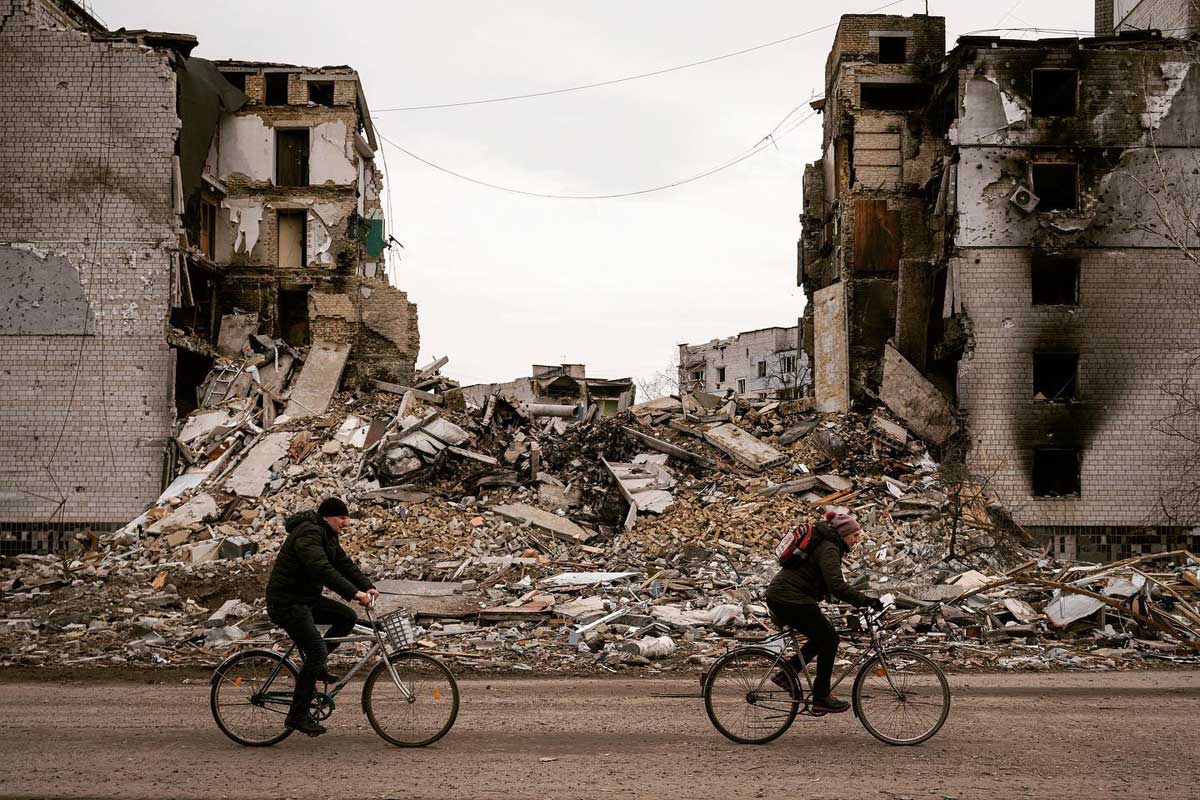 Hypocrisy – a prevalent trait of the western powers. West's policies on human rights are deluged with double standards. What is going around the world is a secondary, to them safeguarding their interest is prime. What Indian barbaric regime is doing in India with the minorities and in Indian occupied Kashmir, Israelis in Palestine, is not enough to catch an eye, because Muslims are dying, its none of their business. Let's recap what USA did in Afghanistan and Iraq. How war crimes done by the west in these countries can be ignored. Humanity suffered at the hands of these western states. Innocent people got killed in the drone strikes and the West called it 'Collateral Damage'. Innocent civilians suffered pain, hunger, and anguish, but West was mute. Human rights are for all without any discrimination based on religion, origin, race and colour. Unfortunately, the hypocrite USA only consider Human Rights for its allies and the holy land of USA. Clear violations of international humanitarian law are done by USA and its western allies in Afghanistan and other states. Moreover, the crime partner of USA, India is doing ferocious acts in India Occupied Kashmir, but all of them are silent.
As per the standards set by USA, kill innocent people and then an apology by Central Command is enough to justify an unjust loss of human life. Yes, the world should follow this too. Why only Americans have the right to make unjust just. Who will set an example of justice, war mongers, liars and killer USA? Oh yes, wonderful, now make big news out of nothing or yes something on Ukraine. Ukrainians are the only human left on the face of earth to get the western sympathizes. But it's important for the Ukrainian decision makers to not to be fooled by the USA. Demystifying the war crimes by Russia in Ukraine is not to support Ukraine but yes to counter Russia. The very reason why this conflict started is West itself. And then, yes USA is excellent at imposing sanctions and it did the same with Russians as well. But, literally speaking who is going to listen to USA, not even India, one of the USA's defense partners.
International Criminal Court – ICC should know its responsibility and first of all held USA accountable for the war crimes in Afghanistan and Iraq. Fake news, misinformation, mal-information, and disinformation is playing big role in manipulating the contemporary international politics. States are using this to hijack the actual information and create an environment of mistrust. Access to actual information in such circumstances in becoming difficult. Why Russian news channels are blacklisted, why only Ukrainian and other foreign media outlets are into play. USA is busy in narrative building based on fake information. USA is actually selling the despairs of Ukrainian people. Therefore, huge responsibility also lies on journalists as well. Are we living in the stone age or in 21st century? Where is responsible journalism? The journalist and civil societies should work as pressure groups and push ICC to open investigations on unlawful killings by USA and its allies in Afghanistan. ICC also open inquires on the atrocities done by Israelis in Palestine, and Indian barbarism in Indian Occupied Kashmir. A detailed systematic investigation is need of hour.
This will reveal the horrible face of these elites of international arena. The USA forces in Afghanistan have "committed acts of torture, killings, cruel treatment, outrages upon personal dignity, rape and sexual violence". Did Russian forces have created a 'secret kill team' to allegedly kill innocent Ukrainian Civilians? The answer is NO. Let's also consider 'Collateral Damage' in the case of Russia – Ukraine War. Instead of making world fool again on Ukraine, USA should remorse over its war crimes. A shameless country with no ethos is going to advocate Human Rights when its own citizens are not safe from the hate-fire it started. Humanity – a word, not known to USA. All it knows is to control other states' resources, sovereignty, and independence. Subtle interference in the other countries' internal matters, and creating fault-lines to manipulate the policy making. I doubt USA as an example of human rights and democracy. Disinformation is the new normal for USA.
The Illusion of Constraint: Russia Advances in Eastern Ukraine Despite Harsh Sanctions
The war of attrition is gradually becoming a reality as Russia continues to make gains in the east. According to Ukrainian officials, Russian forces now control about 80% of the eastern Ukrainian city of Severodonetsk. Despite new aid packages by the US and European Union (EU), Ukrainian armed forces are struggling in Donbas as a brutal Russian offensive is underway – forces now controlling over 20% of Ukrainian territory, according to president Zelensky. Analytical estimates reveal that Russia (alongside pro-Russian rebels) has already seized almost 90% of eastern Donbas; en route to upend the city of Severodonetsk and Lysychansk in the province of Luhansk. And geopolitical experts believe a similar showdown in the neighboring Donetsk province would ease Russian domination over the entire Donbas region.
The Ukrainian dignitaries have consistently insisted on long-range artillery support to counter Russia's onslaught. However, a single contention prevails in the Western cohort: supplying long-range weaponry could enable Ukrainian attacks beyond Russian borders, perhaps invoking a direct conflict with a belligerent Russia. Thus, the Western support remains mostly limited to conservative alternatives as Russia defies earlier odds to gain an upper-hand. The core western defense has been the barrage of sanctions imposed on Russia and the damage to the Russian economy. The West believes it could avoid militarily provoking Russia and still economically debilitate the country to the point of desperate negotiation. However, the truth is far divergent from this popular belief.
Even after three and a half months, the torrent of sanctions has failed to decimate the Russian economy as initially envisioned by the West. Putin has spent the last two decades fortifying the Russian economy via integration into the global financial apparatus. Sure, the invasion in late February spurred financial restrictions and constraints on trade. But the initial panic has since receded as relative stability is taking on the reins. The Central Bank of Russia has played a pivotal role in preventing a financial collapse. As sanctions threatened to spur a crisis, the Bank of Russia hiked the policy rate to 20% – encouraging savings; preventing the egress of investments. The Kremlin mandated the state-owned enterprises to hold export receipts in Roubles. And salaries and pensions were generously increased to compensate for the inflationary effects of the invasion. Three months forward, the interest rates are back to the pre-invasion level of 9.5%. The Rouble – crashing to a record low in days following the invasion – is trading near four-year highs. And inflation, though still a vice, has cooled off to 17% year-on-year from a two-decade peak in April. While fiscal and monetary policies have considerably stabilized the economy, another underlying factor has unsurprisingly buttressed the rebound: the Russian energy sector.
Foreign companies are pulling out, investments are downgrading, and currency reserves are locked up around the globe. Then how exactly is Russia financing the war in Ukraine? Sure the stocks of imports are running low, and people are spending less. Yet how is the Russian war machine still operational when the world is closing up for Russia? Ironically, the world is indirectly financing the Russian agenda in Ukraine. Fossil fuel exports have always been monumental for the Russian economy. Receipts from oil and gas exports made up roughly 45% of Russia's federal budget in 2021. According to a market report of the International Energy Agency (IEA), Russia's oil revenue alone is up by 50% this year – despite the toughest raft of sanctions ever meted out by the West. The US has utterly banned Russian energy imports while the EU has managed to reduce its reliance on Russian energy supplies. According to the data from the Center for Research on Energy and Clean Air (CREA) – a Finnish nonprofit think tank – the EU lowered natural gas imports from Russia by 23% in the first 100 days of the invasion (February 24 to June 3) compared to the same period last year. The data further reveals that the EU reduced its oil imports from Russia by 18% in May. Still, Russia earned a record $97 billion in revenue from exports of fossil fuels despite a modest fall of 15% in export volumes. How is that possible?
Despite trading at roughly 30% discount from international prices, Russian crude is sailing as surging global oil prices are still fetching receipts over 60% higher compared to last year. The volumes have certainly lowered as many countries have refused to trade with Russia to avoid American fury. Yet some countries have contended for cheap Russian energy supplies to guard domestic economic interests. India has been surprisingly vocal and determined about its choices of self-interest despite Western pressure. Since the invasion, India has procured 27% of its crude needs from Russia – up from less than 5% in April. According to research, India has cumulatively imported roughly 18% of Russia's total oil exports since the invasion – increasing from roughly 1% pre-war quota. China has been another noteworthy importer of Russian oil, building its strategic reserves amid high global oil prices. Despite agreeing on a partial embargo banning roughly three-quarters of Russian oil imports to the region, Europe would not cast a substantial blow to Russia until 2023. While criticizing India and China for purchasing Russian oil, the EU has perhaps neglected its own energy imports from Russia, approximating €57 billion in the first 100 days of the invasion. And in spite of lofty promises to wean off Russian energy, European countries like Hungary and Slovakia would continue to rely on Russian oil via pipeline till at least 2024. Hence, while the West convenes to topple Russian dominance in Ukraine, the efforts are unfortunately not enough to fluster Putin – at least in the short run.
Nonetheless, the sanctions would hurt Russia somewhere down the line. Elvira Nabiullina – Governor of the Bank of Russia – recently admitted: "The effect of sanctions has not been acute as we feared at the beginning. [However] it would be premature to say that the full effect of sanctions has manifested itself." The windfall energy export receipts may continue, but the import shortfall could damage the productivity of other sectors of the Russian economy. However, we need to understand that this is a war of attrition. And (despite a budget deficit) Russia has enough fiscal room to finance its domestic and military needs shortly. Mr.Richard Connolly – Director of the Eastern Advisory Group – sums up the reality perfectly: "For as long as the political will is there in the Kremlin and for as long as export prices remain high, I don't see any immediate financial constraints confronting the Kremlin." Hence, as sanctions fall short and Ukrainian defense fissures, the outlook is bleak – especially when Kyiv is resistant to negotiate territorial gains to fend off a humanitarian catastrophe.
Ultimately, the West needs to acknowledge its failure and decide: Is the sluggish war in favor of Ukraine or Russia? And what would be the primary goal of negotiations if Russia gains enough territory to dictate the terms? Given how the West has already exhausted almost all of its economic options and military options are off the table, I wonder how even the negotiations could do any good to Ukraine!
Lithuania to lose confidence for German troops in near future
Nine NATO member states held talks in Romania on Friday ahead of a key NATO summit later this month.
The nine, including Romania, Poland, Hungary, Bulgaria, the Czech Republic, Slovakia, Estonia, Latvia and Lithuania urged NATO to increase their protection.
It should be noted that some of these countries use every political event to call NATO for additional troops on their territories. Thus, the Baltic States are the leaders among applicants.
Germany in its turn agreed last week to increase its contribution to NATO's Enhanced Forward Presence (eFP) battalion in Lithuania. German Chancellor Olaf Scholz announced such plans after passing legislation to increase defense spending during a visit to Vilnius on Tuesday.Germany leads the 1,200-strong eFP battlegroup in Lithuania and currently has around 500 soldiers stationed there.
"We are going to increase our contribution by strengthening the Eastern flank of NATO. We are going to create a strong brigade and we have discussed that together in our meetings and we are going to have to work towards this direction," Scholz said at a press conference with Baltic and German leaders.A brigade usually consists of between 3,000-5,000 troops. So, Berlin intends to increase its troops by 10 times.
The Baltic States welcomed Germany's "historic decision" without suspecting what it could lead to.
It is no secret that German military contingent has very dubious reputation. In 2021 Germany had to recall a platoon from a NATO mission in Lithuania after reports emerged of troops engaging in racist and anti-Semitic behaviour, as well as sexual assault.According to Der Spiegel, the allegations relate to a party held at a hotel in Lithuania at the end of April, 2021.Some 30 German soldiers headed home from Lithuania.
The misconduct of foreign soldiers in Lithuania was a slap in the face of Lithuanian population who believed troops are here to defend.
A number of troops were also suspected of bullying, threatening violence and filming an incident of sexual assault.
Such behaviour is not only inexcusable but brings shame on Germany as NATO's security guarantor.
Meanwhile, according to the FT latest publication, the proposal from Berlin is that a 3,500-strong brigade would only have a permanent headquarters in Lithuania, staffed by 50 to 60 personnel, but be based in Germany.
And probably, this Germany's back step will secure Lithuanian population.
The Berlin's decision to increase its military presence in Lithuania by 10 times could cause potential threat of increasing the number of incidents with inappropriate behavior of German military personnel by 10 times. It is logical that the number of crimes will rise and the residents' trust in NATO ally will drop significantly. Is Lithuania ready to tolerate aggressive foreign soldiers in the streets of its cities? Can Lithuanians be calm for their children? Does Lithuania really need such foreign troops increasing? There are too many questions to answer before making the final decision.