Illicit financial flows threaten security and stability in Africa
At a time when Africa is mobilizing resources for pandemic recovery and sustainable development, illicit financial flows (IFFs) are robbing the continent of $50 billion annually, UN Deputy Secretary-General Amina Mohammed told a high-level virtual meeting on Thursday held under the African Union's (AU) 'Silencing the Guns' initiative.
These "staggering losses" would be enough to bridge nearly 75 per cent of Africa's health financing gap, provide inclusive education for all children there, and fund infrastructure projects, she added.
"These flows pose a threat to stability and security in African countries, undermine institutions and democracy, and jeopardize sustainable development and the rule of law," said Ms. Mohammed.
"Women and girls are particularly exposed to criminal activities and conflicts driven by IFFs as they are subject to trafficking and sexual violence which are used as weapons of war," she added.
Fuelling instability and insecurity
Illicit financial flows refer to the illegal movement of money from one country to another, for example, through tax fraud, criminal activities, money laundering or bogus invoicing.
The high-level meeting examined how they fuel instability in Africa. It was co-hosted by the Office of the UN Special Adviser on Africa and the AU's Permanent Observer Mission to the UN, together with South Africa and Nigeria.
There is circumstantial evidence that illicit financial-" outflows contribute to the devastation of peace and security by promoting conflict and providing terrorist and criminal groups the financial means to conduct their operations and undermine peace, " said Fatima Kyari Mohammed, the AU's Ambassador to the UN.
'Silence' needed now more than ever
The event's organizers emphasized that silencing the guns in Africa is needed now more than ever, as highlighted by the UN Secretary-General's call for a global ceasefire to focus on the common fight against COVID-19.
Cristina Duarte, UN Special Adviser on Africa, said the health and socio-economic fallouts from the crisis have strained African governments' efforts to ensure access to services and improve livelihoods, while also placing hard-won development gains at risk.
Meanwhile, the economic crisis it has generated which will only worsen funding gaps as African countries push to achieve the Sustainable Development Goals (SDGs) by 2030.
"While the world is pursuing a sustainable recovery under the Secretary-General's call to 'build back better', it's both a development necessity and moral obligation to ensure that Africa can make use of all its capabilities and resources to ensure that the recovery is sustainable, genuine and inclusive," said Ms. Duarte.
Scale-up cooperation
The pandemic has only made it more critical to not only understand the patterns of illicit financial flows but also to identify means to counter them, including through implementing existing international agreements, according to the President of the UN General Assembly, Volkan Bozkir.
He urged governments to take greater action, warning that sustainable development will be in jeopardy.
"As President of the 'parliament of humanity', I call on countries to scale up the level of cooperation to curb illicit financial flows and recover the proceeds of crime; to develop effective tools and create a policy environment for combating illicit financial flows, in accordance with the existing relevant international frameworks," he said in a pre-recorded video message.
Mr. Bozkir announced plans for a forthcoming special session of the General Assembly, in coordination with the UN Office on Drugs and Crime (UNODC), to examine the whole global corruption issue.
Lithium in Afghanistan: Gold or Dust?
With Lithium being much in focus due to the increasing demand for the electrification of many areas on the planet, expectations and dreams around the delicate metal grow by the day. Many electronics devices, most devices with rechargeable batteries, modern electric vehicles in particular, but also in storage and balancing battery systems for the electric grid – they require Lithium. All this is stirring the dreams of those governments, regions and countries having Lithium as one of their raw materials at hand. Like Afghanistan.
Besides some precious stones – which illegally are mined by many groups since decades – Afghanistan has several other raw materials, and a huge supply of Lithium among them. The war-worn country officially is led by the Taliban but with many regions under control by other groups and even terrorists. Situated in Nangarhar province, one of these opposing groups, the ISIS-K, seeks control over Ghazni province, with the goal to occupy the south of the capital Kabul and, therefore, having access to some of the raw materials as well as the smuggling routes towards Pakistan. One focus lies on Lithium in the Ghazni province. In parallel, the government seeks to find cooperating partners for mining Lithium as well – in the Ghazni province, for instance. Conflicts, therefore, can be expected. However, there are other areas where the Afghan people could mine Lithium, in the provinces of Helmand, Daykundi and Uruzgan, for instance.
Foreign countries and companies are interested in Lithium


This puts light onto a number of opportunities but even more on the obstacles. First and foremost, all known facts of the areas where Lithium can be found, and the calculated amount are based on Russian explorations from the mid 80ies and even earlier British information. Thus, the database is at least 40 years old. These figures neither have been thoroughly updated, nor verified, and not properly aggregated, too. Furthermore, there is a good chance to find more regions with Lithium as well as other sought-after minerals and metals.
Besides exploration, the infrastructure, dependability, safety, continuous supply, social and environmental sound mining are further obstacles which need to be overcome. And this are a huge tasks. As of today, there are five Chinese companies – like Ganfeng Lithium corporation – looking into the Lithium business in Afghanistan. Many of the country's Lithium deposits are in remote locations with limited infrastructure. Decades of war and economic hardship have deteriorated the situation. China has been willing to undertake risky projects to support strategic investments in other countries like Nigeria and learned it is not worth the hassle. As a result, the Chinese are interested, but also reluctant to go for the Lithium in Afghanistan.

What is needed to attract foreign countries and companies to go into the Lithium mining business in Afghanistan? To obtain the raw materials lots of rocks/minerals need to be transported to the processing plants, ideally located nearby. Thus, safe well-built roads for heavy-duty trucks or heavy-duty train tracks coming from the mines to the processing plants and from there to the borders for export are needed. Access to these remote areas, thus the infrastructure, plays a significant role.
To run these activities, many people are needed to do all the jobs and these people need accommodation as well as healthy food, medical help, transport, communications, entertainment, education, and more. Mining and particularly mining of Lithium needs lots of water. Water supply as well as environmental sound mining including saving water have become major issues. Many markets and the car & truck businesses in particular require a number of (independently controlled) actions to ensure social and environmental sound mining as well as the use of water: the car industry learned from the Cobalt disaster to closely monitor the situation at each mining facility.
Time and dependability
It takes about seven years to build, install and put a large and well monitored mining facility for Lithium into operation. In a situation of uncertain exploration data, two years for exploring the area, sources and mines must be added. These huge investments in geology, technology, labor, and time makes sense only if such a facility can safely run for as long as possible, preferably over decades. Thus, dependability is key. To make all parties profiting from such a mine, continuous supply, transport and sale of the metals and materials must be ensured. All this can only be achieved in a safe and stable environment. Frankly, Afghanistan neither will be able to provide the required infrastructure, nor the dependability, safety and continuous supply to achieve an economically successful operation. Not even mentioned the social and environmental sound mining which needs to be ensured, controlled, and confirmed.
Mining on a small scale as done today in Afghanistan is a way to sell raw materials like Lithium into secondary channels. These channels do not pay market prices and they do not ask questions. This might be an opportunity for ISIS-K and others, but it certainly isn't an option for the Afghan government in the long term since it is not economically sound. In order to properly and continuously make money with Lithium and other raw materials, the preconditions have to be established, adapted and improved, first
Lithium is not at short supply
With crude oil, we were informed to see peak [supply of] oil very soon. Such stories came up first about 100 years ago, but the fossil fuel companies found more oil in countless new areas worldwide. Today, we talk about peak [oil] demand and this is more likely to happen before peak oil. Same applies to Lithium. Several analysts said we already are facing a shortage of Lithium. This, as well, is not true. Lithium is at high supply and rising demand. Several new Lithium sources – many easily accessible – have been found during the past few years. There are large new ones in Iowa, a huge source underneath the river Rhine in Europe, many more have been found in several countries, including China, but most of them in South America. Furthermore, there is lots of Lithium in sea water, too. Why do we suddenly find so many Lithium sources, now? Simply said, if you search for something very specifically you probably will find some – like California's Salton Sea area which is abundant with Lithium and is enough to build tens of million electric vehicles. Furthermore, this Lithium source is easily accessible.
There is a high and rising demand for Lithium, but no, there is no need to go far into remote areas of instable countries like Afghanistan to obtain the metal. Prices for Lithium came to an all-time high in late 2018 but then gradually dropped and now are relatively stable. New battery designs require less Lithium while the battery sizes become bigger. Furthermore, recycling will become the most important source of Lithium within the next ten years. As a result, Afghanistan is no treasure trove, companies can more easily acquire Lithium (and other critical minerals) from alternative sources. Most countries and companies are well aware of the risks and headaches that come with doing business in and with Afghanistan. As a result, China is not going to rush into Afghanistan, nor does any other country.
In response to the question above Lithium is not the new gold for Afghanistan since the preconditions are so questionable: The Taliban and ISIS-K dreams of a money flow by Lithium will not happen. And this applies to other raw materials, too. For instance, many rare earth elements can be found in Afghanistan. But with their name comes a misunderstanding: rare earth elements are not rare by the means of abundancy, they are "rare" since they "rarely exist in their purified form". Thus, rare earth elements require extensive processing – which as well requires infrastructure locally.
For Afghanistan it becomes vital to sort the infrastructure issues out which not only means roads and train tracks, but also hospitals, educational facilities, stores, entertainment, and social life – since with the investments in mining and processing by foreign countries and companies' specialists are coming and will work in Afghanistan: they want a normal life. The government's plans for such investments are highly important for being able to profit from all the raw materials. Otherwise, it all remains dust.
Which would be very sad since the country and particularly the areas where raw materials can be found are of an exceptional beauty with inhabitants of unparalleled hospitality.
Somalia: Security Council adopts resolution to keep pirates at bay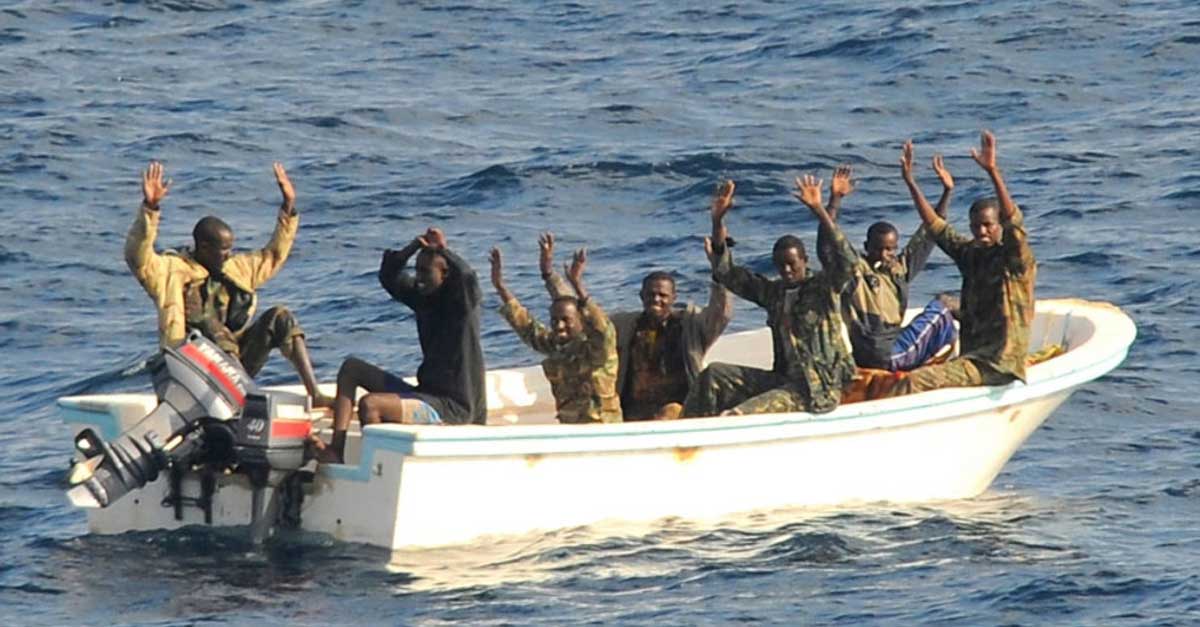 The UN Security Council on Friday adopted a resolution to combat the continuing threat of piracy off the coast of Somalia, as shipping and protection measures to keep vessels safe, have returned to levels not seen since before the COVID-19 pandemic.
The Secretary-General's latest report on the situation in the country illustrates that joint counter-piracy efforts have resulted in a steady decline in attacks and hijackings since 2011.
However, although piracy off the coast of Somalia has been "repressed", the ongoing threat of resurgence remains.
As such – under Chapter VII of the Charter, which provides for enforcement action – the Security Council adopted Resolution 2608, which, among other things, condemns piracy and armed robbery at sea off the Somali coast, underscoring that it exacerbates instability by introducing "illicit cash that fuels crime, corruption and terrorism".
Making amends
Through its resolution, ambassadors said that investigations and prosecutions must continue for all who "plan, organize, illicitly finance or profit from pirate attacks off the coast of Somalia".
The Somali authorities were called upon to put in place mechanisms to safely return effects seized by pirates and to patrol the coastal waters to prevent and suppress future acts of armed robbery at sea.
At the same time, they were requested to bring to justice those using Somali territory to "plan, facilitate, or undertake criminal acts of piracy and armed robbery at sea".
Member States were asked – at the request of the Somali authorities and with notification to the Secretary-General – to strengthen maritime capacity in the country and to appropriately cooperate on prosecuting suspected pirates for taking hostages.
The resolution also encourages the Somali Government to accede to the UN Convention against Transnational Organized Crime, and develop a corresponding legal architecture as part of its efforts to target money laundering and financial support structures on which piracy networks survive.
Authorization to fight piracy
The Security Council renewed its call to States and regional organizations to deploy naval vessels, arms, and military aircraft to combat piracy, and stressed that the importance of international coordination.
At the same time, the resolution authorized – for a further three-month period – States and regional organizations cooperating with Somali authorities, to fight against piracy and armed robbery at sea off Somalia, "for which advance notification has been provided by Somali authorities to the Secretary-General".
Calls to action
Through its resolution, the Council called upon all States to "take appropriate actions…to prevent the illicit financing of acts of piracy and the laundering of its proceeds…[and] to criminalize piracy under their domestic law".
Countries were also petitioned to cooperate in the investigation and prosecution of anyone responsible for or associated with acts of piracy and armed robbery off the coast of Somalia, including international criminal networks.
Resolution 2608 welcomed the continued work of the UN Office on Drugs and Crime's (UNODC) Global Maritime Crime Programme to ensure that those suspected of piracy are prosecuted, and those convicted, imprisoned in accordance with international legal standards.
Finally, the resolution recognized the International Maritime Organization's (IMO) role concerning privately contracted security personnel on board ships in high-risk areas and welcomed its continued anti-piracy role – particularly in coordination with UNODC, the World Food Programme (WFP), the shipping industry and all other parties concerned.
ISIS-K, Talc, Lithium and the narrative of ongoing jihadi terrorism in Afghanistan
Chinese and Russian efforts are underway to strengthen the Taliban government economically and militarily, along with legitimacy and international recognition. In return, Pakistan is trying to disrupt the Taliban government's relations with Iran and Tajikistan, as well as with China and Russia. Subsequent to the fall of the previous republican government, following Russia and China, Iran is a major supporter of the Taliban.
Iran plays a significant role in a new intelligence surge launched by major regional players in Afghanistan, which includes ISIS-K campaign against the Taliban government in country. Although Taliban have been able to crush, ISIS-K in several provinces of Afghanistan, but the group was able to mobilize a bunch of other terrorist organizations such as Turkistan Islamic Party, Khetabat Iman Ul Bekhari, Khetabat ultauhied Waljihad, Islamic Jihad Union, Jamaat Ansarullah and East Turkistan Islamic Movement, and The Army of Justice. According to sources on the ground, the group has also established contacts with the resistance front led by Ahmad Massoud to fight Taliban.
Seemingly, the group joined forces with the Resistance Front in northern part of the country to downfall the Taliban particularly in northern Afghanistan. In addition to defeating the Taliban in the central and southern provinces of Afghanistan, the group has started a sectarian war between the Sunnis and Shiites, which has partly soured relations between the Afghan Taliban and Iran. The group had the support of Pakistan as well as other regional countries and beyond. Furthermore, Lashkar-e-Taiba fighters entered Afghanistan with the help of the Pakistani army, joining the fight between Sunni and Shia in Afghanistan. Efforts are underway to start a civil war in the country. According to the information, ISIS militants have been mostly funded and financed by the Saudi government, as well as other Salafi Gulf States to minimize and even eradicate Shiites in the region.
In accordance with some sources, additional costs are being borne by the United States and Great Britain. Beside all such financial support, Islamic State (ISIS-K) militants also obtain some funding and thrive through mining and establishing business firms throughout the region.
Let us say, Islamic State militants relatively control the oil reserves in Iraq and they illegally extract it, meantime they have hands on talc and other precious stones in Afghanistan to cover their propaganda campaign expenses. ISIS-K uses the same tactics applied by Taliban during the US occupation; Taliban began illegal mining in Afghanistan to finance their activities in order to wage the war against the US aggression. During the Taliban's resistance, Taliban fighters had also a strong financial support from Pakistan, and the Pakistani government accordingly received that financial sustenance from other countries namely western and the Arab world. However, the Taliban forcibly mined Afghanistan's lapis lazuli and smuggled it to Pakistan. Under the auspices of the Pakistani government, the gems were shipped to the United States and the European countries. In return, the Taliban were paid in cash. Likewise, the Taliban, ISIS chose the same path, and made the most of money via mining in Afghanistan.
Subsequently, the ISIS group has chosen Nangarhar province as its stronghold in Afghanistan, since it has mineral deposits of talc, chromite, marble and other precious and rare earth minerals in addition, the group is also trying to control smuggling routes, to launch cross border terrorism.
Consequently, ISIS-K endeavors to bring Ghazni province under its control, since a huge Lithium, mine exists in the province. The group is well aware of its preciousness in the world market because the element is mainly used by automotive industries to produce batteries for electric cars.
The anti-corruption network of the former Afghan government reported that the Taliban and the Islamic State together received about 46 million in 2016 thru illegal mining from a single district of Nangarhar province. That is why ISIS has spent millions of dollars in Afghanistan because of holding its campaign and propaganda, allegedly, most of which came from mining.
Furthermore, district governors have been appointed by ISIS for Afghanistan's 387 major districts, with a monthly salary of up to 80,000 Afghanis. This is a huge financial burden for the Islamic State, but the Islamic State group's representatives say that they stick to their words, so that everyone will be paid on time. The ISIS group needs a large amount of financial support to achieve its major goals, but the group is not overstrained financially, because it receives a chockfull financial support.
Conversely, Iran is trying to increase the number of Shiite orientated proxies in the world and especially in Afghanistan to eliminate ISIS-K in return; the Saudi and other Gulf Sates want to prevent it. Therefore, they use ISIS and other associates of the group to counter Iran's ambitious trans-national agenda; ISIS-K takes advantage of having been provided with huge financial support by anti-Iran camp.
Iran has repeatedly tried to spread Shia religion around the world, most notably at Mustafa International School in Bamko, the capital of Mali in Africa. There have been several attempts by the Iranian government to convert the students to Shi'ism, an issue that has become the topic of international debate supported by Saudi Arabia. Finally, all of these events are currently having a direct and indirect impact on Afghanistan and the country's ongoing security crisis, which will affect the entire region at the end.