Bosnia and Herzegovina to Help Businesses Weather the COVID-19 Crisis
Micro, small and medium enterprises (MSMEs) affected by COVID-19 in Bosnia and Herzegovina will receive a boost through a new, $65.30 million loan (BAM106 million equivalent), approved today by the World Bank. The Firm Recovery and Support Project loan will help MSMEs recover through improved access to much-needed, longer-term financing and the provision of tailored programs, focused on adapting technology and digitization.
The deep and far reaching impact of the ongoing crisis caused by the COVID-19 pandemic calls for additional financing to support MSMEs in Bosnia and Herzegovina, including to underserved market segments such as women-inclusive enterprises, young firms, and firms in lagging regions. As a result of the increased uncertainty due to the ongoing crisis, commercial banks have been cautious in intensifying their lending activity to enterprises at a time when demand by MSMEs for additional financing has increased. The Firm Recovery and Support Project addresses this challenge by making longer-term financing available to viable MSMEs hit hard by the crisis, as well as to vulnerable and underserved segments that would otherwise face challenges accessing term-financing in support of enterprise recovery and growth. The project will also support the redesign of government programs aimed at helping firms adjust to the post COVID-19 world. It is expected that the project will directly support hundreds of businesses and as many as 10,000 jobs.
"MSME's in BiH are severely affected by COVID-19, as they confront the combined shocks of lower demand, a shortage of working capital, and supply chain disruptions, causing many to require external financing to maintain business operations, retain jobs, and ultimately recover from this crisis," says Emanuel Salinas, World Bank Country Manager for Bosnia and Herzegovina and Montenegro. "This project will provide crucial financial assistance to help firms survive the economic downturn and adapt to a new operating environment. It will also contribute to a recovery that is resilient to future shocks. We hope the project will be urgently processed by the authorities so the funds can be made available to MSMEs as soon as possible."
The COVID-19 outbreak highlighted the structural deficiencies of the country's business environment. The current situation is therefore an opportunity for Bosnia and Herzegovina to address some of its vulnerabilities to external shocks and overcome the changes needed to transform its economic model. The COVID-19 pandemic has showcased the need to ensure firms are able to adjust to working in the "new normal" being created by the pandemic, and adopt new technologies that can increase their growth potential and competitiveness during the recovery phase.
This project is an additional component of the wide-ranging response to the crisis response focused on support to MSMEs by the World Bank Group and other development partners. The World Bank portfolio of active projects in the country includes 11 operations, totaling $526.60 million. Additional areas of support include health, transportation, employment, energy efficiency, local infrastructure, and water management.
World Bank Supports Croatia's Firms Hit by COVID-19 Pandemic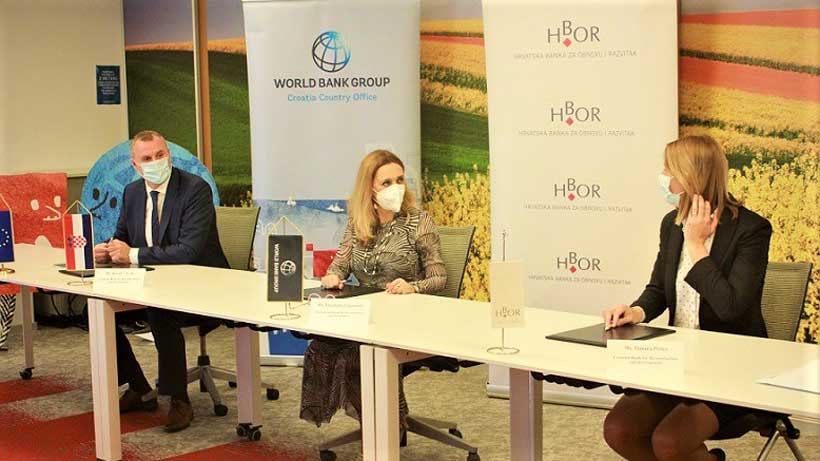 Tamara Perko, President of the Management Board of the Croatian Bank for Reconstruction and Development (HBOR) and Elisabetta Capannelli, World Bank Country Manager for Croatia, signed a Loan Agreement for the HEAL Croatia Project (Helping Enterprises Access Liquidity) in the amount of EUR 200 million (US$242 million equivalent). The Croatian Deputy Prime Minister and Minister of Finance, Zdravko Marić also signed a Guarantee Agreement with the Bank for the Loan. The HEAL Croatia Project will provide liquidity and financial restructuring to firms that have been hit by the COVID-19 pandemic and by the two devastating earthquakes of 2020 and will support an inclusive and resilient recovery.
The COVID-19 crisis has caused a sharp decline in the economic activity of Croatian businesses and has had a profound effect on jobs and livelihoods. The pandemic disrupted firms' production and reduced the demand for their goods and services, while the financial sector tightened lending to companies, due to rising credit risk. The crisis also exacerbated Croatia's regional disparities and reduced credit access for young firms and for firms owned and managed by women.
To mitigate such negative effects, the HEAL Project will increase access to finance to firms focused on export, both small and medium enterprises (firms employing fewer than 250 people) and mid-caps firms (employing from 250 to 3000 people), as well as for firms from less developed regions of Croatia, and firms owned or managed by women. It will also increase access for young enterprises (operating less than five years). The Project will support HBOR's continued development through improved business processes, strengthened sustainability and climate change resilience, and use of EU funds.
"The loan being signed today represents a continuation of the significant support provided by the World Bank to the Republic of Croatia since the beginning of the crisis in 2020, which is reflected in operations worth a total of EUR 760 million (including HEAL). With this project, we are contributing to the further recovery of Croatia's private sector, following the existing measures of the Government of the Republic of Croatia adopted in the context of the COVID-19 pandemic, post-earthquake reconstruction and creating foundations for future sustainability and resilience," said Zdravko Marić, Deputy Prime Minister and Minister of Finance of the Republic of Croatia.
"Terms and conditions granted by the World Bank will provide us an additional source of finance for granting further favorable loans to our entrepreneurs. We are pleased that the World Bank has recognized the significance of financing entrepreneur groups whose importance has also been recognized in HBOR's five-year strategy. Exporters and entrepreneurs in underdeveloped areas are among them. In addition to granting favorable financing terms, the World Bank will support us in improving our Environmental and Social Management System. This will be important as HBOR's activities in the coming period will be particularly committed to building more capacity for supporting sustainable projects and inclusive growth," stated Tamara Perko, President of the Management Board of HBOR.
"We look forward to a smooth and quick implementation of the HEAL Croatia project which will help preserve jobs and support household livelihoods through direct support to approximately 150 firms employing around 25,000 people. The Project will contribute to a resilient, inclusive and sustainable recovery of Croatia, which has been hard hit by the global pandemic, the economic recession, and the devastating earthquakes of March and December 2020," said Elisabetta Capannelli, the World Bank Country Manager for Croatia.
The HEAL Croatia project complements two other World Bank crisis operations approved last year, the Croatia Crisis Response and Recovery Program and Earthquake Recovery and Public Health Preparedness Project – worth together US$ 500 million, to help mitigate the effects of the economic shock, advance recovery, facilitate earthquake reconstruction and strengthen national systems for public health preparedness for pandemic outbreaks. The Justice for Business Project focused on improving the business regulatory procedures and justice service standards for businesses and citizens was also approved in March 2020, bringing the World Bank support to the country to EUR 760 million under the ongoing Country Partnership Framework.
The World Bank has been a partner to Croatia for over 27 years. During this period, the Bank has supported more than 50 projects, worth almost US$5 billion, produced numerous studies, and provided technical assistance to help strengthen institutions and support the design of policies and strategies. The Bank's current program focuses on mitigating the economic and social impact of COVID-19, post-earthquake reconstruction, transport, justice, innovation, business environment, land administration, science and technology, and economic development of the Pannonian region.
Decentralized Finance heats up: new approaches needed for industry transformation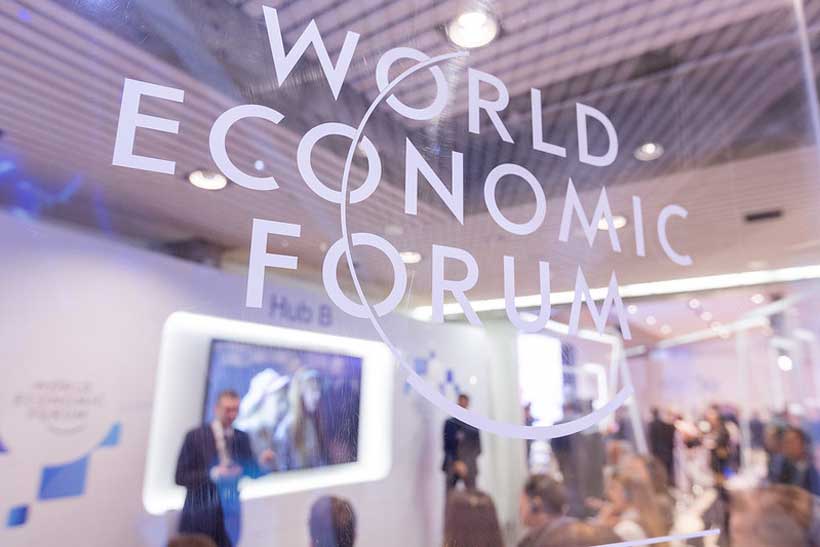 Decentralized finance (DeFi) aims to transform traditional forms of finance by reconstructing and reimagining services. The World Economic Forum today released the Decentralized Finance (DeFi) Policy-Maker Toolkit, providing policy-makers and regulators with guidance for technologies that are global and transforming rapidly.
The toolkit is a collaboration with the Blockchain and Digital Asset Project at the Wharton School of the University of Pennsylvania. It draws on contributions from an international expert group of academics, legal practitioners, DeFi entrepreneurs, technologists, global policy-makers and regulators, and is the second report in the series, after DeFi Beyond the Hype.
DeFi has been evolving since the launch of the Ethereum blockchain in 2015 and is a category of financial services based on blockchain's distributed ledger technology. It does not rely on central institutions, and interest has risen sharply from both private and public sectors.
The report notes that, in the past year, the value of digital assets locked in DeFi smart contracts grew by a factor of 18, from $670 million to $13 billion. The number of associated user wallets grew by a factor of 11, from 100,000 to 1.2 million, and the number of DeFi-related applications grew from eight to more than 200.
The first-of-its-kind toolkit provides a foundation for understanding the major factors that should drive policy-making decisions. It provides an overview of DeFi, explores and illustrates benefits and risks with case studies, and maps out legal and regulatory responses.
Representatives from governments around the world contributed to the creation of the toolkit, including those developing Europe's Markets in Crypto-assets (MiCA) framework and major U.S. financial regulators. The government of Colombia is among those planning to use the toolkit in their policy-making and regulations.
"We are in a critical time for DeFi. Following its rapid growth, and the price activity in crypto more generally, governments are closely watching cryptocurrencies and decentralized applications," said Sheila Warren, Deputy Head of the Centre for the Fourth Industrial Revolution Network; Executive Committee, World Economic Forum. "This toolkit is a critical first step in helping policy-makers and regulators navigate this quickly evolving space. By outlining the potential risks, while highlighting the opportunities for innovation, we hope it will be a valuable resource in informing balanced approaches to policies and regulations."
"DeFi has transformative potential for financial services worldwide but also creates an array of serious concerns," said Kevin Werbach, Director of the Blockchain and Digital Asset Project at Wharton. "Policy-makers and regulators need frameworks to address these issues responsibly. The toolkit provides that roadmap."
"DeFi presents a generational expansion of financial opportunity (and always accompanying risk). The most important first step before any regulatory or policy undertaking is to level-set on the evolving landscape," said Michael Mosier, Acting Director of the Financial Crimes Enforcement Network (FinCEN) in the United States. "This report helpfully provides us with a thoughtful, clear and comprehensive cartography of DeFi so that we can make the most of truly innovative opportunities for financial expansion and novel risk mitigation."
"We have been following the evolution of Crypto and DeFi and decided to take an active role in developing our policies in this field due to the opportunities it could unleash for our people," said Jehudi Castro Sierra, Digital Transformation Advisor, Presidency of Colombia. "We were pleased to contribute to the toolkit and we are looking forward to using it to inform approaches to this space that are balanced, risk-aware, and forward looking. As the first country in the region to use the Policy-Maker Toolkit, we aim to be the leader in Latin America for DeFi policies and regulation."
Authors call for technologically neutral approaches that can balance objectives of regulatory regimes and innovation and market development with policies that are fair, efficient and enforceable. Effective regulations should involve a combination of existing, retrofitted, new and bespoke regulations.
Top 5 Sales Automation Tools for 2021
In the earlier days, marketers did not have the internet. They had to rely on other forms of media outlets for reaching out to their target market. This process was very lengthy. Months would go by before marketers would see stable growth in their leads.
Moreover, in those days, there were no strong monitoring and tracking tools. So, after deploying their marketing campaigns, marketers had no solid data on how many people they have reached and how many have been successfully converted into clients.
But we live in the era of Automation. Currently, there are hundreds of online marketing tools that let a marketer speed-up their efforts by automating repeated tasks.
In this article, we are going to look at the top 5 Sales Automation tools for 2021. We will see what problems they solve and who can benefit from them.
SignalHire
Signlahire is a strong tool for curating the contact information of your target market. It is a real-time tool for curating verified contact information. It is equally useful to sales representatives, digital marketers, and recruiters.
SignalHire has an online database of over 450M people. Furthermore, it can also help you crawl through different social media accounts like Amazon, LinkedIn, Facebook, Twitter, GitHub, MeetUp, Dribbble, Gmail, Xing, Quora.
Unlike other Email finder tools, SignalHire only curates valid ones. You can use it to conduct a search for bulk emails, looking for up to 1,000 people at once. This tool lets you search for your target audience's contact information based on their location, position, or name to make things even easier for digital marketers.
You can use postal code, country, state, province, area, city, or radius to narrow down the search location. For more accurate results and to find emails of the specific target segment, you can use the Boolean search.
Intercom
Chatbots were not this prevalent as they are now. Almost every popular website has one today. They serve multiple purposes now. Starting from giving customer support, receiving customer feedback, to connecting a customer to an agent, these are only some of the tasks that Chatbots are assigned today.
Chatbots have now grown into an industry standard. If you want your website to stand out, you must have one. Moreover, online buyers have grown accustomed to Chatbots. They have developed the comfort zone to interact with a Chatbot and find answers to their queries.
According to a recent study, almost 75% of all online buyers expect a Chatbot to reply within seconds after they submit their query. If you want to offer exactly this to your clients, look no further, Intercom will help you out.
After you download and install the Intercom software on your website, you can set multiple automated replies for your site visitor. You can assign Intercom's Qualification Bot for curating contact information from your clients.
Albacross
Albacross is a great tool that lets you assess the identity of your site visitors. It doesn't stop there. It also gives you the right tools that help you reach out to them and turn them into valuable leads.
If you prefer keeping things organized, you can also use its filtering features to properly divide the audience based on their background, which industry they belong to, and many other different factors.
Albarcross tracks down the behavior of your followers after they land on your site. Furthermore, it also curates their contact information. Once you have this information, you can ask your sales team to conduct an outreach campaign and increase your sales.
Just to make things easier for you, Albacorss will provide you with detailed daily, weekly, and monthly reports. You can also integrate it with your CRM to streamline your outreach efforts.
Sumo
Email is still a popular communication channel. According to an estimate, around half of the global population still uses Email. Moreover, due to the Covid Pandemic, both Generation Z and Millennials have started using Emails on a daily basis for work and academic purposes.
If you agree that Email Marketing is still a highly effective marketing channel, and you want to capitalize on it, Sumo is the tool you should be using.
This marketing tool lets you create beautiful Opt-In forms on your website. When using Sumo, you do not have to write a single line of code. You can pick from premade templates, change the messages on them, and deploy them instantly.
Sumo is a brainchild of the same people behind AppSumo. AppSumo is a globally popular deal listing website for online tools, software, and different Marketing tools.
For beginners, Sumo offers a free plan that comes with a generous amount of advanced features. But if you are serious about Digital Marketing, you should get the Paid plan as it comes with features like unlimited emails and revenue, white labeling, and advanced Analytics.
Drift
If you are looking to increase your conversion from your website, Drift is the tool you should be using. It is often referred to as the most comprehensive tool for increasing conversions.
The key benefit of using Drift is that you can get in touch with your site visitors when they need help. When you are using it, your site visitors will no longer have to wait for long hours before they get a reply.
Drift comes with a built-in Chatbot that lets you set many automated answers. If you want your website to handle automated conversations with your site visitors, then Chatbot is what you need.
After getting Drift, visit your website, and ask your developer to insert the snippet </head> before the end of the title.
Verdict
In conclusion, we wish you all the best with your marketing efforts. We hope you achieve all your marketing goals and increase sales. This article covered the top 5 Sales Automation tools out in the market. We looked into SignalHire, Sumo, Albacross, Drift, and Intercom. Do leave a comment below if you need any help or struggle to make sense of any part mentioned above. Cheers!