Widespread regional challenges pervasive in Central Africa
Insecurity continues to plague Central Africa, the UN envoy for the region told the Security Council on Wednesday, highlighting concern for cross-border violence.
Special Representative François Louncény Fall cited recent visits to Cameroon and the Republic of the Congo in updating ambassadors on the Secretary-General's semi-annual report covering the UN Regional Office for Central Africa (UNOCA).
Western Cameroon in crosshairs
Despite UNOCA's efforts to promote conflict prevention measures, Mr. Fall acknowledged that armed elements in Cameroon's north and southwest are now targeting civilians.
And while expressing his appreciation for the commitment of Cameroon's national authorities' work towards the reconstruction and development of the region, he maintained that for it to succeed, "dialogue and the cessation of hostilities" must be the priority.
Dividends of peace
The UN envoy expressed particular concern over extremist fighters loyal to Boko Haram in the Lake Chad Basin, "with an increase in the number of attacks and kidnappings".
"Terrorist groups have continued to step up their attacks in Cameroon and Chad", he informed, saying that "one cannot overemphasize the need to address the crisis…in a holistic manner".
He underscored the importance of the Regional Strategy for the Stabilization, Recovery and Resilience of Boko Haram-Affected Areas, which despite the pandemic, has been finalized and pointed out that the hardest-hit eight territories are now developing their own plans of action.
Mr. Fall appealed to the Council for resources to implement the strategy so that the populations there can enjoy the dividends of peace and also "strengthen their resilience in the face of radicalization and violent extremism".
Regional links
Drawing parallels between the Lake Chad Basin and the Sahel, the UN envoy argued the need for joint monitoring and coordinated responses.
He upheld the importance of establishing links between the UN Integrated Strategy for the Sahel and the regional strategy for the Lake Chad Basin to "avoid duplication, use resources more effectively and ensure that the two strategies are mutually reinforcing".
Maritime security
Spotlighting "drug trafficking, trafficking in persons and smuggling of migrants", Mr. Fall bemoaned maritime organized crime in the Gulf of Guinea.
While commending individual measures and bilateral cooperation undertaken by regional States to address the situation, he underscored that "responses to security threats…will not be effective unless they are coordinated between Central Africa and western Africa".
Other pressing issues
As voting preparations are underway in several Central African States, the regional envoy lauded successful elections in Cameroon and encouraged the country to adopt "political dialogue frameworks".
Turning to the COVID pandemic, Mr. Fall noted that while infections are largely under control in the region, there are a few instances of worrying rises that are stretching national capacity.
In closing the Special Represented affirmed that conflicts between farmers and herders continue in Central Africa and echoed the Secretary-General's appeal to governments and local communities to continue working together to address common challenges.
CAR: Displacement reaches 120,000 amid worsening election violence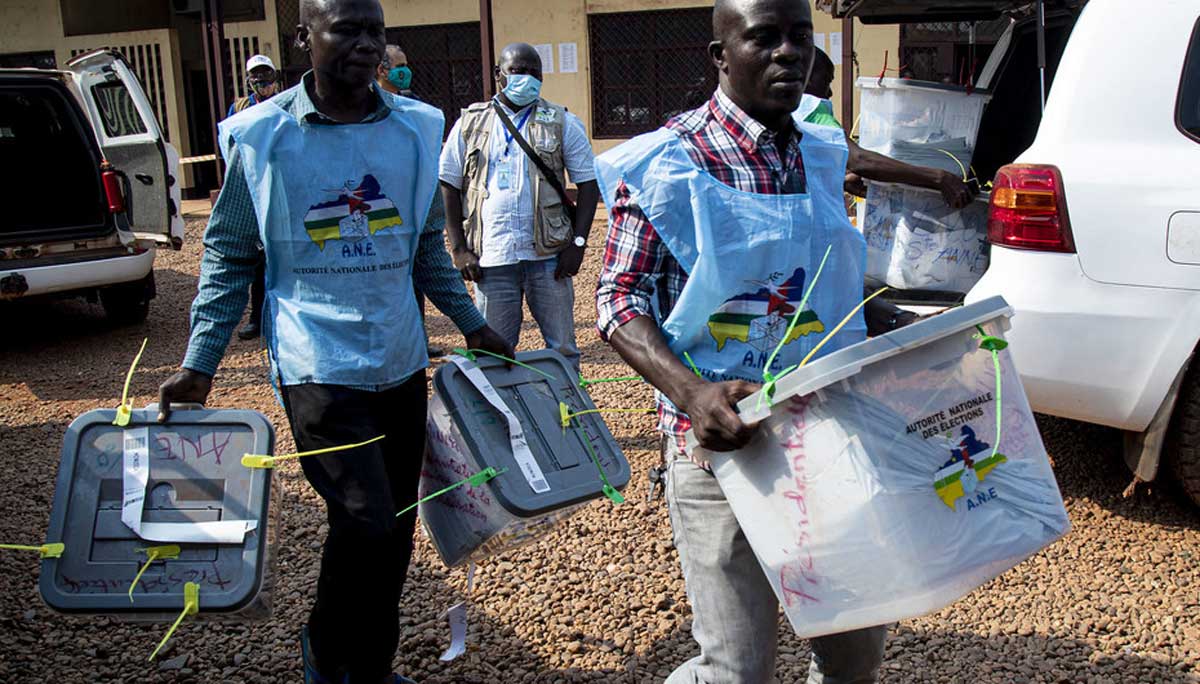 "Worsening" election violence in the Central African Republic (CAR) has forced 120,000 people from their homes, the UN refugee agency, UNHCR, said on Friday.
In an appeal for an immediate end to all bloodshed – which has included deadly clashes with UN peacekeepers – UNHCR also said that mass displacement has continued outside the country since the 27 December Presidential poll, reversing a trend of people returning to CAR in recent years.
"What is clear is the situation has evolved, it has worsened, we have seen that the number of refugees has doubled in just one week", said spokesperson Boris Cheshirkov, during a scheduled press briefing in Geneva.
Despite attempts by rebel groups to obstruct presidential and legislative elections, on 27 December, nearly two million Central Africans successfully cast their votes.
UNHCR and partners in CAR "are gathering reports of abuses by armed groups, including of sexual violence, attacks on voters and pillaging", Mr. Cheshirkov continued, underscoring the agency's call "for an immediate return of all parties to meaningful dialogue and progress towards peace".
"We were reporting 30,000 refugees last Friday, today it's already 60,000, and much of that is the increase we've seen in the Democratic Republic of the Congo (DRC). This is coming with reports of intensified violence, people are being forced to move from their home and the situation has not calmed down for the moment."
'Fear and dread'
Echoing concerns for the deteriorating situation, the UN-appointed independent rights expert for CAR called on Friday for the arrest and prosecution of all those "who continue to fuel violence" there.
Because of them, the country's people live in "fear and dread", said Yao Agbetse, before deploring the fact that Central Africans "were unable to exercise their right to vote and that many were victims of torture or ill-treatment and death threats for exercising their right to vote in the first round of elections".
Calling out the so-called Coalition of Patriots for Change (CPC), Mr Agbetse alleged that the group had "obstructed the country's electoral campaign in December, prevented the deployment of election materials, disrupted the mobilisation of voters to carry out their democratic right and burned polling stations".
The CPC had also recruited children for its work, the rights expert maintained, "a crime under international law".
Several localities were targeted, including Kaga Bandoro, Bossangoa, Batangafo, Bozoum, Bocaranga, Koui, Carnot "and other locations in the centre, west, and east of the country", along with the capital, Bangui on 13 January, said the rights expert, who reports to the UN Human Rights Council in Geneva. 
In his statement, Mr Agbetse noted that CAR's "already fragile humanitarian situation" had worsened, with "more than half of the population in vital need of humanitarian assistance".
Prices soaring
The premises of some humanitarian organisations had been ransacked, he added, while basic necessities "are becoming scarcer and their prices are soaring in Bangui because of insecurity on the supply routes to the capital".
Today, schools and training centres are closed outside the capital "and pastoralists and farmers can no longer carry out their activities because of insecurity and fear. Ultimately, food insecurity and extreme poverty are likely to worsen," Mr. Agbetse said.
10,000 cross in just 24 hours
On Wednesday alone, 10,000 people crossed the Ubangui river that separates the two countries, UNHCR's Mr. Cheshirkov said.
He added that in addition to the 50,000 refugees in DRC, another 9,000 have reached Cameroon, Chad and the Republic of Congo in the past month.
In an appeal for funds, the spokesperson said the inaccessible terrain and poor infrastructure along the Ubangui river where people have sheltered, has complicated aid access.
"UNHCR was already seeking $151.5 million this year to respond to the CAR situation. The needs of the recently displaced Central Africans are mounting, and we will soon face a substantial funding shortfall," Mr. Cheshirkov explained
Inside the Central African Republic, another 58,000 people remain displaced.
Ethiopia: Safe access and swift action needed for refugees in Tigray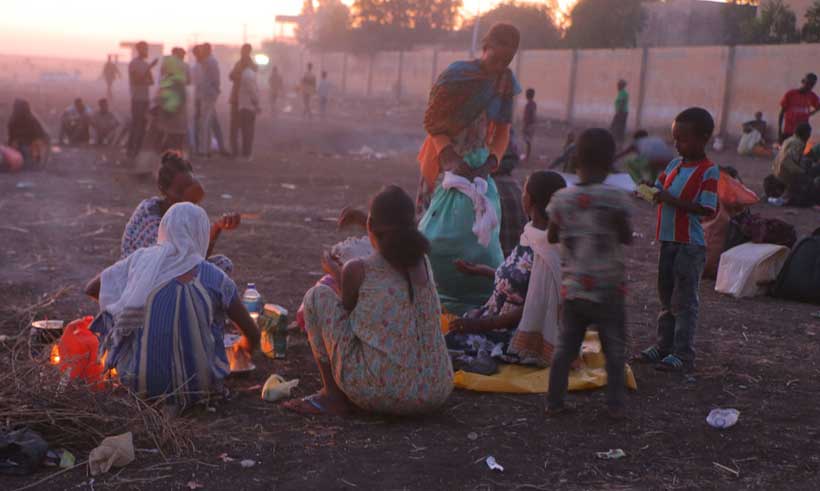 The head of the UN refugee agency (UNHCR) on Wednesday expressed his deep concern over the humanitarian situation in the Tigray region of Ethiopia, including its impact on Eritrean refugees hosted there.
The conflict between the Ethiopian Government and regional forces of the Tigray People's Liberation Front (TPLF) began in early November, when the Prime Minister ordered a military offensive after rebels attacked a federal army base. Government forces reported that the region had been secured at the end of November, but TPLF resistance has continued amid accusations of extrajudicial killings and rights abuses.
Despite some positive developments in accessing and assisting vulnerable populations, since the start of the Government operation, UNHCR's repeated requests to access the Shimelba and Hitsats refugee camps have gone unanswered.
"I am very worried for the safety and well-being of Eritrean refugees in those camps", said UN High Commissioner for Refugees Filippo Grandi. "They have been without any aid for many weeks".
UNHCR continues to receive many reliable reports and first-hand accounts of ongoing insecurity and allegations of grave and distressing human rights abuses, such as killings, targeted abductions and forced return of refugees to Eritrea, said Mr. Grandi.
Moreover, the agency has learned of additional military incursions over the last 10 days that are consistent with open-source satellite imagery showing new fires and other fresh signs of destruction at the two camps.
"These are concrete indications of major violations of international law", the High Commissioner spelled out.
Doubly distressed
Ethiopia has long given refuge to people fleeing conflict and persecution.
The federal Government has provided assurances of measures are to minimize the impact of the conflict on civilians.
"I have impressed upon the Ethiopian leadership, the urgency of ensuring the protection of refugees, preventing forced return and keeping refugee camps safe from attacks and other threats from armed actors", said Mr. Grandi.
Equally distressing, he said, is that UNHCR teams have been unable to assist the thousands of Eritrean refugees who continue to flee the camps in search of safety and support.
"Refugees arriving on foot to Shire town in Tigray are emaciated, begging for aid that is not available", recounted the High Commissioner.
Against the backdrop that refugees who had reached Addis Ababa are being returned to Tigray, some against their will, he reiterated the UN-wide call for "full and unimpeded access" to explore "all options to safely provide desperately needed assistance".
Unwavering commitment
In line with the humanitarian principles of impartiality and neutrality, UNHCR stands committed to work with the Ethiopian Government in protecting and assisting those forced to flee.
"We remain available to seek solutions – together – to the current humanitarian problems in a spirit of collaboration and constructive partnership", said the UNHCR chief. "Safe access and swift action are needed now to save thousands of lives at risk".
Insecurity and bureaucracy hampering aid to Ethiopia's Tigray region
Nearly three months after the start of conflict in Ethiopia's Tigray region, hundreds of thousands of people have yet to receive assistance, the United Nations reported on Wednesday, citing information from its humanitarian coordination agency, OCHA.
"Humanitarian assistance continues to be constrained by the lack of full, and safe, unhindered access to Tigray, caused by both insecurity and bureaucratic delays", UN Spokesperson Stéphane Dujarric told journalists.
"The UN and its humanitarian partners in Ethiopia urgently call on all parties to allow the immediate safe passage of humanitarian personnel and their supplies to the Tigray Region to be able to reach all people who desperately need assistance."
Over two million in need
Mr. Dujarric said the UN continues to receive alarming reports of civilians being injured and killed in rural areas in Tigray, as well as of violations against civilians, though verification remains a challenge. 
"Aid workers have been able to deliver assistance in some areas, mainly in cities, where access has been granted by the authorities. However, the number of people reached is extremely low compared to the 2.3 million people we estimate are in need of life-saving assistance", he said.
The situation is particularly critical for newly displaced people and refugees, especially those who were living in two camps that remain inaccessible, according to OCHA.
Humanitarians further warn that the majority of the 270,000 people receiving benefits through the Government's Safety Net Programme have also been without assistance as banks in most rural areas have been closed since before the crisis began.
"These are extremely vulnerable people who rely on monthly cash transfers to meet their basic needs," said Mr. Dujarric.