Developing countries raise climate ambitions to plot path out of pandemic
Developing countries are building more ambitious plans to tackle climate change, with COVID-19 stimulus packages often serving as a springboard towards a greener recovery, the United Nations Development Programme (UNDP) said on Tuesday.
UNDP is supporting 115 developing countries, to enhance their Nationally Determined Contributions (NDCs) – the specific steps that each country intends to take to help meet the goals of the 2015 Paris Agreement, which committed the international community to restrict global warming to "well below 2 degrees Celsius" and aim, if possible, for 1.5C.
Signatories to the landmark Agreement are due to meet online for a Climate Ambition Summit on Saturday, marking the fifth anniversary of the pact, and to set out new and ambitious commitments for the next five years, which could provide a major boost for the next landmark meeting, COP26 in Glasgow, Scotland, next November.
"What that 1.5 (degree target) really stands for is a complete and utter transformation of the world. And the speed, and the scale at which we have to do that is unprecedented", said Cassie Flynn, UNDP Climate Advisor.
'Stakes could not be higher'
"The good news is that we have all of the solutions, we know what we need to do. We know what it takes to have clean energy, we know what it takes to increase our resilience to climate impacts…to protect nature. But we have to do it faster and bigger than we have ever done it before, and the stakes could not be higher."
NDCs are supposed to show genuine progress compared to existing policies in three areas: mitigation, adaptation, and support. Each five-year NDC plan is like a chapter in the longer book of how the world will reach "net zero" carbon emissions by 2050, Ms. Flynn told a news conference in Geneva.
The COVID-19 pandemic meant that some developing countries supported by UNDP, which represent 22.5 per cent of global greenhouse gas emissions, would not have their new commitments ready until early 2021.
Pandemic opportunities
But the pandemic has also given the "Climate Promise" countries an impetus and an opportunity to aim higher, presenting plans that are far more robust than they might have been otherwise, said UNDP. And most are now linking their NDC plans directly to a post-pandemic green recovery.
"So it means that 80 per cent of this 115 are really looking at how they can be more aggressive in their plans to reduce emissions. And then when it comes to adaptation, increasing resilience to climate change, we have nearly every single country, so 97% plan to increase adaptation ambition", Ms. Flynn said.
Although COVID-19 had delayed some of the NDC commitments, it has spurred on NDC planning, she added.
"In many cases, in the early days of COVID, we thought 'oh is this going to slow us down'. And in many cases I think what's happened now is this has sped us up, because these choices that countries are making when it comes to green recovery are happening within the climate conversations, and vice versa."
More inclusive
The second generation of NDCs were shaping up to be far more inclusive than the first, Ms. Flynn said, especially in terms of gender and youth, as countries made sure they had all voices represented at the table.
"We are seeing 91% of Climate Promise countries have included gender responsive activities within their thinking on the NDCs. And this includes everything from effective governance, to inclusion in planning processes, and also to developing these policy frameworks that ensure that women and girls are not just included in the moment of the decision, but also have the support in the long term to help bring that NDC to life."
In the first generation of NDCs, about 40 per cent had a direct reference to children or youth, but that proportion had now jumped to 75 per cent.
"We have seen a dramatic increase in the inclusion of youth within Climate Promise countries", Ms. Flynn said.
She cited Costa Rica as a leading exponent of making the link between COVID and a green recovery, with an NDC linked to a national decarbonisation plan.
Nigeria was another leading example, involving plans for agriculture and housing in NDC planning, and looking at the role of green jobs in jumpstarting the economy.
Compared to five years ago, countries were now thinking much more seriously about living with climate change, as climate disasters happened more frequently around them, Ms. Flynn said. Whereas in the past an occasional Category Five storm might oblige a country to rebuild, people were increasingly aware that those kind of storms were now coming more regularly.
"People are looking at the world and they're seeing wildfires they are seeing more increased storms they are seeing drought they are seeing sea level rise and trends happen around them. People are really seeing a lot of these impacts."
Tanzania's Economic Growth by Transforming Its Tourism Sector
As Tanzania's tourism sector recovers from the harsh effects of the COVID-19 (coronavirus) pandemic on businesses and employment, the latest World Bank economic analysis says the country also has a unique opportunity to revamp the tourism industry to drive inclusive growth over the long term, and promote climate adaptation and mitigation.
The 16th Tanzania Economic Update, Transforming Tourism: Toward a Sustainable, Resilient, and Inclusive Sector notes thatthe near-cessation of tourism activities globally due to the pandemic deeply affected Tanzania's tourism sector. Economic activity in the sector contracted sharply in 2020, resulting in job losses and business shutdowns which has had negative knock-on effects for inter-related sectors. While partial recovery is underway, business revenues and derived taxes for government still remain below pre-pandemic levels.
"The latest news point to the fact that we are not out of the wood yet, as the third wave of COVID-19 with a more deadly variant seems to be spreading," said Albert Zeufack, World Bank Africa Chief Economist. "The countries that have weathered the storm more successfully so far have moved quickly and decisively to protect their people, strengthen their health systems, safeguard human capital gains, increase intra-reginal trade, and embrace digitalization, therefore laying down the basis for much needed economic transformation."
Amid the ongoing crisis, the report says Tanzania's GDP growth decelerated to an estimated 2.0 percent in 2020. Surveys of businesses and households, conducted by the World Bank in collaboration with the National Bureau of Statistics between June 2020 and March 2021, revealed that business slowed across a wide range of sectors and sizes of firms, especially export-oriented sectors such as tourism and manufacturing, and job creation has deteriorated. Overall business performance and expectations indicators have partially rebounded but remain subdued, emphasizing the gravity of the shock and sluggish recovery. The slowdown in GDP growth and the deterioration of business sales and financial security is estimated to have increased the number of poor Tanzanians by 600,000 in 2020. Zanzibar's economy was even more severely impacted with GDP growth slowing to an estimated 1.3 percent, driven by a collapse of the tourism industry.
"This Economic Update spotlights the pandemic's impact on the Tanzanian economy through the sharp decline in tourism in 2020 and sluggish recovery in 2021. It is a call to action to help the sector recover, 'build forward better' and support private sector development more broadly. This is a critical agenda to protect the welfare of poor and vulnerable households, attract new foreign and domestic investment, and support an employment-intensive recovery," said Bill Battaile, World Bank Lead Economist for Tanzania.
The economic update proposes priorities for sustainable recovery for Tanzania's tourism sector, including creating an efficient, reliable and transparent business environment, improving tourism information management system, ensuring affordable financial support to struggling businesses across the value chain, strengthen adherence to health and safety protocols and data transparency, and supporting nature-based landscape and seascape management through development of co-investment and partnership arrangements.
Moscow is in the Top7 Intelligent Communities in the world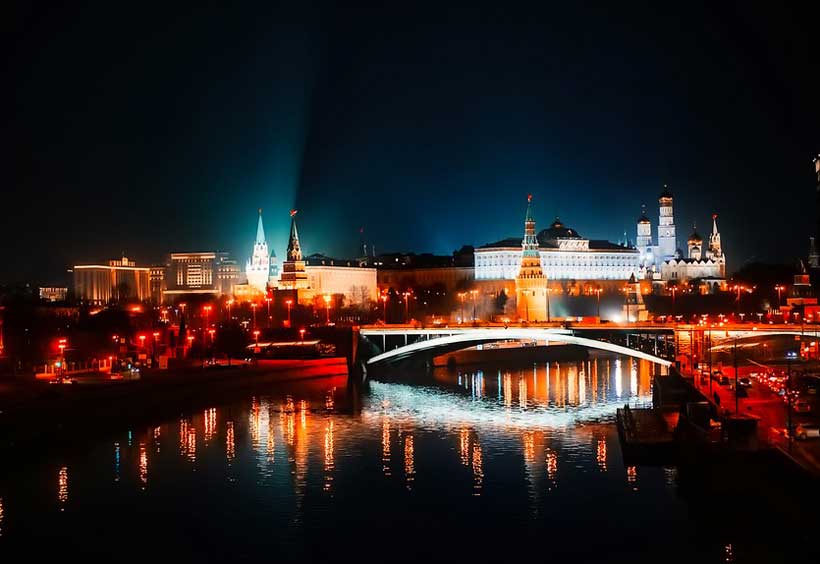 For the second time since 2017, Moscow made it to the final stage of the Intelligent Community Awards rating. It involves the cities that show best practices in the development of communications, experts training, the use of innovation, digital inclusion, the involvement of residents in city management, and the maintenance of sustainability principles. The prestigious international rating is issued annually by the Intelligent Community Forum.
The first stage, which took place in February this year, 21 cities from eight countries were selected. At the second stage, an international group of independent experts selected seven finalists. Alongside with to Moscow, there are cities from Canada, Australia, Vietnam and Brazil.
The experts noted the capital's achievements in the development and use of communications, the residents' involvement in the city government, the training of IT-specialists, enhancing digital literacy, as well as the support and implementation of innovations.
"To participate in the prestigious international rating, our team in cooperation with the specialists of the Moscow Innovation Agency prepared a detailed description of the most significant implemented digital projects in the field of communication development and use, resident participation in the city management, training IT-specialists, improving digital literacy, supporting and implementing innovations, as well as responsible consumption and protection of natural resources. Due to continuous development of the city's digital technologies over the past four years, Moscow is among the Smart21 cities for the third time and for the second time is among top seven Smart Communities, which certainly shows that our work is highly appreciated by foreign specialists," said Eduard Lysenko, the head of the Moscow Department of Information Technologies.
The jury assessed not only how developed the urban infrastructure is, but also how effectively it is adapted to new economic challenges. In the field of broadband Internet access development, Moscow presented the project of the city Wi-Fi network. It includes more than 21 thousand points of access to free Internet, as well as 5G pilot zones launched jointly with telecom operators to estimate the use of fifth-generation communication technologies.
In the field of highly qualified personnel training in Moscow, the educational projects of the Moscow Government were noted. These projects are devoted to pre-vocational education, namely arranging industry specific training in Moscow schools, as well as to the voluntary qualification examination. It is organized jointly with the corporate partners to assess and select students according to employers' requirements.
The project "My Career" by Moscow employment center was also presented among the important initiatives. Residents can get assistance in finding suitable vacancies, a professional career counselling, psychological support, as well as take part in employment-related trainings and webinars. The center focuses on the most vulnerable categories in the labor market: mothers of young children, youth, applicants of pre-retirement specialists, people with disabilities, low-income families.
The "Innovation" section presented "Moscow Accelerator" – the flagship project of the Moscow Department of Entrepreneurship and Innovation Development, aimed at scaling innovative solutions in promising industries in partnership with major corporations – market leaders. Another project in this area is the Moscow Innovation Cluster. It was created for the development of innovative organizations, projects and cooperation between the city and large companies, industry, small and medium-sized businesses, educational and scientific organizations. The online platform "i.moscow" provides opportunities for interaction between cluster participants.
"The Moscow innovation ecosystem" is also in the rating. The program allows the developers to test their technologies at urban and commercial sites before they are released on the market, and the authorities and potential customers can evaluate their effectiveness.
The project "Moscow Longevity" represents the field of inclusion development, creation of intellectual communities and improvement of people's access to digital technologies. The project is aimed at creating a network of free leisure for the older generation of Muscovites and expanding the opportunities for their participation in cultural, educational, physical fitness, health and other activities was noted.
The Smart City hall offers a visual demonstration of new technologies for residents of all ages. This is a permanent exhibition of Smart City technologies located on the territory of VDNKh. You can visit the hall for free, and guided tours are offered several times a day.
In the hall there is a 5G democenter, which is part of the capital's pilot innovation testing program. Several technological projects involving the fifth-generation communication networks are already being tested at this site. This is wireless optical communication in 5G standard, VR and AR in architecture and construction, virtual reality training via 5G, computer vision for drones and access control with remote temperature measurement.
The involvement of citizens in improving the quality of life is achieved through the digital ecosystem of interaction between the city and residents. The Active Citizen project allows every resident to take part in voting on topical issues of city development, the Our City portal allows you to report a problem in housing services and amenities, and the City of Ideas enables you to offer your ideas for crowdsourcing.
The city also presented social projects. Among them are the charity service on the mos.ru portal, which helps residents make donations to verified Moscow non-profit organizations and foundations, and the "Search for Lost and Found Animals" service which helps find a lost pet. A number of projects are aimed at environmental sustainability. Namely a set of services aimed at reducing water consumption in Moscow (a service for transmitting readings of water meters, an interactive test and the project "The Price of Water" based on AR-technology), as well as the portal "MosEcoMonitoring". It allows residents to monitor the condition and quality of air in their city or district online in real time.
Intelligent Community Forum is a non-governmental organization headquartered in New York. ICF rating has been issued since 2005. The current leader of the Intelligent Community Awards is Tallinn. The new leader will be announced in autumn.
Economic Recovery Plans Essential to Delivering Inclusive and Green Growth
EU member states must ensure careful and efficient implementation of economic recovery plans that support inclusion and growth to bounce back from the worst impacts of the COVID-19 pandemic, says a new World Bank report.
The World Bank's latest EU Regular Economic Report – entitledInclusive Growth at a Crossroads – finds that the unprecedented and exceptional policy response of governments and EU institutions has cushioned the worst impacts on employment and income. However, the pandemic has exposed and exacerbated deep-seated inequalities, halting progress in multiple areas including gender equality and income convergence across the EU member states. A further three to five million people in the EU today are estimated to be 'at risk of poverty,' based on national thresholds benchmarked before the crisis.
The report highlights that effective recovery programs can reinforce progress on the green and digital transitions underway across the region. With the crisis continuing to unfold, government support schemes and the rollout of vaccines in a timely manner will remain essential to bolstering the resilience of firms, workers, and households. Given the longevity of the crisis and the impact on the most vulnerable, many governments have opted to extend the duration of support throughout 2021.
"A green, digital and inclusive transition is possible if economic policy is increasingly geared towards reforms and investment in education, health and sustainable infrastructure," said Gallina A. Vincelette, Director for the European Union Countries at the World Bank.
With an output contraction of 6.1 percent in 2020, the COVID-19 pandemic has triggered the sharpest peacetime recession in the EU. Governments will need to ensure targeted and active labor market policies are in place to support an inclusive recovery. The report highlights that special attention should be given to already vulnerable workers such as youth, the self-employed, and those in informal employment. These groups are more likely to face employment adjustments during the crisis and may face longer spells of unemployment or periods outside the labor force.
Women have been disproportionately impacted by work disruptions during the pandemic, particularly in the sectors facing the worst effects of the crisis. This was also highlighted in the 2020 Regular Economic Report produced by the World Bank, which found that at least one in five women will face difficulty returning to work compared to one in ten men. It has been harder for women to resume work due to the sectors and occupations that they are working in and because of the additional care burdens that have fallen disproportionately on their shoulders – a manifestation of increasing inequities in home environments.
"As recovery takes hold, it will be important for carefully targeted and coordinated policy support to continue to mitigate the impact of the crisis, with measures increasingly targeted towards vulnerable households and viable firms. Policy makers will also need to strike a balance between helping those that need it most, while enhancing the productivity of the economy and keeping debt at manageable levels," added Vincelette.
World Bank's Regional Action in Europe and Central Asia
To date, the World Bank has committed more than $1.7 billion to help emerging economies in Europe and Central Asia mitigate the impacts of COVID-19. Since April 2020, around $866 million has been approved through new emergency response (MPA/Vaccines) projects. In addition, up to $904 million is being reallocated, used, or made available from existing projects and lending, including additional financing, to help countries with their COVID-19 response.
The World Bank's Global Economic Prospects suggests that growth will be strong but uneven in 2021. The global economy is set to expand 5.6 percent—its strongest post-recession pace in 80 years. The recovery largely reflects sharp rebounds in some major economies.