XPRIZE and ASPIRE $15 million Feed The Next Billion competition to secure food supply
Today, XPRIZE, in partnership with ASPIRE and with the support of The Tony Robbins Foundation, is excited to announce the launch of XPRIZE Feed The Next Billion, a four-year competition that hopes to revolutionize the global food supply chain and its impact on communities around the world, transforming the near trillion-dollar meat industry in the process. Through the development of cultivated chicken or fish alternatives, teams of global innovators will work to ensure the world's growing population will have equitable access to high-protein, nutritious, quality food that allows everybody to live active and healthy lives.
Launched during a surge in global food insecurity amid the COVID-19 pandemic, a growing global population, new social mobility, increased urbanization, and climate change, XPRIZE Feed The Next Billion is the first challenge XPRIZE has launched in partnership with ASPIRE, the dedicated project management pillar of Abu Dhabi's Advanced Technology Research Council (ATRC) which funds research and runs global tech competitions. In addition to ASPIRE and The Tony Robbins Foundation, XPRIZE will be working with The Good Food Institute, an international nonprofit focused on cultivated meat and plant-based alternatives, which will act as a team success partner throughout the competition.
This competition comes after the release of XPRIZE's Future of Food Impact Roadmap, an in-depth analysis of global food system challenges, that identified 12 radical breakthroughs which could establish a more food secure and environmentally sustainable world by 2050 — allowing humanity to overcome the challenges needed to help the 815 million people facing chronic malnourishment today, and prepare for a future with an even larger global population. Amid these 12 breakthrough opportunities, the need for alternative proteins at-scale was identified as a critical impact area that requires significant technological advances, decreased price points, and notable shifts in consumers' preferences – all while maintaining positive health and environmental benefits as compared to animal-based proteins.
"Billions of individuals do and will desire higher quality protein as a food source, but the earth is incapable of providing this with traditional livestock. A much more sustainable, scalable methodology is required," said XPRIZE Founder Peter H. Diamandis, MD, "XPRIZE Feed The Next Billion seeks to create poultry and fish that is affordable, sustainable, more nutritious, and a lower cost than mechanisms now in place. We believe hundreds of entrepreneurs will focus on driving breakthroughs in this critical and important area to help feed the world."
"Even though it seems like a formidable challenge — global hunger is one of the most solvable problems in today's society," said His Excellency Faisal Al Bannai, Secretary-General of the Advanced Technology Research Council, which oversees ASPIRE. "With XPRIZE Feed The Next Billion, we have a unique opportunity to enable innovators to develop solutions that improve yield, productivity and sustainability across the entire global food ecosystem. Abu Dhabi has been instrumental in developing the global food security ecosystem, and we are continuously uncovering cutting-edge agriculture solutions that will shape the future of food production. Through our partnership with XPRIZE, we seek to unearth new technologies that will become solutions for all, helping people around the world access safe, sufficient and affordable food. We're excited to bring together top international talent and global innovators to develop solutions to answer one of the world's most critical challenges."
As part of the competition, XPRIZE Feed the Next Billion will ask the winning teams to develop multiple consistent cuts of a meat alternative that replicates the look, taste, smell, feel, cooking behavior and nutritional properties of a structured fillet of fish or chicken breast, while having a lower comparable environmental footprint. All teams will need to demonstrate an ability to scale production for global distribution, a crucial step towards addressing food insecurity and revolutionizing the food supply of communities in all corners of the world.
"In 2018, I suggested that XPRIZE run a competition to end global hunger, an issue that will only be magnified as the population continues to grow," said Tony Robbins, the United States' number one life and business coach and founder of The Tony Robbins Foundation. "With XPRIZE Feed the Next Billion, we are taking it a step further, rethinking how and where food is produced, and finding a new way to provide plentiful, sustainable and nutritious food to the next billion people on the planet."
Registration kicks off today and will run through April 28, 2021. Grand Prize Winners will be announced in 2024. To learn more about XPRIZE Feed the Next Billion, visit xprize.org/feed.
Iraq and the World Bank to Boost Iraqi Women's Economic Empowerment
A new plan to remove constraints and create more economic opportunities for women was launched today by the government of Iraq, with support from the World Bank Group.
The Women's Economic Empowerment Plan for 2021-2022 outlines the government's priorities in line with its reform program. The plan follows extensive consultations with key stakeholders and is supported by the Iraqi Ministry of Planning, the Women's Empowerment Directorate in the General Secretariat of the Council of Ministers, and the High Council for Women's Affairs in Kurdistan Region of Iraq.
The World Bank Group provided technical support and advice to the government to develop the plan. Key pillars include building capacity for a more gender responsive budget, developing women's skills in the digital and agriculture sectors; boosting access to finance for women; increasing data related to women in the private and informal sectors; implementing legislative reforms to reduce gender gaps; and strengthening knowledge and capacity around access to childcare.
The plan also includes a special focus on supporting vulnerable groups of women and targeting internally displaced women and returnees to areas liberated from ISIS.
On the launch of the plan, Dr. Yussra Kareem, National Coordinator of the MGF in Iraq and Director General for Women's Empowerment Directorate at the General Secretariat of the Council of Ministers, said: "Women's economic empowerment is one of the most important pillars focused on by the general policy for women's empowerment, and it comes in the context of women's rights to equality and social justice, and the 2030 sustainable development plan. In light of this, the Advisory Committee for Women's Economic Empowerment, in cooperation with the World Bank, developed the National Action Plan for 2021-2022 for women's economic empowerment and identified its six priorities."
"Iraqi women have proved to be strong and resilient throughout decades of economic and security challenges. Increasing the participation of Iraqi women in the policy-making process and in leading roles is key to promote peacebuilding and social development." said Saroj Kumar Jha, the World Bank's Mashreq Regional Director. "The World Bank Group stands ready to support Iraq in strengthening the enabling environment for women's economic participation and improving women's access to economic opportunities."
"More women in the Iraqi workforce means more growth and less poverty. IFC is working with the private sector to help remove barriers that hold women back from joining the workforce," said Abdullah Jefri, IFC's Manager for the Levant.
"Building a resilient economic recovery and ensuring inclusive long-term growth requires the full and equal participation of women in the economy. Canada continues to support Iraq in their efforts to strengthen women's economic empowerment and welcomes the launch of this workplan under the Mashreq Gender Facility to help address the barriers to women's participation in the labour force and enhance their opportunities to succeed," said H.E Ulric Shannon, Ambassador of Canada to Iraq.
"Sustainable development in any country cannot be achieved if women are not included in economic life and in political decision-making bodies. To ensure women participation in the labour market is smart economics, and this requires active and tireless efforts over time. The launch of the Woman Economic Empowerment Workplan 2021-2022 today is a step in the right direction, and Norway is proud to support the Mashreq Gender Facility in these vital efforts," said H.E Erik Burger Husem, Chargè d'affaires at the Norwegian Embassy in Iraq.
The new plan will be implemented with support from national and international civil society organizations, and the private sector, in close coordination with the World Bank Group and international development partners.
The plan is a joint effort between the government of Iraq and the World Bank Group under the Mashreq Gender Facility (MGF), launched in January 2019 by the World Bank Group with financial support from the governments of Canada and Norway. The facility provides technical support to Iraq, Lebanon and Jordan to boost women's economic participation and drive inclusive growth. Under the MGF, Iraq set the target of increasing female labor force participation of 5 percentage point by 2024.
Demand for Circular Economy Solutions Prompts Business and Government Changes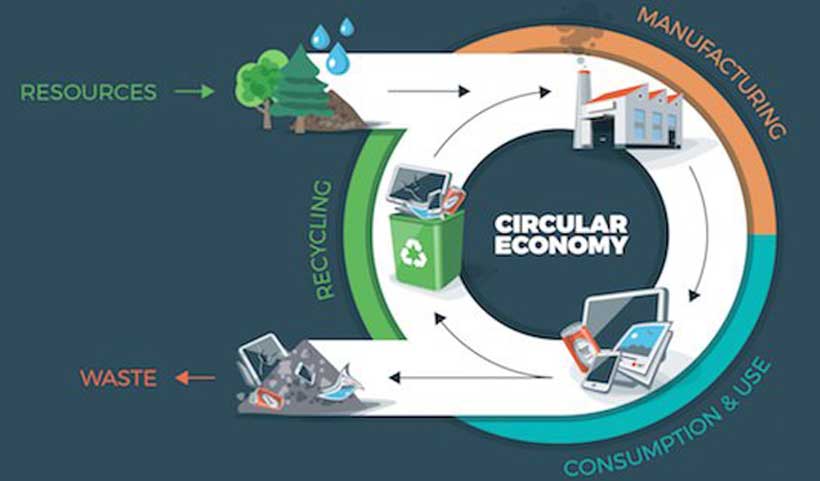 To truly tackle climate goals, the world must transform how it makes and consumes. To support this effort, circular economy initiative Scale360° has expanded its reach from 2 countries to 20 in 2021, taking its unique approach to circular innovation and collaboration to cities, regions and countries around the world, triggering key changes for businesses and governments in how circularity is prioritised and managed.
Scale360°, established in 2019, leverages innovation 'hubs' to bring together leaders in science, policy and business to trigger circular change. They use Scale360°'s unique, tested methodology – the Scale360° Circular Innovation Playbook – to deploy Fourth Industrial Revolution technologies to rethink consumption and production, helping to transform the pipeline of future innovations.
The rapid growth of Scale360° demonstrates the growing demand for guidance on how to enable circular change and collaboration. Highlights from 2021 include:
● Circular Shapers: This initiative, launched this year, mobilised young change-makers in 12 countries to transform their cities into centres of circular economy innovation. Circular Shapers are competitively selected from the Global Shapers Community, a network of young volunteers in 448 city-based hubs around the world.
● Germany: Scale360° Germany is designing a consumer campaign to educate consumers on the environmental impact of 'white goods' (e.g., washing machines, etc.) and empower consumers to lengthen the lifespan of their appliances. This project has been developed in collaboration with Kearney and the Circular Valley.
● Singapore: This new program will improve the conditions for circular scalability in Singapore by engaging Singapore's Deep Tech community and accelerating circular innovation collaborations between startups and corporates. Launched September 2021, this program was developed in collaboration with SGInnovate, a government-backed Deep Tech ecosystem builder and investor.
● Kenya, Bangladesh and India: In these countries, the 2030 Water Resources Group is leveraging Scale360° methodologies, tools and partnerships for scaling up circular economy solutions to improve water resource management in urban, industrial and agricultural sectors. 2030 Water Resources Group is a public-private-civil society partnership hosted by the World Bank Group.
● Argentina: McKinsey.org's flagship initiative Rethinking Recycling – in partnership with Red de Innovación Local (RIL), a network of 200+ Argentine cities' municipal decision-makers – will apply tools from Scale360°'s Circular Innovation Playbook to transform Argentine cities' municipal waste management at scale, aiming to deliver substantive volumes of recyclables and compostables to industry, while also enhancing job opportunities and cost savings for cities.
This momentum comes in addition to the continued evolution of existing programmes. This year, the UAE established a dedicated UAE Circular Economy Council comprising ministers and C-level representatives across public and private sectors. The newly formed cross-ministerial council aims to ensure circular thinking across government is prioritised not only within the Ministry of Climate Change and Environment, but also across the Cabinet, the Ministry of Economy, the Artificial Intelligence Office and local government entities in each emirate. The council serves as a board of advisors for Scale360° in the UAE, and provides a platform for government, business and civil society leaders to share best practices in circular innovation.
"With these changes in place, we can create truly resilient systems that strengthen economies while pursuing the latest innovations," said His Excellency Dr Abdullah Belhaif Al Nuaimi, UAE Minister of Climate Change and Environment and Chair of the UAE Circular Economy Council.
Chile's SOFOFA hub, with the support of the country's Ministry of Environment, is convening the country's largest industry groups together to accelerate circularity by integrating value chains within sectors such as mining, energy, pulp and paper, food and beverages and more. Additionally, entrepreneurs, innovators and civil society members are actively working together to collaborate and build new circular business models at this critical time for the environment and economies.
"Circularity as a concept is still relatively nascent in this region, despite the critical role it plays in helping us achieve our sustainability targets. This is something we hope to change as part of the global Scale360° network, by integrating circular innovation into our mission of building Singapore's Deep Tech economy," said Dr Lim Jui, CEO, SGInnovate.
Such efforts pave the way for collaborations between cities, countries and regions and much-needed system-wide change. "System-wide change requires a system-wide re-thinking of collaboration," said Shannon Bouton, President and CEO, McKinsey.org. "We are always partnering with those who are best placed to drive and scale change for maximum efficiency and impact."

The wider adoption of Scale360° principles sets the stage for a more circular future as leaders rethink innovation. Added Scale360°'s Global Lead, Helen Burdett: "With every city, country and region, we are building a flywheel for change."
Lighthouse Partnerships Gain Momentum on Social Justice
Crises in climate, health and inequality are compelling organizations to align business strategies with equity and social justice values.
In a new whitepaper, Lighthouse Action on Social Justice Through Stakeholder Inclusion, the World Economic Forum, in collaboration with Business for Social Responsibility (BSR) and Laudes Foundation, shines a light on emerging corporate momentum supporting stakeholder inclusion and social justice.
Through the case studies of nine "lighthouse examples," the report chronicles how the following companies and coalitions are establishing stakeholder inclusion models and best business practices in three key areas:
Making investments targeting impacted communities in value chains and ecosystems:
– The Resilience Fund for Women in Global Value Chains (UN Foundation, BSR, Women Win/Win-Win, Gap Foundation, PVH Foundation, H&M Foundation, the VF Foundation, and the Ralph Lauren Corporate Foundation)

– In Solidarity Program (Mastercard)

– Replenish Africa Initiative (The Coca-Cola Foundation)
Influencing public policy and speaking out as corporate citizens:

– Open for Business Coalition (39 major corporations)

– Racial Equality and Justice Task Force (Salesforce)

Applying rigorous accountability practices and sharing power with workers in supply chains and communities:

– Unilever's Living Wage commitment (Unilever)

– Farmer Income Lab (Mars, ABinBev, Danone, Oxfam, IDH, Livelihoods Fund for Family Farming, UNDP)

– Amul Supplier Cooperative Ownership (Amul)

– Patagonia's Implementation of Regenerative Organic Certified Standards in its Apparel Supply Chain (Patagonia)
The whitepaper outlines successes and pain points as these leading lighthouse partnerships between business and civil society strive for more meaningful participation with communities most impacted by systemic injustices. Each business is unique in its culture and path to long-term value creation, but all are committed to the belief that stakeholder primacy leads to optimal outcomes.
The time to move forward with these ideals is now, and the conclusion is clear in that, "…the crises of pandemic, protest and social disruption have created an inflection point for many companies to evaluate their corporate sustainability strategies," said David Sangokoya, Head, Civil Society and Social Justice, World Economic Forum. "Stakeholder inclusion must be at the centre of any corporate action on equity and social justice in our unequal world…positioning business on the path towards redesigning business models that shift power and value towards stakeholder primacy."